The Quadro Data Pen by Yafa is a pen/pencil/stylus
that has an added surprise. It has 4 tips instead of the usual 3. The fourth tip is a neon
highlighter. (It's neon ball point pen ink). To get the tip you want, you simply rotate
the pen until the tip "icon" on the end of the pen is pointing up and push the
plunger.

First impressions are important to me and when I first started using
this pen, I really liked it a lot. It has a heavy feel to it and it felt good in my hand.
It was easy to get the tips to come out and retract. And the stylus was very soft, and
felt good on the PDA screen.

I also liked the neon ink pen that gives this pen a bit more
flexibility. But as I was using it for about 2 weeks, I noticed that the pencil tip was
starting to stick and not retract properly. In order to get the pencil tip to retract, I
would have to unscrew the pen body a half turn until it pops back in. In addition to this
problem, the tip that I wanted didn't always come out the first time I pushed the plunger,
even though I had it in the correct position. As I have reviewed similar multi
pen/pencil/stylus devices, I have found both of these to be common problems.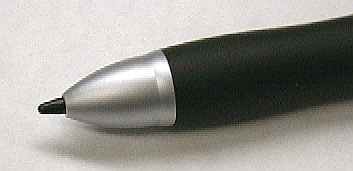 (Highlighter)
Another common annoyance in devices like these multi pen/pencil/styli is
something I call "rattle factor". This may or may not bother you, but I
personally don't like pens that rattle, and my Platinum Double 3 Exec pen
doesn't rattle at all. But it only has 3 tips and you eject the tips by rotating the pen
rather than pushing a plunger. It also cost around $5 more than the Quadro Data
Pen.
The black ink wasn't as smooth as some other pens that I have reviewed,
and on some surfaces, I had trouble getting it to write at all. I thought that something
was wrong with the pen, but as soon as I used it on white paper, it worked fine. The paper
I had trouble with was a company Purchase Order form with multiple carbon copies. Usually
the softer the paper, the easier they write. That said, the pen cartridges are easy to
remove.
As far as the styling of the Quadro Data Pen, I like
the brushed finish on the body, which eliminates finger prints. And the rubber gripper end
felt very comfortable. (Maybe it's just me, but if I spend a lot on a pen, I don't like to
see messy finger prints all over it.) There is also a handy pencil eraser under the
plunger.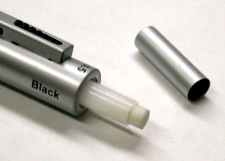 I don't know if the pen that I have to review is typical of Yafa's
products, but I would say that since the company has been in business for 20 years, they
probably have a good return policy. I'll also bet that they know a great deal about
manufacturing pens, as their company offers about 100 different pens in all sorts of
styles. The Quadro Data Pen is a bit more expensive than other's that I
have seen. I would only recommend it if you like the styling and are not afraid to return
it if you get a defective one.
Price: $29.95
Pros:
4 pen tips.
Smooth stylus tip.
Pencil eraser on the plunger end.
Cons:**
Pencil started to stick and not retract properly.
Pen tip selected didn't always come out on first attempt.
Rattles a lot.
**These "Cons" are typical of similar
multi pen/pencil/stylus devices.
Check out these great stories too