The PalmSuit by MarWare is a neoprene zippered
case for the PalmPilot, PalmIII, Casio E-10, E-11, Everex Freestyle, Palmax PD-300, and
Samsung Infogear PDAs.
For those of you that don't know, neoprene is a soft stretchy knit material. This case
is made of 3mm neoprene which makes the case feel a bit padded. The PalmSuit is black and
has a zipper that goes around 3 sides of the case… when the case is unzipped, it opens
like a book.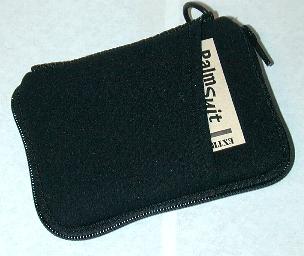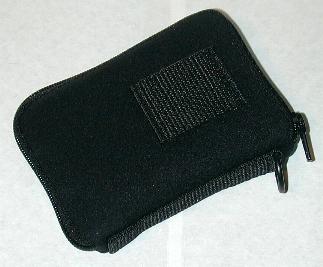 There is a pocket on the outside of the case that can hold business cards or small
items. On the inside of the case is there is also one pocket. This pocket has a hard
plastic insert that protects your PDA screen while it is in the case. You can remove this
insert though if you desire as it's just held in via Velcro. Speaking of Velcro, you can
attach your PDA to the case with 2 pieces of Velcro to use it as a play through case. Or,
you can not attach the PDA and use it that way. I prefer not to use Velcro.
I tried the PalmSuit with my Palm III, PalmPilot and Casio E-11 and the case fit just
fine for all of them.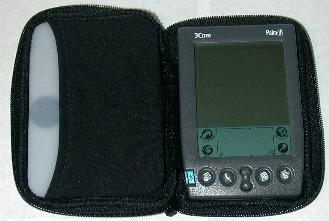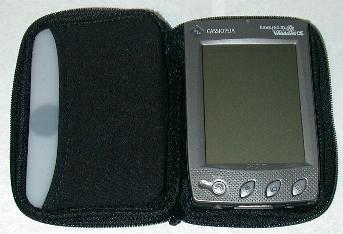 The PalmSuit also has a belt loop sewed to the back of the case so you can attach the
case to your belt. The loop will accommodate a 1 1/2″ belt. I think this should have
been a metal spring clip instead of a belt loop though. I say this because if you put the
PalmSuit on your belt, it isn't the easiest to unzip the case partially and then remove
the PDA from it. Also, if you Velcro your PDA into the case, you will have a heck of a
time getting it in and out while it's attached to your belt.
The spine of the PalmSuit is reinforced and has a plastic D ring at the end. You can
attach something like a handstrap or a keyring to this if you wish.
The PalmSuit is a nice case that is easy to use and will protect your PDA from bumps
and bruises. It also feels nice in your hand. The only bad thing about this case is the
price. At almost $25, I feel it is just a bit overpriced.  I'd be more inclined to
buy it if it was priced at $19.95. The PalmSuit also adds a bit to the overall size of
your PDA causing it to be a tighter fit in a shirt pocket.
If you are looking for a small zippered case, and didn't quite like the Rhinoskin RhinoPak (similar zippered case), give the
PalmSuit a look.
Price: $24.95
Pros:
Looks good.
Plastic insert protects the screen.
Easy to use.
Cons:
Belt loop isn't really all that convenient.
For another viewpoint on the PalmSuit
read what the PalmGuru
said …
More of our stories that you'll enjoy: