We use affiliate links. If you buy something through the links on this page, we may earn a commission at no cost to you. Learn more.
Discontinued Product
Program Requirements:
Desktop:
PC with a Pentium processor and an available PCI slot.
Windows 98 or 95
Minimum 16mb RAM
4mb disk space from CVideo-Mail
Sound card (SoundBlaster compatible)
CDrom
Monitor capable of viewing 256 colors

CVideo-Mail Pro is a software/hardware solution for sending video email to anyone,
including family, friends, co-workers,etc. CVideo-Mail lets you attach full-motion video
with audio to your every day email and requires no special software to play these emails
on the receiver's side. CVideo-Mail's MAPI (Messaging Application Programming Interface)
compliance is compatible with Netscape Communicator, Microsoft Internet Explorer, America
Online, Compuserve and all other e-mail programs that allow file attachments.
The CVideo-Mail Professional Package includes:
Video Capture Card (the circuit card you place inside your PC)
Desktop video camera (can also buy CVideo-Mail without the camera)
Audio adapter
CD-Rom includes:
CVideo-Mail software(v 2.0)
CVideo-Mail player
CVideo Snapshot 1.0
Software drivers for the CVideo-Mail capture card
Eudora Pro Email(v 4.0)
Microsoft Internet Explorer 4.0
Apple Quick Time
Qualcomm's Pure Voice
McAfee Virus Scan 3.1.1
AOL Instant Messenger
Hard copy documentation includes:
CVideo-Mail User Manual
CVideo-Mail Professional Quick Start Guide
Eudora Pro User Manual
Eudora Pro Quick Start Guide
The CVideo-Mail Pro hardware/software combo
was a pain to install, in my opinion. You had to first install the software drivers. Then
you had to power off your computer and install the PCI video capture card. Then you had to
power back up and finish the software install. I'll admit that the first time thru, I
didn't read the instructions and just put the PCI card in, powered up and installed the
drivers… it didn't work.  Once I followed the instructions, things flowed smoothly.
Hardware:
CVideo-Mail Pro comes with the Philips Desktop Video Camera, which has a built-in
microphone, a 3.8mm f2.0 lens that can be adjusted from almost zero for extreme close-ups
to infinity for long shots. The camera is small and sits on a black base that lets you
adjust the direction and angle. There is a green ON light and a mini
microphone on the front of the camera. On the back of the camera are several switches that
let you control gain and contrast. Other small desktop cameras, home camcorders or VCRs
can all be plugged directly into the card to create video e-mail.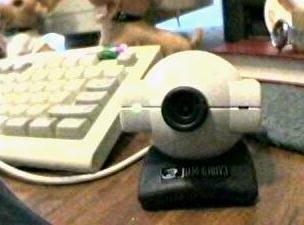 The video card has 3 jacks: microphone, power, and the video jack. This make it
complicated because the original cord is not long enough if you want to move the camera
any distance away from your computer.
One problem that I encountered was that my sound would be turned off whenever I would
finish using the camera. I had to go into my multimedia settings to manually turn it back
on.
Software:
The video capture software was not as easy to operate as other video capture software
that I have tried. On others, everything was on the main program window. With the
CVideo-Mail you have to go into the settings to change things. When you take a still
picture it records sound in the back ground. I was not happy with that. When you go to
save something to your hard drive with save as… it will not
automatically go to the last place you saved something. You have to navigate to the same
directory each time. Others I have used would automatically return to the folder you last
saved in.
CVideo-Mail can compress video to file sizes as small as 500KB per minute. Depending on
the compression settings that a user chooses, the average file size is 1MB per minute of
video. It saves the still images and video as a self extracting .EXE file which that
doesn't require a special player. This is convenient.
CVideo-Mail video clip 705k
CVideo-Mail still macro image 182k
Using this camera with video conferencing software such as Netmeeting resulted in
choppy video.
All in all, the little camera was decent. The set up was somewhat tricky. The video
quality was adequate. The software was decent. I have just seen better in my opinion.
Price: $179.95 (also available for $99.95 without camera)
Pros:
Good compression scheme.
Works with any email program that allows attachments.
Person receiving the file doesn't need a special player.
Cons:
Installation was strange.
Image quality is a little fuzzy.
Product Information
Price:
$179.95
Pros:

Good compression scheme.
Works with any email program that allows attachments.
Person receiving the file doesn't need a special player.

Cons:

Installation was strange.
Image quality is a little fuzzy.