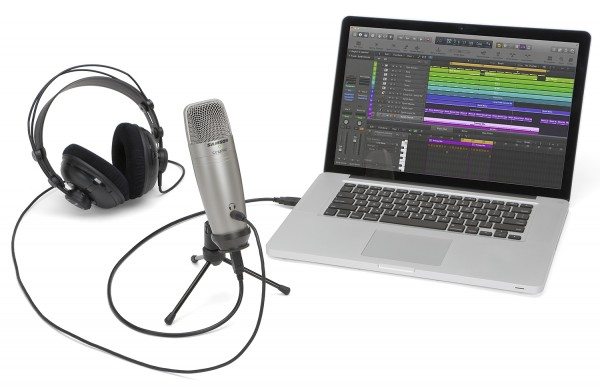 So you want to record your next podcast, voiceover demo, or narrate a video?  Ready to step up from your laptop or tablet's built in mic but don't want to destroy your bank account?  Let's see what the Samson CO1U Pro USB Microphone has to offer.
(All photos can be clicked for a full size image)
USB studio condenser microphone
Large, 19mm diaphragm ensures pristine studio-quality audio
Headphone output for zero-latency monitoring
Ideal for recording music, ADR work, Sound Foley, voiceovers, audio for YouTube videos
Vastly improves Skype, FaceTime, VoIP applications and speech-to-text dictation software
Supercardiod pickup pattern
Smooth, flat frequency response of 20Hz–20kHz
16-bit, 44.1/48kHz resolution
Solid die-cast metal construction
Shock-mounted mic element
Peak LED indicator
Plug-and-play, no driver installation required
Compatible with most recording software and apps
USB bus powered via Mac, PC or iPad
Includes tripod stand, swivel mount and USB cable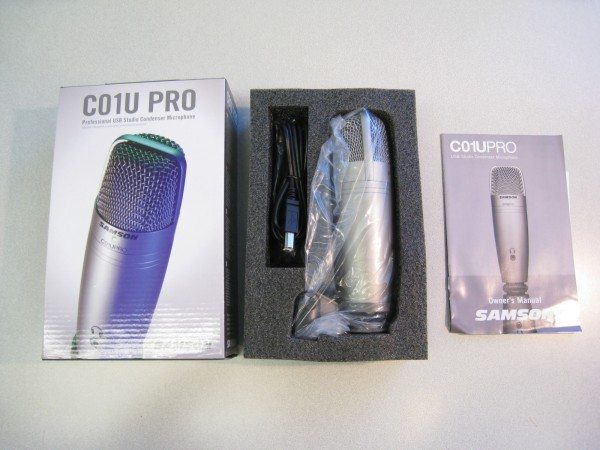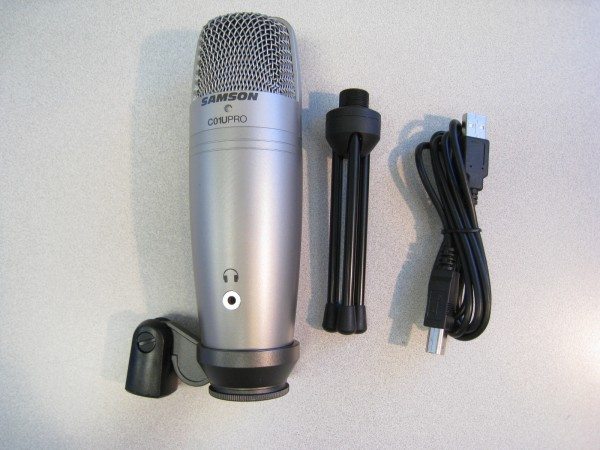 Samson's original USB condenser microphone, the CO1U, was introduced in 2005.  The CO1U Pro comes with a threaded microphone stand with tripod screw adapter, small tripod, and USB cable.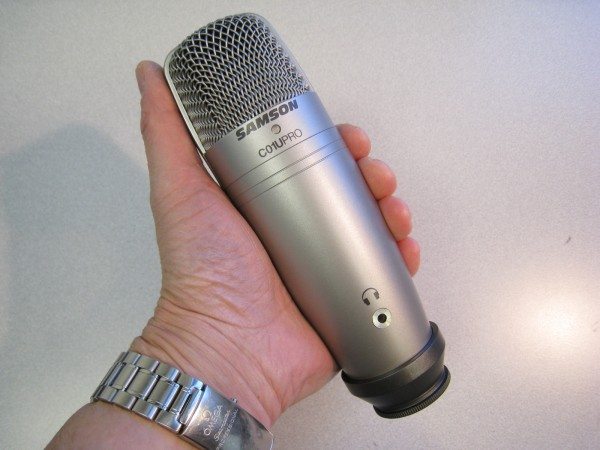 The microphone is a pretty good size.  Not dainty.  Note the headphone jack towards the bottom.  This can be used for monitoring.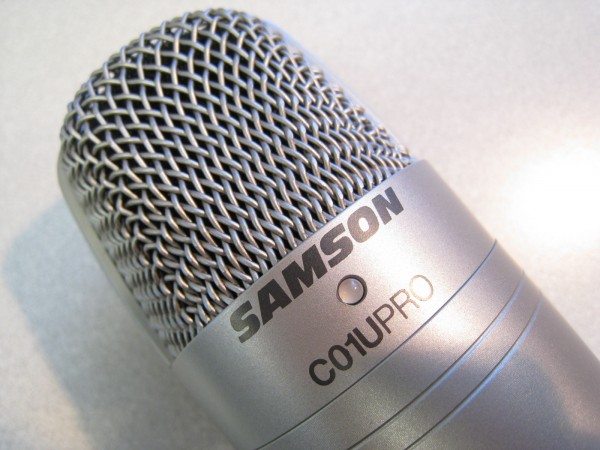 Closeup of the grille.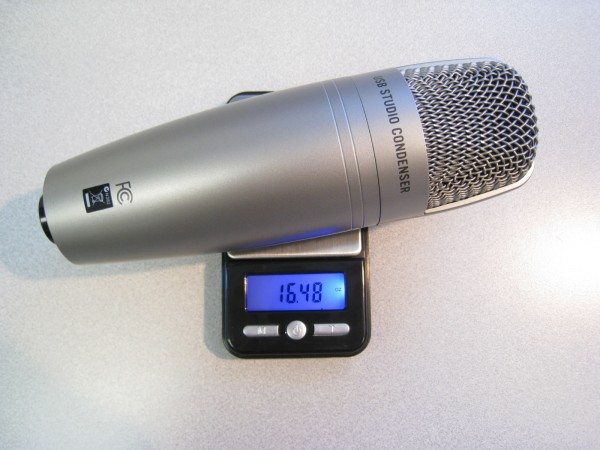 The microphone weighs in at just under 16 1/2 ounces.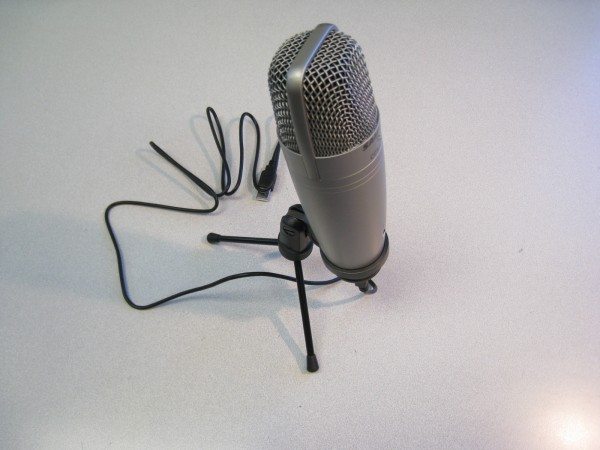 The little fold up tripod (included) is quite handy for desktop use.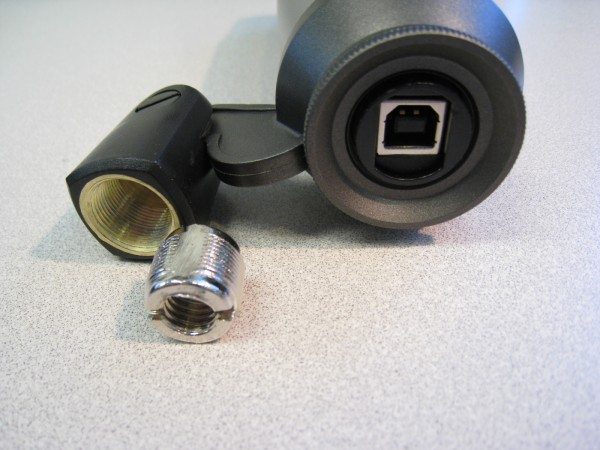 Here's the microphone stand mount.  The brass-colored threads attach to a standard mic stand.  The threaded insert is for a tripod mount.  Note the USB connector on the end of the microphone itself.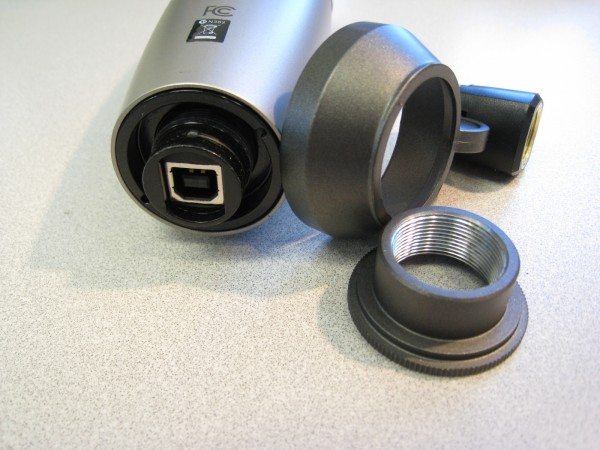 The mic mount attaches via threaded ring.  Here it is, taken apart.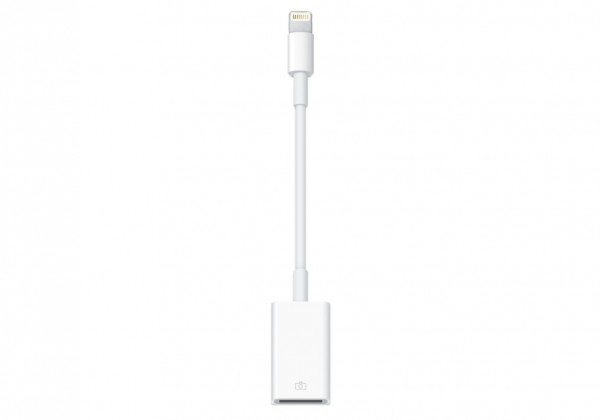 Connecting the Samson CO1U Pro is pretty straightforward, but if you want to connect it to your iPad, you'll need this Apple Lightning to USB Camera Adapter ($29).  It will NOT work on the iPhone 5S, however.
Update from Samson: The CO1U Pro actually does work with the iPhone 5 and 5s with the lightning adapter as long as they are running IOS7 and will even work with the iPhone 4s if it is running IOS7 and has the 30 pin to USB camera connector.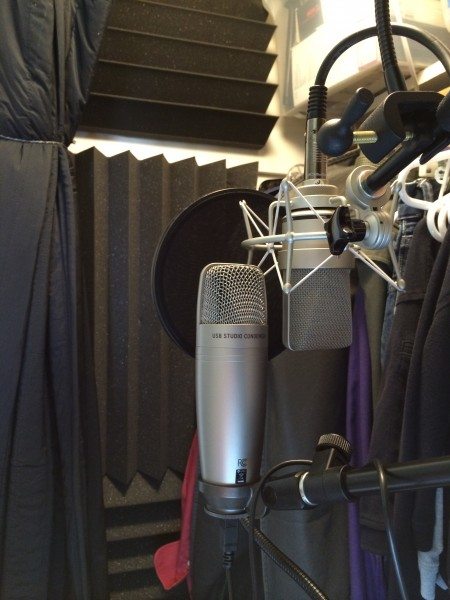 I set the Samson CO1U Pro alongside my Neumann TLM 103 condenser microphone in my recording "booth" (yes, it's just a closet that's been acoustically treated with 4″ wedge foam and other things).  I can hear some of you shouting already… how can the Samson CO1U Pro stack up against a microphone costing roughly 10x as much?
Both microphones were mounted behind a largest-diameter pop filter in my arsenal- which happens to be my cheapest, the Monoprice Dual-Screen Pop-Filter.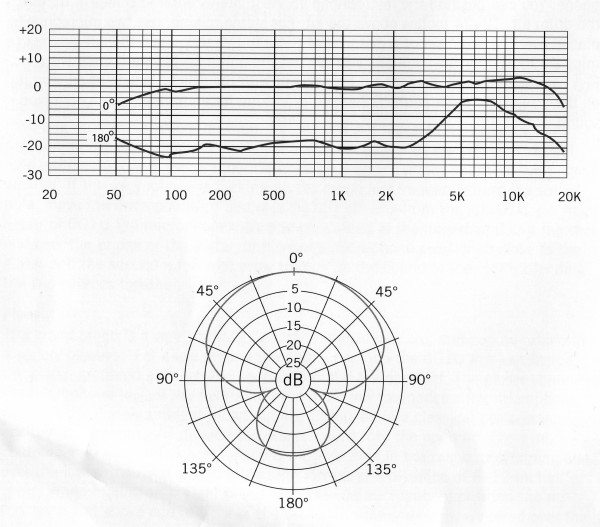 First up, the Samson C01U Pro.  The Samson CO1U Pro has a supercardioid pattern.  I connected the microphone with the Apple USB adapter to my iPad Air and recorded on Twisted Wave for iOS.  No post processing or equalization has been added.
Now, the Neumann.

The Neumann TLM 103 has a cardioid pattern.  The TLM 103 was connected to an Apogee One for iPad and Mac and with Twisted Wave for iOS on my iPhone 5S.  (This clip was recored at the same time as the Samson CO1U clip.)  Again, no post processing or equalization has been added.
I will leave you to decide what sounds better.  Keep in mind that your source material (voice, instrument) may work better with some microphones, but not others.  But for the money, the Samson C01U Pro works quite well as a plug and play, no nonsense USB device or an ultraportable iPad studio on-the-go.
Source: The sample for this review was provided by Samson. Please visit their site for more info.
Product Information
Price:
$129.99 MSRP
Manufacturer:
Samson
Requirements:

For iPad: The Apple Lightning to USB Camera Adapter ($29)

Pros:

Connect directly to your computer via USB or iPad (needs adapter cable)
Good sound for a very reasonable price
Great for a travel kit or simple home setup
Comes with a neat little tabletop tripod

Cons:

Adjustability limited to whatever your software can do
No controls on the mic itself
Supercardioid pattern only (not adjustable)
Apple iOS recording with Apple cable sold separately