We use affiliate links. If you buy something through the links on this page, we may earn a commission at no cost to you. Learn more.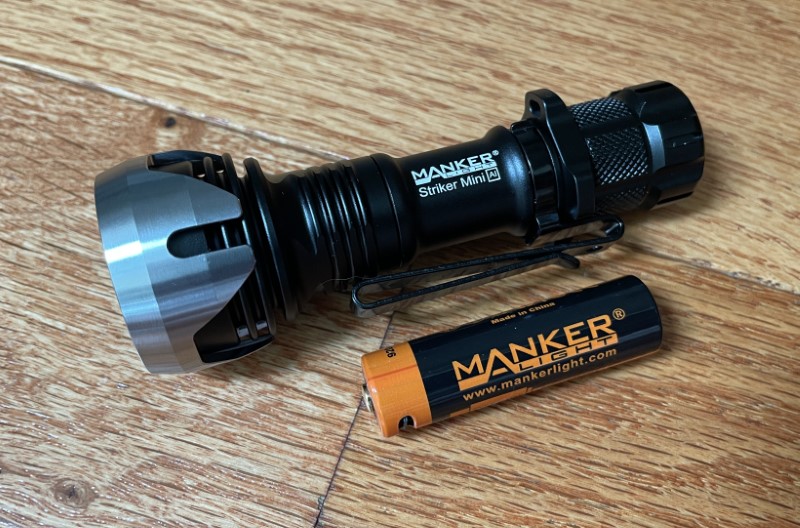 REVIEW – Flashlights are venerable companions and of indispensable value at unexpected times. I've carried one in my pocket every day since high school. Does Manker's new Striker Mini have everything it takes to become an EDC hero? Let's find out!
What is it?
The Manker Striker Mini is a rechargeable 14500/AAA battery-powered, dual-brightness flashlight with an integrated "multi-strike" bezel and strobe function.
What's in the box?
1x Manker Striker Mini LED flashlight
1x Manker 920 mAh Type-C USB rechargeable 14500 lithium battery
1x Type-C USB charging cable
1x Lanyard
1x Spare waterproof o-ring
1x User manual
Glow-in-the-dark inserts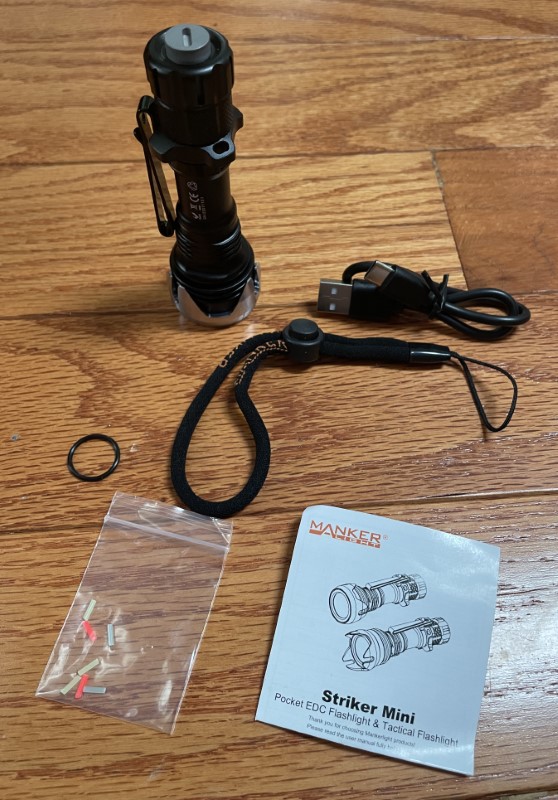 Hardware specs
Model: Striker Mini
Light source: 1x Osram KW CSLNM1.TG LED
Light Modes: High / Low + Hidden Strobe
Output: 635 lm / 50 lm / 635 lm (20Hz) (powered by 14500 USB-C Li-ion Battery)
Runtime: 3 min~1 hrs 15 min~40 min / 6 hrs 30 min / – (powered by 14500 USB-C Li-ion Battery)
Battery: 1x 14500 li-ion / 1x Alkaline AA / 1x Ni-MH AA
Max Beam Distance: 430 meters (1411 feet)
Working Voltage: 0.9 V – 4.2 V
Driver: High Efficiency Constant Current Circuit (Both 14500 and AA)
Body Material: Aerospace Aluminum Alloy with Type III Hard Anodized
Strike Bezel Material: 304 Stainless Steel with Anti-fingerprint (Natual color) or PVD Black Coating
Clip Material: 304 Stainless Steel with Black Plated
Button Material: 304 Stainless Steel with Sandblasted
Contact Spring Retainer Material: Phosphor Bronze / Gold Plated
Lens: Dual-sided AR coated, 99% transmittance toughened Glass
Optic: SMO Aluminum Reflector with Vacuum Plated
Switch: Tactical Forward-click Switch (Mechanical Switch)
Tritium: 6 slots in Tail, 1 in Button Cap. (fit for 6*1.5 mm)
Size: 102 mm (Length) x 35 mm (Head diameter) x 16.8 mm (Body diameter) x 23 mm (Tail diameter)
Weight: 81.6 grams or 2.88 oz (Without battery); 103.3 grams or 3.64 oz (with 14500 battery)
Impact Resistance: 1.5 meters
Waterproof: IP68, 2 meters underwater for 30 minutes
Design and features
I carried a Manker T01 flashlight as my EDC companion for many years until I lost it. I replaced it with a very similar Wuben E6 (reviewed here) and dearly love it, but I'm always on the lookout for a 14500/AA powered flashlight with a similar "throw" (the distance the flashlight beam will usefully project) I prefer to carry a light that is bright, pocketable, and can operate on AA or AAA batteries in a pinch.
Please don't misunderstand. Rechargeable power is awesome and I use it whenever I can, but there are times when charging a dead battery is difficult (if not impossible), not time efficient, or inaccessible. For this reason, I love electronics that can be powered by primary batteries. Sure, it's not as cost-effective, environmentally friendly, or efficient, but at least I'm not carrying dead weight. Being able to hop into the nearest convenience store, dig a battery out of a drawer, scavenge one from my Roku remote, or ask my neighbor to borrow one like a cup of sugar is of great value.
I've been impressed with Manker's previous flashlights and jumped at the combination of features in their new Striker Mini!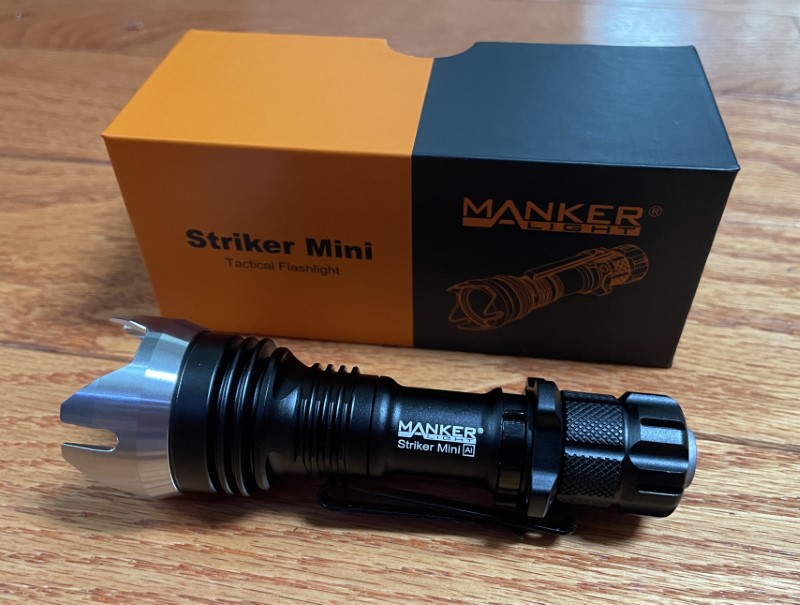 The Manker Striker Mini Flashlight's box is strong with great padding.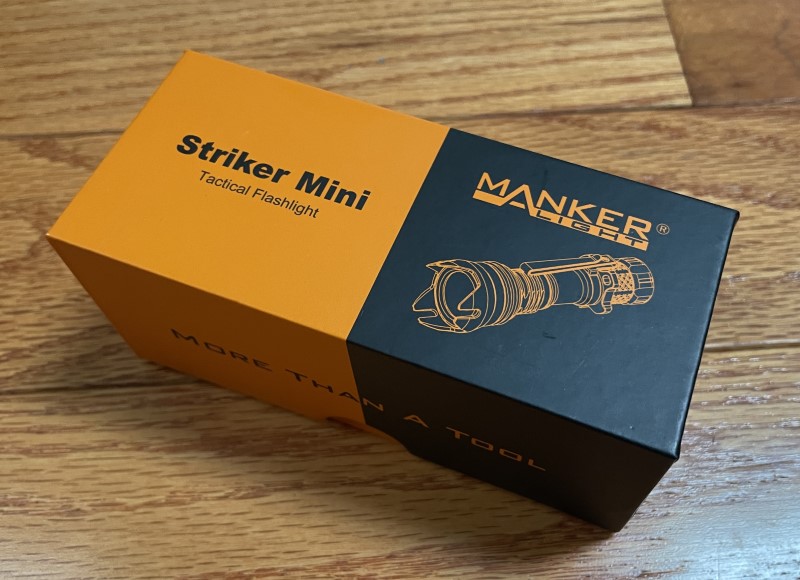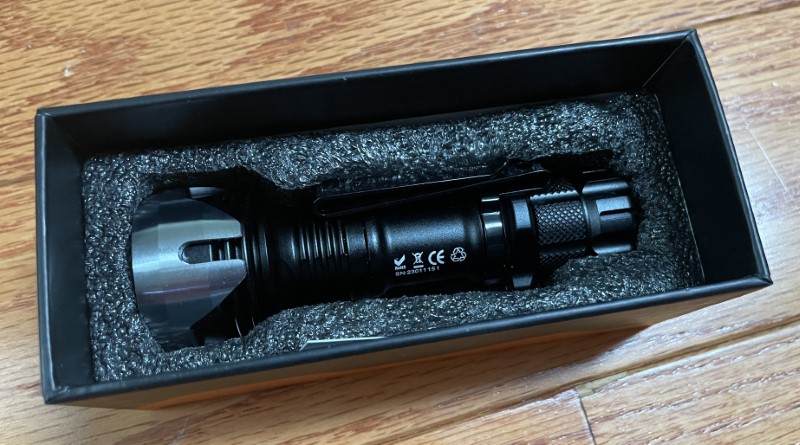 The manual has all of the info needed for happy flashlight use.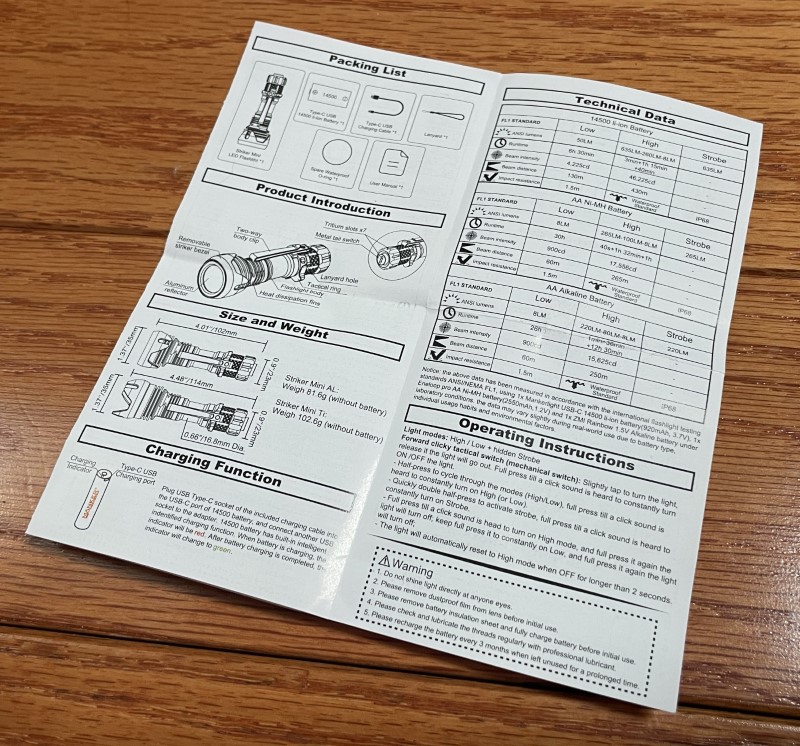 Included are a spare o-ring, lanyard, USB-A to C charge cable, and a few glow-in-the-dark inserts.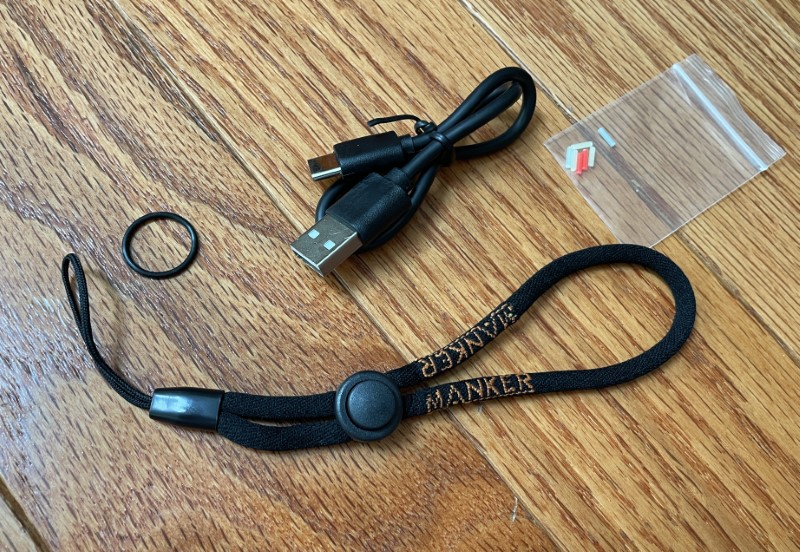 The tail unscrews to gain access to the battery. I appreciate the tail's "lockout" capability – slightly unscrewing the tail breaks contact with the negative and of the battery to prevent the flashlight from being accidentally activated while it's riding in a pocket or purse.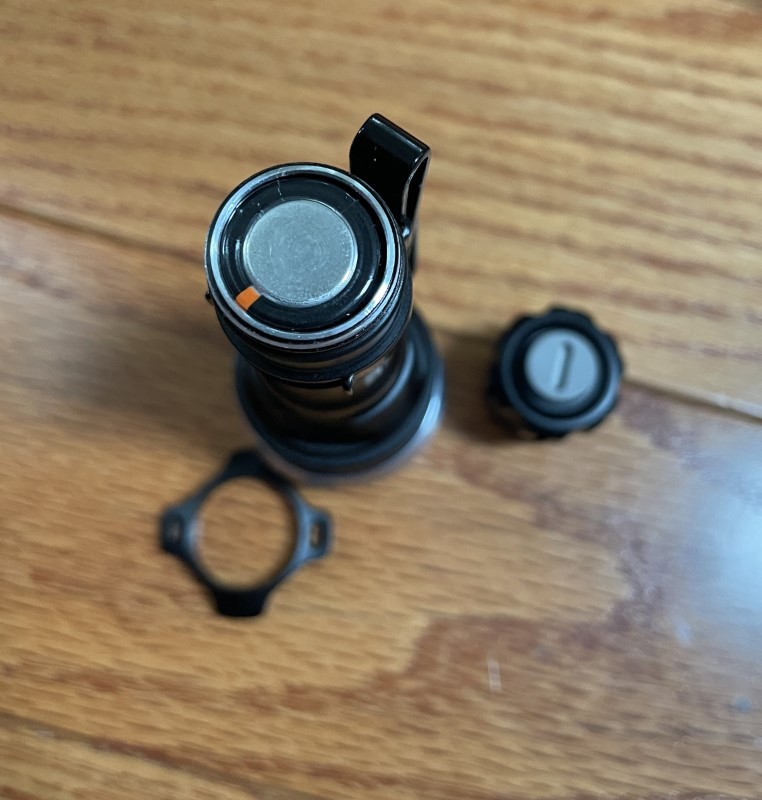 There is a spring in the tail to prevent the battery from rattling around.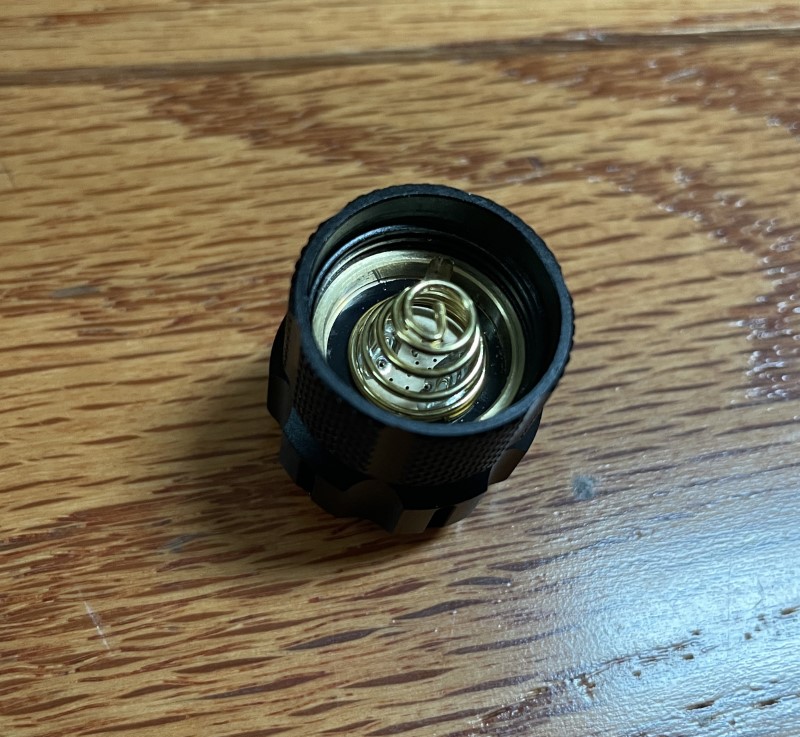 A Manker 14500 battery with an integrated USB-C port and a short are included. An LED under the positive tip illuminates red while charging and green when full.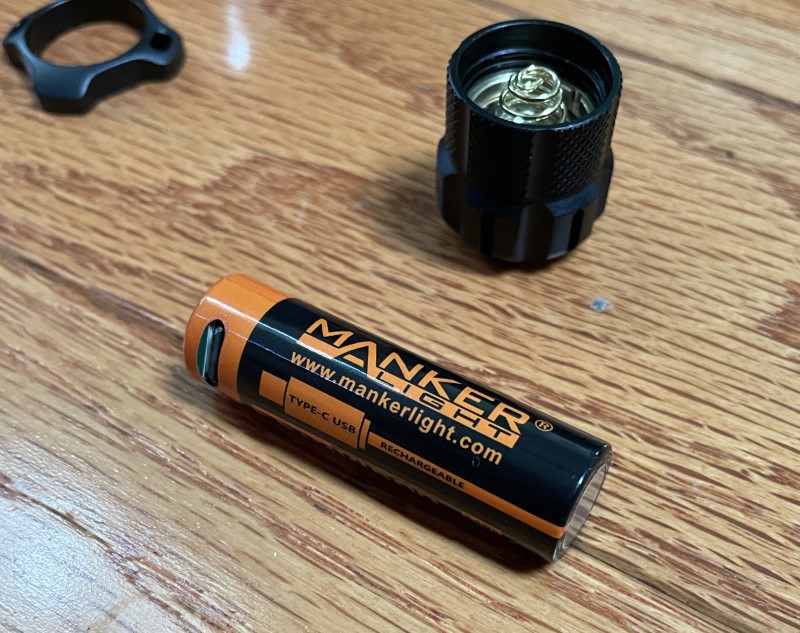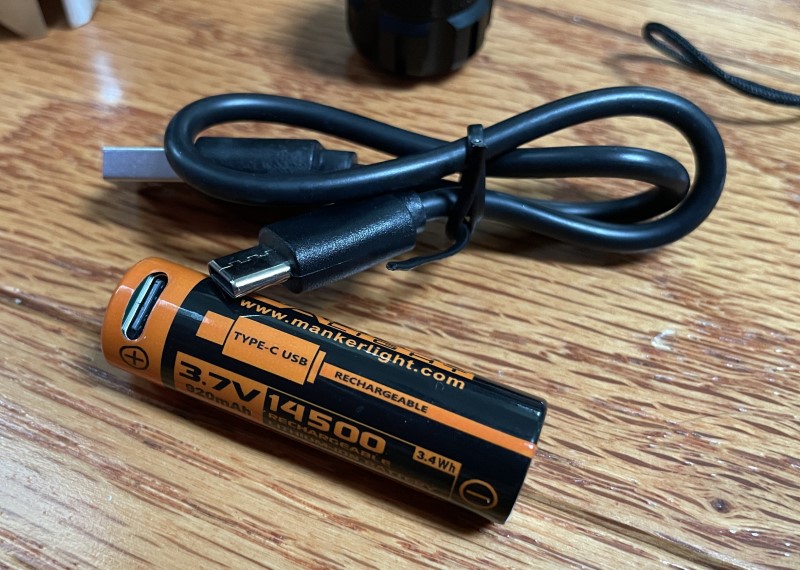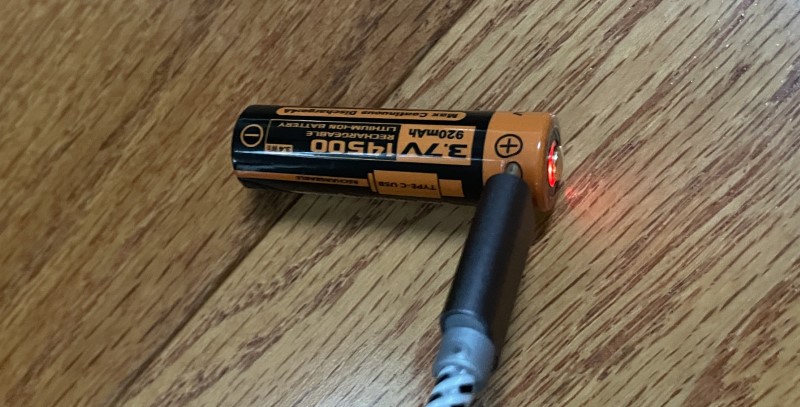 Use care with this battery because it's the same size as a AA cell, but more than double the voltage. Accidental use in gadgets that only use AA batteries could cause damage.  The Striker Mini can use AAs but at less brightness.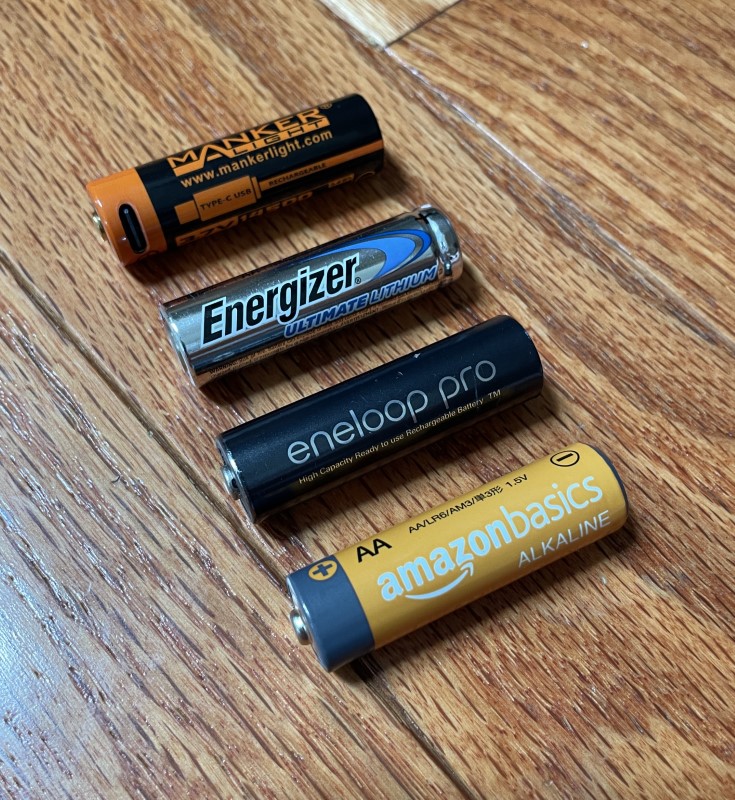 The Manker Striker Mini Flashlight is activated using a "forward click" button meaning on/off and mode engages when pressing (for comparison, a "reverse clicky" button toggles when the button is being released).  There is a satisfying detent when the switch engages. For brightness changes and to access the strobe mode, the button can be "half-pressed" (pressing halfway in without going so far as to make the switch click).  It took me a little while to find the sweet spot. A single half press toggles between high and low modes and a double turns on the strobe. If the flashlight is turned off for more than two seconds, it defaults back to high.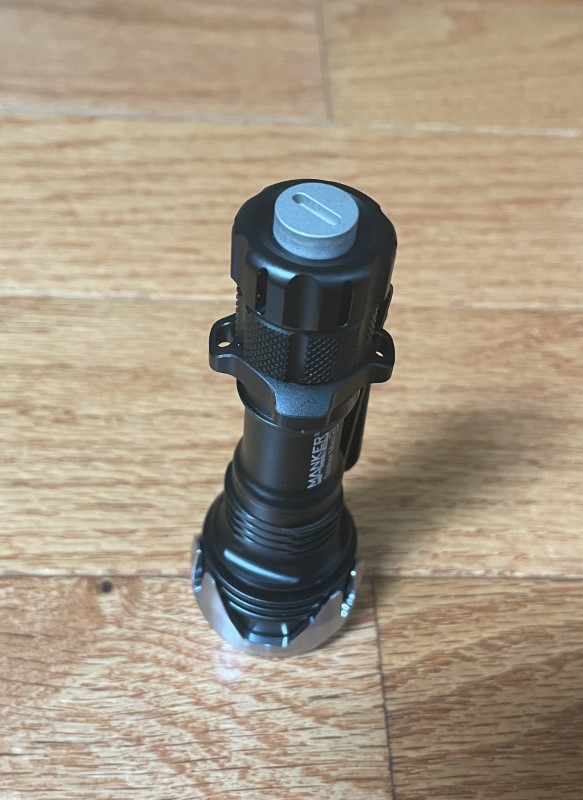 The Striker Mini will tail stand because the button is flat, but it's not very stable.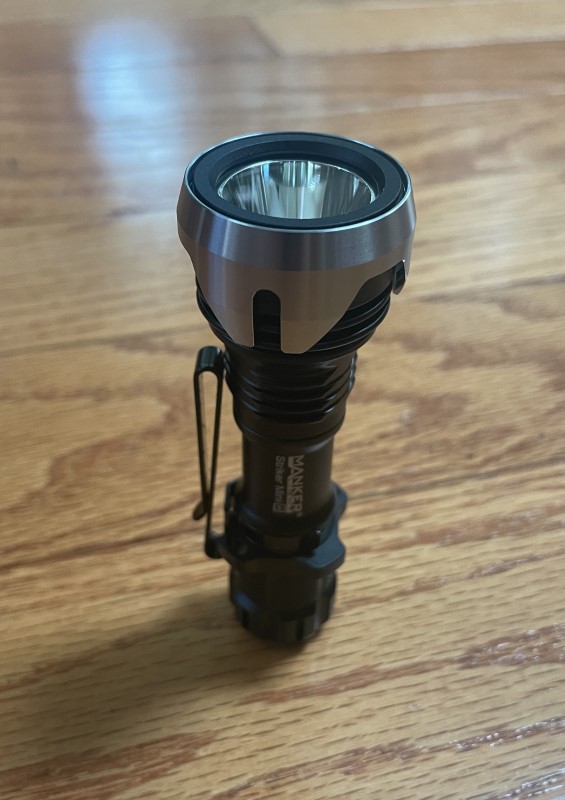 There are cavities around the perimeter of the tail and the button to insert glow tubes. A few glow-in-the-dark plastic inserts of different colors are included, but they are not very bright.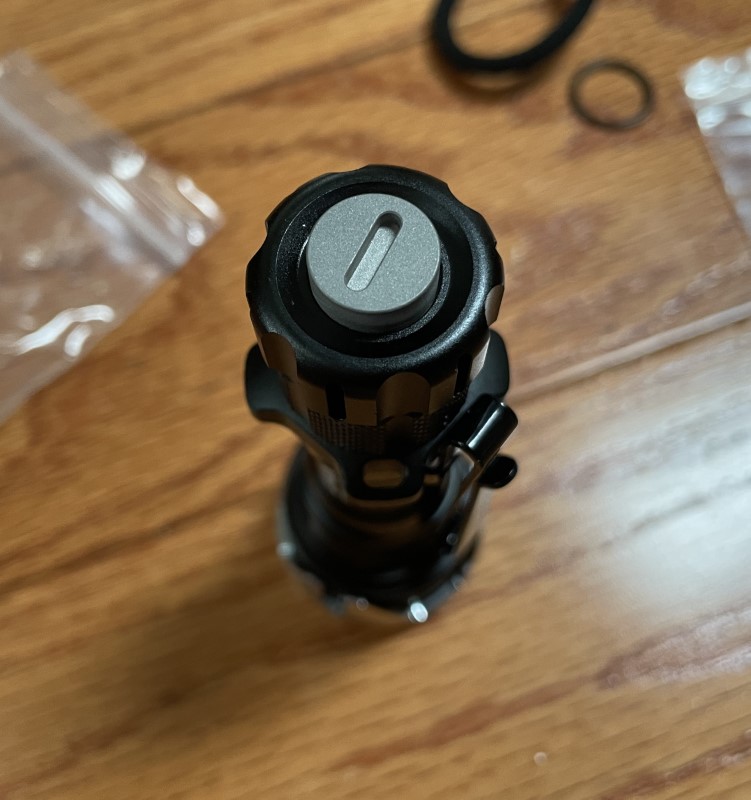 I had a tritium tube available for testing.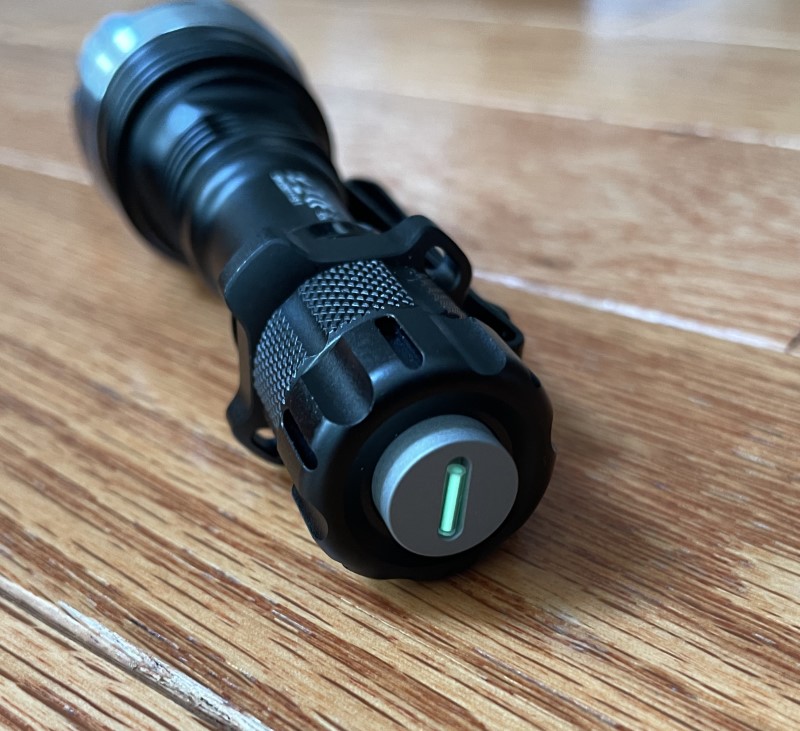 If you prefer a smoother flashlight, the tactical grip can be removed.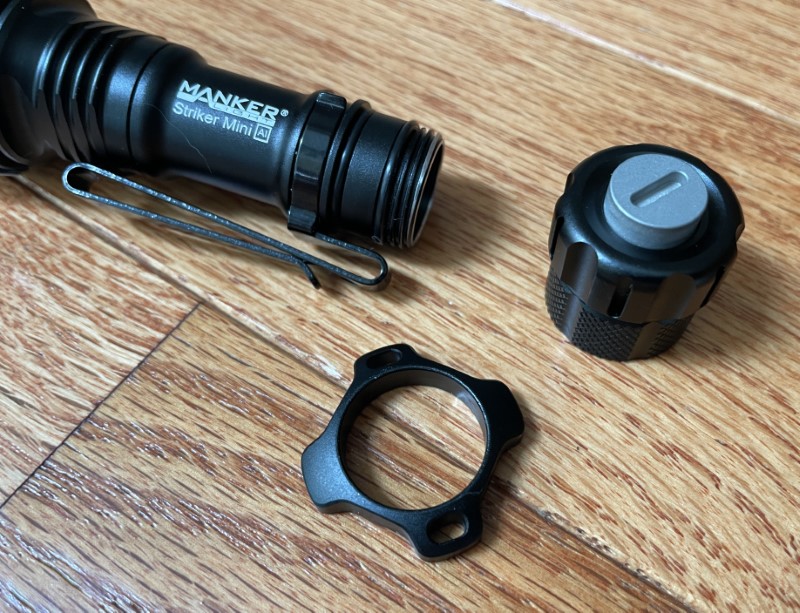 The clip is also removable.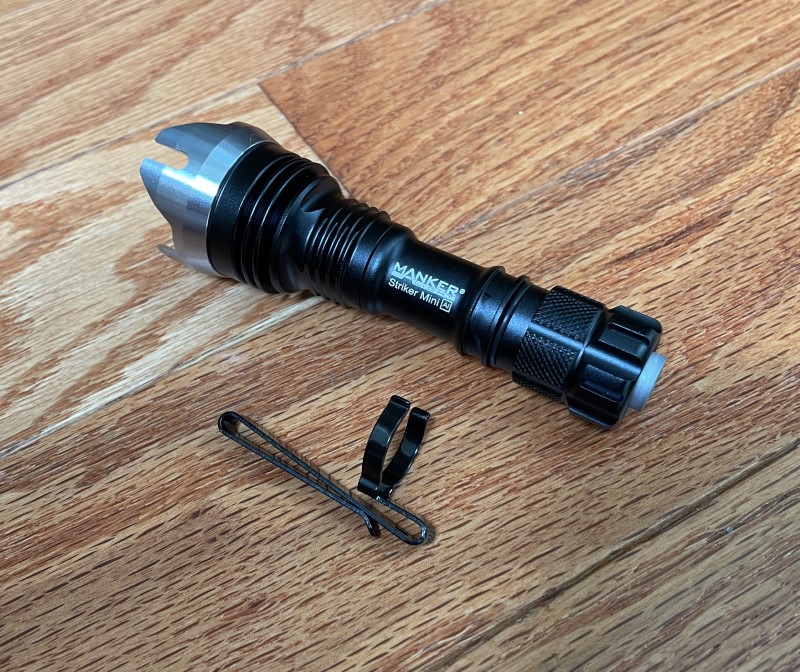 The clip design allows for the flashlight to be pocket carried, attached to the brim of a hat, molle strap, or belt loop with the lens up or down.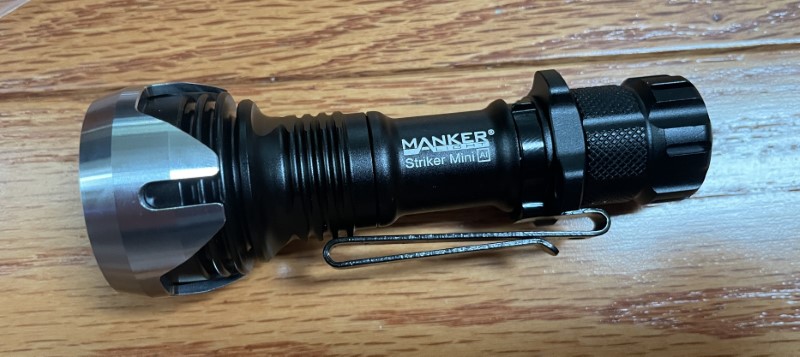 It's reversible so it can't be "deep carried" meaning the tail cap won't be exposed above whatever it's clipped to.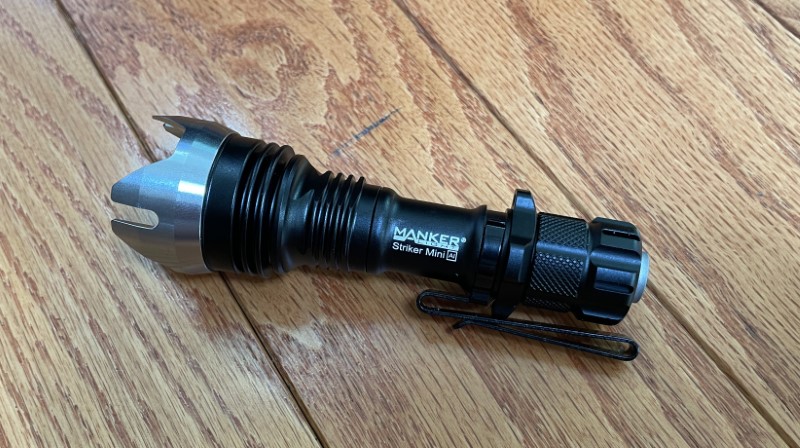 The lens is wide with a single LED at the vertex.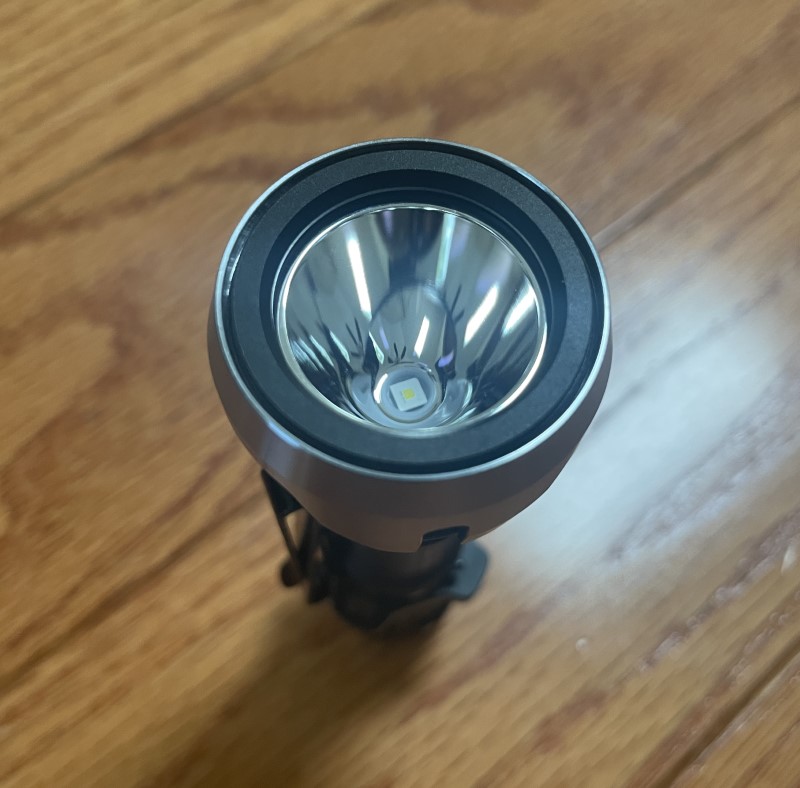 After charging the 14500 battery, the high mode will blast 635 lumens for three minutes, then drop back to 260 for another hour and 15 minutes. The maximum throw distance is 430 meters (about 1410ft). When the battery is almost exhausted, eight lumens will last another 40 minutes. The body of the flashlight gets warm at maximum brightness, but not uncomfortably so.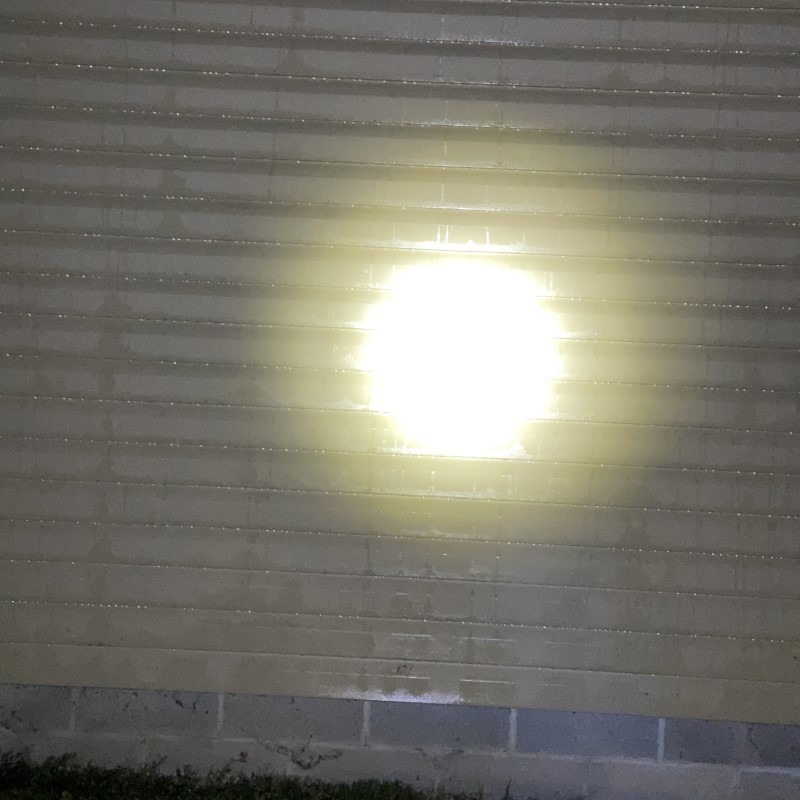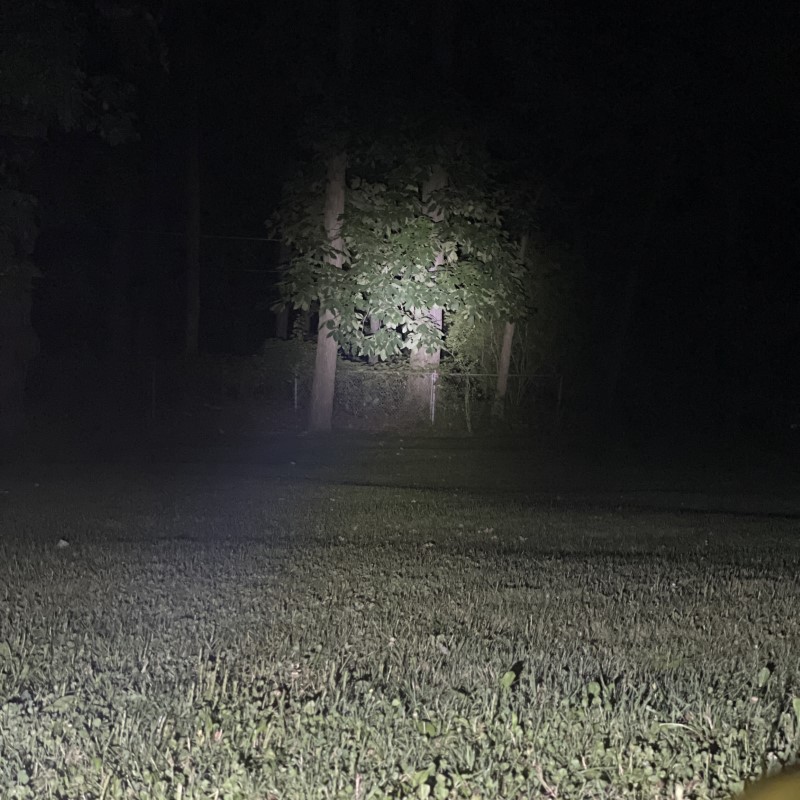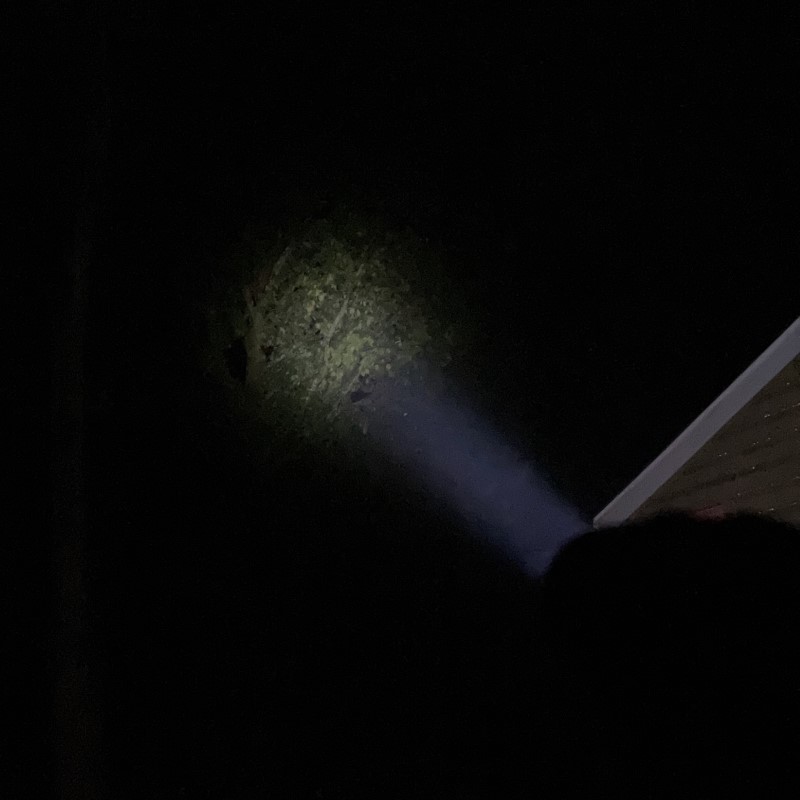 The lower brightness mode remains steady at 50 lumens with a throw of 130 meters (430 ft)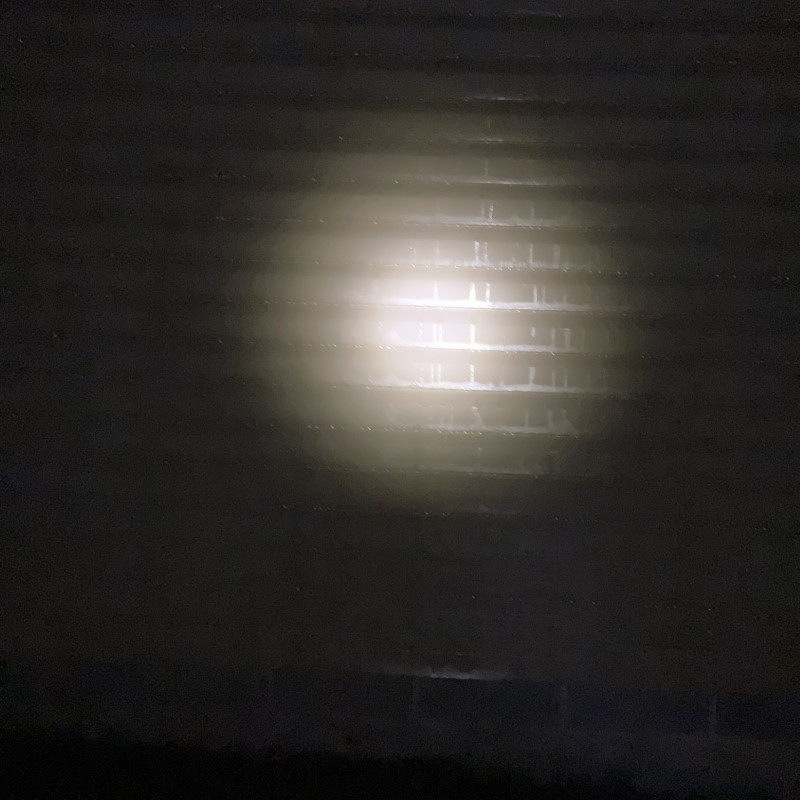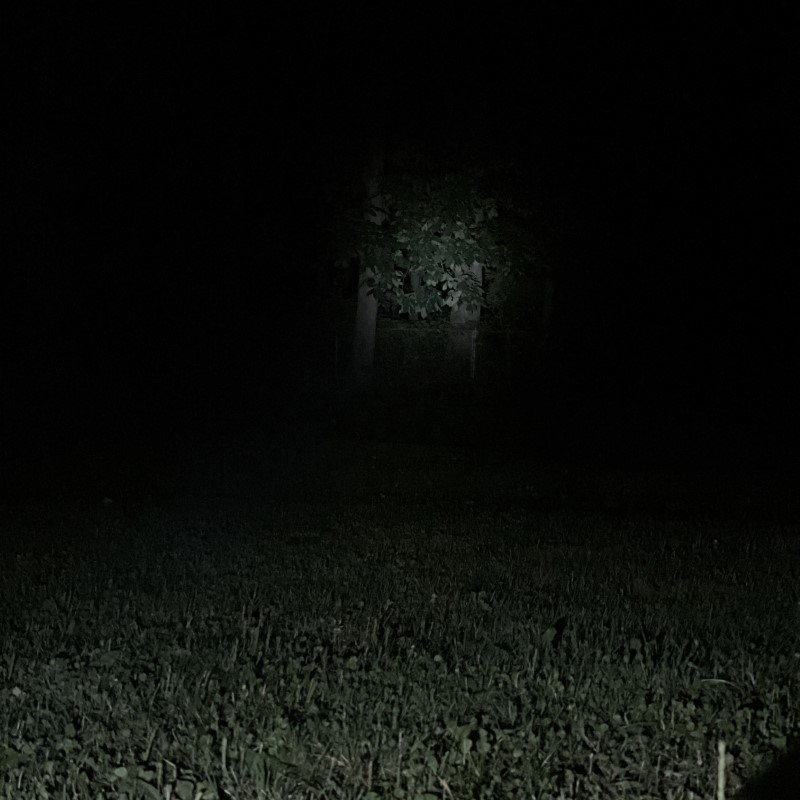 Using a AA Ni-MH (nickel metal hydride), the top output is 265 lumens for 40 seconds, 100 at 1 hour and 32 minutes, and 8 lemens for another hour. Throw at maximum is 265 meters (869 ft). Ni-MH low is 8 lumens for 30 hours at 60 meters (197 ft)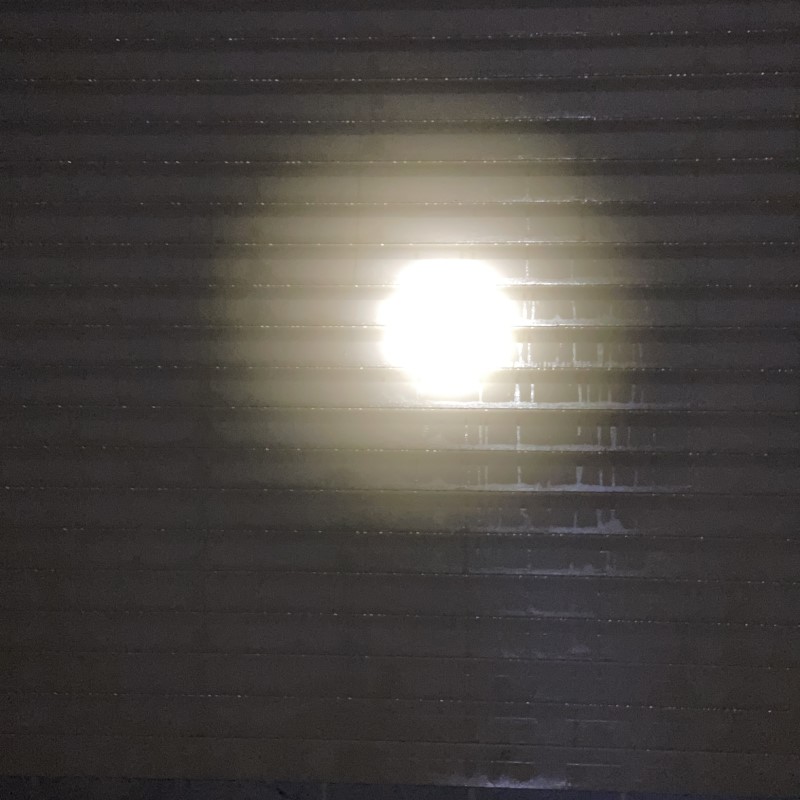 Ni-MH low is 8 lumens for 30 hours at 60 meters (197 ft)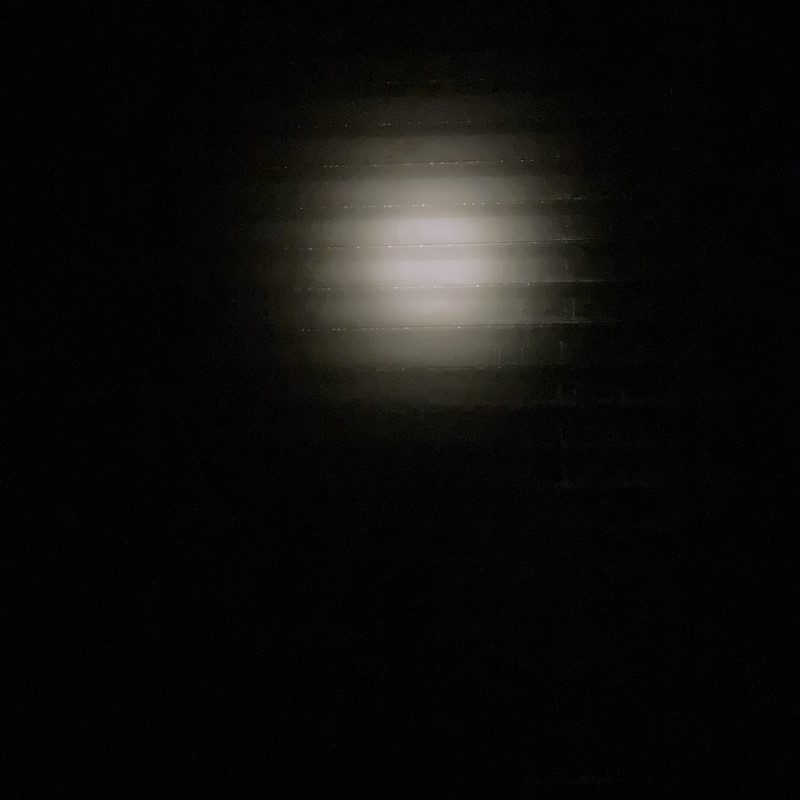 On an alkaline battery, the top output is 220 lumens for one minute, 80 at 1 hour and 36 minutes, and 8 lumens for another 12 hours and 30 minutes. Throw at maximum is 250 meters (820 ft).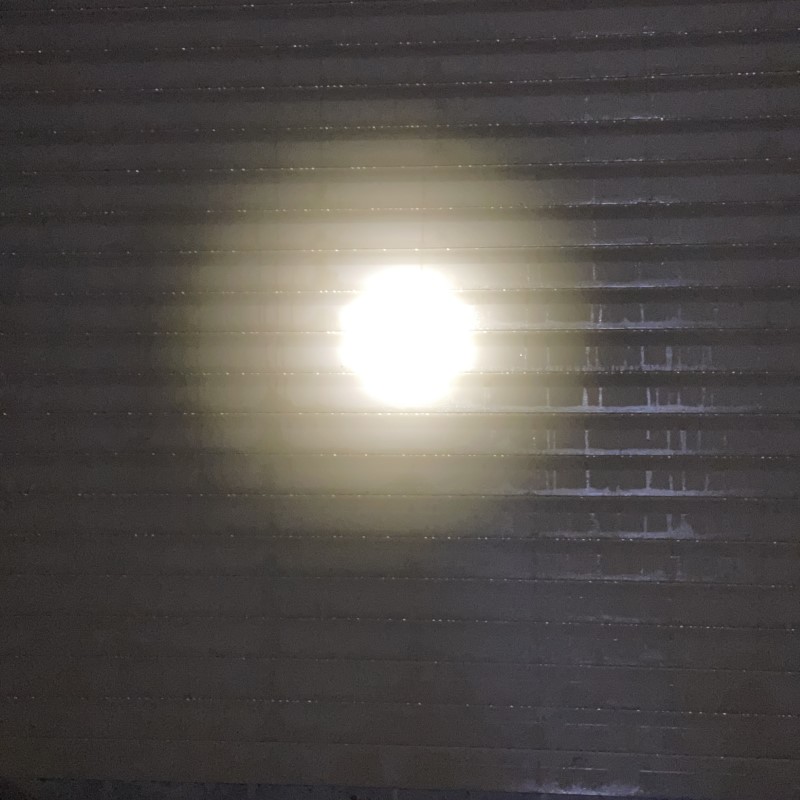 Low mode with an alkaline battery is 8 lumens for 26 hours at 60 meters (197 ft).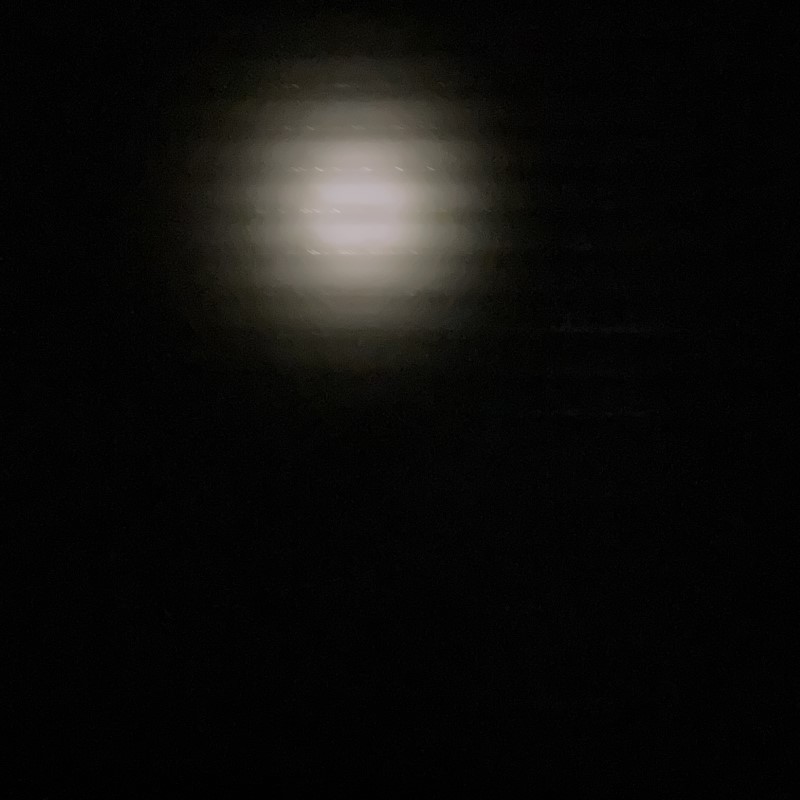 There have been many spirited debates about a flashlight's maximum output runtime. The limitation is usually due to the battery capacity or electronic throttling to prevent overheating. In either case, the maximum brightness drops dramatically after a short time. In my opinion, most of my flashlight use does not require maximum brightness for more than a few minutes so I'm OK with flashlight specs as published. I figure if I need more light, I'll grab a bigger flashlight :-).
The Manker Striker Mini Flashlight's beam is artifact-free and very narrow.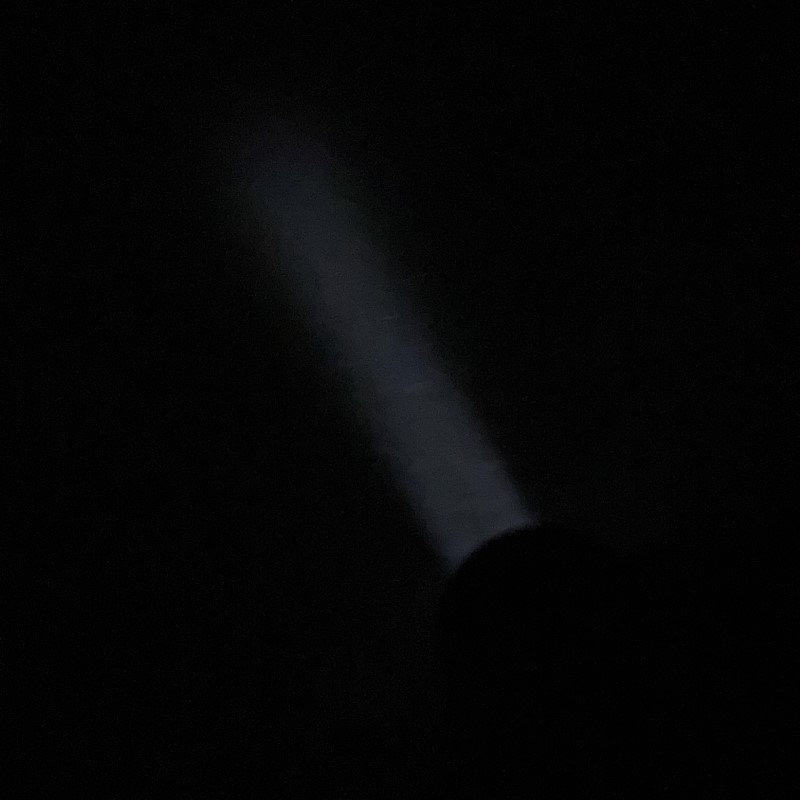 An interesting feature is the detachable crenelated bezel.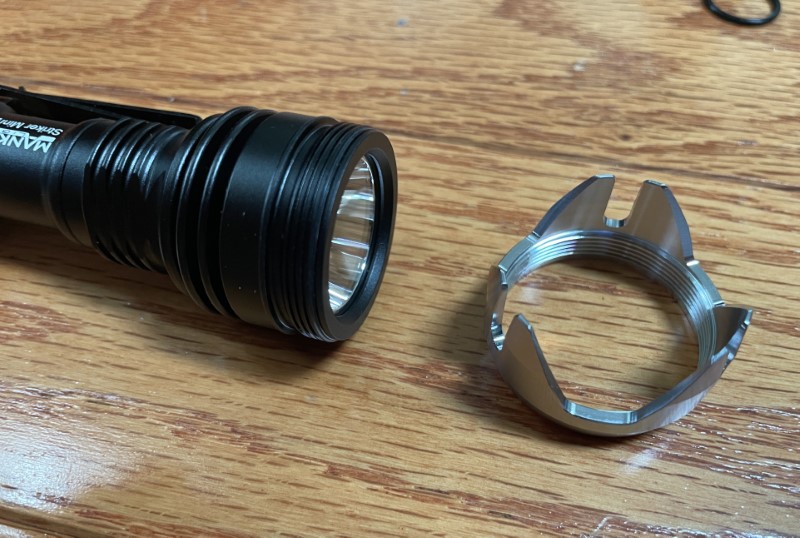 In "mild-mannered mode," the spikes in the crown face toward the body.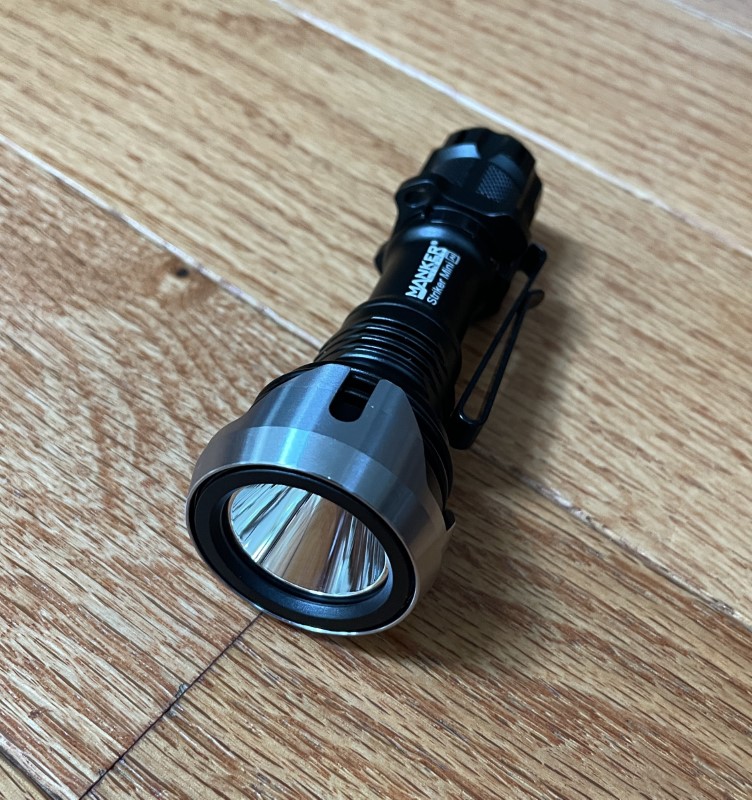 In "business mode," the crown spikes face outward to let light escape while its lens is down or for use as a kubaton (check with local laws regarding legality), chipping ice, or garden cultivation ;-).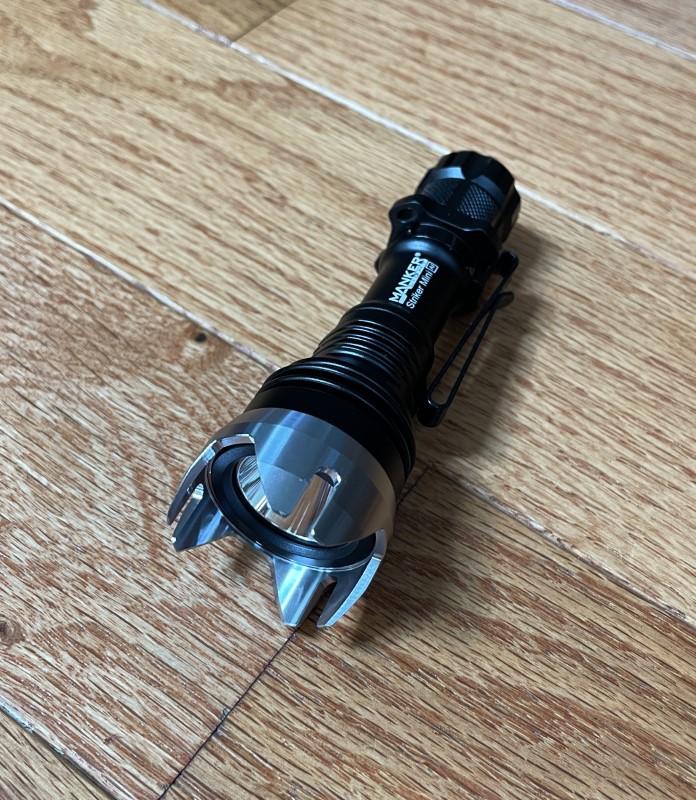 The Striker Mini's strobe mode can also be used to dazzle a potential attacker without doing physical damage. Even with closed eyes, it's disorienting.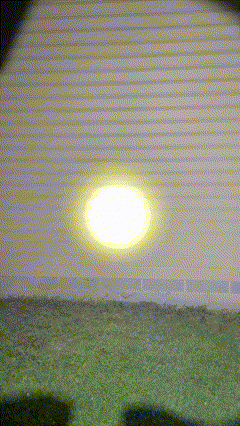 What I like
14500 and AA battery power
Excellent throw for such a small flashlight
Great beam quality
Simple interface – high, low, and strobe
The crenelated bezel is tough!
What I'd change
Add an option for a "deep pocket carry" clip.
Final thoughts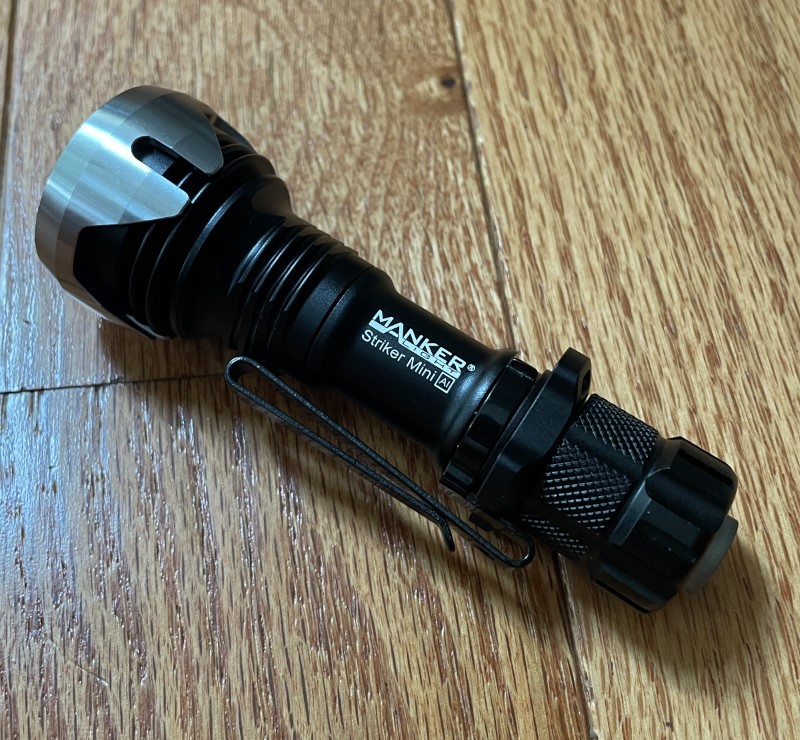 Flashlight preferences are largely personal. I'm a big fan of 14500/AA lights with a high brightness and good throw so for me, the Manker Striker Mini Flashlight is an outstanding balance of features. Can it be an EDC pocket-carry hero? It sure can! Well done Manker and thank you, FlashlightGo for making these available!
Price:  $49.95
Where to buy: FlashlightGo
Source: The sample for this review was provided by FlashlightGo.com