We use affiliate links. If you buy something through the links on this page, we may earn a commission at no cost to you. Learn more.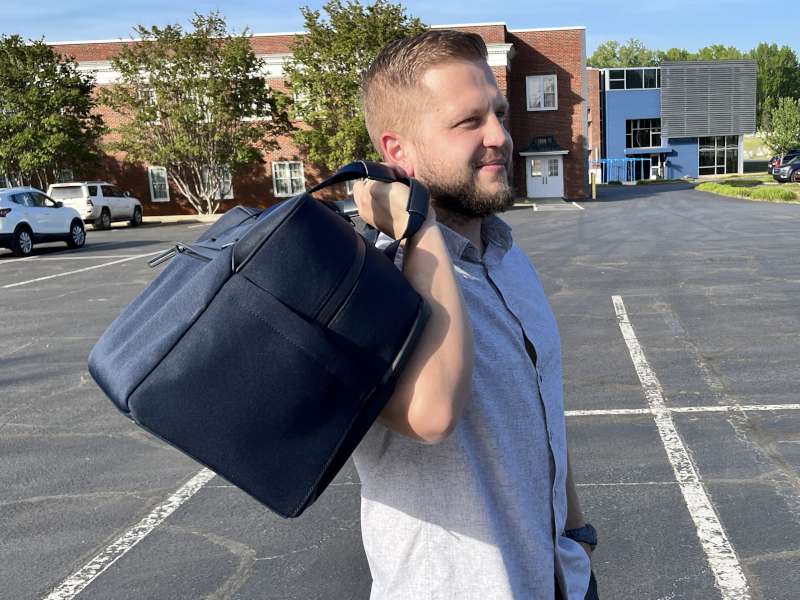 REVIEW – When I travel, I already have a couple good suitcases to carry what I need.  Sometimes, however, they are too much space—think overnight trip—and at other times they are not quite enough, like when I travel to a conference for the week.  For times like these, a good duffle bag is exactly what I need.  It can carry both clothes and reading material, effectively use the space, and are easy to pack.  Today I am reviewing a very nice duffle bag, the Troubadour Embark.
What is it?
The Embark is a small duffle bag that has an external, padded pocket for a 16-inch laptop, a ventilated pocket for a pair of shoes, and a trolley sleeve for sliding over a luggage handle.  Troubadour is a British company whose calling is "making bags and accessories that are engineered to perform brilliantly."
What's in the box?
In the box, there is the Troubadour Embark Duffle Bag with a detachable, adjustable strap.
Specifications
The Troubadour Embark Duffle Bag has the following specifications:
Dimensions:  19 x 11.5 x 8.5 inches
Capacity:  30 liters
Weight: 3.1 lbs
Laptop pocket:  up to 17-inch laptop
Handle length:  6.5 inches
Strap length:  39 inches out of the box, about 55 inches fully extended
Materials:  Waterproof polyester fabric made from recycled plastic, waterproof zippers, antimicrobial lining, and Italian leather trim
Color: black or navy
Design and features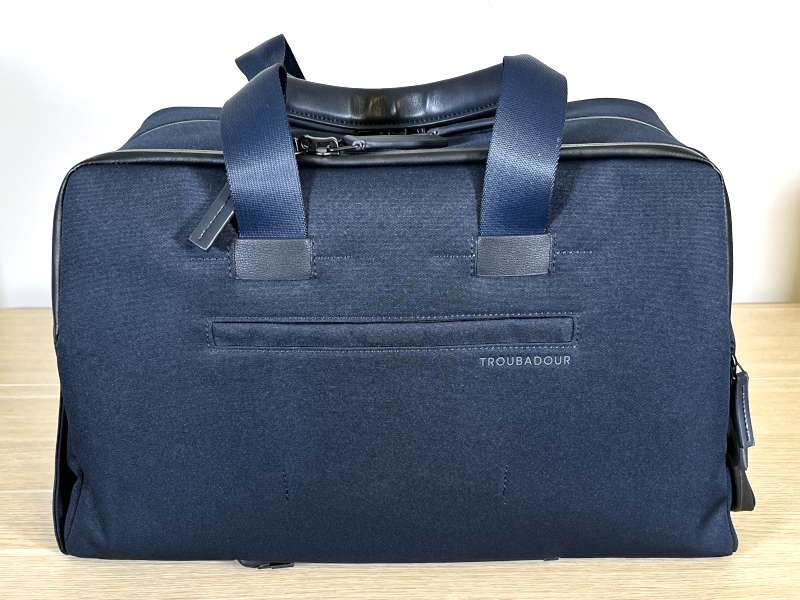 The Troubadour Embark Duffle Bag is not your average duffle bag, like something you'd get at Target.  The Embark has a lot more of an upscale feel to it.  It has a simple, straightforward look where everything blends together in a single, dark color, sans the flashy logos that some bags have.  While it has plenty of external pockets, they subtly fit in the flow of the bag.  I know that Troubadour says that it's perfect for the gym, but I think it has classy business traveler written all over it.
Installation and setup
I pulled the navy-colored bag from the box and removed the protective packaging, and then it was ready to go.
Performance
The Troubadour Embark Duffle Bag has five external pockets, one on each side, two on the back, and one on the front.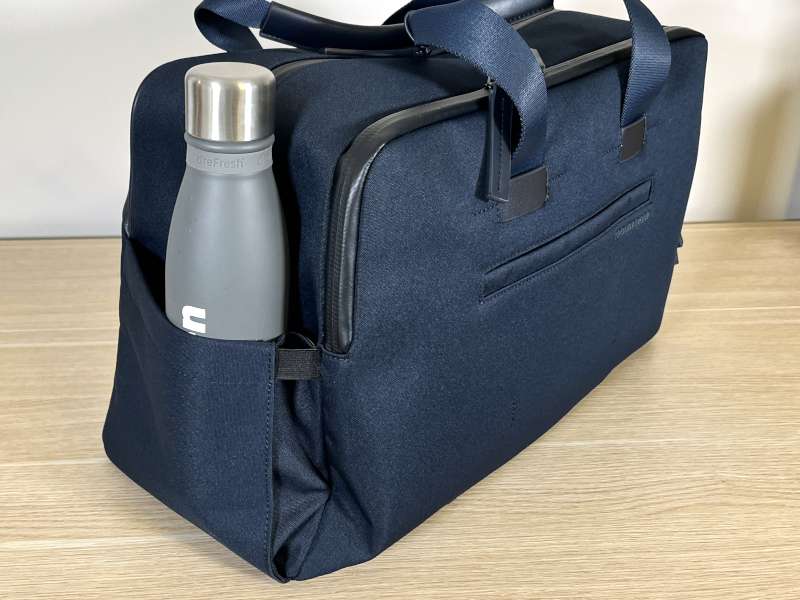 On one end there is a water bottle compartment.  It's rather shallow compared to those found on good backpacks, especially for larger water bottles.  I wish this pocket was an inch or two deeper.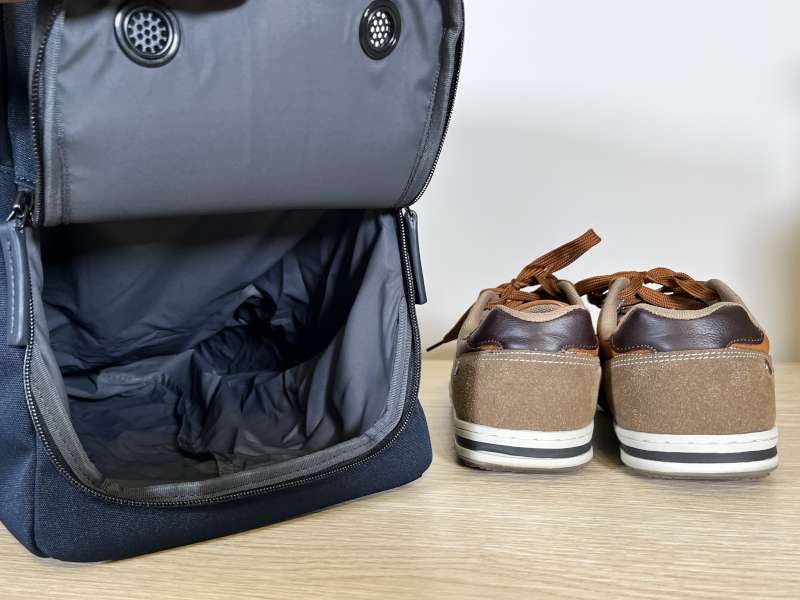 On the other end is the most interesting feature of the bag, a ventilated shoe compartment.  It's essentially a sewed-in interior bag that separates its contents from the rest of the main compartment with a thin liner.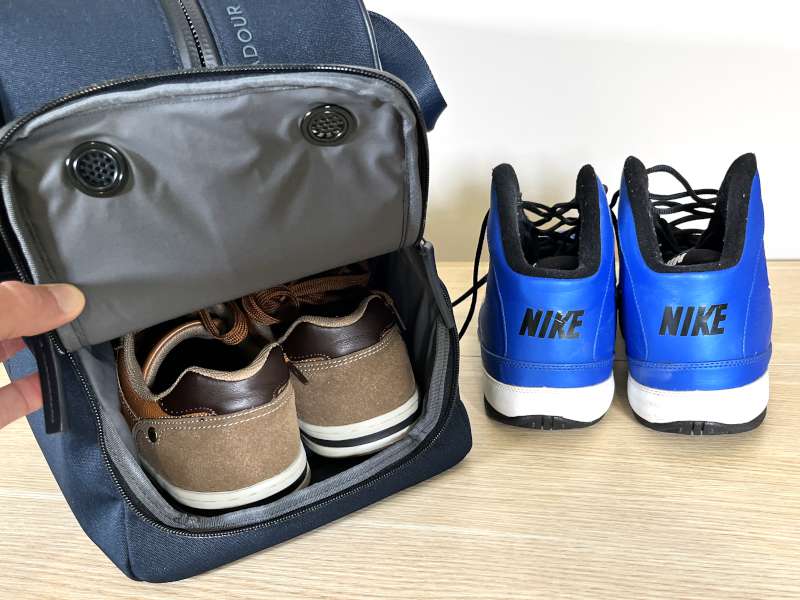 This compartment is not very wide, simply because the Troubadour Embark Duffle Bag itself is not very wide.  I could squeeze in a pair of loafers, but there's no way my basketball shoes would fit in there.  Personally, I think it would be a good place to put my dirty clothes to separate them from the clean ones.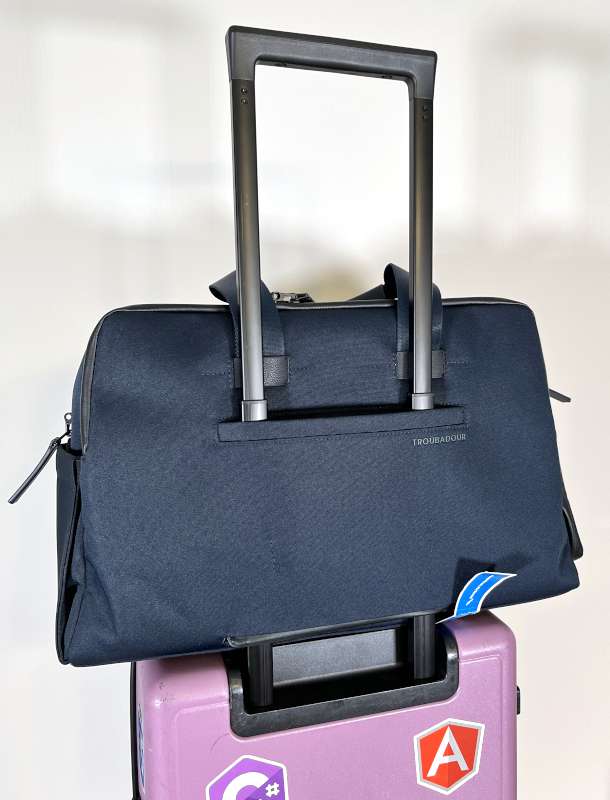 On the back is a trolley sleeve.  The bottom of the sleeve is zippered, so it could be another pocket if I needed it, albeit one that is very narrow.  It would be a good place to put some important papers, after I folded them in half, or to stuff some business receipts to make sure I get reimbursed.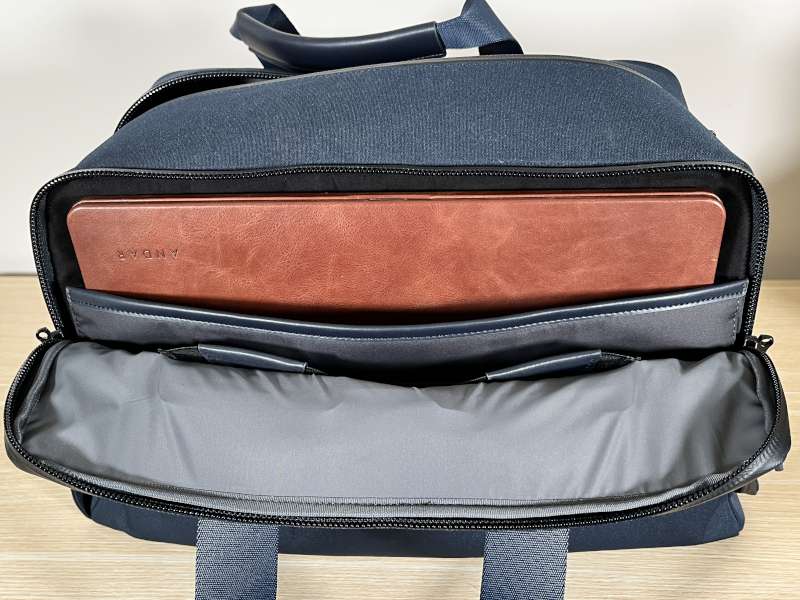 The back of the Troubadour Embark Duffle Bag also has a laptop compartment with a slot that will comfortably hold my 16-inch MacBookPro, even with its leather case from Andar.  Unfortunately, the padding for this compartment is like the design of the bag:  very minimalistic.  If I'm going to put the laptop in the bag and the bag on the front seat of my car and drive to see family for the weekend, then it will be ok.  For any real travel or stress, however, there's just not enough padding to provide any meaningful protection.  If Troubadour is going to go through the trouble of adding a laptop compartment, I wish they would take protecting it more seriously.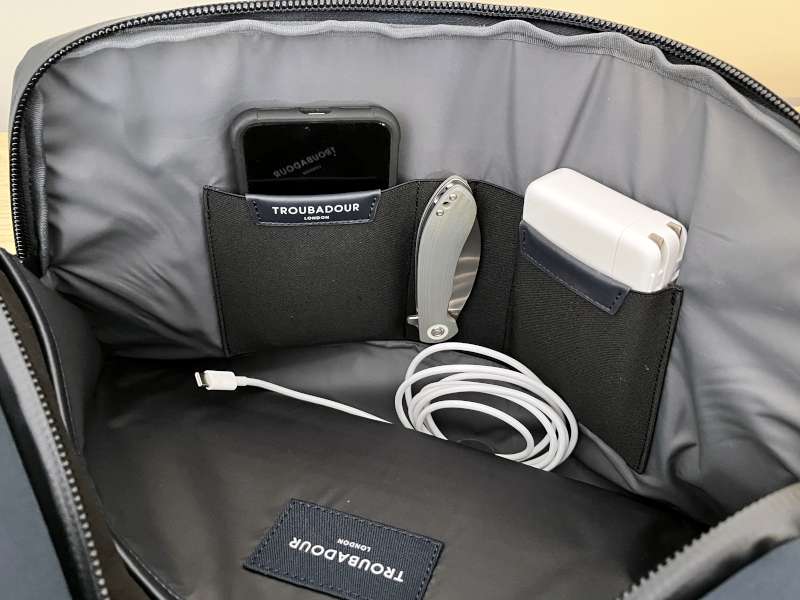 The laptop compartment also has a general area that is great is for cables and chargers and some foam-padded pockets for a phone and other gadgets, like my Vosteed Nightshade pocket knife.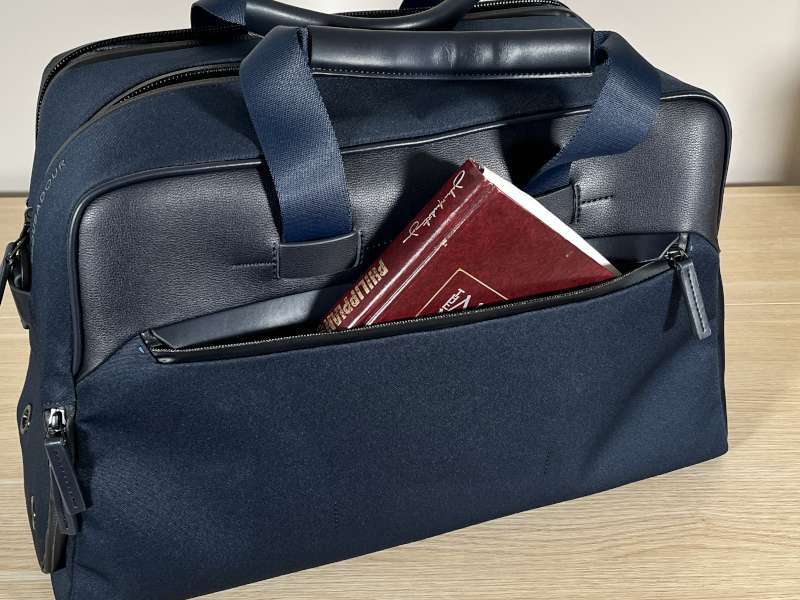 The front has a long pocket with a leather protector over the zipper.  It would be a good fit for a book, so long as it's not too thick.  Socks, ties, or a pair of Ororo Calgary heated gloves would also fit in here.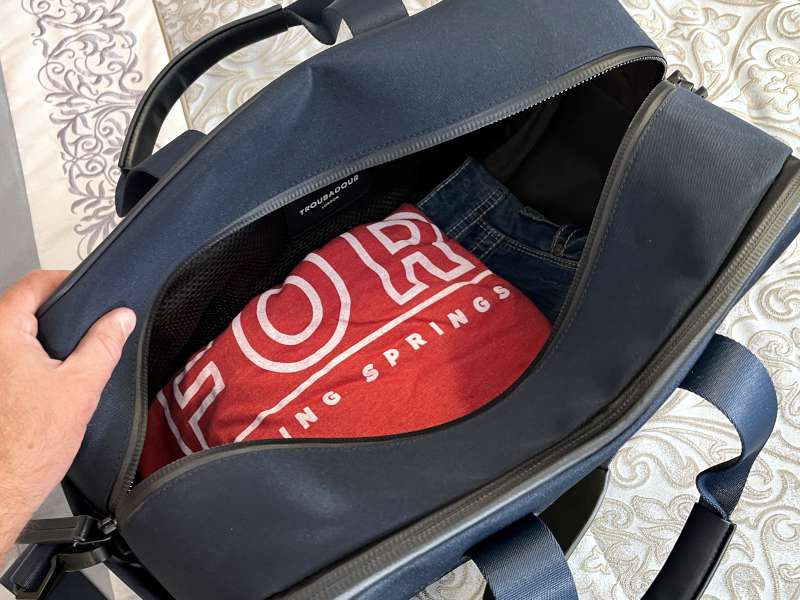 The main compartment of the Troubadour Embark Duffle Bag holds about 30 liters.  This would be enough space for one day of bulky winter clothes or perhaps three or four days of light summer clothes along with a toiletry bag.  It's not huge, but it's good for a weekend away or as an addition to a suitcase.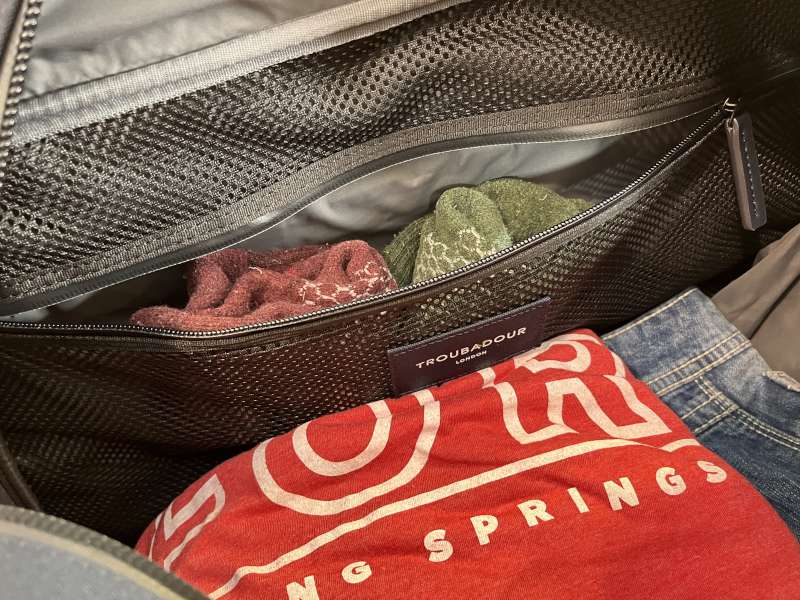 Inside the main compartment is a mesh pocket that would be great for socks or underwear or anything small I want to keep separate from my other clothes.
Most airlines require carry-ons to be 22 x 14 x 9 inches or smaller, if they bother to check at all.  The Troubadour Embark Duffle Bag is smaller than this requirement in every dimension, so I shouldn't have any problem carrying it onto a plane.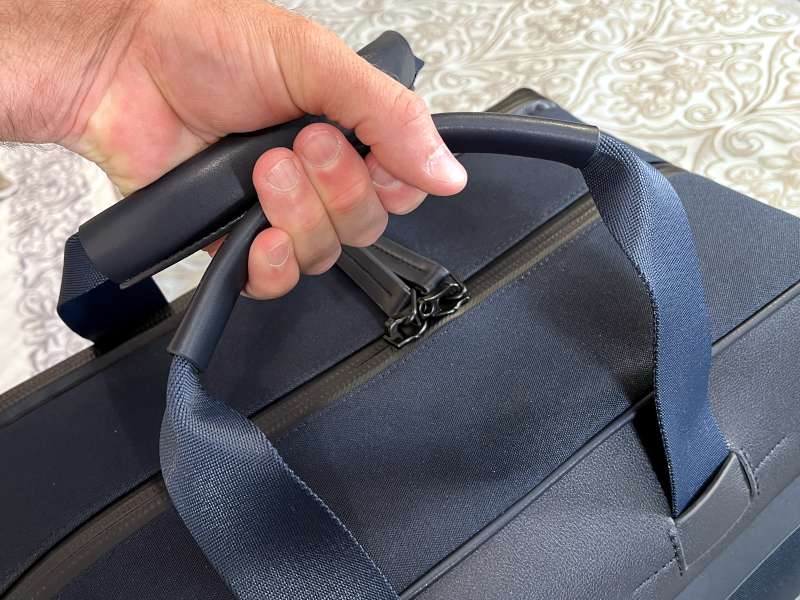 The handles are covered in leather, making it easy to grip and hold on.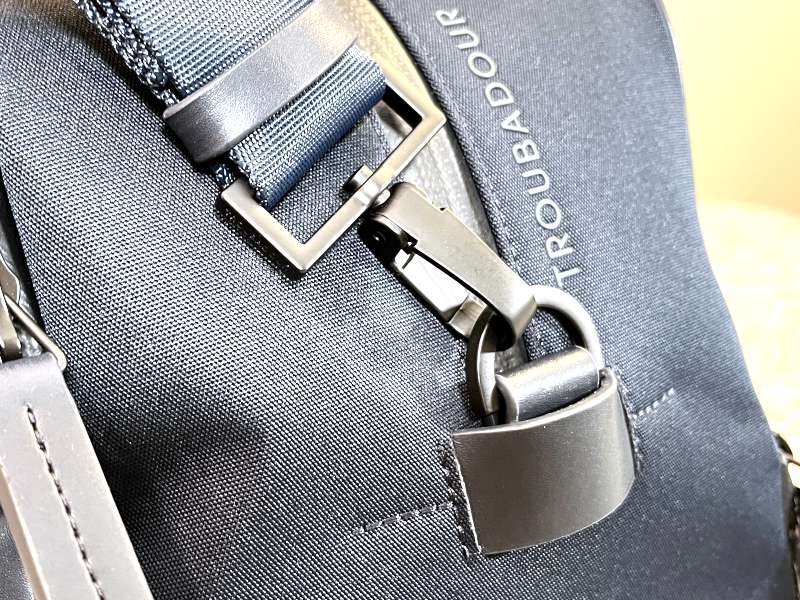 Out of the box, the strap is too short to be very useful.  I extended it as far as I could, around 55 inches, a good length for carrying the bag on my shoulder.  The strap and the clasps all seem very strong, like they could handle a significant amount of weight in the bag; Troubadour even says that the straps are attached with rivets for maximum strength.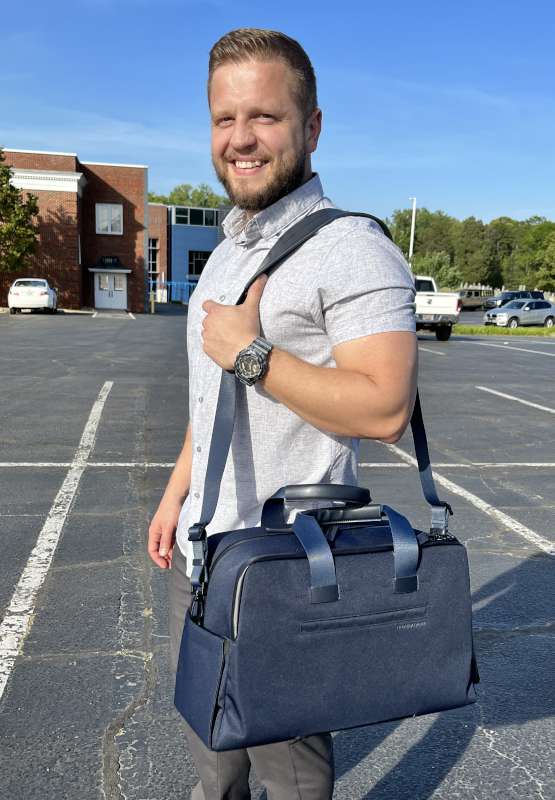 Unfortunately, the padding on the strap, though it's wonderfully non-slip, is much like the padding for the laptop:  insufficient.  If I simply put some clothes for the beach and a pair of flip-flops in the bag, the padding won't be an issue; but if I load this bag up—maybe I'm carrying a bunch of books to study over the weekend—then my shoulder is going to feel it.  Once again, I wish that Troubadour would take padding more seriously.
One of Troubadour's goals for a good duffle bag is that it's "rugged enough for the great outdoors."  I have no doubt that they have achieved that goal with the Embark with plenty of room to spare.  I am a bit concerned, however, that this bag will show scuff marks pretty easily.  I don't think that this is a bag I would ever consider checking in for a flight, nor would I want to toss it into the back of a pickup truck for a trip.  If, however, I take care of it, it should be perfectly fine.  Troubadour thoughtfully included some basic information for taking care of their products on their website.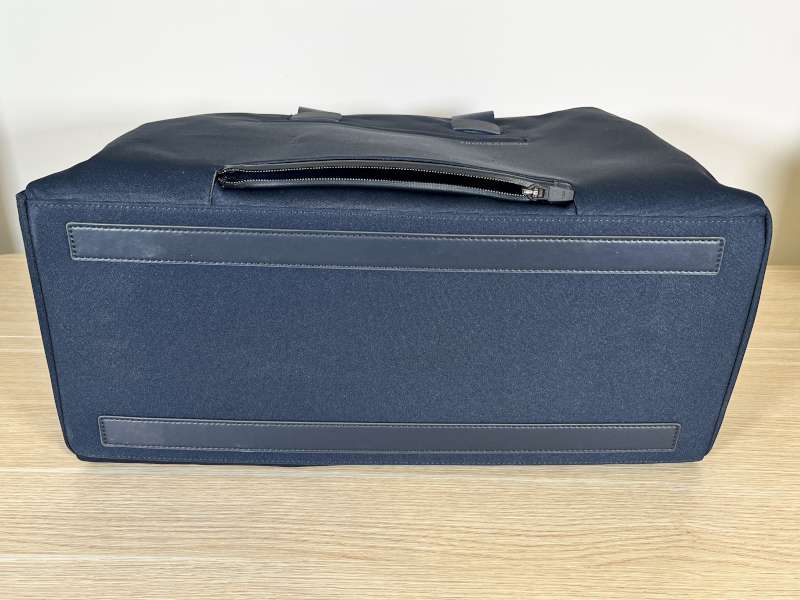 The bottom of the Troubadour Embark Duffle Bag only has two strips of leather for protection; they make me think that this bag was designed to be set on carpet not concrete.  These will surely be scuffed up pretty quick.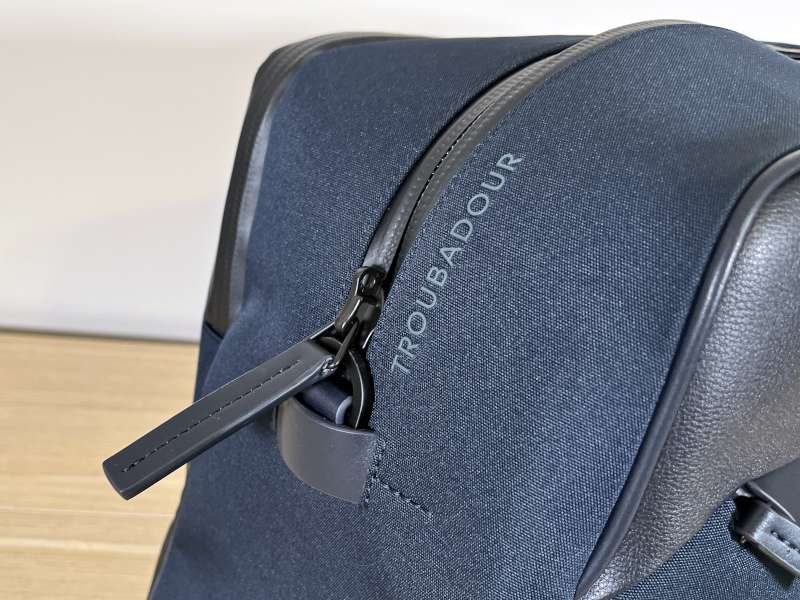 The zippers have very long leather pulls on them.  They are so long that they are almost awkward, but they'll be handy in cold weather when I'm wearing gloves.  They are certainly distinctive in their styling.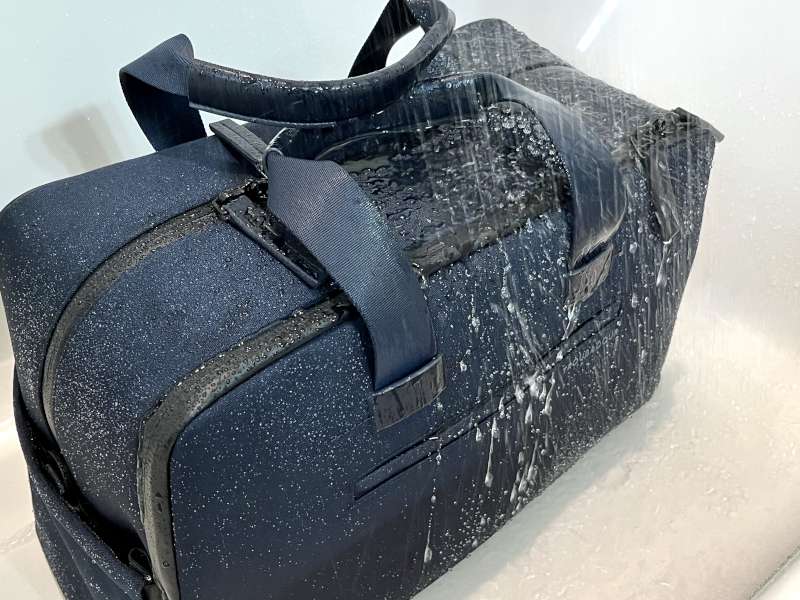 Troubadour asserts that their bag is made from waterproof material and that even the zippers are waterproof.  To test this, I decided to put it into the shower, let it run for one minute to simulate getting caught in a downpour, and see what happens.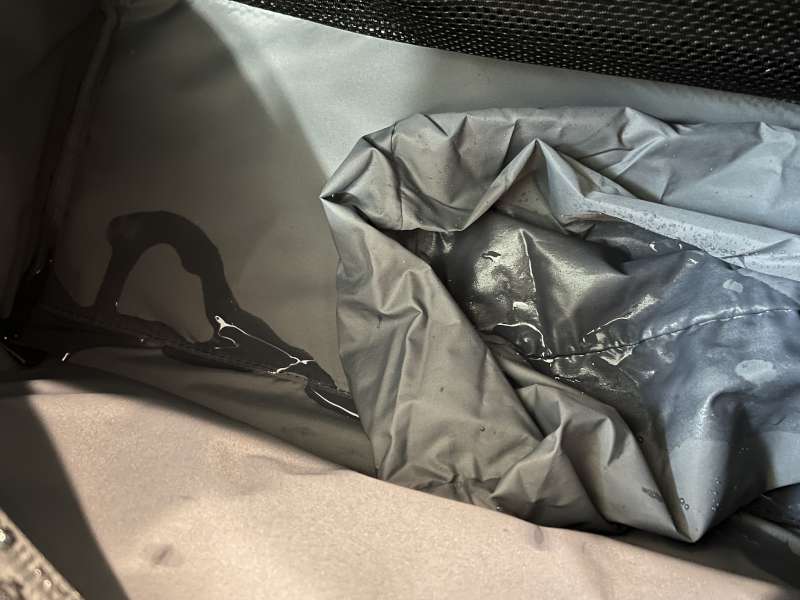 The Troubadour Embark Duffle Bag is not waterproof.  Water got into the main compartment and into the laptop compartment as well.  It was not lots of water–the Embark repelled the vast majority of it—but there was some inside.  I will say that the Embark is very water resistant and should perform much better in a light rain; even so, it's best to stay out of a downpour, especially if you have a laptop in the bag.  I checked the bag the next day, and there was no sign that the water had discolored the leather trim.
Extra Features
Like all Troubadour products, the Embark comes with a five-year guarantee for any manufacturing faults.
Troubadour is a Certified B Corporation, which means that it is "meeting high standards of verified performance, accountability, and transparency on factors from employee benefits and charitable giving to supply chain practices and input materials."
What I like
Refined, clean look
Premium build quality
Plenty of pockets
Special compartment for shoes
What I'd change
Add more padding for the laptop and the shoulder strap
Final thoughts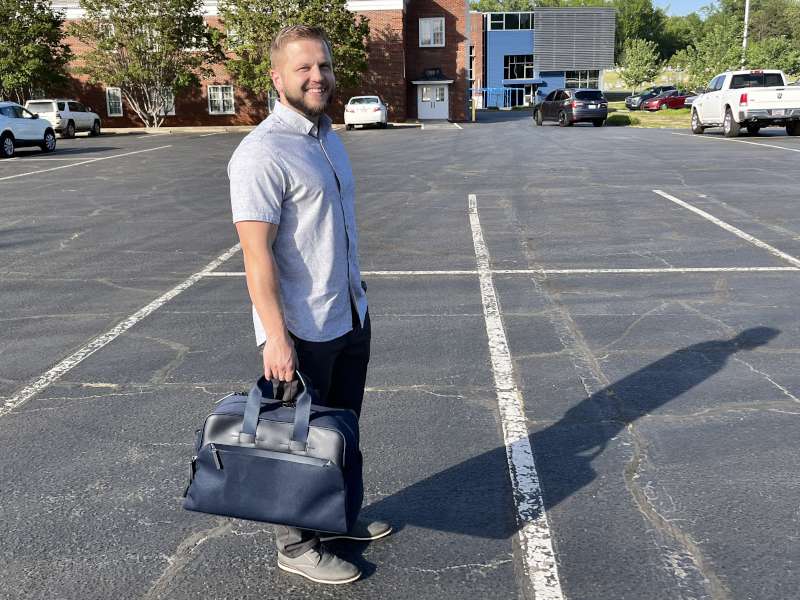 The Troubadour Embark is a small duffle bag for weekend trips.  It has a sophisticated style that looks like it was designed for business trips; at the same time, it is plenty durable for wherever I need to take it.  It has five exterior pockets and one interior pocket along with the main compartment.  If you're looking for a high-quality duffle with a distinguished look that will last you for years to come and are willing to pay a little extra for it, then I recommend that you pick up an Embark today.
Price: $325.00
Where to buy:  Troubadour's online store
Source: The sample for this review was provided by Troubadour.