We use affiliate links. If you buy something through the links on this page, we may earn a commission at no cost to you. Learn more.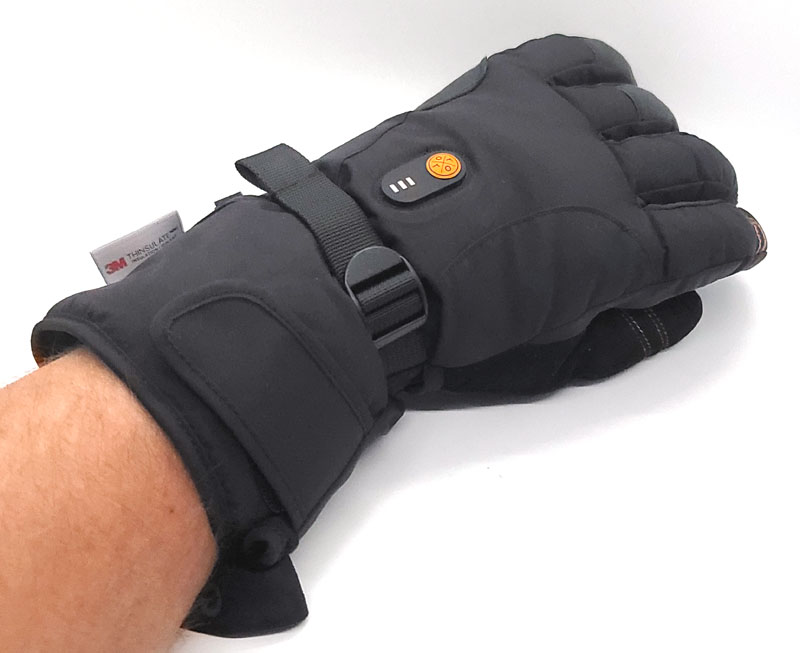 REVIEW – Oh, what an epic review this was to be.  I got the offer to review heated gloves just before I was about to leave for a trip to…Antarctica!  Awesome!  I have previous experience with Ororo heated apparel, so I expected this to be the opportunity of a lifetime – testing their new Calgary heated gloves on the frozen continent.  Photos of the gloves with icebergs and penguins – wow! Unfortunately, the package that was promised to arrive before I departed showed up at my home two days after I left.  So, I will be testing heated gloves in central Florida, where it is currently 72 degrees on its way to 80.  Oh well, it doesn't diminish the awesomeness of these great gloves. So, instead of blue ice, whales, and penguins, just picture great blue herons, alligators, and palm trees. So close…
What is it?
The Ororo Calgary heated gloves are just that – gloves that are electrically heated.  They provide three levels of balanced heating across all five digits and the palm.  They are water resistant as well to help keep your hands toasty and dry in cold and damp conditions.
What's in the box?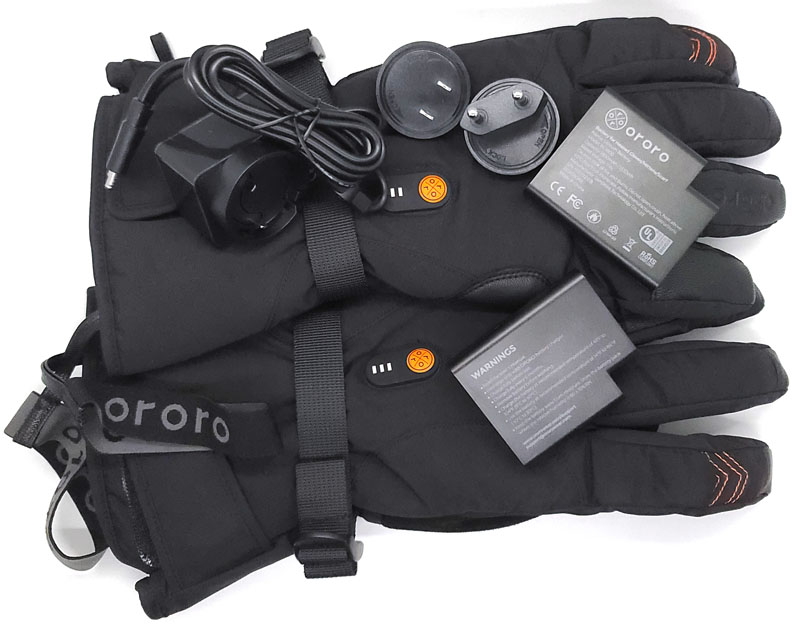 Calgary heated gloves
Lithium-Ion batteries (2)
Charger with US and European plug adapters

User manual (English, German, French)
Information tags
Ororo sticker

Zippered storage bag
Hardware specs
Fit: Regular
Length: wrist-length
Shell: 100% nylon
Insulation: 3M Thinsulate ™
Lining: 100% polyester
Care: Hand wash
Heat settings: Three – low (113F)/medium(122F)/high(140F)
Heating area: heat across the edge of five fingers and the palm
Run time: 6 hours on low / 5 hours on medium / 3 hours on high
Battery tech: Lithium-Ion (1800 mAh, 7.4V)
Charger input voltage: 100-240V
Design and features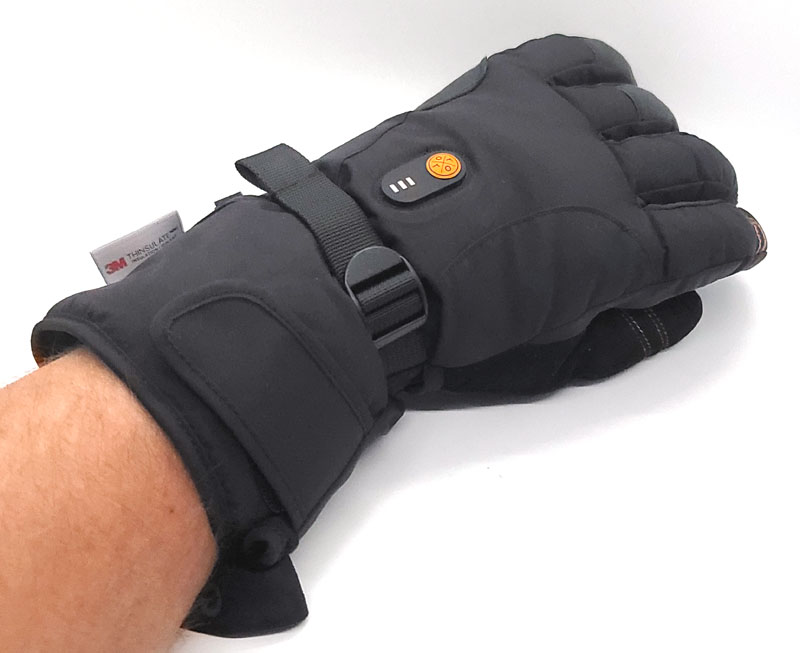 These are nicely long gloves.  As you can see, they extend well beyond my wrist.  They completely cover the cuff of a jacket, making a nice wind barrier.  You can see adjustable Velcro closure as well as the wrist cinch strap to help keep the gloves secure.  Here's a closer look.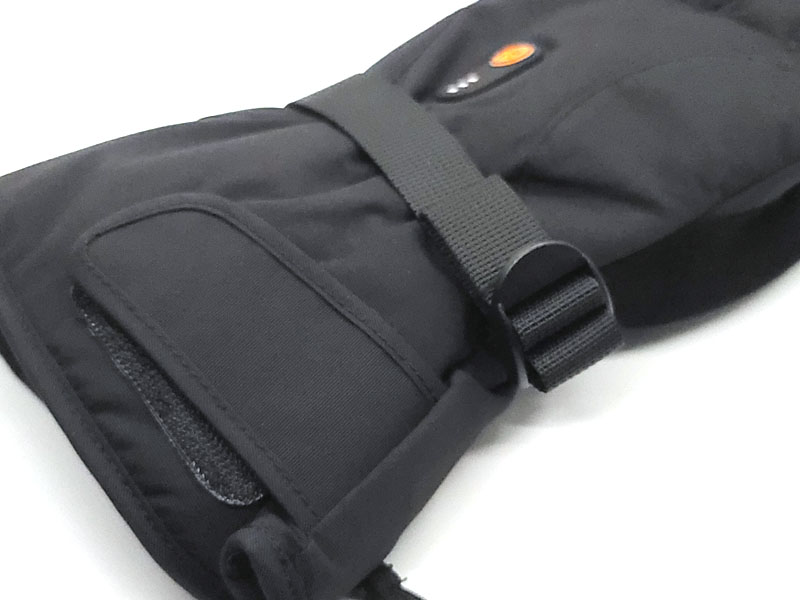 That orange button with the three LEDs is where all the magic is controlled.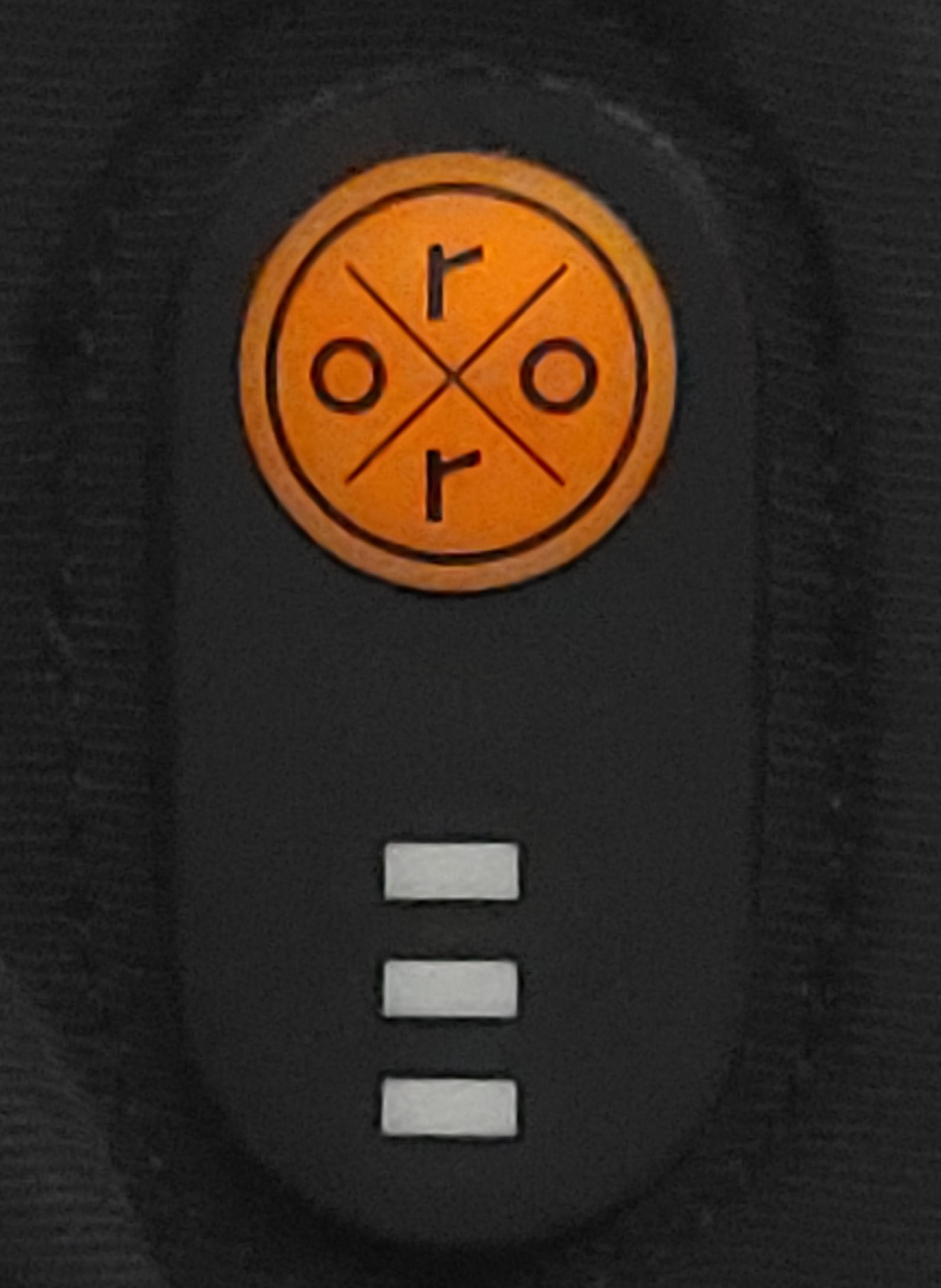 Long-pressing the orange button turns the gloves on and off.  When you first turn them on, they go into a pre-heat mode where the gloves go into high-heating mode and then drop to medium heat once they are warmed up. While they are pre-heating, the LEDs cycle in a circular pattern.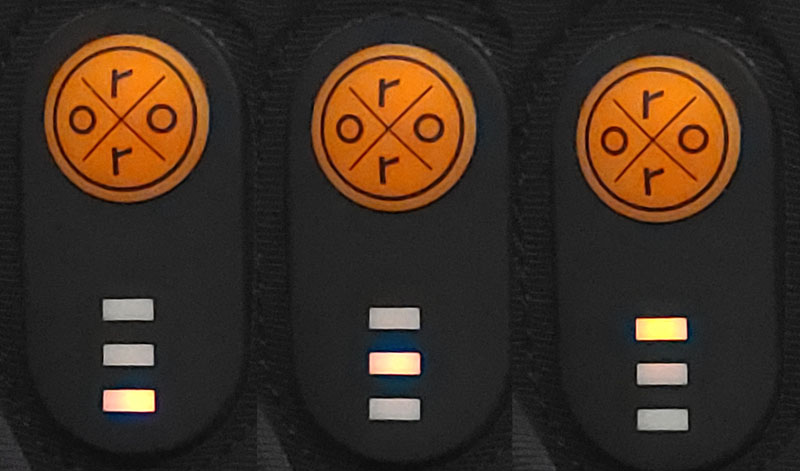 Once heated, they automatically drop to medium heat, indicated by two LEDs.  Pressing the button cycles through low-medium-high heat, indicated by 1-2-3 LEDs being illuminated.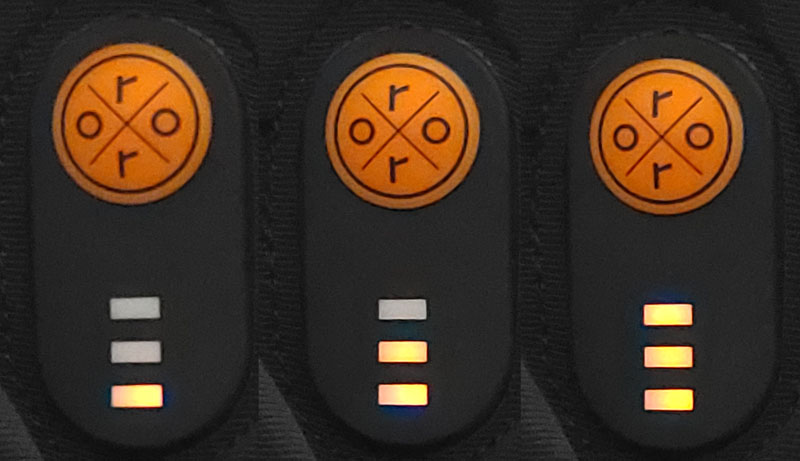 The gloves have leather accents on the smaller fingers.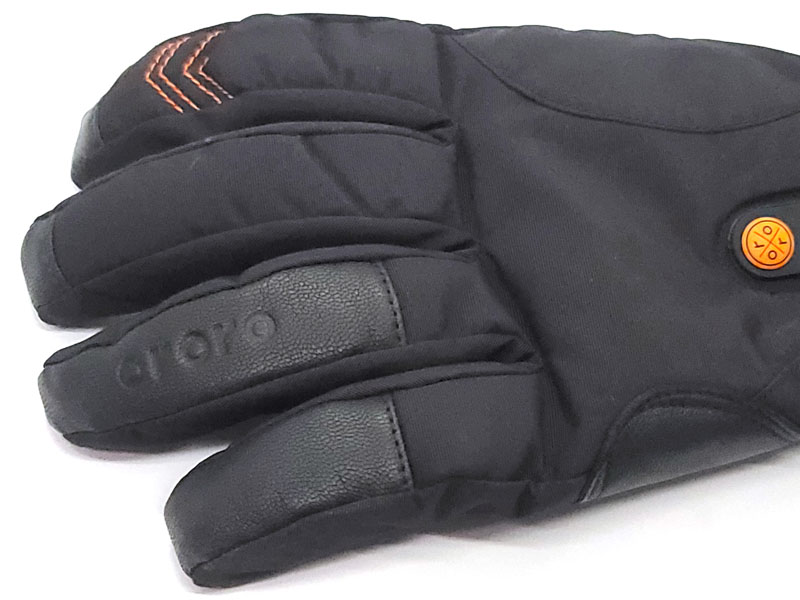 The thumb and index finger are touchscreen compatible.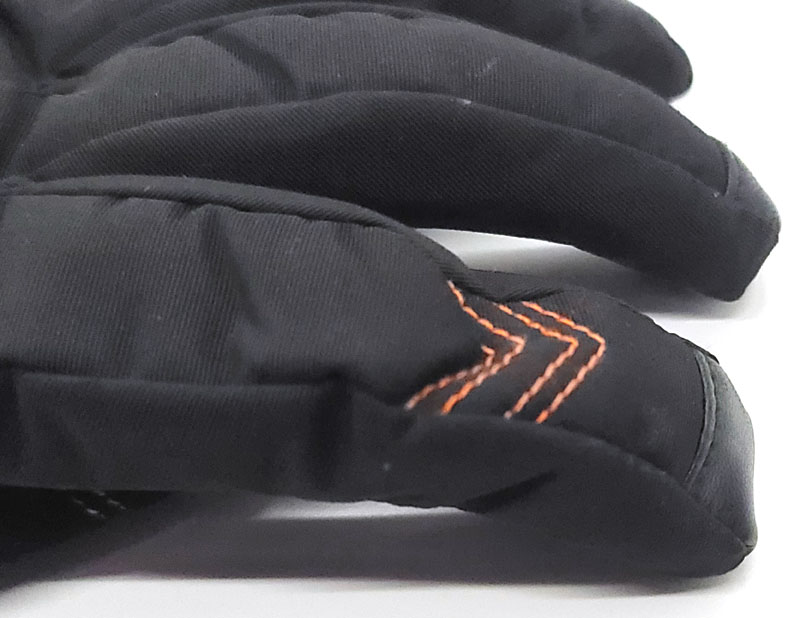 On the palm side, we see the waterproof zipped for the battery compartment.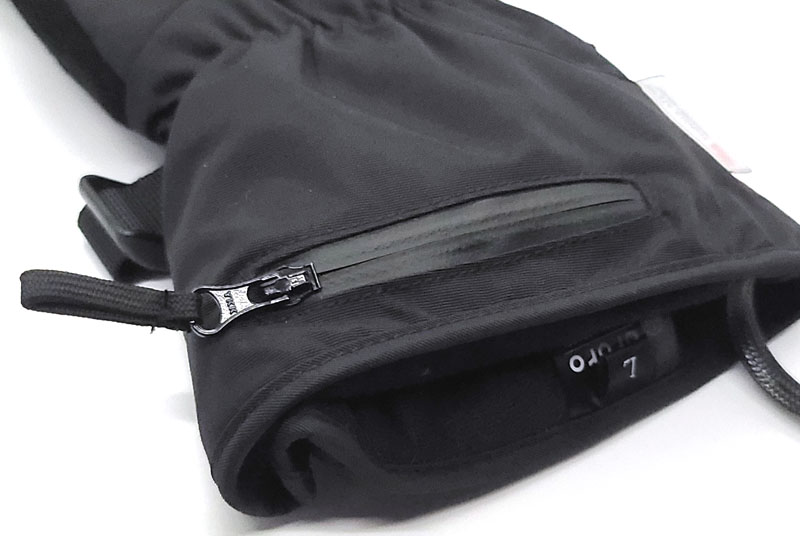 Open that and we see the battery cable.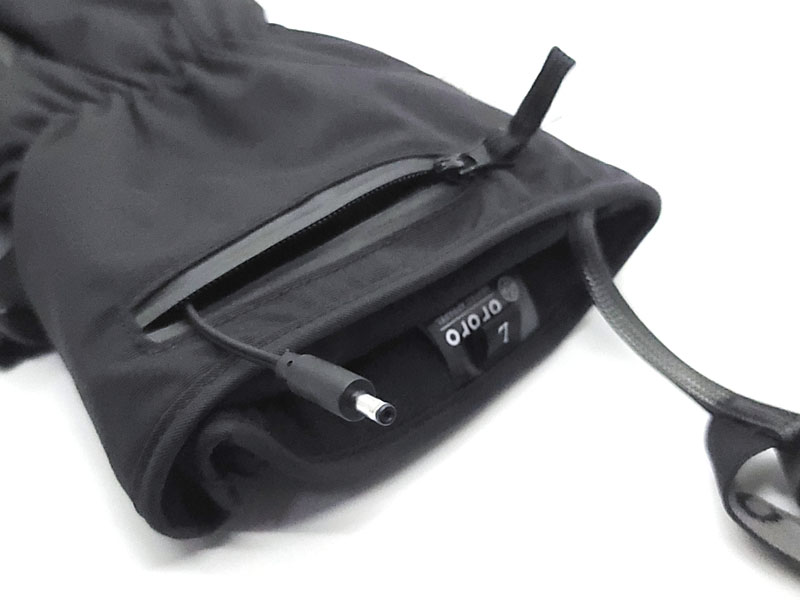 Plug that into the battery, put it back in, and zip up the compartment.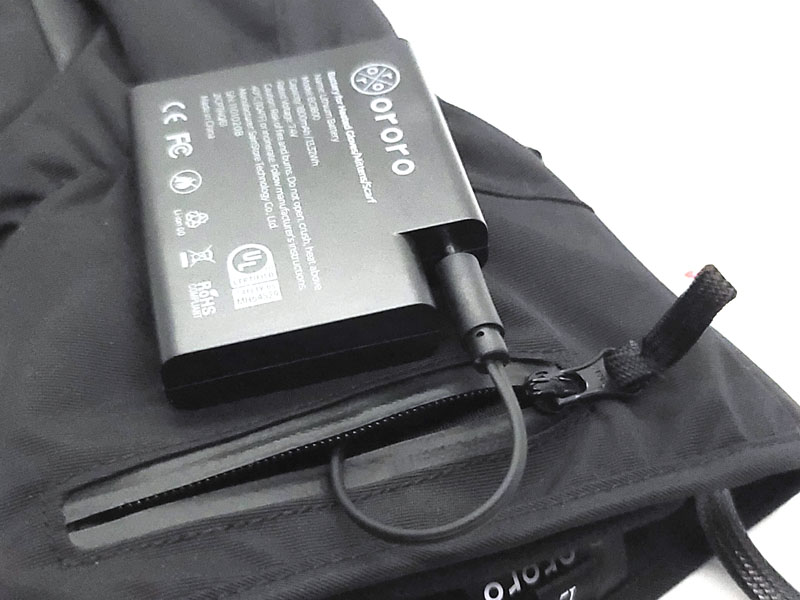 I was concerned that having the battery on the palm side would feel weird, even though it sits way down by my wrist.  I was wrong.  Once I had the gloves on, I never felt the battery.
The gloves also have a hand wrist strap so you can remove your gloves and just let them hang, rather than have to stuff them in a pocket.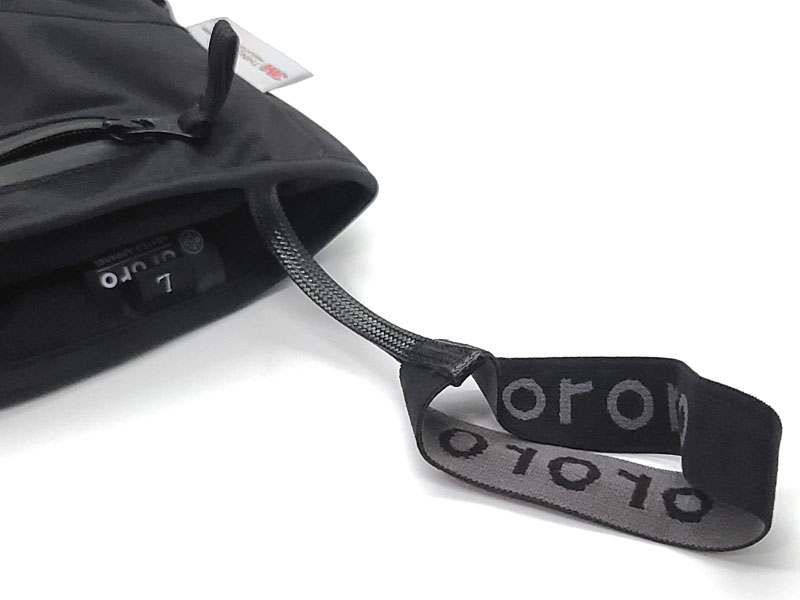 There is goatskin leather on the palm and a suede patch on the thumb.  I thought that the suede patch was a nice design element.  Check out #7 below.  Eww…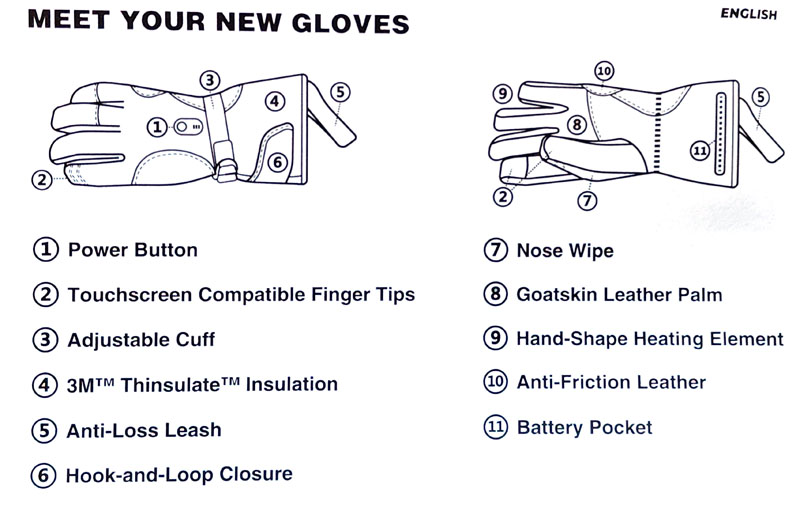 Here's a look at the power adapter.  That power cord has two leads, allowing you to charge both batteries simultaneously.  The plug adapter twists on and releases with the lever at the base.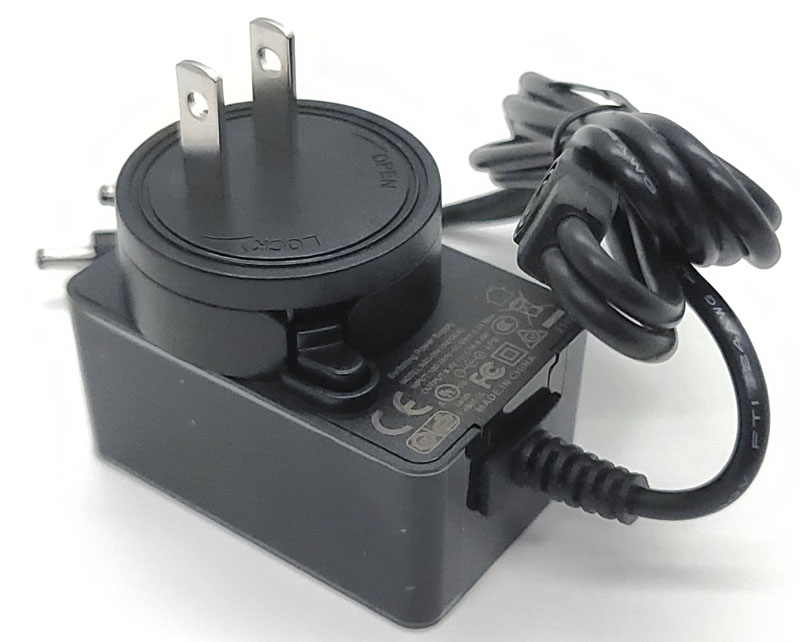 I wish the batteries were charged via USB, but alas, this is yet another power adapter that I have to keep track of.  The handy storage bag does help me keep everything together.
One thing that is missing is a battery charge indicator.  There is no way to tell how much charge the batteries have.
Setup
Snap on the appropriate plug adapter, charge the batteries, install them in the gloves and you're ready to go.
Performance
The gloves are quite comfortable.  Pressing the power butting brings on the heat immediately.  I was really surprised at how quickly they heat up. I was a little concerned as I thought the high (140-degree) setting might be uncomfortable, but it wasn't.  Granted, here in central Florida, it was a little toasty to wear out and about, but in cold climates, it would feel terrific.  I wish I had these before we went to Antarctica as it would have made our landing days on the frozen continent that much more enjoyable. On the lowest setting, the heat is barely detectable, but in a cool setting, that would be enough to stay comfortable.
I tried the touchscreen feature of the thumb and index finger.  It works.  But…you're tapping or swiping with a huge slab of leather, so accuracy is challenging.  For me, it would have been good enough to be able to unlock the phone and snap a photo or two, but I sure wouldn't type a text message in the gloves.
To test out battery life, I charged the batteries, cranked up the gloves on high, and let them sit.  They pumped out the heat for around 3.25 hours, so I'll call their battery claims valid.
What I like
Comfortable
Heat is awesome, and three levels of heating make these 

great 

gloves for cool to really cold conditions
Good battery life
What I'd change
Add a battery charge indicator on the batteries
Use USB-C for battery charging and eliminate custom chargers
Final thoughts
If you live or travel to cold climates and struggle to keep your hands comfy when out in the elements, then the Ororo Calgary heated gloves should be on your short list of solutions.  These are very comfortable gloves that produce heat in critical areas to keep your hands feeling good, no matter how cold it gets.  If your core also chills easily, Ororo offers a slew of heated clothing options, including a spiffy men's classic heated vest as well as many other options for men and women. I might have to schedule another Antarctica adventure.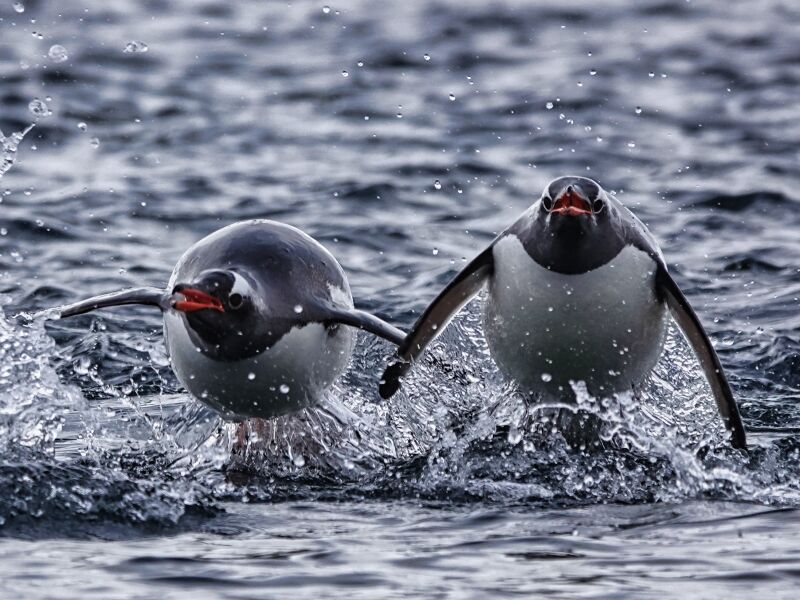 Price: $179.99
Where to buy: Ororo and Amazon
Source: The sample of this product was provided by Ororo.