We use affiliate links. If you buy something through the links on this page, we may earn a commission at no cost to you. Learn more.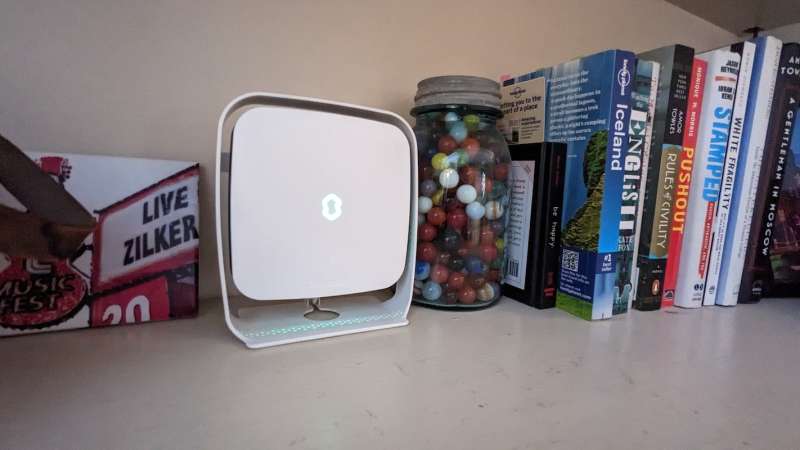 REVIEW – We heat our house with a wood stove, and I've always been concerned about indoor air quality as a result. A lot of research says indoor wood burners can have a pretty detrimental impact on your health.  We're really careful; we burn only clean seasoned wood, work to eliminate smoke while adding wood, and have two HEPA air filters in the room with the stove.  But still, I had concerns.  So when the opportunity to review the Sensibo Elements indoor air quality monitor came around, I was pretty excited.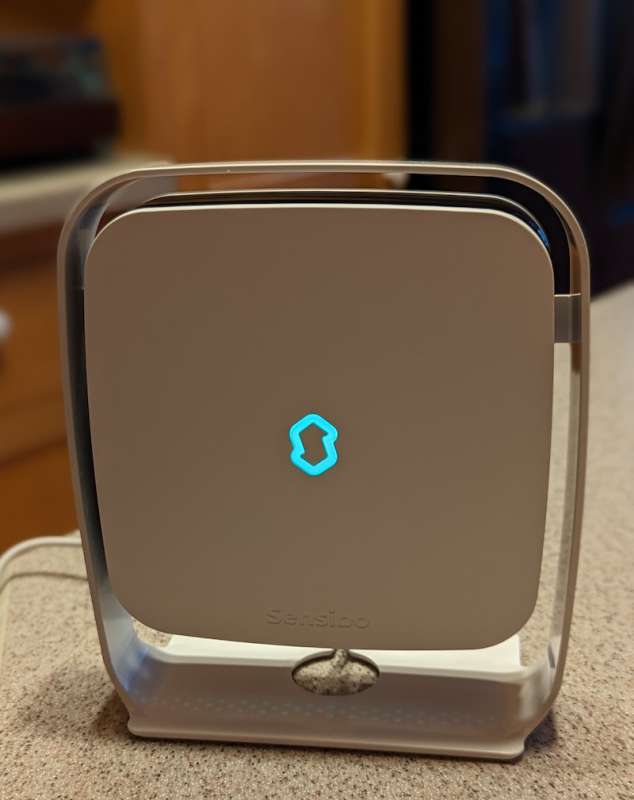 What is it?
The Sensibo Elements indoor air quality monitor is a hardware and software (app) solution to monitoring air quality in your home. The monitor has a light on the front that changes color in accordance with your air quality.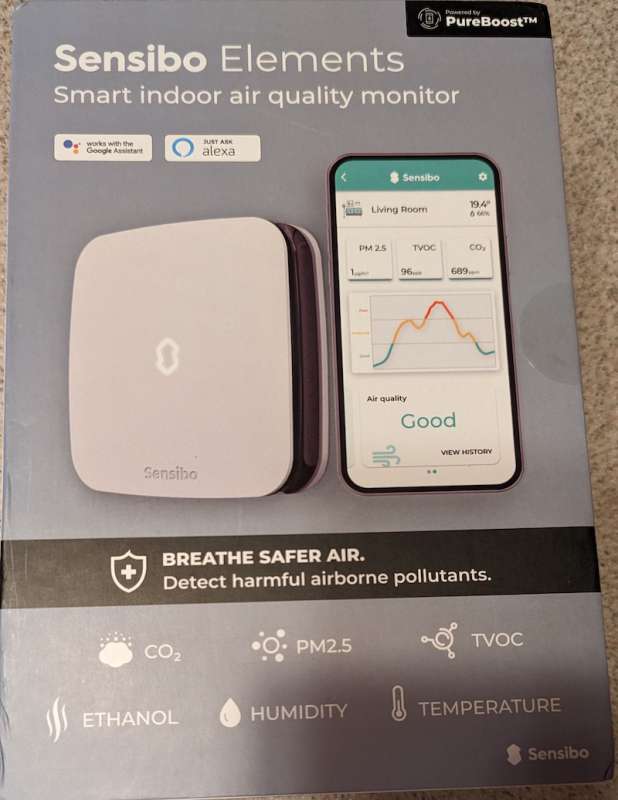 What's in the box?
Sensibo Elements Smart Indoor Air Quality Monitor

Mount for the monitor

USB-C cable

AC-USB wall plug
Hardware specs
Monitored parameters:  

CO

2

(carbon dioxide)

PM2.5 (2.5 micron particulates, from smoke and dust)

TVOC (total volatile organic carbon)

Ethanol

Temperature

Humidity

Aggregate air quality score

Dimensions: 13 cm wide x 15 cm tall x 3 cm deep (with mount)

Power:  included USB adapter with USB-A to USB-C cable
Design and features
The Sensibo Elements is a system that includes both hardware and an app.  The design on the hardware end is pretty simple.  It looks like a lot of wireless routers – a white cube of plastic that hangs in a mount, with a light in the center. The light changes from green to orange to red, reflecting the overall air quality at that moment.  The monitor measures directly total volatile organic carbon (TVOC), temperature, humidity, and ethanol.  It calculates CO2 based on those other parameters. . Once the monitor is set up and in place, most interactions will be through the app.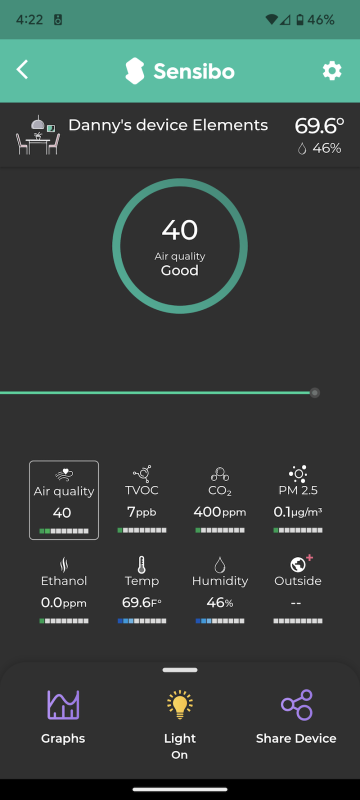 The Sensibo app is used to monitor the air quality, once the device is set up.  Set up was smooth and similar to other smart devices, using a combination of Bluetooth and wifi.  Once set up, the monitor is constantly connected to your home wireless internet and reports air quality parameters each minute. The app allows you to see instantaneous values for all parameters, and also graphs for the last hour and day.  If you want to see graphs for the week and month, you'll need to subscribe to Sensibo's "plus" service at $5 a month (or $2.50 a month on an annual plan) which gives you the extended graphs and also brings in outdoor weather and pollution data. 
Performance
The Sensibo Elements Indoor Air Quality Monitor really sheds some light on the air we breathe. The first day after I installed the system, I managed to over-fire the wood stove, and it got really hot. Hot enough that it started to smell.  That smell (also, new car smell) is volatile organic carbons being emitted from the paints and surfaces due to the heat.  The monitor immediately spiked, the light turned red, and I got a notification on my phone that maybe I should open a window.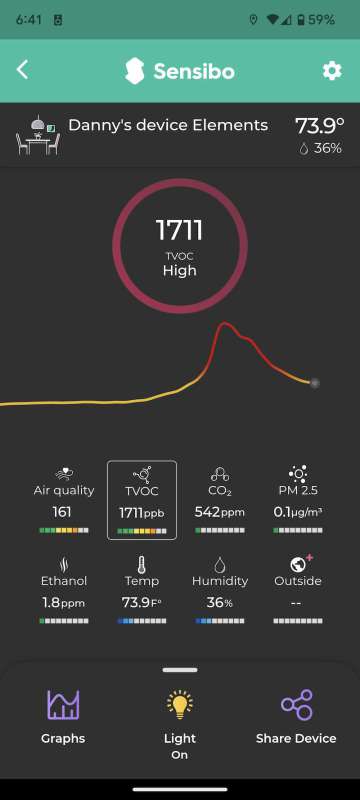 So, I guess it works!  I notice small spikes when I cook and when our downstairs shower is used. Really, any time things are heated, VOCs are released and the monitor reacts.  I see spikes in CO2 when we all come downstairs in the morning, which is to be expected. Interestingly, I've never seen spikes in ethanol or PM2.5.  That PM2.5 is interesting since that's usually the air quality parameter most often impacted by indoor wood stoves. Perhaps my two HEPA filters keep that in check, which is great. The app is easy to use and has a nice interface, but it's unfortunate that they choose to charge you for access to data already collected.  I'm OK with charging for additional features, but that's not really the case here.  It's data that has already been collected, and Sensibo is just charging you to see it. That's not an added feature.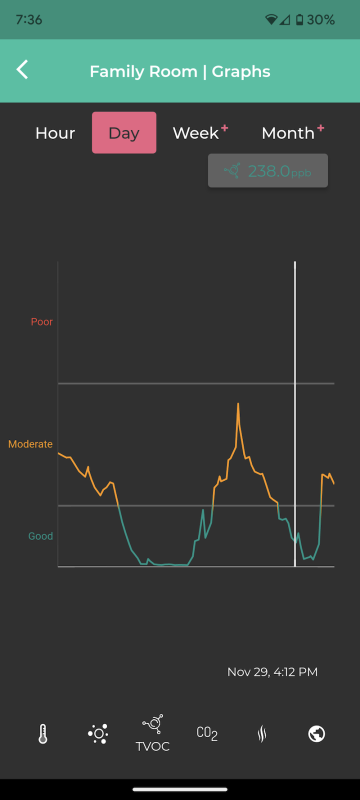 The Sensibo system is not as "smart" as it would seem.  In my mind, and "smart" system or a component of a smart home is one that can interface with other devices or be used to make decisions.  We're not quite there yet.  For example, air quality parameters can not be used as triggers with IFTTT (If This Then That), which is unfortunate.  I would have liked to use the data from the Elements system to trigger smart plugs which could turn on additional fans or filters to mitigate poor air quality. Currently, no automated action can be taken based on the Sensibo Elements data.  Like the notification says, you have to manually open a window. 
What I like
Easy set-up

Responsive sensor

The app is easy to use and well designed
What I'd change
Include some instructions or a quick-start guide. Mine had absolutely no documentation included.  The only way I knew there was an app was the photo on the box. This fails the "could my parents set it up" test. 

Allow use of the data as a trigger in smart home routines like IFTTT. (I hope this is forthcoming)

Don't charge additionally for things that are not additional features. 
Final Thoughts
Indoor air quality is often overlooked, but very important.  Even more so as modern homes and buildings are becoming basically air tight. The Sensibo Elements smart indoor air quality monitor can let you know when problems exist, and hopefully in the future, can integrate with smart home systems to mitigate those problems. 
Price:  $320 for a single monitor (additional packaging is available with 2, 3, and 4 monitors) $179 on Amazon
Where to buy: Sensibo or Amazon
Source: The sample for this review was provided by Sensibo.