We use affiliate links. If you buy something through the links on this page, we may earn a commission at no cost to you. Learn more.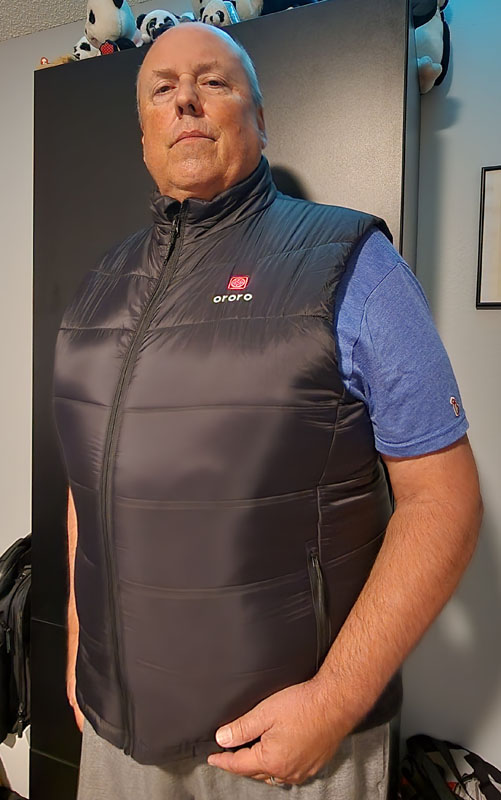 REVIEW – Heated vests are great to help keep you warm when the temperature drops. The vest provides warmth in important areas across the back and the neck to ward off those cool weather chills. Ororo has updated its classic heated vest for 2022 so we're going to take a look at it.  Like my review of the Ororo Calgary heated gloves, this was to be an epic review completed in Antarctica.  Also, like the gloves, the test sample didn't arrive until two days after I left home, so this will be a review of an electrically heated vest from sunny and warm central Florida.
What is it?
This is a vest – essentially a jacket without sleeves.  It is electrically heated and powered by a battery pack that heats elements across the back, neck, and inside the pockets.
What's in the box?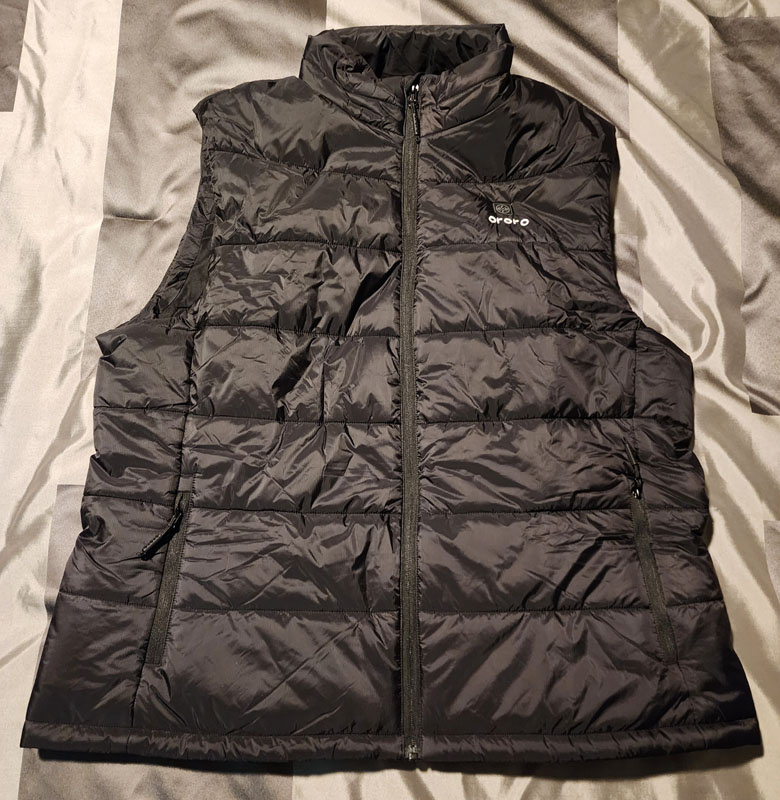 Men's classic heated vest

Mini 5K battery
Battery charger with US plug (input voltage: 100-240V)
User manual (English, German, French)
Charger user manual
Mini 5K battery user manual
Various product tags
Storage bag that holds everything

Hardware specs
Fit: Regular
Length: Hip-length
Shell: 100% Nylon
Fill: FELLEX® Insulation
Lining: 100% Polyester
Care: Machine wash cold
Heating settings: three – low(100F)/medium(113F)/high(131F)
Runtime: 10 hours on low / 6 hours on medium / 3 hours on high
Battery: 7.2V, 4,800mAh
Heating areas: Four – back, neck, two pockets
Design and features
This is a waist-length vest.  It is similar to another Ororo vest that I already owned.  Based on that vest that was a slightly snug 2XL, I ordered this in 3XL.  Unfortunately, this one is even snugger that my old one.  After trying it on, I discovered that it comes in European sizes, not US sizes, even though it says it is US sized.  Oh well, I need to lose weight anyway.
Each side features a zippered side pocket.  Here's a closer look.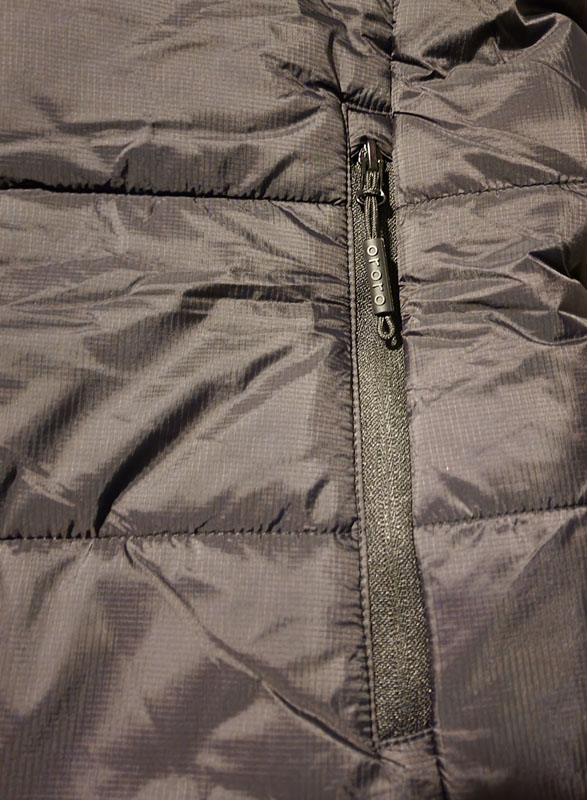 These pockets are two of the areas that the vest warms, making the pockets a good place to keep your hands on a cool day.
There is a locker loop sewn into the inside, near the neck.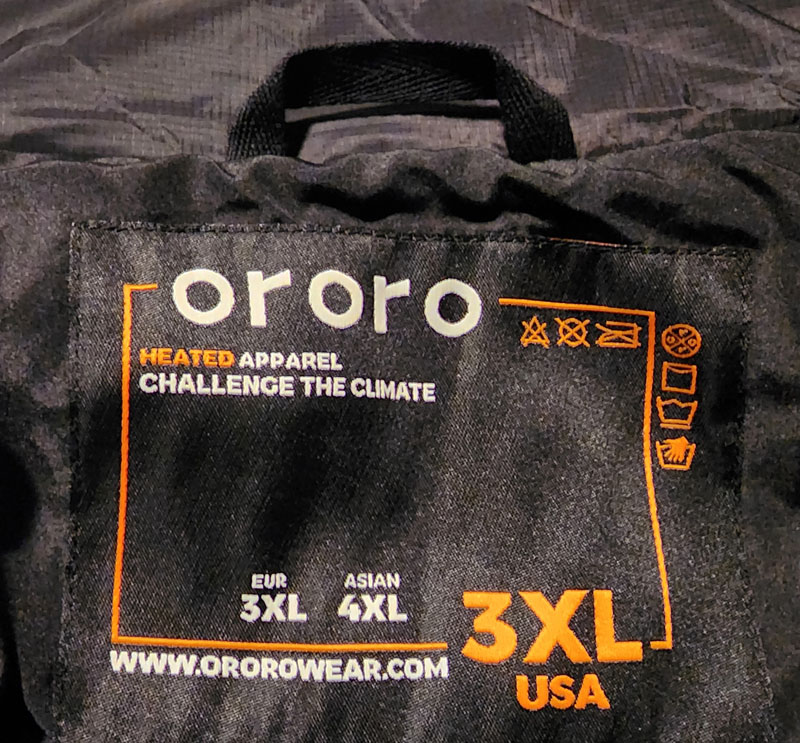 Inside the vest, we see a zippered pocket.  Unzipping it reveals the connector for the battery.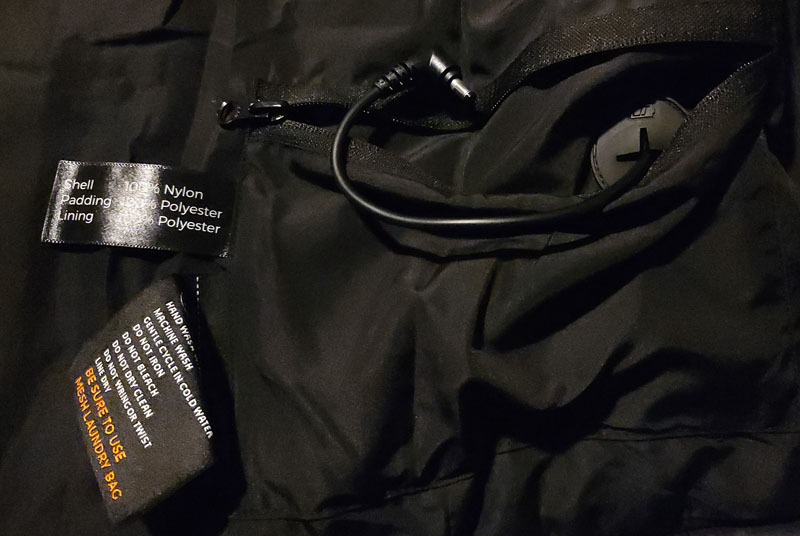 You connect the battery and tuck it into the pocket.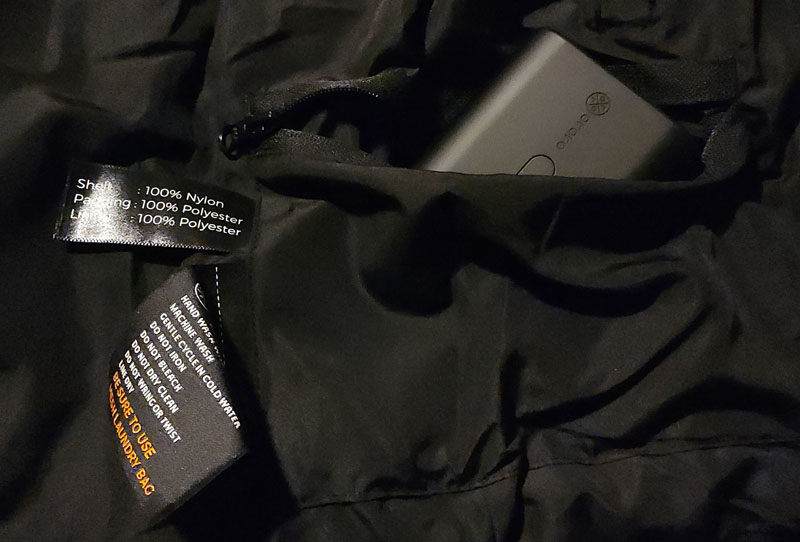 Once you zip the pocket closed, it essentially disappears.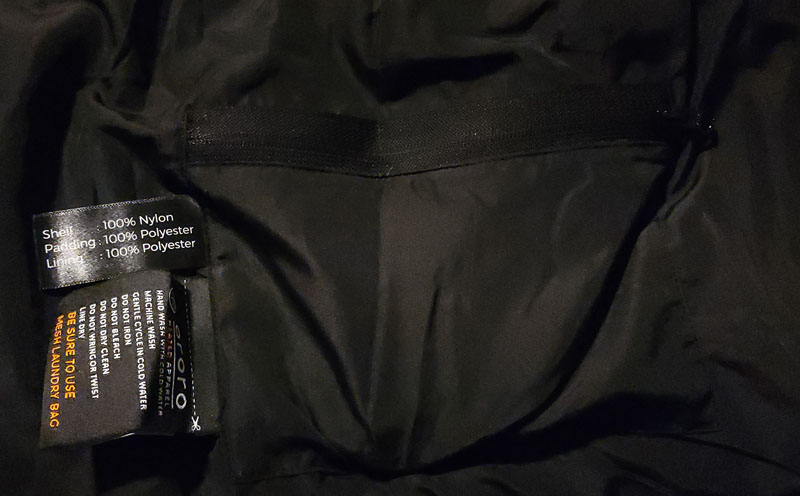 The battery has a charge-level check button and a four-LED charge-level display.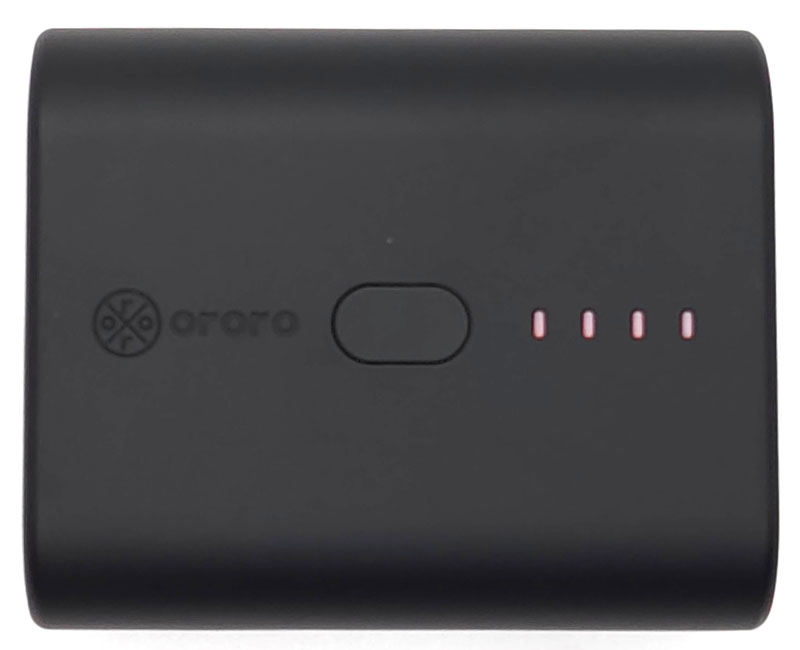 The back of the battery has all the usual tech info.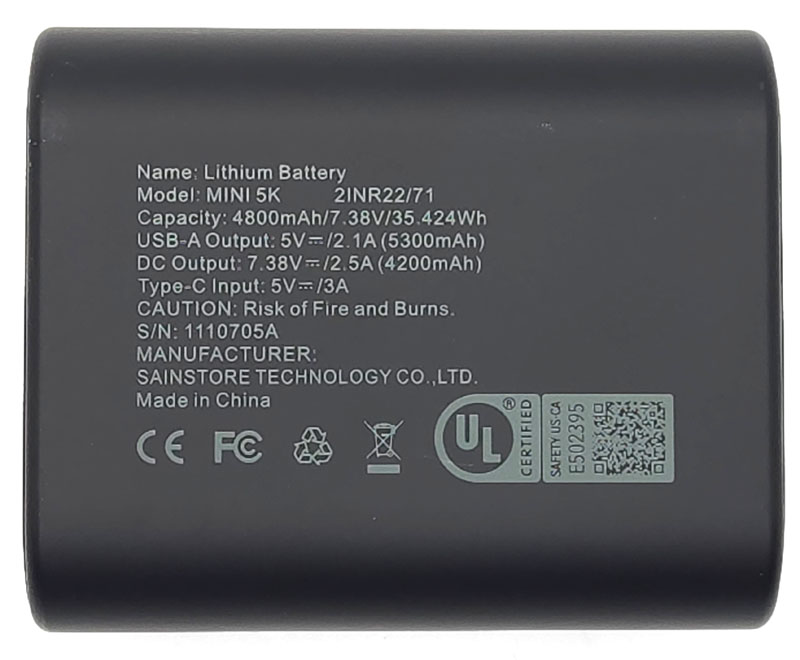 One end of the battery has the port that you use to install it in the vest.  The other has a USB-C charge port and a USB-A port.  The battery can be used as a power pack for portable USB-rechargeable electronics.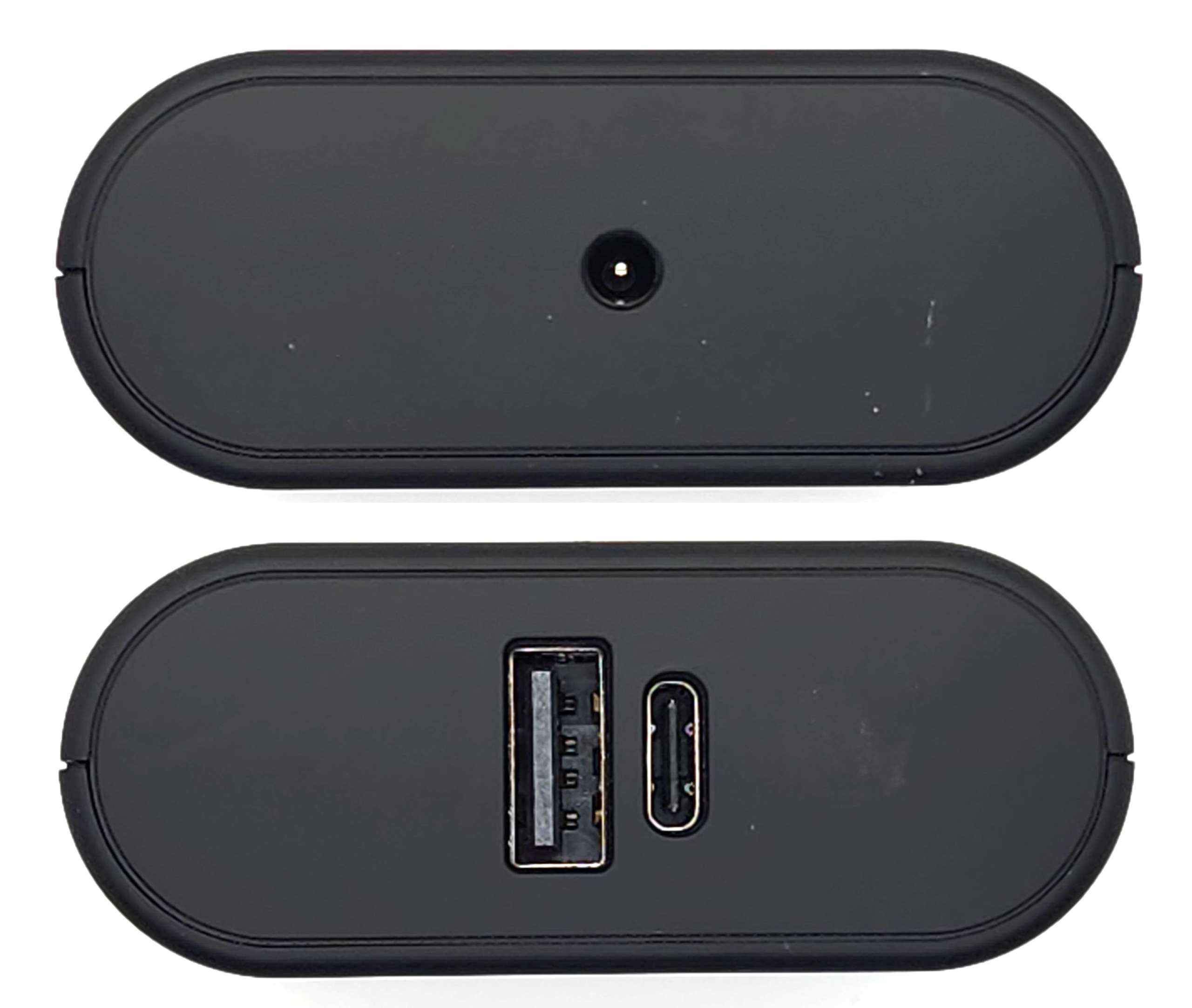 The power button is on the left chest.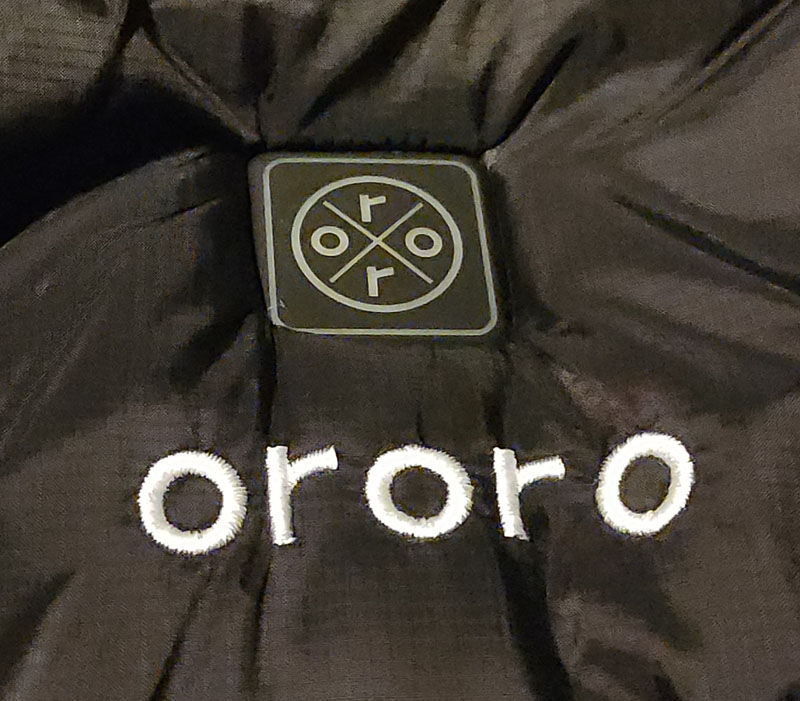 A long press turns the vest on and off.  When initially turned on, it goes into preheat mode, heating on high and then dropping back to medium heat.  In this mode, the LED pulses slowly in red while heating and then flips to white when it drops to medium heat.  Pressing the button cycles through low (blue), medium (white), and high (red) heat modes.

Setup
Charging and installing the battery into the vest is the only setup needed.
Performance
Putting this vest on feels good, albeit a little tight in my case.  The soft nylon shell feels like a quality material.  Turning on the heat is when the magic happens.  I immediately felt warmth across my neck and back.  I unzipped the side pockets and put my hands in.  I could feel the gentle warmth being delivered there as well.  I can definitely see using this vest on cool mornings.
After fully charging the battery, I installed it and turned the vest on high.  The predicted runtime was three hours.  The vest was still going strong and nearly 3.75 hours when I had to leave for an appointment.  I'd rate the battery life as excellent and have no trouble believing that on low, it would meet or exceed its claimed ten-hour runtime.
What I like
Comfortable
Well-made
Excellent heat delivery
Great battery life
USB rechargeable battery pack means no custom charger
What I'd change
Accurately represent the sizing – European and US sizes are not the same
Final thoughts
If you're looking for heated apparel, look no further than Ororo. They offer a full line of heated vests, jackets, gloves, socks – you name it.  As for this updated men's classic heated vest with the new mini 5K battery pack, well, it's a winner.  I just wish I had been able to really put it through its paces in Antarctica.  I'll have to just settle for using it during a chilly early morning round of golf.
Price: $179.99
Where to buy: Ororo and Amazon
Source: The sample of this product was provided by Ororo.