We use affiliate links. If you buy something through the links on this page, we may earn a commission at no cost to you. Learn more.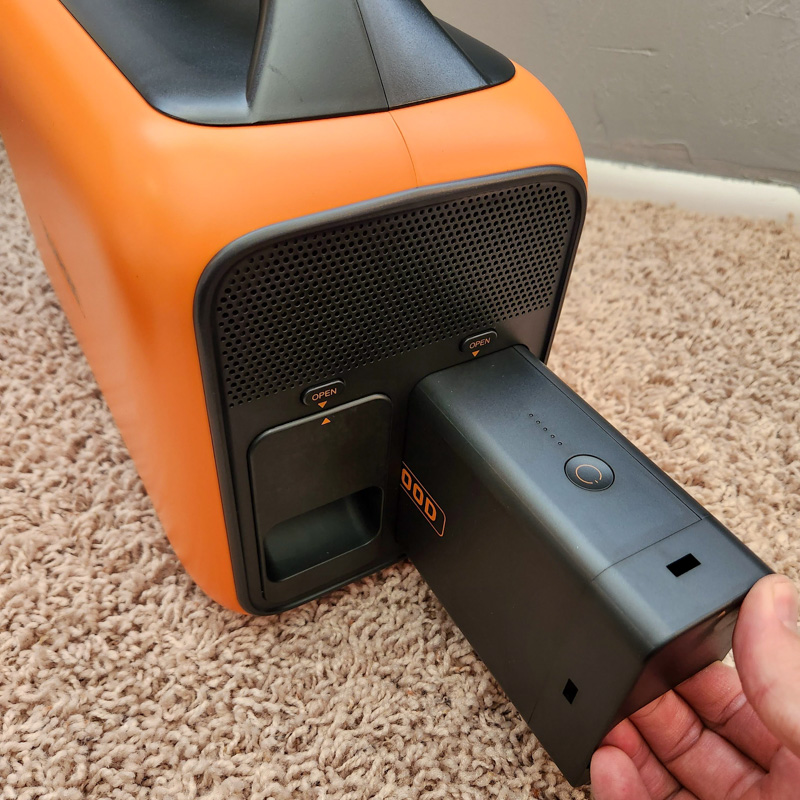 REVIEW – Having reviewed quite a few power stations here at the Gadgeteer, they all have seemed to blend together lately for the most part. Usually, the review entails making sure it can meet the quoted power output, testing battery life claims, and comparing the number of ports or other minor distinguishing features. The Runhood RALLYE 600 Pro Power Station caught my eye as something truly innovative, so I volunteered to see how their hot-swappable power station with removable battery packs actually works in the real world.
What is it?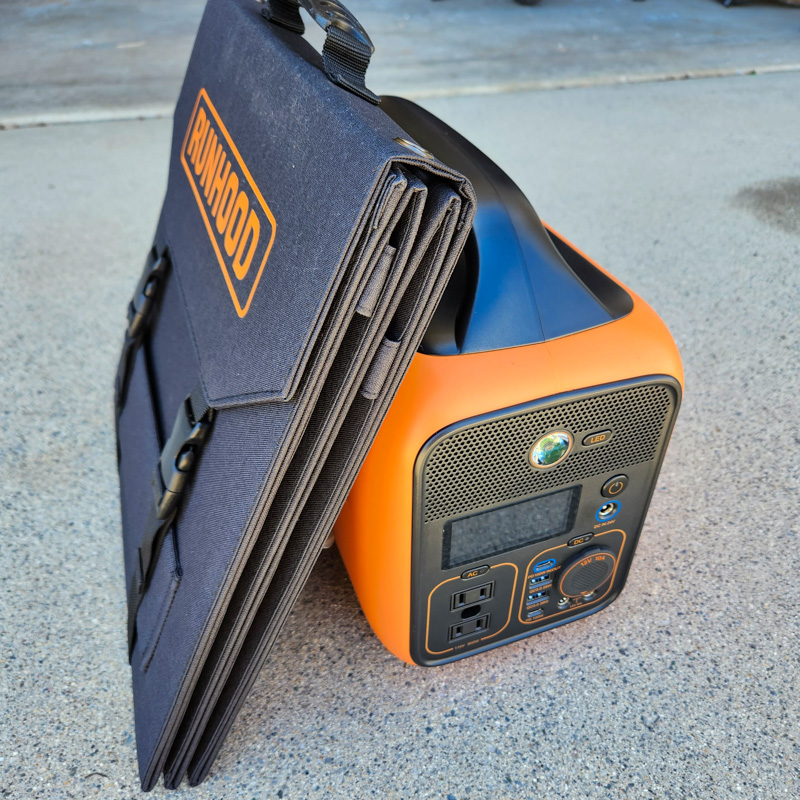 The Runhood RALLYE 600 Pro Power Station is a 600-watt power station with the novel ability to swap out battery packs while the station is being used (so you could be charging backup packs via solar or AC/DC while also using the station to run something, then swap out without interruption). With other power stations, you either need to place it in a spot where it can be connected to a solar panel, or you have to take a break from using it in order to charge it from a wall outlet or car. Runhood took their system a step further by allowing the battery packs themselves to be used standalone with either USB outputs including 100W power delivery or even a single AC port (up to 80 watts sustained). I reviewed the package that includes everything, but you can purchase different combinations or even standalone parts from Runhood (for example, if you don't need the solar panel or want to use a different one).
What's in the box?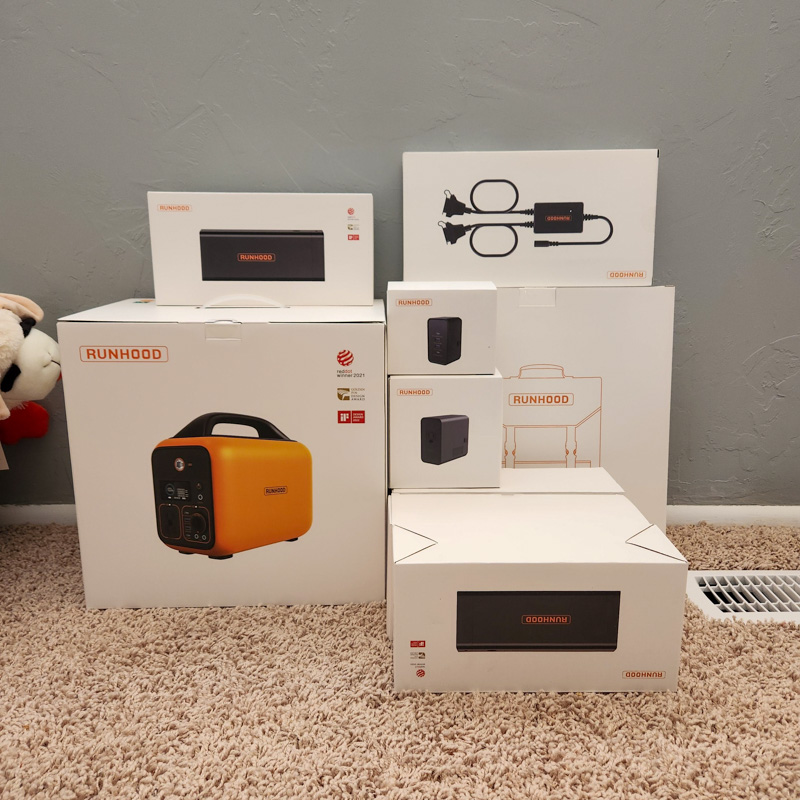 Usually, we just have one photograph of what's in the box, but as you can see above there's more than one box with the Runhood RALLYE 600 Pro Power Station. The system consists of:
HE600: Host engine 600W power station without batteries, needs at least one EB324 to run
EB324 (x4): Engine bar, 324 Wh (each, for a total of 1296 Wh), can power HE600, UE256, or AE80)
AE80: Mini AC Engine, connects to a single EB324 bar for up to 80 watts AC on a single port
UE256; USB Engine, connects to a single EB324 bar for a combined output of up to 256 watts (including two 100W PD USB-C ports)
SERI 100: Solar Panel 100 Watts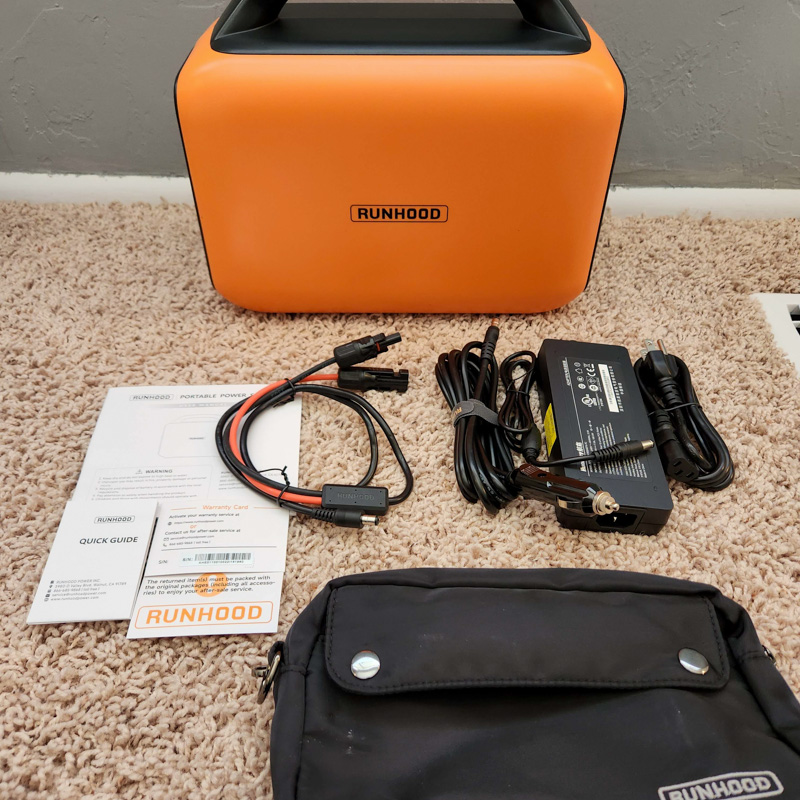 MC4 Cables
AC Wall adaptor (180 W)
Car-to-DC charging cable
Y-splitter cable (to charge 2x EB324 battery bars at once outside the power station)
MC4 to DC adaptor
Manuals and warranty/support info
Hardware specs
HE600 (main power station):
Weight: 8.4 lbs
Size: 13″ x 6.8″ x 8.8″
Solar/DC input, 15V-23V @ 10A max, MPPT supported
AC 180 Watt input
USB-C PD 100W max input
Car-to-DC input, 12V @ 10A
Fast Recharge: 280W (AC + USB-C PD simultaneously – MPPT not supported in this configuration)
AC Output: 2 x AC 110V@60Hz, total 600W sustained (1200W peak) max, pure sine wave
2 x USB-C PD 100W output (200W total max)
2 x USB-A QC 3.0 28W max (56W total max)
2 x DC 12V 5A 60W, total 120W
1 x Car port 12V 10A 120W max
EB324 (x4 Batteries)
Weight: 3.9 lbs
Size: 10.2″ x 2.3″ x 4.1″
Capacity: 324 Wh
Chemistry: Li-ion NMC
Discharge Temps: -68 – 113F, -20 – 45C
Charging Temps: 32-113F, 0-45C
Rated cycle life: 1000 cycles to 80% capacity
AE80 (mini AC engine)
Weight: 0.72 lbs
Size: 4.3″x.2.3″x4.1″
1 x AC 110V 80W pure sine wave output
UE256 (USB Engine)
Weight: 0.49 lbs
Size: 2.4″ x 2.3″ x 4.1″
USB-C PD 100W input
2 x USB-C PD 100W output (200W max)
2 x USB-A QC 3.0 28W max (56W total max)
SERI 100 (Solar Panel 100W)
Voltage: 18V, 5.5A
Open Circuit voltage: 21.6V
Short Circuit current: 6.16A
Working Temp: -10 – 60C
Size folded: 14.2″ x 14.2″ x 2.4″
Size unfolded: 90.6″ x 14.2″ x 0.2″
Design and features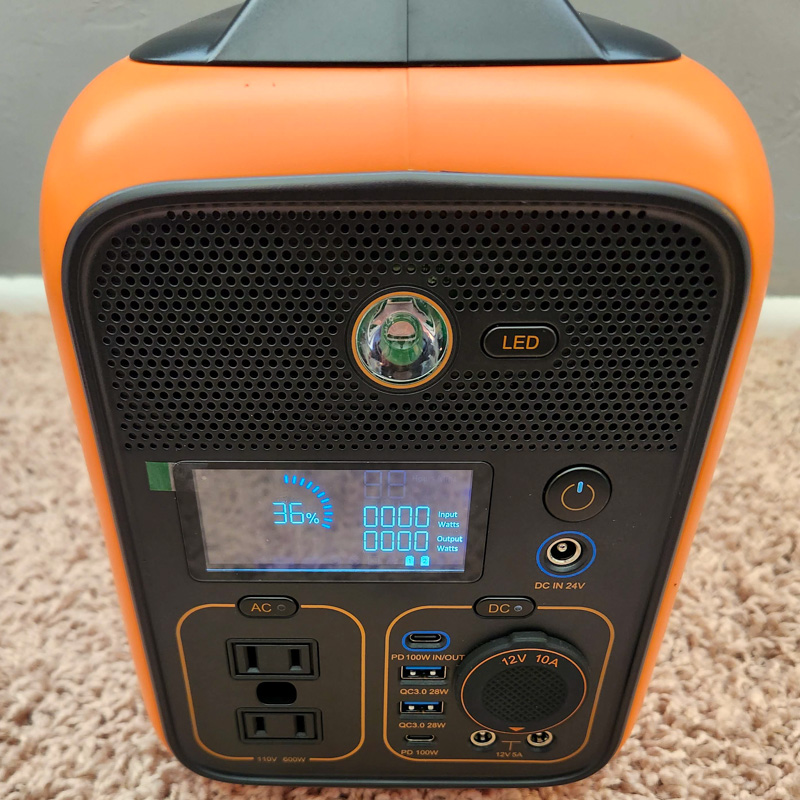 The Runhood RALLYE 600 Pro Power Station's main "engine unit" is similar to many other power stations with AC output ports, various DC output and input options, an information panel, and LED light. I'll go into more detail on each section below, but overall I like the layout, I always prefer everything being accessible on one face of the device (as opposed to other ones I've reviewed that have some ports on the sides or back in addition to the front).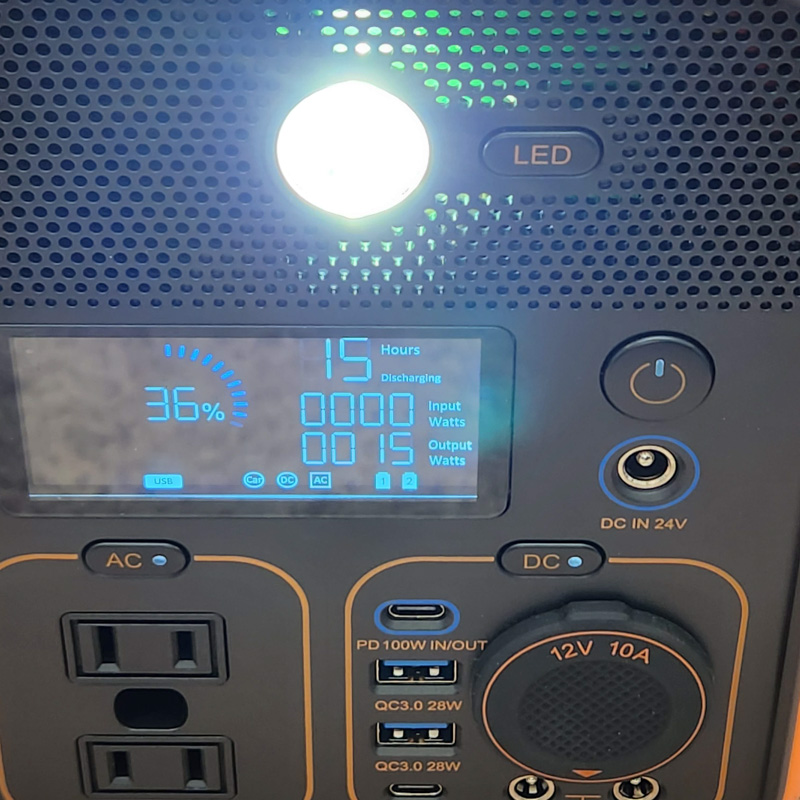 Starting at the top, the LED light on high brightness will last for 15 hours with a 36% charge, so 40+ when full. The lower settings were showing 99+ hours runtime, and all work well in a small to medium room to provide a bit of light (or for campsite setup, etc.).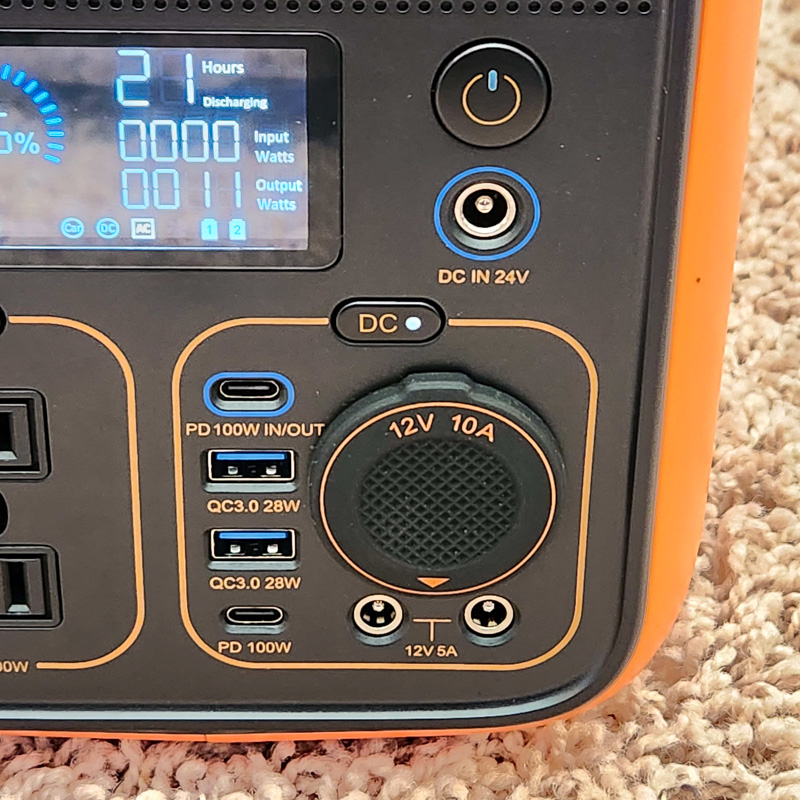 The DC inputs/outputs are plentiful: two USB-C 100W PD ports (one can be an input or an output), two USB-A QuickCharge 3.0 28W ports, two 12V/5A DC outputs, one car 12V/10A output, and above all that the power button and main DC input port. This can be used with the wall AC charger or the solar panels, and you can add 100W PD input to charge even faster.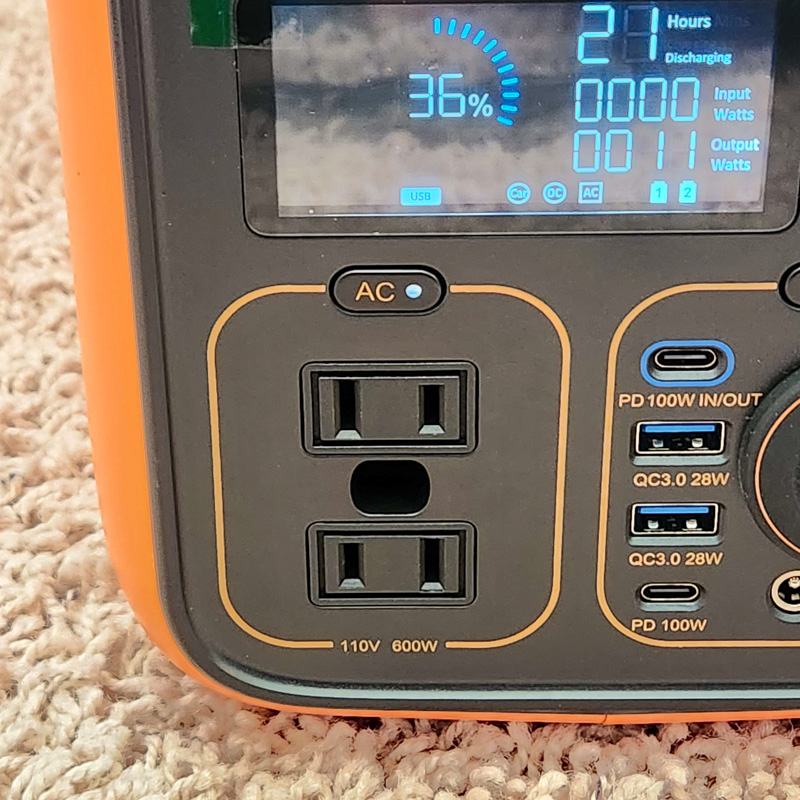 There are two AC output ports, one of which will allow a 3-prong AC plug (either one, but not both). The AC and DC sections can be independently turned on or off so you're not wasting energy if you're not using that type of output.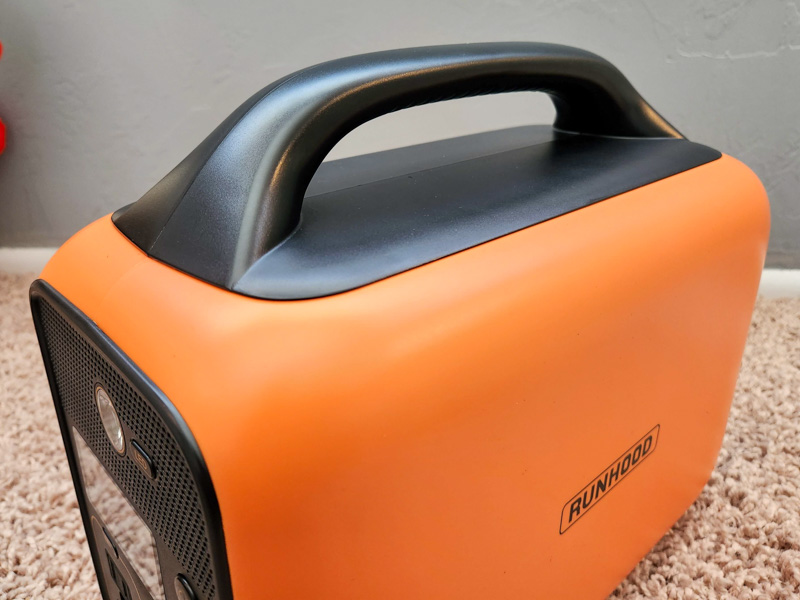 The handle up top is solid and ergonomic. The orange and black colorway is nice as well, the entire body is a hard plastic that seems like it will hold up.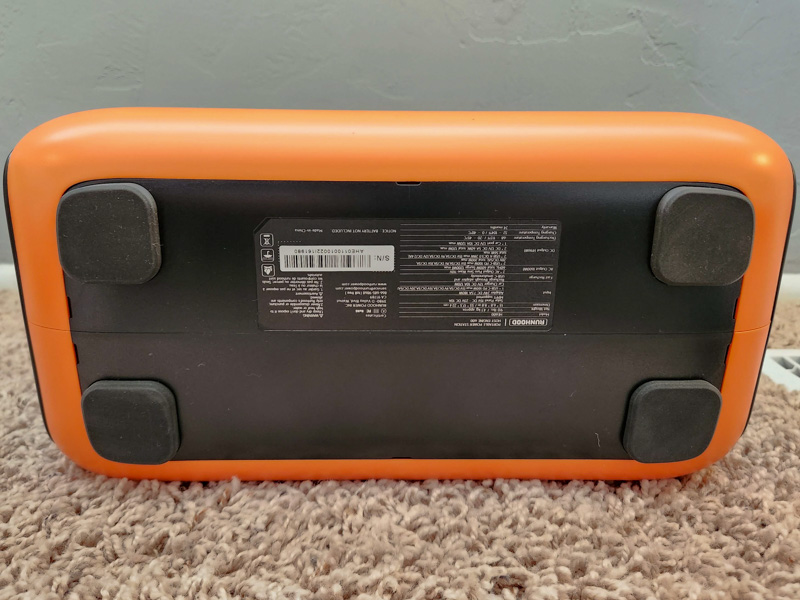 Rubberized feet adorn the bottom of the Runhood RALLYE 600 Pro Power Station, and are nice and grippy on flat hard surfaces like tables or workbenches.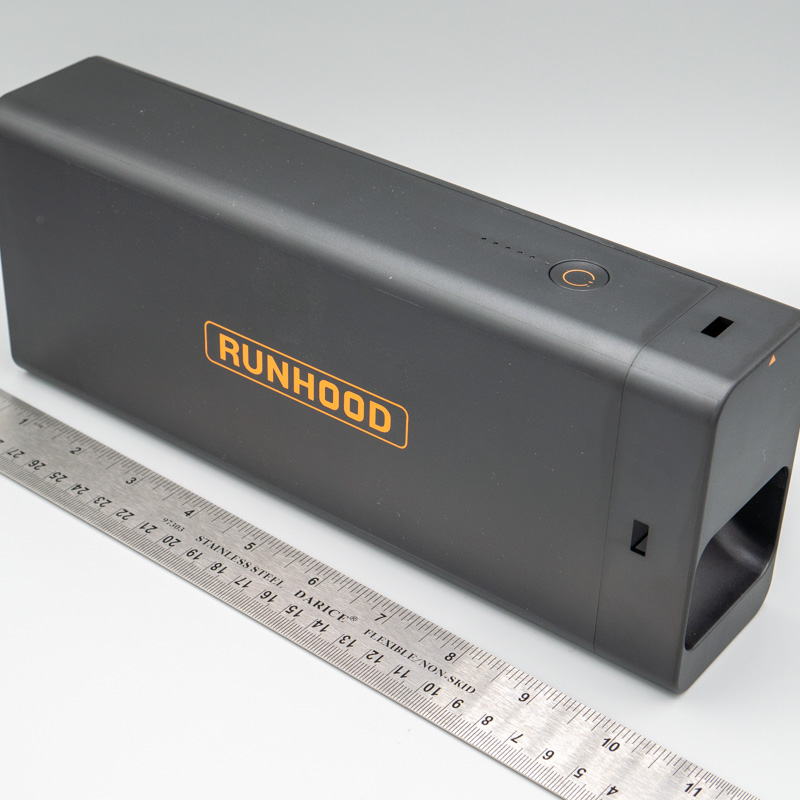 The battery packs themselves are similar to oversized travel power banks, right down to the power button/battery meter LEDS. If the power button is short-pressed it shows up to 4 blue LEDs to indicate battery life, and if long pressed it turns the battery on/off. One end pictured above has the handle to remove the pack from the power station…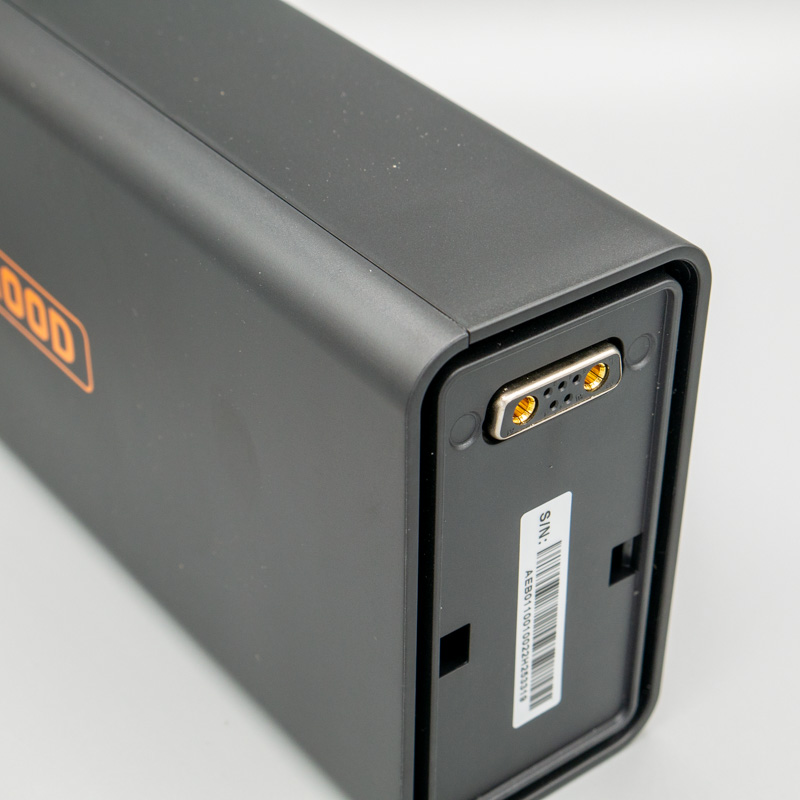 And the other end has the actual connection that plugs into the power station, or accessory, or can connect to the Y-splitter for charging outside the station. Speaking of, here's the Y-splitter: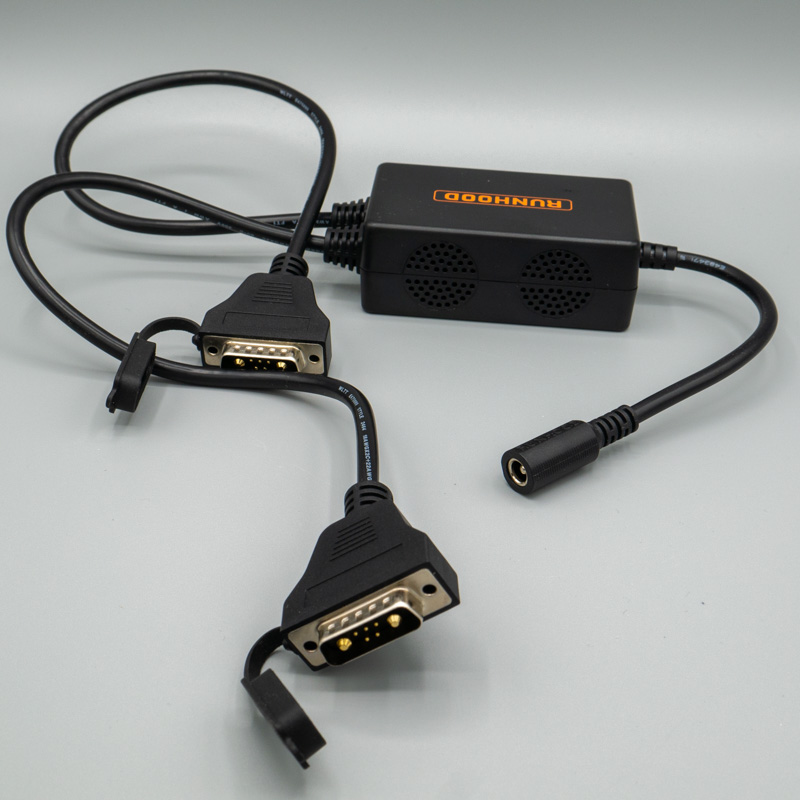 This can take power input from either the solar panel or the AC wall adaptor and route it to one or two battery packs for charging.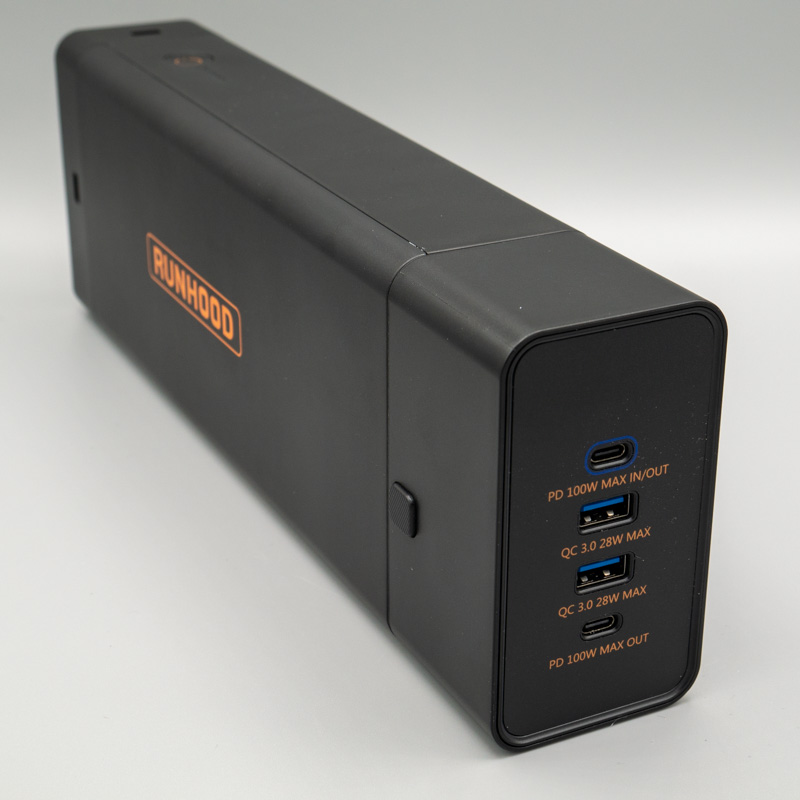 Above is the "UE256 USB Engine", a small square device that snaps onto a battery pack and transforms it into a dual-PD output plus two USB-A QuickCharge 3.0 outputs (identical to the USB portion of the main power station, including output wattages). This also has USB-C 100W PD input on one of the USB-C ports, allowing yet another way to charge up the battery outside the power station. I love this feature and have been using one of the power packs next to our couch (one end of which is far from any wall plugs), allowing for phones/tablets/laptops to be charged from there. During the 4 week review period, it's only dropped to around 50% battery life with pretty constant use at night.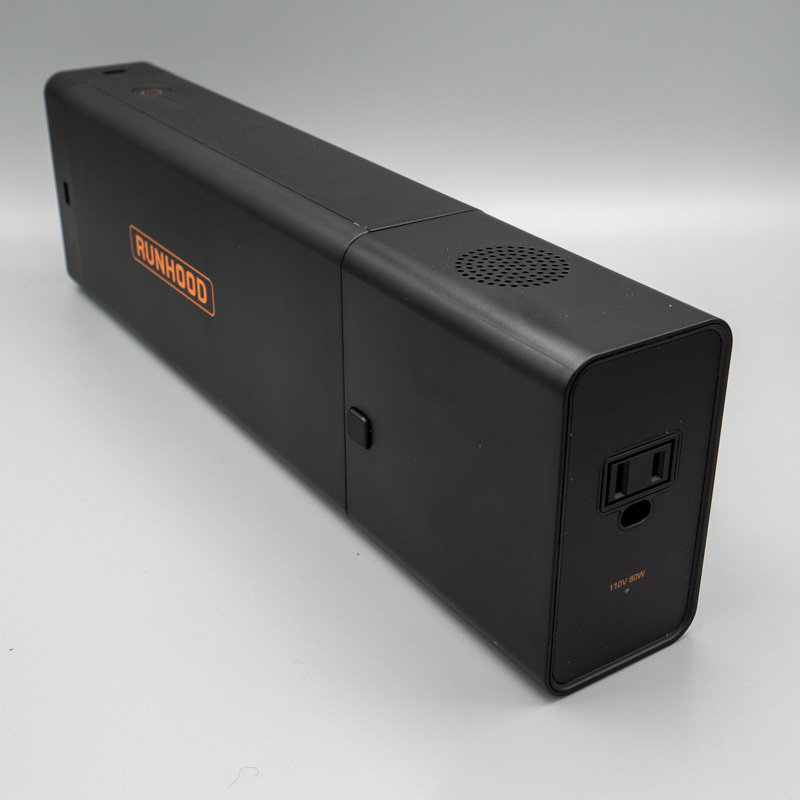 The AE80 Mini AC Engine is a very similar concept, but with a single AC plug capable of running low-wattage devices (up to 80 watts). This DC-to-AC inverter also has a small fan to cope with heat during use, something that the "USB engine" doesn't need. I tested this with a table lamp, and it worked great. For small fans or lights or similar items it's a nice option to have as an option.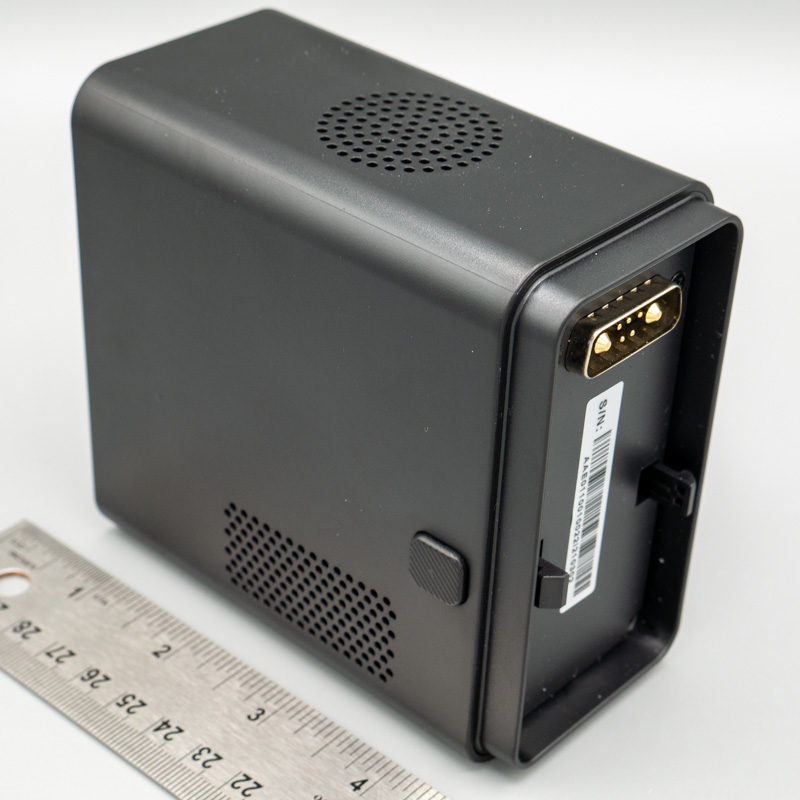 Above is the backside of the "mini AC Engine", showing the connection and fan grills.
Setup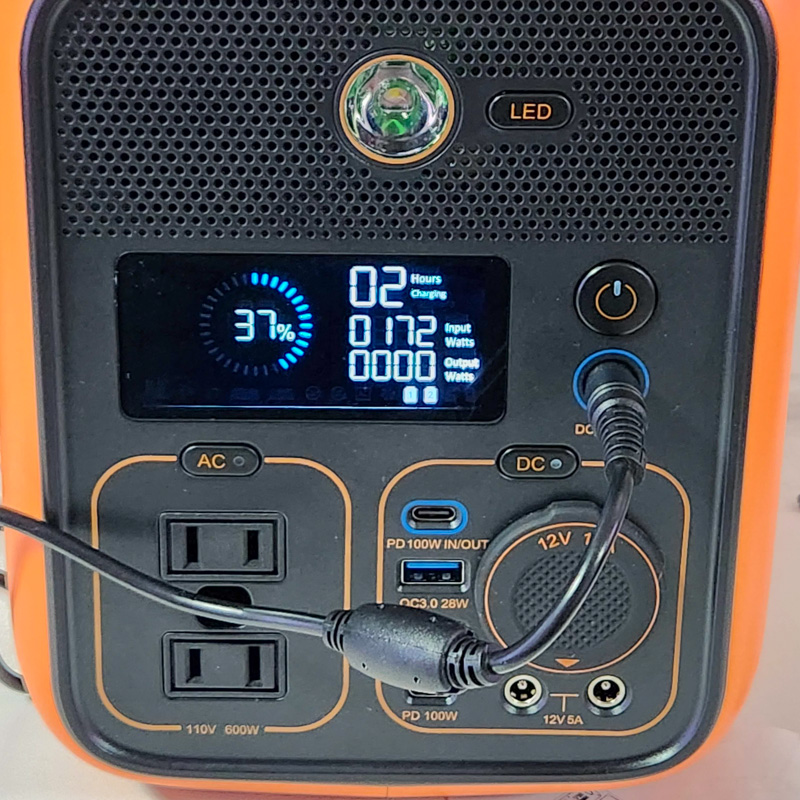 Setup on the Runhood RALLYE 600 Pro Power Station is as simple as plugging one or two of the battery packs into the power station, and charging it via AC wall plug, PD input, or solar (DC) input. The wall adaptor puts out 180 watts, for a full charge time from empty just shy of 4 hours. If you add 100W USB-C PD to the mix, you'll speed it up by about 30% (don't question my math, the napkin never lies).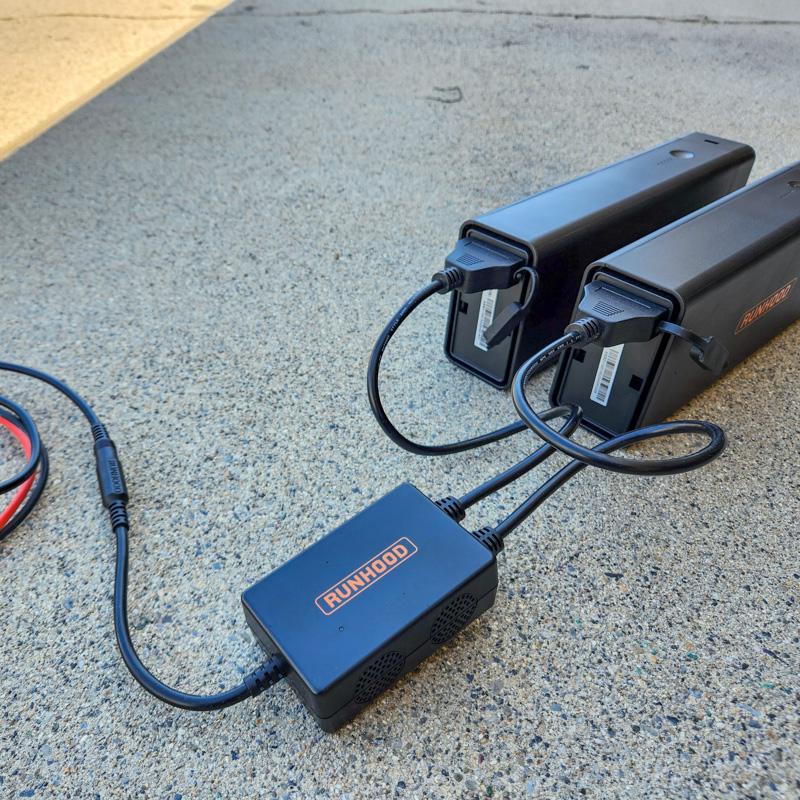 While the power station is charging, you can also charge the extra battery packs (if you buy a bundle with extra packs or buy an extra standalone) via solar or a second AC adaptor. Alternatively, you could connect the USB engine to one of them and charge via USB-C PD (again up to 100W). Lots of options here! If you're setting up the solar panel, it's as simple as unfolding it and positioning it towards the sun.
Performance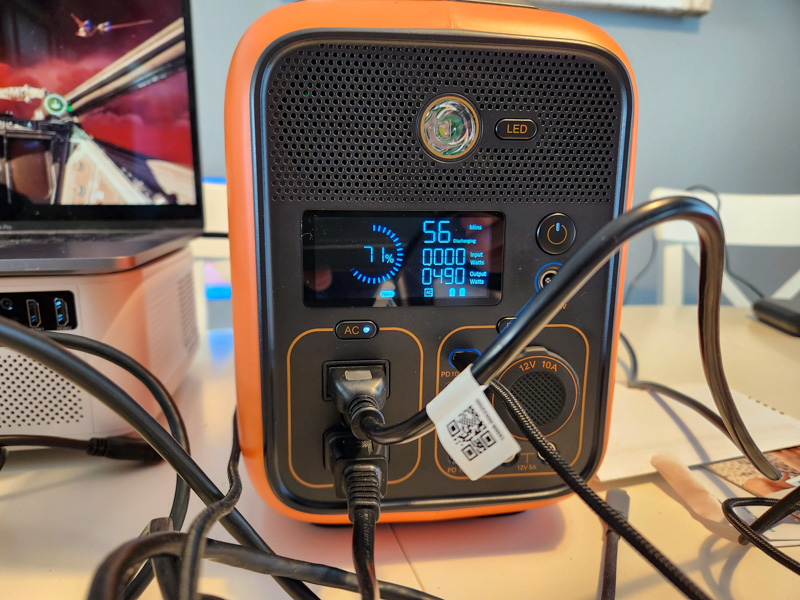 For testing, I did my usual power station test that I do these days: gaming laptop under full load, work laptop also running via PD, LCD projector playing, and multiple tablets and/or phones plugged in via USB. As you can see in the picture above, I was pushing it near 500 watts, and it worked perfectly, with an estimated runtime of ~100 minutes when I started at this load. I then swapped out the batteries (one at a time) while everything was still running, and it worked like a charm. No power dropouts or errors, the whole system just kept working as expected.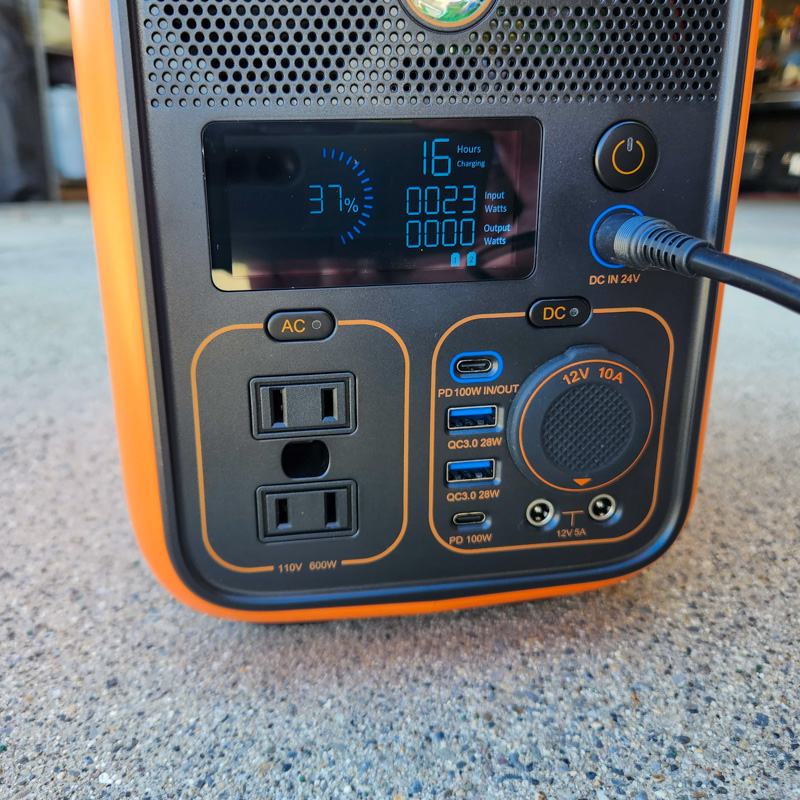 I then tested out the solar panel included in the Runhood RALLYE 600 Pro Power Station bundle, and at best saw just over 30 watts on a cold partly cloudy spring day. The panel is supposed to be capable of 100W, but this seems like it would only be under ideal conditions based on my tests. I tested a different panel, the XStar SP100 portable foldable solar panel (another 100W solar panel I recently reviewed) and in the same location/time/day it was putting out 92 watts to the RALLYE600 Pro Power Station. Overall, the build and quality of the solar panel is good, and it folds up very small, but it seems like it just isn't as efficient as others I've tested and used.
What I like
The innovative hot-swappable battery unit system is great
Love that they made the separate batteries also useful with the "mini engine" attachments
USB-C PD charging option for both the full power station as well as a single battery + USB Engine option
What I'd change
Had a hard time getting anything close to rated current with the solar panel
At full retail price, the system is significantly more expensive than most other solar+power station options, but if it's on sale the value proposition is better
At this price point would have preferred LiFePO4 battery chemistry for longer battery cell life
Final thoughts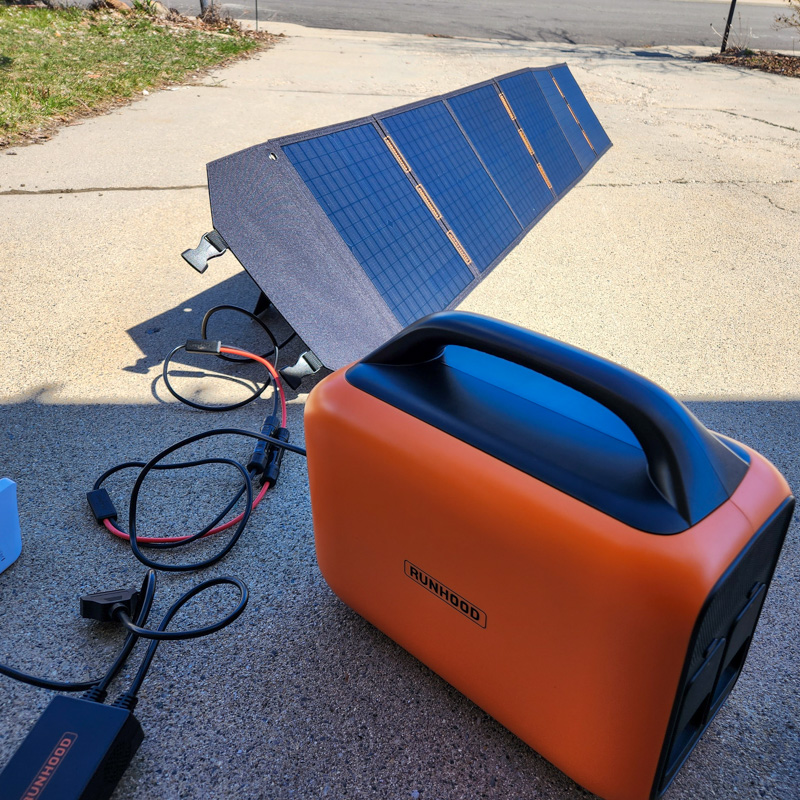 The Runhood RALLYE 600 Pro Power Station was a breath of fresh air after many recent power station reviews. The others have been good options, but the Runhood RALLYE 600 Pro Power Station system offers some innovative elements that I haven't seen in the others yet, like the hot swappable batteries and the utility of using extra batteries for other purposes with the AC and USB "mini engines". Unless my wattage needs are extra high, this will be the power station I'll be using in case of our next power outage, as well as our go-to for camping and other adventures.
Price: $1,659.00 (on sale for $1,099 at the time of review)
Where to buy: Runhood and Amazon
Source: The sample of this product was provided by Runhood.