We use affiliate links. If you buy something through the links on this page, we may earn a commission at no cost to you. Learn more.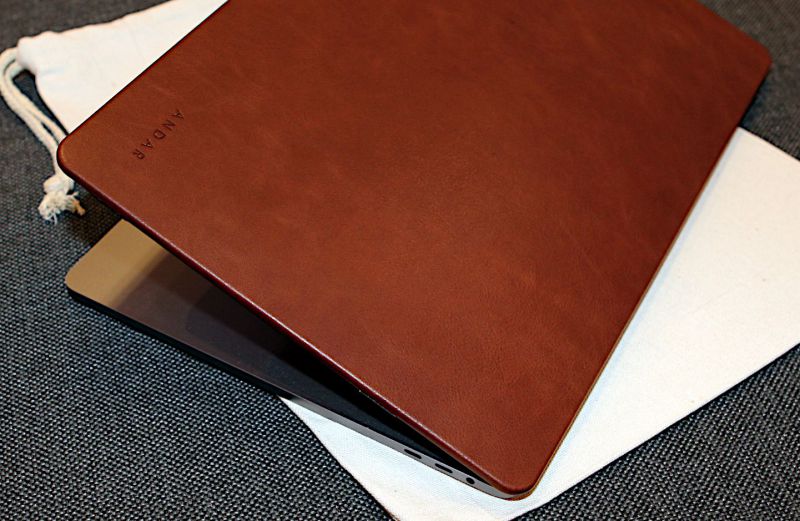 REVIEW – We live in a world where most gadgets are made from plastic or metal, and where they are often more functional than beautiful.  Last year I reviewed a pair of handmade, leather wallets from Godbolé, and I fell in love with their craftsmanship and the beauty of full grain leather.  Can this same type of craftsmanship and beauty be found a laptop case that is made from leather?  Can it also be very functional?  That's what I'm hoping to find out in this review of The Helm, a leather laptop case from Andar.
What is it?
The Helm is a full grain leather laptop case from Andar that is designed specifically for Apple's MacBookPro.  Andar is an American company based in Arizona that creates "handcrafted goods using the highest quality materials at an affordable price."  Their goal is "to minimize and organize what you carry."
What's in the box?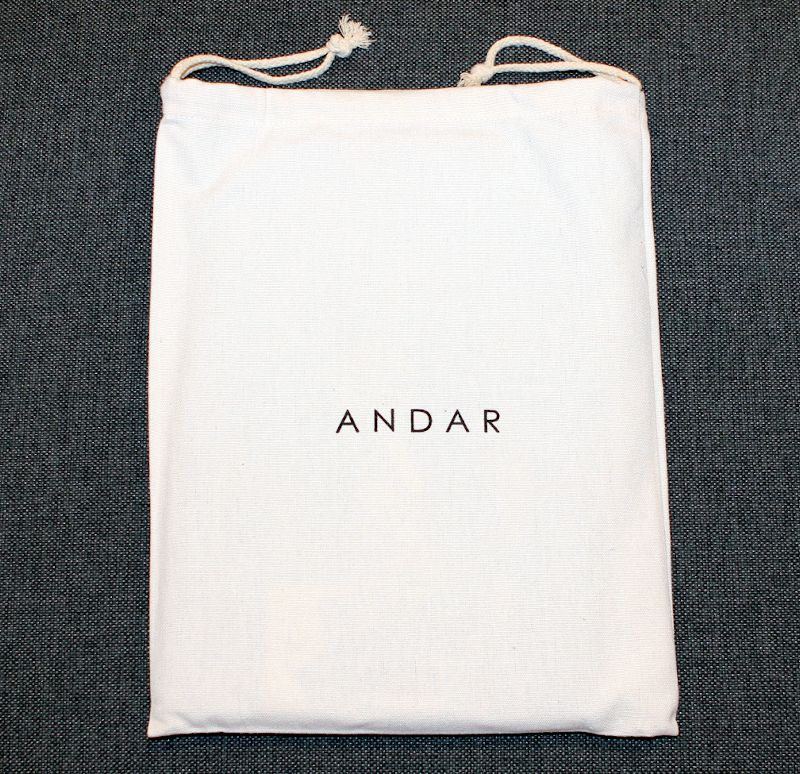 The Helm arrived in a cloth drawstring bag and was carefully wrapped in nice paper.  It's a warm, personal touch that is especially appreciated in a world where so many items that I buy arrive in impossible-to-open plastic clamshell packaging.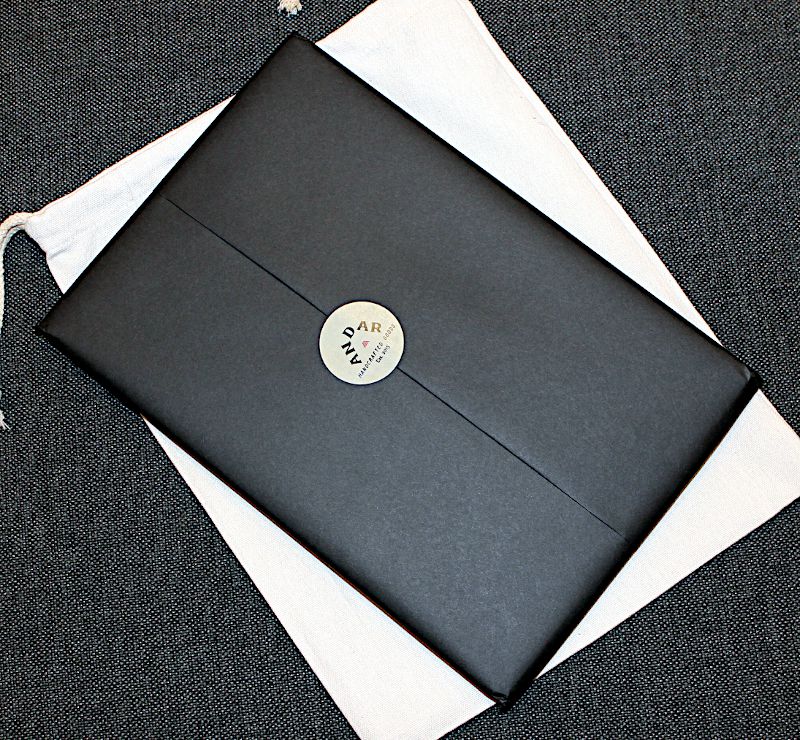 Inside the bag were the two pieces of the case, one for the top and one for the bottom.  There were no manuals or instructions, though the included shipping packing sticker notes that I can email [email protected] if I have a question.  There was also a thank you card and a pair of stickers.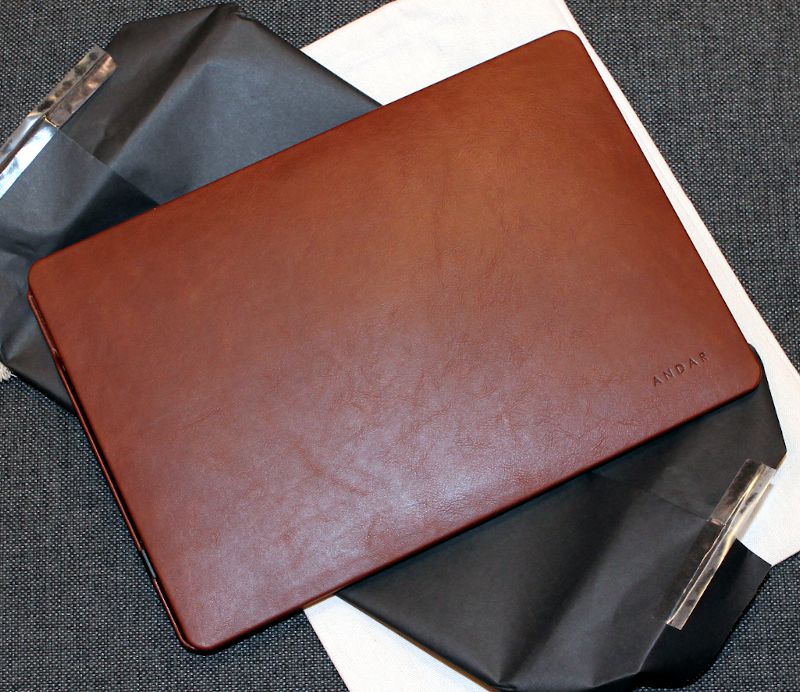 Hardware specs
Premium full grain oil-waxed leather exterior
Microfiber lining interior
Complete exterior coverage for the laptop
Built-in snaps to hold the top and the bottom in place
Cutouts for the ports and vents
Made for 13-inch (2016-2020), 15-inch (2016-2019), or 16-inch (2019) MacBookPro
Design and features
The Helm is a thin and light case that snaps onto the top and the bottom of a MacBookPro.  The full grain leather gives it a sophisticated appearance that looks like it would belong in any corporate boardroom, yet it also has a natural, warm feeling that makes it a delight to pick up and hold when working from home and carrying around.  If you're not familiar with full grain leather, it's the part of the hide of an animal that is just below the hair.  The grain pattern is very tight, making it tough, durable, and moisture resistant.  Full grain leather is not altered through any mechanical process; thus, it innately comes with imperfections that give each piece a unique set of natural beauty.  Full grain is the highest quality grade of leather.
Installation and setup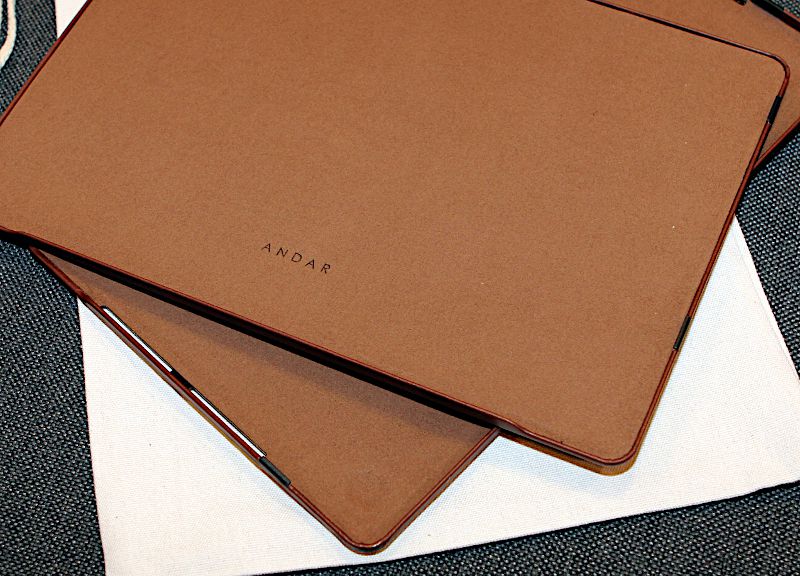 The Helm has two pieces, one for the top and another for the bottom.  They are lined with microfiber, which will protect my MacBookPro from getting any scratches or abrasions.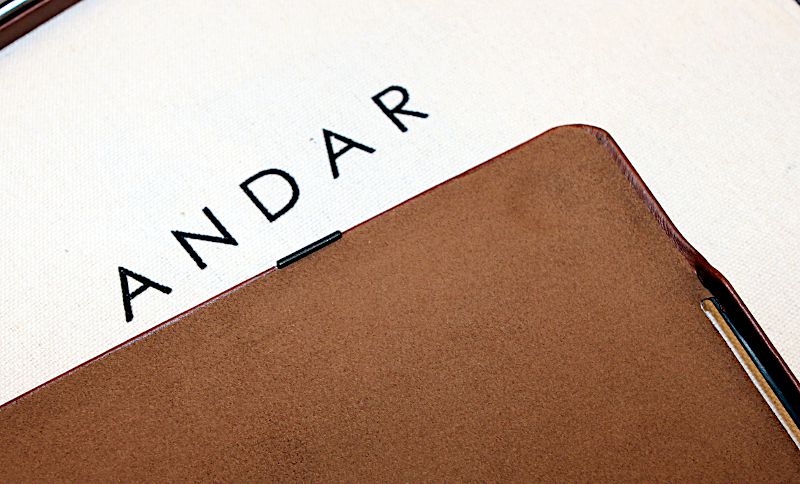 Each piece has a set of small black clips.  When putting the case onto my laptop, I had to gently yet firmly push on each clip until they snapped into place.  The only challenge, and it's small one, is knowing which side should face the front and which should face the back.  Andar doesn't include any instructions to guide you, nor are there any markings on the case itself.  The good news is that after trying both ways, it was pretty obvious which way was right.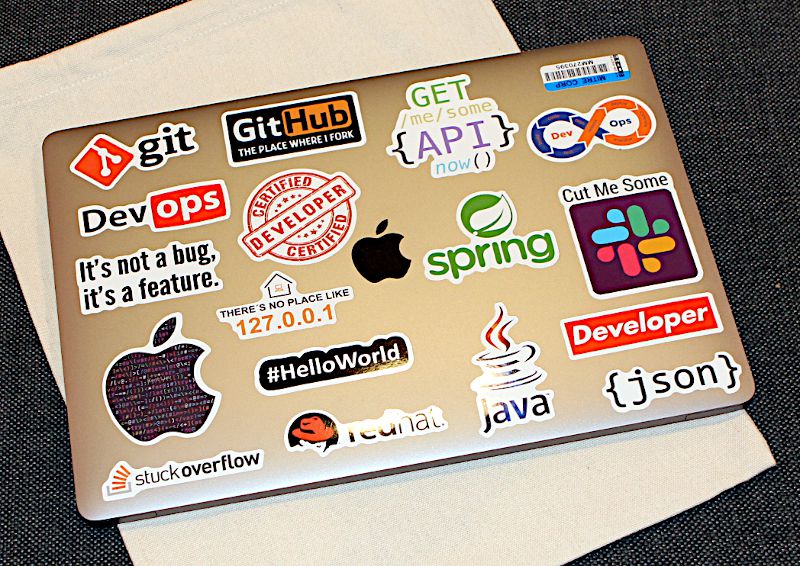 The MacBookPro that I am using is the 16-inch version from 2019.  This is my work computer, and as I am a software engineer by day, my computer is naturally covered with nerd cred stickers.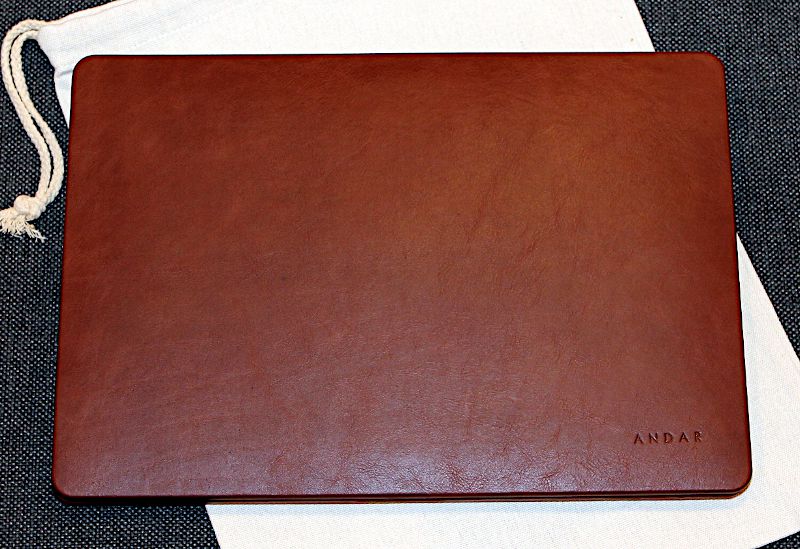 While I love the stickers, adding Andar's case has transformed my laptop!
Performance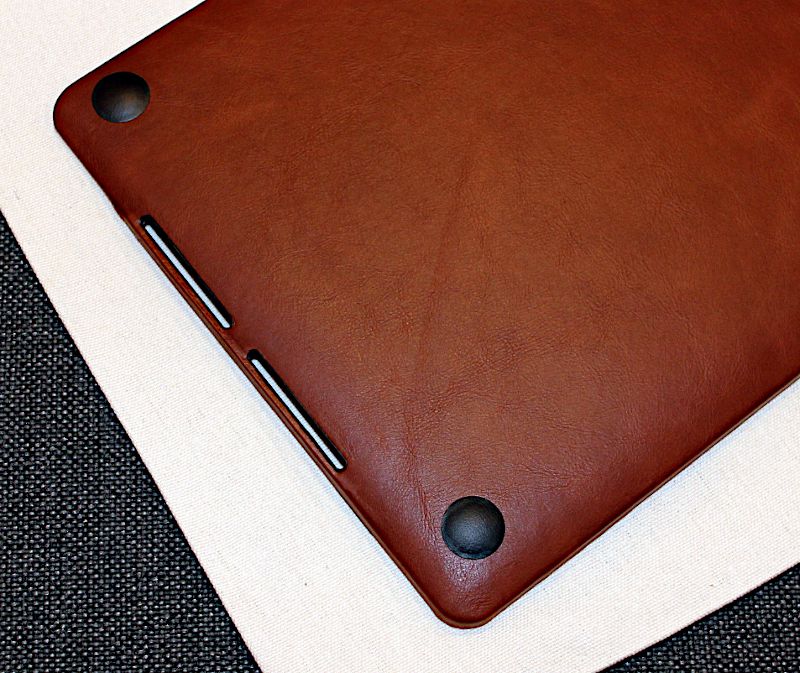 The bottom of the case has four rubber feet that keep my laptop from sliding around on my desk.

The bottom is also contoured to perfectly match my MacBookPro.  It leaves room for the USB-C ports on either side and has holes for the vents on the bottom.  Andar designed this case perfectly.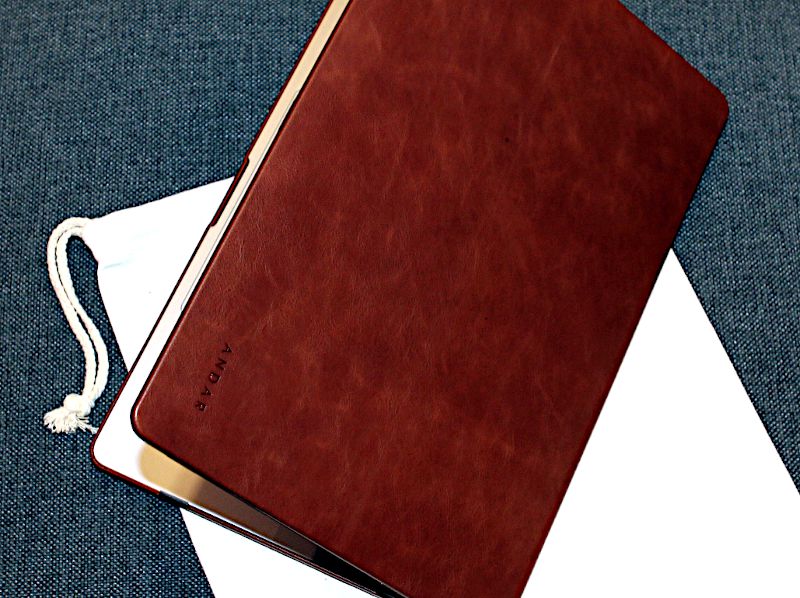 The snaps on the Helm hold the case firmly in place.  It never came off while I was carrying my laptop or using it around the house; in fact, removing the case was a challenge.  I had to apply very firm pressure to each of the snaps, trying not to damage my laptop, and pop them off.  The Helm is definitely not designed to take on and off regularly, though I think I could safely do so occasionally if I needed to clean it.  Speaking of which, Andar's website gives tips on how to take care of leather.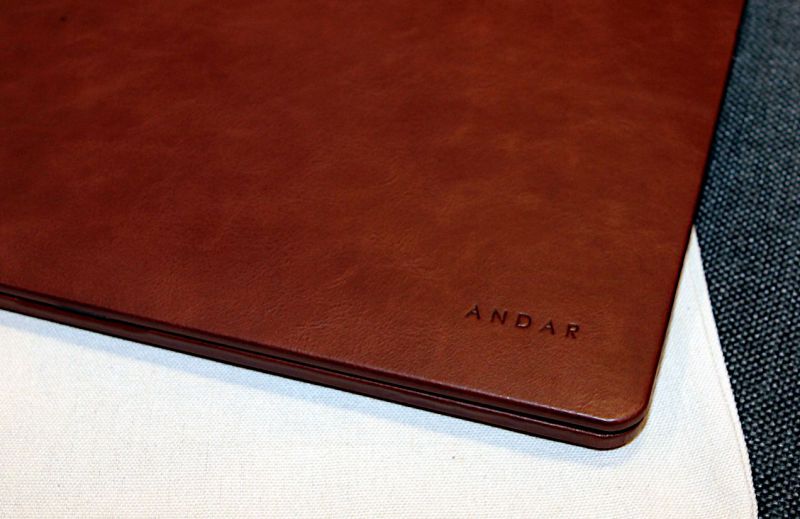 The wax that Andar used on the leather has left it with a matte finish–it's not at all shiny or glossy—and has enhanced the leather's natural water resistance.  I held one corner of my laptop under running water for ten seconds—I would appreciate it if you don't mention this to the IT department at my work—and the vast majority of the water ran off easily.  The water that remained dried quickly; while it's not naturally waterproof like a plastic or stainless steel case, I think the Helm will do a nice job protecting my laptop.  Let me hasten to note that this leather is not rainproof, nor is it intended to be used in wet environments.  I conducted this test to see how the case might be affected; I'm happy to report that there are no visible stains or other signs of water damage.
Extra Features
The Helm comes in two colors, brown or black.  I choose the brown, as it's a very traditional look for leather.
The Helm is not a generic laptop case.  It's specifically designed for certain versions of Apple's MacBookPro, and Andar's webpage lists the model identifiers and part numbers that are supported, helping you to make sure that you have the right computer.
Whether you happen to have a MacBookPro or not, you should take a look at the variety of other leather products that Andar makes, including a laptop sleeve, an iPad case, several phone cases, and many different wallets.  With Christmas just around the corner, you're bound to find something for that special person in your life.
If you should need support for any reason, Andar does not have a phone number that you can call; instead, you can email them at [email protected].
What I like
Full grain leather
Quality craftsmanship
Beautiful design
What I'd change
Final thoughts
The Helm is a beautiful case for the MacBookPro.  It's made from full grain leather and comes in two pieces that firmly snap onto the top and the bottom.  While they completely cover the laptop, they carefully leave room for the vents and ports.  If you appreciate the look and feel of beautiful leather and quality craftsmanship, and if you happen to own one of the supported laptops, then I highly recommend that you consider purchasing The Helm from Andar.  I was a fan from the moment I popped it on, and I think you will be, too.
Price: $115
Where to buy: Andar's online store
Source: The sample for this review was provided by Andar.