We use affiliate links. If you buy something through the links on this page, we may earn a commission at no cost to you. Learn more.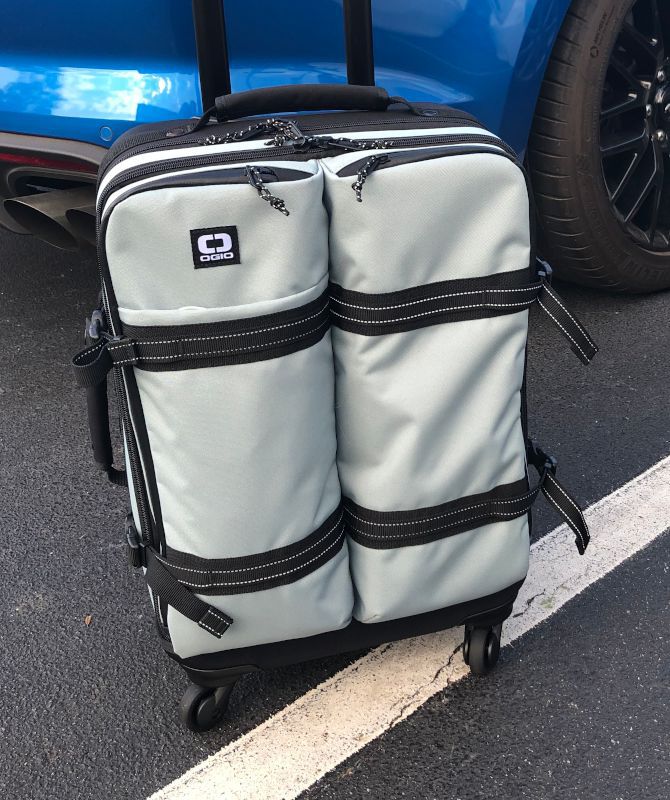 REVIEW – Our family has several pieces of luggage, but after traveling to Asia and back and all over the east coast, they're pretty beaten up.  Additionally, they are not very flexible, as they have one main compartment for storing everything.  It's time to try something new, preferably something that is both durable and flexible.  I'm getting ready to head out on a three-day road trip with my wife, and this seems like the perfect opportunity to test out the Alpha Convoy 522S travel bag.
What is it?
The OGIO Alpha Convoy 522S is a travel bag that can function as carry-on luggage during air travel or as a smaller suitcase for road trips.  It's a durable bag that works just as well for business travelers as it does for family vacations.
What's in the box?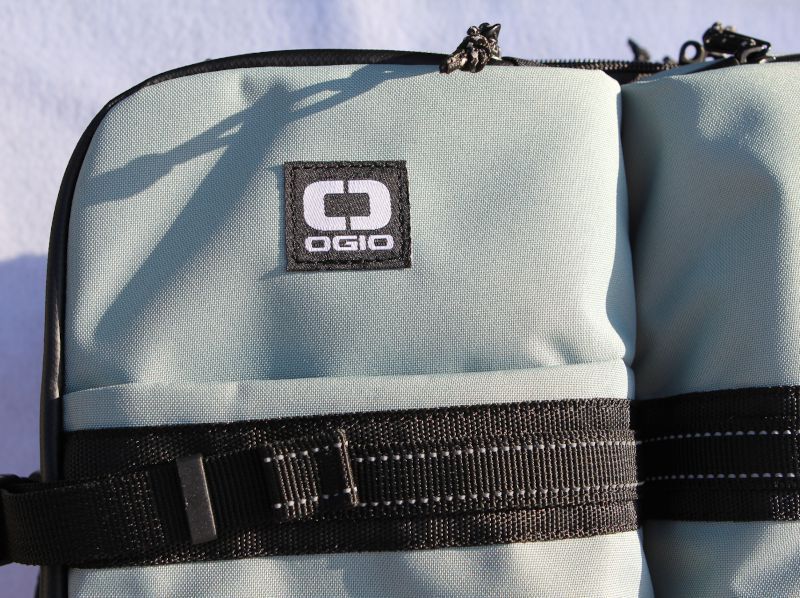 The only thing in the box is the travel bag itself.
Hardware specs
Dimensions:  22 x 14 x 9 inches
Weight: 7.2 pounds
Capacity:  33 liters
Laptop Pocket:  Up to 15 inches
Materials:  Cordura® Eco
Design and features
The 522S is a smaller bag that looks both durable and practical.  The front half is made of a material that looks like canvas but is actually a polyester known as 600D Cordura® Eco, which is both strong and withstands abrasion.  It's made from recycled plastic and is thus eco-friendly.  There are a bunch of straps and zippers, which hint at the multiplicity of compartments.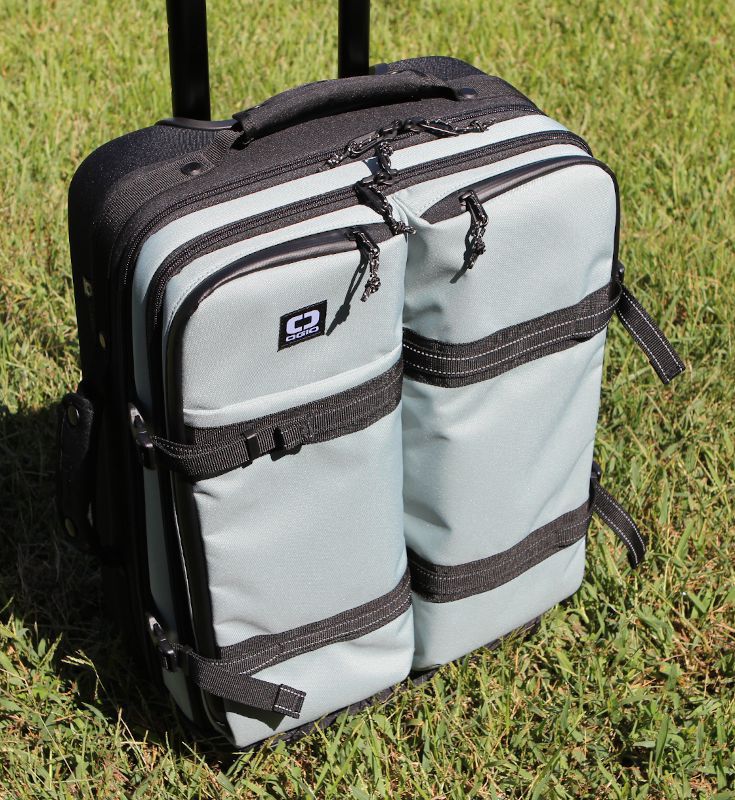 The back is half is completely black and made from 1200D Cordura® Eco, which is even thicker and stronger.  It's a solid, molded piece dominated by two long, black strips that are clearly intended to protect the bag while sliding around on an airline conveyor belt or in the cargo space of a mini van.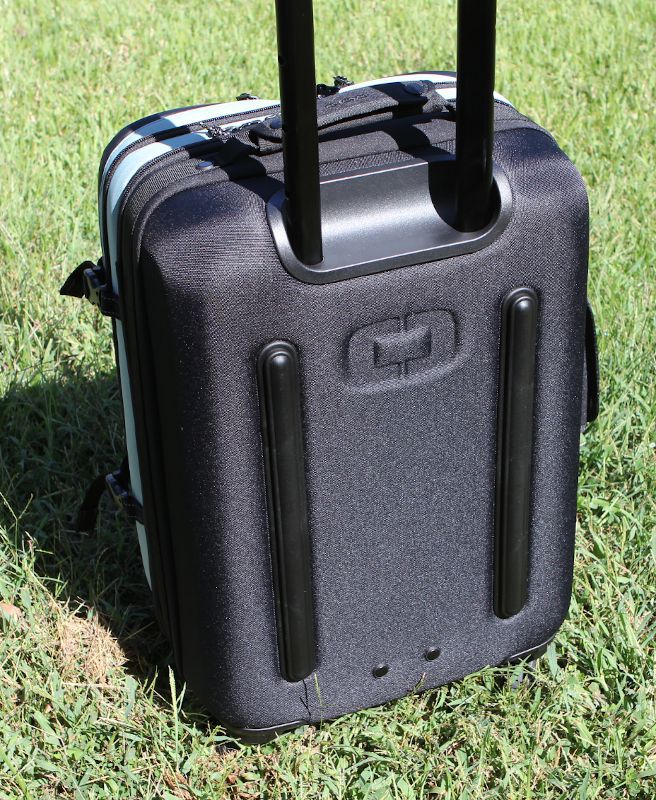 Performance
The first pair of zippers belong to the two lung pockets on the front; these are long, thin, vertical pockets with compression straps on the outside and hidden pockets on the inside.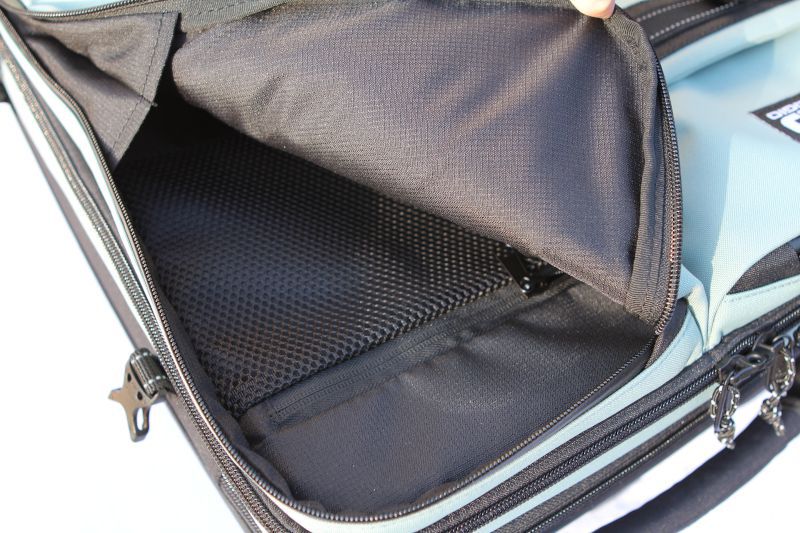 These two pockets are the most interesting feature of the 522S, because it's not immediately obvious what should go in them.  There's webbing that prevents them from being opened more than halfway, so I'm going to have to shove something down in there.  The straps are designed to squeeze something poofy and make it slim and trim.  Maybe this where I put my socks and underwear, or maybe I'll roll up my t-shirts and put them in there.  The left lung pocket also has an exterior pocket, perfect for slipping in a smaller item.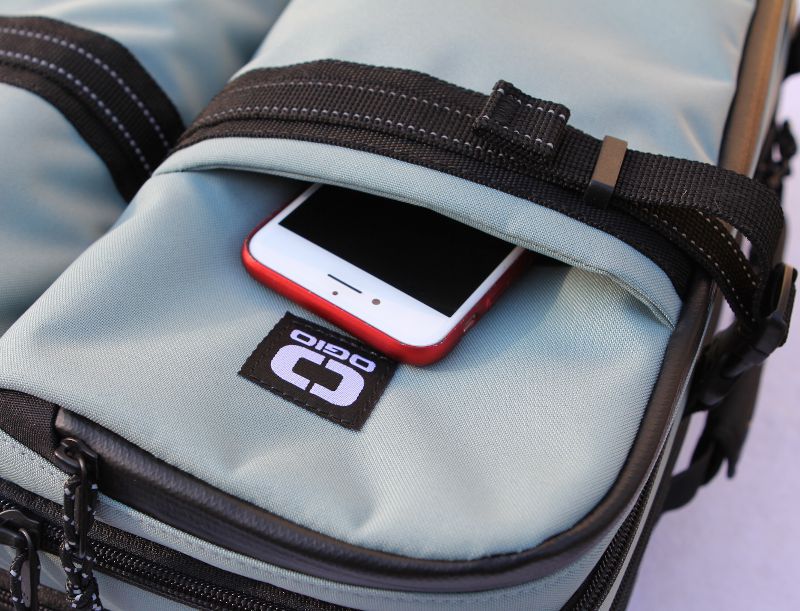 The second zipper runs from top to bottom and opens the first interior compartment of the bag.  Above is an orange-lined pouch for a 15 inch laptop.  There's not a lot of padding in there, like there might be for a good backpack, but it probably doesn't need much padding because it's in the middle of the bag.  Because this compartment opens from the top, it should be easy to extract the laptop when it's in an overhead compartment of a larger airplane.  Below is a zippered pouch and several straps known as MOD webbing.  OGIO sells smaller pouches, known as MODs, that can clip onto the webbing and thus remain firmly in place.  This would be a good place to put the cables and charger for my phone and tablet.  The compartment itself not very large.  I think it would be perfect for a sweatshirt or light jacket.  Ever been on one of those flights where it was warm where you departed but chilly where you arrived?  This compartment makes it easy to get to clothing that you need to find quickly.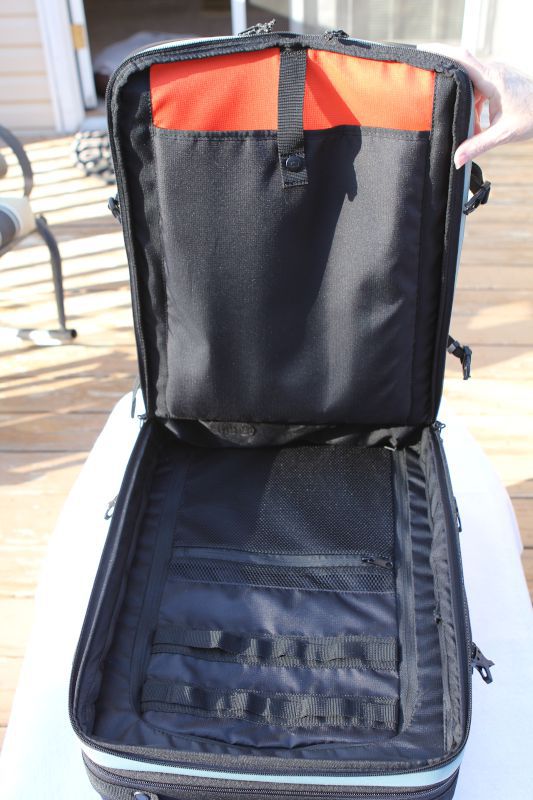 The third zipper runs from right to left and opens the second interior compartment.  There's not a lot of space, so whatever I put here will not move around a lot.  This is perfect for a pair of dress pants and a button-up shirt that I don't want to get all mushed up with my other clothes.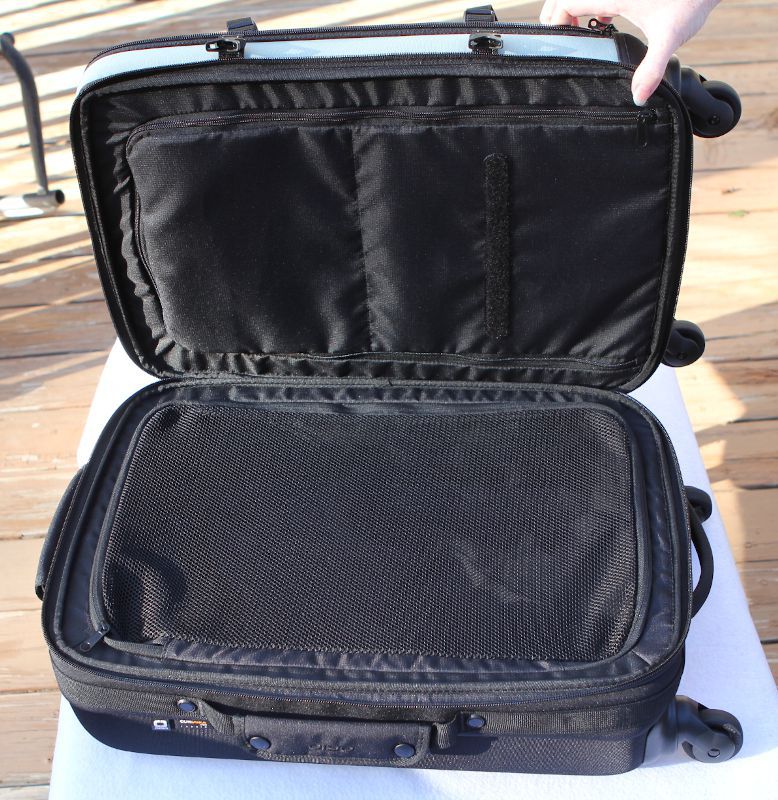 The mesh panel below opens with a zipper to reveal the main storage compartment of the bag.  The panel above also opens with a zipper, and it can be rolled up and held in place with a bit of Velcro.  If you leave both of these open, it allows you to have one big storage compartment instead of 3 smaller ones.  Maybe some trip I'm going totally casual, and I just want to throw everything in the bag without getting all organized.  No problem, the 522S will let me do it that way, too.  If you're looking for more ideas on how to pack this bag, OGIO has a humorous video to help you out.
Extra Features
There are 4 wheels on the bottom.  I can leave the bag vertical and push it around on all 4, or I can tilt it at an angle and pull it on 2 wheels.  All 4 wheels rotate 360° and have Hinomoto casters.  OGIO advertises that they are they smooth and quiet, and I can certainly attest to that.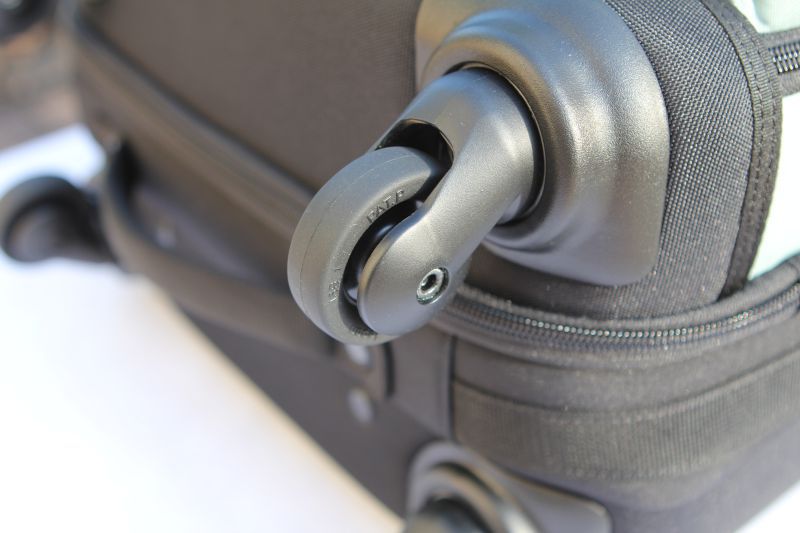 There are 3 handles on this Alpha Convoy, one on top, one on the side, and one underneath.  No matter which way I put it into my trunk, there will be a handle to easily pull it out.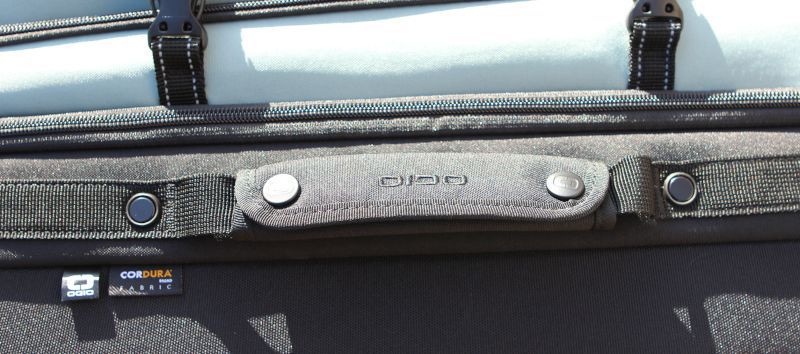 A retractable handle comes out of the top of the bag and can be fixed at 3 different positions to suit your preferences.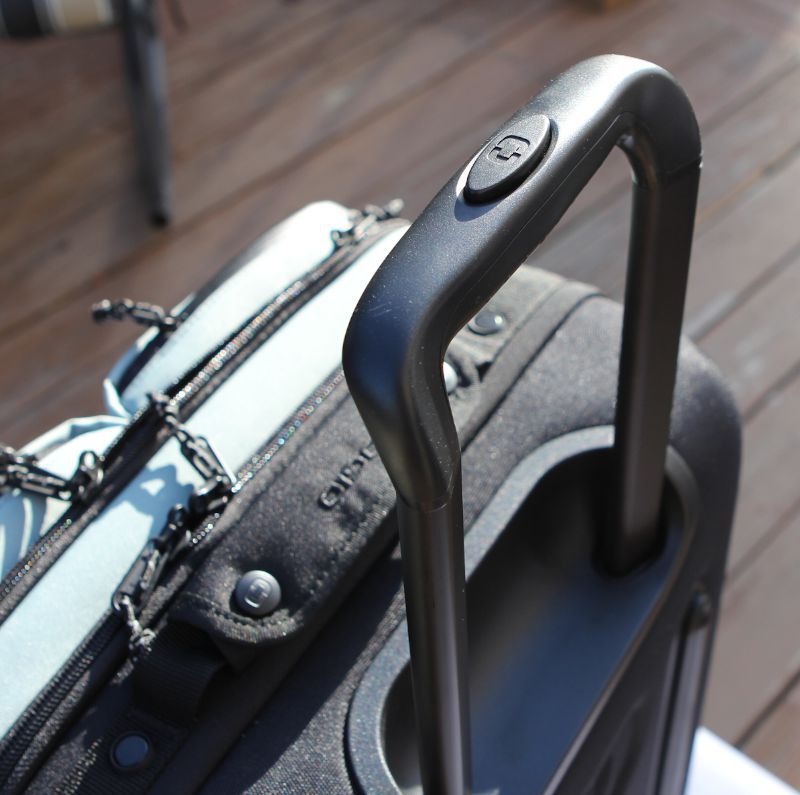 The bag I am testing is sage green, though it looks rather grey in most lights; it's also available in black, orange, grey, and camo.  The 522S is a great bag, but if I could have one wish it would be this:  More bright colors.  All bags tend to look the same when they are on a baggage carousel at the airport, and bright colors or unusual patterns can make a bag stick out and help avoid ownership confusion.
If you buy the 522S from OGIO's website, they offer the following satisfaction guarantee:  "If you're not 100% satisfied with your new OGIO bag, return it to us for a 100% refund no questions asked, for 100 days."  That's a pretty good deal!
Finally, if you're going on a longer trip and need a larger bag as well, OGIO also makes the Alpha Convoy 526S.  It's the same design, just bigger.
Road Trip
My wife and I headed out of town for a long weekend.  The 522S easily fit into the trunk of my car, even though it's not the biggest trunk in the world.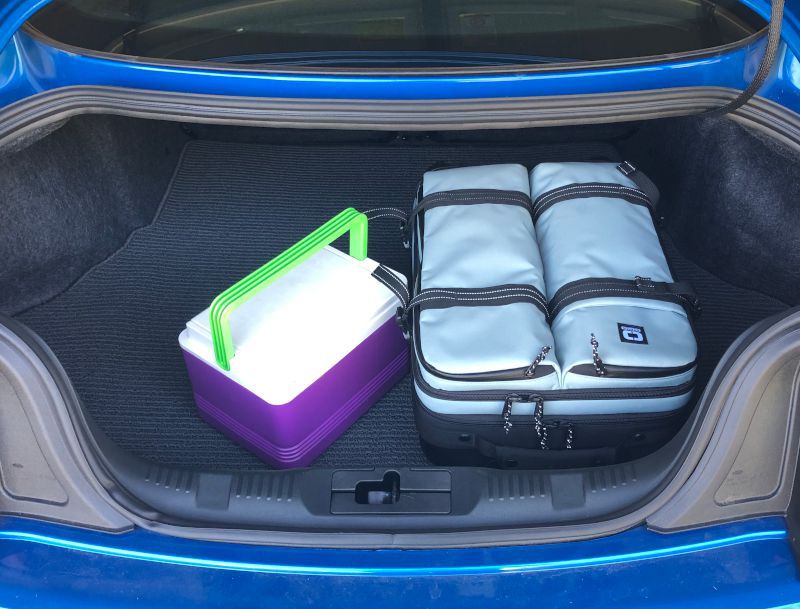 I found this travel bag to be super easy to move around, whether on 2 wheels or 4.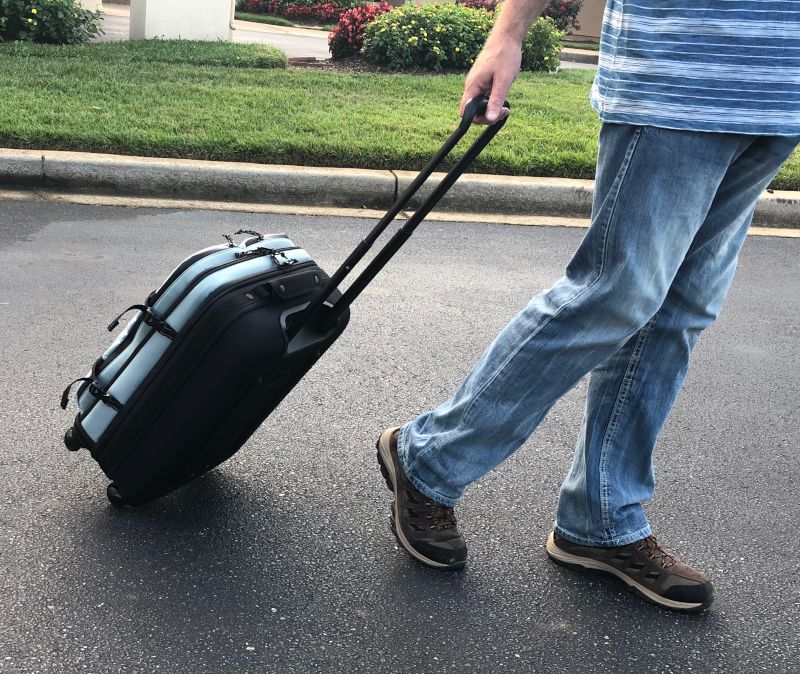 I rolled my t-shirts and put them in one of the lung pockets; I put a charger and some cables in the other.  I slipped my iPad into the laptop compartment and snapped the protective strap over it.  I put a button-up shirt in the center and everything else in the back, including a bag of Milano dark chocolate cookies, which as I'm sure you know are a requirement for any trip.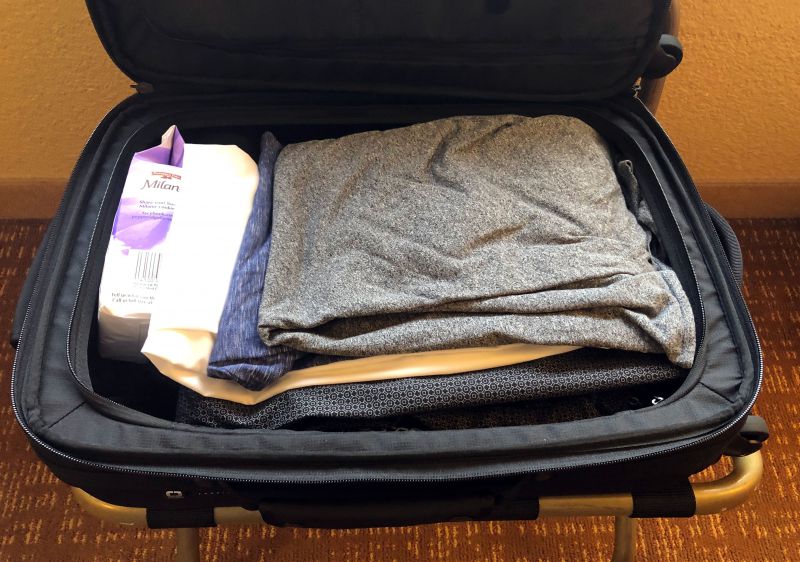 Along the way, we stopped at IKEA, where I bought a bottle of Kristian Regale sparkling juice.  I slipped this into one of the lung pockets, as it was the perfect size.  As our trip progressed, I pulled the cables out and stuffed the clothes that I had finished wearing into the lung pockets, which was great for keeping the dirty laundry separated from the clean.  I found only one thing that I wish I could change about the 522S, and that's the compression straps.  I didn't need them on this trip, but they flopped around whenever they weren't strapped, and I had to keep them open to access the compartments; I wish there was a place to tuck them out of the way when they are not being used.  This was, of course, a very minor annoyance at best.
What I like
Durable materials
Flexible storage options
Helpful features
What I'd change
Someplace to tuck the compression straps when unused
Final thoughts
This travel bag was perfect for our trip, large enough to hold everything I needed for 3 days, yet light enough to easily lift in and out of the trunk.  It's durable and flexible; I'm sure that I'm going to enjoy using this for the next 10 years if not longer.  If you're looking for new travel bags, I definitely recommend looking at OGIO's Alpha Convoy 522S and 526S.
UPDATE (22 August 2020) – This week we took our daughter back to college, and like every trip that we've taken in the last year, the Alpha Convoy was the first bag that we reached for.  It's been reliable and dependable, and it really doesn't show any signs of wear and tear.  Of course with COVID, we haven't had a chance to test it out with the airlines yet, but I'm confident that it will do well.  I just wish I was as confident about college kids being smart and social distancing as they return to their campuses.
Price:  $299.99
Where to buy:  OGIO
Source: The sample for this review was provided by OGIO.