We use affiliate links. If you buy something through the links on this page, we may earn a commission at no cost to you. Learn more.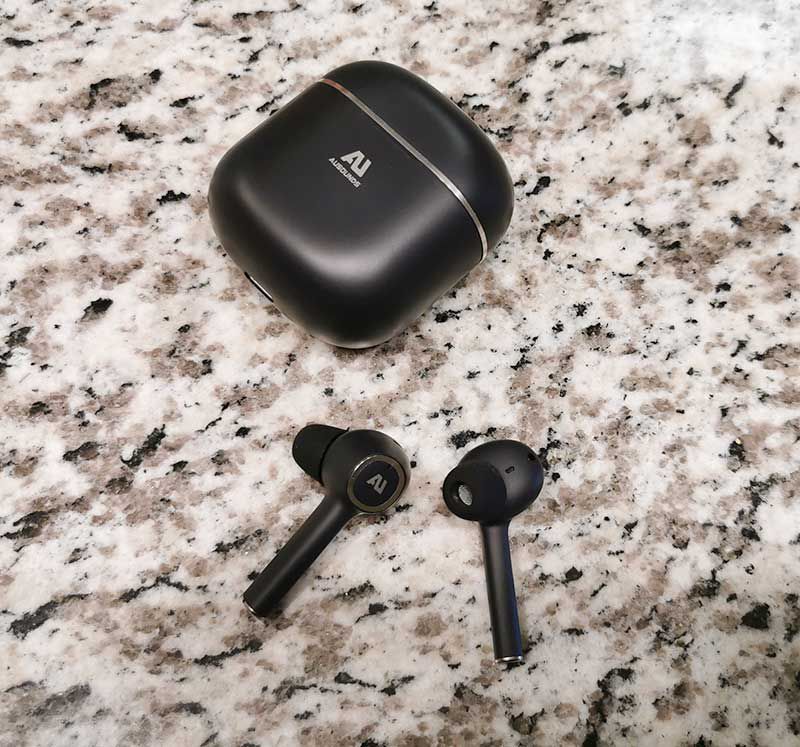 REVIEW – When I find a pair of truly wireless earbuds that ticks off all the boxes on my must-have features list, I tell myself that I'm done reviewing them. But then I'm offered a new pair to review and I just can't seem to say no. The latest pair of TWS earbuds that I'm testing are the Ausounds AU-Stream ANC TWS earbuds. Let's find out if they tick all the boxes.
My must-have features are that they have to be comfortable to wear for extended periods, have great sound quality (duh!), no physical multi-function button, and that they can't have any audio/video syncing issues when watching streaming video. You wouldn't think that finding a pair of earbuds with all those features would be a problem but I've been disappointed in the past.
What is it?
The AU-Stream ANC TWS earbuds from Ausounds are truly wireless earbuds that you pair with your favorite device using Bluetooth.
Hardware specs
Bluetooth version: BT 5.0
Charging time: 1.5hours
Stand-alone battery life: 5hours(Noise reduction)
Bluetooth range: 33 ft.
Weight 6.5g (Single earbuds)
Waterproof level IPX5
What's in the box?

Earbuds
6 sets of eartips
Charging cable
Charging case
Design and features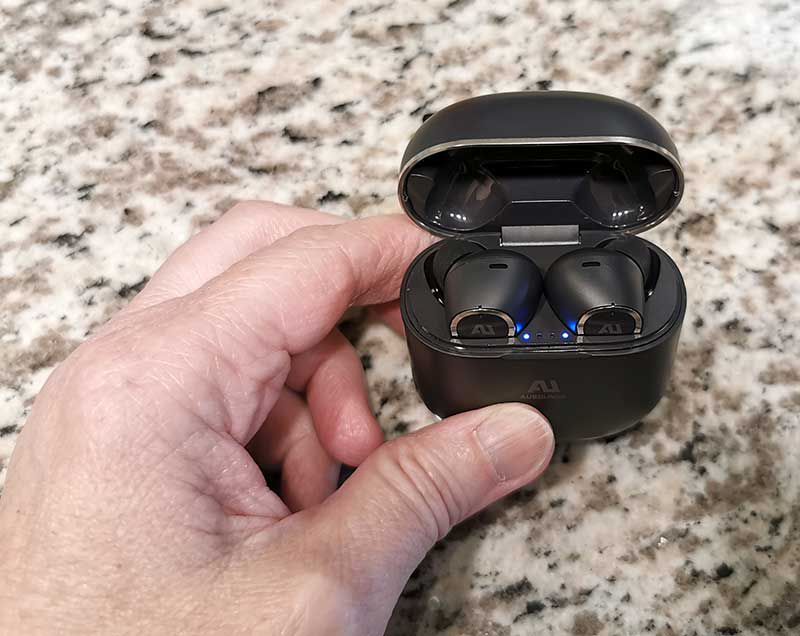 The Ausounds AU-Stream ANC TWS earbuds come in a matte black plastic storage case that doubles as a charger. The case has its own internal battery that can be charged either with a USB-C cable (yay!) or even on a wireless charging pad (yay x2!).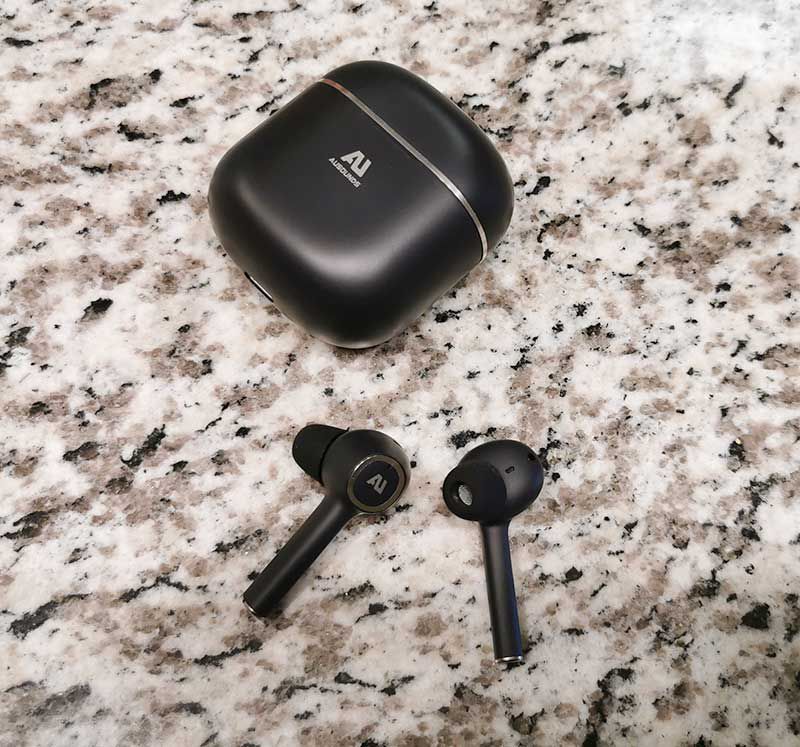 The earbuds are also matte black plastic with some chrome accents and an Apple AirPod-like stem design.
Never miss one of our posts again. Sent MON, WED, and FRI with the latest gadget reviews and news!
The Ausounds AU-Stream ANC TWS earbuds have touch controls instead of a physical button to answer/end calls or play/pause media. I love the fact that you don't need to remember different tap commands for each earbud because the same taps work on each earbud.
Toggle ANC (active noise cancellation) – Long press 1 sec
Answer/hang up – Tap
Decline call – Long press 1 sec
Music play/pause – Tap
Activate voice assistant – Tap 3 times
The only function that's missing is a volume adjustment that has to be done through the paired device.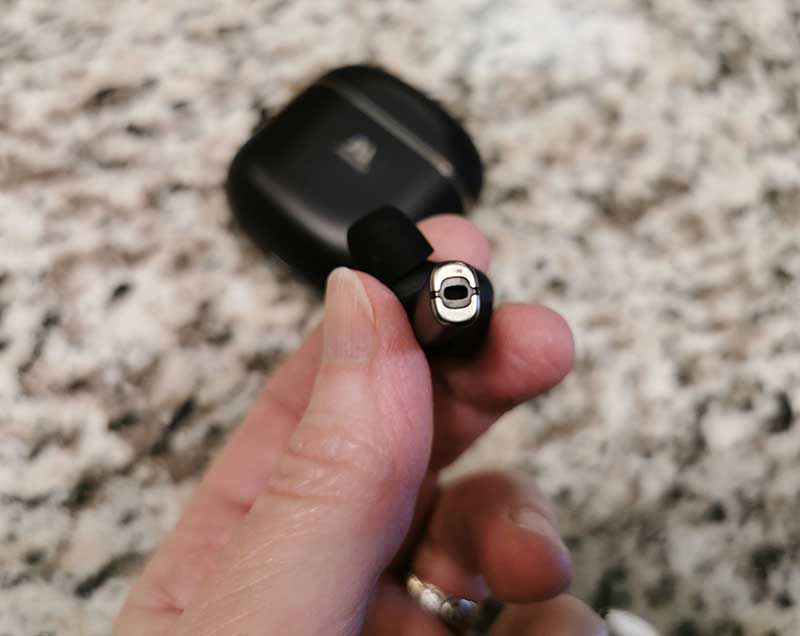 The charging contacts for each earbud are on the bottom of the stem. The earbuds fit easily into the charging case and are held there with magnets.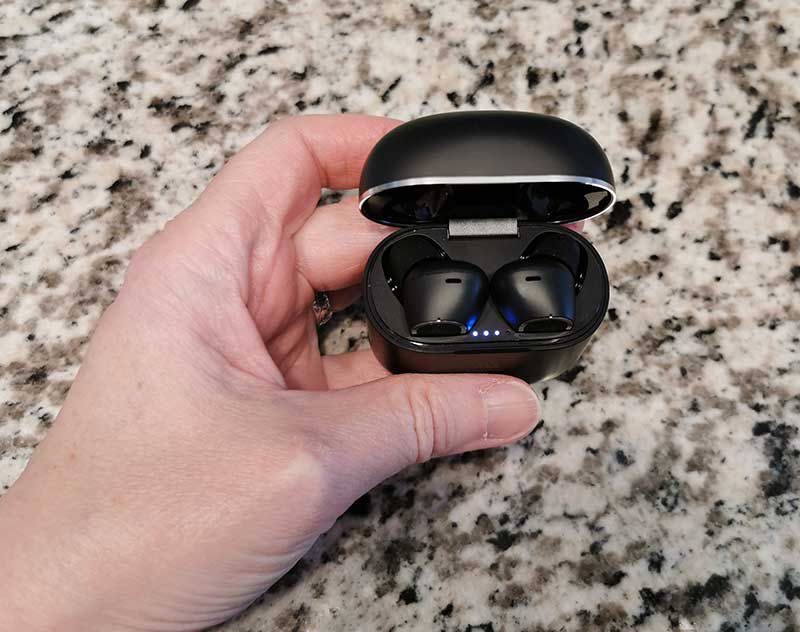 When you open the lid on the charging case, there are 4 LEDs (only 3 are lit up in the image above) that show the current battery level.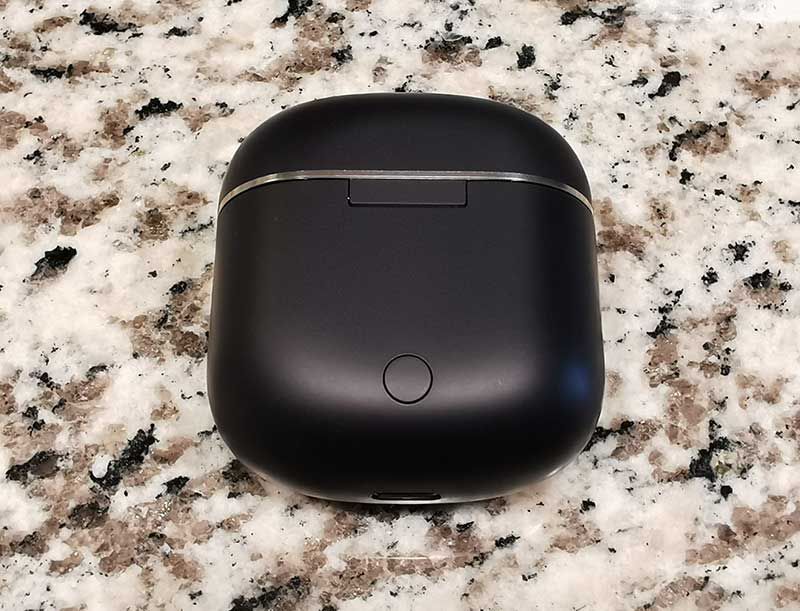 There's a small button on the back of the charging case which puts the buds in pairing mode when you press and hold the button for a few seconds.
Fit and comfort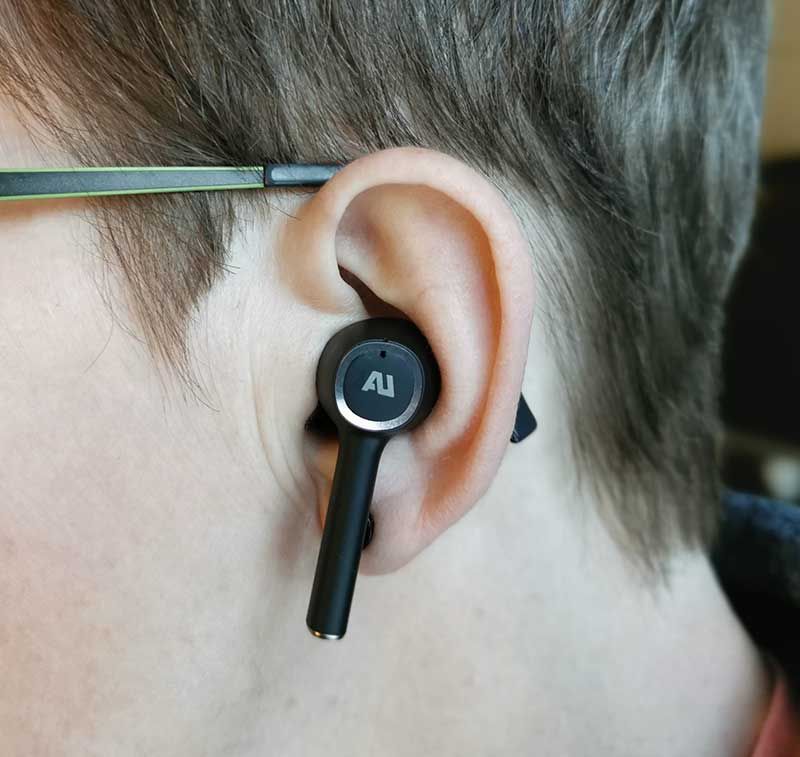 The Ausounds AU-Stream ANC TWS earbuds are lightweight and very comfortable in my ears. I've worn them for hours at a time with no discomfort. I've also worn them while working out and I didn't have any issues with them falling out of my ears. I probably would not recommend running in them though.
Sound quality for music, video, and calls
I tested these earbuds while they were paired to my Huawei P30 Pro. I listened to music streamed by Spotify and Amazon Music and watched video using Netflix, Hulu, and YouTube apps.
For music, these earbuds are fantastic! I don't claim to be an audiophile, but all the music I listened to sounded so good with warm thumpy bass to clear vocals and crisp highs. They had me tapping my feet and chair dancing all day. A few of the songs I have enjoyed with these earbuds are:
Free – Zac Brown Band
Under Pressure – Queen and David Bowie
Senorita – Shawn Mendes and Camila Cabello
You Need To Calm Down – Taylor Swift
Memories – Maroon 5
For video, I'm happy to say that there aren't any video/audio syncing problems.
For calls, I could clearly hear the person on the other end of the call and they could ear me as well. Like most earbuds, they fit tightly in your ears, you will hear yourself talking in your head which may or may not bother you.
Noise-cancelling
These are the first earbuds that I've tested that have ANC (active noise cancellation built-in). You can toggle that feature by tapping and holding one of the buds for a second or so.
When ANC is activated you can hear a slight fuzz or hiss in the background. Does it really block out background noise? I don't think they do that good of a job especially if you don't have a tight seal with them in your ears. With a tight seal and the feature turned, it doesn't block out all the noise around you. You can still hear some people talking.  I prefer to keep that feature turned off.
One or both buds
I'm happy to report that you can use either earbud all by itself without any issues. Pull one out of the case. Take both out and use them both. Or take one bud out of your ear and put it back in the case, no problems. Yay!
Bluetooth connectivity
I didn't notice any dropouts between the earbuds and I have only experienced one weird glitch where the earbuds were in the case and I was in my car and noticed that the call I had placed wasn't going through my car's Bluetooth. It was because the earbuds were still connected to my phone even though they had been in their case for an hour or so. I have no idea what caused this to happen and I haven't had it happen again.
What I like
Excellent sound quality
Can use each bud by itself
Touch controls
Wireless charging
What I'd change
Add the ability to adjust volume through touch
ANC feature doesn't seem to do much
Very pricey
Final thoughts
The Ausounds AU-Stream ANC TWS earbuds are comfortable to use, have good battery life, and sound fantastic. The only bummers are that I didn't think that the ANC feature did much and mainly, I think they are overpriced. You can find really good TWS earbuds at 1/3rd of the price including my current favorites which cost more than  $100 less than these. Those favorites don't sound quite as good as the AU-Stream earbuds, ANC, and they don't have wireless charging, but those last two features aren't on my must-have checklist, so I'm fine with that. So when it all comes down to it, I love the way music sounds when I'm wearing the Ausounds AU-Stream ANC TWS earbuds. I just don't love the price.
Price: $149.95
Where to buy: Ausounds
Source: The sample for this review was provided by Ausounds.