We use affiliate links. If you buy something through the links on this page, we may earn a commission at no cost to you. Learn more.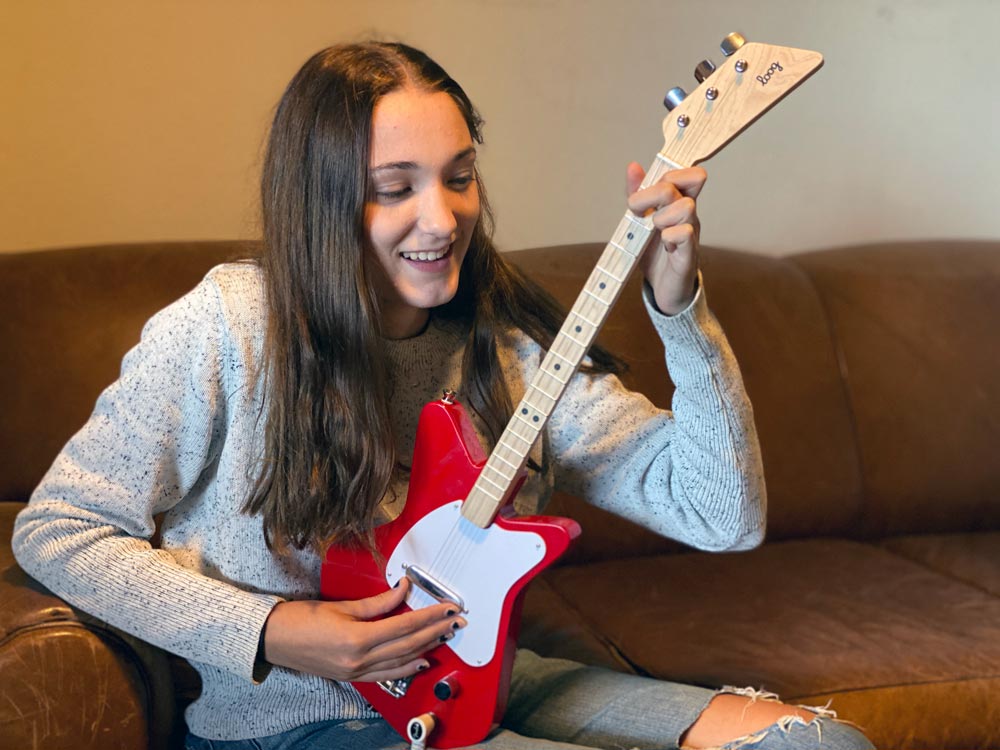 REVIEW – Learning to play guitar is on a lot of bucket lists. It's a skill set that you can continually improve upon your whole life and like a lot of other skills can be immensely frustrating and rewarding at the same time. Condensing the learning curve would go a long way for a lot of people. Loog Guitars has a line of guitars with a very unique approach aimed at kids that does just that without any shortcuts that would force you to relearn or change approach later. Sound interesting? I thought so too.
What is it?
The Loog Pro Electric is an electric guitar sized for kids. It's built with standard guitar materials like a solid wood body and maple neck but it only has three strings; the first three (high strings) to be specific. This means that the tuning is the same, as are the chords for those strings which means everything you learn is 100% applicable to a standard 6 string guitar.
What's in the box?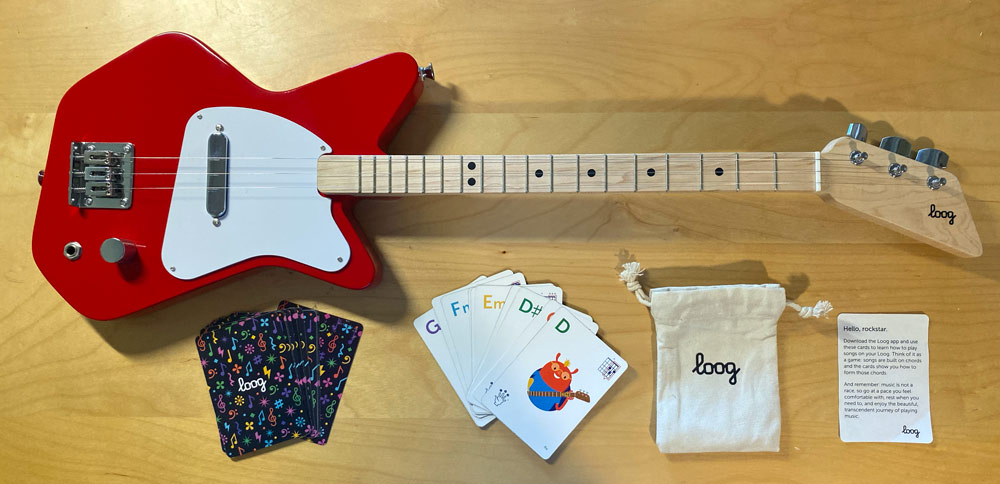 Pro Electric Guitar
Loog flash cards w/ chord diagrams
App (not technically in the box)
Hardware specs
Body: Paulownia
Neck and fingerboard: Maple
Number of Frets: 18
Control: Volume
Scale: 20.4″ (520.0mm)
Length: 29.2″ (740.5mm)
Width: 8.8″ (223.0mm)
Depth: 2.6″ (66.0mm)
Weight: 4.0lbs (1.9kg)
Design and features
Everything about the Loog guitar has been designed to make it easier for kids (and adults) to learn to play guitar. The Pro Electric is scaled down from a full size guitar as you can in this comparison photo.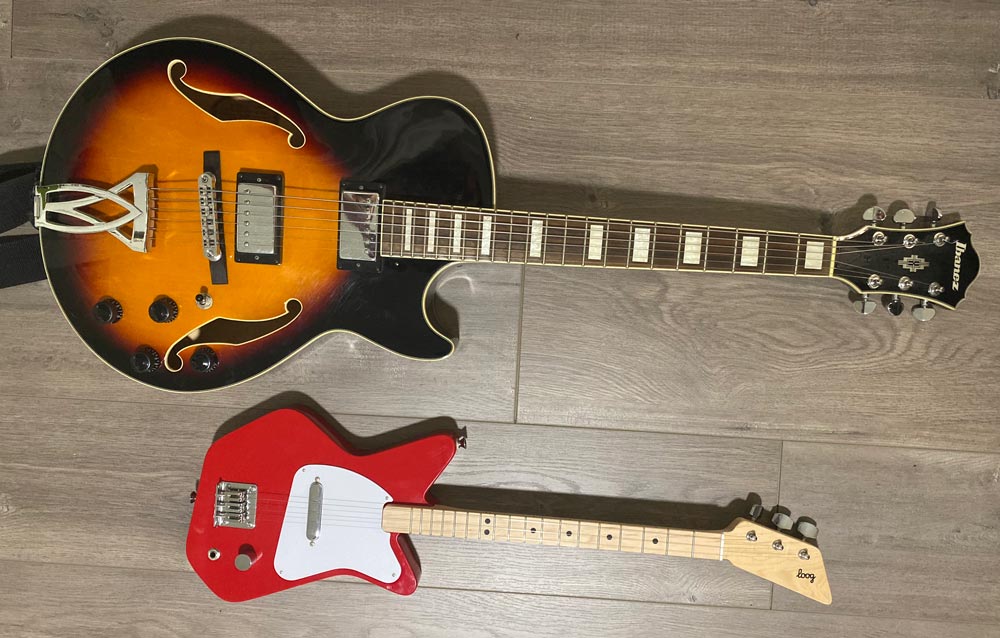 The solid wood body has a modern take on a classic fender-style shape and a solid mount bridge, volume knob, 1/4 jack and strap mounts.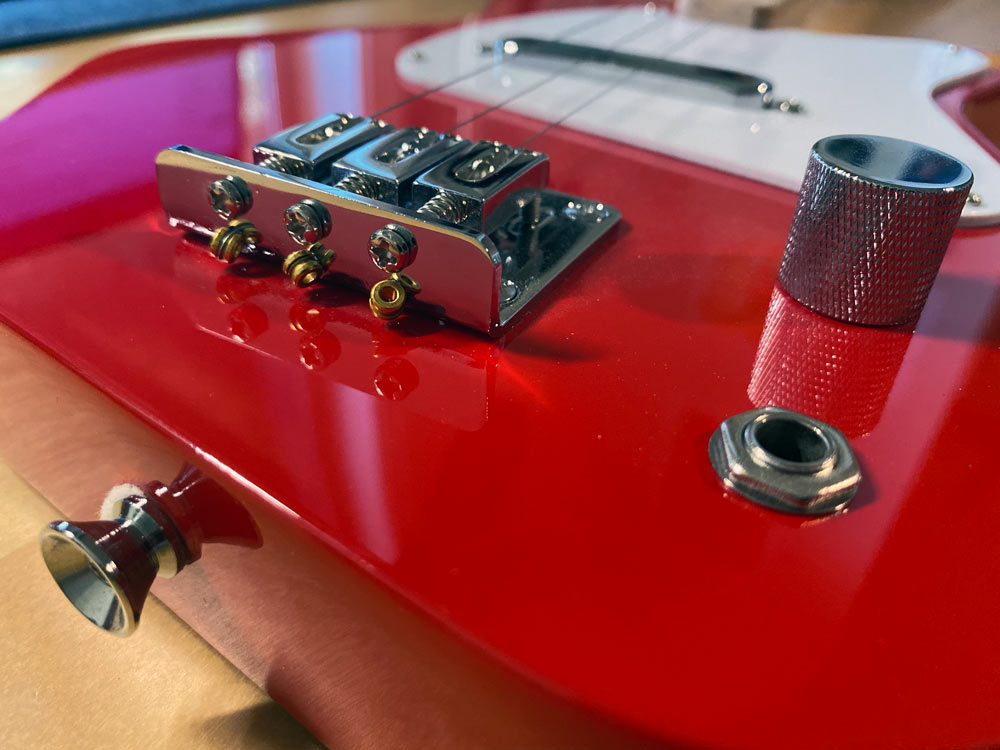 The neck is almost half the width of a normal guitar as it only has three strings making it great for small hands.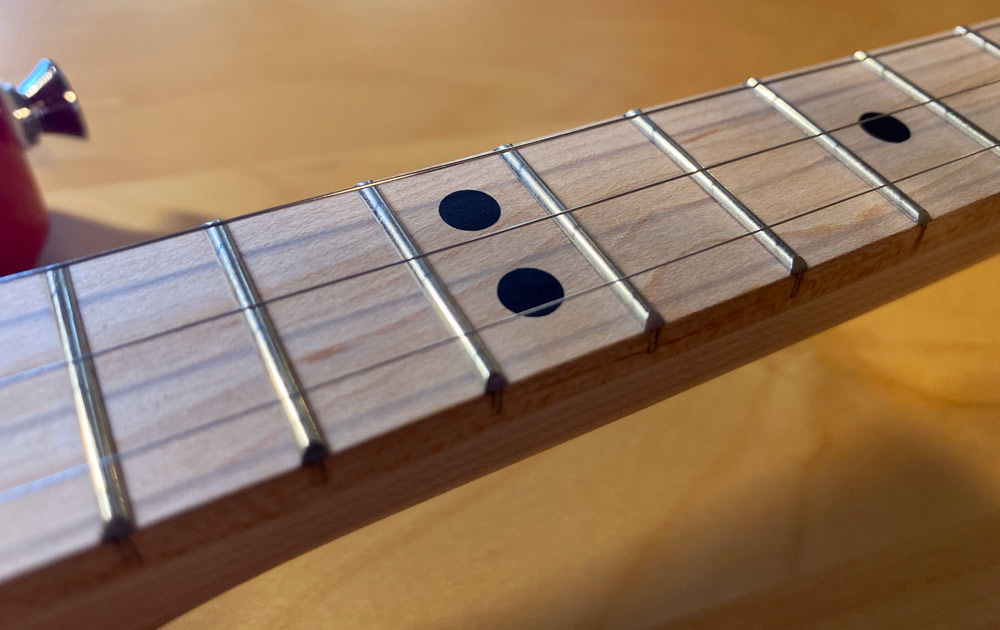 The headstock is angled back nicely and has chrome tuners.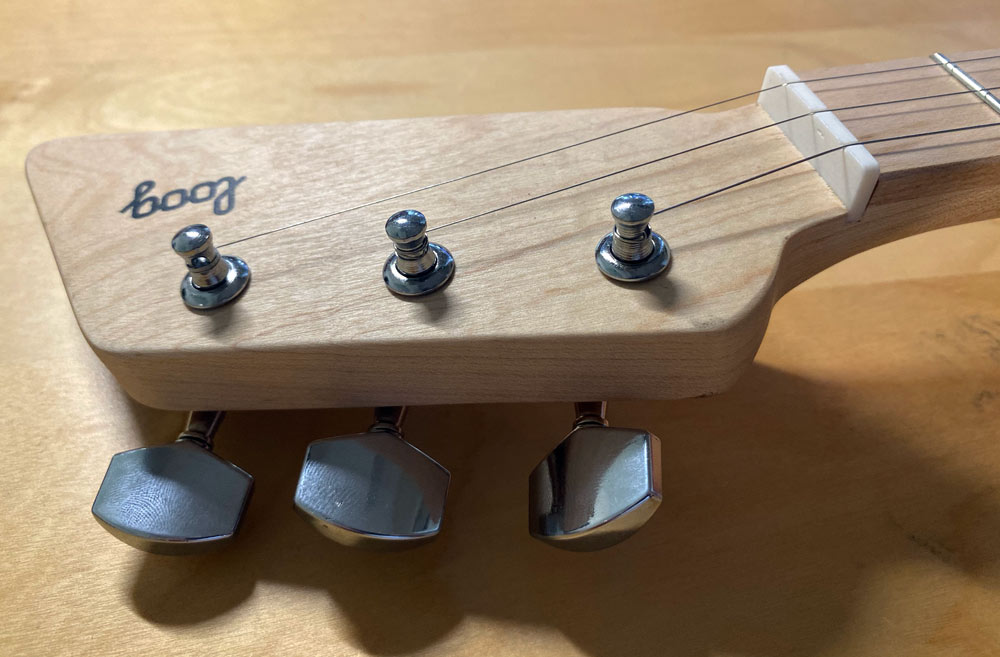 And the back has the panel for the electronics assembly access.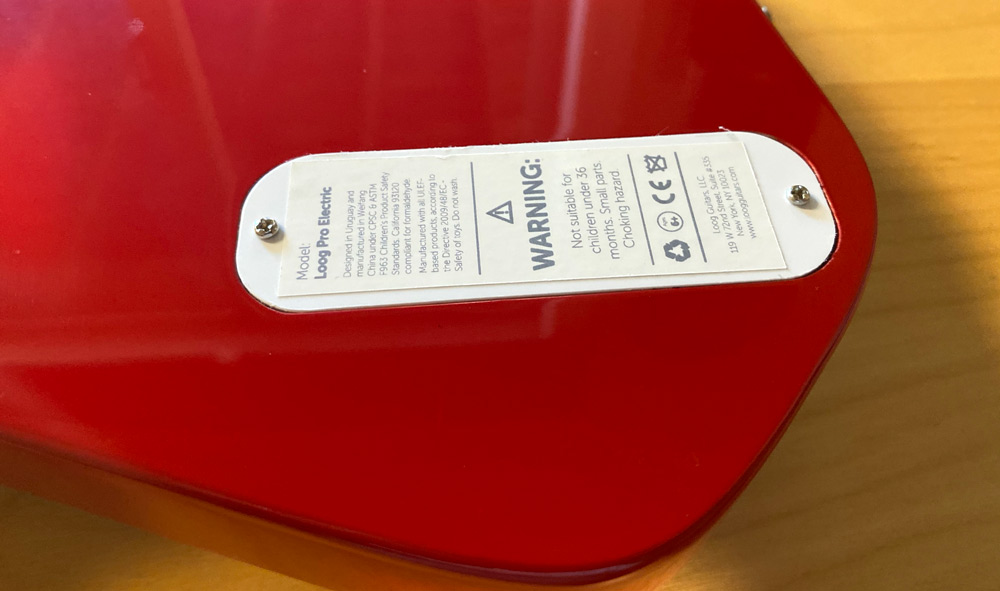 And if Red is not your Jam there are other options. Pink, Lucite, Yellow, Green, Black and White.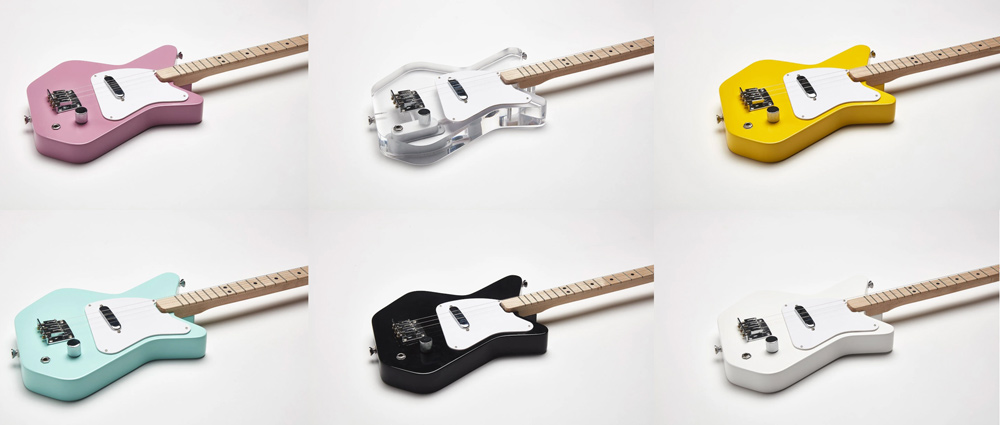 Setup
The Pro Electric is best played through a guitar amplifier. It's not required as the strings do ring out, but an amp does make it easier to hear when you're learning how to play and tune. In fact, since I received this sample, Loog is now including a mini amp and guitar cable at no additional cost. How's that for awesome. They also sell an acoustic guitar if that's a better option for you.
The guitar arrives fully assembled with strings installed and just needs some quick tuning. If you haven't tuned a guitar before, not to worry; the Loog App has a tuner so you'll want to download that right away.
When you first open the App you'll see all the different areas to explore. In the top left, there's info on your guitar as well as some parental info about the learning process. Down below (from left to right) you have a tuner, hall of fame videos, songs to play along with, guitar lessons, a drummer, chords and then games. Let's go ahead and jump to the tuner.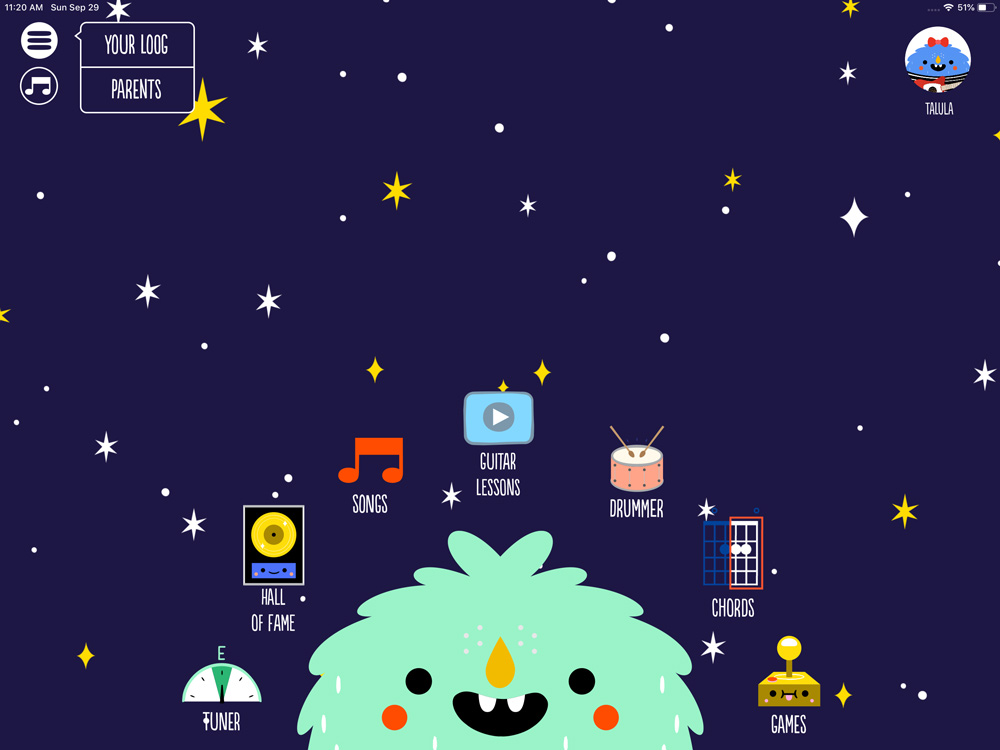 Make sure you're plugged into an amp to help tuning go smoothly. If not, you'll want to make sure you're in a quiet room so your phone or tablet can hear the strings.
Strings are referred to as 1st, 2nd and 3rd with the first being the highest pitch string closest to your toes. In 1, 2, 3 order you'll tune to E, B, G, so highlight 1st button in the App, pluck the 1st string and adjust the 1st string's tuning peg until the needle turns straight up and the red area shown below turns green. Repeat for the 2nd and 3rd strings.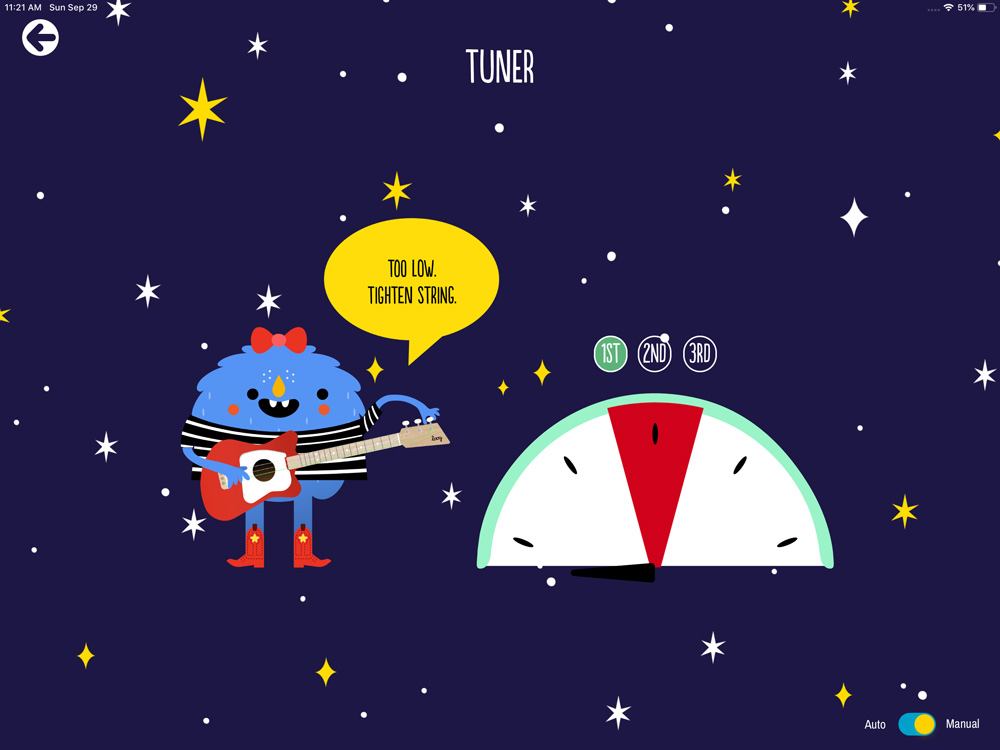 Now that you're tuned, you'll want to jump into learning how to play, so let's move on to how this whole system performs.
Performance
The bulk of learning how to play is learning how the fretboard works and getting your fingers to move into these new, foreign positions smoothly. It's all about repetition and keeping it fun. Loog gets this as you can tell from the App screenshots above. The App also is not required as the guitar arrives with flash cards which are super cute. Here are the major chords lined up.

Let's look closer at the D which uses all three strings. The chord diagram is that first confirmation that this is played exactly the same way on a Loog as on any six string guitar. The bottom left image of a hand shows which fingers you'll use and the character's guitar in the center shows where those fingers go.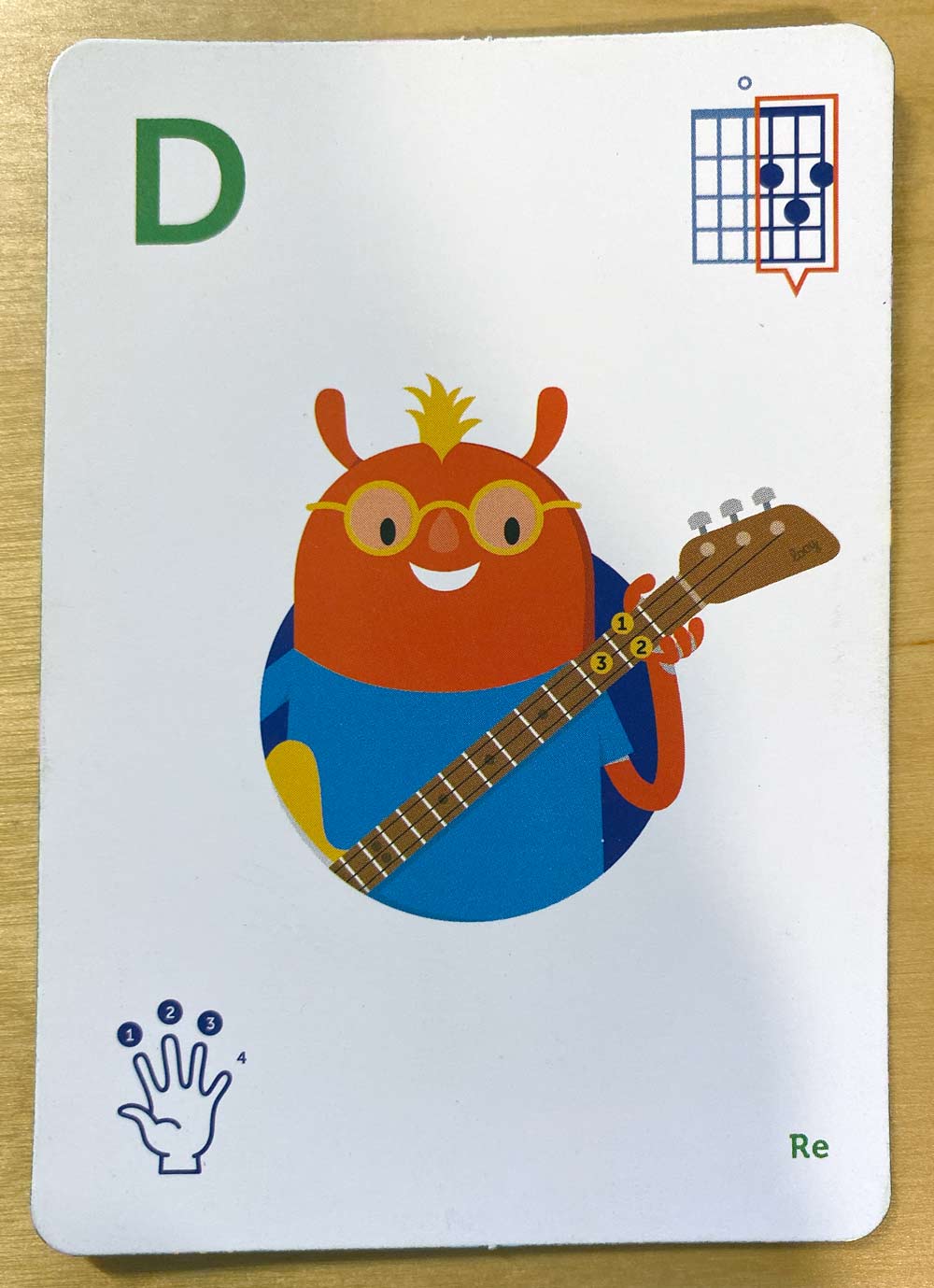 There are cards included for all the chords you'll need to get started and you can do the same thing in the App where you can press the button to hear what it should sound like.
Elsewhere in the app, you can create your own character to keep it fun.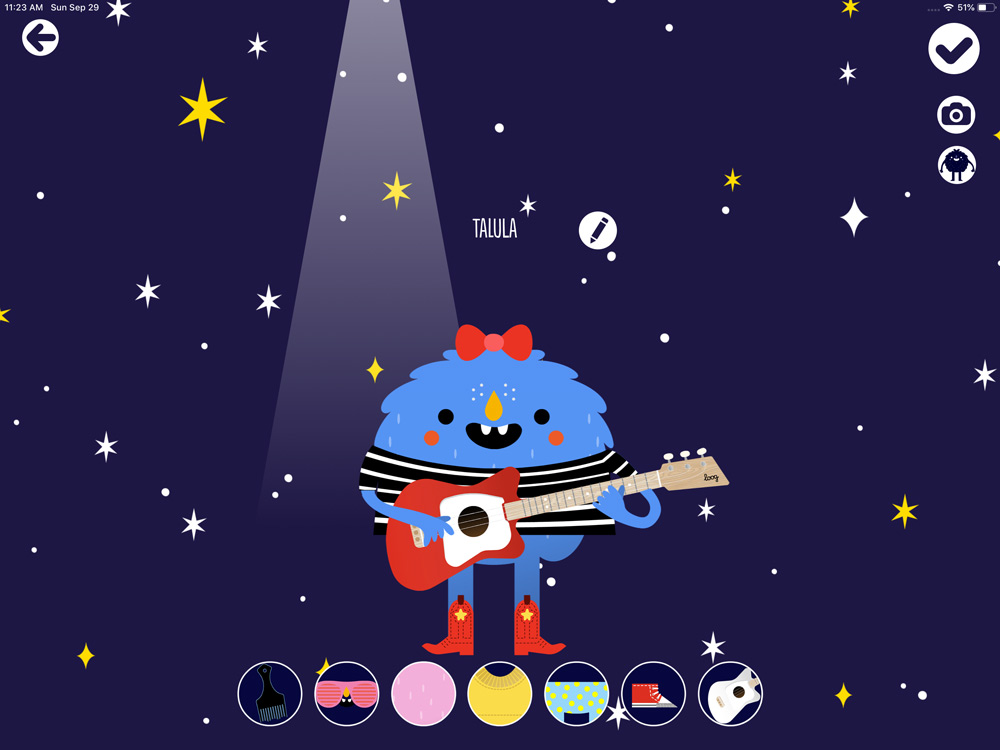 You can watch video lessons to learn about tuning, strumming and everything else you'll want to know.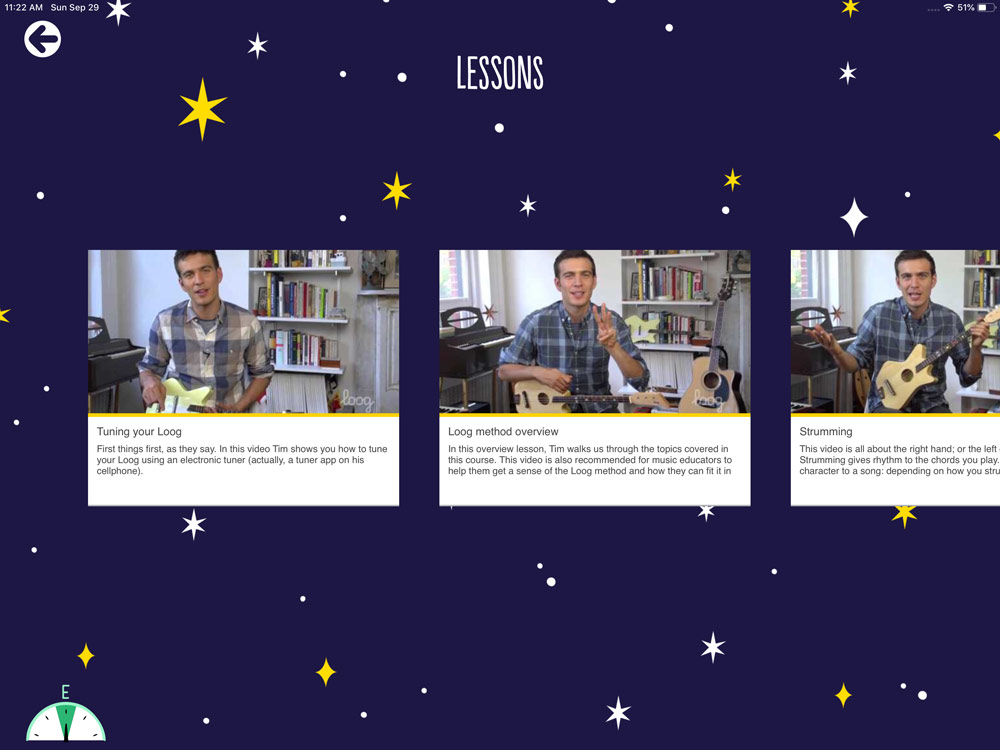 There's even a drummer to play along with and a game that has you echoing an on-screen guitar.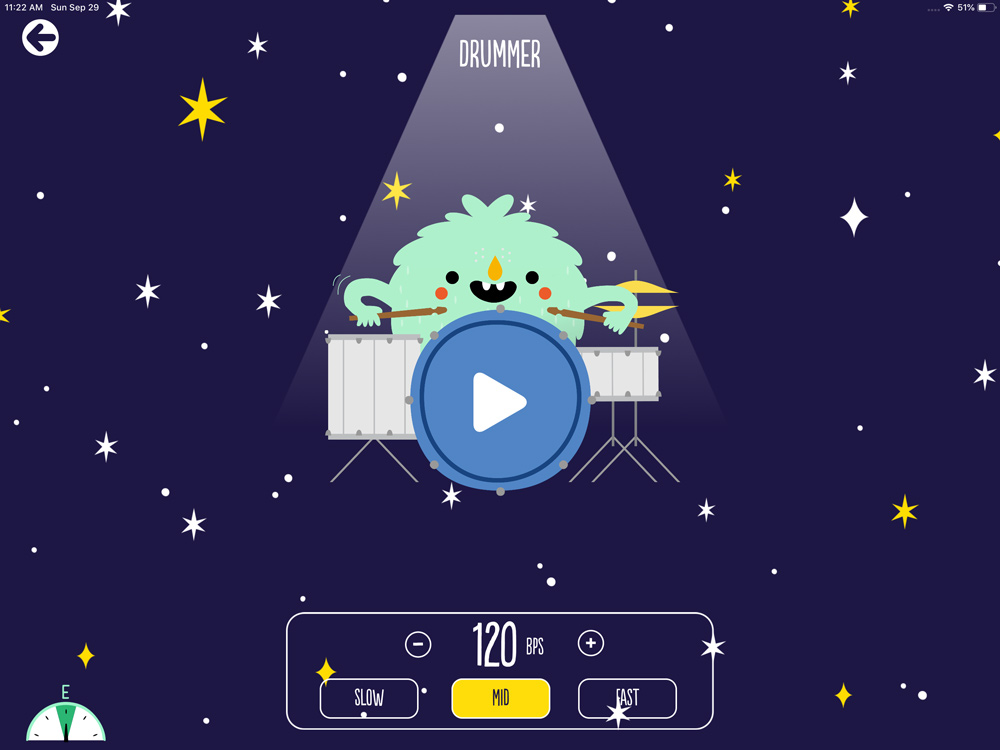 Where it gets really fun is playing along with a selection of song by artists like The Beatles, Taylor Swift and Ed Sheeran. Here's my daughter playing along to 'Count on Me' by Bruno Mars.
My son made a couple of quick recordings as well. Here his cycling through some chords and then playing the intro to Thunderstruck by AC/DC.
There are a couple of things you'll want to know to keep frustrations at a minimum with anyone learning a guitar, especially kids.
First, have some patience and know that everyone learns at their own pace. There is no correct way to do this. Just have fun.
Second, when tuning always start below the note you want and tune higher up to the proper tuning. It will stay in tune better.
Next, there's a couple of App bugs to watch out for in the current release.
I tried everything, but could not get the audio from the app to stream over Bluetooth. Our Line 6 amp has an aux input so I was able to play the app audio through the same amp that the guitar was playing through. It can be tricky to balance volumes so you can hear the app and your guitar. Play around with a solution that works for your setup before you let your kid loose with this.
On the tuner page, the tuner default is set to Manual. Every time I tried to select Auto, the App would crash.
And lastly, the App does not like iOS 13 yet. Hopefully, Loog will get these sorted out quickly.
What I like
Great quality guitar in a scaled down size for smaller players
All skills learned directly translate to full size guitar playing
App and flash cards are fun and engaging
Amp and guitar cable now included for free!
What I'd change
Make sure the App can stream its audio over Bluetooth, Airplay or Chromecast
Keep App updated with OS releases
Final thoughts
I wish Loog had been around when I was little. My kids have already had a fair amount of guitar instruction, but the way Loog has pulled the instrument, App and flash cards together as a system is very impressive. The guitar is solid and should last for years. I'm flying to NY next month to see my sister and will be bringing this to my 6 year old nephew. I'll update the review after he's had some time with it. He's going to be stoked!
Price: $199
Where to buy: Loog Guitars
Source: The sample of this product was provided by Loog Guitars