We use affiliate links. If you buy something through the links on this page, we may earn a commission at no cost to you. Learn more.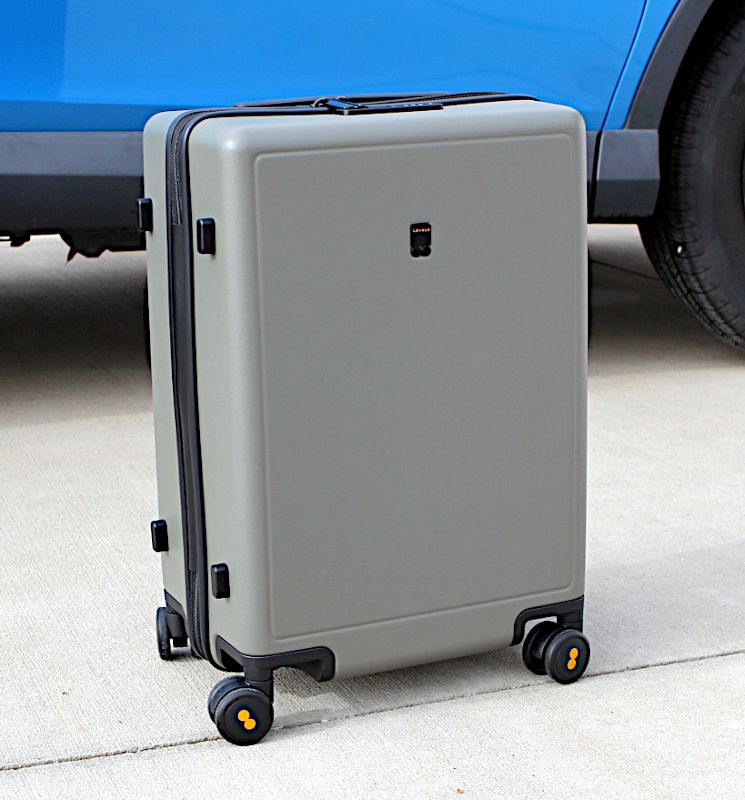 REVIEW – We didn't travel much in 2020 due to COVID; instead, we chose to be cautious and hang out at home a lot.  Hopefully things will look better in 2021, especially if these vaccines work well.  If they do, then we'll definitely take a vacation or two.  Maybe we'll head down to Myrtle Beach, SC, or maybe we'll go up to Pigeon Forge, TN. Wherever we go, we'll need some luggage, and so today I'm reviewing the Elegance carry-on luggage from LEVEL8.
What is it?
The Elegance is carry-on luggage made from Makrolon® polycarbonate.  It comes with a TSA-approved lock, four spinner wheels, and an organizer bag set.  LEVEL8's offices are in New York City, directly across the street from the Empire State Building, and they describe their luggage design goals with words like sleek, simple, durable, functional, and reliable.
What's in the box?
The Elegance arrived in a sturdy box wrapped in a white cloth bag for extra protection.  I appreciate the extra touch, and I plan to take this bag with me when I travel and use it for my dirty laundry.  That's probably not what LEVEL8 had in mind, but it works for me.  Inside the luggage was a set of four smaller bags designed to help me keep things organized.  Attached to one of the handles was a small brochure that explains how to set the TSA lock.
Hardware specs
Material:  Makrolon® polycarbonate (body), aluminum alloy (telescopic handle)
Lock:  TSA-approved combination
Wheels: 360° spinners
Capacity: 38 liters
Weight: 10.44 pounds
Dimensions:  15 x 8.5 x 22 inches
The Elegance comes in different sizes (20" and 24"), with different textures (matte or textured), and in various colors (black, navy, light blue, pink, or grey).  I have the 20" matte in olive green (even though it looks grey in all my pictures).
Design and features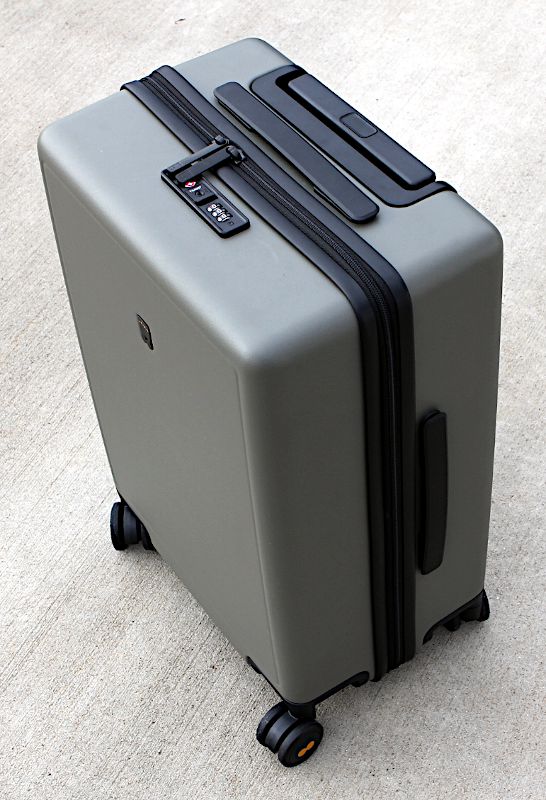 When I look at the Elegance, I see a very practical suitcase.  It's a rectangle that isn't marred by extraneous outer pockets or large handles; it's as if someone was trying to get as much space inside the suitcase as possible.  The design is simple, perhaps even boring (especially with this rather drab olive color), but it should maximize the amount of clothes, toiletries, and other items that I can take with me when I travel.  There's a single, long zipper that goes around three sides of the bag.  On top of the suitcase there's the combination lock, which locks the zipper pull tabs in place, the telescopic handle, and one of the carry handles; there's another carry handle on the side.  Other than a small LEVEL8 logo on the front and back and the wheels on the bottom, there's nothing else to see.
Performance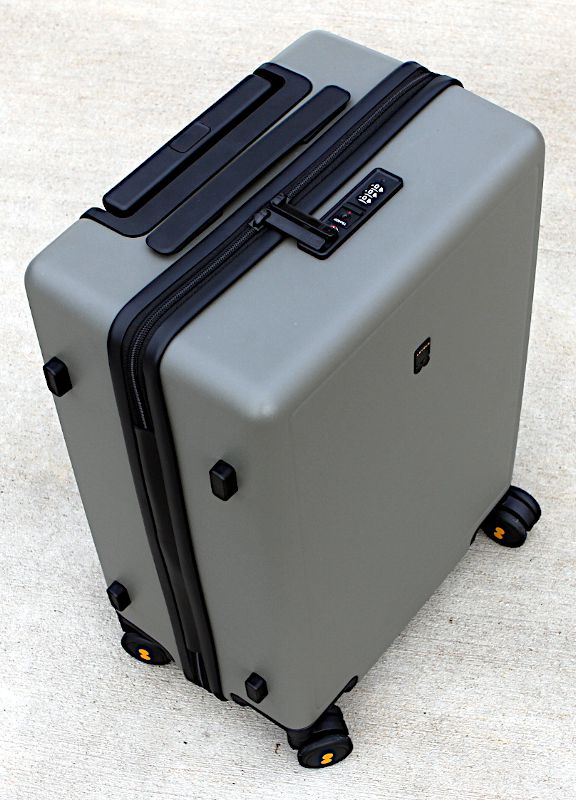 The outside of this luggage is made with Makrolon®, which is the brand name of a type of polycarbonate owned by Covestro.  Polycarbonate, better known as PC, is a plastic-like material that is known for being strong, impact-resistant, and lightweight; it has a wide variety of uses including sporting gear, eyewear, and luggage.  When I first looked at the pictures of the Elegance, I thought it had a hard outer shell.  It kind of does, but not completely, as you can you see in the video below; in other words, it's a lot harder than a fabric suitcase, but it's not completely inflexible.
The advantage of a suitcase made from PC is that it provides good protection for its contents, something that can be extra important if carrying laptops or other valuable, breakable items.  The disadvantage is that the inflexibility can make it difficult to stuff carry-ons like the Elegance into an overhead bin of an airplane; it won't squish into tight spaces.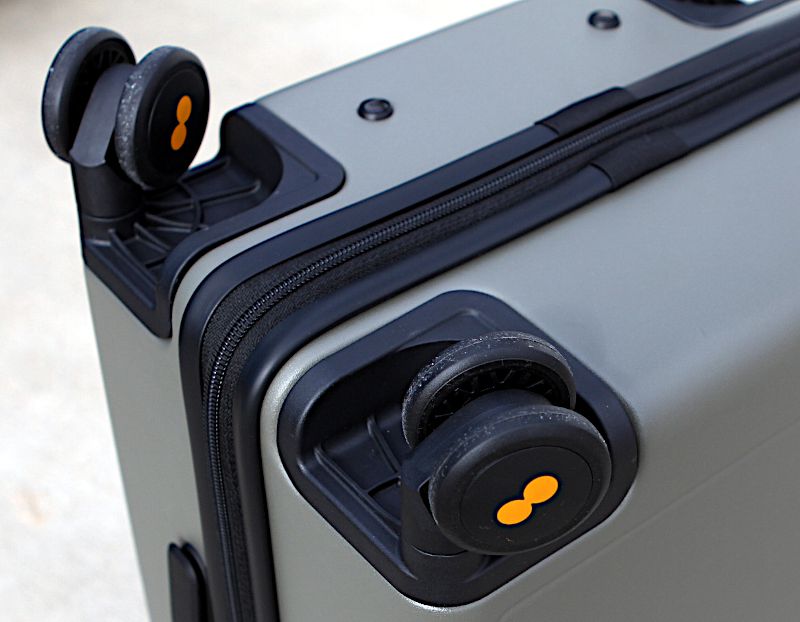 There are four wheels on the bottom that spin freely.  They are covered with a slightly rubberish material, which means they won't scratch my hardwood floors.  The bearings have very low friction; a gentle push sent the suitcase rolling 15 feet.  They are also nice and quiet.  LEVEL8 describes their wheels as having an "aseismic design."  I had to look up that word, and it means that it resists the destructive forces of earthquakes.  Somehow, I don't think that's the word LEVEL8 was looking for.  Despite this, they are a well-designed set of wheels.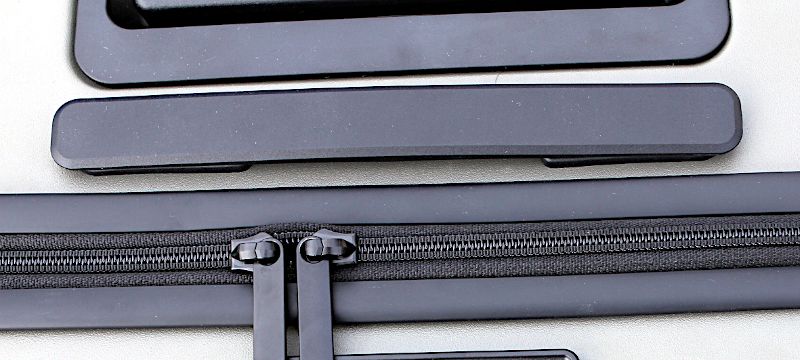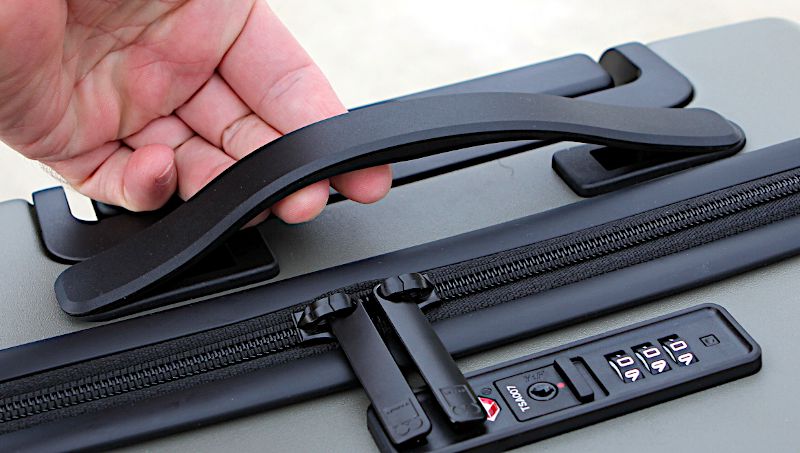 There are two carry handles, one on top and one on the side, that are fairly narrow and made of a rubberish material.  They lay flat against the Elegance until they are grabbed, at which point they extend out about an inch and a half.  While this design will save some space in an overhead bin, I don't think these handles will be very comfortable if I ever have to carry this luggage over long distances when it's loaded down.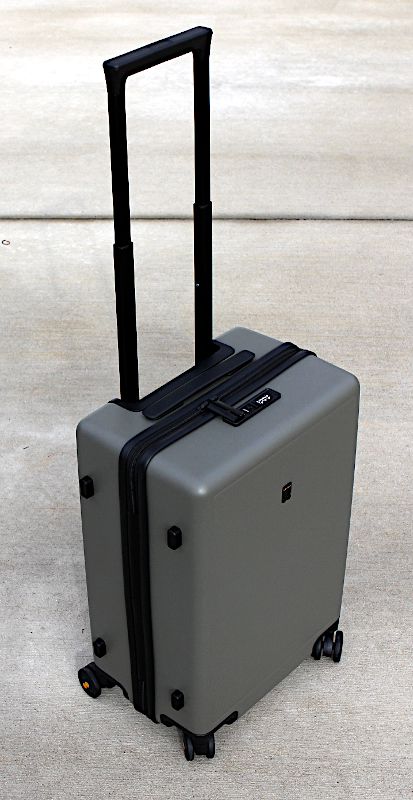 There is a telescopic handle on top; the arms of made of aluminum alloy, though the handle itself is plastic.  It's a very typical design for suitcases and works very well for pulling suitcases down long airport corridors.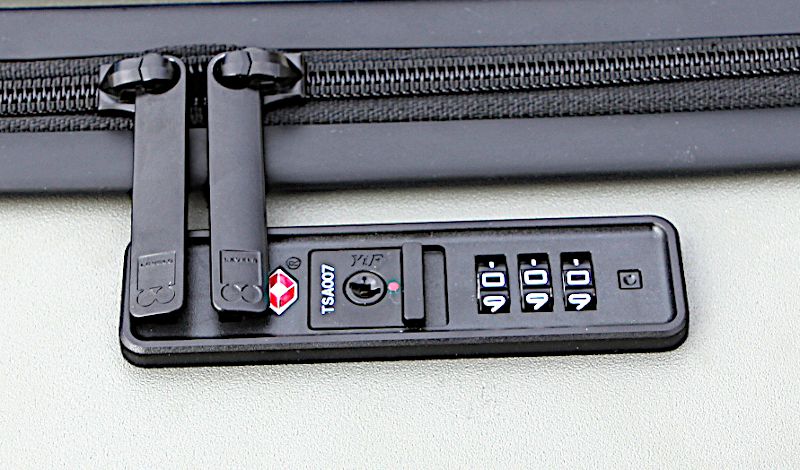 The final exterior item is the TSA-approved combination lock that can secure the zipper pull tabs.  TSA-approved locks are not required for luggage when flying, but if I use a different lock, and if TSA feels the need to open and inspect my bag, then they are permitted to cut my lock.  This would likely ruin my bag.  While such locks don't provide perfect protection—I really have no idea who else has one of these special TSA keys—they are a good compromise.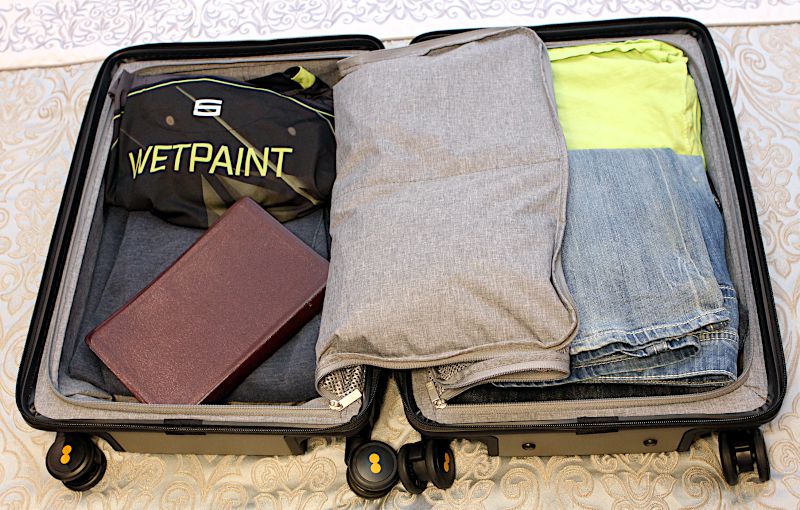 Inside the Elegance, there are two compartments, the left and the right sides.  Both sides have their own zippered mesh divider, which will keep everything in place when the suitcase is opened.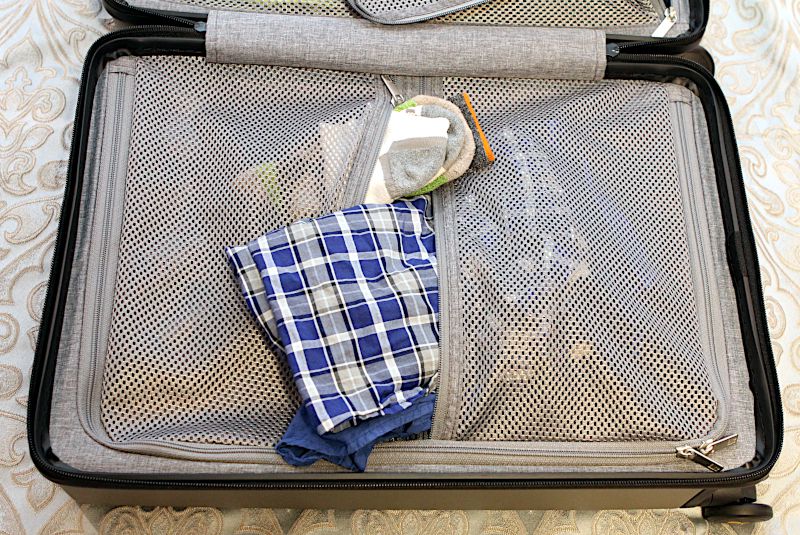 The divider on the left side has two zippered pockets that are perfect for storing smaller items.  The compartments are lined with a grey fabric to provide some protection for their contents.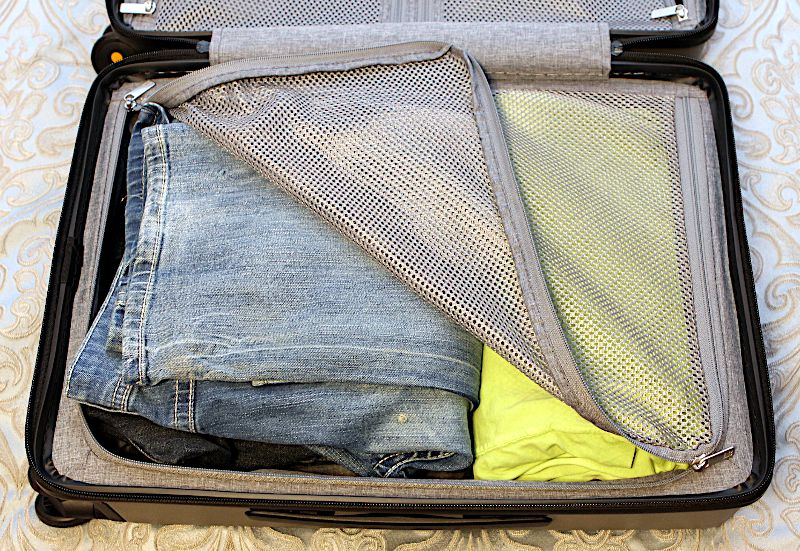 While some space is inevitably lost to the rods of the telescopic handle, it otherwise looks like LEVEL8 did a great job creating as much interior space as humanly possible.
Extra Features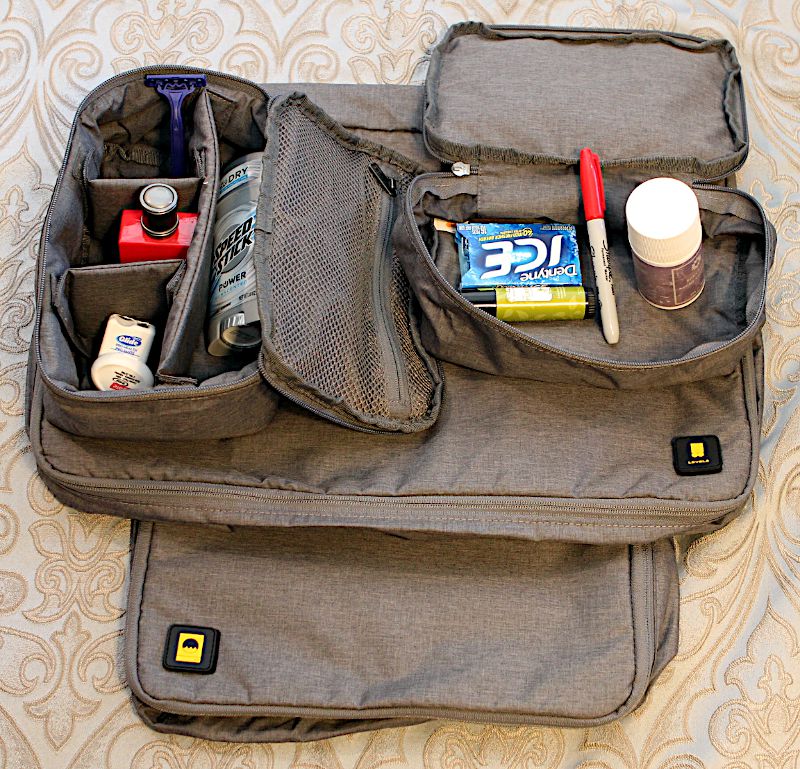 Inside the Elegance, I found a set of four smaller, zippered bags.  The Elegance doesn't have much in the way of interior pockets, so these will be very useful for separating things like toiletries, cables and chargers for my gadgets, and my socks and underwear.  As I love to keep things organized, I appreciate these extra bags.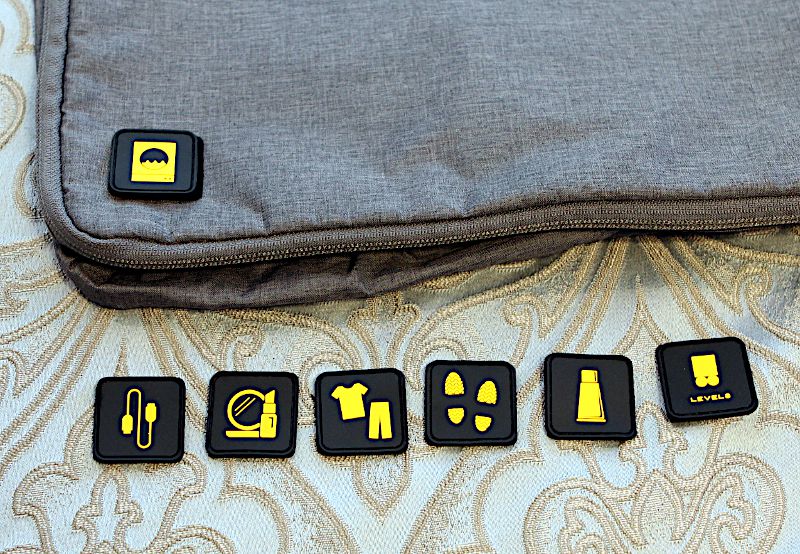 Each of the bags has a one-inch Velcro square on them, and LEVEL8 thoughtfully included seven little square identifiers that can be stuck on the square to help me remember what's inside.
What I like
Maximized interior space
Protected contents
Extra bags for organization
Low-friction wheels
What I'd change
Final thoughts
The Elegance is a no-nonsense piece of carry-on luggage that maximizes the amount of interior space for clothing and other possessions.  It has a TSA-approved lock, quiet low-friction wheels, and four extra interior bags for extra organization.  Its greatest strength is the polycarbonate exterior that provides good protection for the items within.  Its greatest weakness is also the exterior, as it's semi-rigid and can't be squished into tight places in a crowded overhead bin.  If you're planning to do some traveling in 2021, if you highly value safeguarding the items inside your luggage, and if you don't want to spend a small fortune, then you should take a look at this line of luggage.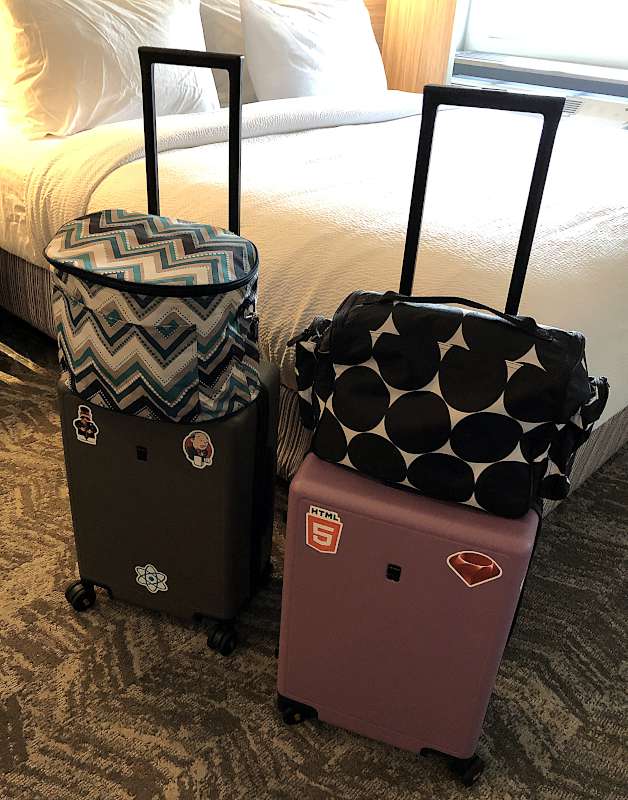 Update 4/9/21
My wife and I were finally able to get in a mini vacation, going down to Charleston, SC for a long weekend.  We were careful to avoid places where there are lots of tourists, going instead to outdoor places, like Folly Beach and Middleton Place.  This gave us a chance to test out a pair of Elegance carry-ons (suitably modified with stickers).  How did they do?  Perfect!  We each brought several sets of clothes, as we were gone for three days and changed outfits from hiking to dinner to relaxing in the hotel.  If we had been gone longer, I think we would have wanted to step up to the 24″ size, but for three days the 20″ bags were just right.  We used both the zippered dividers and the small bags to organize various items.  Overall, we could not have been happier.
Price:  $139.99
Where to buy:  LEVEL8's online store
Source: The sample for this review was provided by LEVEL8.