We use affiliate links. If you buy something through the links on this page, we may earn a commission at no cost to you. Learn more.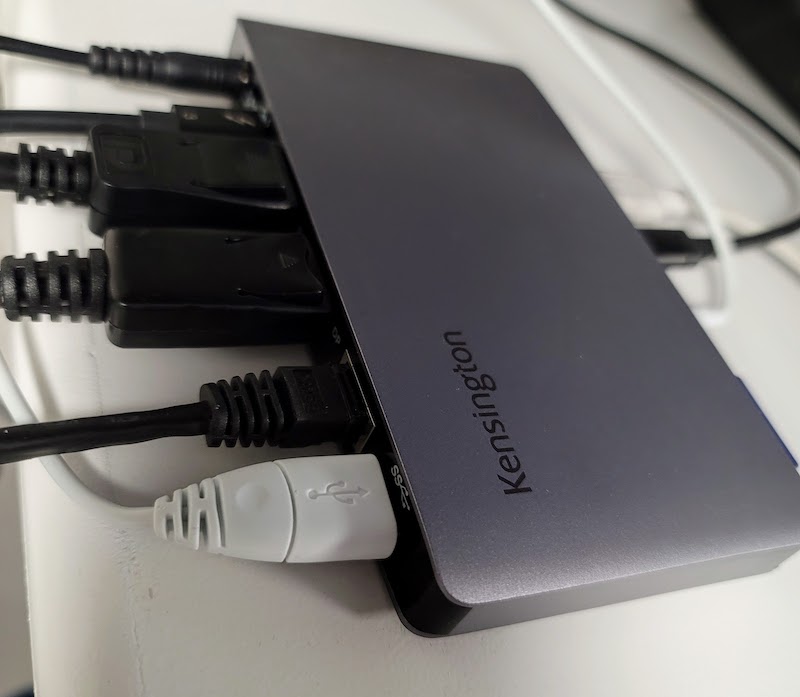 REVIEW – The Kensington hybrid nano docking station enters a crowded market of docking stations and hubs.  What sets it apart from the numerous other options?  My answer would be: it's both a Thunderbolt™ 3 and USB-C dock, it takes up very little desk space compared to most, and Kensington has a reputation for quality that the countless new brands springing up every year can't compete with.
What is it?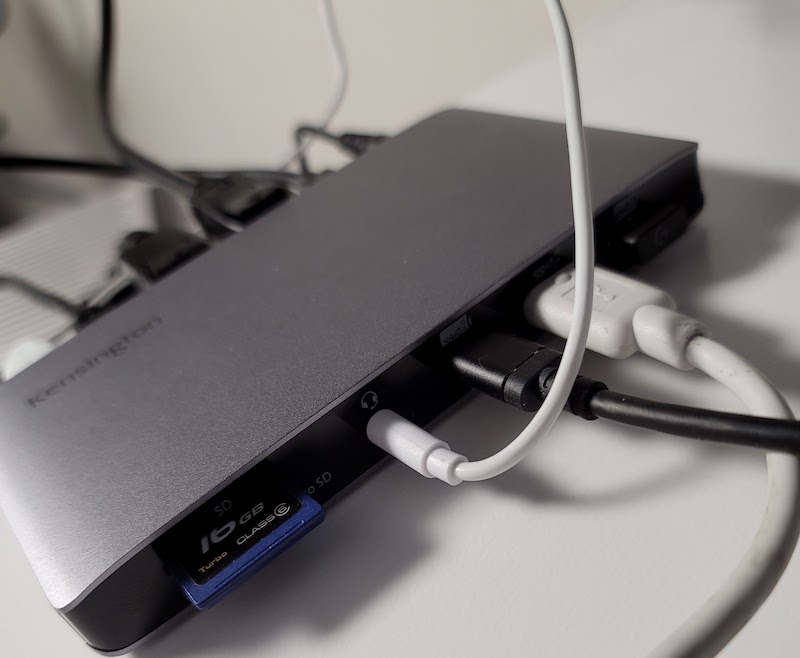 It's a docking station!  You plug screens, mice, keyboards, USB coffee warmers, etc. into the docking station, then you can use a single plug to connect all the things to your laptop.
What's in the box?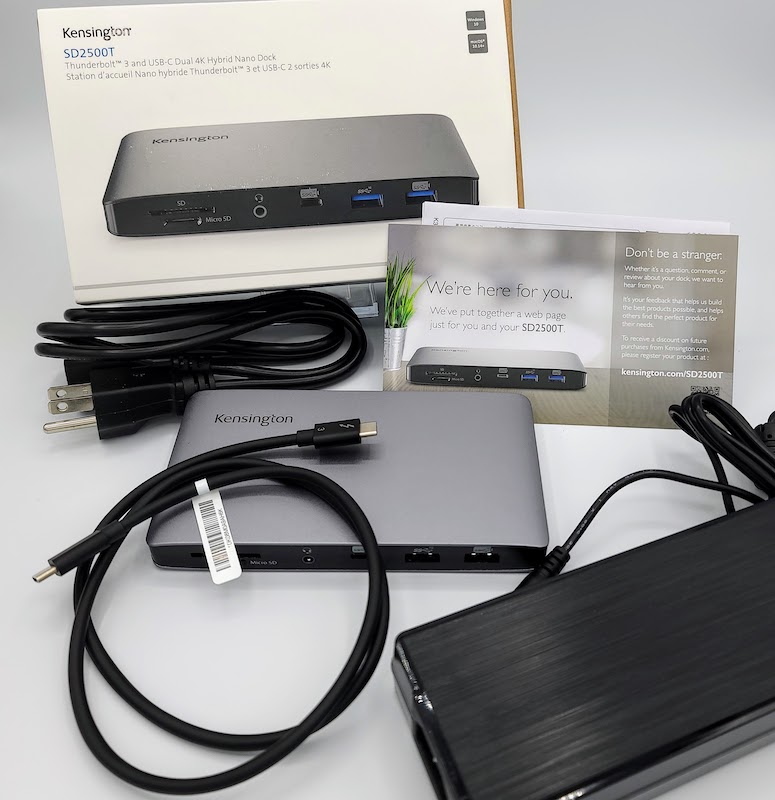 In the box is the Kensington SD2500T hybrid nano docking station, a rather non-compact power supply (more on that later), a Thunderbolt™ 3/USB-C cable, and documentation.
Hardware specs
Systems supported: All Laptops with Thunderbolt™ 3 or USB-C "alt-mode" ports
Operating Systems supported: Windows 10 / macOS 11 (Big Sur) or above)
Plug and Play: yes
Software required: For Windows, need to enable Intel® Thunderbolt™ 3 software
System requirements: Intel Core i5 6th generation or above, 8 GB memory or above, Intel® HD Graphics 620 or above
USB-C Power Delivery: 60 W, 5V/9V/15V/20V @ 3A
USB interface: USB-C 3,2 Gen1/Gen2/Thunderbolt™ 3
USB connections: 2 x USB-A 3.2 Gen2 (10Gbps), 1 x USB-C 3.2 Gen2 (10Gbps)
Card readers: 1 x SD 4.0 card reader (UHS-II), 1 x Micro SD 4.0 card reader (UHS-II)
Network Connector: RJ45, 10/100/1000 Mbps (gigabit)
Host docking connector: 1 x Thunderbolt™ 3 upstream port
Audio connector: 1 x 3.5mm Audio Combo Jack (stereo)
Max Resolution (Thunderbolt™ 3): Single 8k @ 30Hz or Dual [email protected]
Max Resolution (USB 3.0): Single [email protected] or Dual [email protected]
Design and features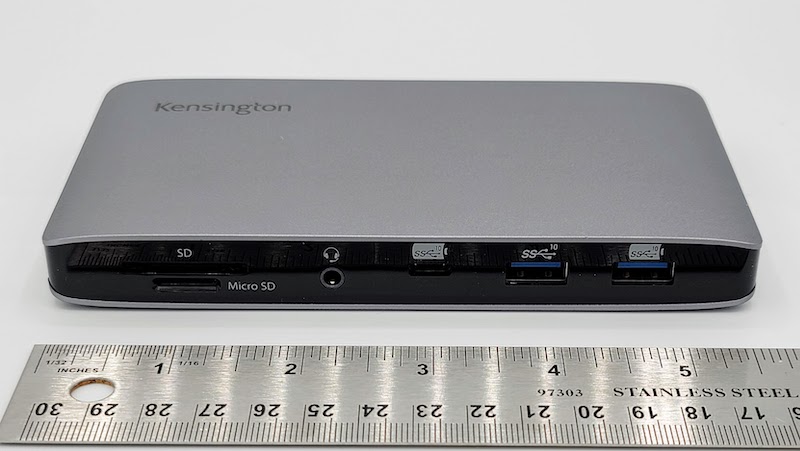 The Kensington SD2500T hybrid nano docking station is quite small, clocking in at under 6 inches wide, about 3 inches deep, and about 0.7 inches tall.  On the front is a full-size SD card reader, a Micro SD card reader, 3.5 mm audio output, USB-C 3.2 Gen2 (10Gbps), and 2 USB-A 3.2 Gen2 ports.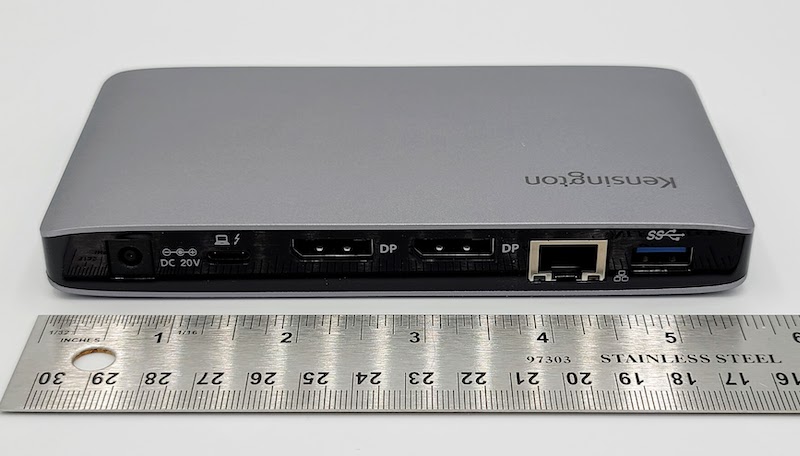 On the back we have Power-in, Thunderbolt™ 3/USB-C cable and power delivery port (this one goes to your laptop/device), two Display Ports, gigabit ethernet port, and another USB-A 3.2 Gen2 port.  Many of the other docks I've tried have had fewer ports and/or slower and older USB 2.0 ports.  None of that here!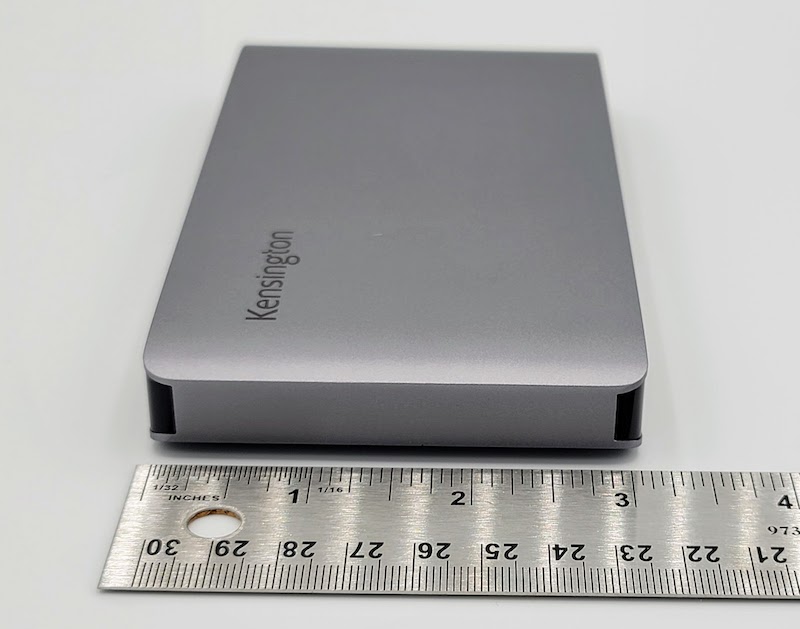 The aluminum finish and built quality are quite nice, I spotted no flaws or issues.  Solid as expected at this price point.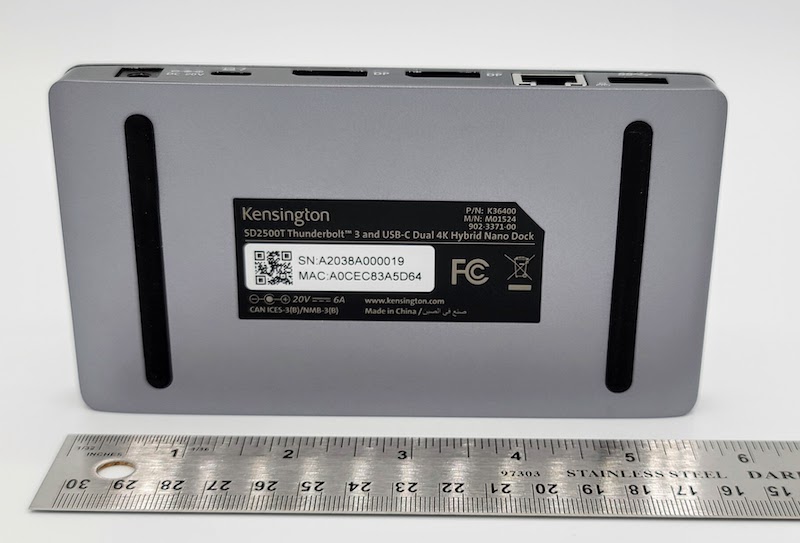 The underside has rubber strips so it doesn't slide around which worked well in my testing.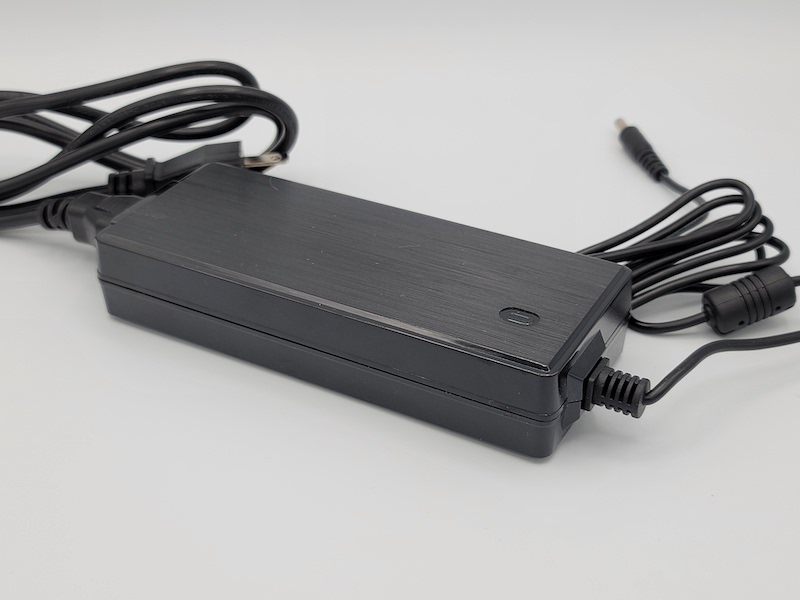 The power brick.  Where do I even start?  When you get a "compact" dock, I don't think you expect a full-sized laptop-style power brick.  This thing is rated for 120 Watts, which allows for up to 60 watts of power delivery to the laptop connected plus extra for the various other ports, but it's quite large when compared to something like the Macbook Pro's power adaptor.  I feel like they could have gone smaller at this price point.  If you have cable storage under a desk or behind decorations, this will be a non-issue, but it is something you should be aware of since one of the reasons to use a dock like this is to eliminate cable clutter.
Installation and setup
I plugged in the requisite cords, and simply started using the monitors and devices.  This was true on both macOS, Windows 10, and even newer Samsung Android devices (tested on Note 20 Ultra phone and Tab S7+ tablet).  The only setting I had to change (which has been true of every docking station or hub I've tested so far) was to adjust the screen refresh rates – most devices seem to default to 60 Hz even if your screen is capable of higher.
I tested with a 2k gaming monitor at 144Hz (roughly the same display bandwidth as [email protected]) and it worked as expected.  Adding a second monitor (same resolution and refresh rate) also worked perfectly, so the "up to dual [email protected] on Thunderbolt™" seems feasible.  I've had hubs/docking stations that couldn't meet the quoted resolutions in the past so I was glad to see everything working as expected here.  On USB-C (less bandwidth), I was able to drive a single [email protected] with no issues at all.  When the 2nd screen was attached, I had to lower the refresh rate on both to 60 Hz.
I connected my Android phone and tablet just to see what happened and was pleasantly surprised to have Samsung Dex fire right up (desktop operating system where you are given an interface similar to Windows/Mac).  The only thing that didn't work in this scenario was the audio output, I had to select the device audio or use monitor audio rather than the 3.5mm jack.  The fact that Kensington made their UBS-C hub functionality universal and driverless is excellent.
I tried both the full size and micro SD card readers, and both read and wrote files as quick as my cards supported (I don't have the latest and greatest, so the cards themselves were the bottleneck here).  One of my micro-SD cards had a hard time releasing though, which it hasn't had in any other card readers.  I had to wiggle and push for a bit to get it out, something to watch out for.
The USB ports all seem to be very speedy.  I tested external drives, webcams, microphones, and even USB-C hubs. I like that Kensington has put small battery icons next to the ports that allow for the most power output so you're not trying to charge something on a slow-charging USB port.
The Ethernet port gives me my full gigabit internet (1000 Mbps speed tests), and I never had any issues with the network while testing it.
Displayports also allow the maximum settings my dual monitors support (equivalent bandwidth to dual-4k on Thunderbolt™)and are even rated for 8k screens, so they should be fairly futureproof.
When you are using every port, there is a lot of wires coming out of both the front and back of this thing.  I ended up zip-tying it under my desk so the clutter is out of sight.
What I like
Plug and play – no drivers required
USB and Thunderbolt compatibility
Lots of ports, especially 4 x USB
What I'd change
If it was possible to keep it small and move most/all of the ports to one side, that would help with cable management
Smaller power brick!
Price seems a bit high, but you pay a premium for quality and size
Final thoughts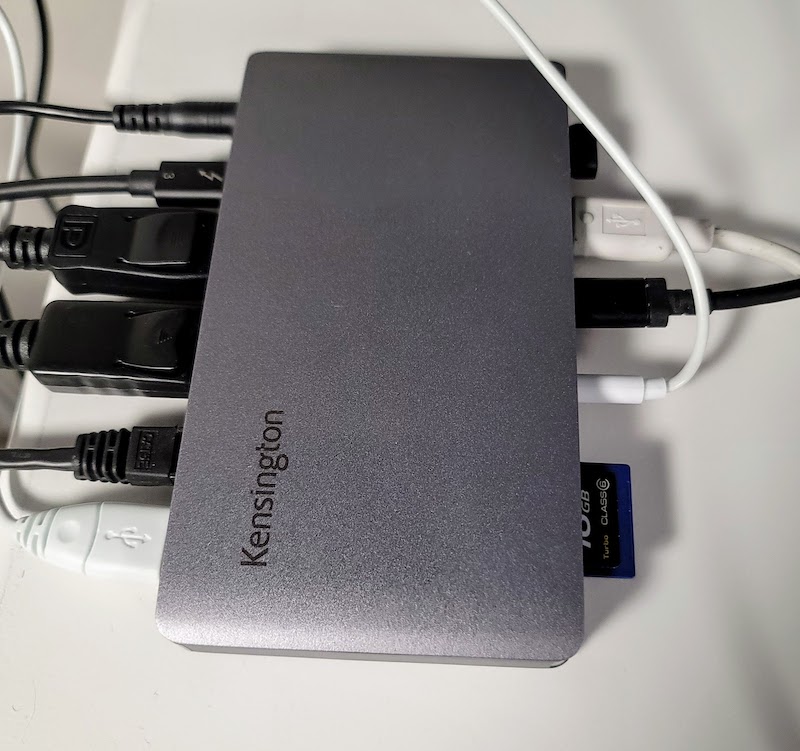 Overall, everything simply worked and worked well.  I love being able to walk up to my desk and plug in a single cord and start working/playing.  My only complaint here would be the large power brick.  For many people that won't be an issue since they can hide the brick somewhere but it feels like an oversight for a device marketed as a compact hub.  Everything was rock-solid during the review period, something that hasn't always been true of off-name hubs and docking stations I've tested in the past.  Even expensive Dell docking stations have failed on me before, but Kensington has a reputation for quality and reliability.  For this multi-week review, I had zero issues and would hope that this would be true for a long time.
Price: $199.99
Where to buy: Kensington or Amazon
Source: The sample for this review was provided by Kensington