We use affiliate links. If you buy something through the links on this page, we may earn a commission at no cost to you. Learn more.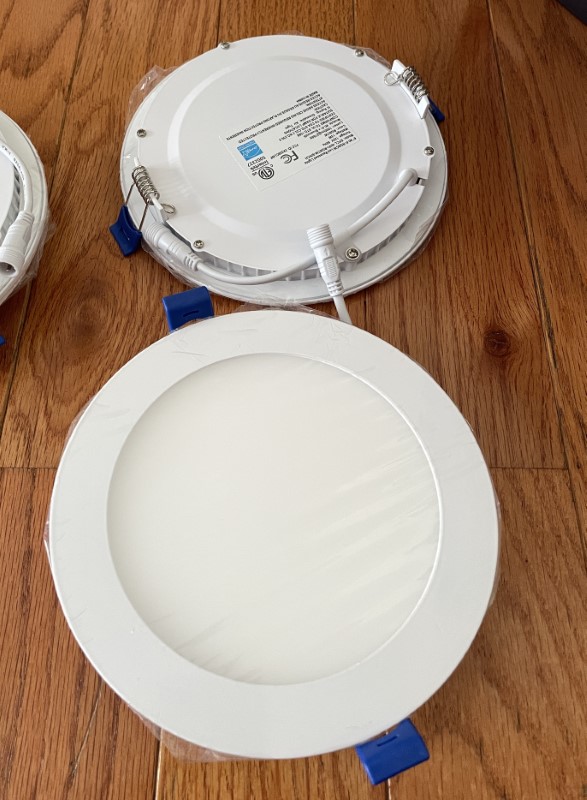 REVIEW –  I remember buying my first Light Emitting Diodes from Radio Shack in the 70s. They were anemic red and a pair was $1.99. In 2023 dollars, that would be over $9.  Now for about $90 ($15 each), Rollin Light sells a six-pack of room-filling LED lights! How do they work? Let's have a look…!
What is it?
Rollin Light six-inch RGBCW LED Recessed Lights are 120-volt, variable color, brightness, and tint illumination sources that are controlled using a smartphone app.
Hardware specs
Model: B0BNL2TDWW
Color: 2700K -6500K and RGB
Material: Plasticand metal
Voltage: 120VAC
Wattage:13 watts each (equivalent to a 120-watt incandescent bulb)
Current: 0.1 amps
Color rendering index (CRI); >80
Lumens: 1100 (each)
Power factor: 0.9
Operating temperature: 14 to 104°F (-10 to 40°C)
Beam angle: 120°
Dimmable through app
Color is tunable through the app
Efficiency: 85 lumens/watt
Weight:1.14lbs each (0.52kg), 6.52lbs six pack (2.96kg)
Lifespan: 50,000 hours
Warranty: Five years
Wi-fi: 2.4gHz
What's in the box?
Rollin Light LED lamps (6)
Electrical Drivers (6)
Hole template
User manual
Design and features
Nice packaging!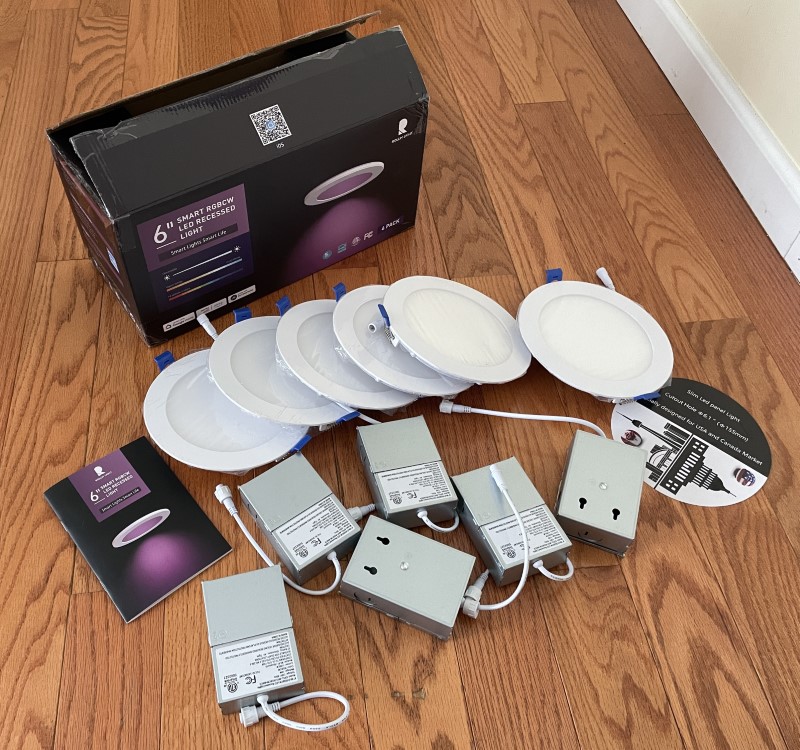 The Rollin Light lights and drivers are well protected.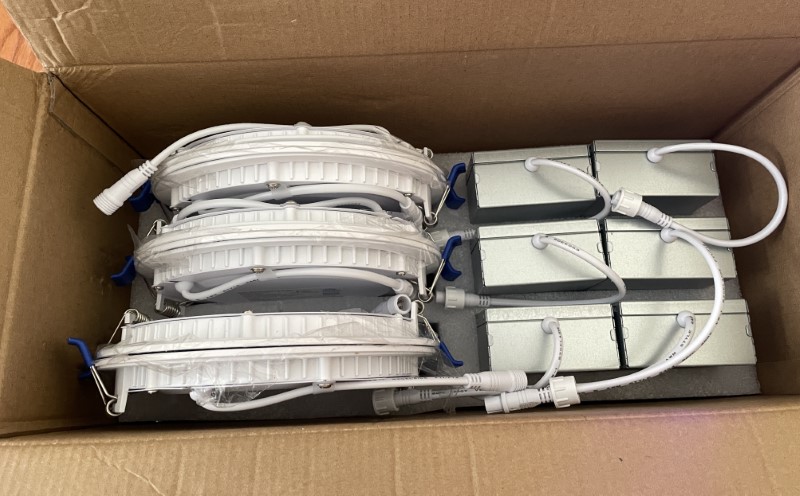 The manual is chock-full of useful illustrations.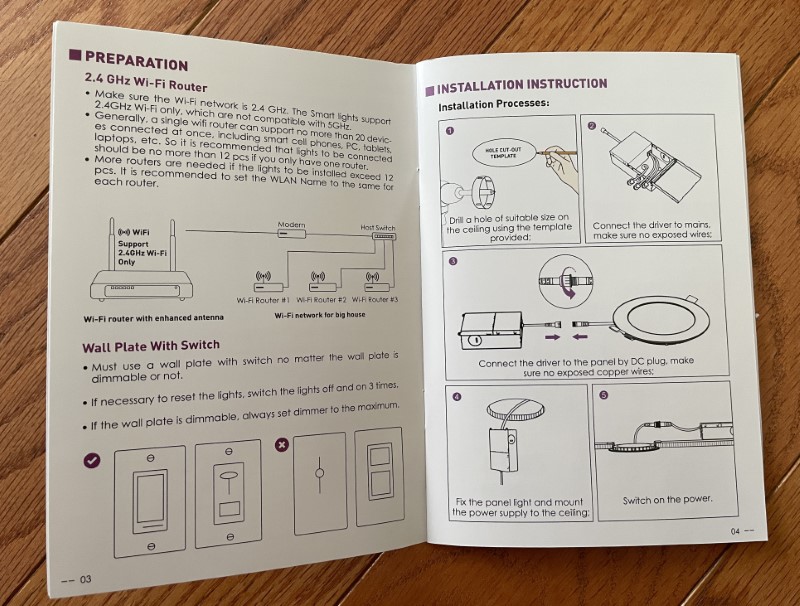 The LED "pucks" are about an inch deep and 6-1/2 inches in diameter.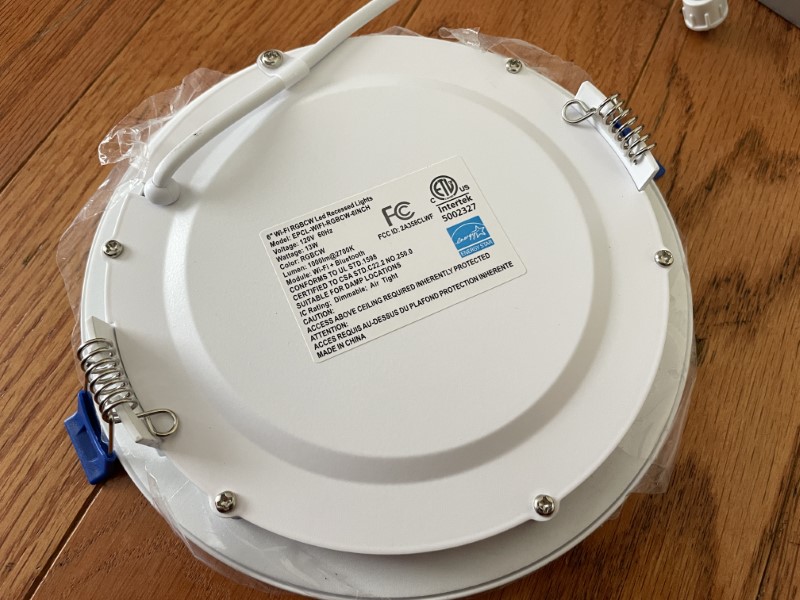 Unlike an incandescent bulb, drivers are needed to supply the correct voltage to the LEDs.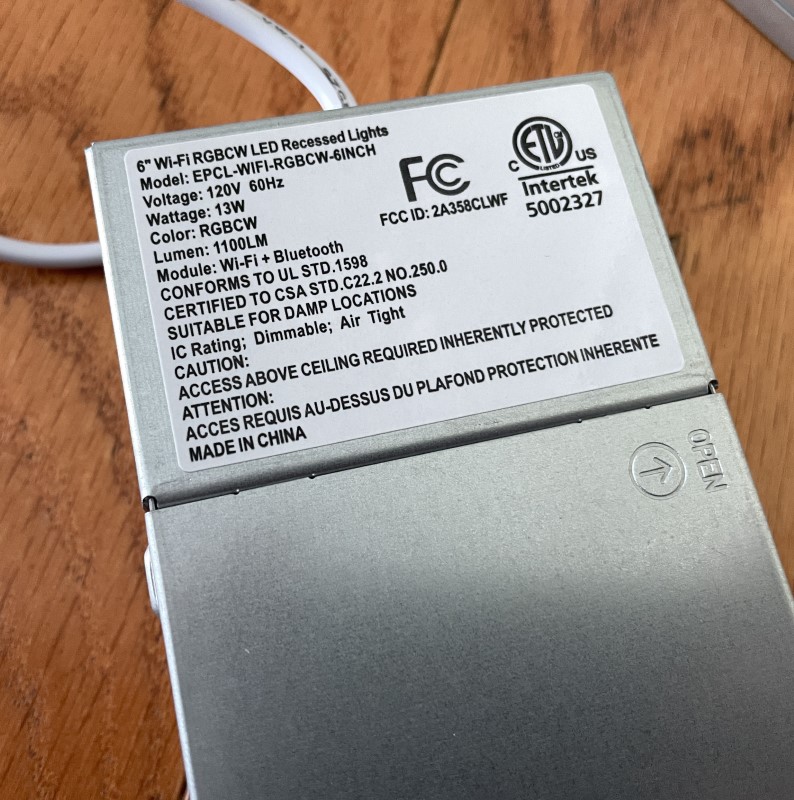 OK, Gadgeteers. If you aren't sure of what's needed for installation, please hire a professional electrician. House electricity can kill you and blunders can set your house ablaze. Turn that power off and, please, be careful.
The drivers have hinged doors and everything is packaged into a single unit. There was no need for cursing because I dropped a screw that took an odd bounce causing me to descend the ladder and crawl around on my hands and knees for 20 minutes looking for the darn thing. Very nice!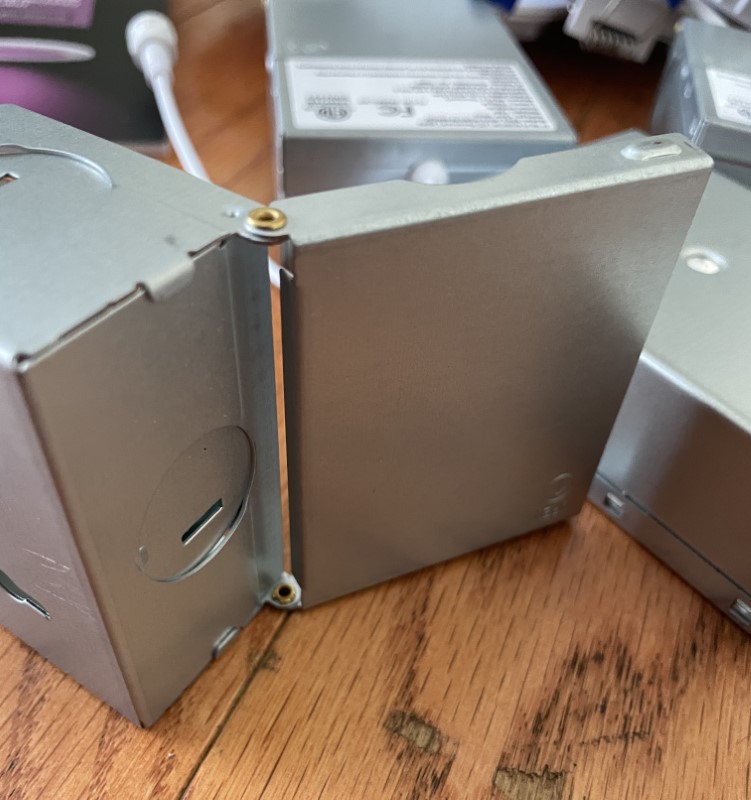 There are pop-outs for routing the supply wires. After being removed, there are sharp edges so cable clamps are required to prevent the wires from being damaged. I bought some for a few dollars at Home Depot.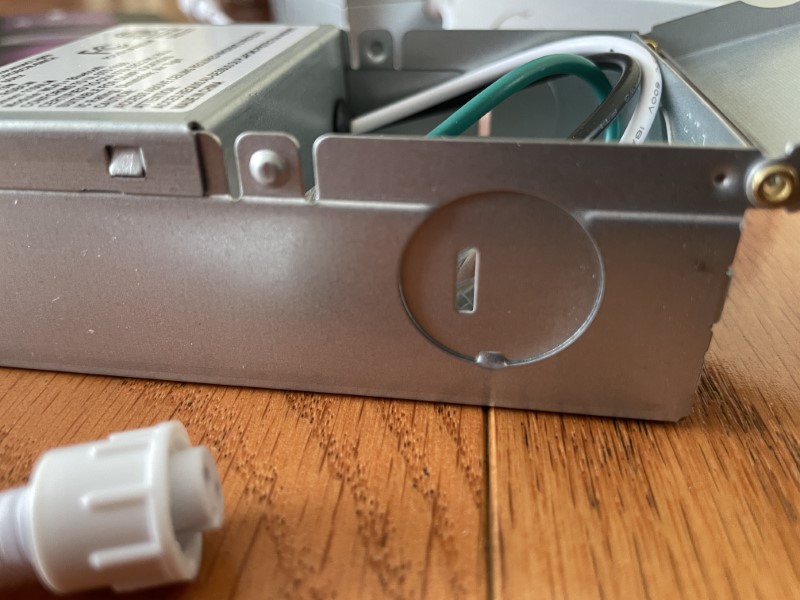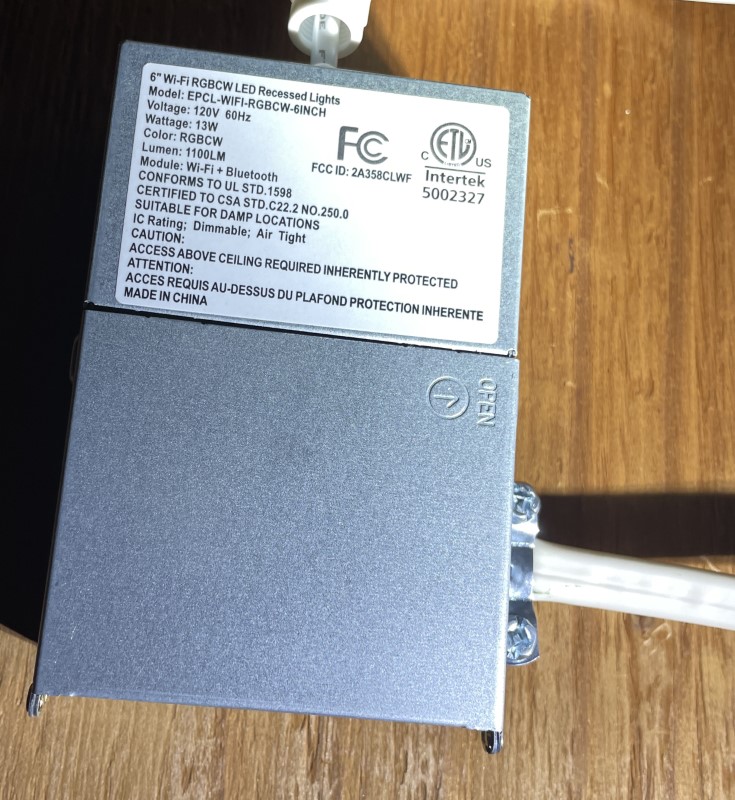 I appreciate Rollin Light's inclusion of push-in electrical couplings. They greatly simplify wire assembly. There are slotted holes for attaching them to supporting structures. Make sure that wherever they are going, the power wires to the LED pucks are long enough to reach. The electrical connections between the driver and LED puck are through a short tether with a threaded sleeve and are keyed to prevent mistakes.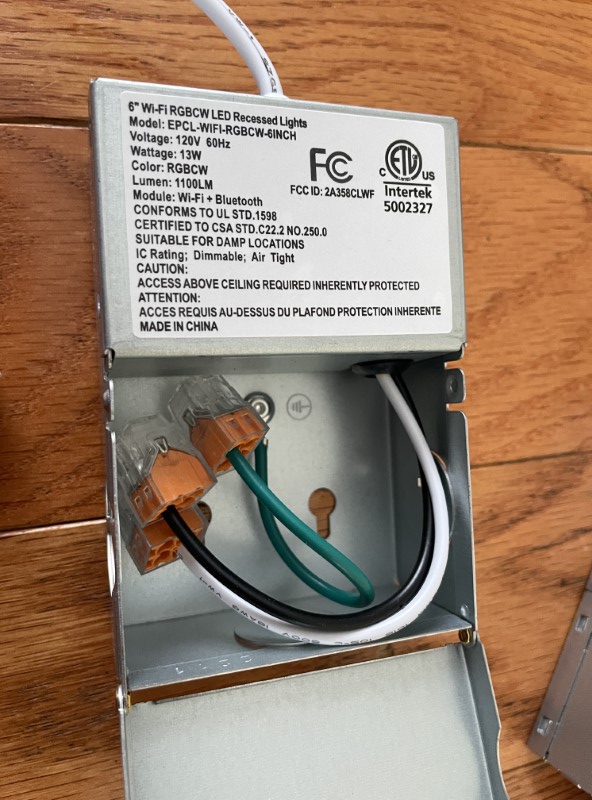 The LED pucks have spring clips to secure them and are ideal for drop ceiling tiles.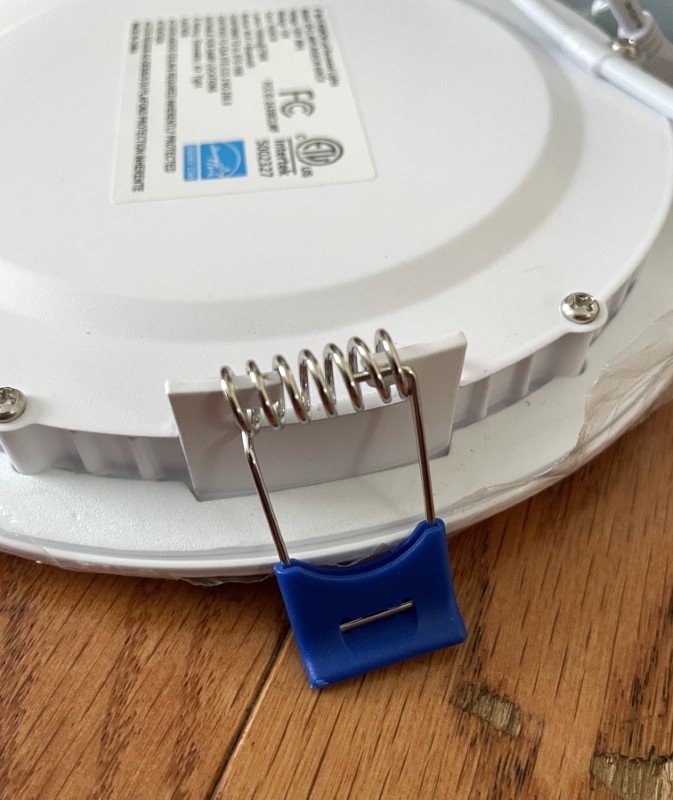 Now the messy part… Rollin Light includes a template for cutting the 6-1/4 inch openings. Drop ceiling dust is nasty and debris gets everywhere (even with a shielded hole saw that catches the rubble), so please plan accordingly.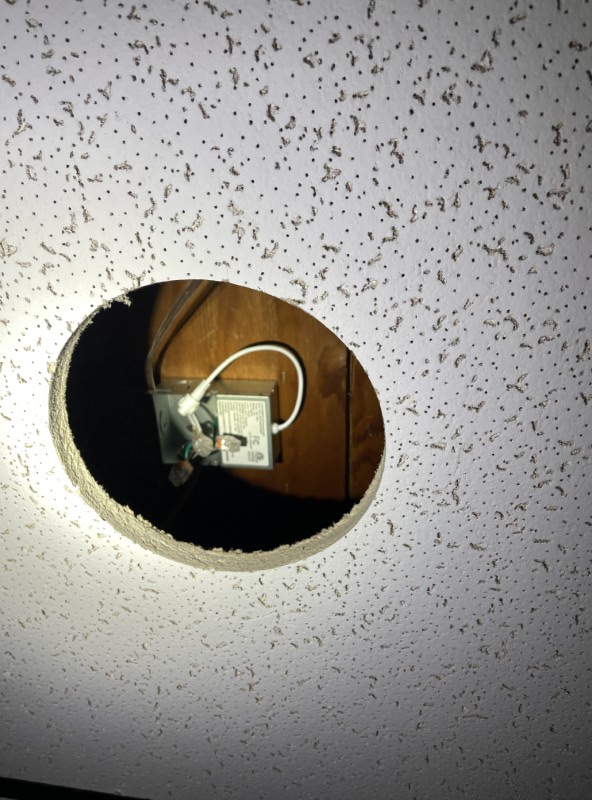 With the wiring complete and holes drilled, the LED supply cords can be connected and the pucks popped into place. My previous lights used recessed "cans" and I never liked the look. The Rollin Lights are a huge improvement! Tadaaa!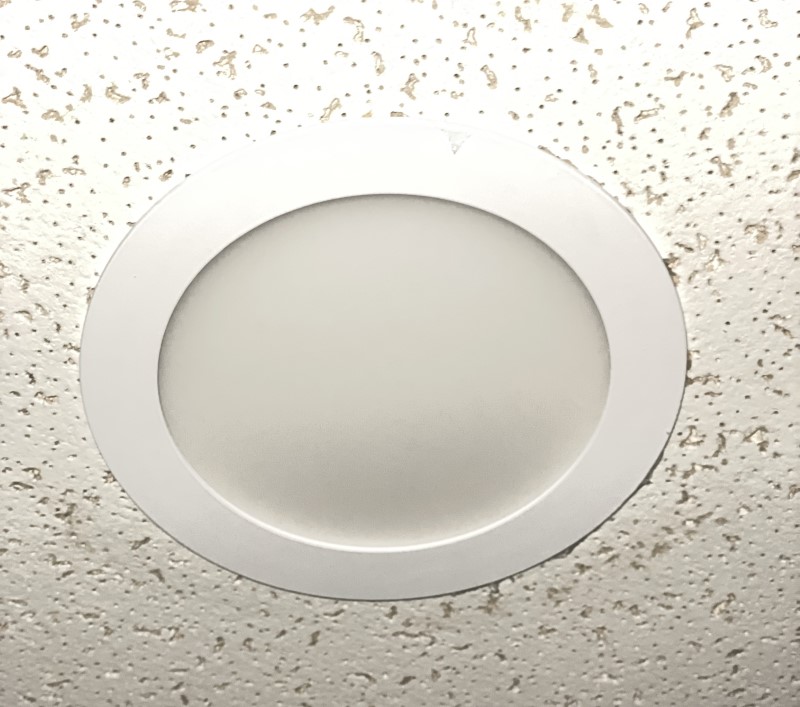 Now would be a good time to install the Smart Life app. There's a QR code in the manual. Creating an account was fast and easy.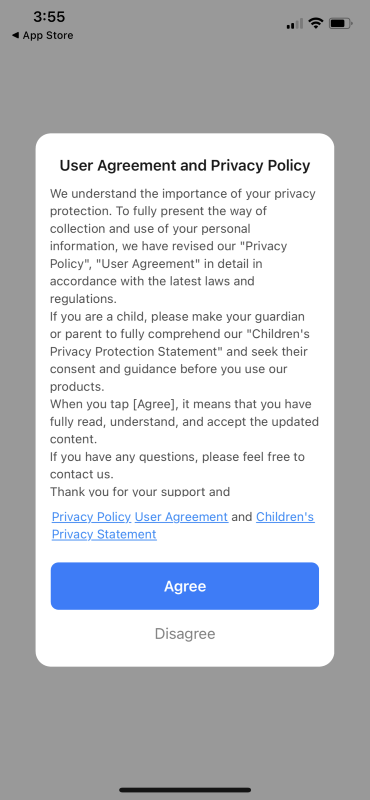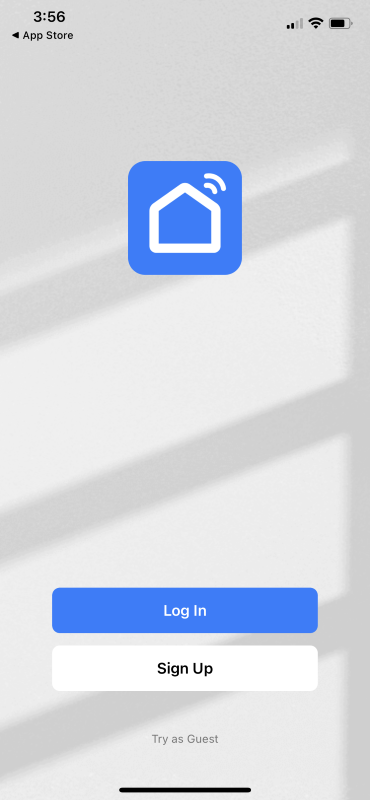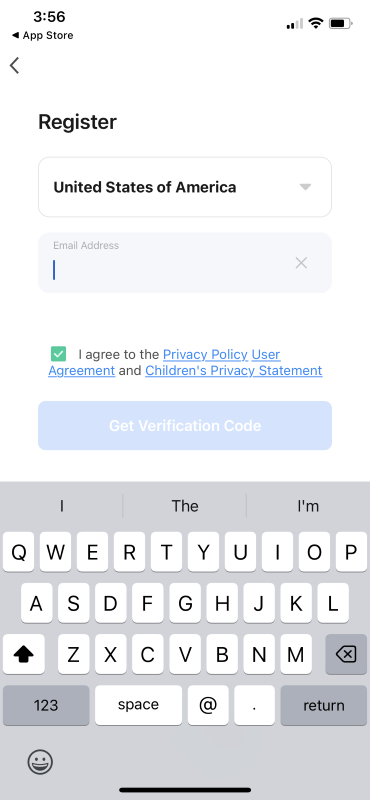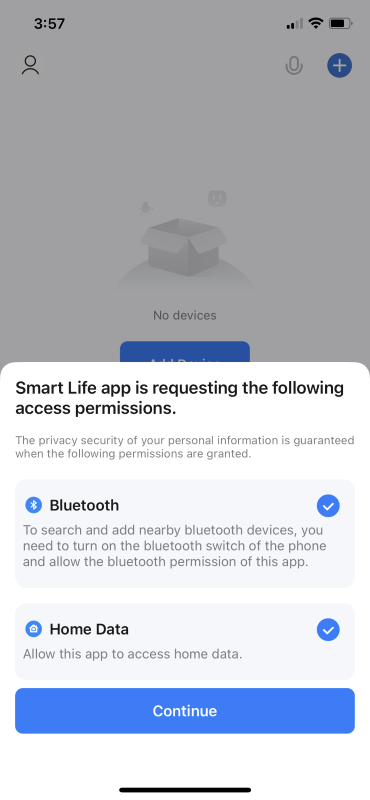 With everything connected, tested, and the power turned on, the lights will start flashing. Cycling the power off and on three times puts the lights in pairing mode. A click of "add devices" in the app immediately found all six LEDs.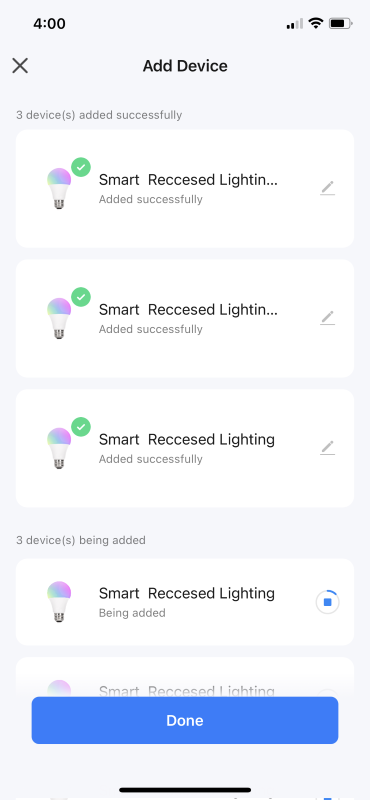 I took the time to name each light and assign them to "Theater" as their location.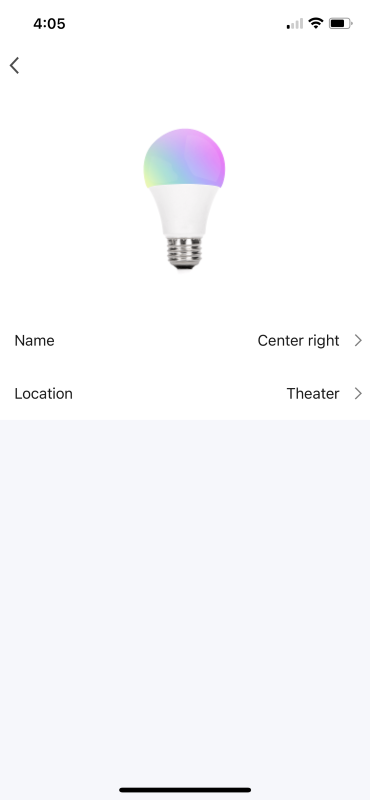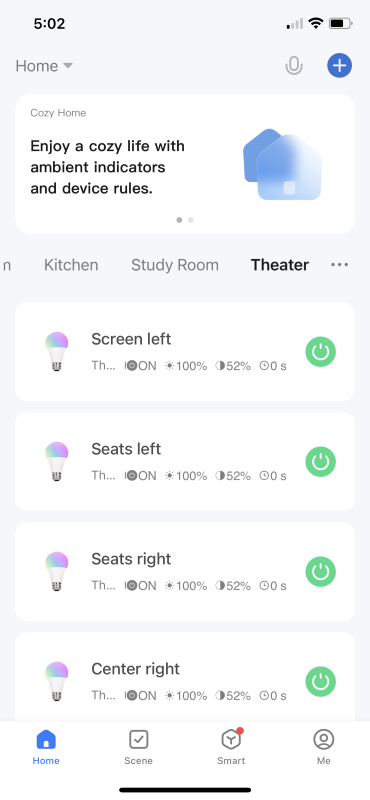 Groups can be created and controlled as a single unit.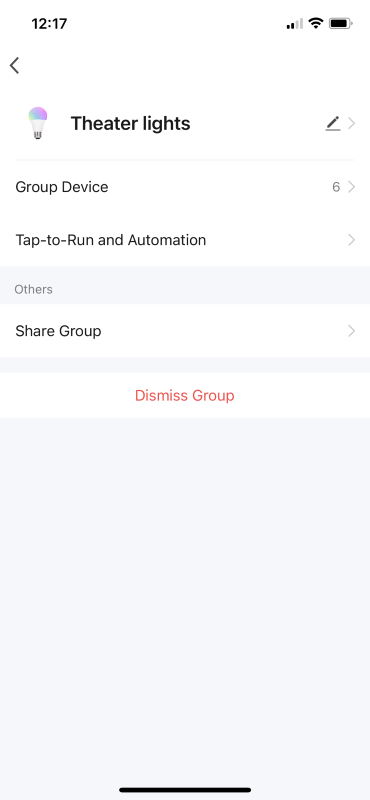 At the top of the lighting control page are tabs for "White," "Cool," "Scene," and "Music Sync." "White" controls the color temperature between 2400° (yellowish light) and 6500° Kelvin (bluish light).  The color range is delightful.  A circular slider adjusts the color temperature. The linear slider controls the brightness.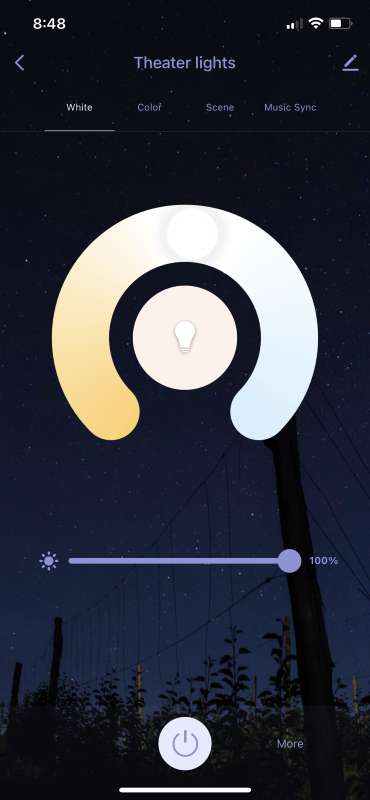 2400°K appears more yellow to the naked eye than the photo captures…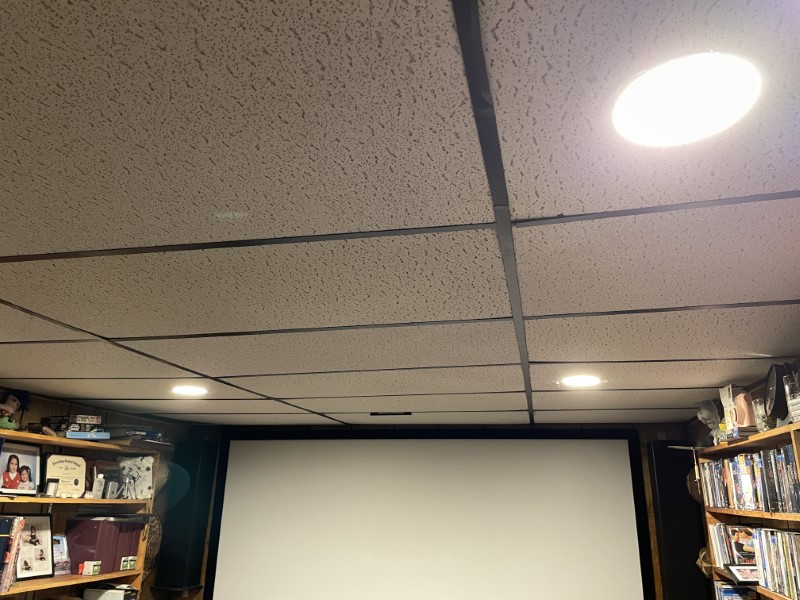 6500°K is a blueish light…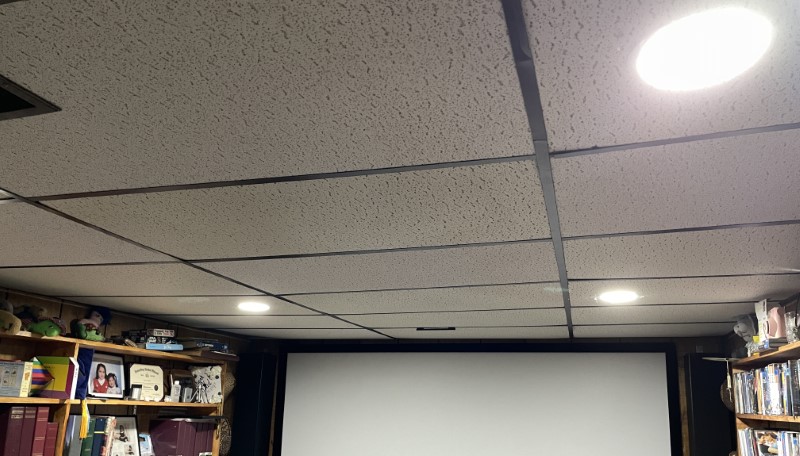 The "Color" controls are similar. The bottom slide blends white light with the colors.  Splendid!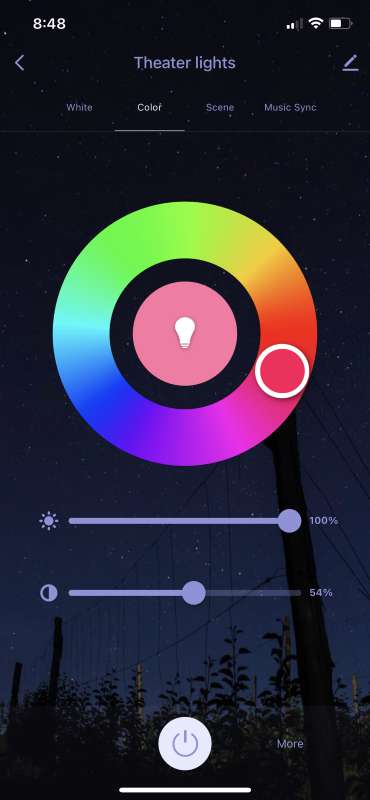 Here's a sample without the white light blended…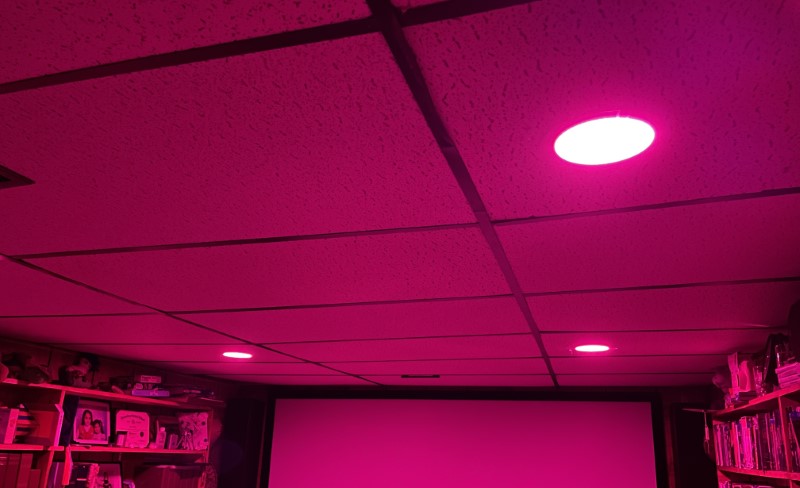 …And the same color along with the white at 50%.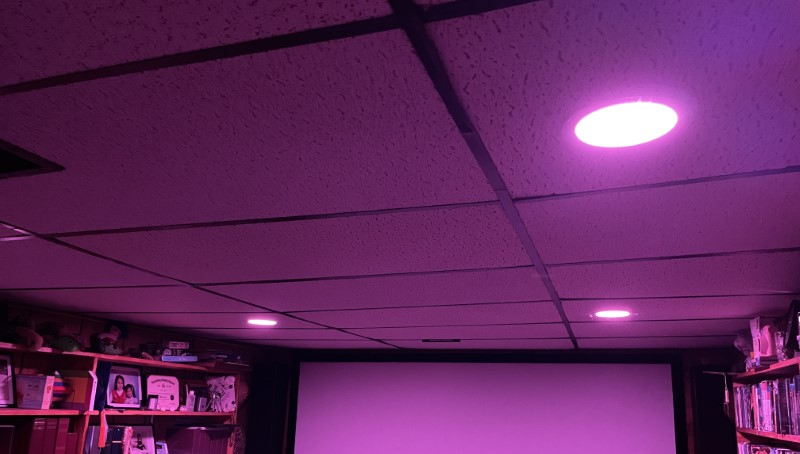 The "Scene" tab has preprogrammed colors and flash patterns.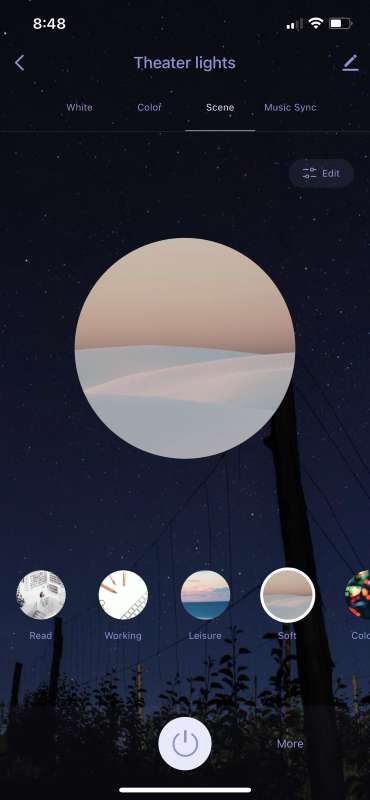 Don't like the defaults? There's an "Edit" function to fiddle with colors, flash patterns, and speed.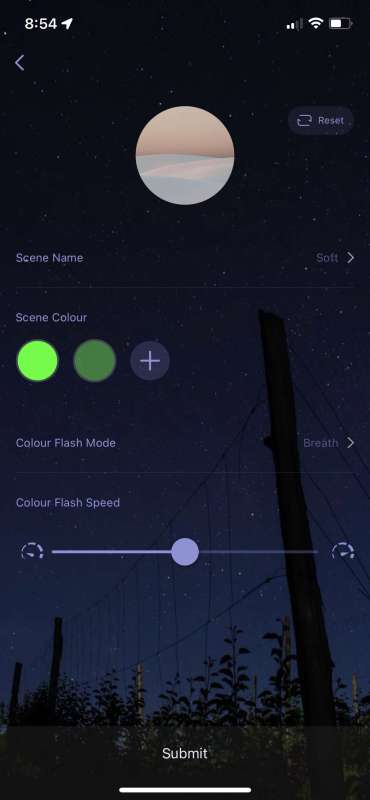 "Music Sync" uses the smartphone's microphone to pulse the lights and change colors to the beat of your favorite tunes.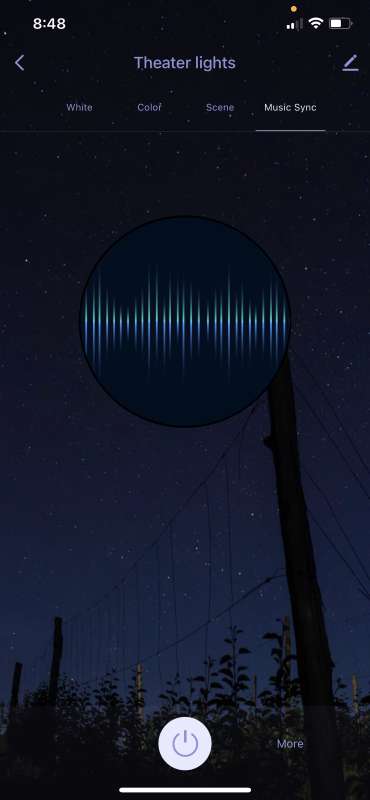 There are timers to turn the lights on or off as individuals or groups.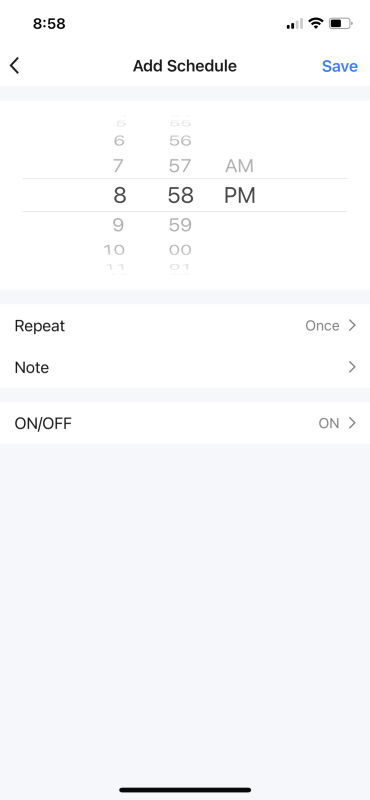 The light or group's power-on behavior can be adjusted. I need to pass through my home theater to access the laundry room, so I want them to turn on with a predictable level and brightness. No sense in doing a faceplant into a full laundry basket because I left the lights set to red at one percent brightness.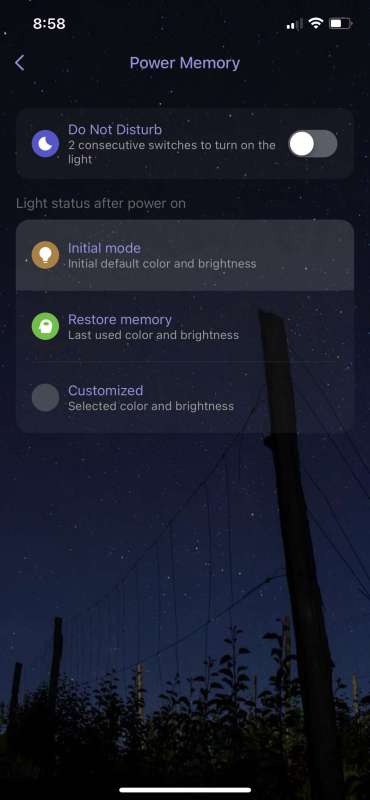 Rollin Lights are compatible with Alexa and Google Assistant. As soon as I connected them, Amazon reported they were available. "Alexa, turn the lights off," or "20%," or "champaign," or "red" or almost any other color I could think worked flawlessly. Voice commanding them is fun! HomeKit and IFTT aren't compatible, but I can dream, right?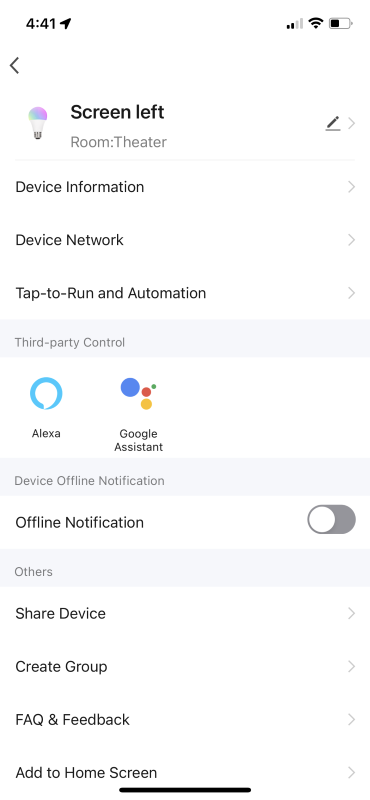 Offline notifications, sharing, frequently asked questions & feedback, network management, and updates are also available.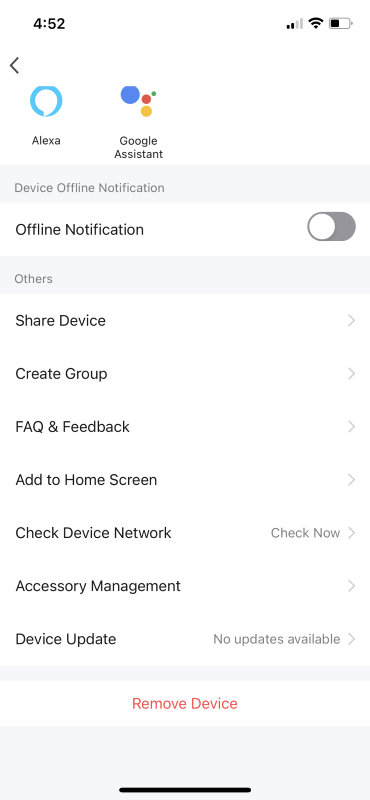 What I like
Drivers are preassembled with no extraneous parts
Push-in connectors
Luscious colors and tunable white light color temperature
Bright, even lighting
Alexa, Google Home, and Siri compatibility.
Attractively priced
What I would change
Add additional compatibility with cloud services like Apple's Homekit and IFTTT.
Final thoughts
Rollin Light has done a great job at implementing the RGBCW Smart Lights. The drivers install easily with no tiny parts to drop, they produce smooth, uniform light, and the ability to change colors and white tint is exceptional, especially with Alexa.  I like them so much, I just ordered another set from Amazon! Thank you, Rollin Light!
Price: $89.99 from Amazon
Where to buy: Amazon
Source: The sample for this review was supplied by Rollin Lights.