We use affiliate links. If you buy something through the links on this page, we may earn a commission at no cost to you. Learn more.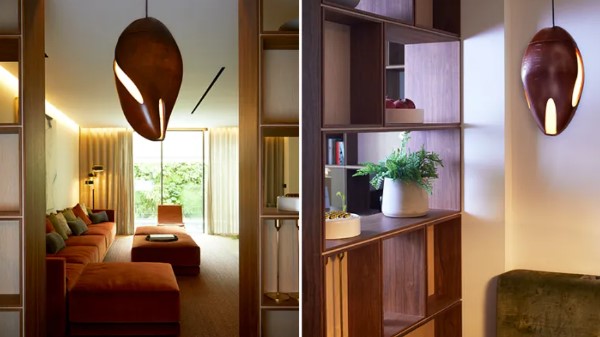 NEWS – Creatively-designed lighting seems to draw my attention. The Cocoon light by HagenHinderdael (Sofia Hagen and Lisa Hinderdael) caught my eye not only because of its sleek organic shape but also because it is a 3D-printed sawdust decorative light fixture. Yep, that's right – 3D-printed sawdust. Just look at it! Can you believe it? What an innovative way to reduce wood waste!
HagenHinderdael developed the Cocoon in collaboration with ForustTM, a new 3D printing process by Desktop Metal "…[in which] layers of powdered wood are bound together with lignin into a 250mm (w) x 460mm (h) COCOON. Once out of the printer, each piece is carefully hand-stained and finished."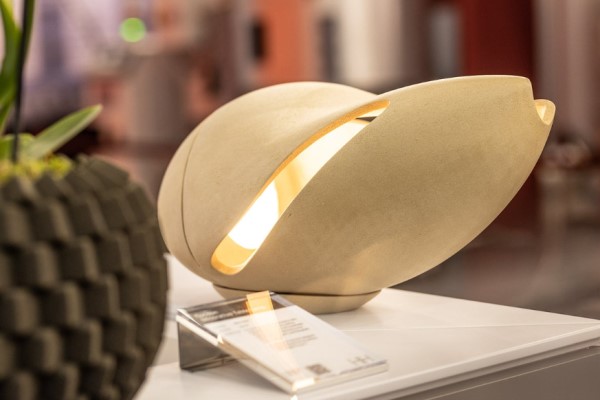 The Cocoon light uses soft warm light (3000K light temperature) and can be finished in natural, oak, teak, or walnut. There are two versions of the Cocoon – the pendant and the table version. The drawback? It will set you back $3120 plus shipping, the estimated production time is 11-12 weeks, and it ships from London. Are you still interested? You can purchase the pendant or the table version of the Cocoon from 1stdibs.com.