We use affiliate links. If you buy something through the links on this page, we may earn a commission at no cost to you. Learn more.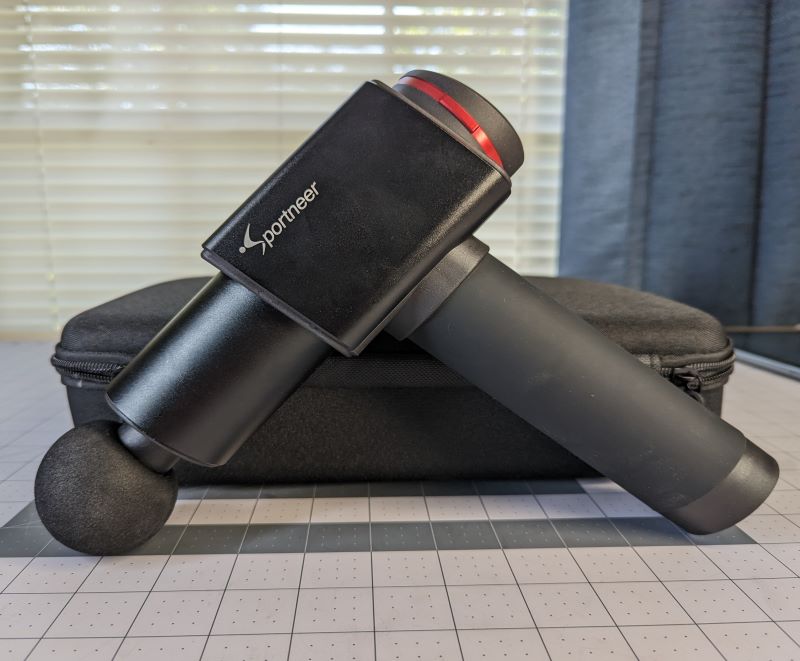 REVIEW – I'm getting a little long in the tooth. Enough so that whenever I do yard work, my back hurts. It's from doing stupid things in my youth that I'd rather not comment on. I've tried rubs, ointments, salves, patches, you name it. So, when the Sportneer Elite D9 percussive massage gun came up for review, I wanted to give it shot.
What is it?
The Sportneer Elite D9 percussive massage gun is an affordable, compact massager with six power levels, numerous attachments, and long battery life.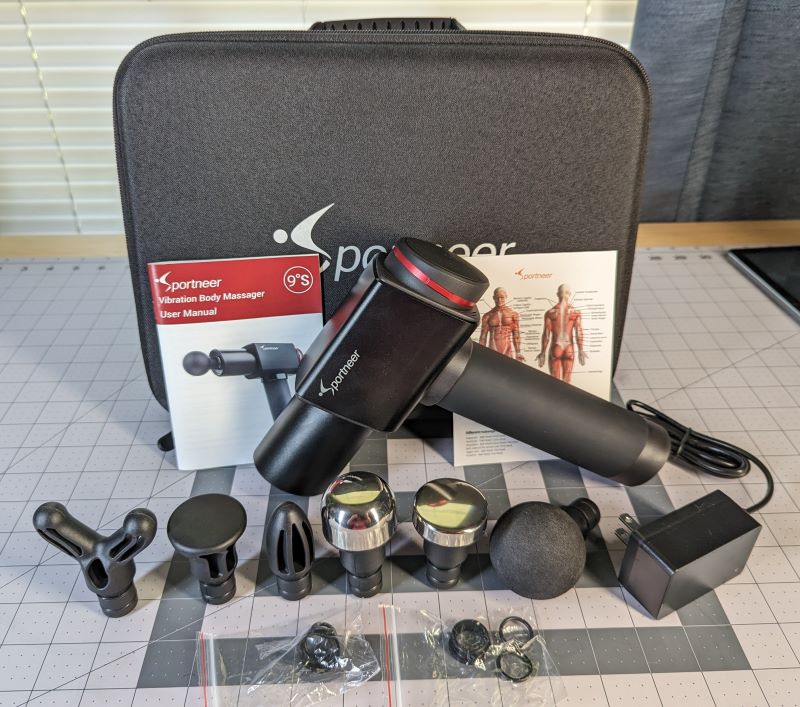 What's in the box?
Sportneer Elite D9 percussive massage gun
Six different heads
Power supply for charging the internal battery
Additional O rings
Owner's Manual
Card showing which heads work best for which muscle group
Carrying case
Hardware specs
Battery Capacity: 48.24Wh
Noise: 30dB-40dB
Power:1 2-220W
Frequency: 22Hz-55Hz
Speed: 1300RPM-3200RPM
Product Weight: 1.05kg(2.3lbs)
Input: AC 100V-240V 50/60Hz
DC IN: 25.2V 0.8A
Intelligent mode: 10 min
Amplitude: 11mm
Motor: 16.8V brushless motor
Design and features
The Sportneer Elite D9 percussive massage gun is a solid bit of kit that uses an in-and-out motion of the massage head to relieve muscle aches and pains.  This is different from others massagers in the past that just vibrate.  For whatever reason, those types always made me itch afterward.  I'm weird. The Elite D9 doesn't do that to me so that's a plus in my book.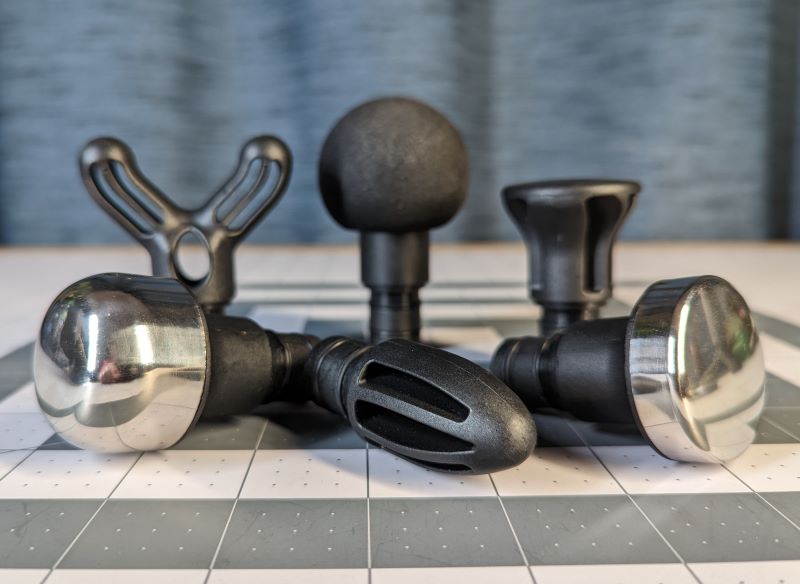 It comes with six different massage heads to target different muscle groups according to the insert that came in the kit.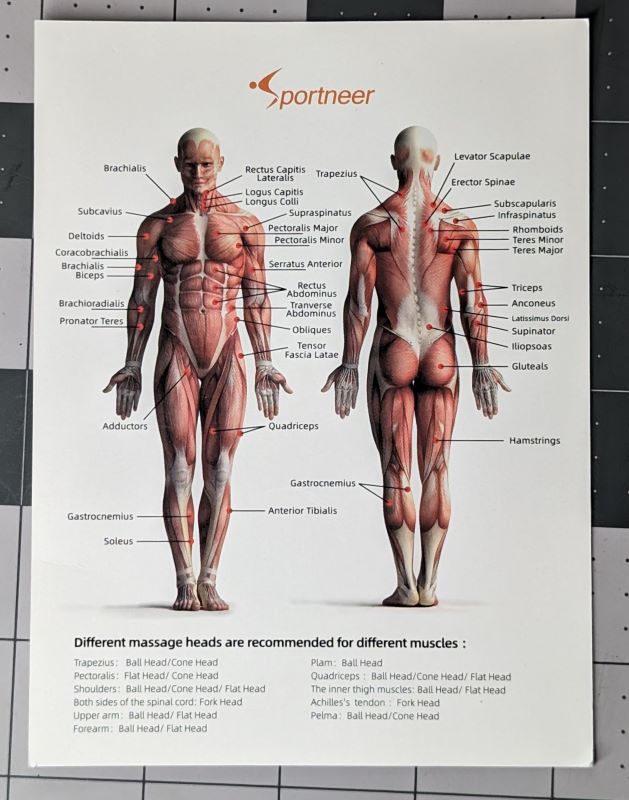 The manual even gives you the recommended intensity levels to use for each.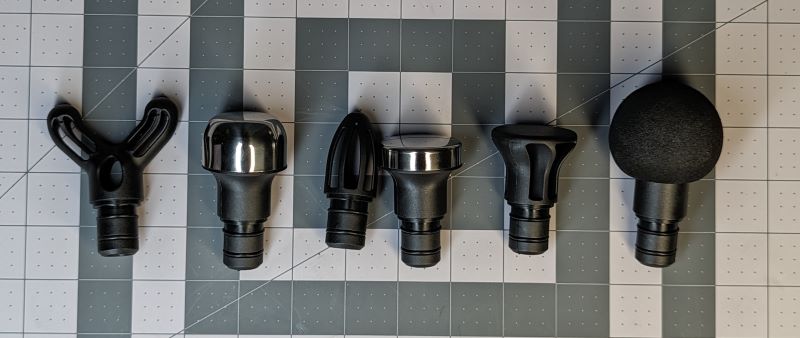 Going from left to right, the forkhead is designed for the spine, neck, calves, and shoulder, sensitive muscles, or bony areas set on level 1 or 2. The Chrome ball head is a step up from the ball head and allows the use of oils. The cone head is for joints and small muscle areas on levels 1 or 2. The chrome flathead is an oil-safe alternative for the flathead, while the flathead itself is said to be ideal for general use.  Finally, we come to the ball head which is used for large muscle groups and extreme muscle and joint soreness. The head is made of some really dense foam.
To power on the unit press and hold the button in the center on the rear of the Elite D9.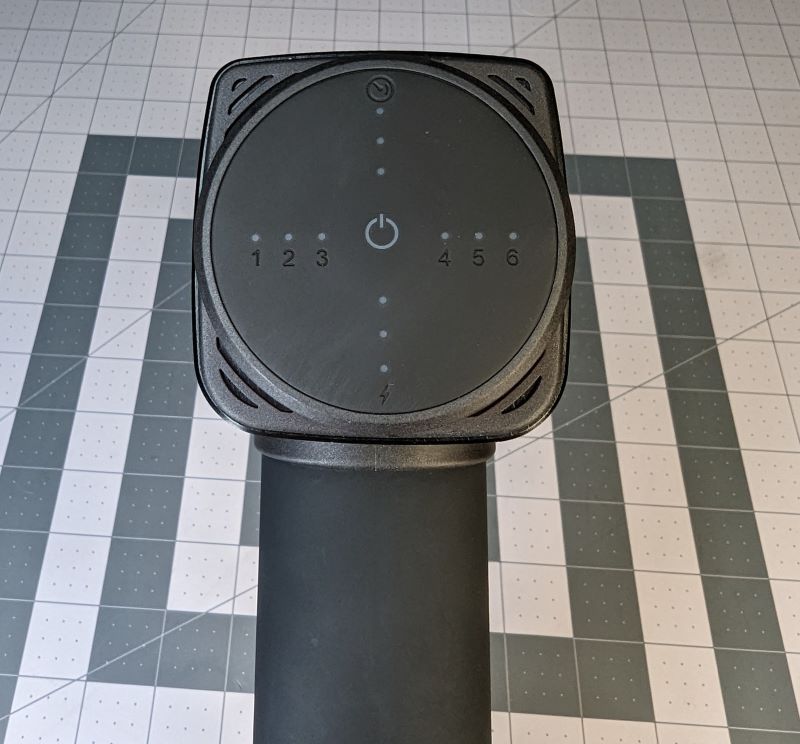 After that single short presses will ramp up the intensity levels.  Each level is displayed as the white LEDs illuminate from left to right.  The LEDs going from bottom to top indicate how much pressure you are putting on the device.  If you press too hard, the Elite D9 massage gun will stop until the pressure is released.  I'm not sure if that's for your benefit or the machine's.  I assume it's for the machine to avoid damage to the brushless motor
Setup
All you really need to do is insert your desired massage head and it really is that simple. The heads are pressure fit into the gun with O rings.  They're pretty secure.  I haven't had one come loose yet.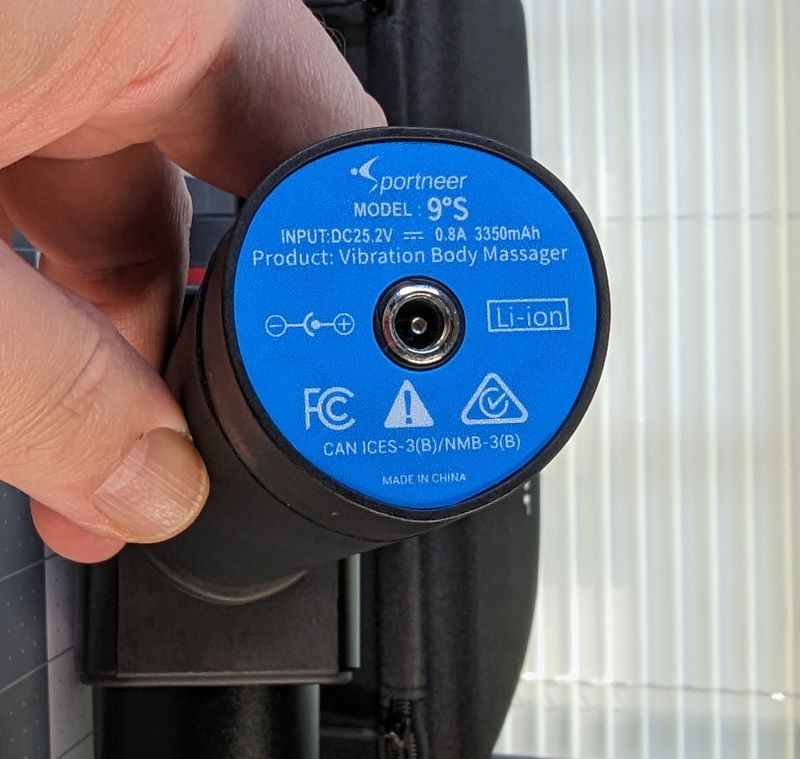 The included power supply is for charging only. Charging can take from 3 – 5 hours and the light on the power supply changes from red to green. Sportneer boasts that the battery capacity can last up to 2 weeks if it's used for only 20 minutes a day.
Performance
The Sportneer Elite D9 percussive massage gun feels great on my sore back when using the softer ball head. The other heads are great as long as you stay on the muscle. I found them to be too painful on my joints and bony areas.  The single button is easy to operate to cycle through the intensity levels.  The form factor of the gun is nice and comfortable. Battery life is good and best of all, I don't itch when I'm done.
What I like
Compact
Powerful
Plenty of massage options
What I'd change
I'd like more of the softer foam heads in the other shapes
Final thoughts
The Sportneer Elite D9 percussive massage gun could be what you're looking for if you're looking for a compact massage gun with lots of options.  My back sure does appreciate it. If you're interested, click on the links below to get more information.
Price: $64.99
Where to buy: Sportneer and Amazon
Source: The sample of this product was provided by Sportneer.