We use affiliate links. If you buy something through the links on this page, we may earn a commission at no cost to you. Learn more.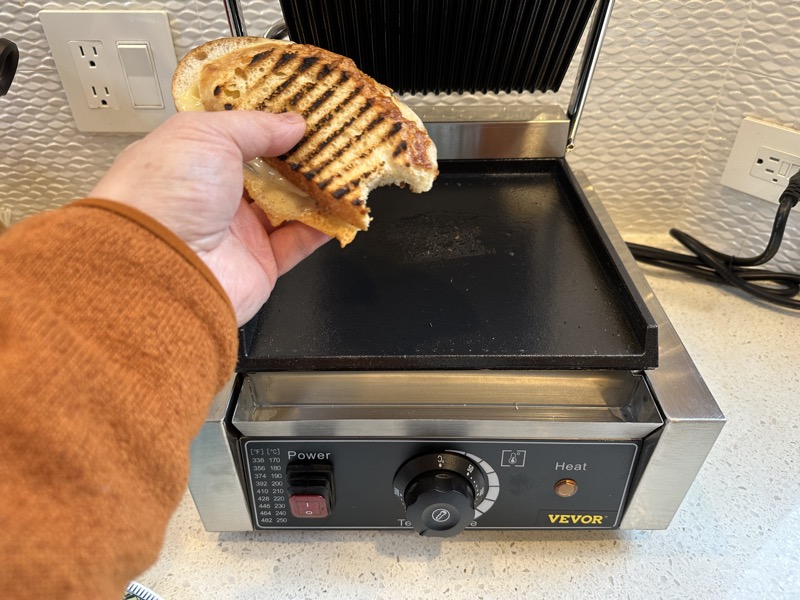 REVIEW – They say you should never buy groceries when you are hungry. I'm not sure the same when reviewing items, but it didn't hurt. This time I get to make lunch with the VEVOR Commercial Sandwich Panini Press Grill.
What is it?
This panini press is equipped with a cast iron grill covered in a stainless steel exterior.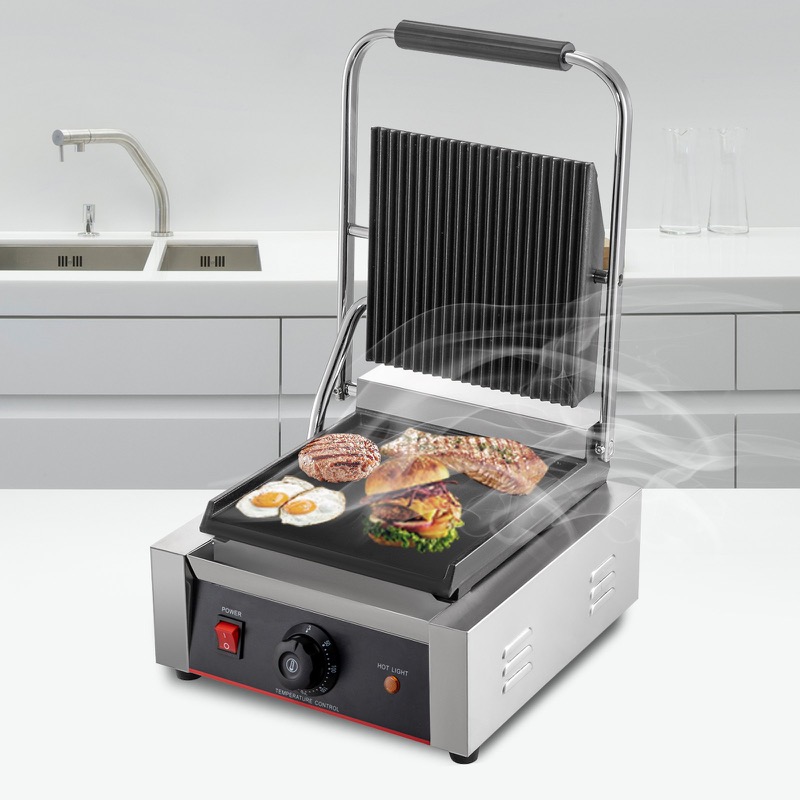 What's in the box?
Grill
Cooking accessories
I received a few cleaning sponges, whisk, tongs, and two brushes. The quality wasn't anything noteworthy.
Hardware specs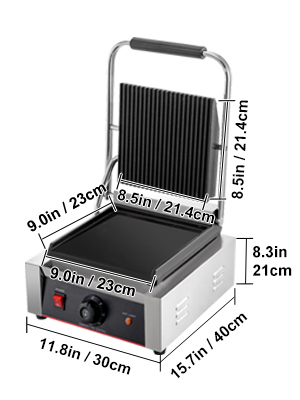 Upper Heating Area: 8.5″x8.5″ (214x214mm)
Lower Heating Area: 9″x9″ (230x230mm)
Temperature: 50-300℃ (122-572℉)
Cooking Surface Material: Cast Iron
Shape Material: Stainless Steel
Power: 1.8kW
Product Dimensions: 11.8″x15.7″x8.3″ (300x400x210mm)
Design and features
Here's the grill on my countertop. The top lid was covered in a giant plastic film that left some residue. I got most of the goop off.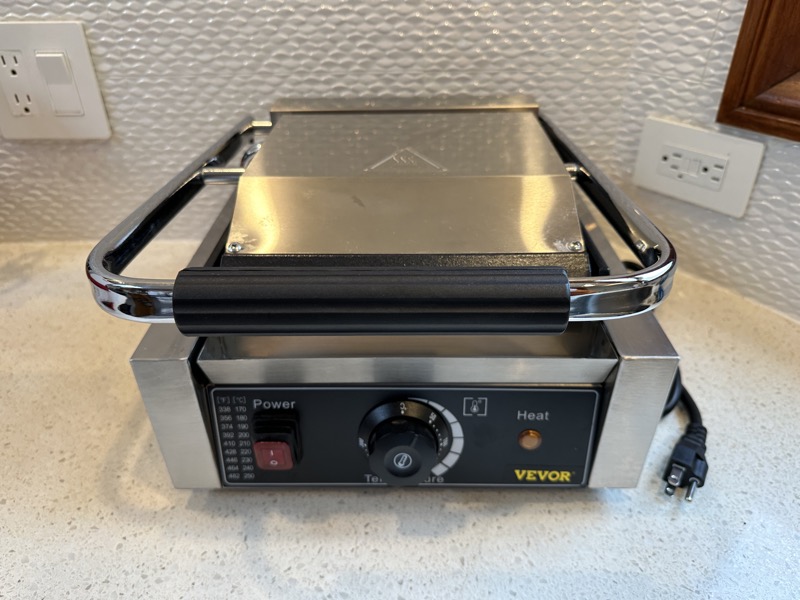 Closeup of the controls. An illuminated red power switch is on the left, and the orange "Heat" indicator turns on as it's warming up. The lamp turns off once the set temperature is reached. I was a little annoyed the VEVOR logo was a decal, and not applied straight.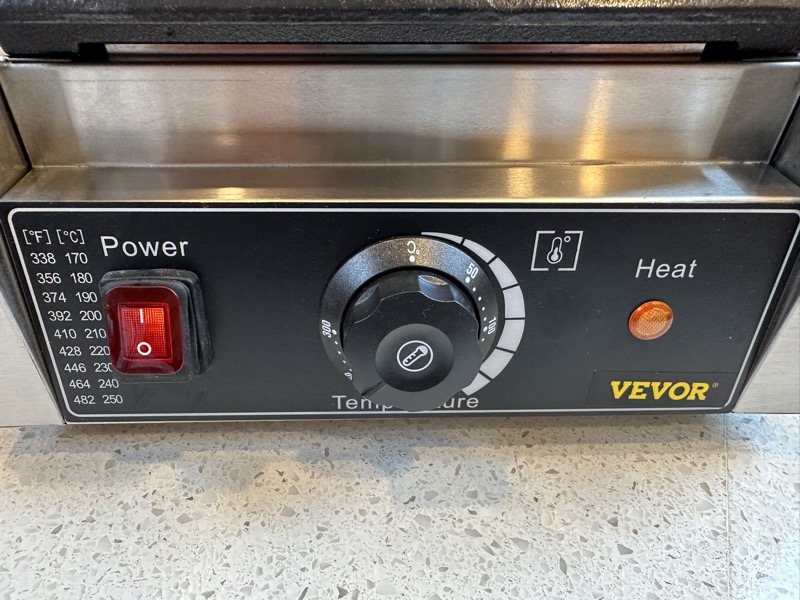 The bottom scale of the temperature dial is hard to read unless you stoop lower. It's in Celsius.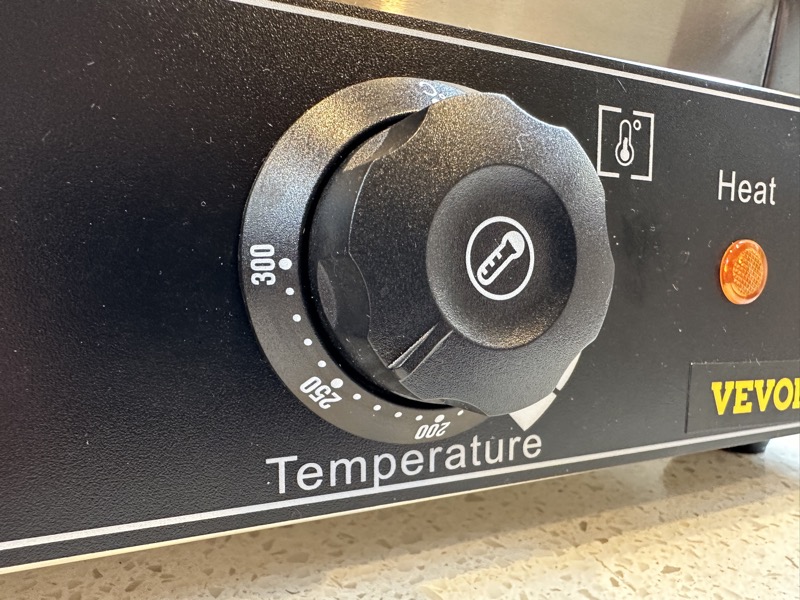 Open wide! The top cast iron plate is ridged.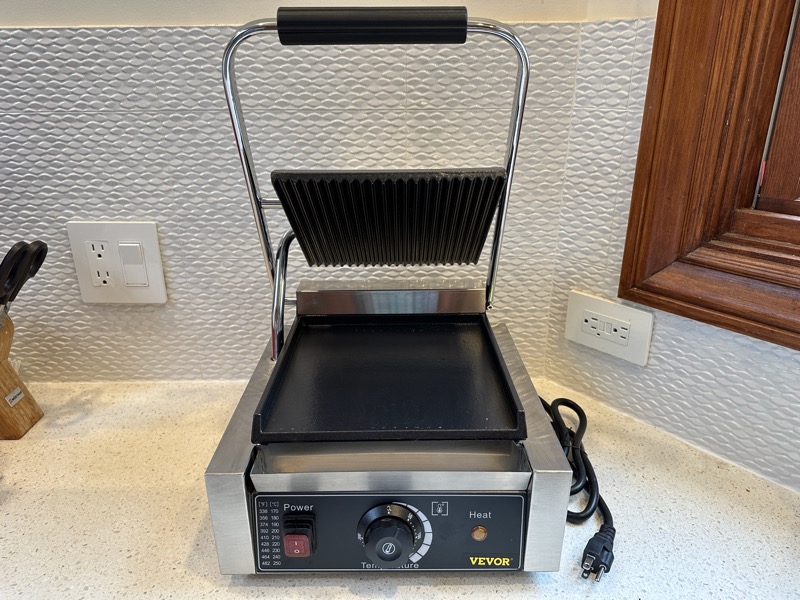 It's not obvious, but the top plate is actually heated. I removed the cover to reveal the heating element. (Don't do this. Will void your warranty). Since both sides are heated, no more flipping your grilled cheese sandwiches.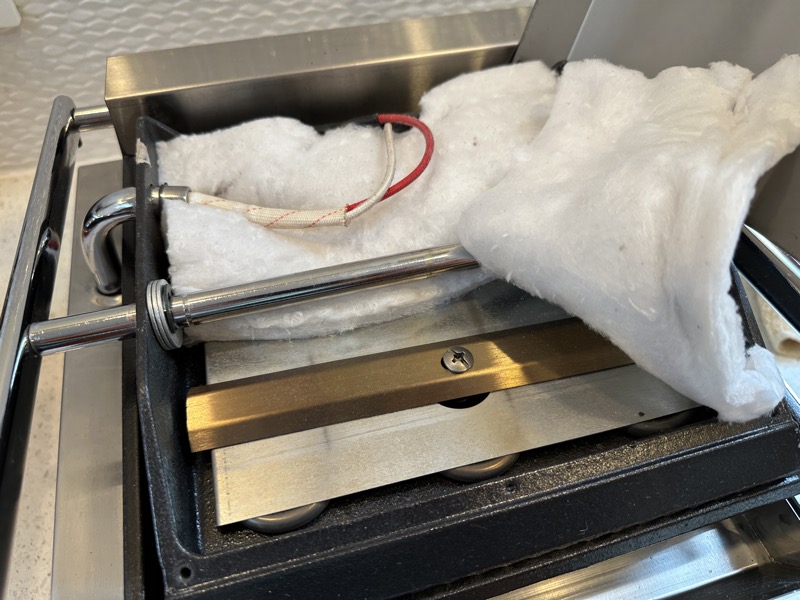 Each side has vents on the stainless exterior.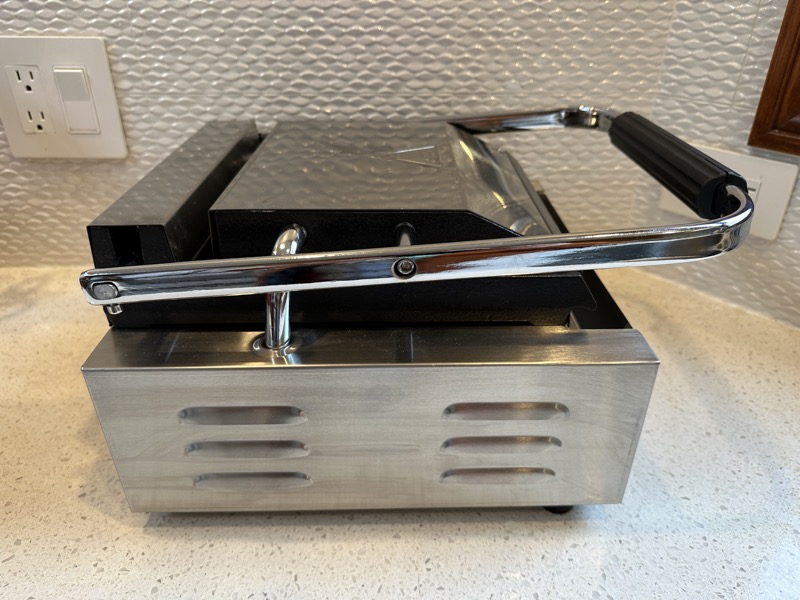 I was surprised to see a grounding lug on the rear. Not a bad idea.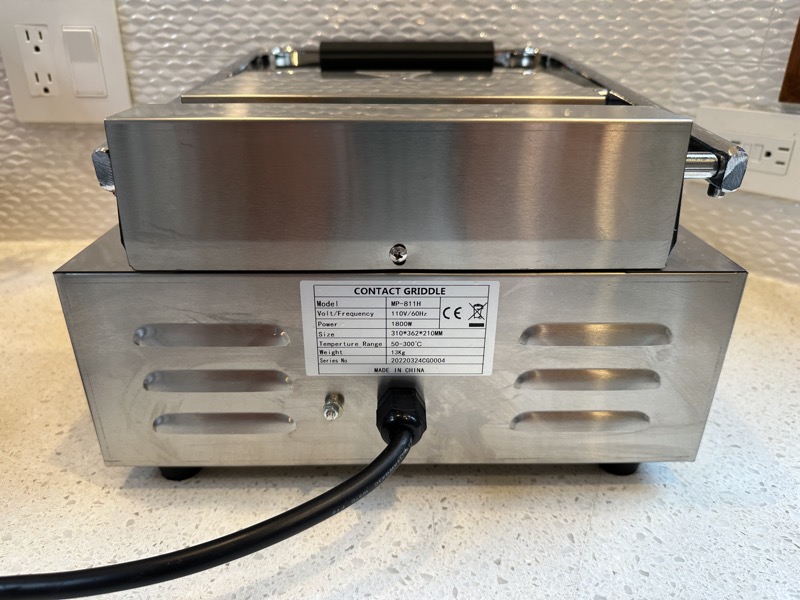 Here's the grease trap. It's just a tray. Doesn't really snap in place. Just sits there.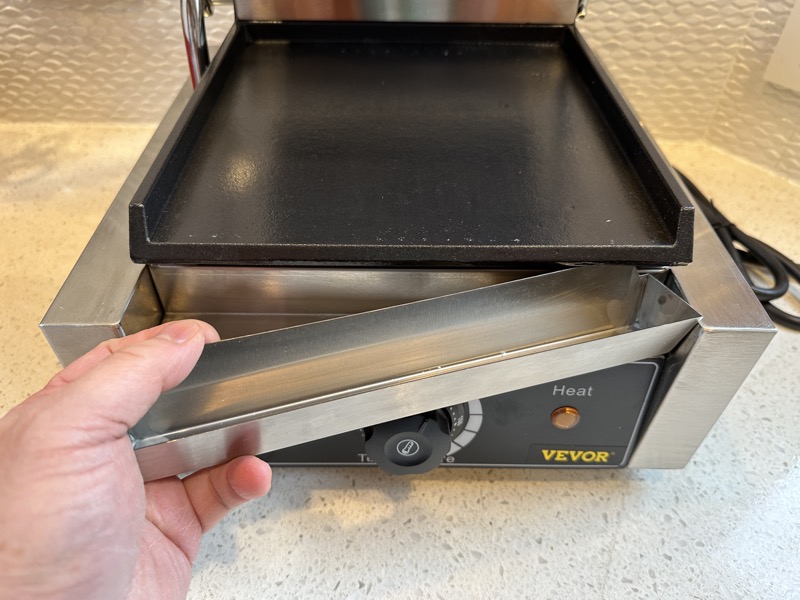 Setup
The included instructions aren't written very well. Here's an excerpt about cooking "Sangwiches".  Be sure to consult with your "Deil" supervisor.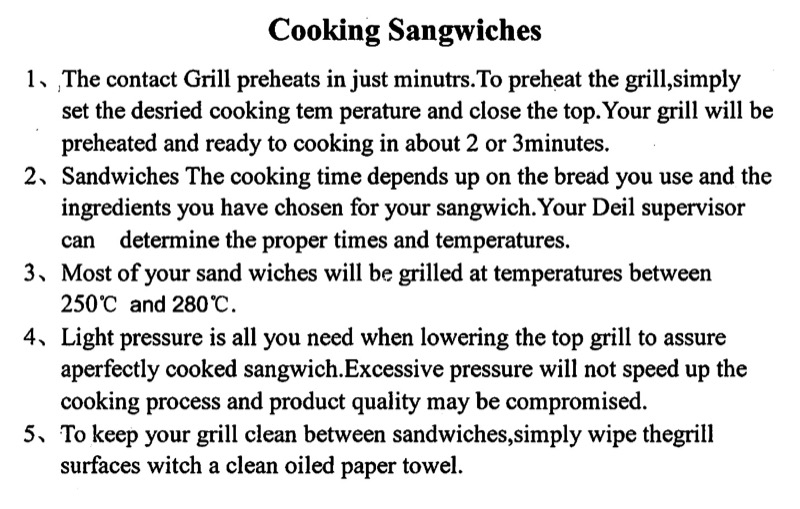 Performance
I set the temperature knob to 250C (482F) and things got hot very fast. This is no joke. Here's a thermal image of the outside (left) and the inside (right) at just about a minute.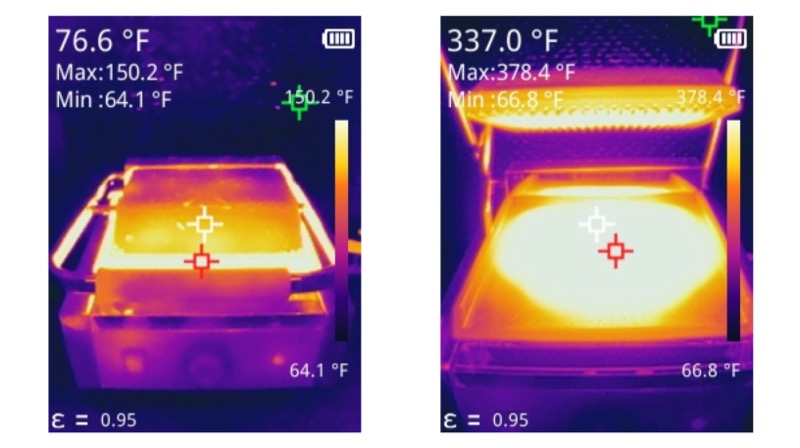 The instructions suggest powering up the grill and letting any residue burn off. Sure enough, I saw and smelled wisps of smoke as the manufacturing ick burned away.
I started with something simple: Two slices of bread and cheese.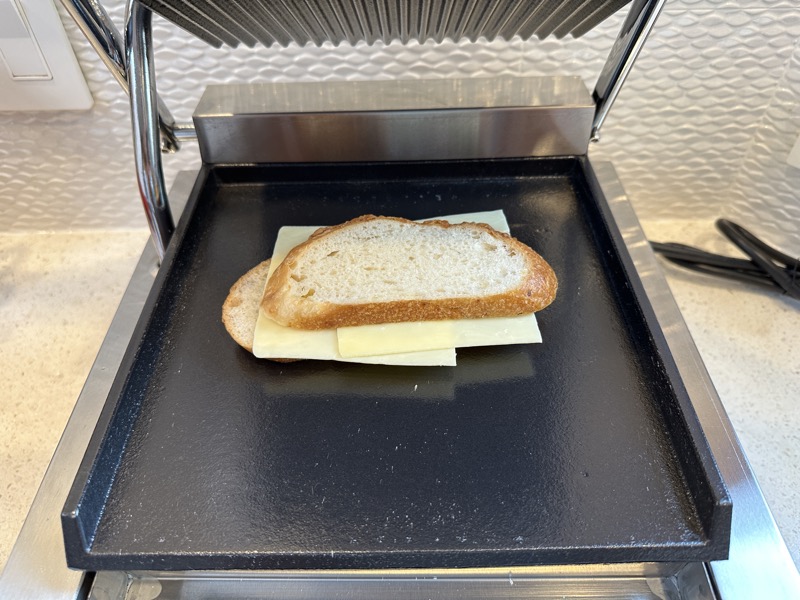 The instructions suggest not pressing down with force. Remember, the top iron plate is also heated.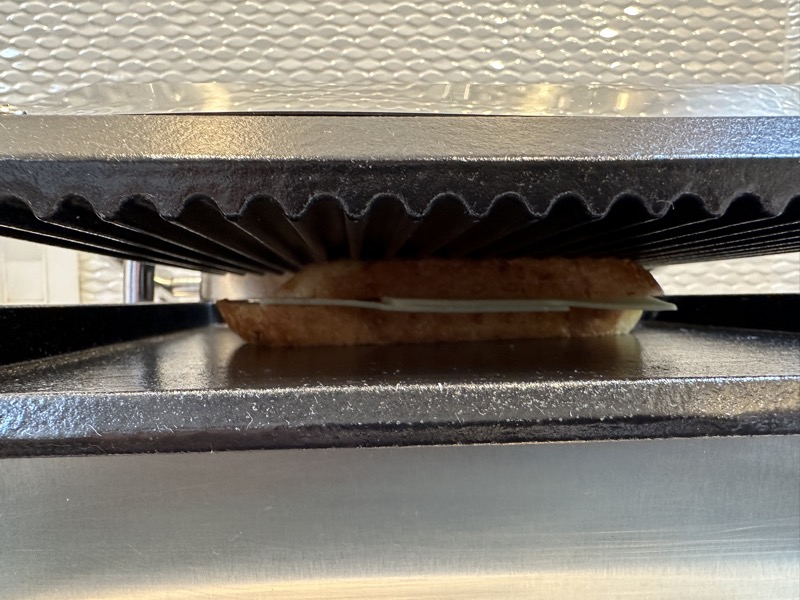 I had no idea how quickly VEVOR panini press cooks. This was my result in under 60 seconds. I should have wiped a little oil first, since it left some residue on the cooking plates that will take a little elbow grease to get off.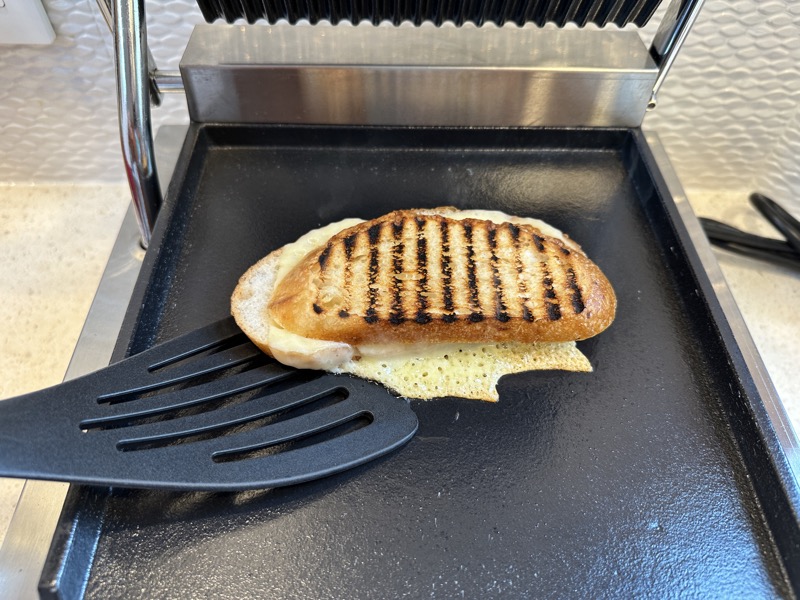 What I like
Looks like it belongs on a food truck
Top and bottom cast iron surfaces are heated
Heats up fast
What I'd change
Poorly written documentation
Bottom of the knob is tricky to read
Crooked VEVOR decal gives off a less-than-premium feel
Final thoughts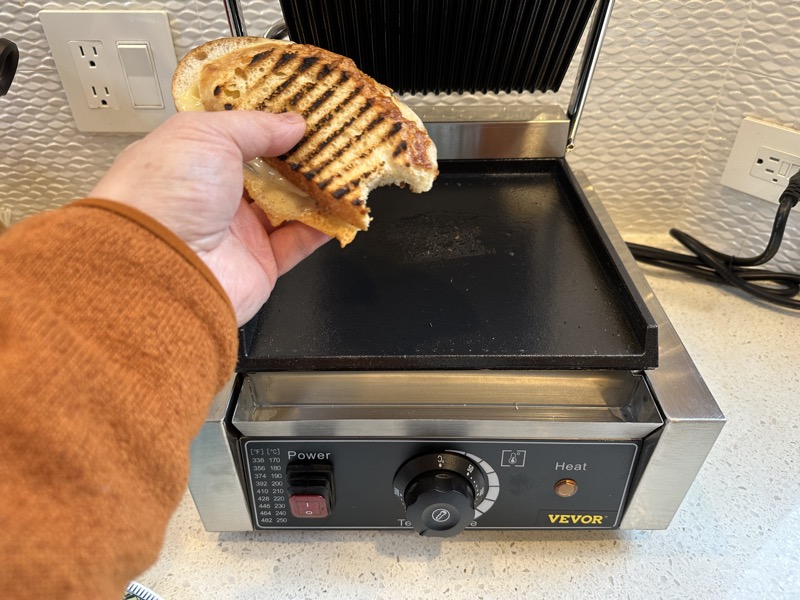 Of course, I can make grilled cheese in a pan, but the VEVOR Commercial Sandwich Panini Press Grill is fast, easy to use, and kind of fun. It looks like it belongs on a food truck, which I kind of like.
Price: $179.00
Where to buy: VEVOR
Source: The sample of this product was provided by VEVOR.