We use affiliate links. If you buy something through the links on this page, we may earn a commission at no cost to you. Learn more.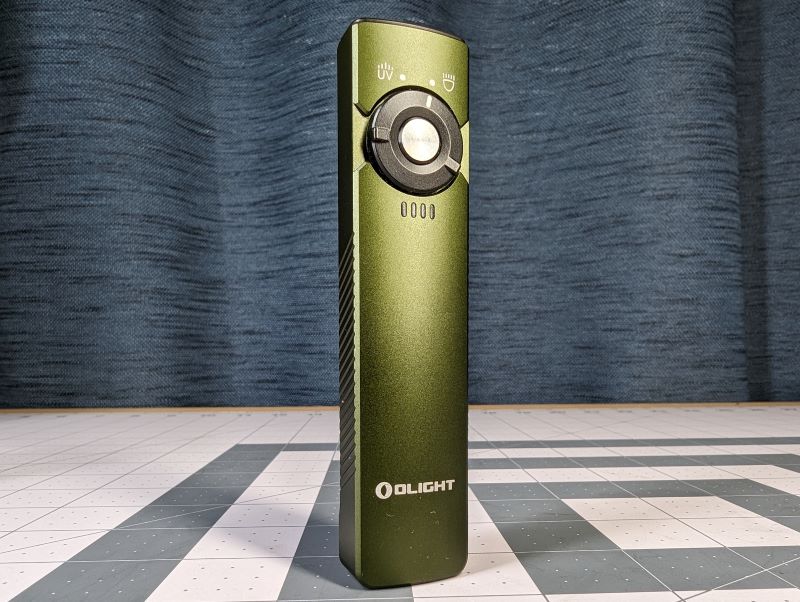 REVIEW – I knew as soon as Julie reviewed the Olight Arkfeld last August that I wanted one. It was a new form factor that I thought would feel great in the hand and looked like a perfect pocket size. Luckily, the Olight Arkfeld UV came up for a review and I got it! This version of the Arkfeld has a different trick up its sleeve when compared to the original.  Instead of a laser pointer, this one has an ultraviolet light built in. Keep reading to find out more about another fantastic product from Olight.
What is it?
The Olight Arkfeld UV is a dual-source EDC flashlight, 1 natural or cool white LED and 1 UV, in a lovely anodized green finish.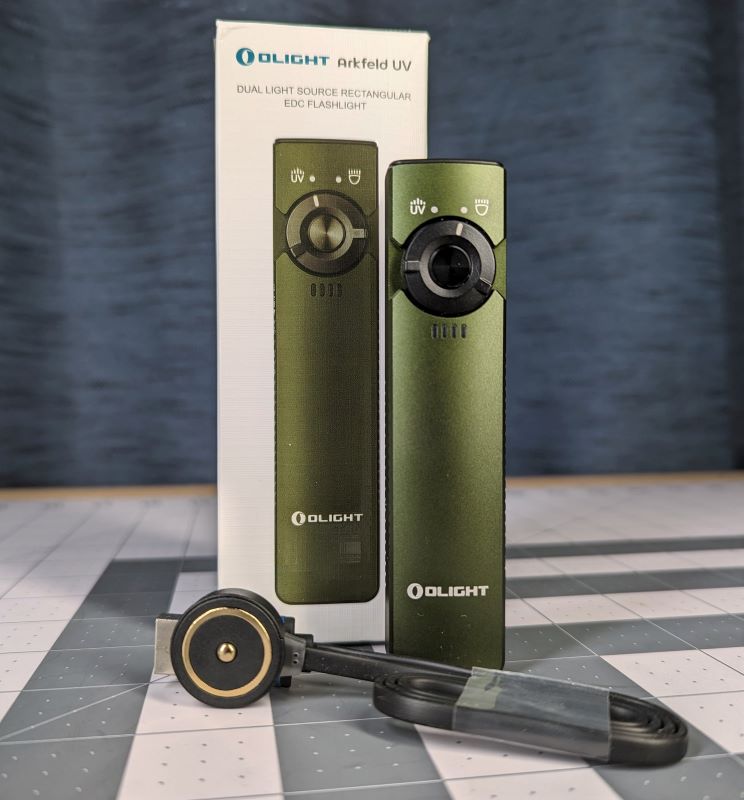 What's in the box?
Olight Arkfeld UV flashlight
Magnetic USB charging cable
User manual
Hardware specs
GENERAL DATA
Beam Distance – 278 ft (85 m)
Max Performance – 1,000 lumens
Charging Type – MCC1A Magnetic USB Charging
Compatible Batteries – Built-in 1050mAh Lithium Polymer Battery
Max Light Intensity – 1,808 candela
Light Source – High-Performance Neutral White LED (4000k~5000K), High-Performance Cool White LED (5700K~6700K)
Mode Operation – Central Button & Selector
LIGHTING LEVELS
Turbo – 1,000~300 lumens

Run time Turbo – 4 + 110 minutes

High – 300~60 lumens

Run time High – 140 + 20 minutes

Med – 60 lumens

Run time Med – 12 hours 50 minutes

Low – 15 lumens
Moon – 1 lumen
Optical Power (Typ.) – 580mW
Max Runtime – 4 hours
Wavelength (Typ.) – 365nm
TECHNICAL CHARACTERISTICS
Waterproof – IPX7
Weight – 3.07 oz (87 g)(Battery Included)
Height – 0.59 in (15 mm)
Length – 4.33 in (110 mm)
Width – 0.98 in (25 mm)
Design and features
The Olight Arkfeld UV is a little beauty of a flashlight.  That green anodized finish is great and I love the rectangular form factor. It really fits the hand well. You've got a selector switch and power button that are placed perfectly to operate it with your thumb.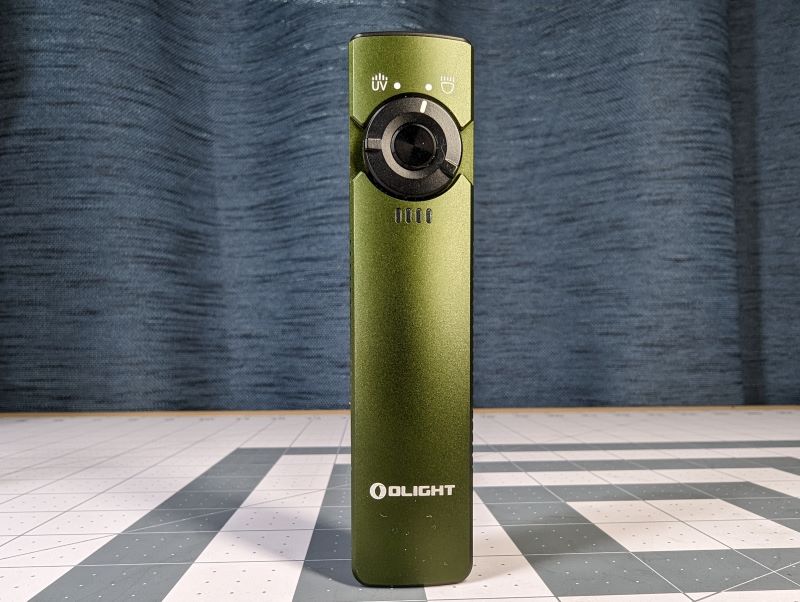 When you turn it on, a row of LEDS light up to show you the battery level.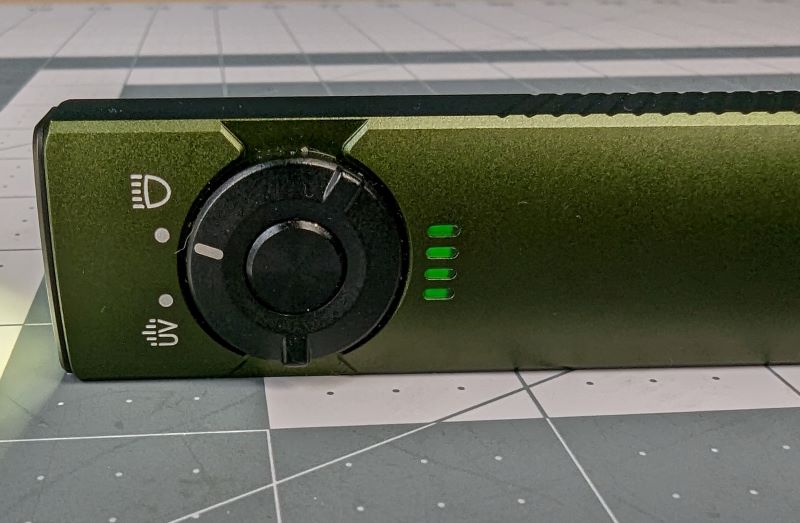 Not the best picture here but you get a better sense of the brightness of the battery-level LEDs.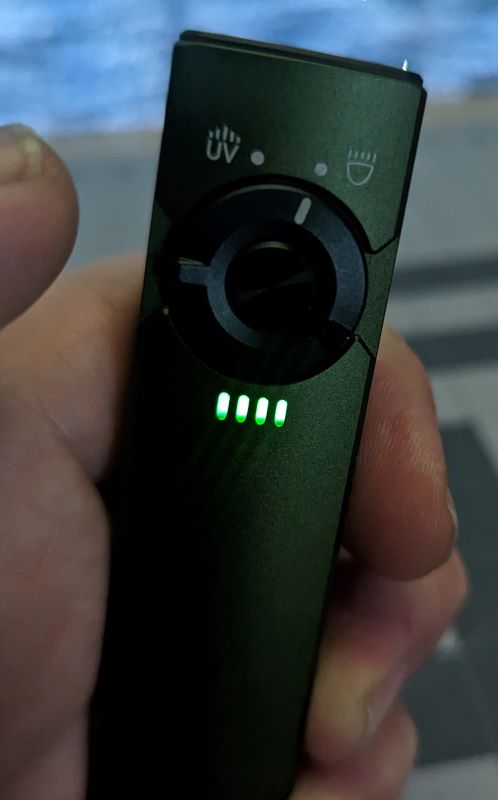 Here you can see both the LED and UV lamp in the business end of the Arkfeld UV.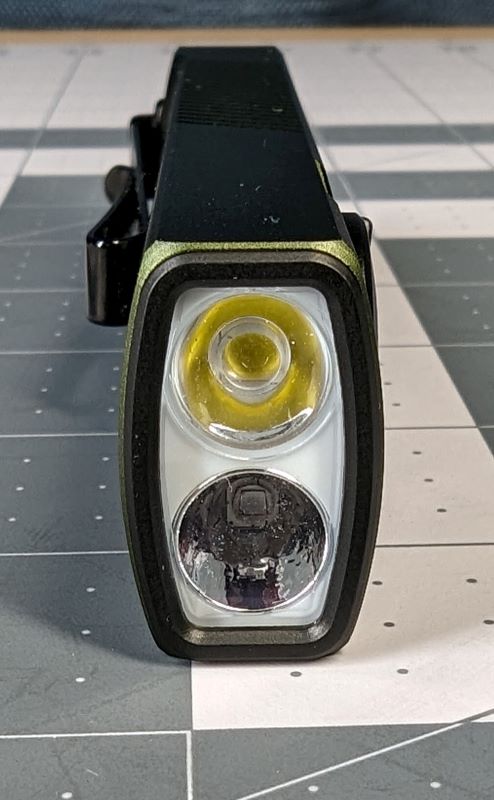 Another change to this new version of Arfeld is the pocket clip. Now they use the two-way pocket clip giving you different carry options.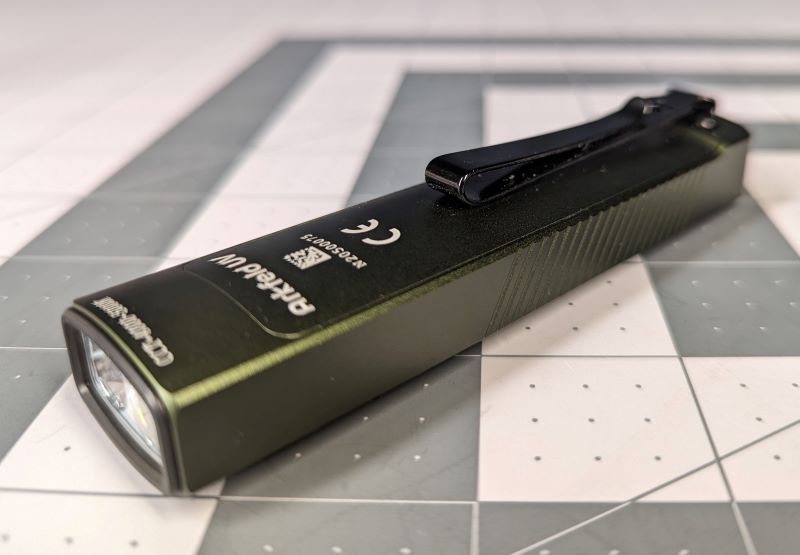 The rear of the light has Olight's magnetic charging base.  This is so much nicer than plugging in a cable.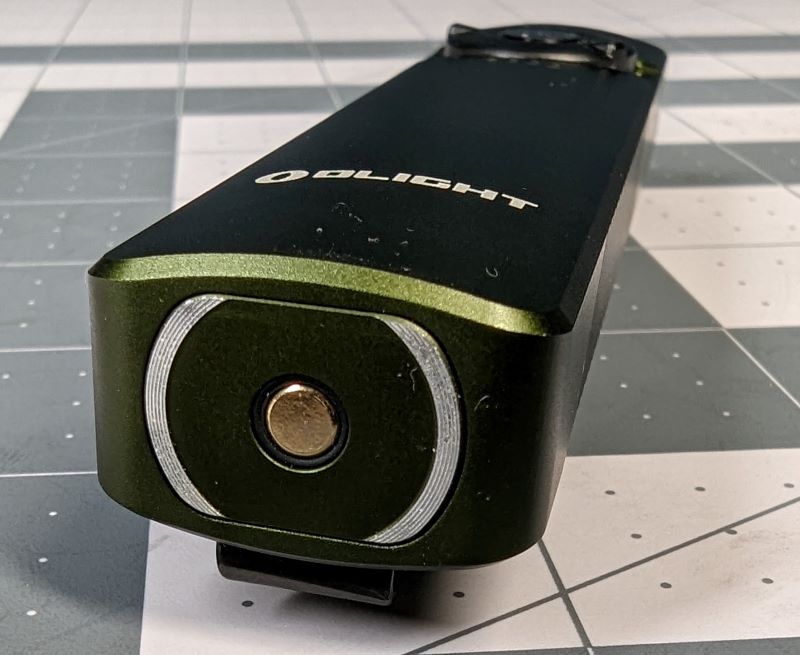 Performance
Like pretty much every flashlight made these days, the Olight Arkfeld UV flashlight's power button is multifunction. The selector switch toggles UV and LED flashlight modes, and of course, the power button turns it on and off when pressed once. If you hold the power button down while in flashlight mode, it cycles through low, medium, and high levels. Press and hold the button while the Arkfeld UV is off and you activate moonlight mode. You want turbo mode? Double-click the button.  And everyone's favorite: strobe. Perform a triple click and you can give someone a migraine. If you're in UV mode, there are no other presses you need than one to turn it on.  Additional clicks and presses do nothing here.  Check the pictures below to see the different modes.
What I like
Form factor
Size
Magnetic charging
Cool UV light
What I'd change
Final thoughts
In case you couldn't tell, I really like the Arkfeld UV flashlight. It fits well in a pocket and is easy to operate. The addition of a UV function is cool too. If you travel a lot, you might want to shine around your hotel room. If you're a maker and use UV resin, this would be perfect for curing it. Did your sketchy brother-in-law just give you a $3 dollar bill? You can use it to check the validity. The Arkfeld UV flashlight has earned a place in my backpack and will go with me wherever I travel.
Price: $79.99
Where to buy: Olight
Source: The sample of this product was provided by Olight.