We use affiliate links. If you buy something through the links on this page, we may earn a commission at no cost to you. Learn more.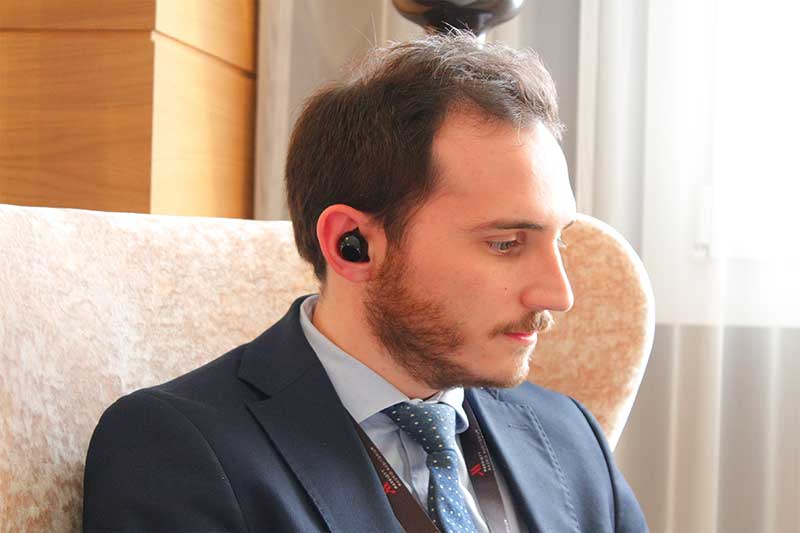 NEWS – Traveling is an exciting opportunity to connect with people from around the world, but you might miss out on that if you only stick to the touristy parts. It might make it easier to meet people in other countries, especially locals, if you can actually talk to them.
Instead of taking months or years to become fluent in a new language, you could get a gadget that does some of the work for you. The Mymanu CLIK S are fully functional wireless earbuds that were featured at CES 2023 because they also happen to be near-instantaneous translators for over 37 languages. It's like having a polyglot in your ear, and you can get a pair now for only $119.99 (reg. $220). 
Translate 37+ languages in an instant
About 75% of people don't speak English. If you're traveling abroad, odds are you might run into someone you can't talk to. These earbuds don't make you fluent, but they can help by giving written and spoken translations on the spot for German, French, Japanese, Chinese, Polish, Arabic, and many more languages. 
Just download the iOS and Android-compatible MyJuno app and select which languages you and your new conversational partner are using. You can easily translate a one on one conversation by speech or text, and if you're just looking for directions or asking a simple question, these earbuds come with a phrasebook and dictionary to save frequently used sentences. One five-star reviewer said "Have been using the chat in the app to talk to my friends and so far love it. Keep it up."
But, these earbuds don't just translate solo conversations. You can also set up group translations, but those are text only. It's like subtitles for your actual conversations! 
Earbuds that translate and play HD sound
When you aren't busy becoming a citizen of the world, the CLIK S are also just a great pair of wireless earbuds. Play some tunes or listen to a podcast. Take advantage of MyJuno's language phrasebook, and you might even be able to enjoy a song in another language without your translator. 
Planning a trip abroad? Make friends and photo-worthy memories abroad with this pocket-size gadget. Get a pair of Mymanu CLIK S Translation Earbuds for just $119.99 (reg. $220). 
Prices subject to change.