We use affiliate links. If you buy something through the links on this page, we may earn a commission at no cost to you. Learn more.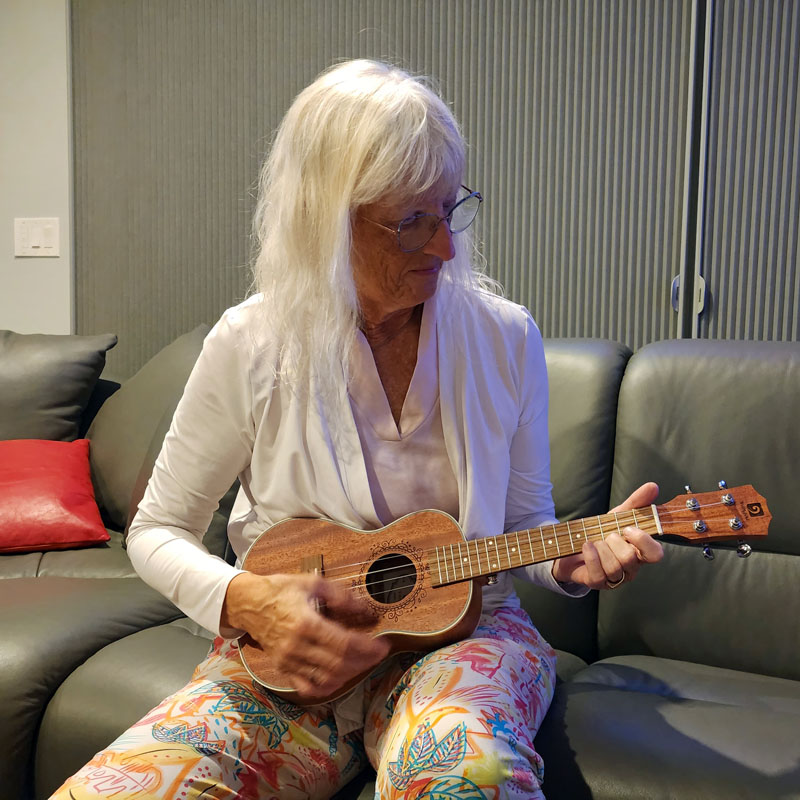 REVIEW – Whenever I hear the ukulele, I'm transported back to my childhood and seeing Tiny Tim playing and singing "Tiptoe Through the Tulips".  If you're too young, a quick search will take you to it.  Yes, that can scar someone for life.  But since then, there have been plenty of terrific ukulele performances, including Israel "IZ" Kamakawiwo`ole's incredible What A Wonderful World that helped heal those wounds.  My wife is much more musically inclined than I am.  She's always been drawn to guitar but every time she's tried to play one, the pressure needed on the strings hurt her fingers so much, she abandoned it quickly.  When the opportunity to review th VU403 ukulele from Vangoa popped up, she enthusiastically told me to throw my hat in the ring.  So, here we go with a look at this spiffy ukulele.
What is it?
A ukulele is a four-stringed instrument that originated in Portugal but was popularized in Hawaii.  Shaped essentially like a tiny guitar, it can be strummed or picked to produce music.
What's in the box?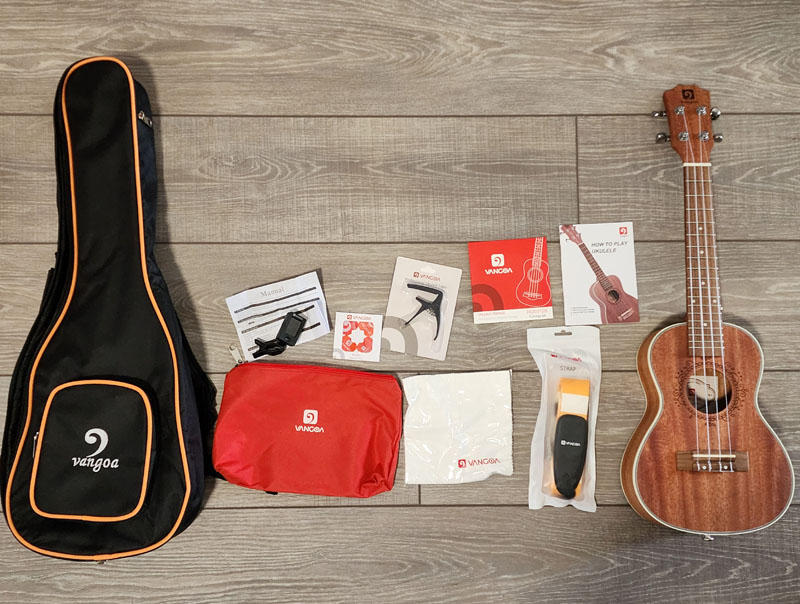 Vangoa 23 inch mahogany concert ukulele bundle (VU403) with strings installed
Carry case with accessory pouch and strap
Chromatic tuner (with instructions)
Picks (4)
Capo
Extra strings (4)
Manual
Additional accessory bag
Cleaning cloth
Ukulele strap
Hardware specs
Model: VU403
Size: 23-inch concert
Back material: Mahogany
Body material: Laminated
Color: Natural
Top material: Mahogany
Neck material: Mahogany
Fretboard material: Walnut
String gauge: Light
String material: Nylon
Strings: 4 (G-C-E-A)
Design and features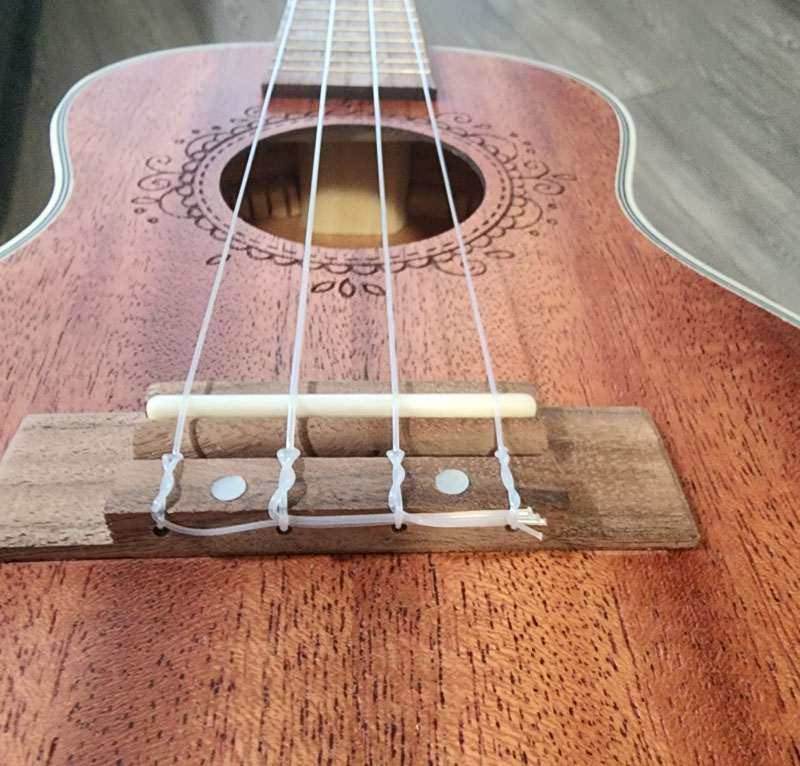 This Vangoa 23 inch mahogany concert ukulele is very nice looking. The subtle design around the sound hole and the string terminating block set off the nice wood used on the body of the instrument.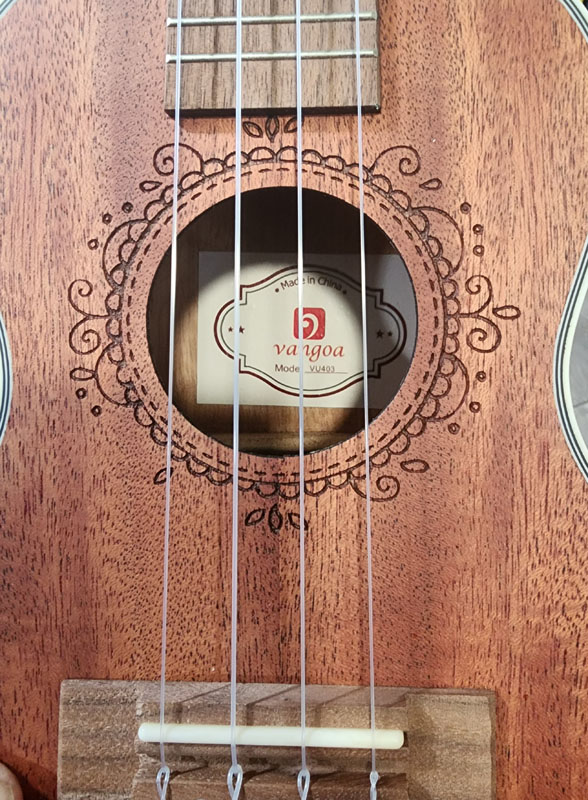 For those that prefer to use a strap, there are two chromed attachment points on the body and neck.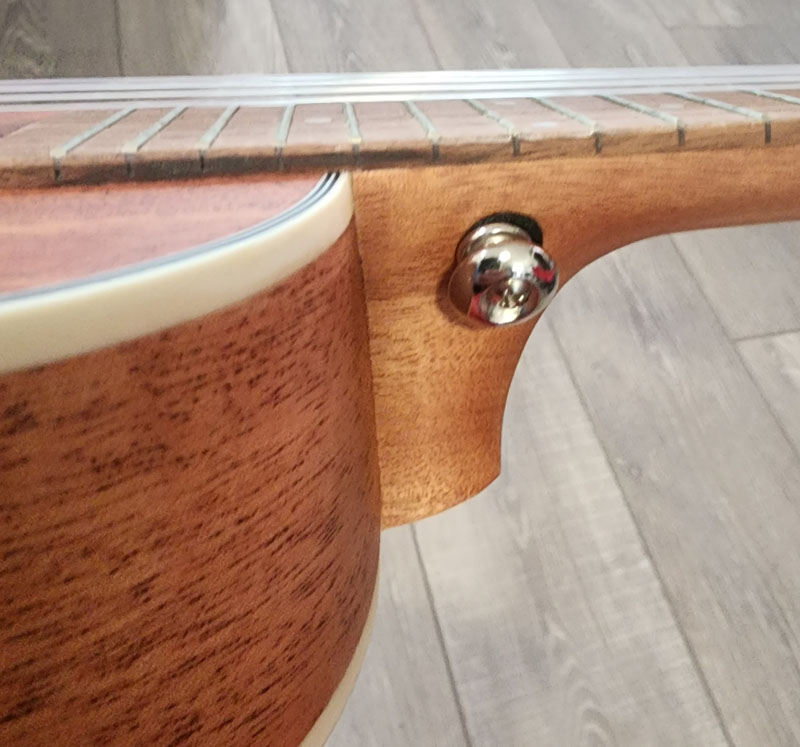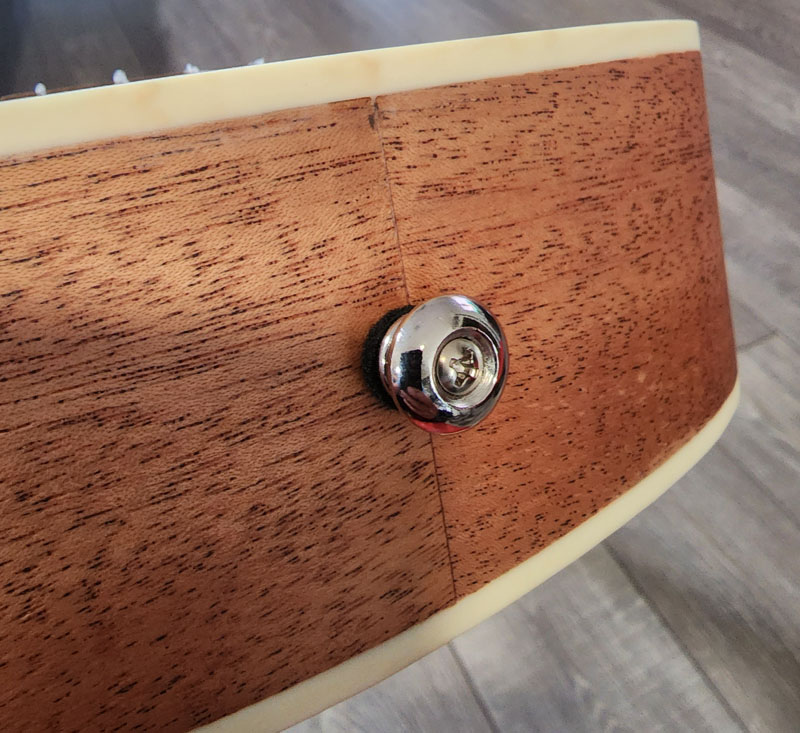 The tuning pegs are also chromed and turn easily.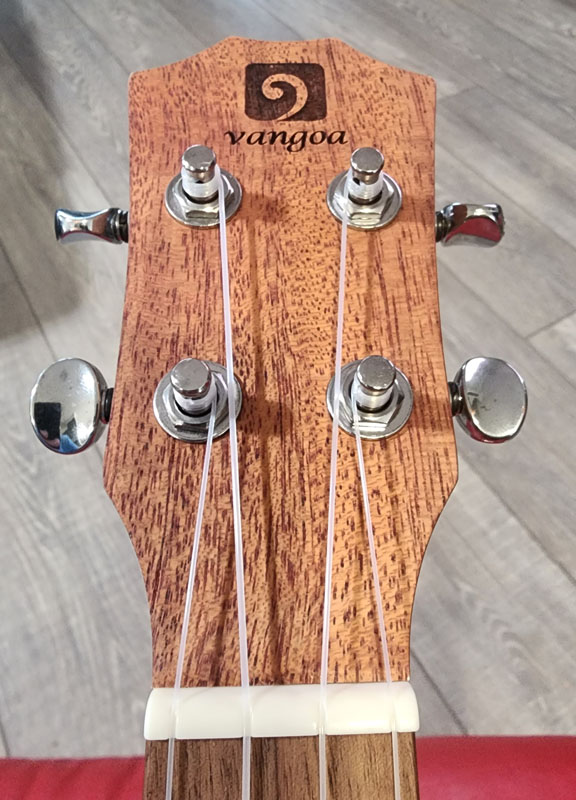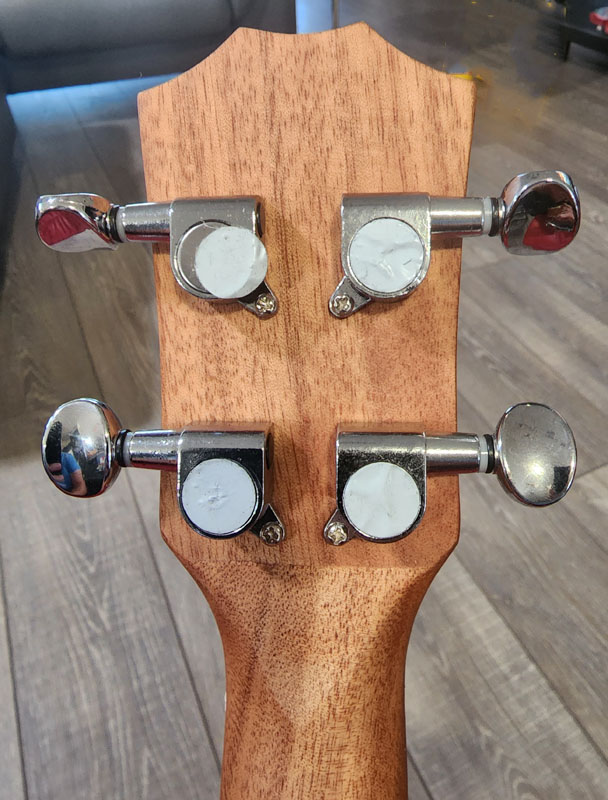 Setup
The Vangoa VU403 23 inch mahogany concert ukulele comes fully assembled with strings installed.  Those strings need to stretch and they go out of tune a lot.  That's not a fault, just a fact of life.  Vangoa includes a chromatic tuner with this package.  Before playing, you clip the tuner on the end of the ukelele and turn it on to ukelele mode.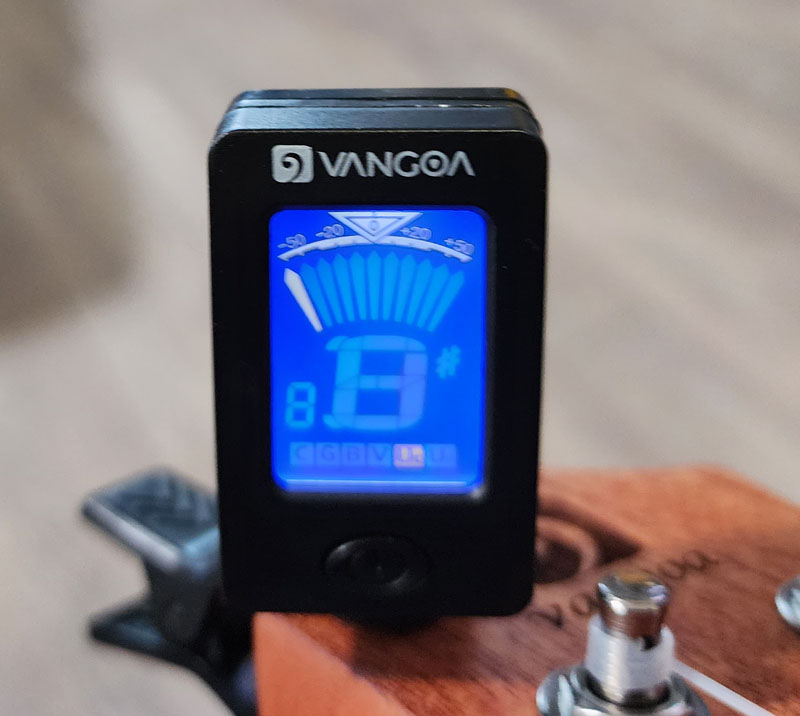 Then, you go string by string, plucking it and twisting the tuning knob to dial the string into the correct note. The under changes from blue to green, the needle centers, and the note and string are displayed – in this case, the 4th string is tuned to G.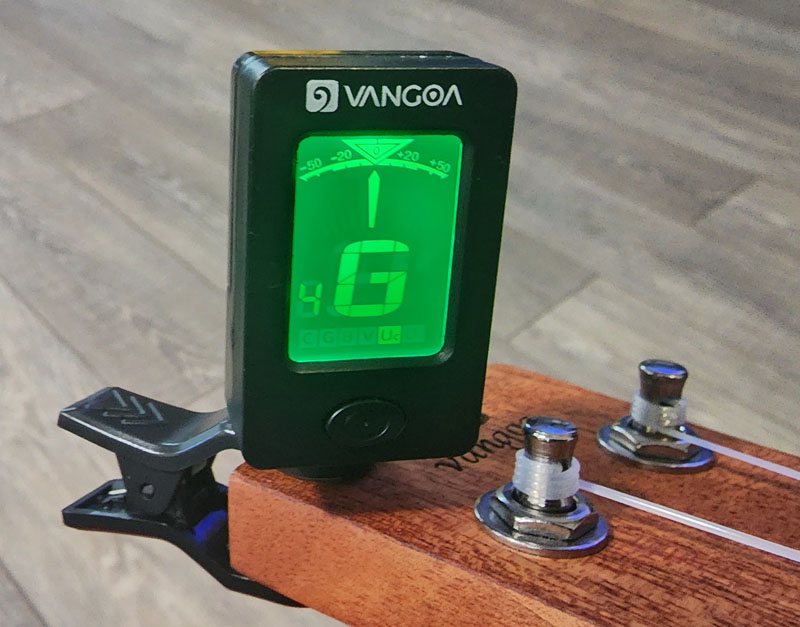 Once you have all four strings tuned 4-3-2-1 to G-C-E-A, you're ready to start playing.
Performance
Performance comes down to sound, and to my ear, the Vangoa 23 inch mahogany concert ukulele sounds good.  My wife has never played a strummed instrument.  She tried guitar when she was young but hated it as it hurt her fingers when she pressed on the strings.  She likes this ukulele.  The force needed to finger the strings on the frets is modest and doesn't hurt.
Here's a brief run through some basic chords.  Until a couple of weeks ago, she had never played an instrument like this and had only spent a few minutes watching YouTube videos. I think she's doing amazing.
She is quite happy with the ukulele and is looking forward to spending more time learning chords and strumming techniques.
What I like
Good looks
Nice included accessories
Decent sound
What I'd change
Final thoughts
As starter ukuleles go, it's hard to beat the Vangoa VU403 23 inch mahogany concert ukulele.  It comes with everything a beginner or intermediate player needs to get going.  The included case keeps everything nice and tidy.  As musical instruments go, I think this is a bargain. Say aloha to my wife's new hobby!
Price: $59.99
Where to buy: Amazon; Vangoa ($58.95)
Source: The sample of this product was provided by Vangoa.