We use affiliate links. If you buy something through the links on this page, we may earn a commission at no cost to you. Learn more.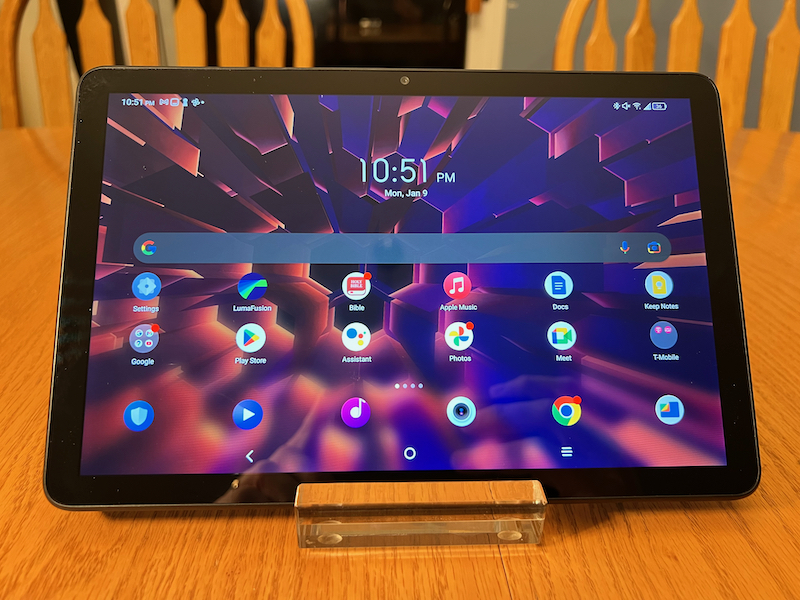 REVIEW – Tablets have become ubiquitous – some people use them for all their computing work, others use them as an additional computing device, on the go or around the house for various tasks, others just use them to watch or read content. Whatever your use, if you want a good tablet at an affordable price, the TCL Tab 10 5G might be right for you.
What is it?
TCL's Tab 10 5G is a 10.1" full HD Android tablet with an 8-core CPU, front and rear cameras, 4 GB RAM and 32 GB storage.
What's in the box?
TCL Tab 10 5G Tablet
9V2A USB-A to USB-C Charger
USB-A to USB-C Cable
SIM Removal Tool
Quick Reference Guide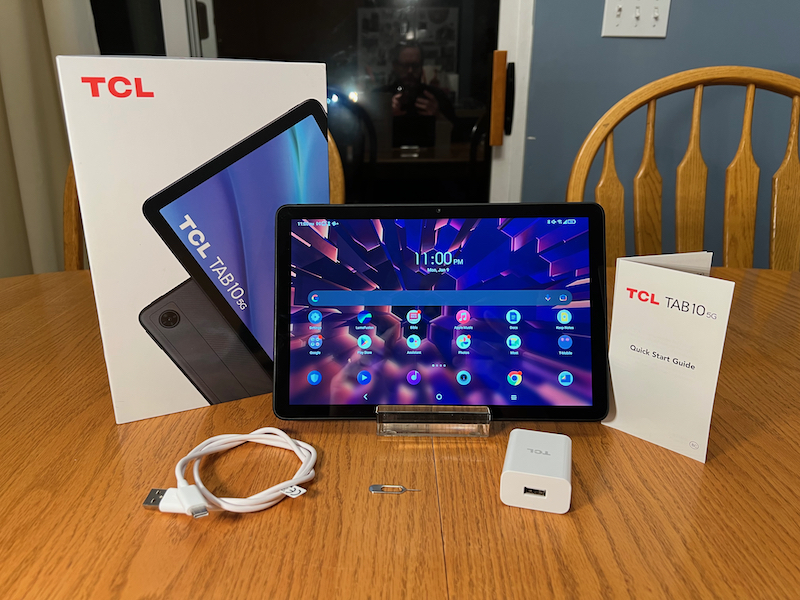 Hardware specs
DESIGN
Size: 9.51 x 6.24 x .33 in (242 x 158 x 8.4 mm)
Weight: 17.28oz (490 g)
Color: Prime Gray
MEMORY
ROM/RAM: 32GB /4GB
SD Support: Micro SD, up to 512GB
User Available Memory: Up to 17GB
FEATURES
Processor: MediaTek Kompanio 800T (MT8771)
Speed & Type: Octa core, 2.4GHz A76 x 2, 2.0GHz A55 x 6
Operating System: Android 12
Sensors: Accelerometer (G sensor), GPS, Light, Gyro, Hall Switch
Fingerprint: No
Facial Recognition: Yes
TTY/TTD Enabled: Yes
SAR Rating: 1.15 W/Kg
DISPLAY
Size: 10.1"
Type: TFT-IPS
Resolution: 1920×1200 FHD
Aspect Ratio: 16:10
CONNECTIVITY
GSM: 850/900/1800/1900MHz
UMTS: B2/4/5
LTE Bands: B2/4/5/12/25/26/41(HPUE)/66/71
LTE Roaming Bands: B1/3/7/8/13/20/28/38/39/40
5G: Sub6: n2/25/41(HPUE)66/71/77(HPUE)
Mobile Hotspot: Up to 10 devices
VoWiFi: No
Wi-Fi Specs: 802.11 a/b/g/n/ac, Wi-Fi Direct, Wi-Fi Display
Bluetooth: 5.1
NFC: No
Radio: Yes
USB Type: Type-C 2.0
SIM Type: Nano-SIM 4FF
Card Slot: 1 SIM + 1 SD Card
BATTERY
Size: 8000 mAh
Charging Technology: 9V2A
Standby Time: Up to 50 days
Video Playback: Up to 18 hrs
Charging Time: Up to 3.5 hrs
Fast Charge: 18W
REAR CAMERA
Megapixels: 8MP
Flash Type: N/A
Focus: Auto
EIS: Yes
Video Capture: [email protected]
FRONT CAMERA
Megapixels: 5MP
Flash: LCD Flash
Focus: FF
Video Capture: [email protected]
SOUND
Number of Speakers: 2
Audio Amplifier: K Class
Microphone: 1
Default Music Player: YouTube Music
Supported Formats: AAC LC, HE-AACv1 (AAC+), HE-AACv2 (enhanced AAC+), AAC ELD (enhanced low delay AAC), AMR-NB, AMR-WB, FLAC, MP3, MIDI, Vorbis, PCM/WAVE
Design and features
TCL Tab 10 5G is a widescreen Android tablet, running Android 12, equipped with a widescreen 1,920 x 1,200 display. The back of the tablet is made of plastic but it doesn't feel cheap; it also has a matte texture, which helps it not feel slippery.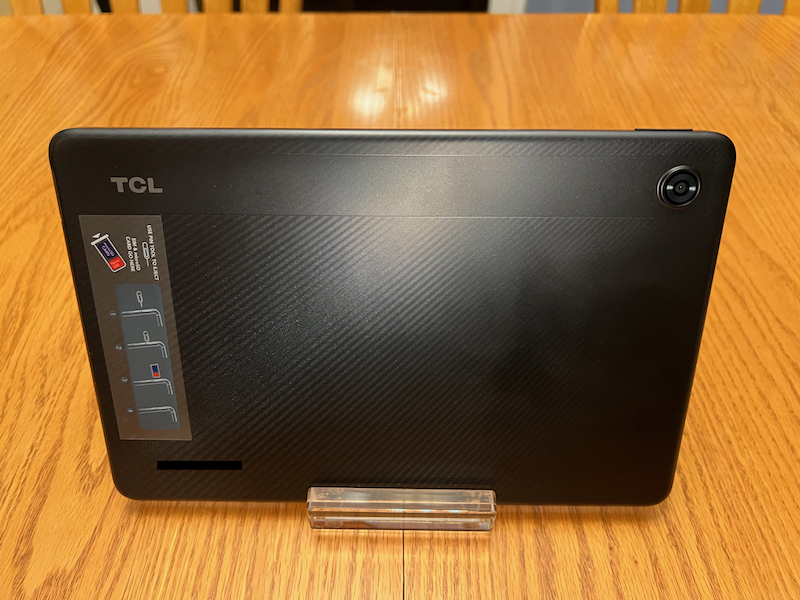 There are two cameras included. The rear is an 8 MP camera and the front is 5 MP. The front camera is positioned on one of the long sides, so holding the tablet in landscape mode, or placing it in a stand in that orientation will help prevent the looking up your nose effect when making Zoom or Google Meet calls. The cameras aren't much to write home about (as is to be expected from most tablet cameras) but they're included and will do the job in a pinch.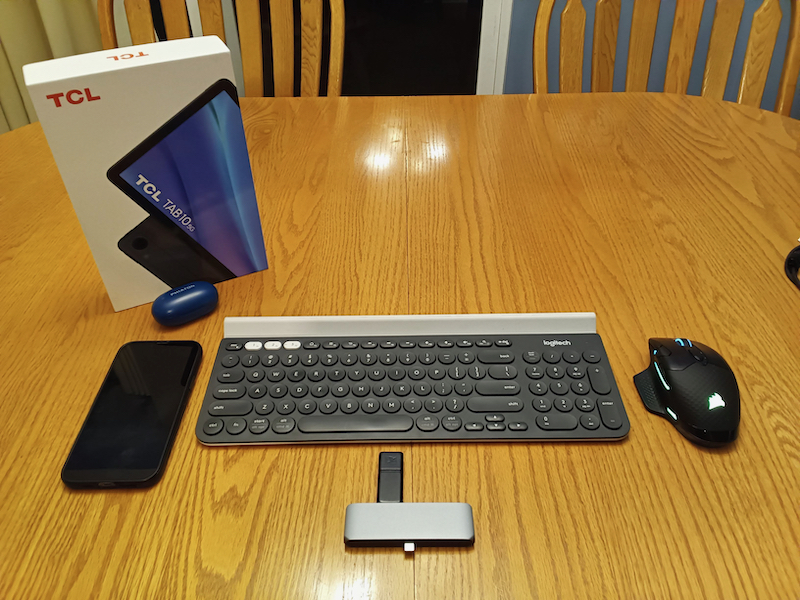 The screen is nice and bright, with good pixel resolution, similar in quality and legibility as what you'd expect from any of Apple's retina displays. There are stereo speakers included but in a tablet of this size don't expect much. I did most of my test listening through Bluetooth headphones and wired headphones (through a USB-C dock since there is no headphone jack built-in).
The bezels around the screen are about what you'd expect from a modern tablet, very similar in fact to my iPad Pro 12.9", maybe just slightly larger, but it feels right for this tablet. The weight and size are great for a small tablet. I can fairly easily hold this tablet in one hand, although I feel like my hand would get tired of holding it that way after a little while, not because of the weight, but because it's just a bit of a stretch.
The battery is 8,000 mAh, which is slightly less than the 9,720 mAh size of the 12.9" iPad Pro, but that's a much larger tablet.
There is a Face Unlock feature which, much like Apple's Face ID, allows you to unlock your tablet with just your face, scanned by the front-facing camera. Unlike Face ID, though, it's only active for four hours after the tablet is unlocked with the passcode. This would be fine if you use the tablet all day long and only lock it for short periods of time, but I don't use a tablet every day so the timeout (compared to 48 hours for Face ID) seems a little short. Still it's a nice feature I wouldn't want to be without. A fingerprint sensor would have been a nice option, either under the screen or built in to the power button, especially since the timeout on those is usually a few days.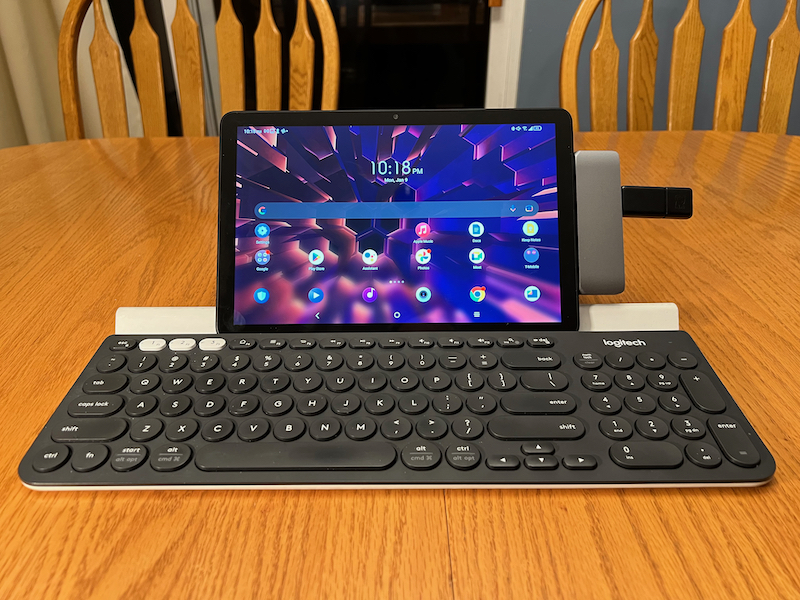 Installation and setup
Setup was like just about any other Android device I've used. Although I tend to use tablets primarily in landscape mode the setup process for this tablet was portrait orientation only. It's easy enough to rotate the tablet but it's a little less convenient to do setup that way. The initial startup process allows you to sign in to your Google account for ease of setting up contacts, email, calendars, downloading apps, etc. The biggest limitation was the size of the internal storage – 32 GB. This limited my ability to install all of the apps I have installed on my Google Pixel 6. I tend to download a lot of apps for testing and don't really end up doing much with them, so that's fine in this case, but the 32 GB storage seems pretty limiting in this day and age. Thankfully there is a microSD card slot for up to 512 GB extra storage. The microSD card goes into the same slot as the SIM card; it would be nice if there was a separate slot for this so you don't have to remove the SIM card every time you want to change out the microSD card but at least the option is there.
If you want to use the 5G features you'll need to purchase a plan through T-Mobile or Metro by T-Mobile. It may be compatible with other carriers but they are not listed on TCL's site. It is available through Walmart, Target, and Best Buy; there may be other carrier options available so do your research to make sure you get the best plan for your situation.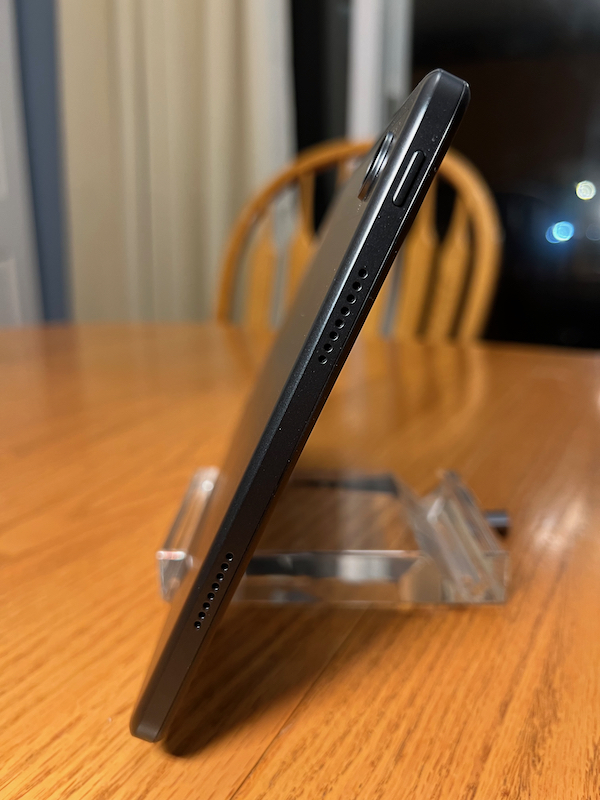 In use
Using the TCL Tab 10 5G Android tablet has been enjoyable. I've used it quite a bit to stream YouTube and through a custom streaming app we use at work, and the video quality has been great. The other popular streaming services were just as reliable, so this has been a great device for watching video wherever I happen to be. It also makes a great music player. I don't have a personal Spotify account but I was able to log into my Apple Music account and play everything I wanted to hear from my library.
Productivity apps on the TCL Tab 10 5G tablet have been just as easy to use. Writing this review, mostly in Google Docs, was as smooth and convenient as on a computer, except for the size of the screen. Some tasks need a little more room to spread out for ease of seeing more content on the screen, but other than that, it's been a great tablet for this use case. My favorite email app, Spark by Readdle, is available on Android and worked great on this tablet. Other than the fact that I prefer the Mac and iPad OS integration, I could easily see myself using this tablet as an alternative for a laptop when traveling or just working out of the office. I'll still use it at work and at home as an entertainment device and for light productivity work.
There is limited multitasking built in, although with the smaller screen, I can't imagine using it on a regular basis. You can do picture-in-picture with video apps, which is nice in some circumstances. There is also a split screen mode which allows two apps side-by-side. You can drag the separator between them to show more of one and less of the other. You can drag them to an arbitrary size, up to the point that one is two thirds the size of the screen with the other filling the other third. I don't use this type of layout very often but when writing something and referencing a note in another app, or looking up specs on a product web site while writing a review, or something similar, it's very convenient.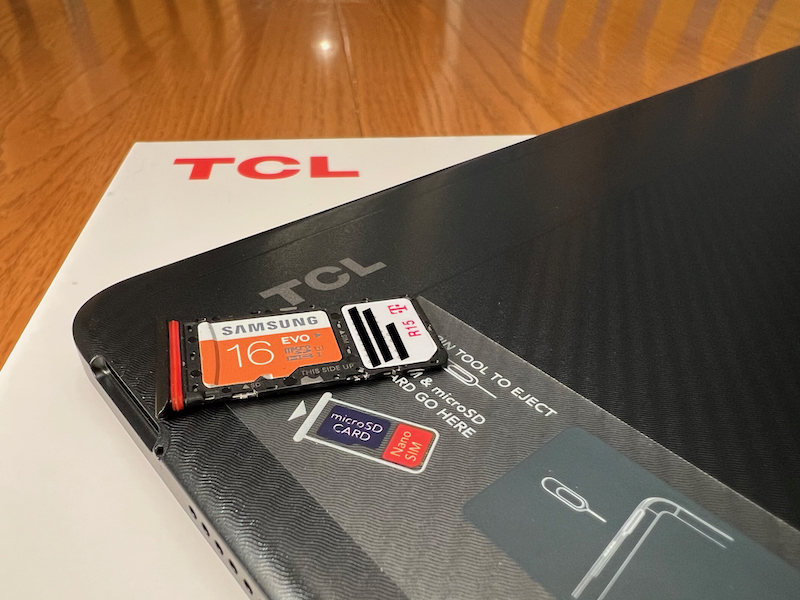 The speed of the tablet is kind of middle of the road, not bad and perfectly fine for productivity use, content consumption, etc., but every once in a while there's just a little hiccup. There's an 8-core CPU and 4 GB of RAM. It doesn't feel slow at all but some tasks seem to lag just a little bit. I'm not a big gamer but the few games I did try felt smooth and responsive. For casual gaming this would make a great portable game console.
For content creation purposes I tested the Android beta of the great mobile video editing app LumaFusion. I put together a short video with several 4K clips that I filmed for a prior review with my Google Pixel 6. Unfortunately, I kept encountering a media error when I tried to export the clip so I wasn't able to make a final version of the video but it included a title over one of the shots and several cross dissolves. The interface was smooth but unfortunately with the 4K clips playback wasn't very smooth, which I expected. I didn't have any other clips and was out of storage anyway but I look forward to using this for editing short videos on the go when the need may arise.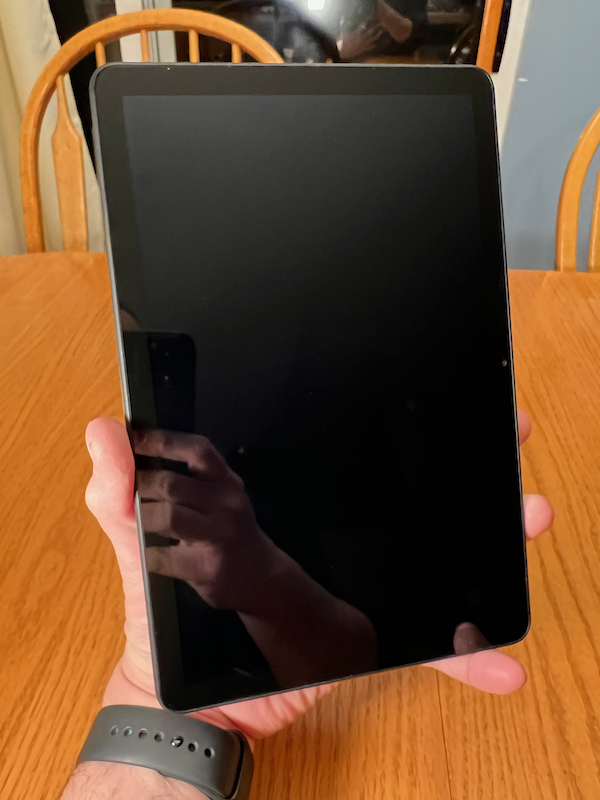 5G speeds were in line with what I was able to achieve with my iPhone, Pixel 6, and iPad Pro. I got a little excited when I did a speed test at the T-Mobile store and saw 452 mb/second download speed. When I got home (less than two miles away) and tested again it was down to 109 mb/second, which was more in line with what I normally see at home. I'm guessing the T-Mobile store had a wifi signal booster, which makes the speeds in their store a lot faster. Either way, it's just as fast as my other devices so I'm glad to know I can stay connected without having to use wifi either for security reasons or because it's not available.
Overall this tablet has been a joy to use. Battery life was great, easily lasting all week on a single charge, depending on the use. I was pleasantly surprised to see it still with 50% or more charge after several days while my Pixel 6 had died by then.
I do wish the included charger and cable were both USB-C. The charger can put out up to 18W, which is respectable, but I'd like to see everything moving toward USB-C only without needing extra cables or adapters. This does work with my other chargers and USB-C cables, but I have a lot of chargers to choose from; it would be nice to see this come out of the box for average users who don't have a lot of charging options.
What I like
Great battery life
Compact and lightweight
Great for productivity and content consumption
What I'd change
Longer timeout for Face Unlock
USB-C charger and cable
More than 32 GB storage
Final thoughts
This is a great all-around tablet for productivity, content consumption, and even gaming. If you're in need of a second device to take with you out of the office, to carry around the house, or even give to the kids (with a kid-proof case) you can't go wrong with the TCL Tab 10 5G.
Price: $299.99
Where to buy: t-mobile.com
Source: The sample for this review was provided by TCL. For more information visit their site.