We use affiliate links. If you buy something through the links on this page, we may earn a commission at no cost to you. Learn more.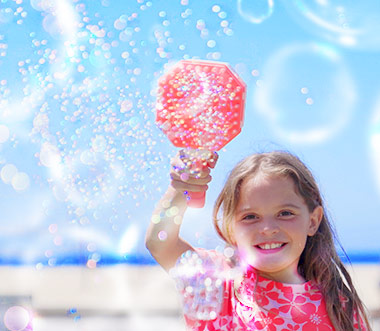 NEWS – Every now and then I find a product that reminds me of being a kid. The Max Bubble Gun is one of them. I LOVED bubbles when I was young. I tried to make as many bubbles as possible with the little bubble wand that came with my bottle of bubbles but was always disappointed when I could only make a handful.
Now with the Max Bubble Gun, you can make hundreds of bubbles. Bubbles everywhere!! Woohoo!! So awesome!!!
I don't have the Max Bubble Gun, but apparently, it has 88 bubble holes and even has four colors of LED lights that make the bubbles sparkle with color when you use it at night. How do you use it? Just pour a bottle of bubble liquid into the tray, dip the tip of the bubble gun in the tray, and pull the trigger.
The Max Bubble Gun comes in two colors: blue or white. It also comes with a tray for bubble liquid, a 3.7 V rechargeable battery, a USB charging cable, and a cleaning brush. It looks like you have to buy your own bubble liquid though. You can use the toy continuously for two hours before having to recharge the battery. Recharging is supposed to take about 1.5 hours.
Interested? You can purchase one Max Bubble Gun from here for $39.99 (plus shipping), buy two get one free for $79.98 or buy three get two free for $119.97. There are even more bubble gun options on Amazon.