We use affiliate links. If you buy something through the links on this page, we may earn a commission at no cost to you. Learn more.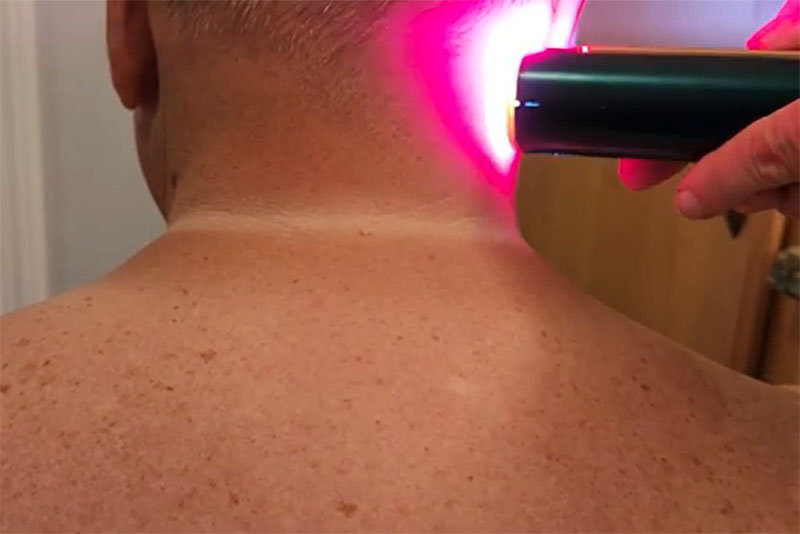 REVIEW – What is it about hair?  It seems to not grow where you want it to and then, it grows where you don't want it to.  While I can't help with growing hair, I can shine a light on hair removal – literally.  The Ulike Sapphire AIR+ Dark Green IPL hair removal handset uses light to permanently zap away hair from areas you want to be silky smooth.
What is it?
The Ulike Sapphire AIR+ Dark Green IPL hair removal handset is an IPL hair removal device.  What is IPL?  Let's see what their website says.
IPL (Intense Pulsed Light) and laser are the two of the most common hair removal methods. Both principles convert light energy into heat energy, eliminate hair follicles, and thus slow down hair regrowth. The similarity between them is that both methods must be used periodically to achieve the desired effects. The critical difference is that laser hair removal requires professional operation and frequent trips to beauty salons to achieve long-lasting results. In comparison, IPL hair removal is much safer. It does not damage your skin and can be safely operated by anyone. IPL is the most convenient choice for removing hair at home.
So there you have it.  This is an at-home device that uses intense light to rid you of pesky hair that grows in places you don't want it to.
What's in the box?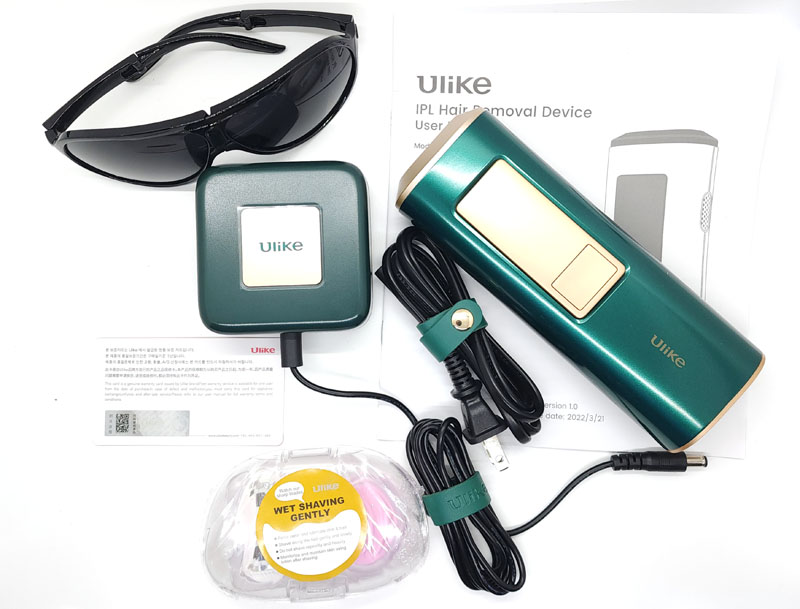 Ulike Sapphire AIR+ Dark Green IPL hair removal handset
Power supply box with handset cord
Power cord
Shaver
Authenticity card with hologram
User manual
Protective glasses (with case)
Hardware specs
Dimensions: 6.6″ x 2.6″ x 1.4″
Weight: 9.9 oz
Power adapter: 3.3″ x 3.3″ x 1.3″
Power cords:

Wall-to-power adapter: 37″
Power adapter-to-unit: 58″

Treatment window: 1.25″ x 0.5″ (0.625 sq in)
Design and features
Normally, I don't show packaging photos because, well, it's the packaging. In this case, I'm going to as the Ulike Sapphire AIR+ Dark Green IPL hair removal handset packaging is exceptionally nice.  I'd say that you would wow a gift recipient with this as the packaging is so nice.  That is, of course, you have a gift recipient in your life that wouldn't cringe getting a gift that essentially says, "you're a little too hairy".
The package itself is nicely wrapped.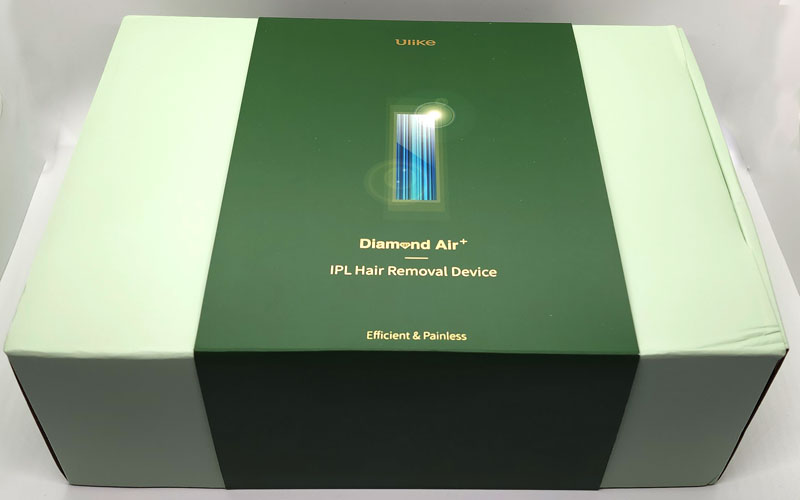 Inside, we find a leather (or really good fake leather – I'm not sure) wrapped box.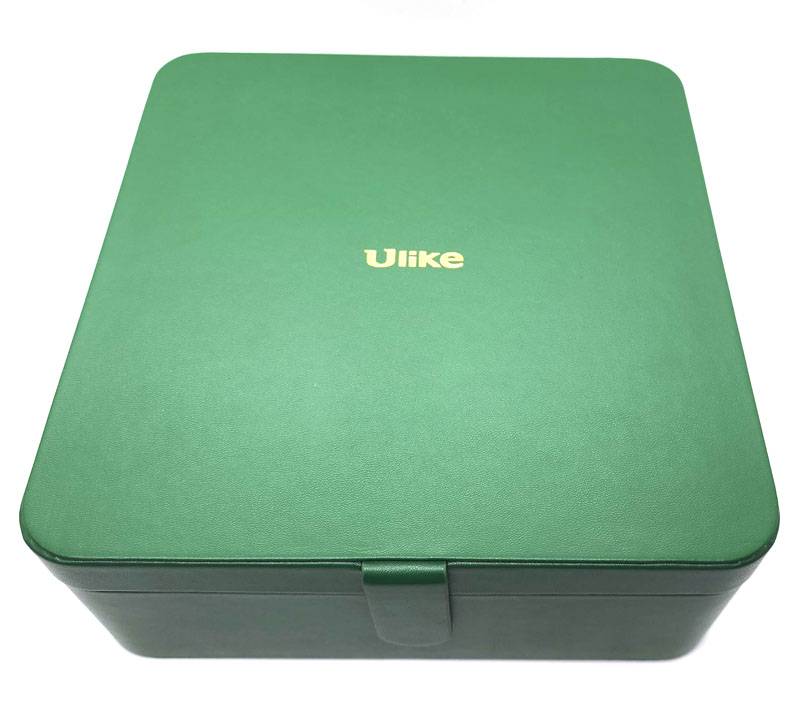 Inside that box, we see the device as well as a leather cover over the power supply.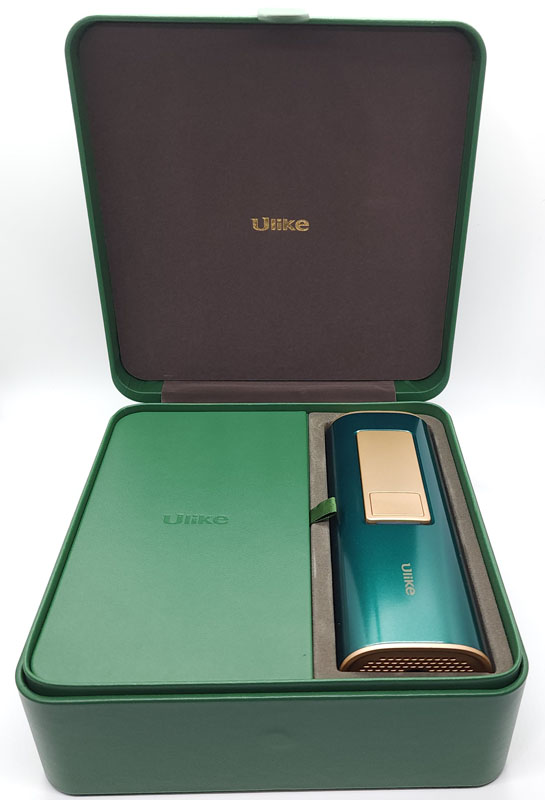 There is also a small leather-wrapped box that holds the protective glasses.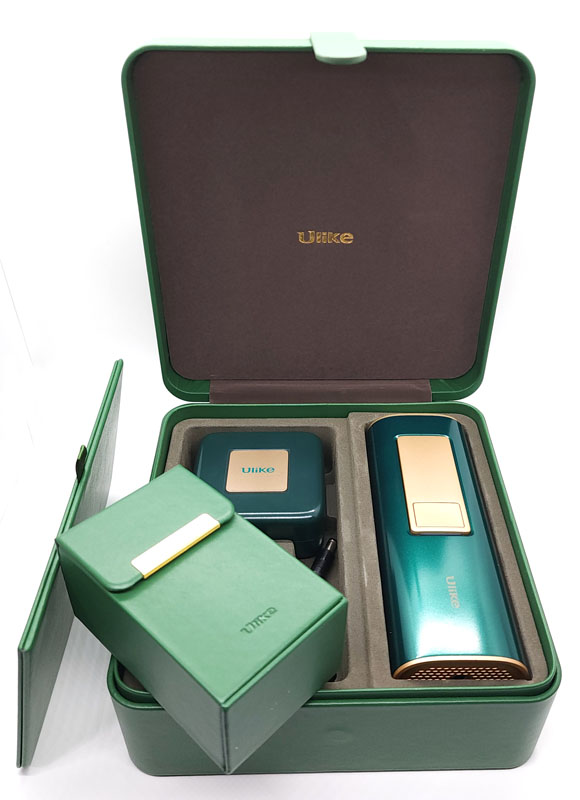 Since I just mentioned the glasses, let's take a quick look.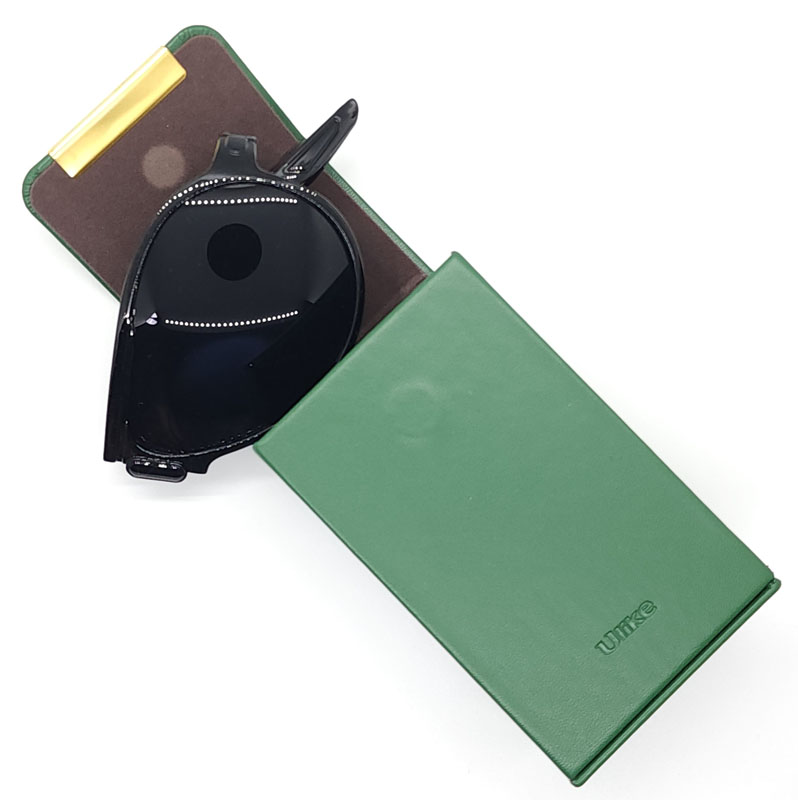 The glasses fold into a compact package for storage. Unfolding them reveals full-coverage protective glasses.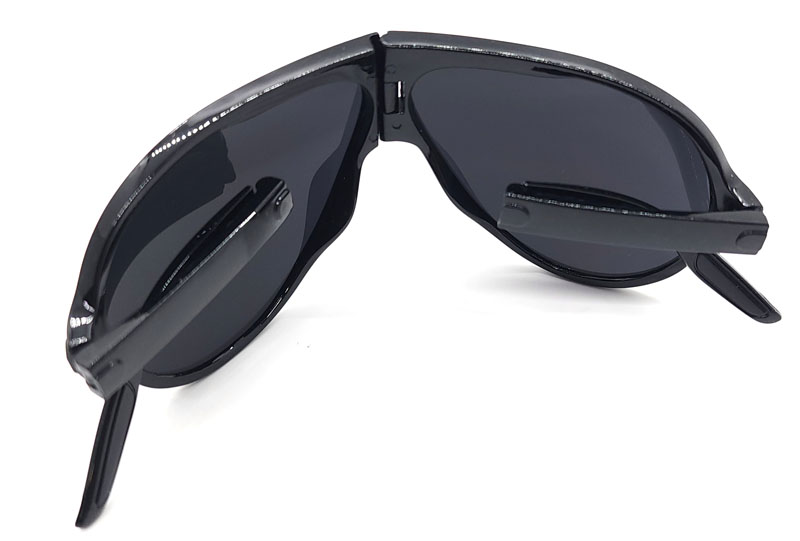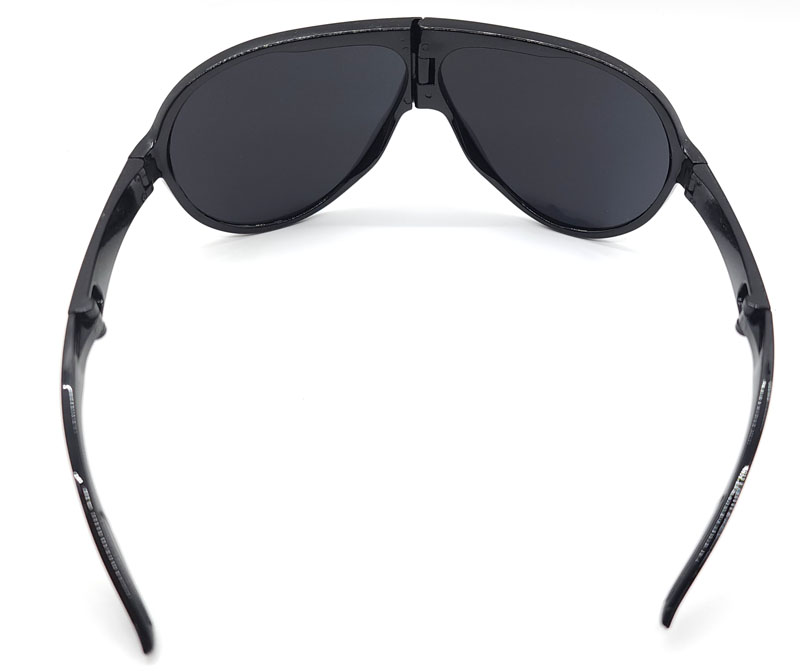 The Ulike Sapphire AIR+ Dark Green IPL hair removal handset itself is hefty and solid.  It is dark green with rose gold colored accents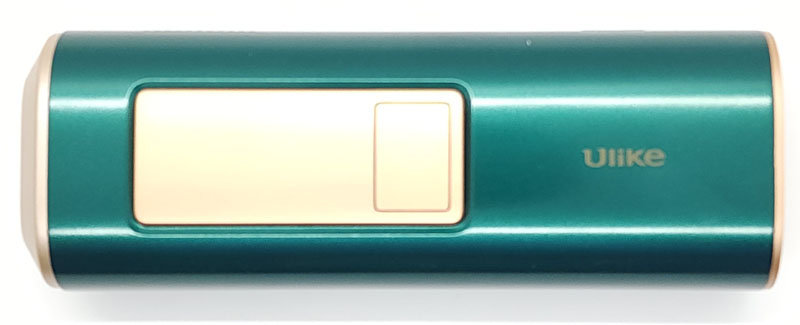 That rectangle is the activation button.  There is a hidden white LED near the activation button.  The unit will only activate when the treatment window is pressed completely against the skin.  When it is properly placed, the LED will illuminate, indicating that the unit will fire.  In the photo below, I have the unit just above my left on the left and then pressed in place on the right.  You can see the white light on the right.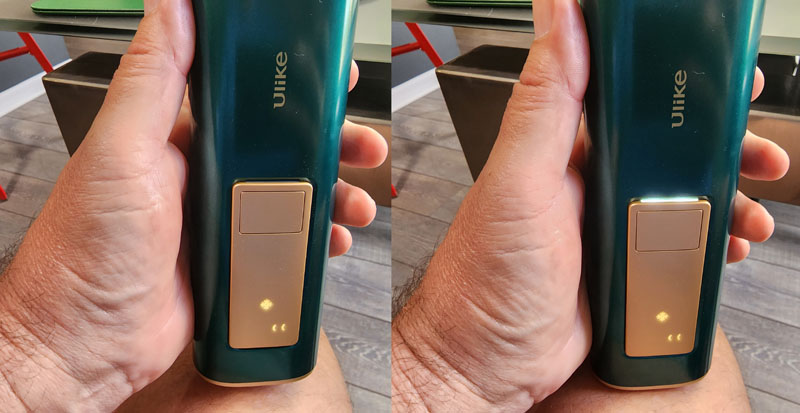 The back has ventilation holes for the cooling system.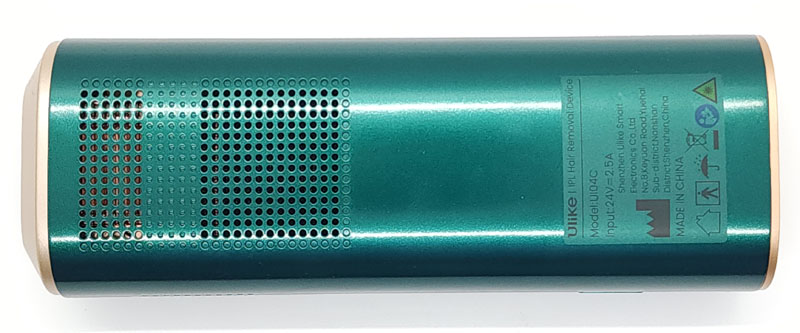 One side features the serial number.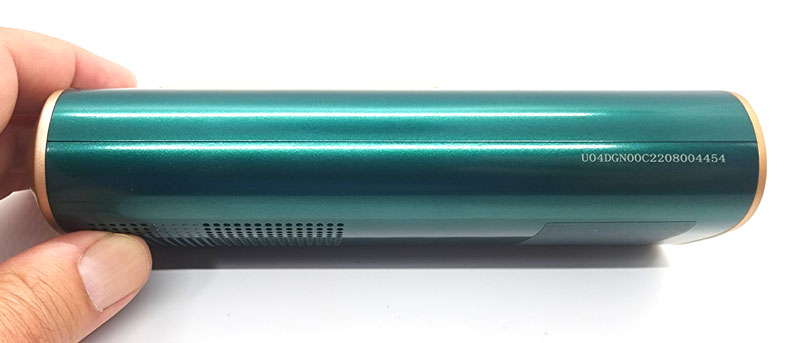 The other side has the power button that also doubles as the power level button.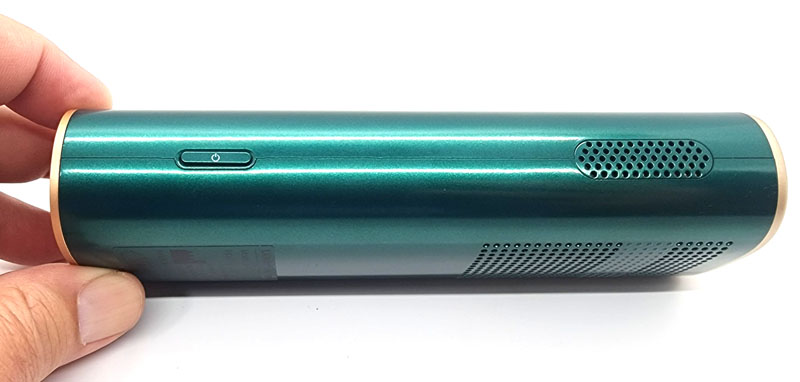 When the Ulike Sapphire AIR+ Dark Green IPL hair removal handset is on, this button changes power level settings as follows:
The level is displayed by a series of crescent moon icons – below, you can see 5-4-3-2-1 from left to right.  There is also a snowflake icon indicating that the cooling system is activated.

The business end of the device has a faceted window where the pulsed light is delivered.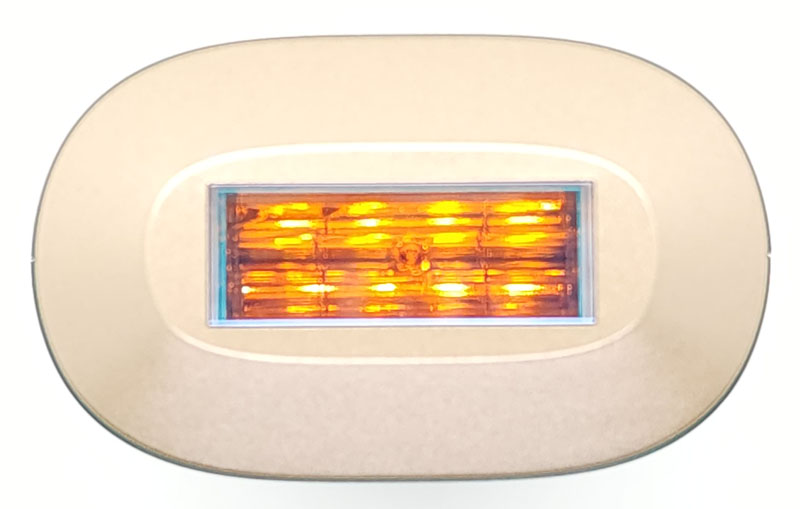 The opposite end of the device is where the power cord gets connected.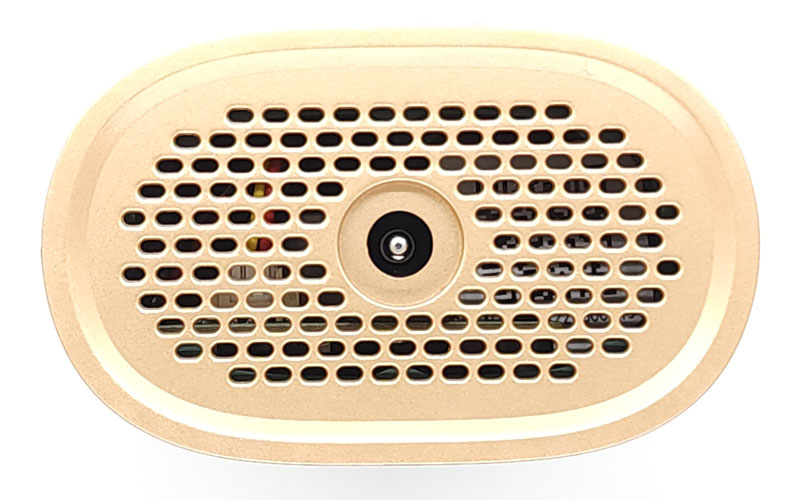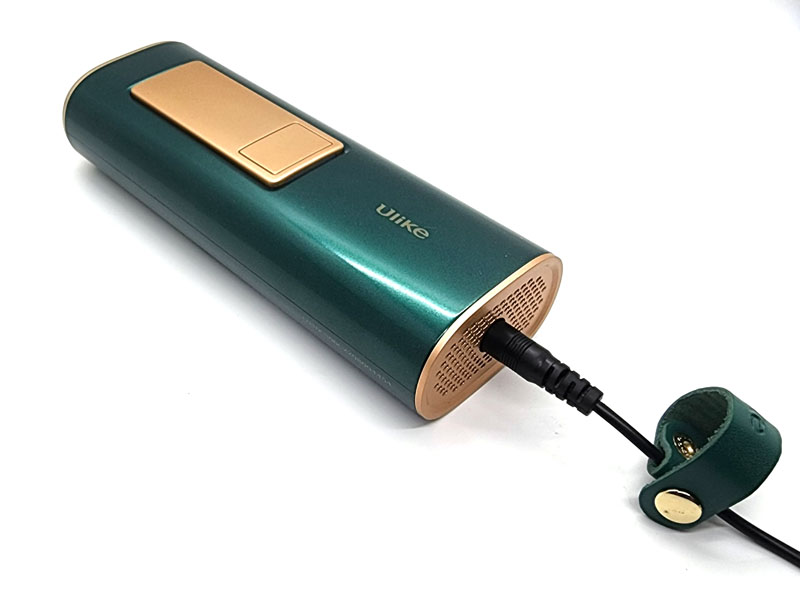 That cord runs to the power supply.  It is also finished in the same dark green and rose gold color scheme.  Here, you can see where the AC power cord gets plugged in.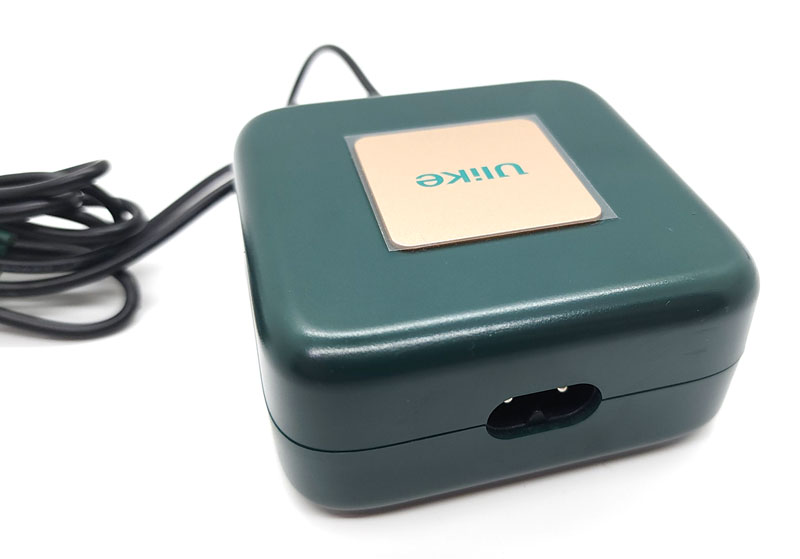 The bottom has non-slip feet to keep it from sliding around.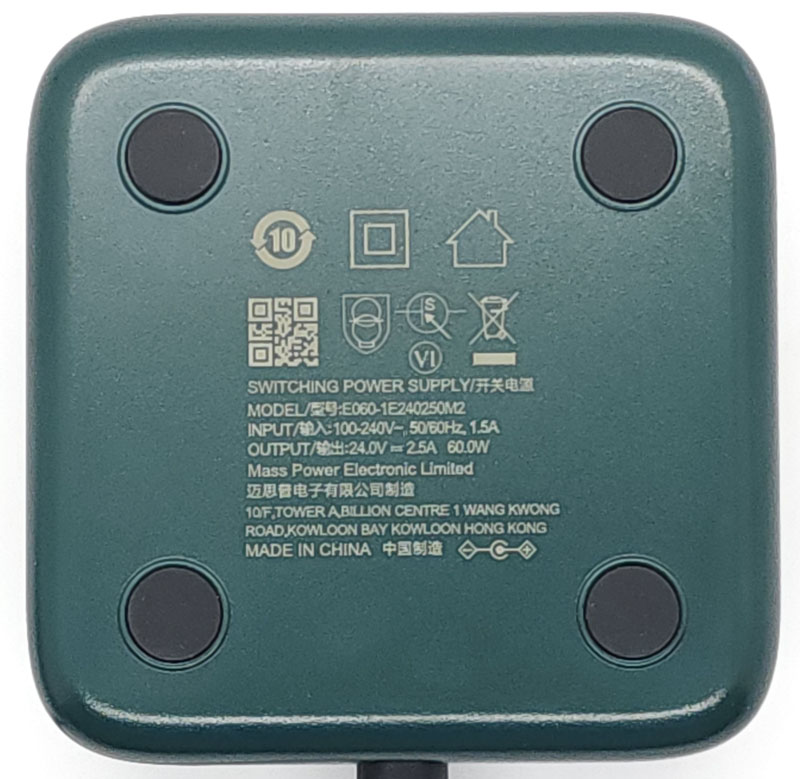 Setup
Plug the AC cord into the wall and the power supply and then plug the power supply cord into the unit and you're good to go.
Performance
Let's start with a video of this in action and then we'll discuss what's happening.
What you're watching is my lovely wife zapping pesky neck hair.  She cuts my hair, or what's left of my hair.  One of her annoyances is the hair that grows below my natural hairline down on my neck.

Since that is still mostly dark hair, it seemed like the perfect candidate for IPL treatment.  Why does it matter that it is dark? IPL treatment doesn't work well on all hair colors.  The darker the hair, the more effective the treatment.  IPL treatment is also not recommended for those with very dark skin as the light pulse could damage dark skin.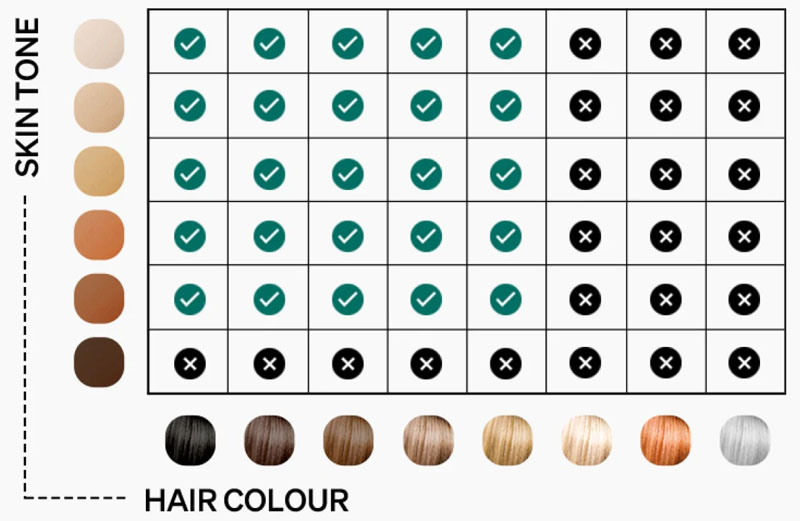 Results are also not instant.  On Ulike's website, the following treatment plan is listed:
Three times per week for the first month
Two times per week for the next two months
One time every two to four weeks thereafter to maintain results
So…this isn't permanent hair removal per se.  But, it is supposed to significantly eliminate hair growth with minimal maintenance effort.
When I initially turned the Ulike Sapphire AIR+ Dark Green IPL hair removal handset on, I noticed that the treatment window fogged up.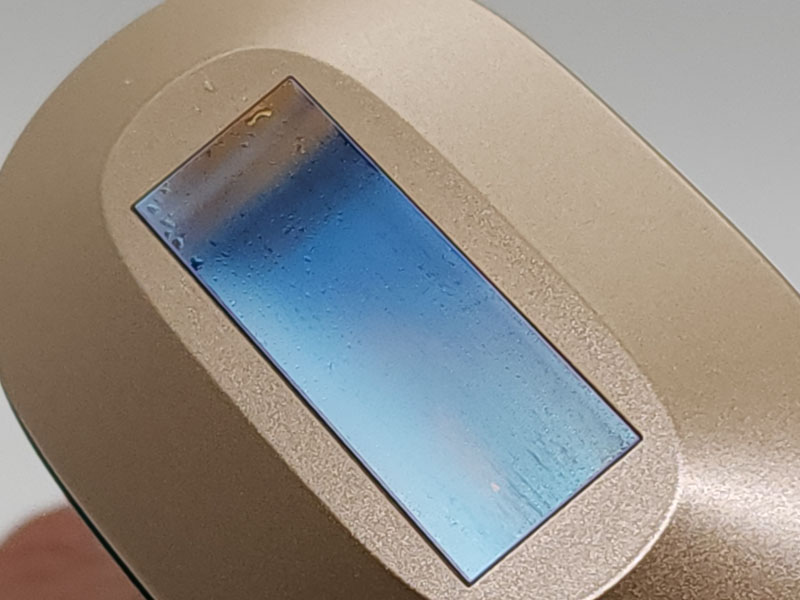 I thought that was odd.  I was testing on a typically humid day here in central Florida.  When I touched the window, I was surprised at how cold it felt.  It turns out this is a big differentiator between Ulike's unit and the competition.  Ulike has a proprietary cooling system that chills the window and treatment panel to about 50 degrees Fahrenheit. This perceived chill offsets the perceived heat from each pulse, making the treatment much more comfortable.  The other thing to note in the photo above is that the window is flush with the plate, bringing the light source right up to the skin.  Our daughter has another IPL unit and the treatment window sits about a quarter of an inch into the unit so the light source is farther above the skin.  It doesn't sound like a lot, but it does make a difference in energy delivery.
I mentioned earlier that there are five treatment intensity levels.  Their suggested uses by intensity level are:
Face
Bikini area
Armpits
Arms
Legs
I tried them all and determined that level 5 was a bit too intense for my neck.  Level four produced a mild pin-prick sensation, but with the cooling system, it was barely noticeable.
To use the IPL unit, you can either push the button to produce a pulse or hold the button down and the unit will fire every couple of seconds.
The other thing I should note is that you need to shave the area before treating it.  Ulike thoughtfully includes a small shaving kit in case you don't have any shaving tech.
So, all this sounds neat, but…does it actually do anything?  I'm happy to say…yes!
My wife cut my hair and shaved that nasty neck hair.  From that point, we started treating using the Ulike Sapphire AIR+ Dark Green IPL hair removal handset for the recommended three times per week schedule for the first month.  At my next haircut, four weeks later, I had her make a close inspection and she reported that there was little to no hair growth.
Here is a repeat of the "before" photo from above.  You can see all those black hairs on my neck.

And here's the "after" photo one month later.

As my wife cut my hair, she was thrilled that there was no need to shave my neck.  If you look closely, you can see that none of those pesky black hairs from the before photo are there, and there was no shaving involved – just IPL treatment.
My wife started experimenting with IPL treatment on her legs and underarms.  One issue she has is that her hair is extremely fine and light – not exactly in the sweet spot for IPL treatment.  Even with that caveat, she noticed a significant difference in hair growth.  The hair on her underarms has essentially disappeared.  Her legs, however, are another story.  The hair is so light and fine that it doesn't seem to be affected by IPL treatment.  That's not surprising based on the chart of effective treatment scenarios above.
It worked so well on the back of my neck that I decided to continue around the front.  I hate shaving below my chin.  I use an electric razor and the hair grows every which way.  It is a big pain to get every single hair with my razor.  Since I have no intention of ever growing a beard, I started zapping that area using the Ulike Sapphire AIR+ Dark Green IPL hair removal handset with mixed results.  First, the rogue dark twisty hairs are all gone.  Woo!  But, the general growth is still there.  Boo.  Why?  I'm 63 and that hair is all gray.  Check the chart.  IPL doesn't zap gray hair. If I started IPL treatment a few years ago, I would have been golden, so alas, I'll still be shaving that area daily.  But, the absence of the goofy, twisty, dark hair has certainly made my shaving experience easier.
What I like
Easy to use
The multiple power levels make this great for all areas from tough to sensitive
The cooling tech does help with overall comfort
Outstanding packaging makes this an excellent gift for that hairy friend
What I'd change
There is exceedingly minor discomfort during treatment – I expect that most everyone won't find it objectionable, especially with the excellent cooling system – but if you're exceptionally sensitive, just be aware of it
To get IPL treatment to work, it takes a commitment to follow the treatment regimen – not that this is an item to change, but something to be aware of – it takes a commitment
IPL treatment does require continuing treatment but once a month is still better than shaving daily or every few days
IPL treatment doesn't work for every skin and hair color – again, not a product flaw but something to be aware of before spending the cash
Final thoughts
I wasn't sure what to expect from a device like the Ulike Sapphire AIR+ Dark Green IPL hair removal handset.  I have to admit that I am surprised and pleased with the results.  It has certainly cleaned up the nasty, curly hair on the back of my neck and improved my shaving experience on the front of my neck.  It has also eliminated the need for my wife to shave her underarms.  Unfortunately, it didn't her on her legs, but her hair is so light and fine, it never is much of an issue anyway.
I can see this as a great fit for anyone that hates shaving.  It could be a huge plus for bodybuilders that need to rid themselves of hair for competitions.  It is an affordable in-home treatment tool that gets results. If you are looking for a more-or-less permanent hair removal solution and you meet the skin and hair color profile for effective treatment, the Ulike Sapphire AIR+ IPL hair removal system should be on your radar.   Just be careful if you gift one to your sasquatch-like friend.
Price: $359.00
Where to buy: Ulike and Amazon (Coupon Code: GADGETEERUKE + 7% off on-page coupon to bring the price down to $251.00 expires 2023/2/7 23:59 PST)
Source: The sample of this product was provided by Ulike.