We use affiliate links. If you buy something through the links on this page, we may earn a commission at no cost to you. Learn more.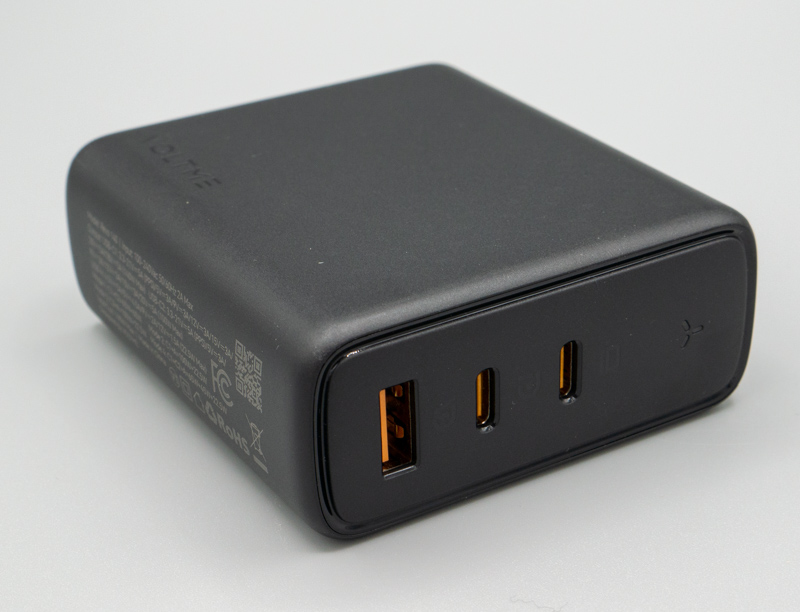 REVIEW – The last time we travelled, I brought no less than 5 different chargers for various phones, tablets, laptops, and other devices. If only I'd had a single charger capable of charging them all, especially if it could charge several at once! Today I'm reviewing the VOLTME 140W USB C Charger which should be able to do all of that, in a package smaller than the 140 Watt single port Macbook Pro charger.
What is it?
The VOLTME 140W USB C Charger is a GaN AC charger capable of charging up to 3 devices at up to 140 watts total. The handy chart from VOLTME shown below breaks down the different charging options: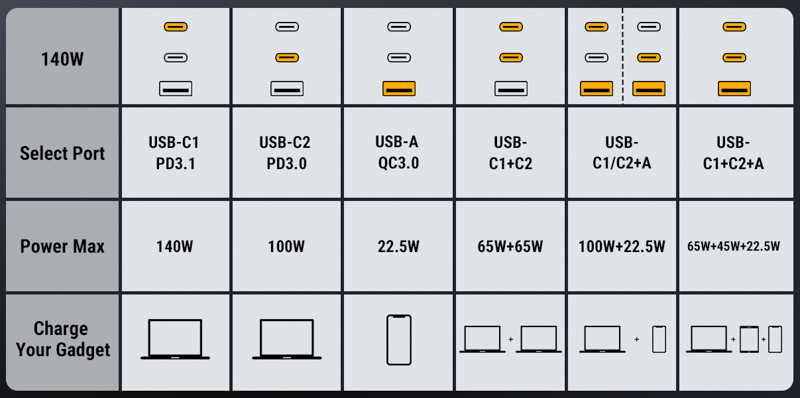 The VOLTME 140W USB C Charger supports what I believe are all of the modern USB-C and USB-A charging standards: PD (Power Delivery) 3.1, QC (Quick Charge) 5.0, and PPS (Programmable Power Supply – which modifies the current and voltage in real time according to device's needs).
What's in the box?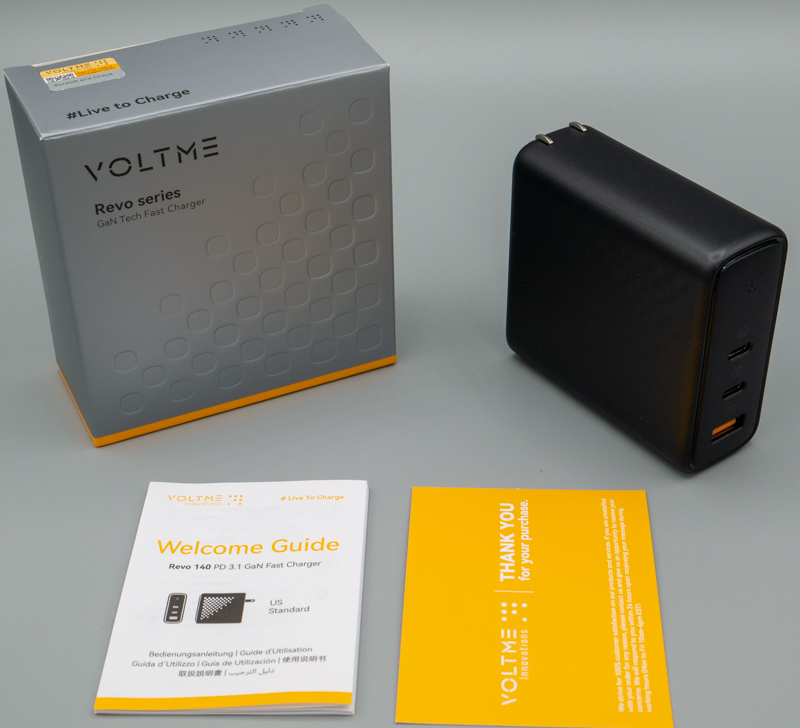 VOLTME 140W USB C Charger
Manual
Hardware specs
Input: 100-240V~ 50/60Hz 2A Max
Output: USB-C1:5V 3A / 9V 3A / 12V 3A / 15V 3A / 20V 5A/ 28V 5A (PPS:3.3-21V/5A)(140W Max) ; USB-C2:5V 3A / 9V 3A / 12V 3A / 15V 3A / 20V 5A (PPS:3.3-21V/5A)(100W Max); USB-A: 4.5V 5A / 5V 4.5A / 9V 2A / 12V 1.5A; C1+C2=65W+65W;C1+A=100W+22.5W; C2+A=100W+22.5W;C1+C2+A=65W+45W+22.5W
Protocols supported: PD3.1(PD3.0\PD2.0), QC5.0(QC4.0\QC3.0\QC2.0), PPS, AFC, APPLE 5V2.4A, BC1.2; USB-A Port: SCP, QC3.0, AFC, FCP, APPLE 5V2.4A, BC1.2
Protection features: Short-circuit Protection, Over-voltage Protection, Overheating Protection, Over-current Protection, Over-temperature Protection.
Dimensions: 3.05 x 1.24 x 2.89 inches
Weight: 10.2 ounces
Design and features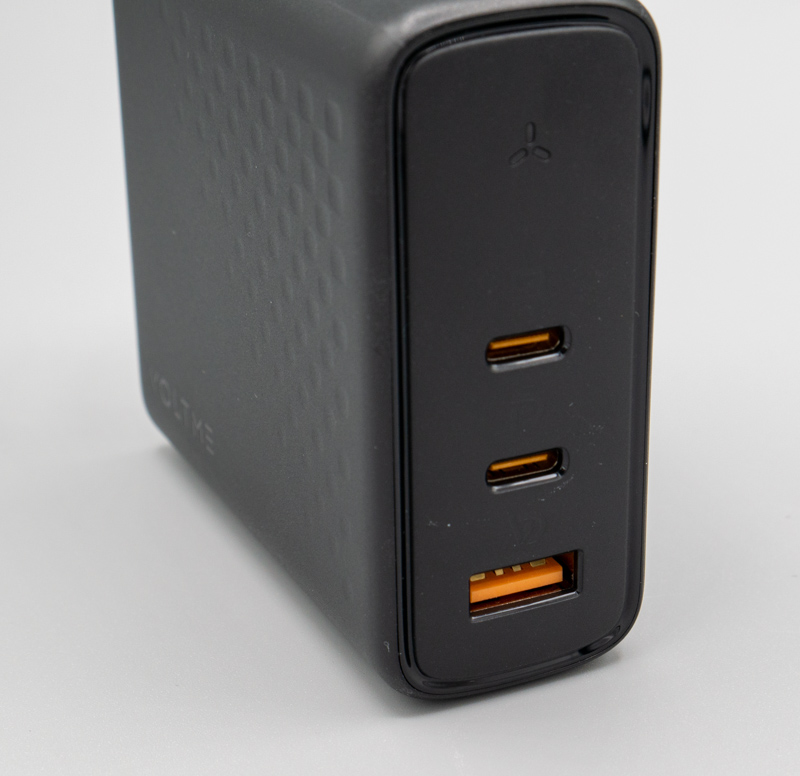 The picture above shows the 3 ports and LED light on the face of the VOLTME 140W USB C Charger. If you're only plugging in a single device, the USB-C port at the "top" will provide up to 140 watts, the second port up to 100 watts, and the USB-A port up to 22.5 watts. See the chart earlier in the review for different combinations and what power will be supplied to each port. Unlike other multiport chargers I've tried, I can be confident that any combination of USB-C connections to various laptops will work on all at reasonable power delivery levels (some of my multiport chargers cut some ports to a trickle when multiple devices are plugged in).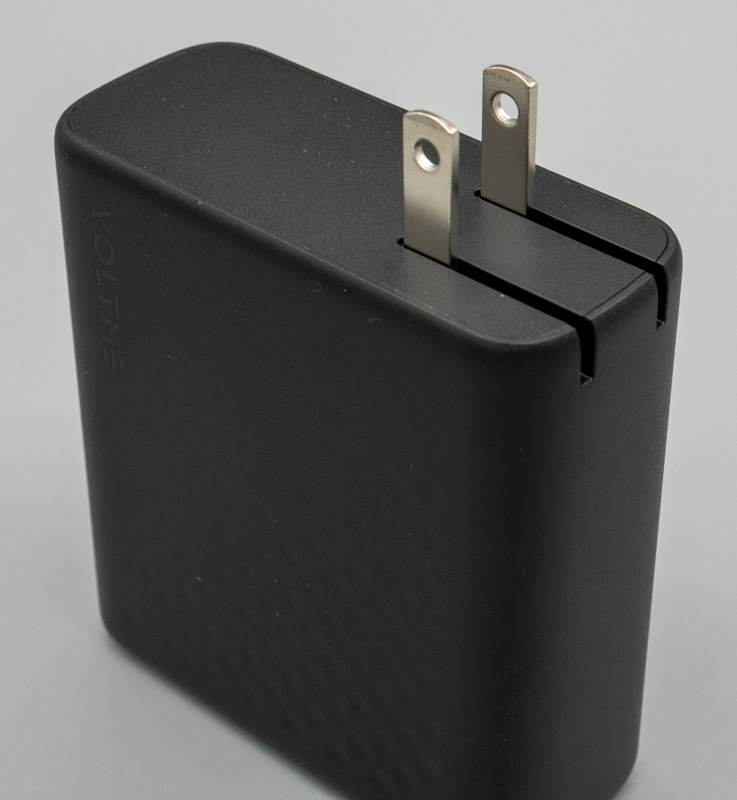 On the backside of the device, the prongs can be folded in for transport, making for a quite compact travel charger option that you can throw in a bag. There are smaller PD charger bricks out there, but usually they're single or double port affairs at lower wattage levels.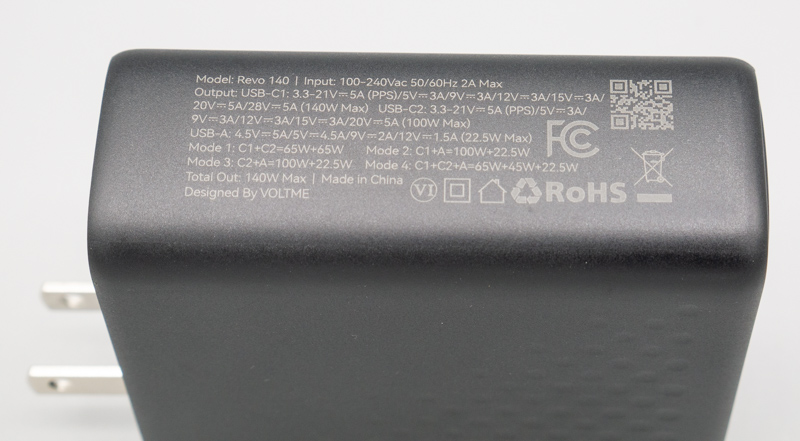 Finally, details are printed on one side if you want to review all the specs.
Setup
Setup is as simple as plugging in the VOLTME 140W USB C Charger into any US 120 volt wall outlet. The small white LED logo on the front lights up when you have power, and you're good to go. Oh, and I guess you'll need to add your own USB cables – up to two USB-C and one USB-A, none are included with the charger itself.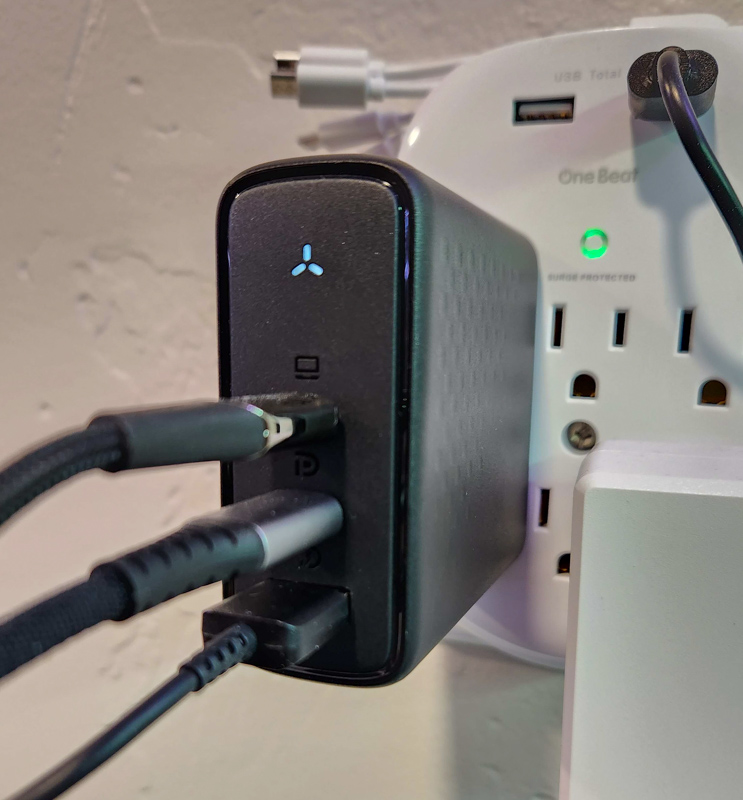 Performance
The VOLTME 140W USB C Charger delivers exactly what it promises: up to 140 watts to a single device, or that full amount distributed to multiple devices.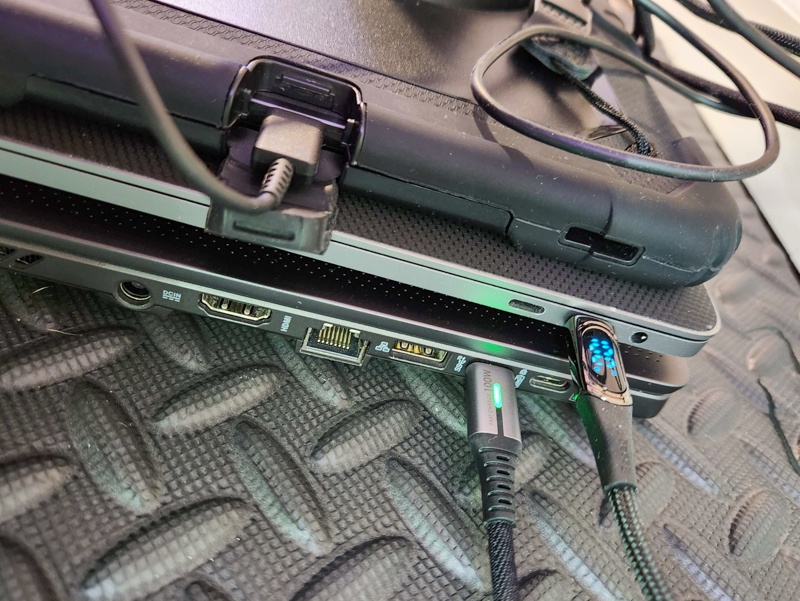 I tested with an older Macbook Pro, a Samsung S8+ tablet, and a gaming laptop, and verified with my voltage tester that I was getting 65/45/22 watts across the three devices. When plugged into a single laptop under full load, the full 140 watts were delivered with no drops or cutouts (I even gamed on this for a while instead of the 220W wall charger the laptop came with, and only saw small throttling moments and slight battery drain when really pushing it hard – it would take a full day of hard gaming to drain this particular laptop when connected to the VOLTME 140W USB C Charger. For most people it's probably a Goldilocks charger: small enough to be easily portable while more than meeting your on-the-go power needs for pretty much any device.
What I like
Reliable
Cheaper than the Apple 140W charger with more ports
Supports pretty much any modern USB device
What I'd change
I wish at least one 140 W USB-C cable was included: I'm not sure which of my existing cables is rated for that wattage
Final thoughts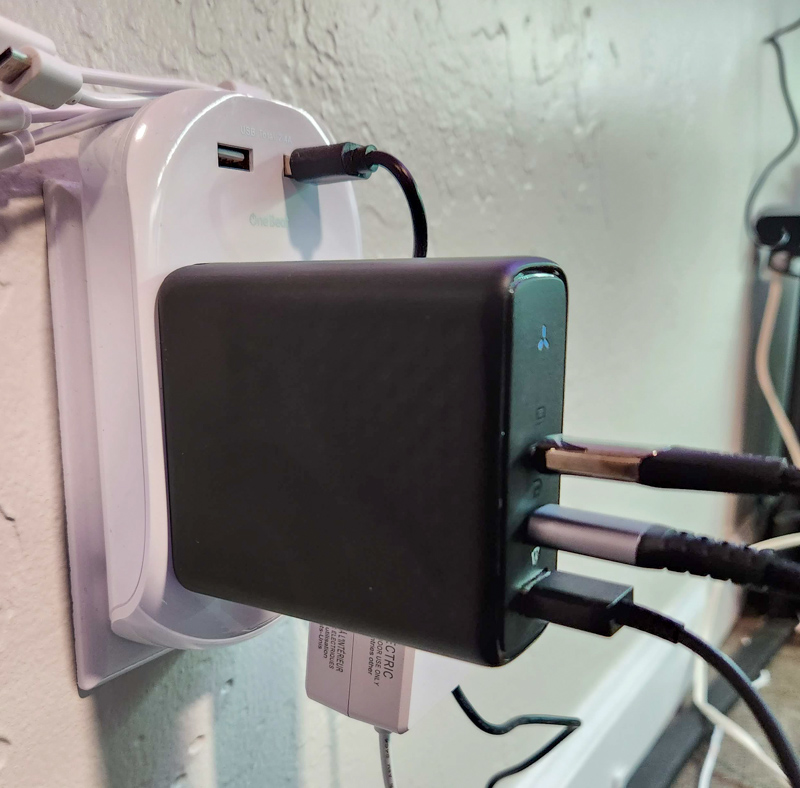 The VOLTME 140W USB C Charger is already a welcome addition to my daily workflow as I move from room to room, and will be invaluable on the next trip, when I can take just this one small charger and be confident it can handle my phone/tablet/laptop with ease. Just remember to also stock up on whatever USB cables you'll need, because this device assumes you already have them.
Price: $139.99 ($99.99 at time of review)
Where to buy: Amazon
Source: The sample of this product was provided by VOLTME.