We use affiliate links. If you buy something through the links on this page, we may earn a commission at no cost to you. Learn more.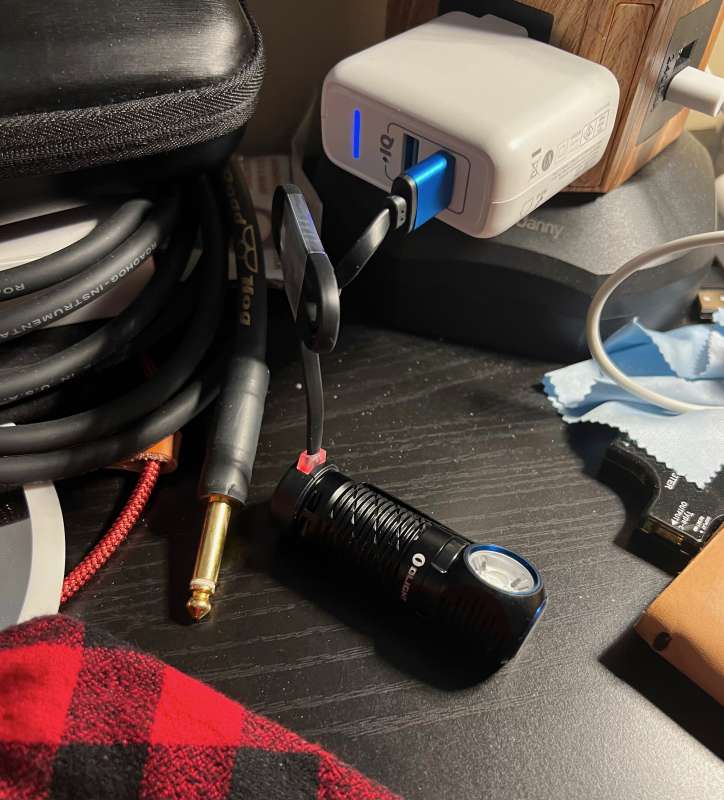 REVIEW – Lighting options for EDC and hands-free use continue to increase. The latest from Olight, their Perun 2 Mini flashlight, adds a silicon strap for holding the right-angle mini-light to your forehead. I was sent the basic black model, but there are several other colorways to choose from. Let's take a look.
What is it?
The Olight Perun 2 Mini EDC flashlight is a small right-angle LED flashlight with a steel spring belt clip and a head strap for hands-free use.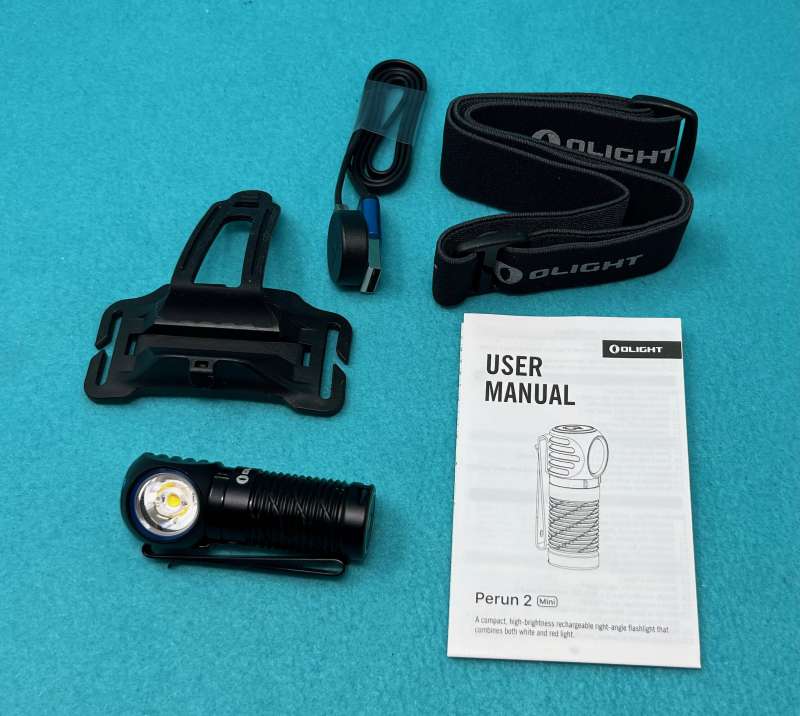 What's in the box?
Olight Perun 2 Mini EDC flashlight
Magnetic charger with USB-A plug
Adjustable 1″ wide head strap
Mounting piece for the head strap
Documentation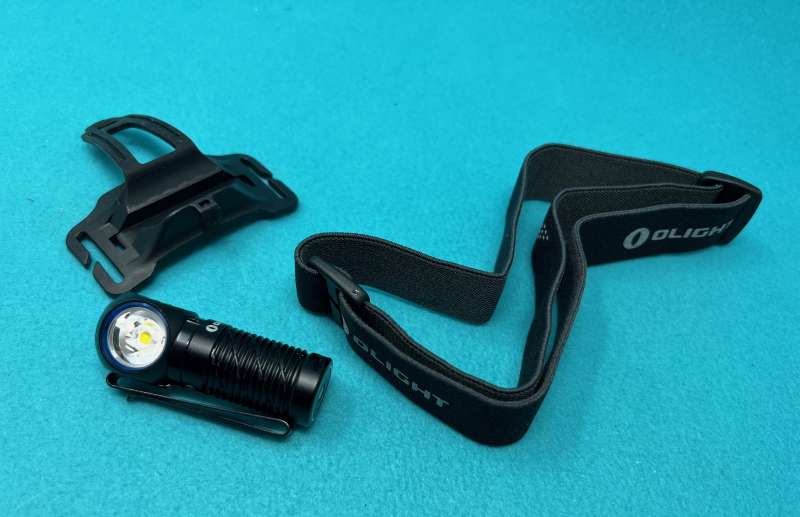 Hardware specs
From product website
Length: 4.75 in/120.7 mm
Head Diameter: 1.13 in/28.6 mm
Body Diameter: 1.06 in/27 mm
High-Performance Cool White LED
5.68 oz/161 g (Including Battery)
IPX8
Design and features
From company website
Still Mini but Higher Performance: Compared with Perun Mini, as a rechargeable, right-angle light, it has 18% higher battery capacity, providing a maximum output of 1,100 lumens and a maximum runtime of 10 days.
White and Red LED Options: Apart from high-performance white LED light, the red LED can be used to preserve night vision or serve as a perfect emergency warning signal.

● Tri-Color Power Indicator: Three colors accurately indicate the remaining power (Green = 100% to 60%, Orange = 60% to 10%, Red = 10% to 5%, Flashing Red =<5%).

● Multi-Purpose Versatility with Magnetic Charging: Use as a handheld EDC flashlight or as a headlamp with the upgraded headband! Its magnetic tail can quickly attach it to any steel or other ferromagnetic surface to be used as a work light while also providing an interface for Olight's signature USB magnetic charging cable.

● More Comfortable Headband: The contact area between the headband and the skin has been reduced, making it lighter, cooler, and more comfortable to wear. The Olight Perun 2 Mini EDC flashlight is quite a bit different from the original Perun. The knurling along the body has been changed from a large knobby look to a finely sculpted spiral pattern. The headband holder has gone from being a large patch with stitching and a friction lock to being a barely-there mount with a stretchy strap to hold the unit in place. The spring steel two-way clip seems to be the same, but I do not have an original unit for comparison.
It is also available in more colorways: black (the model shown here, and the only color of the original), blue, and desert tan (coming early in 2023).
Performance
The first thing you're going to think when you hold the Perun 2 Mini flashlight is that it's small. I'm talking smaller than a roll of pennies small! The push button covers the entire top area of the cylinder and activates easily. Holding the button down cycles through the three levels of intensity of the beam. In the photos below, I was standing on my deck and focusing the light on a mulberry tree about 40′ away an hour or so after sunset. Note the sky and other details in the first shot, which are due to computational photography enhancements added by my iPhone's camera software. At the highest setting, these details are lost, because the focus of the light is more intense. (The camera fails to show how intense the differences are.)
The Perun 2 Mini charges quickly with a magnetic puck that grabs the butt of the light readily. This will also allow the Perun 2 to attach to your car's fender, hood, or the rack of your wiring closet. There is an LED on the charger to indicate the charging level. (It shows green (full battery) if the charger is plugged in and not attached, which I found a bit strange. If something prevented a good connection, I might think I had a full battery. I'd prefer no light until the unit is actually attached to the charger.)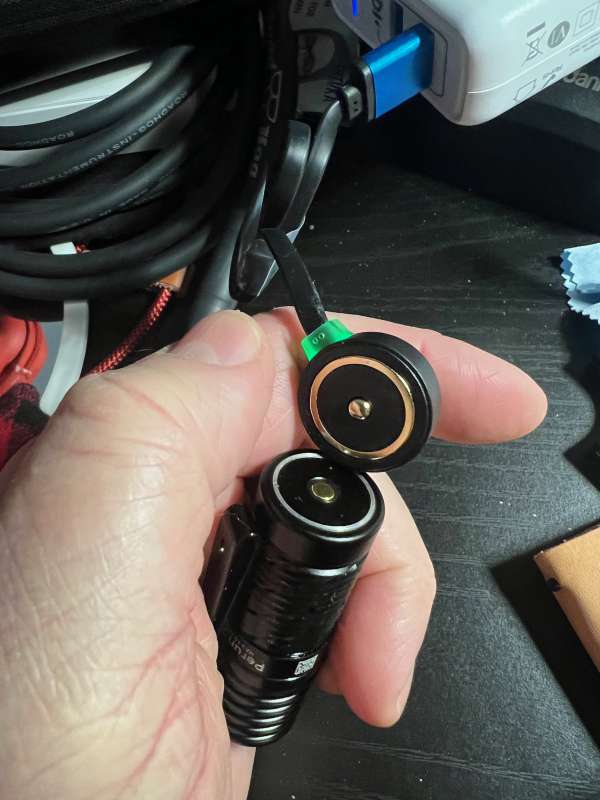 This is a late-breaking update from OLight: When the light is on, double press the button and it will turn on in turbo mode; when the light is off, double press the button and it will turn on in red light mode. After testing this, I found it quite nice for saving your night vision, as well as a quick way to get the highest power from this little light.
I really like the headband mount of this model. It's curved just enough to fit your forehead, and the flexible strap stretches just tightly enough to hold the light in place, yet allows you to twist it to a new position. Some other hand-to-headband models hold the light so tightly that you can't easily spin it without loosening the attachment.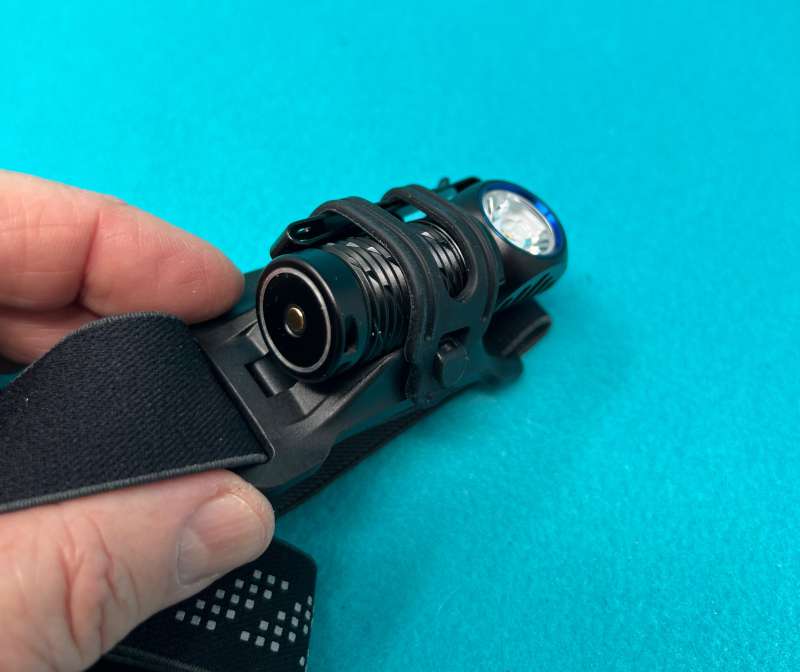 Operating the light is easy – there is a push button on the end opposite the charging base. A quick push will start it. Holding the button will cycle through lighting intensities. A quick push will turn it off. There is a spring steel two-way clip that is easily adjustable and removable so that you can use the light hands-free clipped to a shirt or jacket.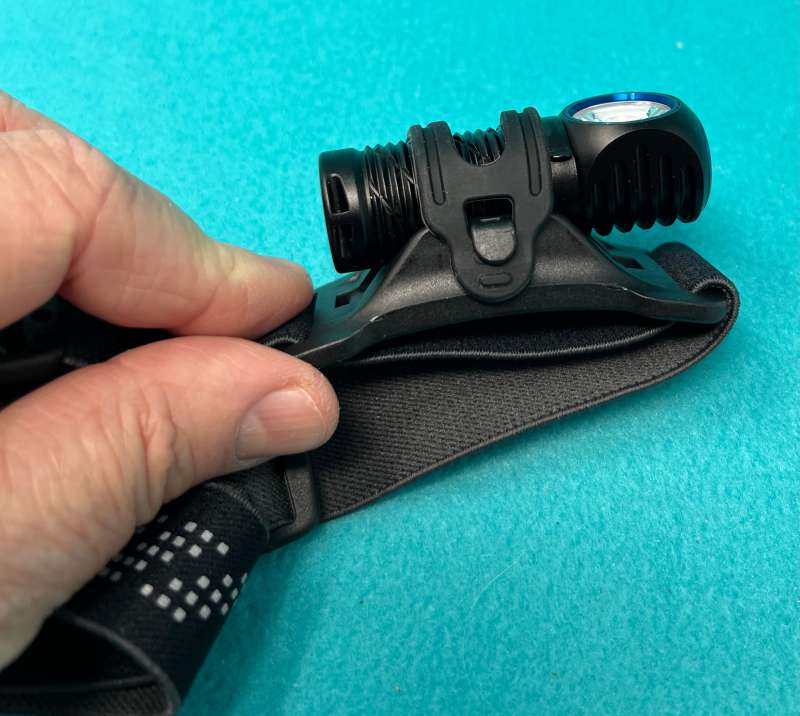 The main part of the headband holder is stiff plastic, while the strap that holds the actual light is very flexible and soft. These two materials are joined right where the curve of the base starts to rise. It seems a solid melding, but time will tell if stretching when inserting the light into the holder will cause any degradation to this bond.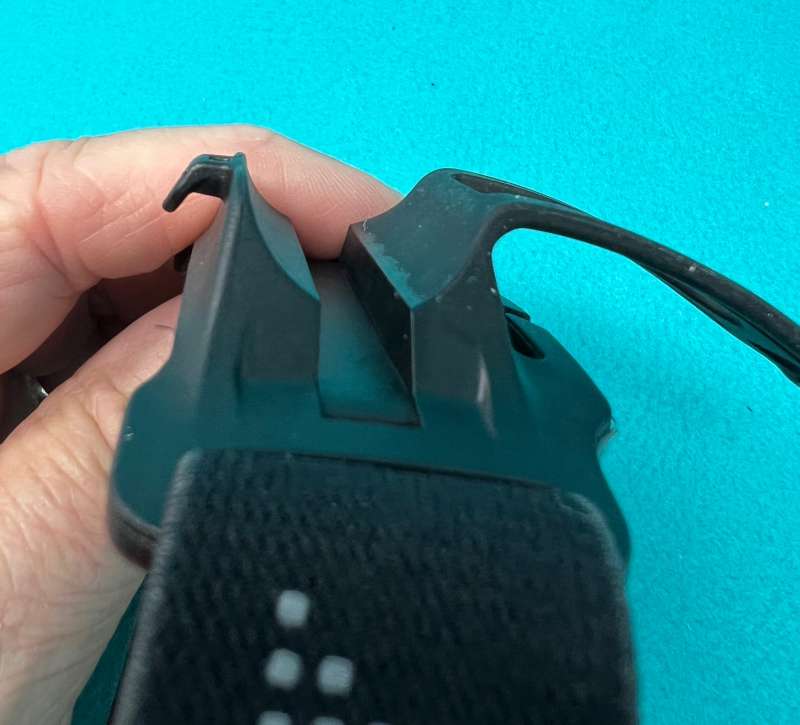 What I like
Magnetic charging
Soft attachment point for headband
What I'd change
The charging puck LED glows green (full) when no light is attached
I worry about the exposed charging pad.
Final thoughts
The Olight Perun 2 Mini is a very compact yet powerful flashlight. It can strap into the headband in seconds and yet be twisted to focus the beam exactly where you want it. The three intensity settings give the user a good range of light for close work or just general illumination while setting up a tent or general activities post-sunset. I'm leaving this in my toolbox for the next time having to work under a sink or desk.
Price: $89.95 – $99.95 depending on the color
Where to buy: olightstore.com (currently on sale for only $44.99 until Dec 19, 2022, 23:59:59 EST)
Source: The sample of this product was provided by Olight.