We use affiliate links. If you buy something through the links on this page, we may earn a commission at no cost to you. Learn more.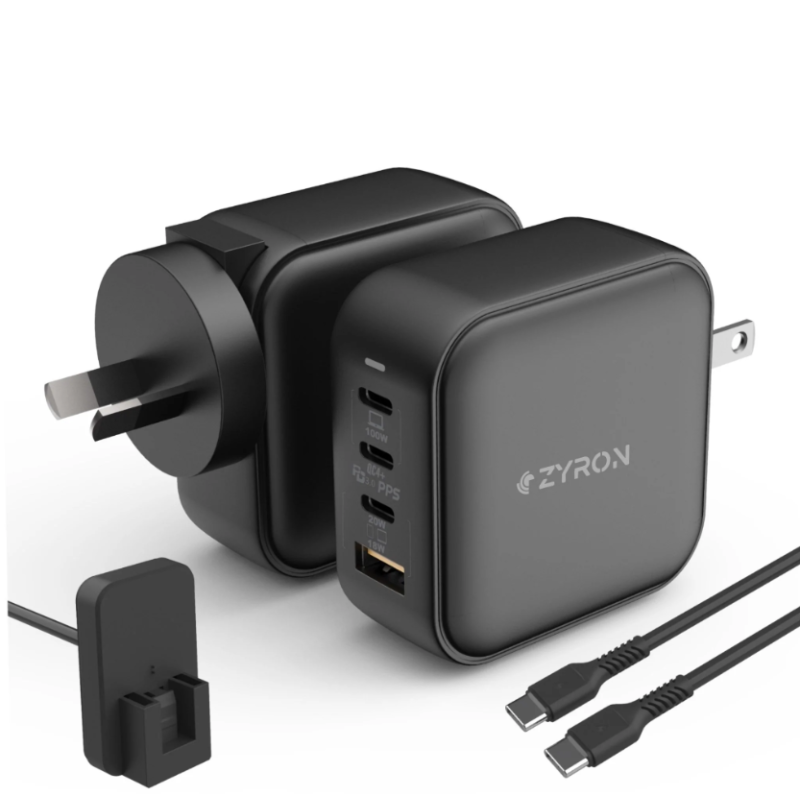 REVIEW –  Gone are the days when you have to have multiple proprietary AC adapters plugged in to charge all your devices. The proliferation of USB-C and Micro-USB cables means a single adapter can now generally charge most of your devices. But what happens if you have multiple devices to charge at the same time?  Rather than having multiple AC adapters on a powerboard, the multi-adapter allows you to charge multiple devices from a single "brick". The Zyron Powerpod 100W GaN charger allows you to charge up to 4 devices off the same device supplying up to 100W of power.
What is it?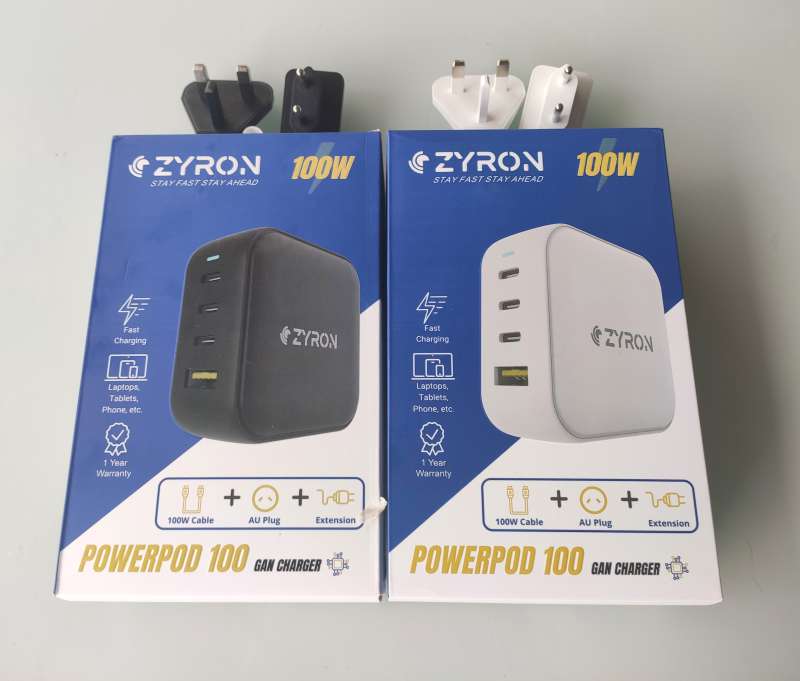 The Zyron Powerpod 100W GaN charger is designed to charge your devices either at home or on the go. Based on GAN (Gallium Nitride) technology, the unique cooling technology allows more power from a smaller device with much better heat dissipation.  This results in a much smaller form factor than the power adapter bricks of old and allows more power and more outlets. The Zyron product is aimed at the Australian market primarily.
What's in the box?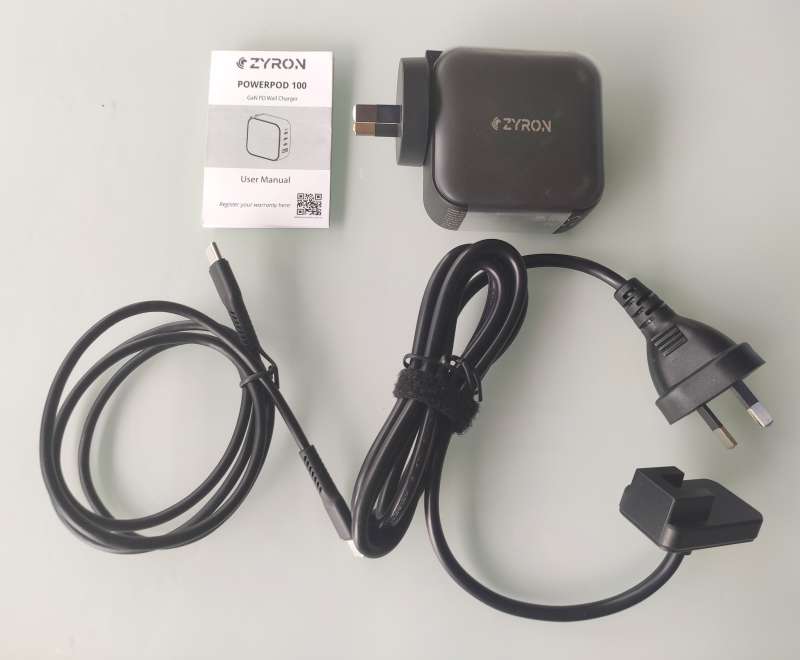 In the box, you'll get everything you need to get started.
Zyron Powerpod 100W GaN charger with AU adapter
1.5 metre Desktop Extension Cable
1 metre USB-C 100W cable
Instruction Manual
Optional
Hardware specs
Size: 63 x 63 x 30.5mm
Weight: 210g (note that box has this as 120g, a typo)
Input: 100-240V50/60Hz 2.5A
Output: 100W maximum
The unit itself is small and light for the amount of power and flexibility it can provide.
Design and features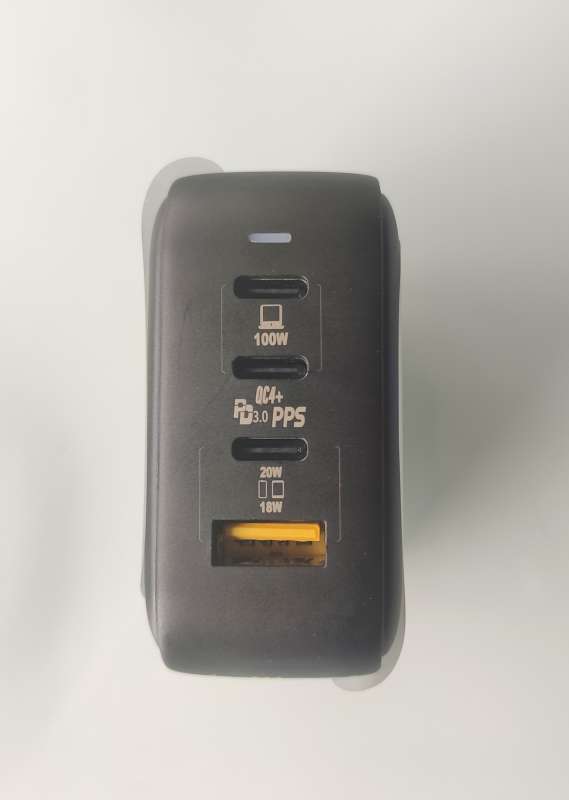 The Zyron Powerpod 100W GaN charger has 3 USB ports and a USB-A port; 2  x 100 Watt ports, one Power Delivery (PD) 20W port, and a QC 3.0 18W port. While the adapter is rated to 100W which is more than enough to charge even the most power hungry notebook, the 100W is only supplied if you use a single USB-C connector. If you use it to charge more than one device, the 100W is "split" between all the outputs.  So while using a single 100W port will supply you the full 100W, charging 4 devices simultaneously will only supply a maximum of  45W. That being said this is generally more than enough to charge many notebooks or tablets these days and it will generally still charge more power hungry devices, just at a slower rate. You can see the power output combinations in the graphic below: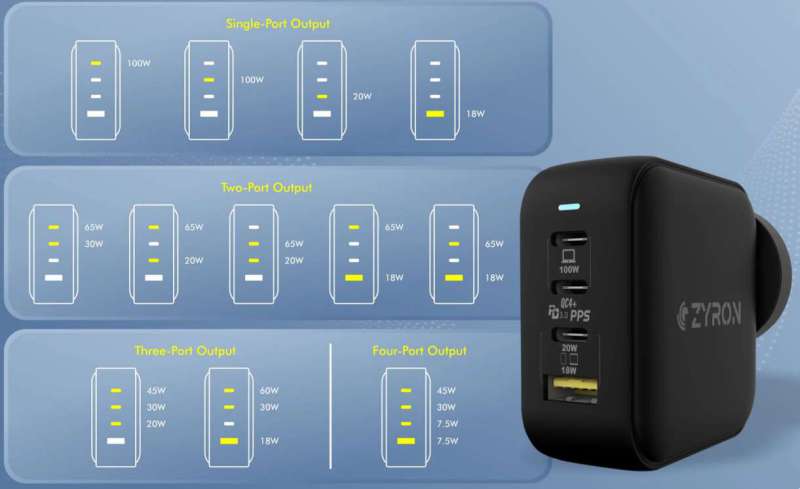 In reality, it would appear that the Zyron Powerpod 100W GaN charger is an OEMed Chinese device under the Zyron name. If you look at our review of the EHO 100W GAN equivalent charger, it's practically the same and a quick search of the web shows very similar products out there. Note that this isn't a bad thing. For me, it means I'm actually purchasing it from an Australian company with an Australian warranty and full support unlike one I might buy off eBay direct from China.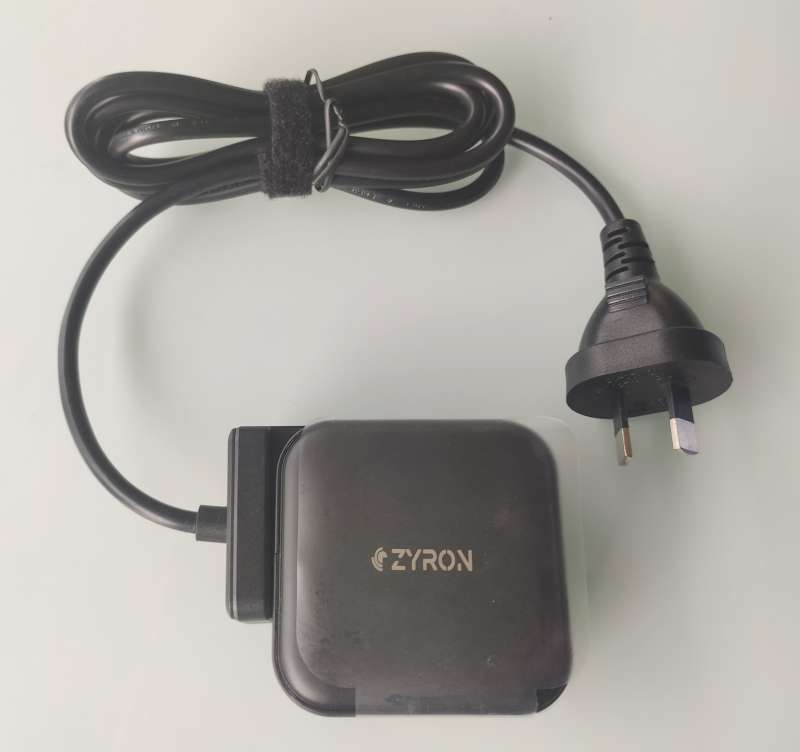 What makes the Zyron Powerpod 100W GaN charger different from the EHO charger is the inclusion of a long 1.5M power cable which allows you to run it on top of your desk. This eliminates the need for having to run multiple long USB cables from the adapter plugged into a wall socket under your desk for example. You can run the desktop cord to the desk and place the adapter right on top of your desk. It also removes having to try and wedge this brick into a multiport power strip with other plugs installed.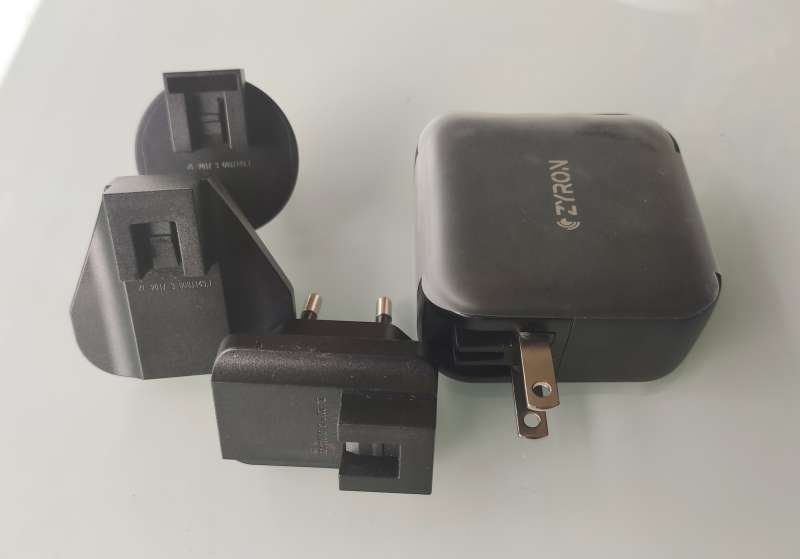 Additionally, for this version, there's an international travel adapter kit optionally available which allows the same unit to be used in all other countries just by changing the adapter. Perhaps this is a sign of Australian's love of travel and Zyron's understanding of the local market as I haven't seen this offered with the other similar versions I've found.
Setup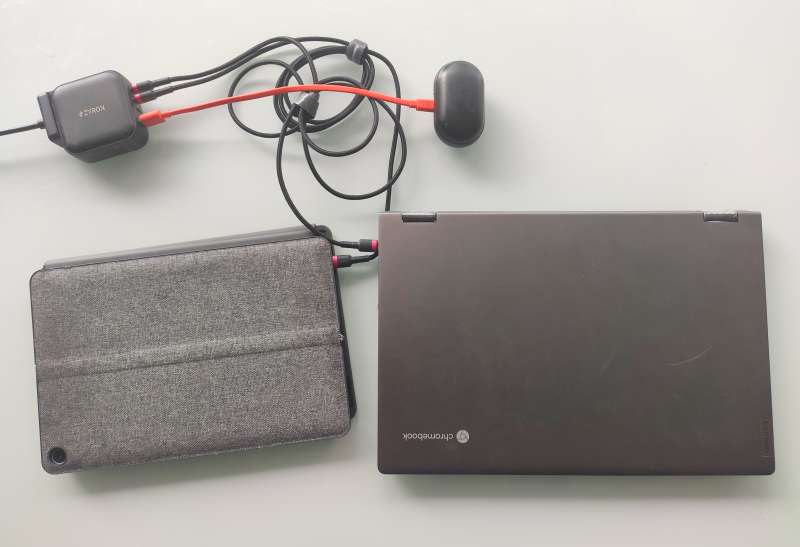 Above is a typical usage scenario for charging multiple devices at the same time.  My Lenovo Flex 5 Chromebook only requires 45W maximum to charge and is getting that, my Lenovo Duet draws 20W maximum and my headphones require (a piddly) 2.5W maximum.  The fact that I can charge all three devices off a single adapter that's actually smaller than my OEM 45W Lenovo USB-C charger that came with my Flex 5 is great. You can see that because of the desktop ability of the Zyron Powerpod 100W GaN charger, I could now replace my 1M USB-C cables with shorter ones. Previously I would normally find a power point low down, under a desk, and need the longer cables to reach my devices on top of the table.
One thing worth mentioning is that this isn't a solution if you use a travel router (like the Gl.Inet Slate) when you're out and about.  If you plug the travel router into the USB-A port due to it requiring only 10W of power and if you plug in another device into a USB-C port to charge, the Zyron Powerpod 100W GaN charger "redistributes" its power loads and the adapter "resets" itself and your router loses power and has to boot again.  This is an annoyance so I still run my travel router on a separate (small) USB-A 10W AC adapter.
What I like
Flexible power output
Charges multiple devices at one
Small and light for its functionality
The desktop power cord makes it easy to use and more convenient on a table and reduces the need for long cables
The travel adapters gives it flexibility for the international traveler
What I'd change
It would be nice to have a stand for stability when used in desktop format
Final thoughts
I'll be traveling to Singapore and Japan in November and will be taking the Zyron Powerpod 100W GaN charger with me. Because of the size and weight, it won't be a problem for my luggage allowance, and because it has so many outputs, the single adapter should do the whole family even if people want to simultaneously charge their devices. Almost all our devices now are either USB-C or micro-USB so no more multiple adapters with different connectors to lug around. On top of that, the universal adapters allow me to easily use the adapter whether in Australia, in Singapore, or in Japan just by changing the face plate. It's Well worth looking at either for home or while traveling.
Price: $79.99AUD
Where to buy: Zyron Australian Shop or Amazon Australia
Source: The sample of this product was provided by Zyron Tech.