We use affiliate links. If you buy something through the links on this page, we may earn a commission at no cost to you. Learn more.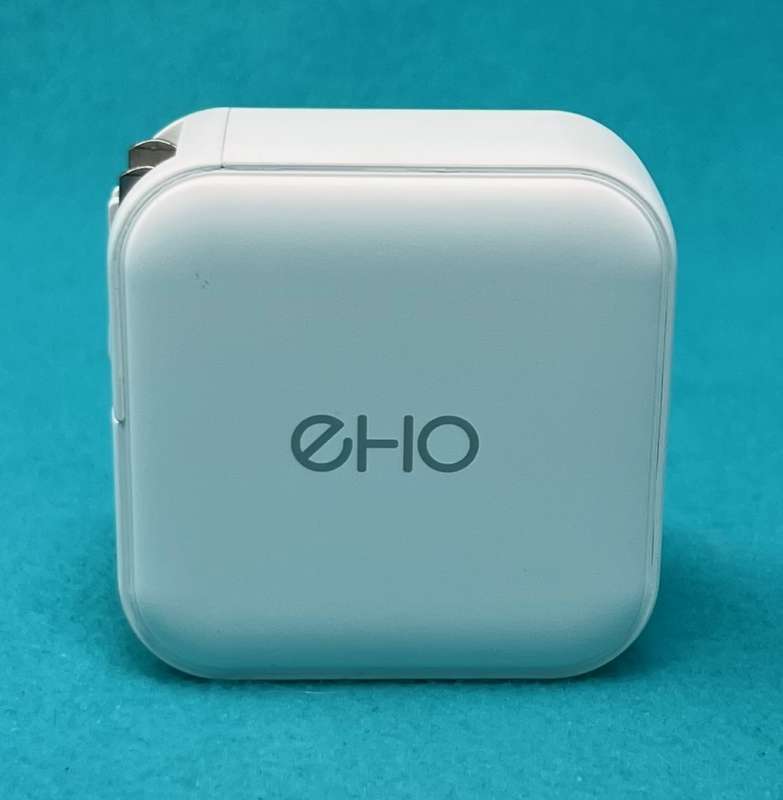 REVIEW – After an embarrassingly long time with no higher wattage chargers (like, above 30 Watt) being available because of manufacturing and shipping issues caused by (or, at least blamed on) the pandemic, suddenly everyone seems to have gallium nitride (GaN) chargers available that offer flexibility beyond anything we've seen in the past. Take today's review subject for example. The EHO 100W 4-port GaN wall charger has 2 100 Watt ports, one Power Delivery (PD) 20W port, and a QC 3.0 18W port, all available concurrently, from a single 110 AC outlet! What an embarrassment of riches from just a few months ago! Let's explore more fully.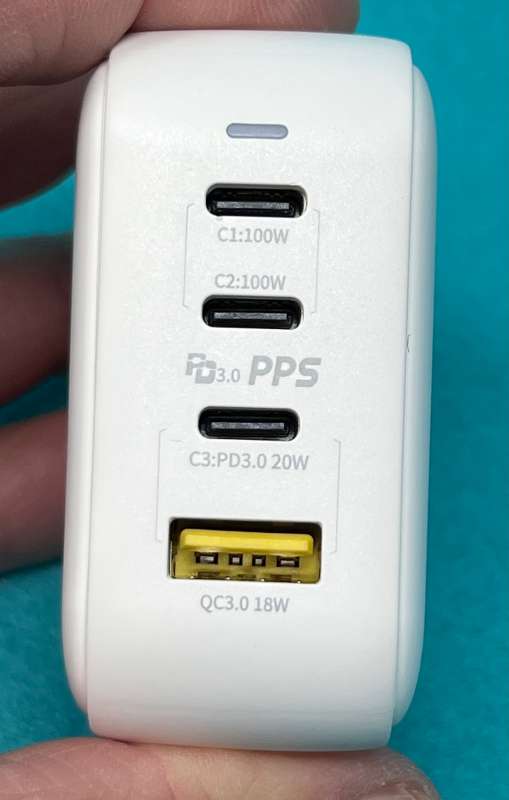 What is it?
The EHO 100W 4-port GaN wall charger is a small charger with foldable US AC plugs that offers three USB-C and a single USB-A port at various power levels.
What's in the box?
Just the EHO 100W 4-port GaN wall charger. What more do you need?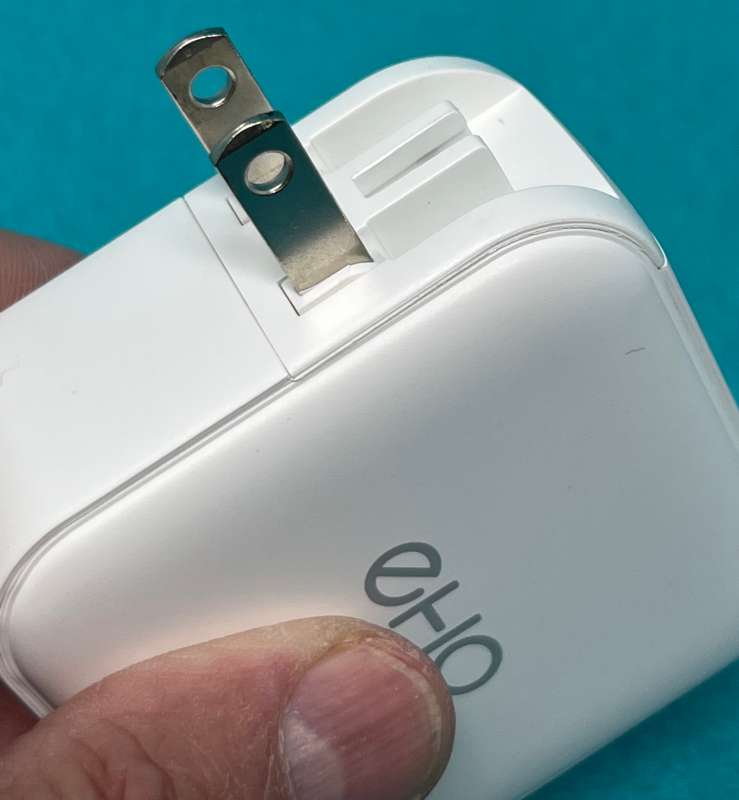 Hardware specs
From company Amazon posting
PD3.0 100W TOTAL OUTPUT – With a maximum of 100w power output, the MacBook Pro 16" can be fully charged in just 1.9 hours. EHO 100W multi-port 3.0 charger enables compatible devices to be charged faster than industry standards.
LATEST [GaN II] CHIP TECHNOLOGY – GaN II (gallium nitride)semiconductors run at a higher efficiency in power converting, produce less heat, and tolerate higher current compared to traditional silicon-based approaches. It provides double power density and reduces power losses by 80% which also means increases the power efficiency.
4 IN 1 FAST CHARGER – This 100W GaN II charger is able to charge 2 laptops and 2 smartphones/tablets at the same time. All ports support QC (quick charge) agreement. EHO Power Delivery Adapter meets all your charging needs.
MINI COMPACT & PORTABLE – It is 40% smaller than the MacBook Pro 16" charger after the plug is folded back into the charging brick. This foldable plug & travel-friendly design ensures maximum portability wherever you go. Handy for home, office, and any other locations.
SAFE & RELIABLE CELL PHONE WALL CHARGER – EHO 4-Ports Charger has approved CE, FCC & ETL certifications. Equips with advanced circuit protection and multiple protection protect devices against overcharging over-current and high-temperature damage. If for any reason you are not satisfied with 100W USB C Wall Charger, just contact us and we will resolve all quality-related issues by replacement or refund.
Here are the specs from the bottom panel of the unit itself:
Input: AC 100-240V
Power Output: 100W (Max.)
USB-C1: 100W PD3.0, 5V/3A, 9V/3A, 12V/3A, 

15V/3A. 20V/5A. PPS: 3.3V-11V/4A

USB-C2: 100W PD3.0. 5V/3A. 9V/3A. 12V/3A, 15V/3A. 20V/5A PPS:3.3-11V/4A
USB-C3: 20W PD3.0, 5V/3A, 9V/2.22A, 12V/1.67A
USB-A: 18W QC3.0. 5V/3A, 9V/2A, 12V/1.5A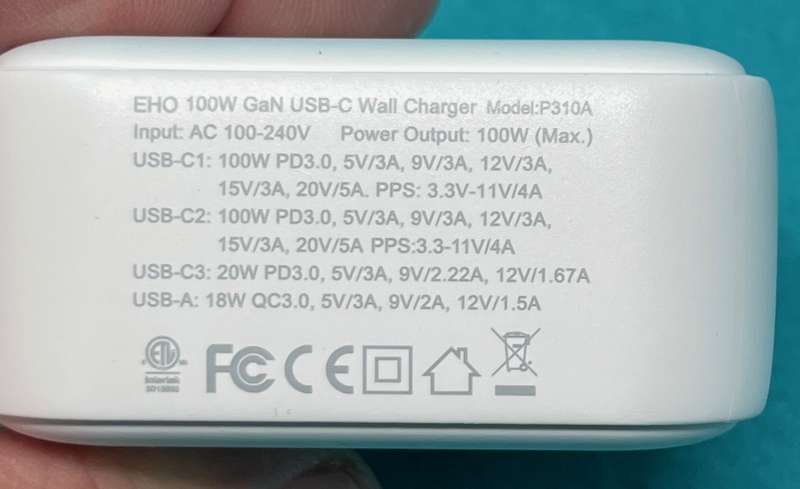 Design and features
The EHO 100W 4-port GaN wall charger is about the same size as many other 1-2 port chargers we've seen from the likes of Aukey, Amazon Basics, Belkin, Mophie and such. The difference here, however, is with GaN, more power can be produced with less heat, and EHO has chosen to actually add ports to take advantage of that extra power and give you the flexibility of use. Rather than just one or two USB-C ports, EHO has built 2 full-power 100W ports (suitable for most laptops that charge with USB-C), a Power Delivery 20 W port, and a USB-A QC 3.0 18W port. All the ports are "live", but power is balanced between all of the attached devices. Many manufacturers give you one or two ports and require you to plug and unplug devices as they are charged up. With the EHO design, you can attach your MacBook Pro, iPad Pro, iPhone, and Apple Watch (or any four similarly powered devices) to this single charger, and it will give each device what it needs, depending on the uses the other ports have. It basically can replace four chargers in your bag, and you won't have to unplug after one device is charged. One less thing to have to manage.
Having three USB-C ports gives such amazing flexibility. As this new plug gains popularity, I'm glad manufacturers are adding it to their smaller accessories. Recently, I've gotten earbuds (Beats), gimbals (Hohem), and game controllers (GameSir T4) that have not bothered trying to force us into the older, more frustrating microUSB port. If only there was a way to trade out older ports on some of my favorite existing devices (like the iClever keyboard I'm typing this on!)
Performance
Sure, you can get a full 100 watts from the EHO 100W 4-port GaN wall charger, but your device may not need this level at all times. The total output at any time is going to be 100W. If your MacBook Pro is attached but fully charged, the iPad that is at 50% in the other USB-C port will get much of the charger's output.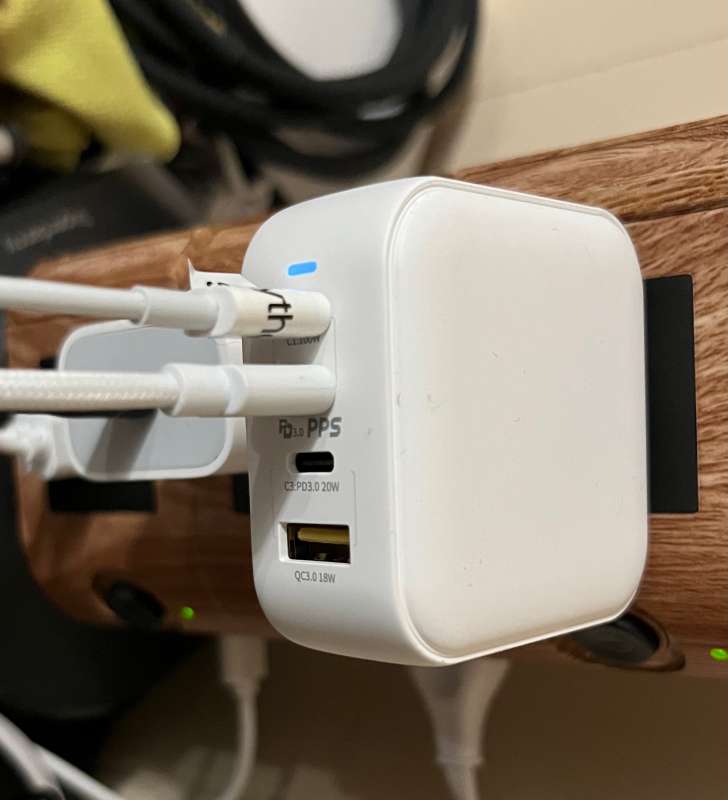 The other thing about the EHO 100W 4-port GaN wall charger that is striking to me is the slim profile. I have some chargers that take over a power strip single-handedly. This barely takes more than what a single wall-wart should take, and it allows you to plug in other items on either side when using a power strip.
What I like
Full complement of ports
Low profile
Variety of protocols
What I'd change
Final thoughts
Chemistry is such fun. Battery technology has changed a huge amount over the years (NiCad, LiON, etc.) but our chargers have been pretty much the same until just recently. Gallium Nitride, it turns out, can produce much more power with less energy, and far less heat. With the expanded number of ports, EHO has added to this charger, I no longer need any other charger when traveling! I'll just have the EHO 100W 4-port GaN wall charger and my Mophie Travel kit with a USB-A <=>USB-C cable to attach to the QC port, and I'll have everything covered in only one outlet!
Price: $50.99
Where to buy: Amazon Save 15% when you use the coupon code: Gadgeteer15 (expires 6/26/2022)
Source: The sample of this product was provided by EHO.