We use affiliate links. If you buy something through the links on this page, we may earn a commission at no cost to you. Learn more.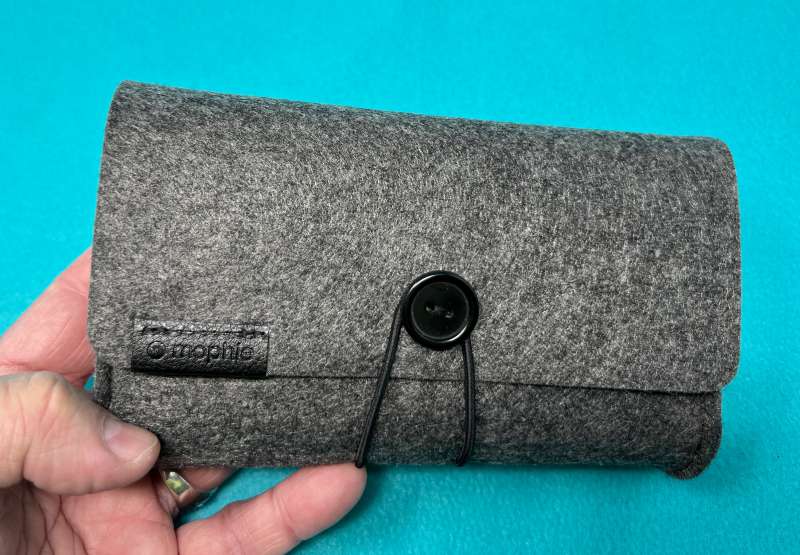 REVIEW – Something we all have learned about wireless charging: there are always wires somewhere in the mix. And with several different types of wireless chargers, there could be a different wire for each one. Recently, Mophie released a charging kit I wish I had owned a month earlier when I took my iPhone, Apple Watch, Airpods with wireless charging case, and iPad Pro on a week-long trip. That meant 4 different plugs were needed in order to charge everything at once. And I was in Europe, with only one EU adapter. My hotel had a US power outlet by the bed, but that still meant swapping items around. The Mophie 3-in-1 travel charger with MagSafe combines three of these wires into a single charger/wire. Let's take a look at this for my next trip, and maybe in time for your next vacation.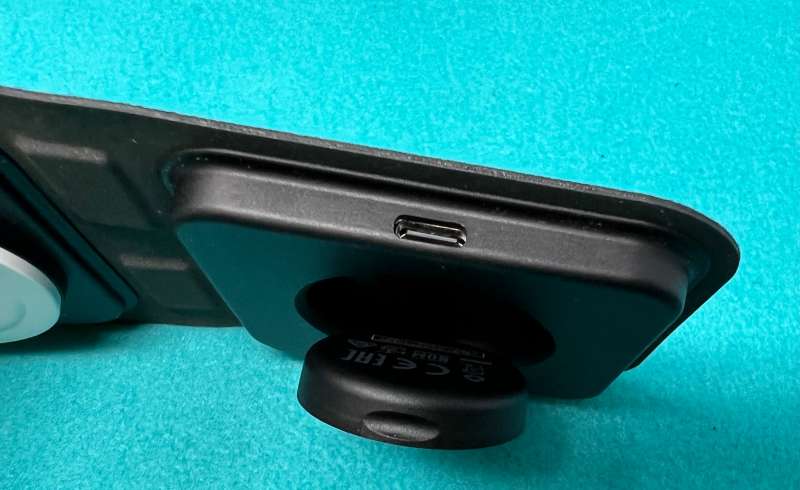 What is it?
The Mophie 3-in-1 travel charger with MagSafe is a single three-part, foldable charging base powered from a single charger and wire. With a travel case.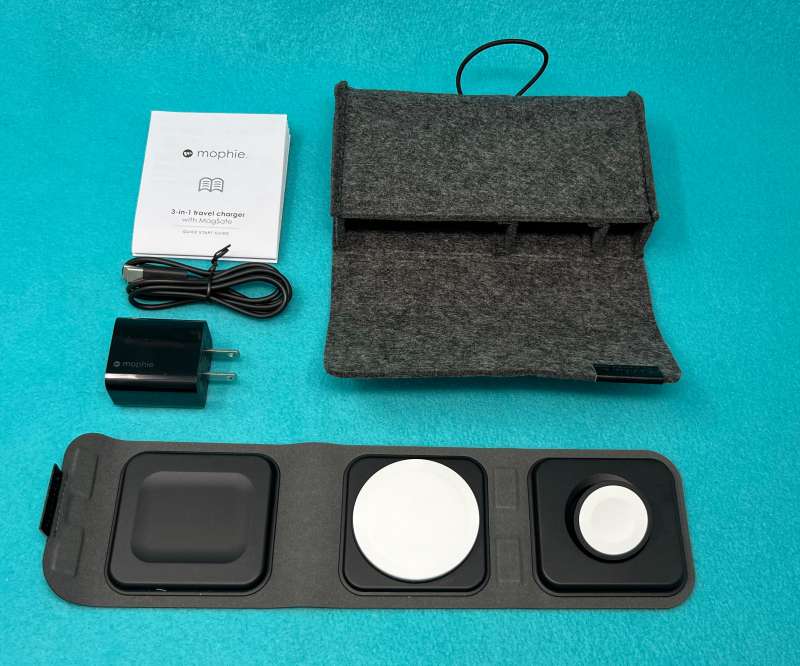 What's in the box?
Felt carrying case
20-watt charging brick
1-meter power cord
Three-part folding charging pad

Hardware specs
The base that the wire connects to (with USB-C) has a space for an Apple Watch (which can charge flat or while in nightstand mode), a MagSafe puck for iPhones, and a Qi charging pad perfectly sized for your AirPods Pro.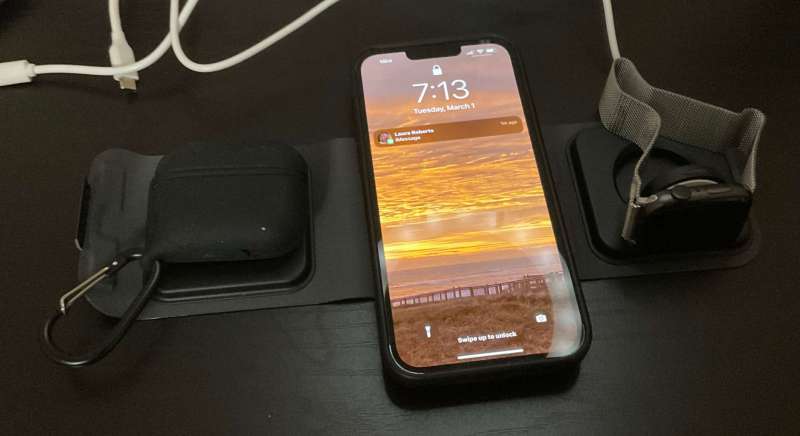 Design and features
Encased within a grey felt carrying case that is closed with a button and an elastic band, there are three compartments sized perfectly for each piece. There's a USB-C<=>USB-C cable, a USB-C 20-watt adapter, and the aforementioned three-place charging platform. The platform is held together with magnets so that it quickly folds and is able to deploy easily. The 3.5″ depth can hold the US 20-watt adapter, as well as the European version or Mophie's collapsible UK adapter. At 6.5″ x 3.5″ x 1.5″, the carrying case can fit in most bags easily.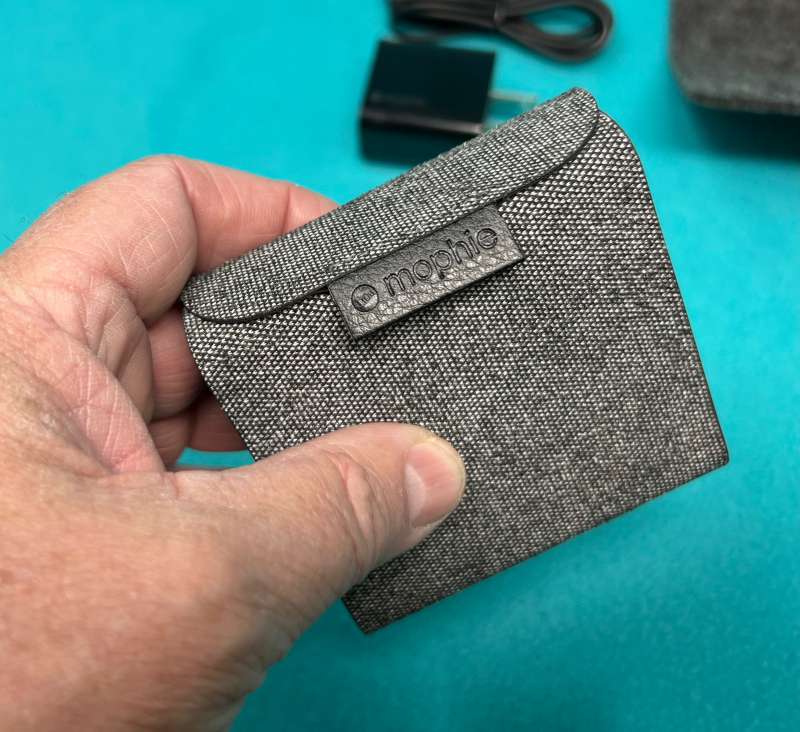 Performance
From a single power outlet, you can connect three things. While it may not be as fast as charging from three separate outlets, it's much easier to carry around and set up. Trust me, I had to watch my Phone until it was full, and then change to the Watch adapter once the phone is full. A real pain.
The layout is very similar to Apple's MagSafe Duo adapter but adds the AirPods Pro space, which would require another cable and the charger. Apple's offering is $129, but there is no charger and no cable. Each of those runs for $20 retail. To get all the functionality, you'd need that additional MagSafe puck, as well as another cable and power brick. And you'd have to have a place in your hotel room to plug it all in, plus charging your iPad or battery pack.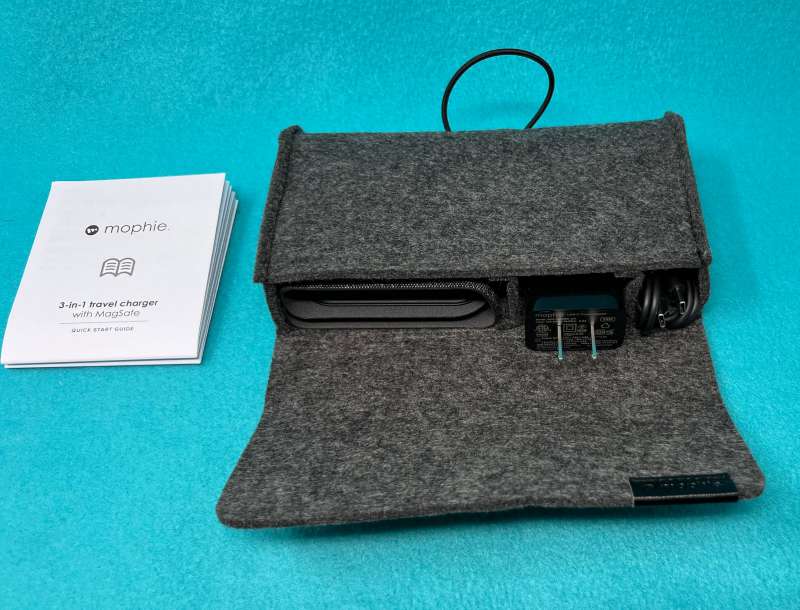 What I like
Charging for all the items
The case holds all the pieces
Cheaper than buying all these things separately
What I'd change
Final thoughts
When I saw the Mophie 3-in-1 travel charger with MagSafe, I was absolutely overjoyed. It perfectly meets the needs of an Apple user who has collected all the things wants to add it to their travel gear.
Price: $149.95
Where to buy: Zagg.com
Source: The sample of this product was provided by Mophie.