We use affiliate links. If you buy something through the links on this page, we may earn a commission at no cost to you. Learn more.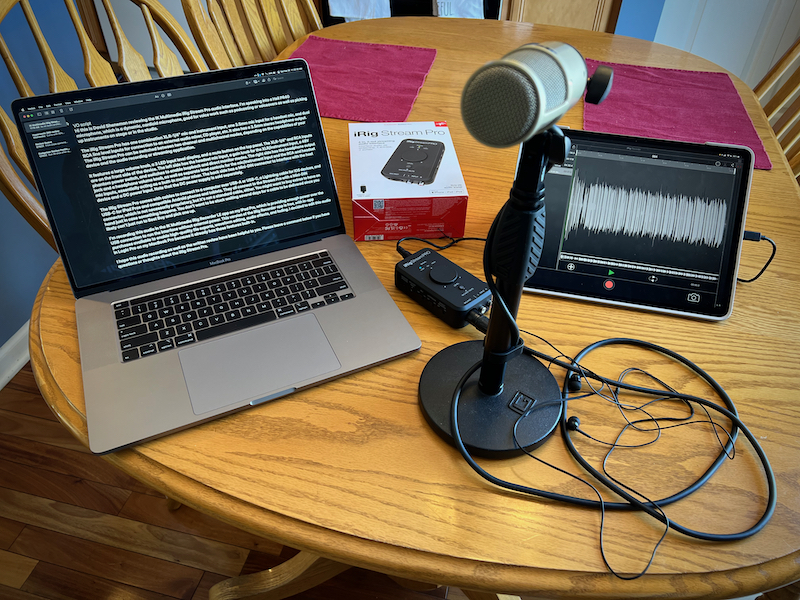 REVIEW – As an audio professional I learned long ago the importance of quality audio. Whether shooting a film, recording a podcast, streaming a game, or doing non-stop video conference calls, good audio can be even more important than good video. While laptops and tablets typically have built-in mics, desktop computers usually don't, and even still the audio a built-in mic picks up can sound distant or boomy or weak, or have a lot of extraneous noise, making it hard for the people on the other end to understand what's being said. You really should use an external microphone but how do you connect it to your computer? IK Multimedia has a new option in the form of their iRig Stream Pro audio interface. 
What is it?
IK Multimedia iRig Stream Pro is a portable audio interface for recording from an XLR microphone, a 3.5mm headset, or other audio sources via the RCA inputs.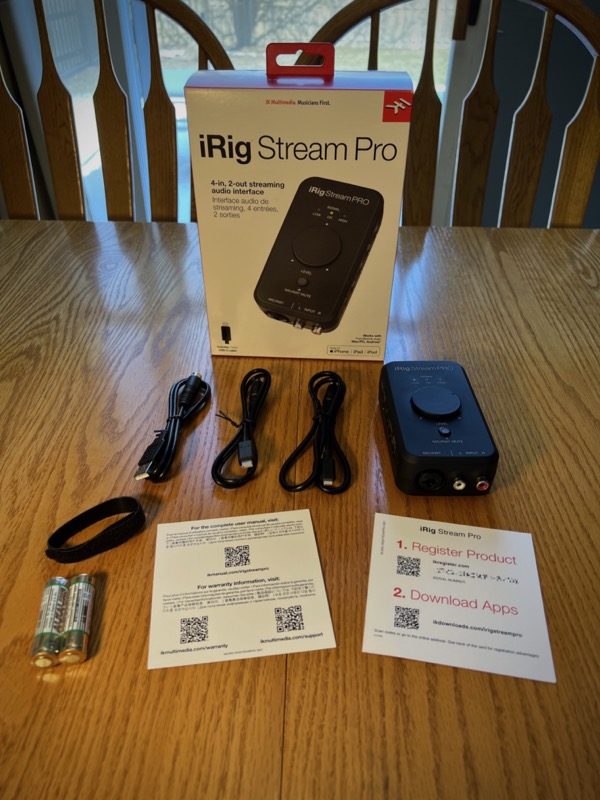 What's in the box?
IK Multimedia iRig Stream Pro interface
Lightning to mini-DIN connection cable with charging features (60cm/23.62″)
USB C-Type to mini-DIN connection cable (60cm/23.62″)
USB A-Type to mini-DIN connection cable (60cm/23.62″)
2x 1.5V AA battery
Velcro strip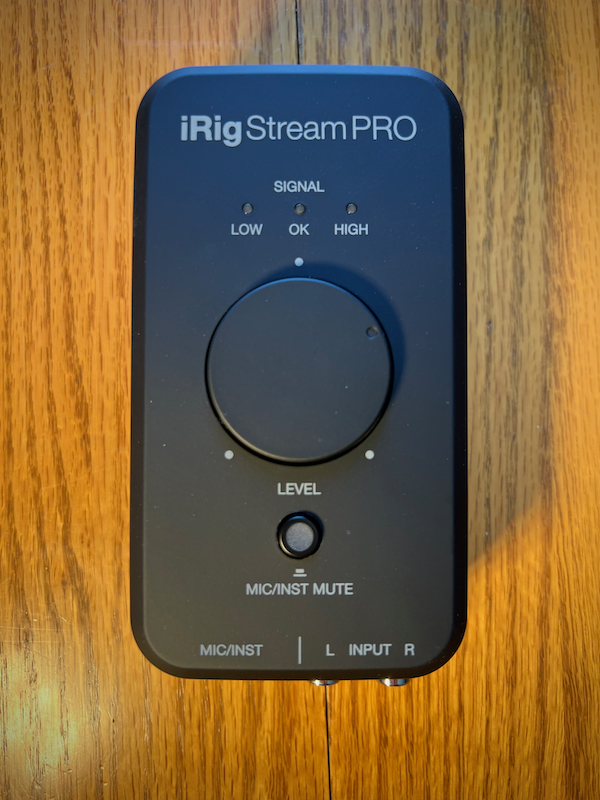 Hardware specs
Common
Type: 2 in/2out or 4 in/2out
Conversion: 24-bit A/D, 24-bit D/A
Sampling Rate: 44.1 kHz, 48 kHz, 88.2 kHz, 96 kHz
Power: USB bus powered. 48V operations with iOS devices require battery or DC IN. When connected to an external PSU (iRig PSU 3A, not included), iRig Stream Pro charges the connected iOS lightning device.
Metering: 3x LEDs for overall streaming signal. Peak meter for Mic/Inst input.
Device Connection: mini-DIN
Dimensions: 4.84"(123 mm) x 2.63" (67 mm) x 1.57" (40 mm)
Weight: 5.15 oz (146 g)
Line input
Connector: 2x RCA (unbalanced) Left/Right
Nominal Input Level: -10 dBV
Head Room: 10 dB – Level @ max
Input Impedance: 16.5k Ohms
Frequency Response: from 20 Hz to 20 kHz (-1.5 dB)
Microphone Input
Microphone Input: balanced, XLR. Pin 2: hot / Pin 3: cold / Pin 1: ground
Microphone Input Level: from 3.8 mV RMS to 388 mV RMS
Microphone Input Impedance: approx. 2 kOhms
Analog Gain Range: 40 dB
Phantom Power: +48 V ± 4 V
Frequency Response:

from 20 Hz to 20 kHz (-1 dB) Gain @ min

 

from 20 Hz to 20 kHz (-3 dB) Gain @ max
Instrument Input
Instrument Input: unbalanced, Hi-Z, TS 1/4" Jack, Tip: signal / Shield: ground
Instrument Input Level: from 70 mV RMS to 1.8 V RMS
Instrument Input Impedance: 1M Ohms
Analog Gain Range: 28 dB
Frequency Response:

from 20 Hz to 20 kHz (-1 dB) Gain @ min
from 20 Hz to 20 kHz (-3 dB) Gain @ max
Headset/Phones
Connector: 1/8" TRRS jack (CTIA wiring standard)
Supply voltage: > 2.5 V
Microphone gain: Adjustable with numbered thumbwheel
Frequency Response: 20 Hz – 20 kHz
Headphone Level control: numbered thumbwheel
Battery Life
Phantom power on with iOS device: up to 20 hours (Alkaline batteries), with mic input connected to 3.1 mA phantom powered load
Note: all measurements made with Stream Level knob at 0dB.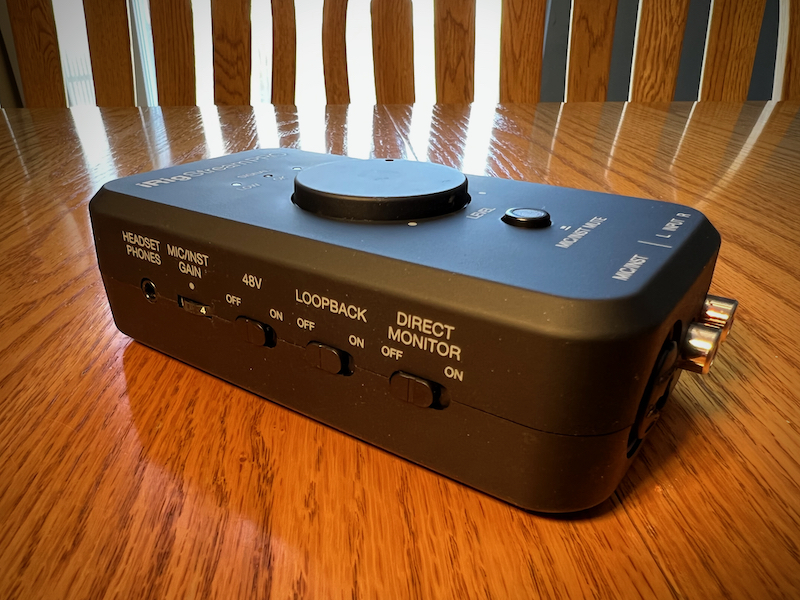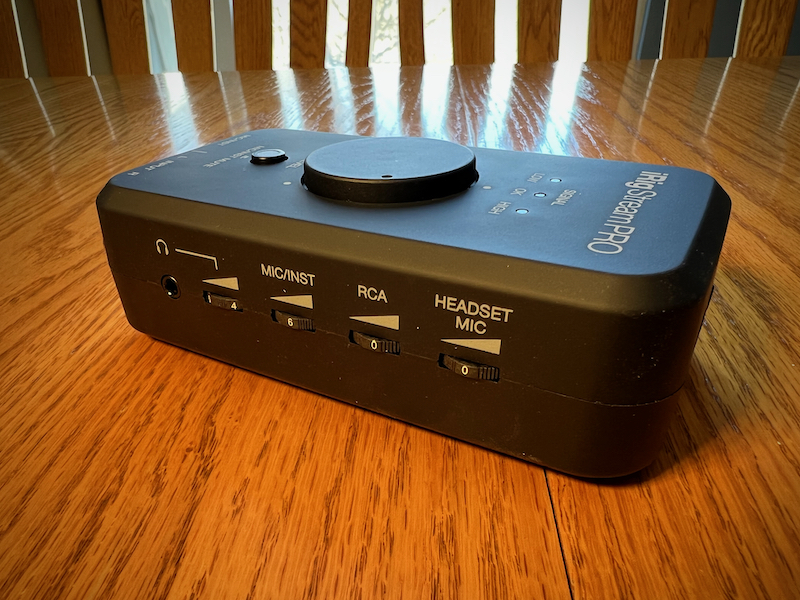 Design and features
The IK Multimedia iRig Stream Pro is a small, rectangular, black plastic device with what I'll call a soft-touch finish. On the top is a three LED signal meter, a large volume level knob, and a multi-function button for muting and changing several different parameters as well as a multi-color LED inside the button for indication of various modes.
On the left side is a 3.5mm jack for a headset, the Mic/Inst Gain knob, 48V phantom power switch, a Loopback switch, and a Direct Monitor switch. On the right is a 3.5mm headphone jack, Mic/Inst volume knob, RCA volume knob, and a Headset Mic volume knob. On the back of the iRig is the mini-DIN connector for use with the included mini-DIN to USB cables, and a DC In jack for the optional power supply. On the bottom, there are integrated rubber feet that help keep it from moving around unnecessarily and a battery cover for two AA batteries to power the unit and provide phantom power as needed.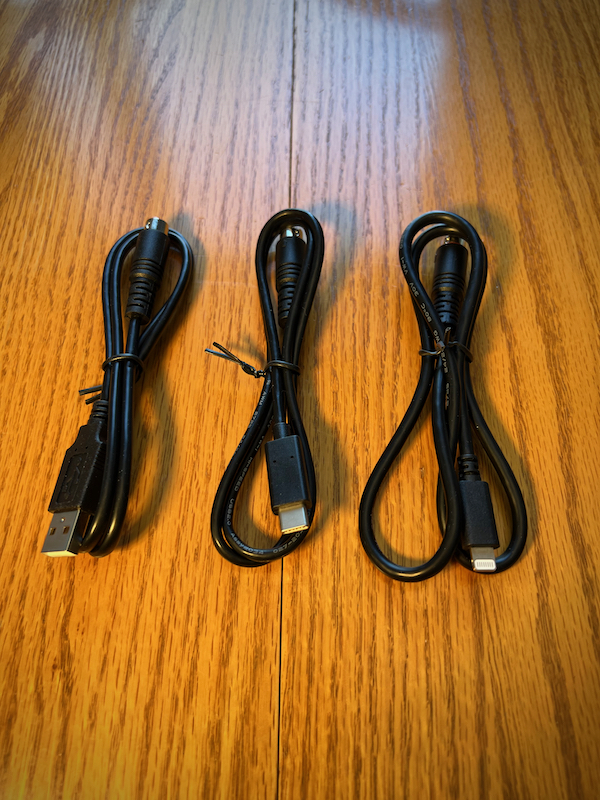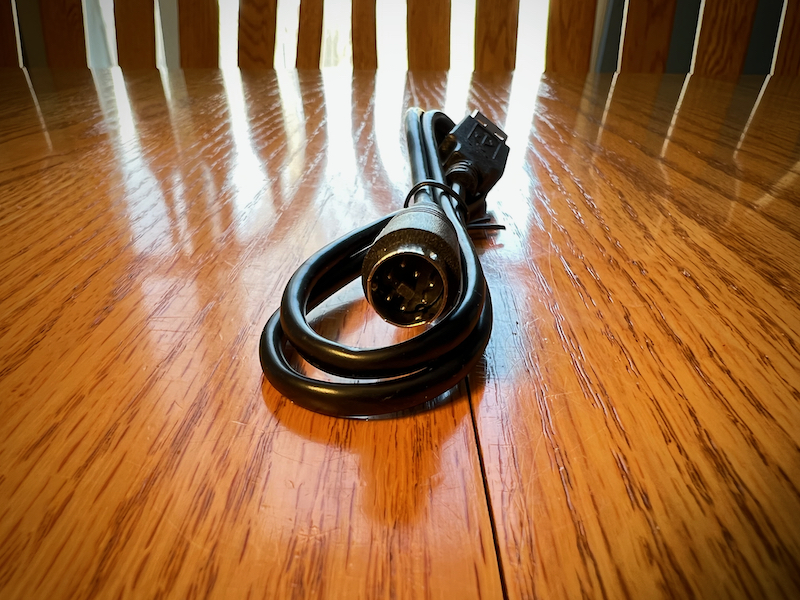 Installation and setup
The installation will depend on which device you want to use with the iRig Stream Pro. For use with an iOS device you just need to choose the appropriate cable (mini-DIN to Lightning or USB-C), plug it in, and choose it as the input source for the recording or streaming app you are using. I tested with IK Multimedia's iRig Recorder LE iOS app and the iRig Stream Pro showed up as an external audio interface just as on a Mac or Windows PC. If you're plugging in a microphone that requires phantom power you'll need to use two AA batteries for up to 20 hours of use or use the optional power supply, which will also charge the iOS device.
For use with an Android device, you will need the mini-DIN to USB-C cable. Not all Android devices will be able to supply USB bus power so you may need to use AA batteries or the power supply. As with iOS, the iRig shows up as an external audio input, at least in the iRig Recorder 3 app made by IK Multimedia. There is an optional micro-USB-OTG mini-DIN cable available for Android devices that require it.
On the Mac, the IK Multimedia iRig Stream Pro shows up as an external audio interface to be used as system audio or just in the recording/streaming app of your choice. I tested this with Logic Pro X and it worked as well as any other audio interface I've used before. I used the mini-DIN to USB-C cable but depending on the generation of your Mac or if you're plugging into a dock you might also choose the mini-DIN to USB-A cable. 
I did not test this in Windows but if you're wanting to use it in low-latency mode you have to download an ASIO driver from IK Multimedia's site.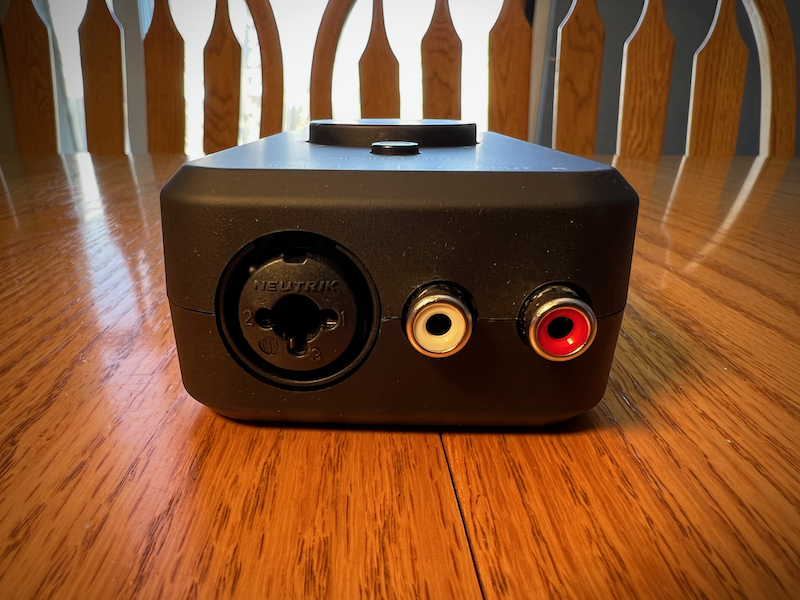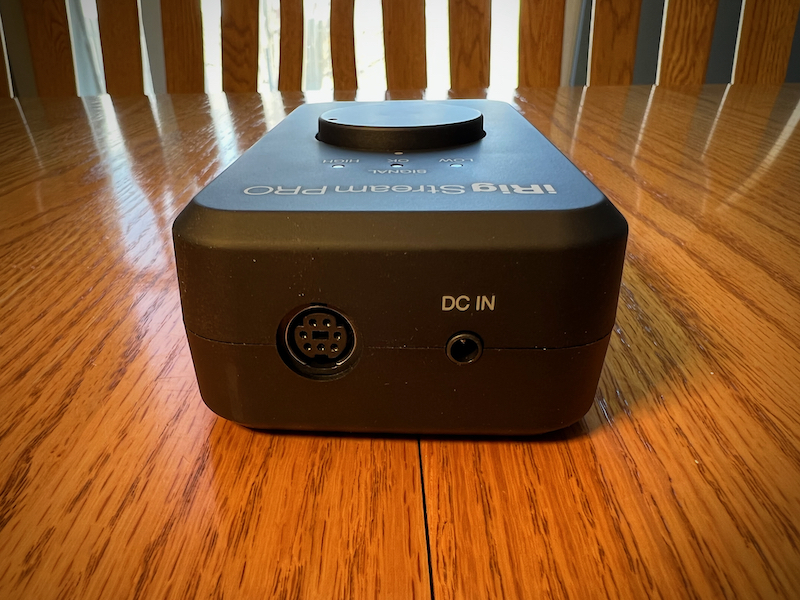 One important setting to check before use is whether it's in two-channel or multichannel mode. This choice will depend on whether you're recording one or two inputs or up to four inputs and whether you want them mixed together or all on independent channels. The iRig comes by default in two-channel mode, which routes the left and right RCA inputs to channels 1 and 2 respectively. It also sends the audio from the mic/inst input and the headset input to both channels 1 and 2 and if you have loopback enabled it sends the audio from the host computer back into channels 1 and 2. In this mode, you use the small knobs on the sides of the iRig to control the volume of each input.
In multichannel mode every input goes to a separate channel, with the RCA left/right inputs going to channels 1 and 2, mic/inst input going to channel 3, and the headset input going to channel 4. If you have loopback enabled then host audio also goes to channels 1 and 2 with the RCA inputs. This can be confusing to read in a review like this but their manual has diagrams that show signal flow to make it easy to understand what signal is going where in each mode.
It's important to note that the iRig Recorder app only supports two-channel mode so if you want to use all four inputs they will be mixed together. IK Multimedia says their AmpliTube or VocaLive iOS apps support multi channel mode or you can use something like GarageBand on iOS or a similar DAW on Android.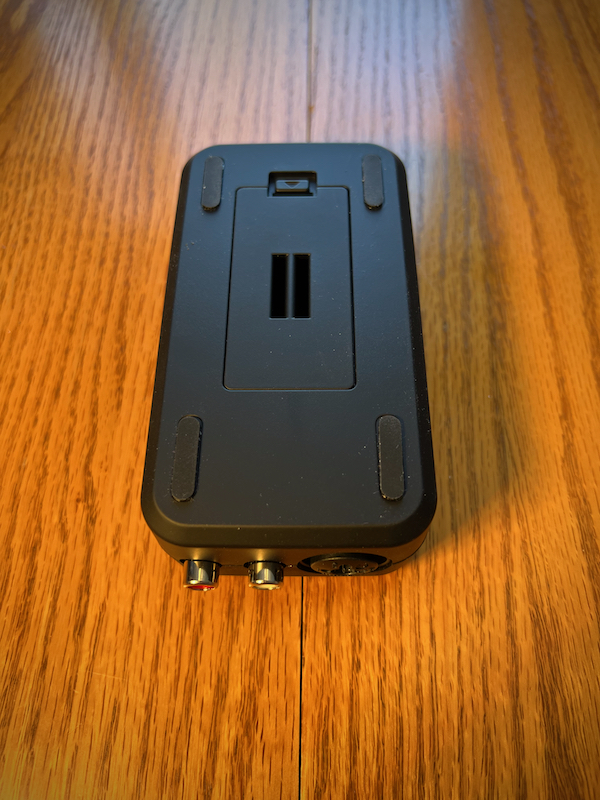 In Use
Using the IK Multimedia iRig Stream Pro couldn't be easier. Once you choose the proper cable to use with your host device and plug in all the connections you need, you just need to select it as the audio interface and set the levels. I will say this part might get a little confusing for some, especially for the mic/inst input. Each input has a volume knob on the right side, which makes sense, and the overall volume going to the recording app is controlled by the large volume knob on the top surface but the mic/inst input also has a separate gain knob. This is great for being able to set the sensitivity of the interface to the level of the mic or instrument plugged in, but it's a third knob to check for that signal. I wouldn't ask them to remove the gain knob, but it's important to be aware to set the gain first, then the volume for the best audio quality.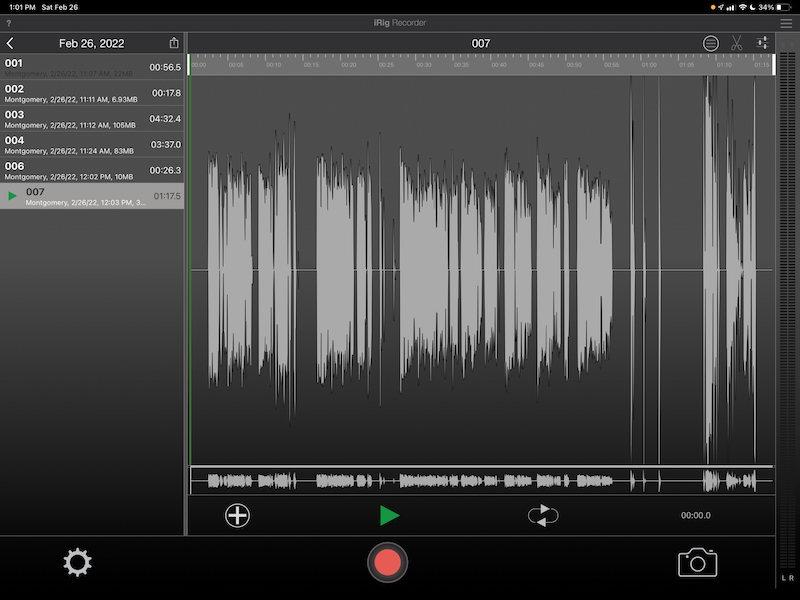 The free versions of the iRig Recorder app are very useful for capturing a music performance or a voice recording. They are not useful for streaming purposes but can be used to record something for use later in a stream if that fits your workflow. The free apps are also very limited in capabilities without in-app purchases. You can record, optimize volume (as long as you register for a free account with IK Multimedia), and export a compressed .m4a file (although I was able to export an uncompressed .wav file from the Android app without purchase) for free. Effects, waveform editing, and uncompressed file exporting are available as separate in-app purchases or as a bundle for $14.99 on each platform. 
For exporting files the apps include many options. On iOS, the options are iTunes File Sharing, SoundCloud, DropBox, OneDrive, Google Drive, FTP, and other services on iOS through the Open In… menu. The Android app is similar to Storage, DropBox, OneDrive, Drive (Google I presume), FTP, and the Share with… menu as options. This is a pretty comprehensive set of output options so if you can live with the limitations of the app on your preferred platform then you don't need to go anywhere else for recording, editing, and exporting high-quality audio.
Because this is billed as a streaming audio interface, you can use it with your favorite streaming software. Since it shows up in the host device as a standard audio interface you just need to select it in your streaming software, set the levels for your needed inputs, and stream away. 
I did a few test recordings with this interface with my Mac, my iPad Pro, and my Google Pixel 6 to get a feel for how it works in different scenarios. First I recorded my son playing a guitar piece he wrote for my daughter's podcast. For this recording, I used Logic Pro X on my Mac and plugged his guitar into the mic/inst input with a 1/4″ cable. 
The second recording was done on my iPad Pro with the iRig Recorder LE app and a Heil PR30 microphone plugged in by XLR. (I recorded this audio a little too low so there is a little bit of noise. I also should have used a pop filter to reduce pop and breath noise.)
I also did a test recording with my old Apple headphones from the days when iPhones had headphone jacks. I plugged the headphones into the headset mic input on the iRig.
Lastly, I tested the same setup as on my iPad with my Google Pixel 6. 
Overall the audio interface and included apps provide a pleasant audio recording and streaming experience. There are cheaper audio interfaces available and there are a few quirks and minor things I would change but the flexibility this interface provides and the portability and multiple power options make it a great option for many audio uses. 
What I like
Flexibility to work with many different devices
Multiple input options
Front panel mute button
Large volume level knob
What I'd change
Regular USB input; mini-DIN isn't proprietary but it's less readily available than standard USB cables
A few more LEDs for the audio level display would be nice
I'd like to have at least EQ in the iRig Recorder app without an in-app purchase
Final thoughts
If you need a simple audio interface with multiple input options and that is flexible enough to work with just about any device, iRig Stream Pro from IK Multimedia is a great choice.
Price: $199.99
Where to buy: ikmultimedia.com or Amazon
Source: The sample for this review was provided by IK Multimedia. For more information visit their site.