We use affiliate links. If you buy something through the links on this page, we may earn a commission at no cost to you. Learn more.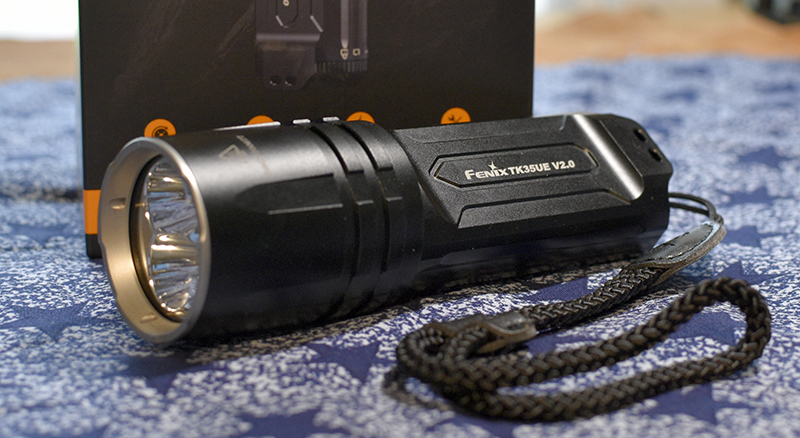 REVIEW- The Fenix TK35UE V2.0 Tactical Flashlight is a worthy addition to their TK lineup that they say is tactical-ready for Military and Law Enforcement. And I believe them!
What is it?
The Fenix TK35UE V2.0 is a durable flashlight, boasting a maximum output of 5000 lumens, that's ready for pretty much anything you can dish out.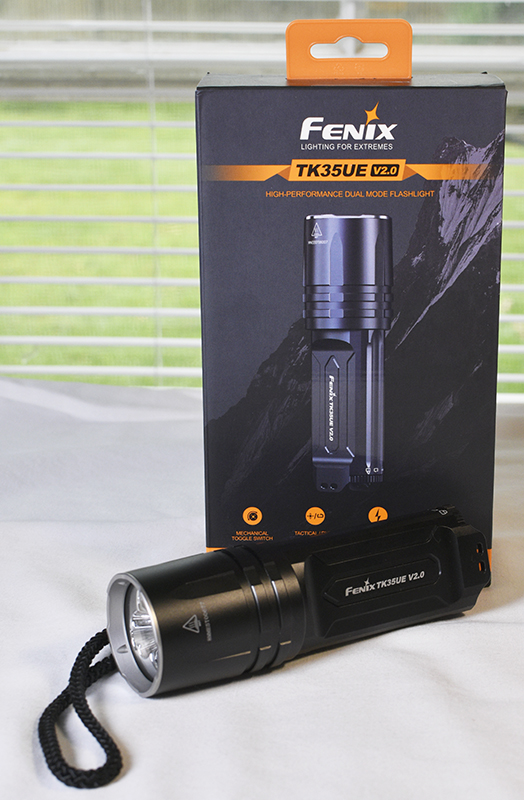 What's in the box?
Fenix TK35UE V2.0 Tactical Flashlight
Holster
Lanyard
Spare O-ring
User manual
Warranty card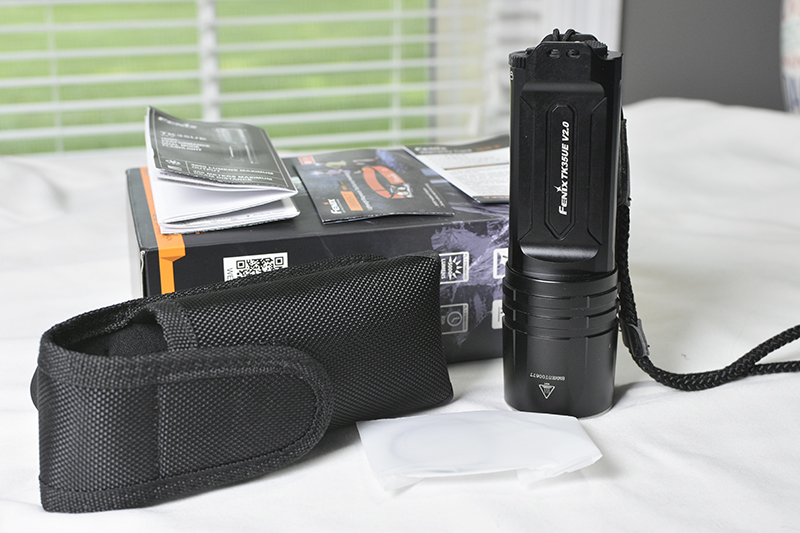 Hardware specifications
5000 Lumen maximum output
Powered by 18650 batteries
Luminus SST40 LED
Color Temperature: 6500K
Working voltage: 3.0 – 8.4V
3-way mechanical toggle function switch
Tactical Mode for simplified operation and Duty Mode for general use
Instant Strobe
Outputs

Tactical Mode

Tactical High: 3500 Lumens, 1.8 hours, 1049 ft
Strobe: 3500 Lumens

Duty Mode

Turbo: 5000 Lumens, 1.6 hours, 1312 ft
High: 2000 Lumens, 2 hours, 820 ft
Med: 800 Lumens, 4 hours, 524 ft
Low: 350 Lumens, 13.6 hours, 328 ft
Eco: 30 Lumens, 85 hours, 104 ft
Strobe: 3500 Lumens

9 ft impact resistance
A6061-T6 Aluminum body
HAIII Hard-anodized anti-abrasive finish
Tough body clip
Battery level indicator

Solid green: 100%-85%
Flashing green: 85%-50%
Solid red: 50%-25%
Flashing red: 25%-1%

Lockout function
Length: 5.63 inches
Head Diameter: 1.69 inches
Weight: 7.13 oz excluding batteries
Design and features
The Fenix TK35UE V2.0 is a relatively small handheld flashlight.  The body is made of anodized aluminum with an anti-abrasive finish, which to me seems like it may be a bit slippery if you have wet hands. Considering it's designed for military and law enforcement, I'm betting most users will be wearing gloves.
Here's a size comparison against some of my smaller flashlights.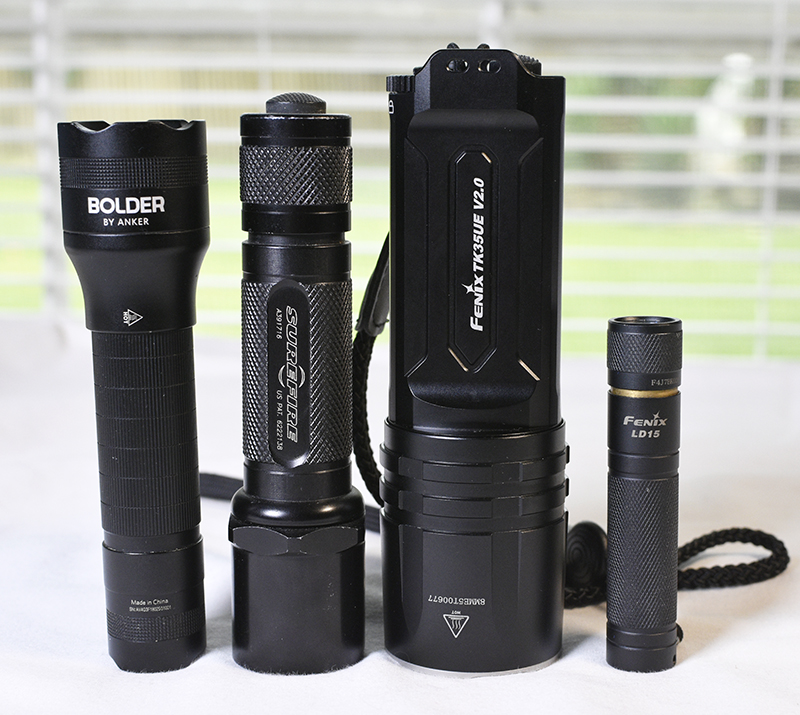 The large head houses three Luminus SST40 LEDs which are high brightness, cool white, and capable of an output of at least 1900 lumen each.  Each one of those LEDs can reach up to 85 degrees Celsius/185 degrees 185 when using the max amperage of 6 amps according to the manufacturer. Yes, I said EACH. Yes, if you run this at the two highest output modes, it's going to get hot.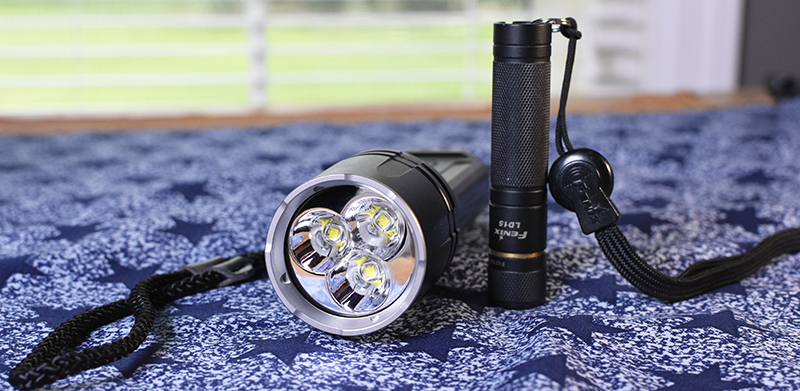 The Fenix TK35UE V2.0 flashlight has an installed O-ring to keep it weather resistant with an extra included in the box. Also included is a seemingly tough holster, which I feel is necessary if you're carrying this around for long periods. There is a body clip on the unit, which I'm assuming it's called that because it's hard to get it on a standard belt. It does however slip onto MOLLE webbing quite easily making it possible to quickly access it without having to fumble with a holster.  It also comes with a lanyard which it is better for us regular citizens since I mostly used it to search for my escape artist dog when he decided to get out of the backyard and "visit" the various houses in the neighborhood.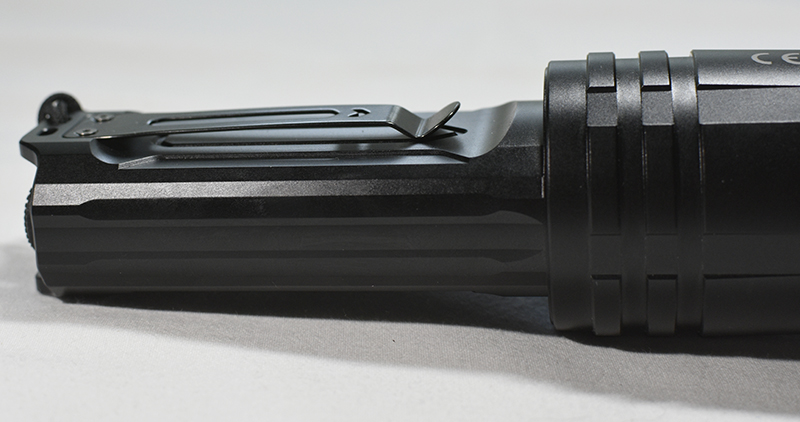 The Fenix TK35UE V2.0 is honestly overkill for me.  If I go shining around my neighborhood at night looking for my dog using high mode at 2000 lumens or Turbo at 5000 lumens, I'm sure the neighbors will have something to say about it. Does that mean I don't like it? Nope. I think it'll come in handy during hurricane season here in Florida. It's my little handheld searchlight should I need it. But I feel like it's perfect for its intended audience. I can certainly see police officers or security guards using it while performing their duties.
One design feature I appreciate is the batteries are installed side by side instead of in-line. This means I can grab the base with a four-finger grip and not have any extra length hanging out. Although this adds to the width, it keeps length down making portability much easier. Throw it in a toolbox or glove compartment or carry it on your person.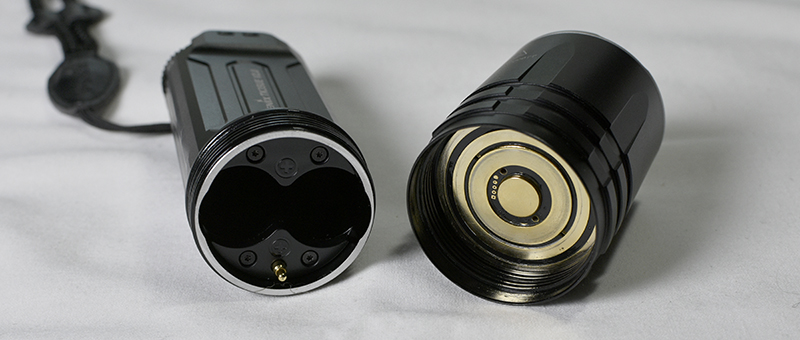 Speaking of batteries, the Fenix TK35UE V2.0 doesn't come with any nor battery charger.  I received a pair of 18650 button top, 3400 mAh, 5 amp batteries, and charger to review the flashlight, but just know you'll have to supply or purchase your own. While we're talking about batteries, you can run it off one 18650 or two CR123A batteries if you're in a crunch, but runtime is impacted.  Fenix recommends the two 18650s or four CR123As, but it's nice to know you have that option.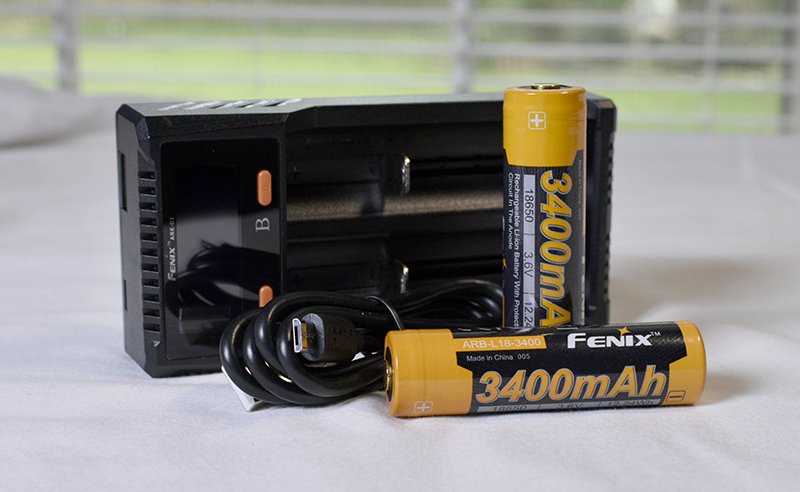 Now let's talk about what this thing can do. The Fenix TK35UE V2.0 has a three-way mechanical toggle switch with a button in the middle along with a separate ON/OFF button switch.  Using the three-way switch allows cycle through the modes.  There's Lockout, Duty, and Tactical.  Lockout is just what it sounds like. When in this mode, the light will not shine regardless of any button presses.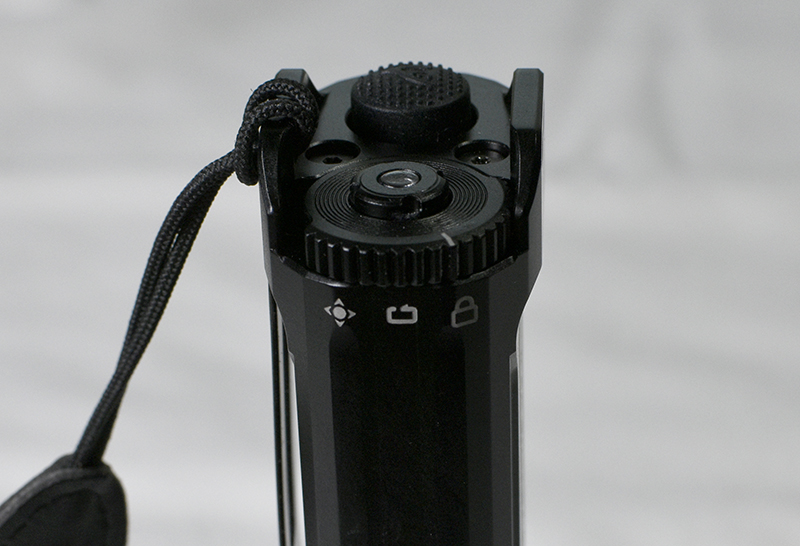 The LED in the toggle switch will indicate battery level though when pressed.  Solid green is 100-85%, flashing green 85-50%, solid red 50-25%, and flashing red 25-1%, so no guessing how long you have left before needing a fresh set of batteries. Another nice feature of this button is if you switch the light into Lock mode but still have the power button ON, it'll flash red and green to alert you.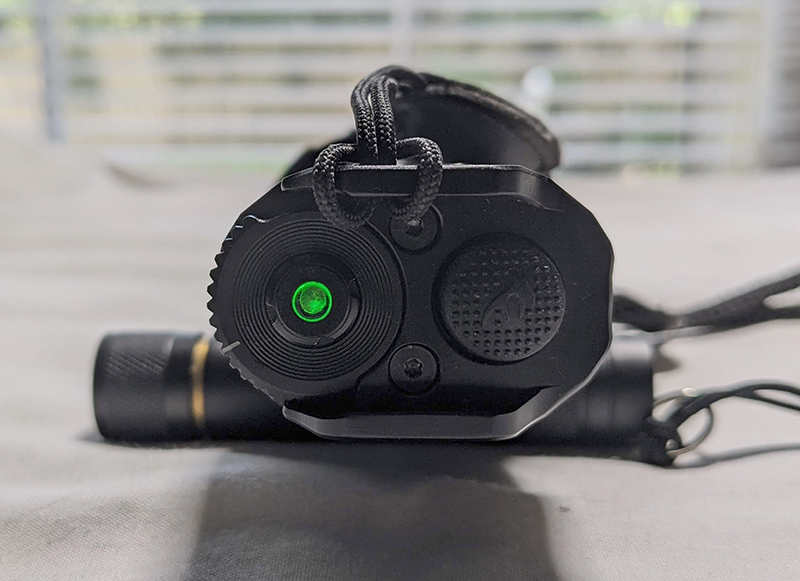 Duty mode is where most of the magic is. This mode allows you to cycle through Eco, Low, Medium, High, and Turbo light levels with a press of the lighted button on the toggle switch.  Press and hold said button and it activates the strobe. Below you'll find some pictures I took in my backyard to show the different light levels.  You can also watch the video posted to see them in action.
Eco Mode: 30 lumens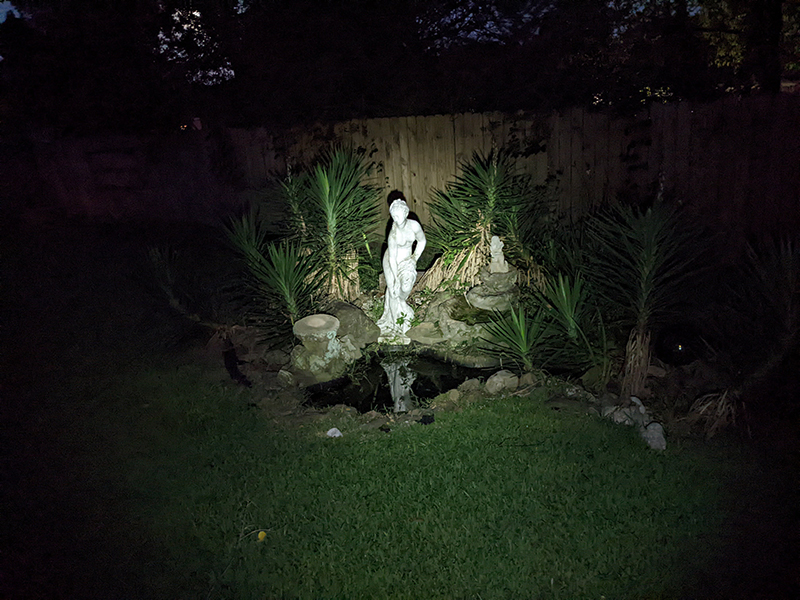 Low: 350 lumens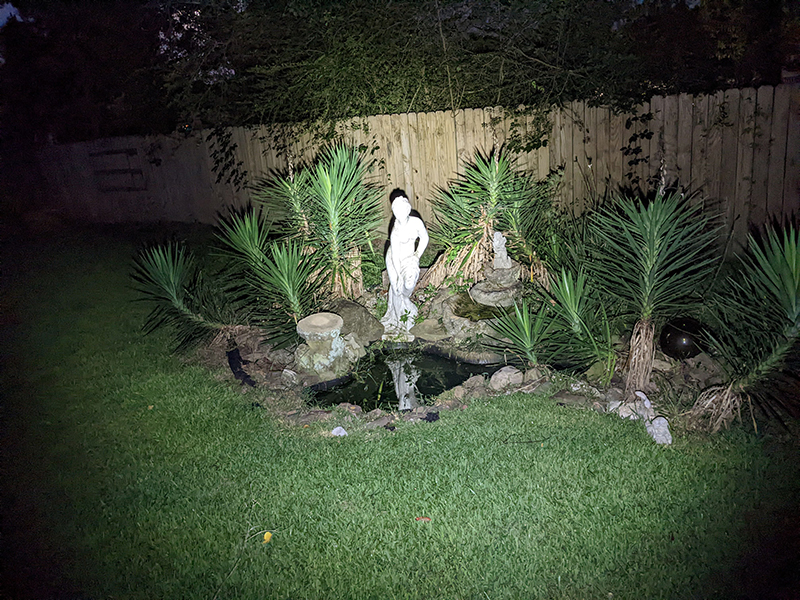 Medium: 800 lumens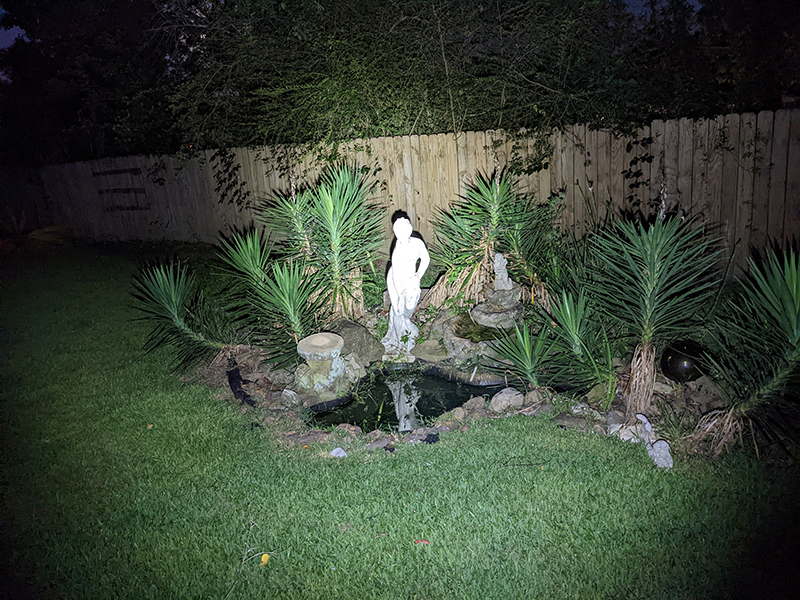 High: 2000 lumens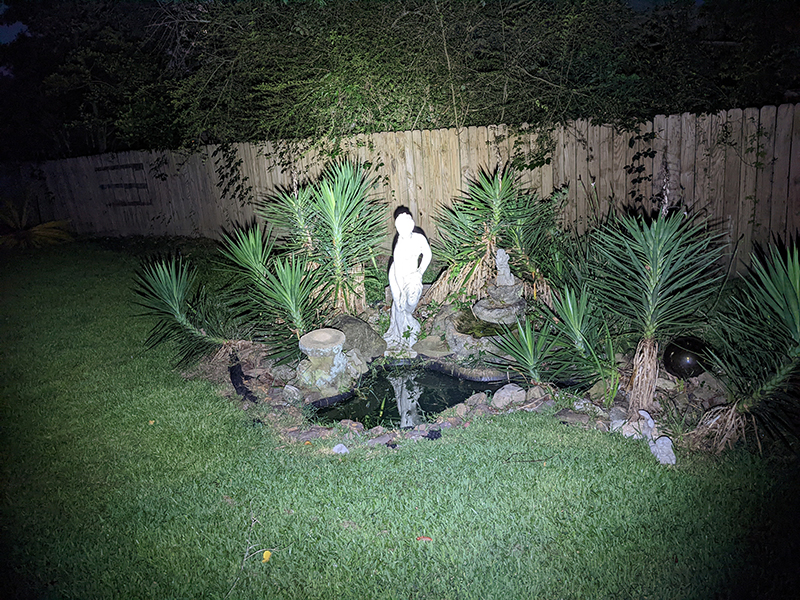 Turbo: 5000 lumens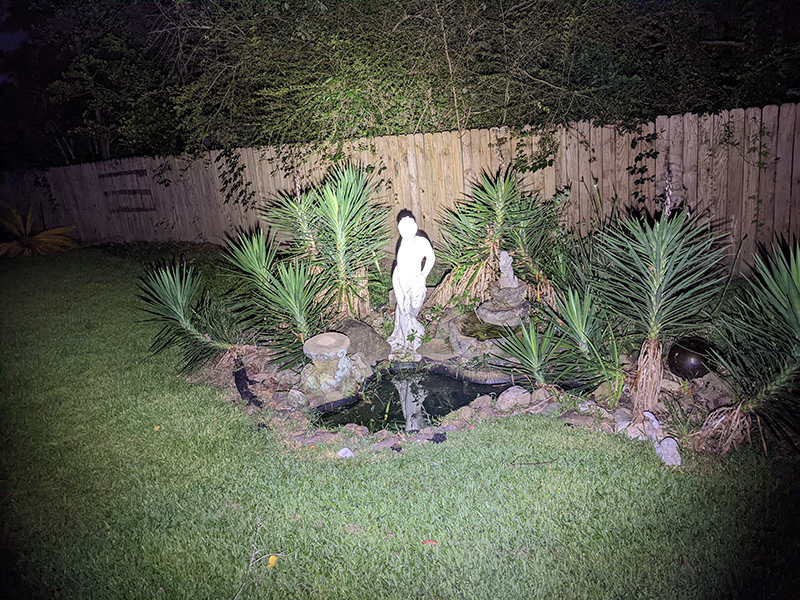 The next mode is Tactical.  It has two settings Tactical High at 3500 lumens and then strobe. No press and hold here.  Simply tap the lit button to activate the strobe. Tactical mode is great because you don't have to cycle through the lower modes to get an intensely bright light.
What about runtimes? I have those listed in the hardware specs but wanted to test the two highest settings to see how accurate they were. I performed my highly scientific experiment by starting with the Turbo setting. I turned it on and started a stopwatch. I told you it was highly scientific. Fenix lists the runtime as 1.6 hours, but I got a little better than that. I ran it twice and got 1 hour 58 minutes the first time and 1 hour and 52 minutes the second before it switched automatically to Eco mode output. In High output, I got the 2 hours Fenix reports. So hey, pretty spot on. One thing to consider though is if you're using the TK35UE V 2.0 on these settings for an extended amount of time, you better be wearing gloves. Bare hands are not recommended unless you're a masochist. This thing gets HOT. Can't say that's unexpected. I've got smaller flashlights that get quite warm and don't come close to the output of the TK35UE V2.0.
I don't think there's much not to like about this offering from Fenix if you need something with these capabilities. The only thing that would make it better in my opinion is some sort of texturing on the body to make it grippier. More grippy? Grippified? Oh, and include some batteries, even if it's not the rechargeable 18650s.
See it in action
Here's a video showing some of the LED functions and the different lighting modes.
What I like
Robust build
Weather-resistant
Multiple modes
The functions of the toggle switch and its LED button
What I'd change
Texture the body for a better grip
Price, considering no batteries or charger is included
Here's a link to my video if you care to see the TK35UE V2.0 in action
Final Thoughts
Fenix is a well-known trusted brand for quality flashlights. If you need something like the TK35UE V2.0 flashlight for your EDC, then get it.  I don't think you'll be disappointed. Just remember, no assembly is required but batteries are not included.
Price: $139.95
Where to buy: Fenix
Source: The review sample was provided by Fenix