We use affiliate links. If you buy something through the links on this page, we may earn a commission at no cost to you. Learn more.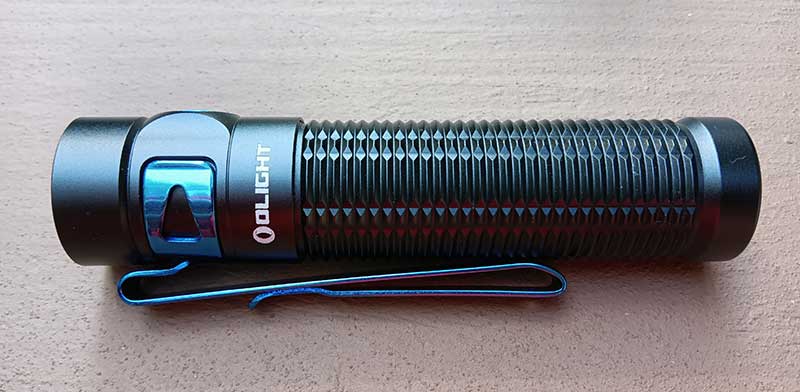 REVIEW – The Olight Baton 3 Pro flashlight could be called 'deeply groovy'. It has a grip surface that is much better than traditional cross-hatch knurling. Its overall form factor fits my hand very well. And it is lightweight and has 5 brightness levels. Is there anything to not like about the Olight Baton 3 Pro flashlight?
What is it
The Olight Baton 3 flashlight is a rechargeable LED flashlight.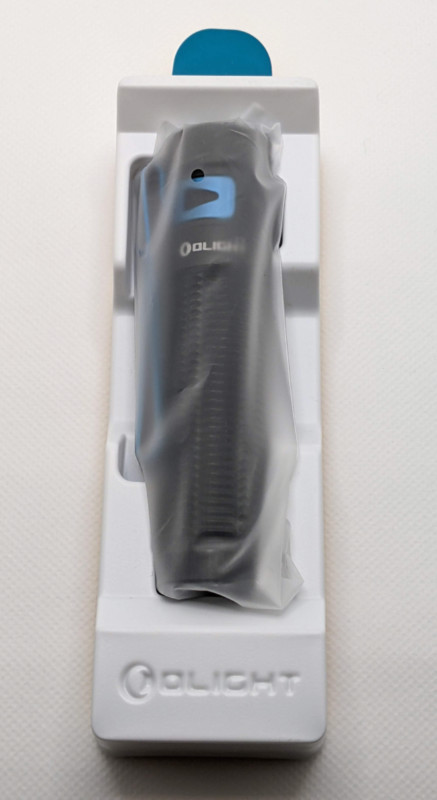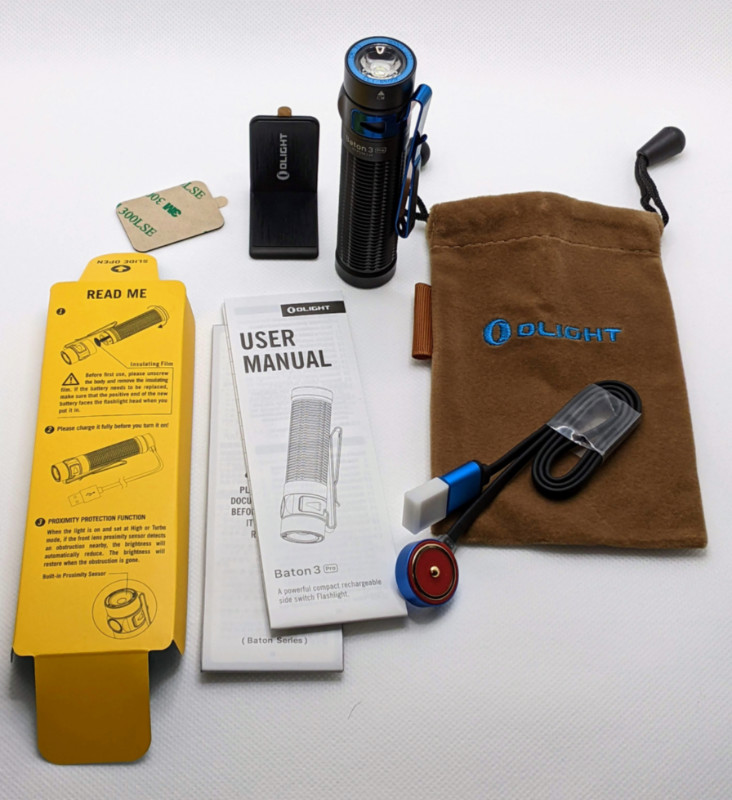 What's in the box
Olight Baton 3 flashlight

90 degree black steel adhesive mounting plate

Adhesive patch for mounting plate

Magnetic tailcap charging cable

Fabric storage bag

Instruction sheet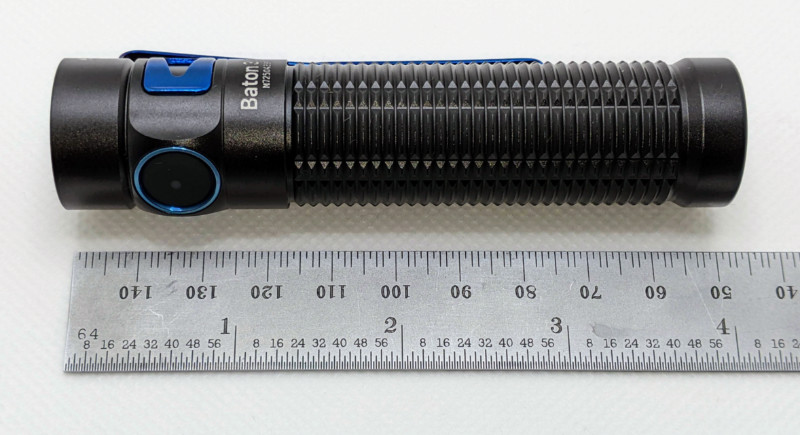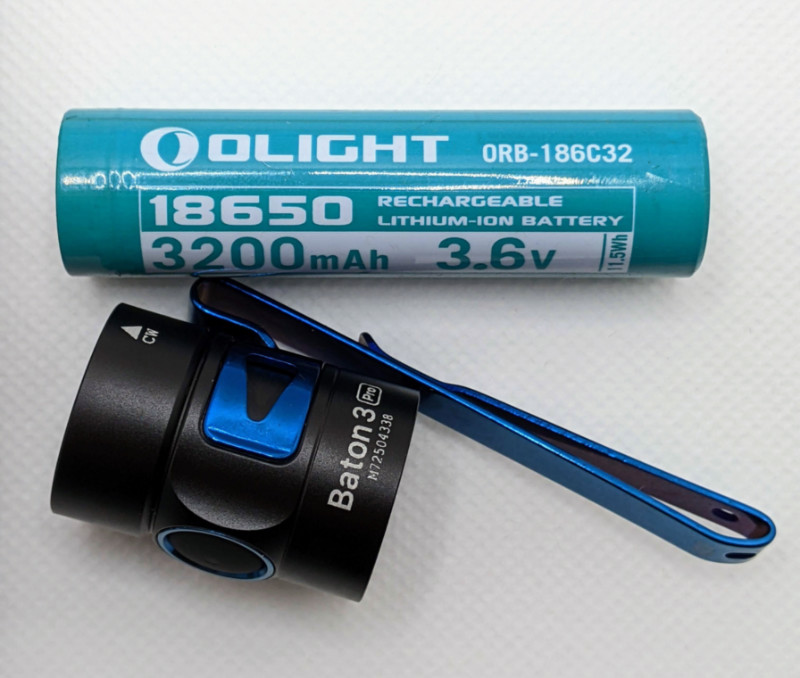 Hardware specs
Battery: 3200 mAh, 18650 size, 3.6 V, lithium-ion

Brightness modes: Turbo 1500 lumen (LM), High 600 LM, Medium 120 LM, Low 15 LM, Moonlight 0.5 LM 

IPX8 water resistance rating 

1.5 meter drop resistance

Length: 4 inches

Width: 0.9 inch (light only)

Weight with battery installed: 3.7 ounces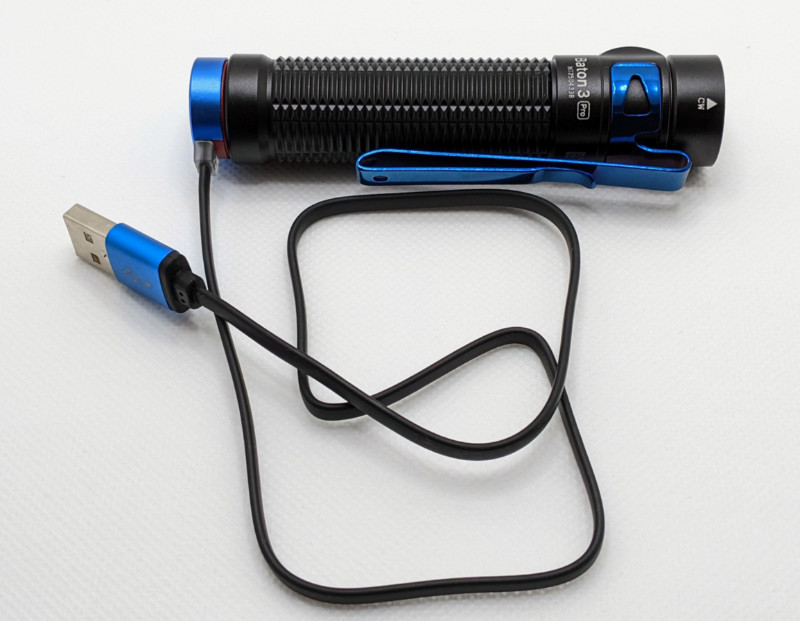 Design and features
Proprietary USB-A to magnet contact charger

Round central light beam with soft edge border and minimal spill

The flashlight is fully sealed and has no exterior ports 

Full charge in 3.5 hours

Light lock feature to prevent 'accidental on'

L bracket for flashlight storage.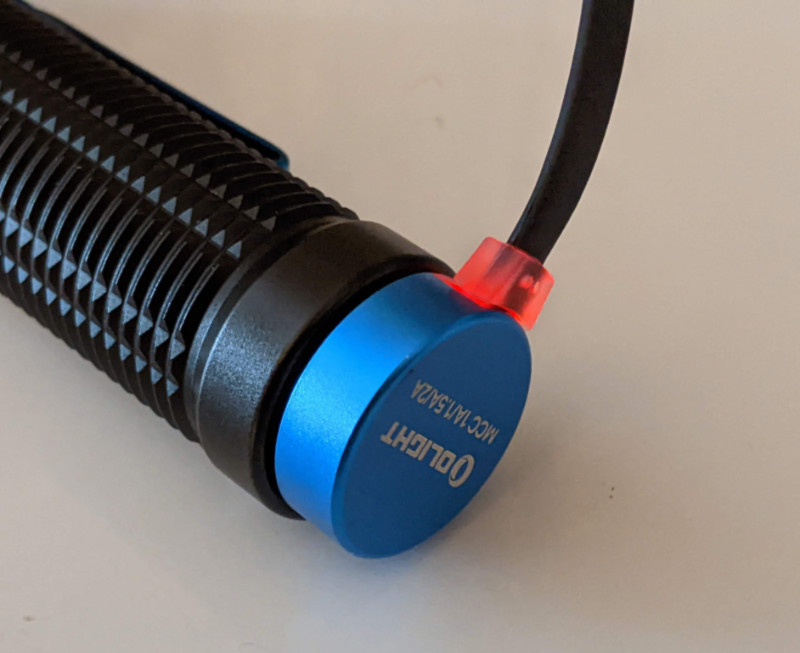 Installation and setup
I charged the Olight Baton 3 Pro flashlight and the charging LED turned from red to green in about 3 hours. The USB-A cable has a round, magnetic end that attaches to the tailcap magnet. The battery does not have to be removed and there are no ports in the body of the flashlight. 
Testing and observations
WATER AND DUST RESISTANCE
IP rating definitions vary depending on the website you find from Googling. Wikipedia has the topic here: https://en.wikipedia.org/wiki/IP_code
I'd say if you drop the Olight Baton 3 Pro flashlight in water, get it out, dry it off, and carry on. I would have no reservations about using this flashlight in light rain. I'd use it in hard rain if I had to.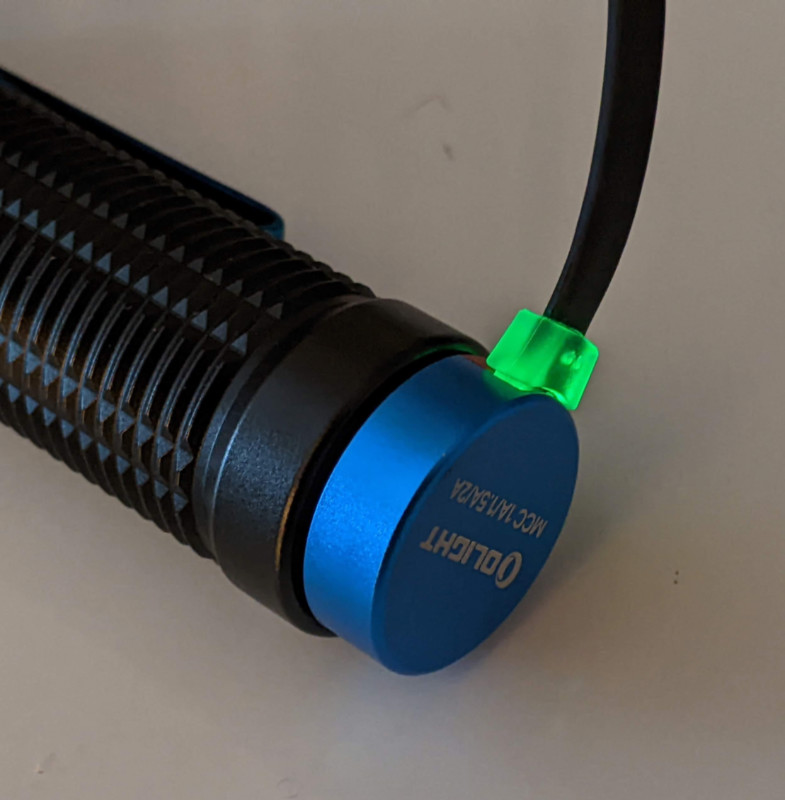 CHARGING
I charged the Olight Baton 3 Pro flashlight when it arrived and the charger indicator LED on the cable went from red to green in about 3 hours. I used the light for normal, around the house, daily and nightly tasks for 3 days, then connected the charger cable to the flashlight. The LED charge indicator was immediately green, which I think meant I had barely depleted the battery over 3 days of occasional use. Impressive. I'd estimate the 'on time' of my 3 days use at around 20 total minutes. I had used the High and Turbo brightness levels a couple of times each day but for only a maximum of +/- 30 seconds each.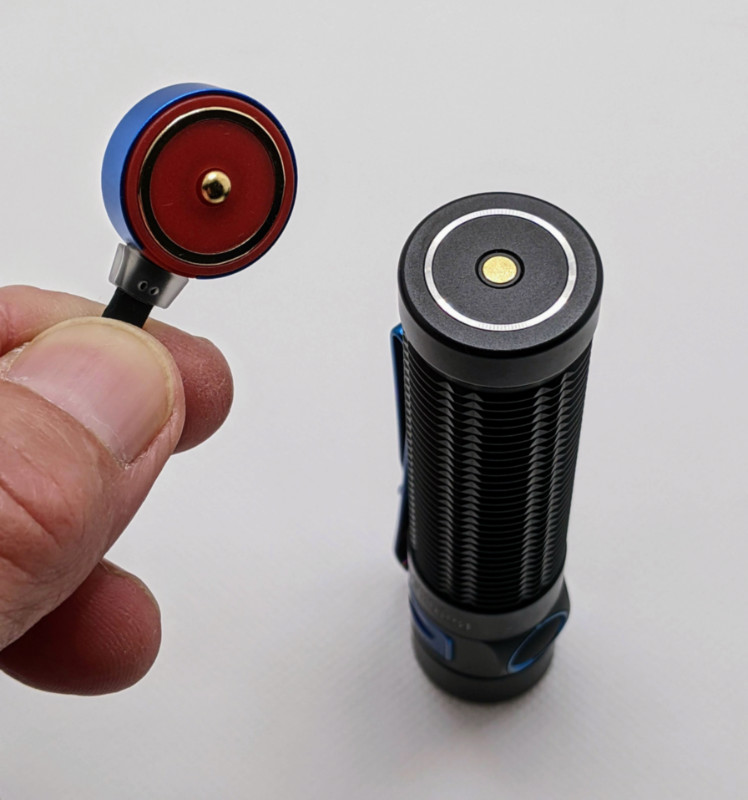 The proprietary charging cable with its magnetic contact can not get lost, or the light cannot be charged, unless you have some other means of charging a 18650 battery. 
I like the sealed nature of the Olight Baton 3 charging system. I'll have to remember the cable if I take the Baton 3 on travel. Some might like the universality of a USB-C port on a flashlight or built into the battery. I'm not often a cable loser, so the Olight system is ok with me.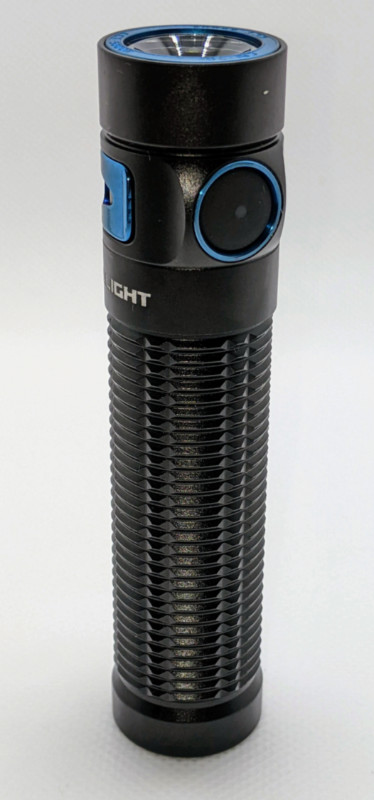 SWITCH
I was glad to see the Baton 3 equipped with a 'press button' switch just below the lens / reflector / LED assembly. My hand dislikes tailcap switches. The 'button on the grip' configuration allows for more natural flashlight carry vs. tailcap switch lights, which are usually carried arm up, elbow bent, thumb on the switch. 
MODES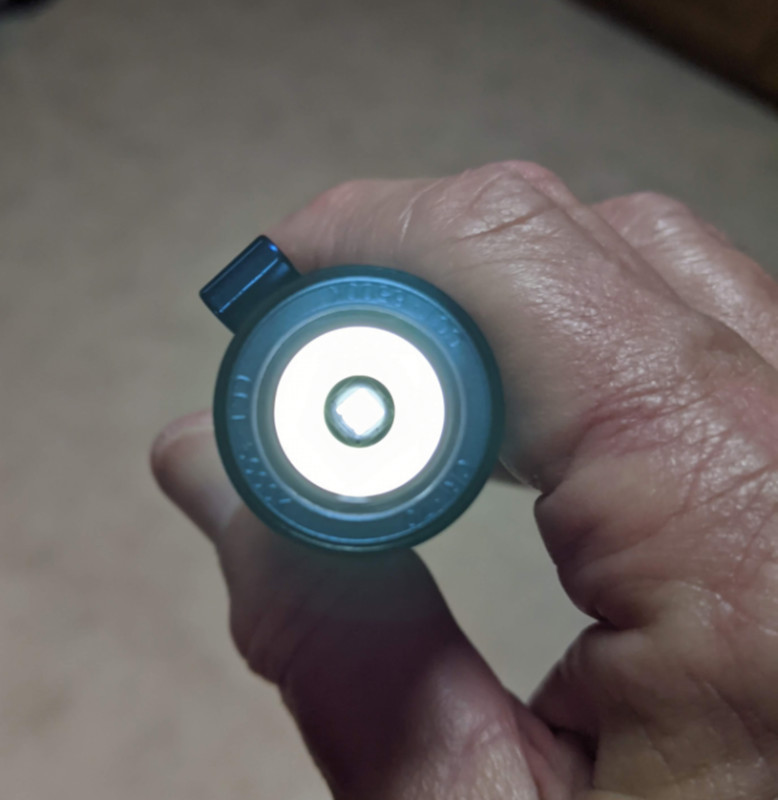 Since the .5 lumen Moonbeam mode is so dim, here it is viewing directly into the lens. This amount of light on a dark wall does not photograph easily. It's usefully dim.
These light mode photographs were taken about 20′ from the house siding.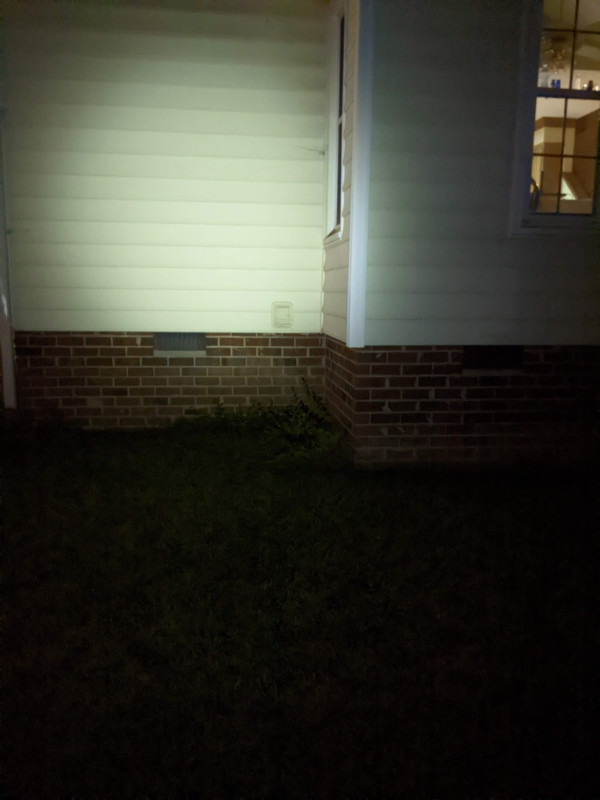 This is 15 lumen Low mode.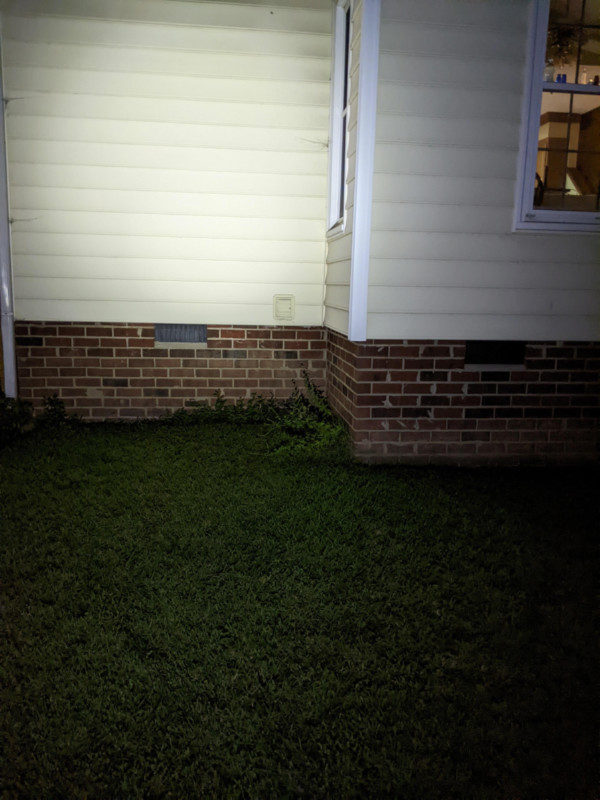 Here's 120 lumen Medium mode.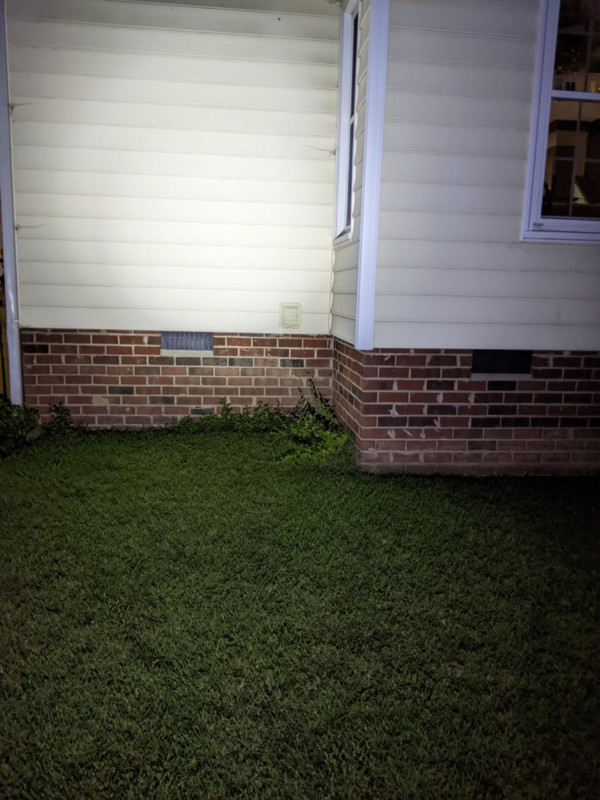 This is the 600 lumen High mode.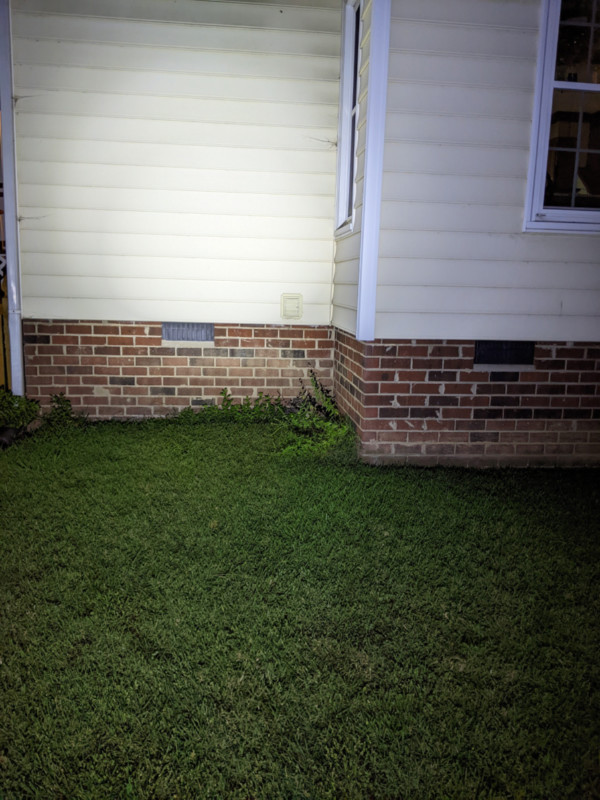 1500 lumen Turbo mode.
I got most tasks done with the Low or Medium brightness setting but I used each mode almost daily throughout my testing. It is nice to have the 5 brightness options. The moonbeam mode is great for getting around a dark house when others are sleeping. I did not need the strobe mode during this review and seldom have with other flashlights I've used. 
I'd think twice before using the Olight Baton 3 Pro flashlight or most strobing flashlights as a breakdown warning light on the highway, or as a bicycle headlight strobe. A rapid frequency strobe is at a minimum, distracting and irritating, but could be seizure-inducing in some individuals. And I know strobe is sometimes marketed as a weapon but I hope you'll reconsider that perspective. If the Baton 3 had a slower frequency strobe I'd use it on my bike. But it would work well as an 'always on' bike light.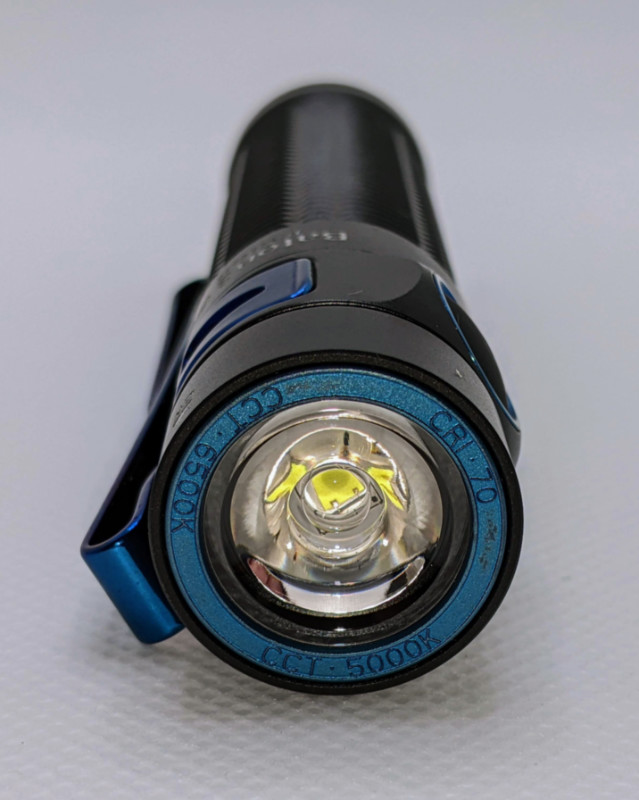 The lens is actually concave.
What I like
Compact, comfortable feel in the hand

Nice variety of brightness options

The Moonbeam mode is great for moving around the house unobtrusively

Excellent beam throw
What I'd change
I wish the strobe was at a slower flash rate as seen on good bike lights.
Final thoughts
The Olight Baton 3 rechargeable LED flashlight has a comfortable feel in the hand and seems lightweight compared to some other lights that use the 18650 battery. It throws a lot of light when a bright beam is needed. With its range of light modes, lightweight, and other features, the Baton 3 tallied up to be a versatile, powerful, pocket flashlight. Be sure to check out all of our other Olight flashlight and knife reviews.
Price: $49.99 
Where to buy:  Olight
Source: The sample for this review was provided by Olight.