We use affiliate links. If you buy something through the links on this page, we may earn a commission at no cost to you. Learn more.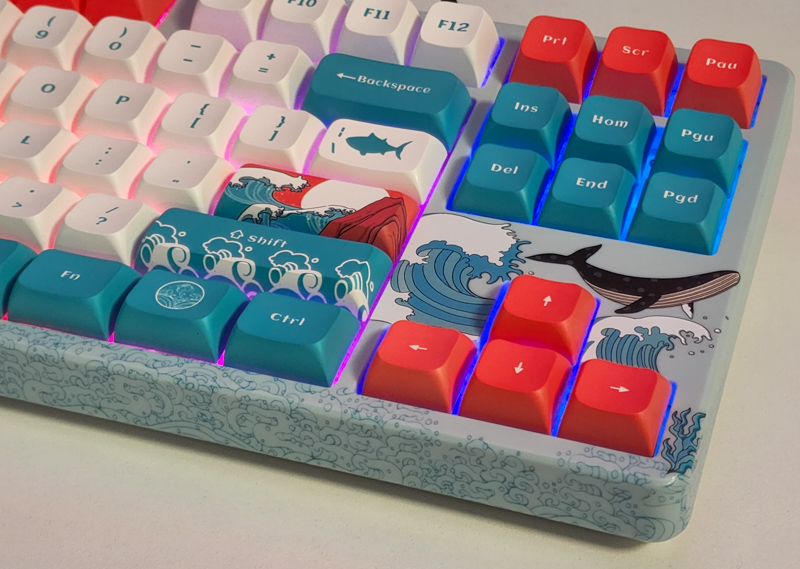 REVIEW – Keyboards are essential, but often quite boring. Mechanical keyboards are a nice step up from the standard membrane keyboards included with most systems. Mechanical keyboards have a dizzying variety of options like the actual switches themselves (which affect typing resistance, feel, noise, activation point, and more), keycaps, lighting, etc. The XVX M87 Coral Sea Themed Mechanical Keyboard adds another layer to a genre I've tested extensively, and that's its artistic flair. The Coral Sea theme featuring what appears to be Hokusai inspired designs adds a fun element to the boring old office keyboard.
What is it?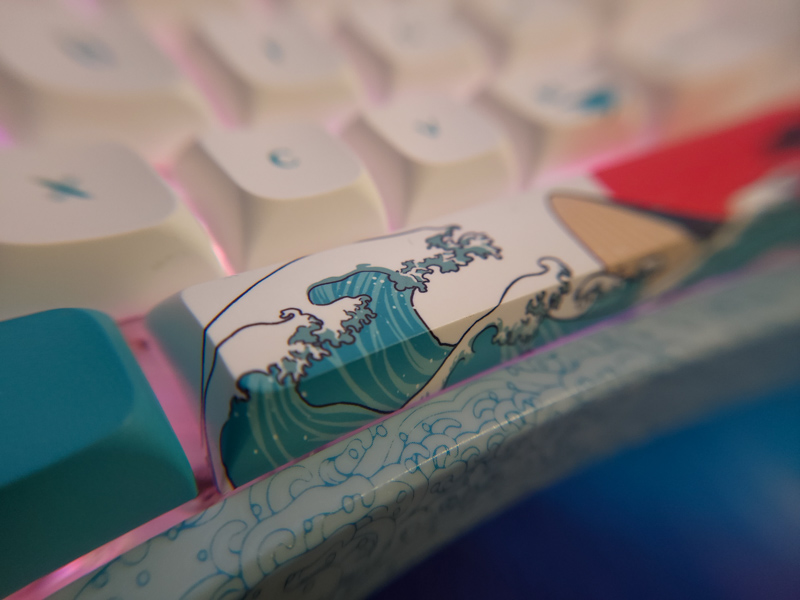 The XVX M87 Coral Sea Themed Mechanical Keyboard is a mechanical keyboard with Gateron Red switches that can be used in wired (USB) or wireless (2.4 Ghz w/ USB dongle) modes. The Gateron Red switches are a non-clicky linear switch with low activation pressure and 2 millimeters of travel to activation. This results in fast performance for both gaming and office typing, with less noise than other switch options. The keyboard deck has a magnetic cover with the art print on it, and the matching keyset results in a red/white/blue colorway with some lovely ocean-themed art.
What's in the box?
XVX M87 Coral Sea Themed Mechanical Keyboard
3 alternate MacOS specific keys
Key-puller
Switch-puller
USB-A to USB-C cable
USB-A 2.4 Ghz receiver dongle
Manual
Hardware specs
Keys – 87 (plus 3 MacOS swappable keys) / 75% layout
Material: ABS plastic case, PBT Keycaps
Removable magnetic upper case cover
Keycap profile: XVX profile
Switches: Gateron Red (quiet, linear, low actuation force, good for both gaming and office)
Connection: USB or 2.4Ghz Wireless (USB wireless dongle and USB cable included)
Supported OS: Windows/MacOS
Weight: 1186 g / 2 lb 10 oz
N-key rollover
RGB per key backlighting
Design and features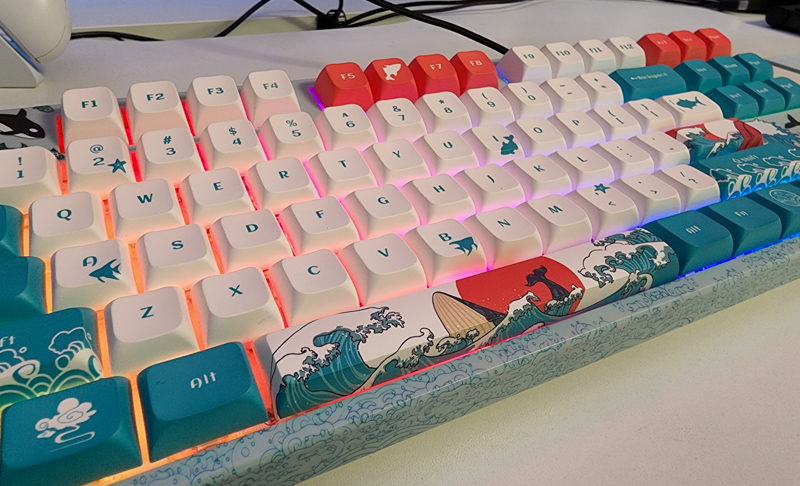 The XVX M87 Coral Sea Themed Mechanical Keyboard is an 87-key standard keyboard layout – basically a "typical" keyboard with the 10-key number pad area cut off. This results in a slimmer desk profile while retaining all of the function keys and the key cluster above the directional arrows.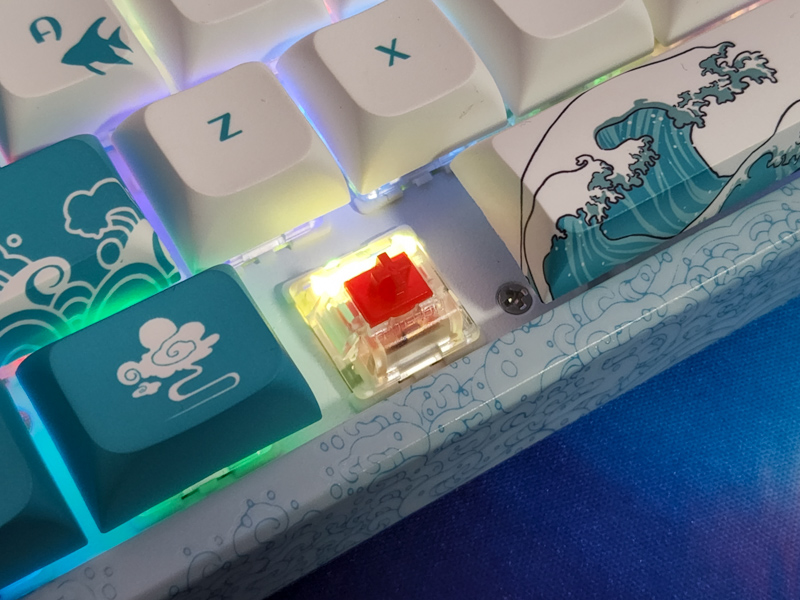 Each key is individually lit with RGB lighting, which can be configured per-key through software or you can cycle through presets. The included keycaps do not allow light through, so the lighting effects simply appear around the edge and below each key. You could switch out the keycaps to other standard keycaps (but then you'd lose the beautiful illustrations).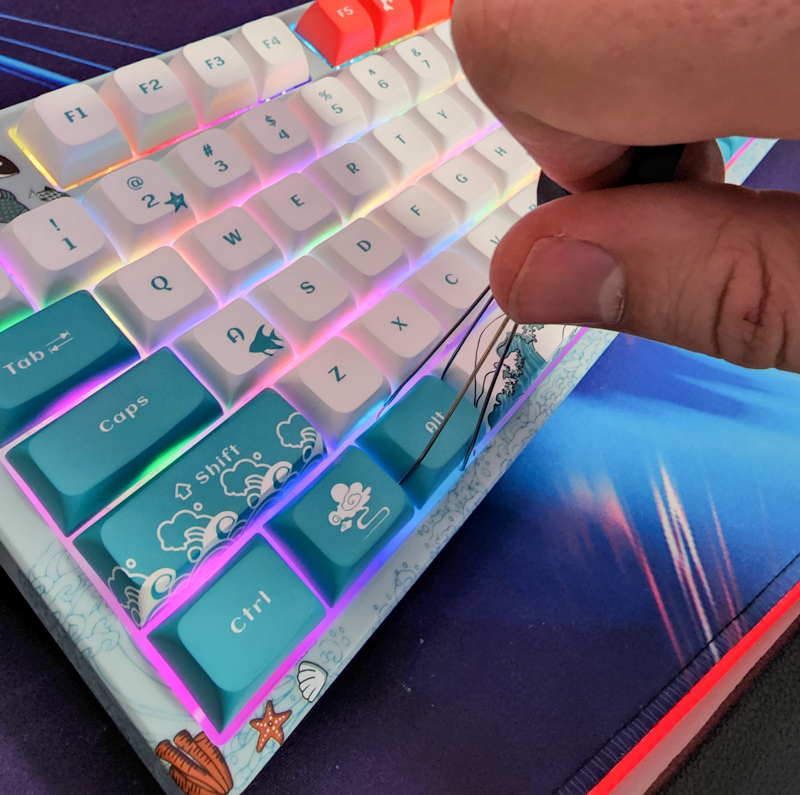 The included key puller works well to pull the keycaps off the switches, and the switch puller (not pictured) can pop the switches out if you ever want to change them to a different flavor as well.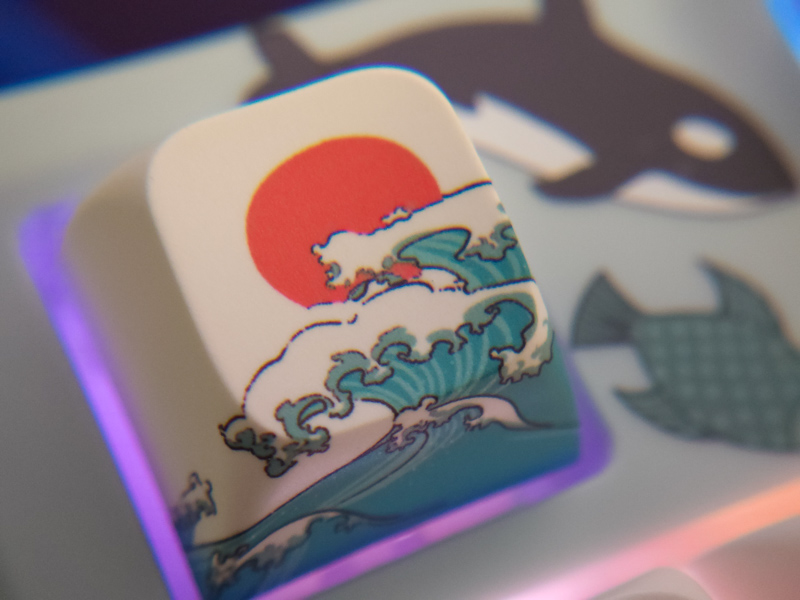 I had to take some close-ups of the detail on some of these keycaps, I'm loving the artwork on them.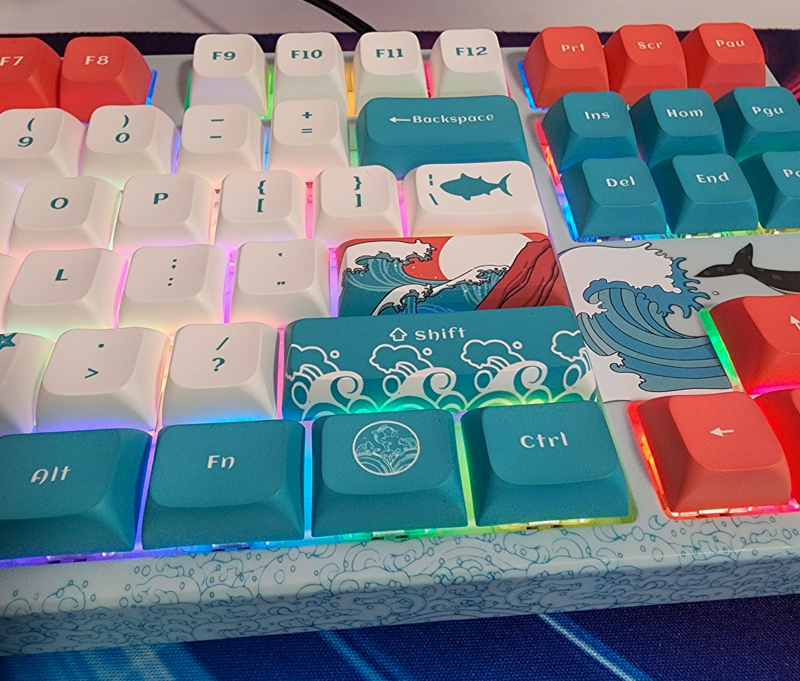 If you're into all things aquatic, then you're probably already sold on this model, but I'll keep reviewing it anyways.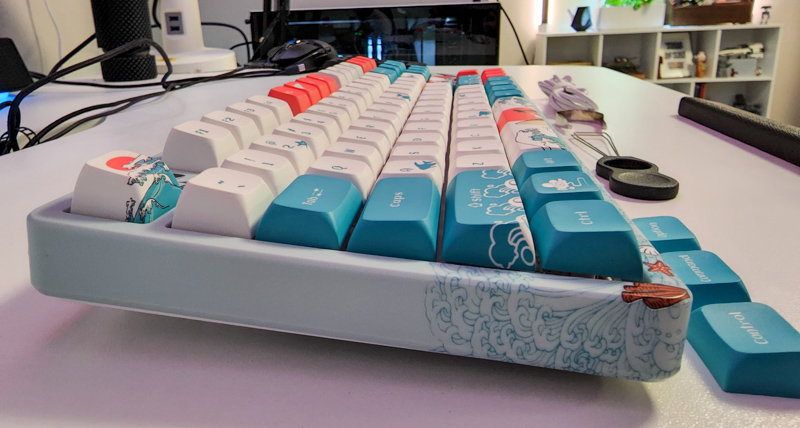 The keycap profile (angles and heights of the rows of keys) is a unique design. You can see in the photo above how they all lean into the center where your hands naturally rest if you're a touch typist. This illustration shows the differences in different keycap layouts: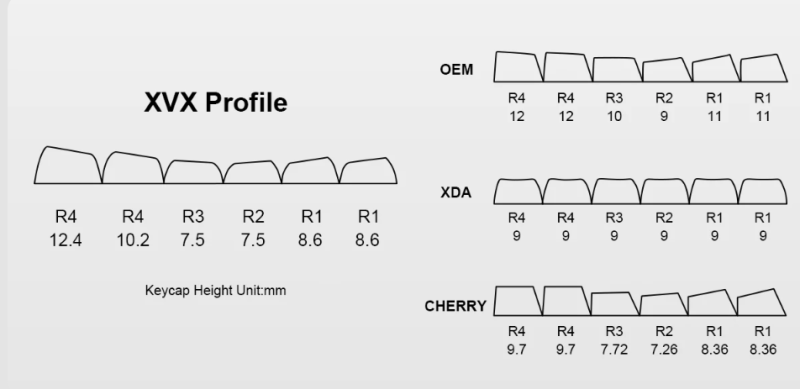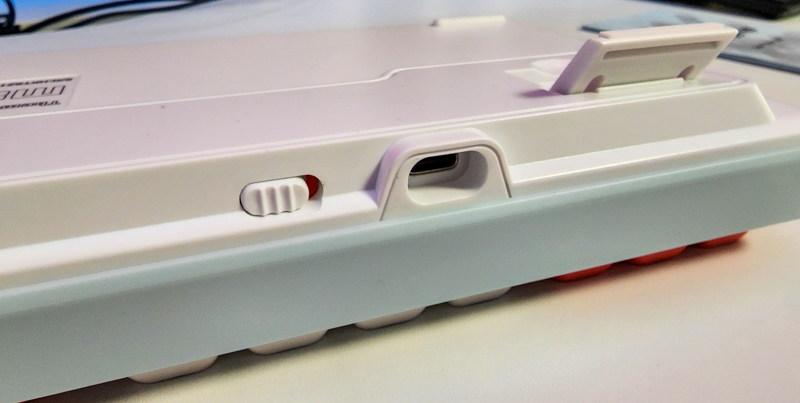 Around the back is the On/Off switch, and the USB-C connector (for charging and/or connection to your computer).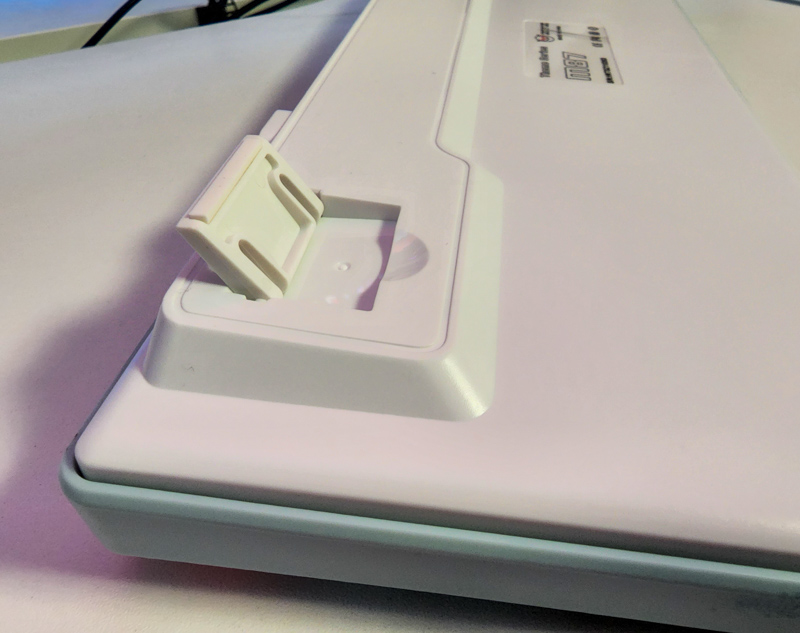 Flip out feet add a few millimeters of height to the back of the keyboard if you prefer an angled surface to type on.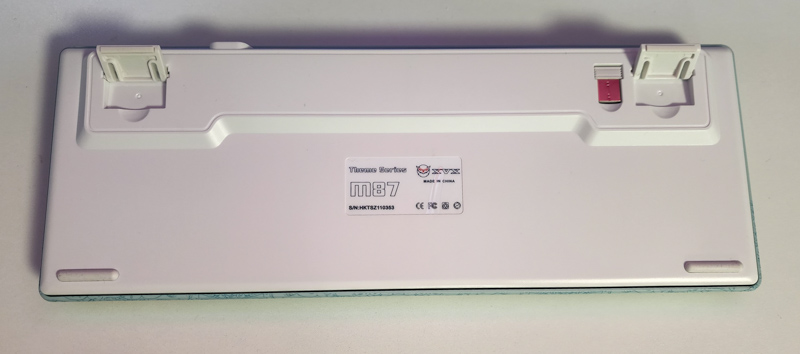 You can see the 2.4 GHz wireless USB receiver nestled next to the right foot in the image above. I always like it when devices include storage for their tiny dongles, without this, I always lose them.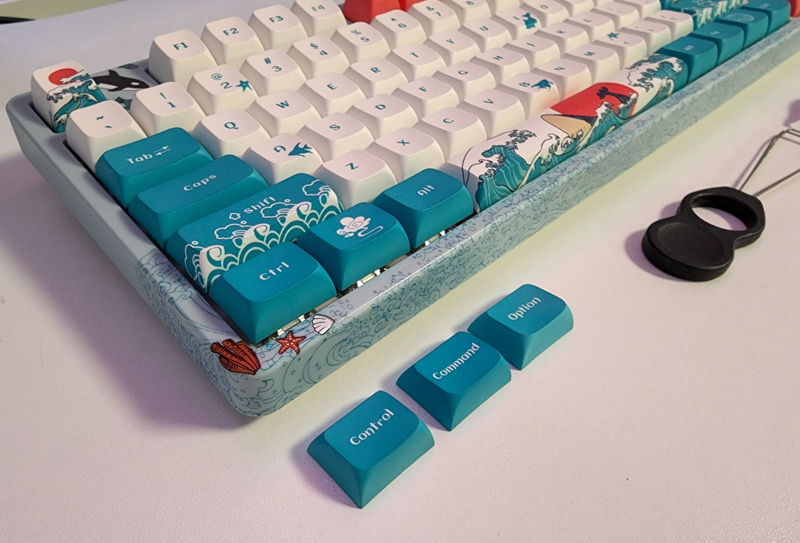 If you're on macOS, you can switch out the bottom left three keycaps to the included Control-Command-Option keys.
Installation and setup
The XVX M87 Coral Sea Themed Mechanical Keyboard is fully plug-and-play, and I tested it on both Windows 11 and macOS. It was detected and worked like any other keyboard. If you want to customize the key lighting or create custom macros, you'll want the software (available only for Windows from their website). Once customized, the keyboard can be used in macOS – but you can't change lighting or macros directly on Mac.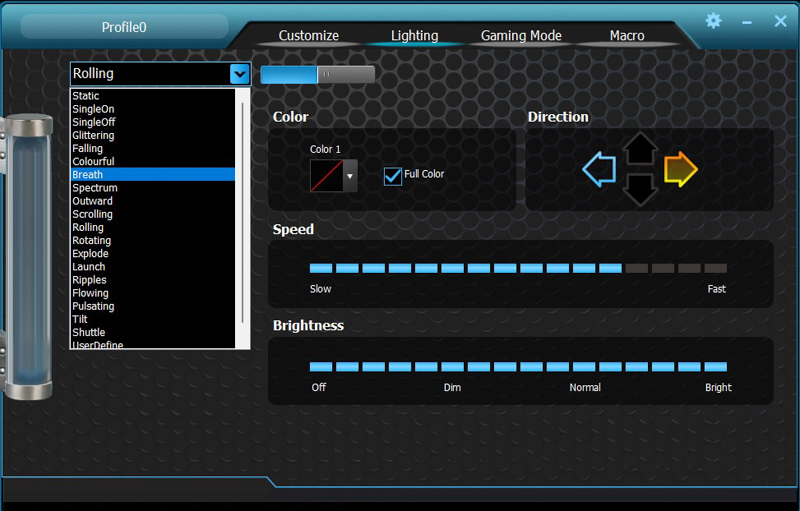 The lighting is very customizable and includes quite a few pre-built presets as well.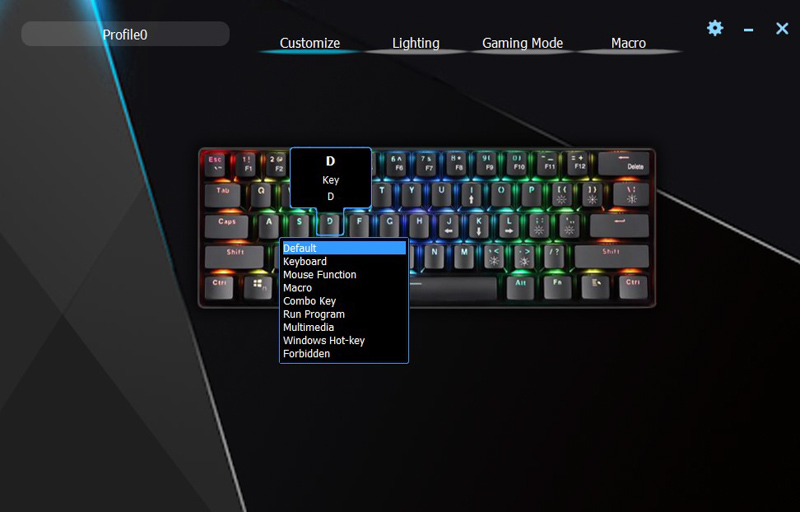 I love the ability to add macros, which can be recorded in the software, so you can use a function key + another key to trigger a series of keypresses, thus automating either a workflow or a string of commands for a game. You can also map launching programs, performing mouse functions, and more from these macro keys.
Performance
The video above shows both the typing noise as well as the lighting presets. The keys have no cushioning or dampening, so they're pretty loud for "non-clicky" switches. You could add O-Rings or a layer under the keys to reduce the noise if desired.  I was quite happy with all of the lighting presets (though I do wish the keycaps allowed the light through so you could actually see the keys better in dark rooms). Because of how the lighting works, it simply provides backlighting between and below the keys, so you can get cool effects to enhance the already-cool keyboard.
What I like
Great performance as a keyboard – everything I love about mechanical keyboards is here
Ability to swap keys and switches easily
This is my favorite keyboard layout – a full keyboard with the number pad chopped off
Wireless and Wired options
What I'd change
I wish the included keycaps allowed the RGB lighting through
I always like a matching wrist-rest to my keyboards, but there are third party ones easily available so it's not a dealbreaker for me
Final thoughts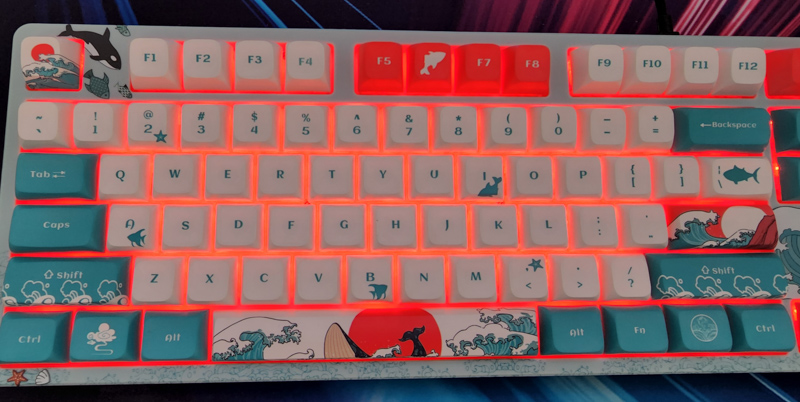 Overall, I absolutely love the XVX M87 Coral Sea Themed Mechanical Keyboard for its design and solid keyboard performance. If you're a fan of the design, I don't think you'll go wrong picking this one up!
Price: $98.99
Where to buy: XVX and Amazon
Source: The sample for this review was provided by XVX