We use affiliate links. If you buy something through the links on this page, we may earn a commission at no cost to you. Learn more.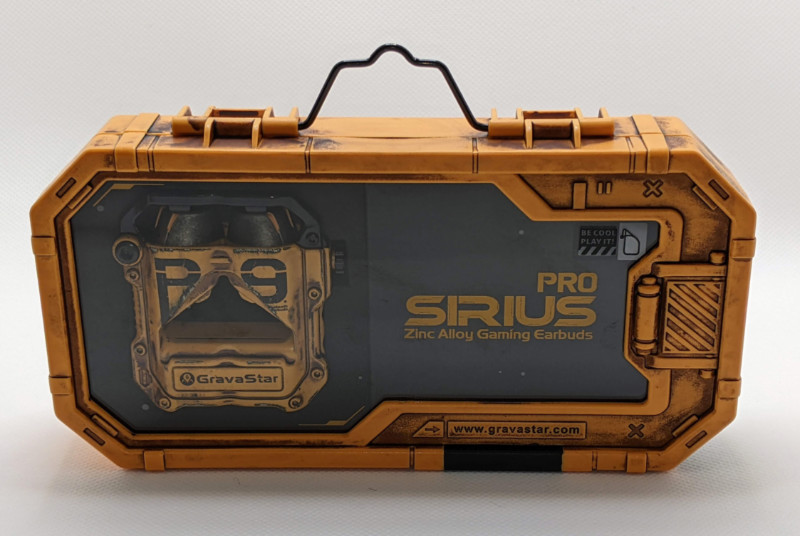 REVIEW – The Gravastar Sirius Pro Earbuds have excellent sound. They come with a very creative earbud box and a heavy, durable charging carry case. They only forgot one tiny major detail. Don't be in a hurry to put these earbuds in your ears. They are ungrippably slick and sit tightly in their case. Read on for a simple hack. Sound delivery is the main point with earbuds and the sound from the Sirius Pros is their strong point.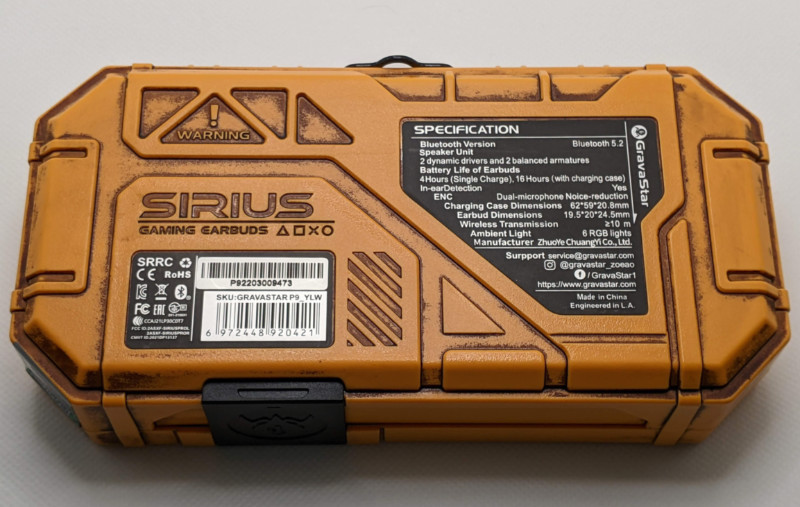 What is it
The Gravastar Sirius Pro Earbuds are true wireless stereo earbuds that are rechargeable via a metal carrying case.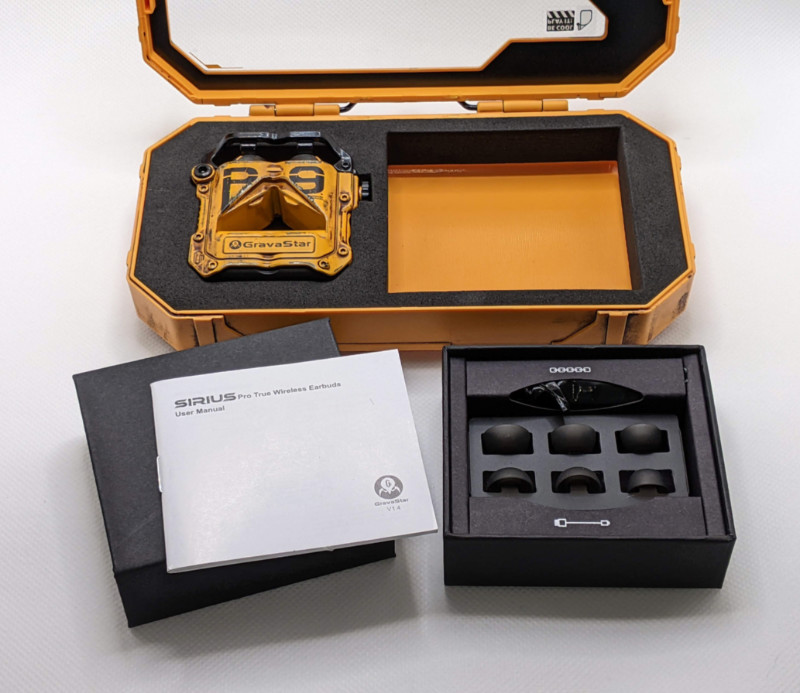 What's in the box
Gravastar Sirius Pro earbuds

'HipHop' neck chain

Short USB-C charging cable

4 sizes of earbud tips

Instruction manual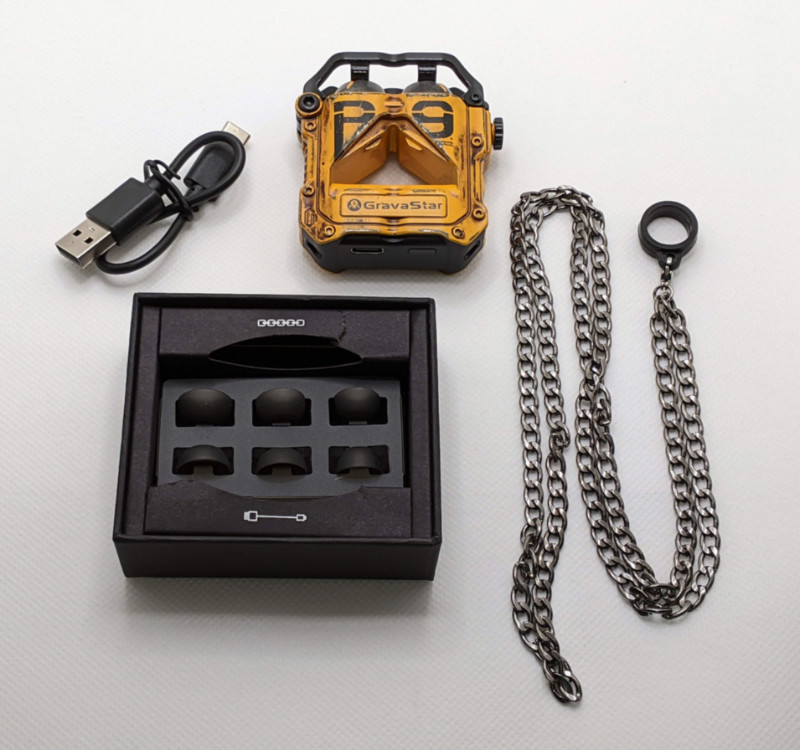 Hardware specs
Total weight (Earbuds plus the case): 3.6 oz

Single earbud weight: 0.2 ounce

Bluetooth 5.2 TWS (true wireless stereo)

Case battery: Lithium ion, 400 mAh 

USB-C case charging port

Case charge time: +/- 3 hours

7.22 mm dynamic drivers

65ms latency

3D surround sound

IPX5 water resistant 

Music and movie modes

Operation range: +/- 10 meters

Earbud charging time: 1.5-2 hours

Earbud battery life: +/- 4 hours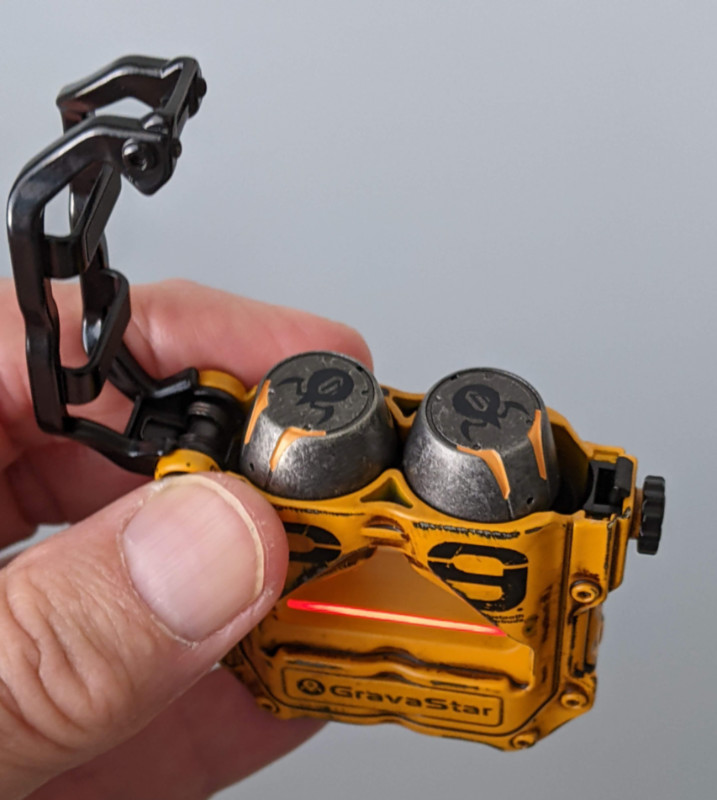 Design and features
Available in Matt Black (yes, 'Matt'), Neon Green, Space Gray, War Damaged Gray, War Damaged Yellow

Knowles Audio Balanced Armatures

Music, Game and Movie sound modes

Bottle opener built into the zinc alloy charger carry case

6 LED light colors in the carrying case light

Exterior noise canceling for phone calls 

65ms latency for gaming

4 hours continuous play time

3 complete charges from carrying case

In-ear detection
Installation and setup
I charged the carry case with the earbuds inserted (as they come from the factory). The charging light does a slow flash until the case is fully charged, then the light stays on steady to indicate full charge. 
Pairing was easy. The earbuds go into pairing mode when removed from the case and my phone acknowledged them quickly. Pairing took only seconds. 
Unlike some of my other earbuds, pairing of the Gravastar Sirius Pros with my phone never failed during my testing period. I'm used to having to frequently re-pair most other earbuds and some headphones I've used. The Gravastar Sirius Pros connected to my phone every time I used them. 
Testing and observations
HANDLING
The Gravastar Earbuds are extremely difficult to remove from their case. There's no nice way to say it – – What were they thinking? The earbuds have a slick finish and are angled such that they are very, very hard to get out of their case. Plus they are held into the case magnetically.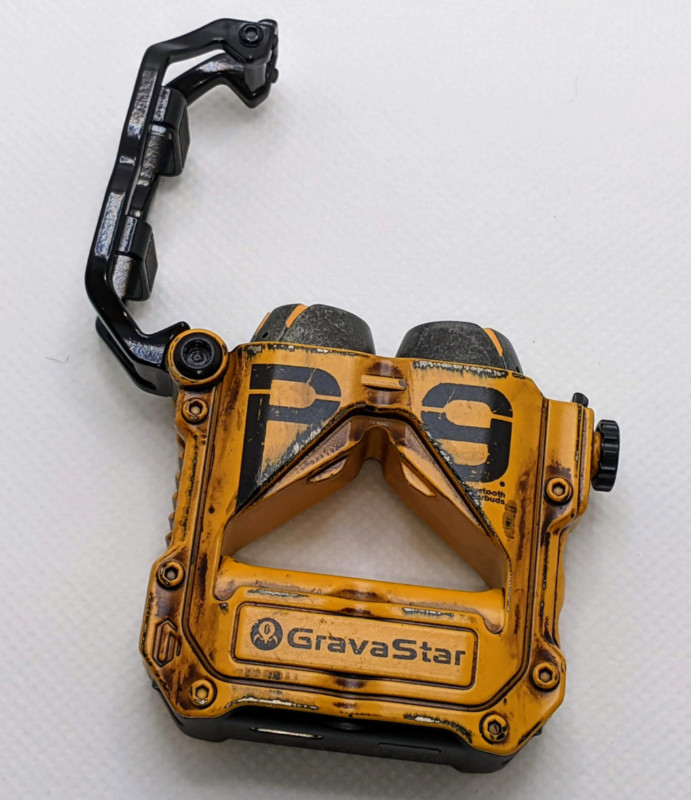 Right out of the box, or still in their case, as it were, I had to start thinking of ways to hack the Gravastar Sirius Pro earbuds so I could more easily pull them out to use them. Should I lay a piece of dental floss into the earbud case sockets so I could pull the string to make the earbud come upwards? Will they charge if I do that? Should I put a dab of clear caulk or flexible adhesive on the earbud to give me something to grip so they can be pulled out of the case? This makes you wonder how this problem made it to market. No one noticed?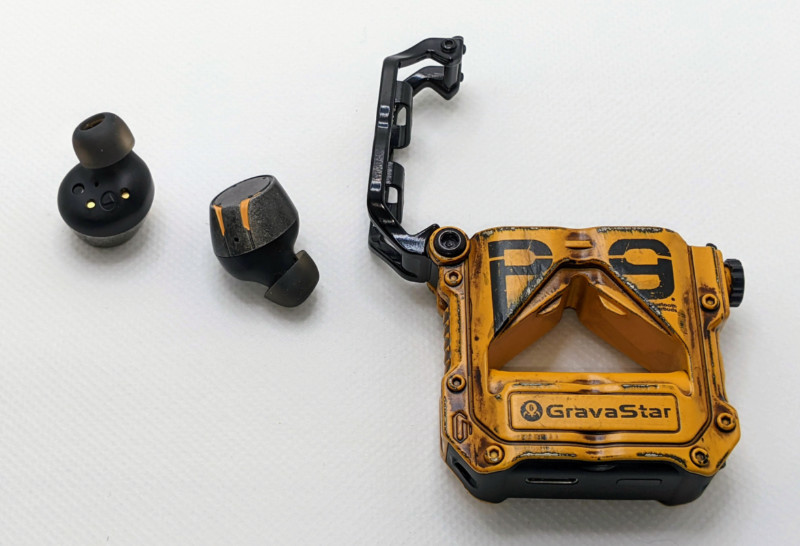 At this price point there should have been an ejection mechanism built into the earbud case or at least the earbuds should have a grippable surface. 
GRIP HACK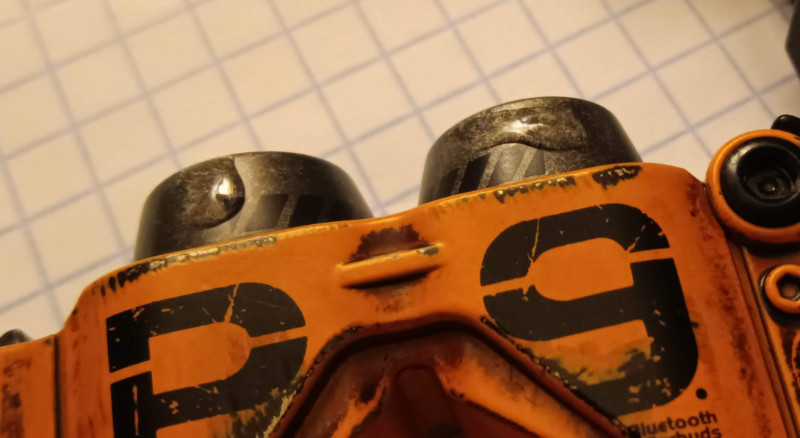 I decided to put a dab of E6000 clear, flexible household adhesive on the grip surfaces of each earbud. E6000 is sold at hardware and craft stores. I've used it on everything from picture hanger hooks to running shoes. After a couple hours drying time this hack worked perfectly. I gave the earbuds the grippiness they should have had from the factory. The E6000 isn't noticeable to others with the earbuds in use. After a few days I pulled off the tiny dabs of adhesive and put on a longer line of the adhesive, front and back, to provide a larger grip surface. 
CASE CHARGING CONTACTS
The right earbud charging light was not flashing when I first started charging the carry case. The left earbud charging light flashed, indicating it was charging. I found the right earbud a bit difficult to seat fully down into the case to make it contact the charging pins. In spite of the magnetic feature that pulls the earbuds into the case, extra effort was required to get the right earbud seated properly so that it charged. With more use this problem mostly self-corrected. When replacing the earbuds in the case it does take a bit of pressing and wiggling of the earbuds to ensure the red charging lights come on for each earbud, which indicates they are connected to the case and are charging. If I don't snug the earbuds into the case and see their charging lights come on, they are not connected to the case so any audio coming to the phone is being sent to the earbuds. That's sort of a problem if a phone call comes in. This happened to me several times. I missed calls and text message notifications because an earbud hadn't seated in its case. 
Once the earbuds are seated and charging I think it unlikely they'd unseat in the case in a pocket or briefcase, or on the neck chain.
CASE AND CHAIN
The case feels heavy. It is metal. Whether in a pocket or on the neck chain it'll be a bit of a load to carry around. The durability and protective quality of the case is without question. I'd have preferred a lighter, durable plastic case and don't really need a bottle opener in my earbud case, although it's a cool feature.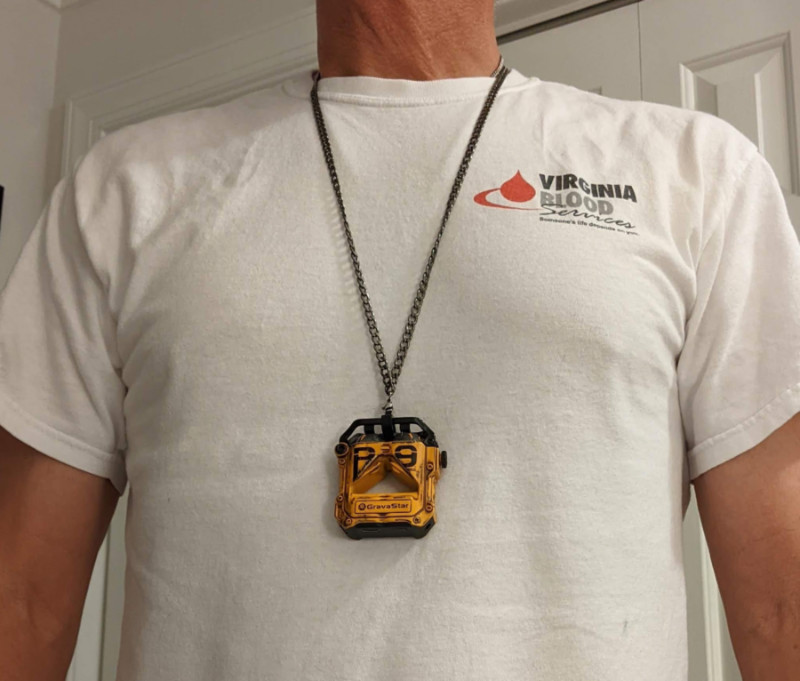 A skater / gamer-looking, heavy duty, so called 'Hip-hop neck chain' is included in the package. Hip-hop bling? You decide. I'm not cool enough to carry earbuds on a neck chain. 
It is left to you on how to attach the chain to the carry case as there is no mention of the chain in the manual. The rubber ring on the chain seems intended to hold onto the center of the black earbud closure at the top. For me, the case is heavy enough without attaching a heavy chain to it. 
SOUND QUALITY
The Gravastar Sirius Pro sound quality is excellent for listening to speaking or music. Lately some music sources seem to deliver flat-sounding music. Voices on all of the podcasts, live sports, news and talk broadcasts I sampled sounded excellent with the Gravastar Sirius Pro Earbuds. There is a depth to vocal audio with the Gravastar Pros that is not present on less well-made earbuds.
Music sound quality does depend on the source. With the iHeart app for example, the earbuds seemed to deliver less in the deep bass range, and conveyed more prominent highs and mid-range sounds. 
But when listening to 'Chain' (how appropriate) by Fleetwood Mac on Spotify, and Amazon Prime Music, the kick drum throughout the song was perfectly up-front and levels of highs and mids seemed to be right where they were supposed to be. It's all about the source. The Gravastar Sirius Pro buds accurately deliver what they're fed.
With my usual test of other old Fleetwood Mac music in which there is plenty of kick drum, keyboard, snare drum and cymbals, the kick drum was as prominent as it should be. It had the appropriate punchy sound but it didn't overpower the highs like the snare drum, or cymbals. The electric bass guitar came through clearly too. The electric guitar notes and keyboard mid-ranges were properly in the mix. The highs from the snare drum, tambourine and cymbals were very accurate. The Gravastars deliver great, balanced sound. 
There are three listening mode options. Three taps on the flat part of either earpiece changes the mode. A voice announces the mode after the tapping. The right earbud announces either 'Gaming mode' or 'Music mode'. The left earbud alternates between 'Gaming mode' and 'Movie mode'.  I left the earbuds in Music mode as I felt this delivered the most complete sound.
Gaming sounds should project nicely through the Gravastar Sirius Earbuds since voice and various music styles did so.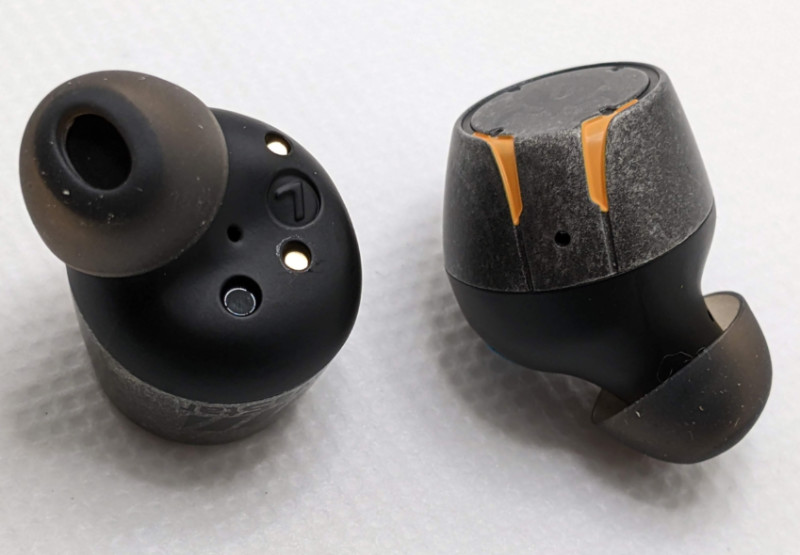 The earbuds can be used individually but the paired phone would have to be used for volume changes. The left earbud decreases volume with a 1.5 second hold and the right earbud increases volume with a 1.5 second hold.
PHONE CALL USE
There is a microphone in each earbud. People I called could hear me fine on calls but they knew I wasn't talking through my phone. With most earbuds I've tried, they don't transmit my voice as clearly as my phone. The voice audio quality I could hear from the person I called was very clear with the Gravastar Pros.
COMFORT
The Gravastar Sirius buds were comfortable and stayed in place. I happen to use the largest available earbud tips. With the choice of tip sizes included with the Gravastar buds most should achieve a comfortable, secure fit.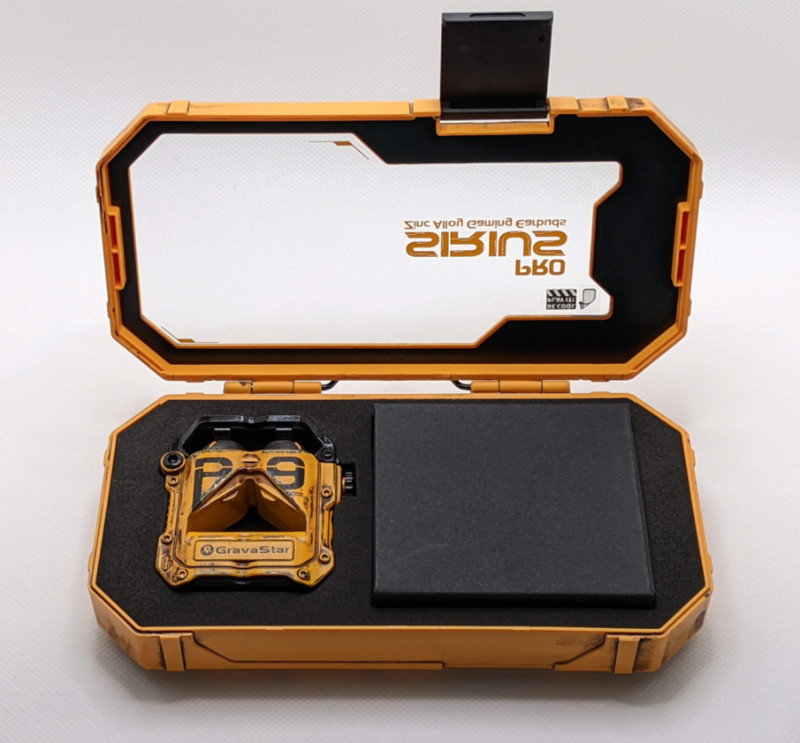 What I like
Sound quality is excellent.

Earbuds were comfortable when worn for long time periods

Earbuds stayed in place during workouts
What I'd change
Grip assistance is needed for earbud removal from the case.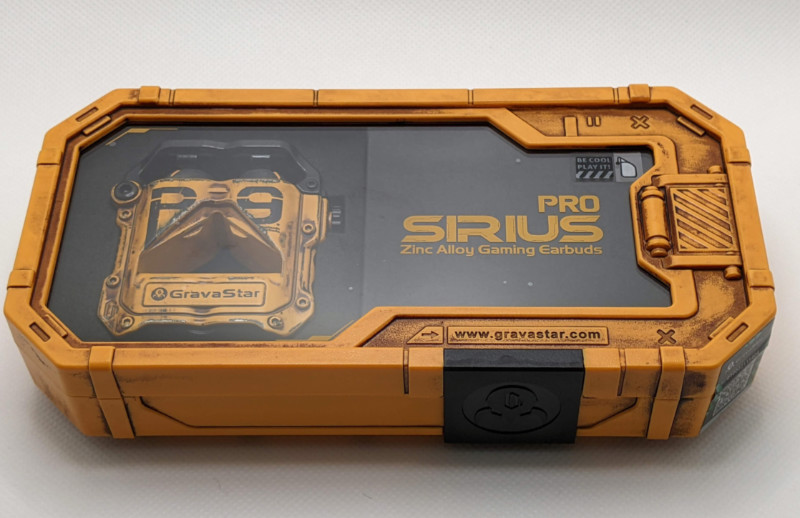 Final thoughts
If you don't mind the only negative I listed, the Gravastar Sirius Pro earbuds will be a pleasure to listen with for voice and music.
Price: $149.95 or 129.95 at Gravastar depending on color.
$89.95 at Amazon (yellow and black not available at Amazon).
Where to buy: Gravastar and Amazon
Source: The sample for this review was provided by Gravastar.