We use affiliate links. If you buy something through the links on this page, we may earn a commission at no cost to you. Learn more.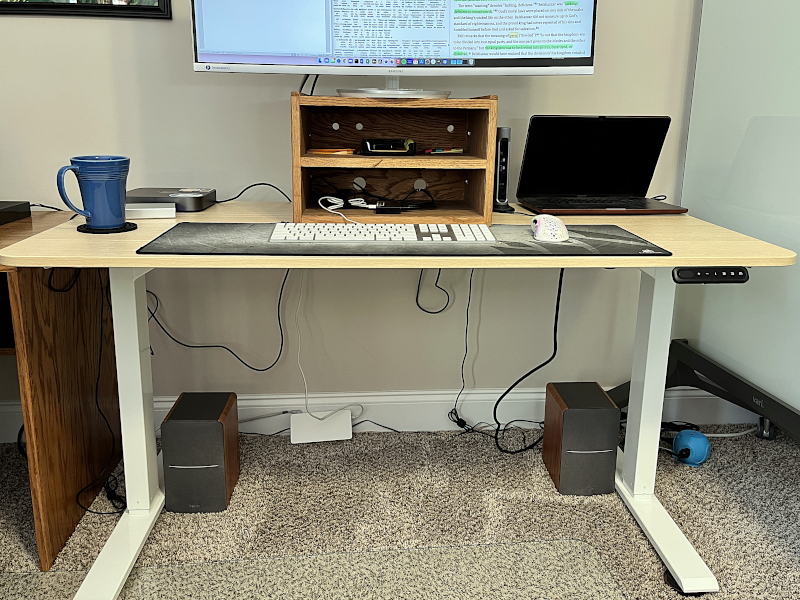 REVIEW – Last year I switched from a standard IKEA IDASEN desk to a standing desk from Flexispot; I like this desk and continue to use it.  This spring, our daughter got married, and her new husband decided that he would like to replace his computer desk with a standing desk.  In this review, I am testing a new standing desk from Maidesite to see if he should consider it.
What is it?
The Pro Series 55 desk is a powered, adjustable standing desk that ranges from 27 to 46 inches in height.  The desktop is made of MDF and is 55 inches wide by 27 deep.  It has a handset that controls the desk height and includes three programmable heights.  Maidesite is a Chinese marketing company that "aims to create a comfortable and healthy work style."  Their website says that they don't use any distributors, wholesalers, or retailers in order to offer their desks directly to US customers at a great price, but they also sell desks on Amazon and WalMart.
What's in the box?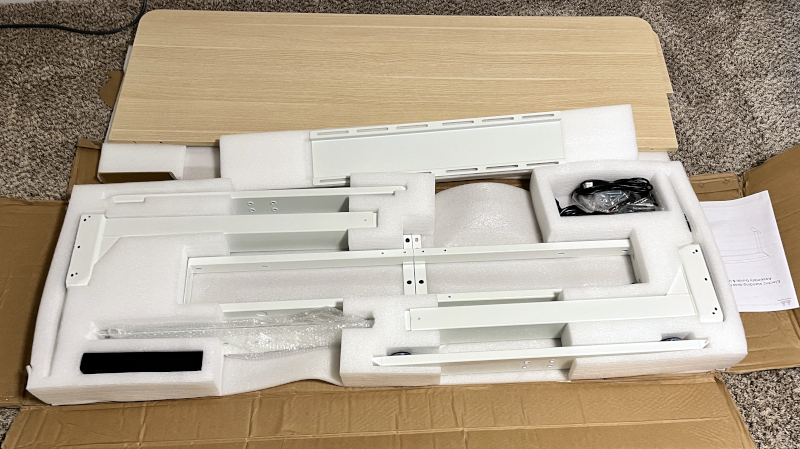 Maidesite Pro Series 55 Standing Desk (unassembled)
Hardware and a hex wrench
Assembly guide
Hardware specs
Desktop dimensions:  55.25 x 27.5 inches
Desktop thickness:  0.7 inches
Desktop material:  MDF
Frame material:  Steel
Vertical desk height:  27.5 to 46.9 inches
Weight:  62 lbs
Max supported weight:  260 lbs
Color choices:  Black on black, oak on white, and walnut on black
Design and features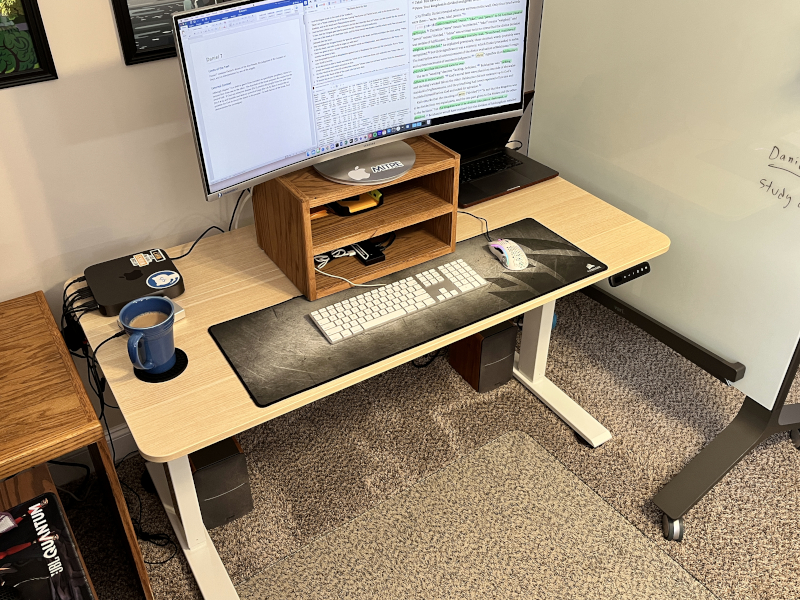 The design of the Maidesite Pro Series 55 Standing Desk follows a very typical pattern for standing desks.  It has an MDF top that is mounted on a steel frame.  There are two legs attached to the frame, each with a motor inside.  The edge of the top is slightly rounded, but not enough that I would call it ergonomic.  The desk is very heavy, requiring two people to lift and move it, and is quite sturdy.  The desk has clean and simple lines that will look good in any home office.
Installation and setup
The Maidesite Pro Series 55 Standing Desk arrived in a single, heavy box.  The various parts were well-protected with custom inserts; I didn't find scratches or dings anywhere.  I cleared out a section of the floor in my office, as assembly does take a fair amount of space.  The instructions are pretty good; everything is well laid out, and the pictures have good detail.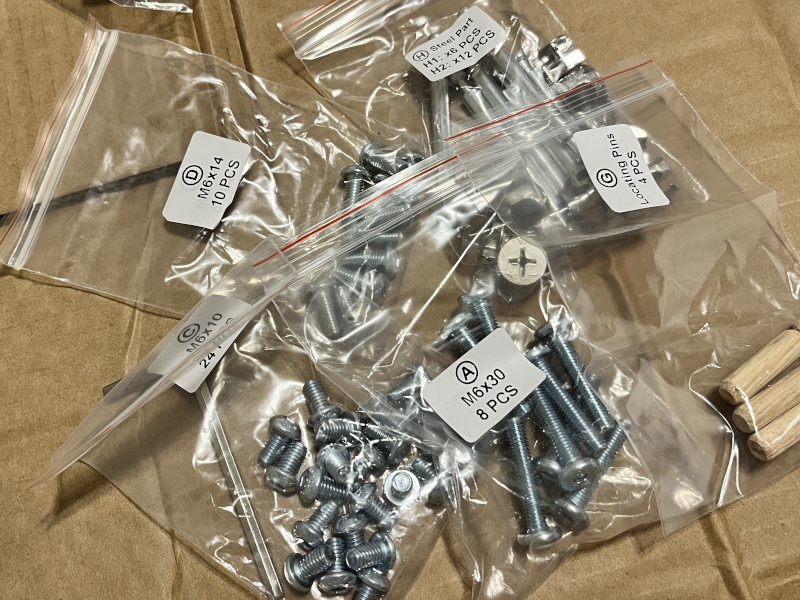 I very much appreciate how Maidesite took the time to individually package and label the hardware, which made it very easy to find the pieces I needed.  No spare pieces were included.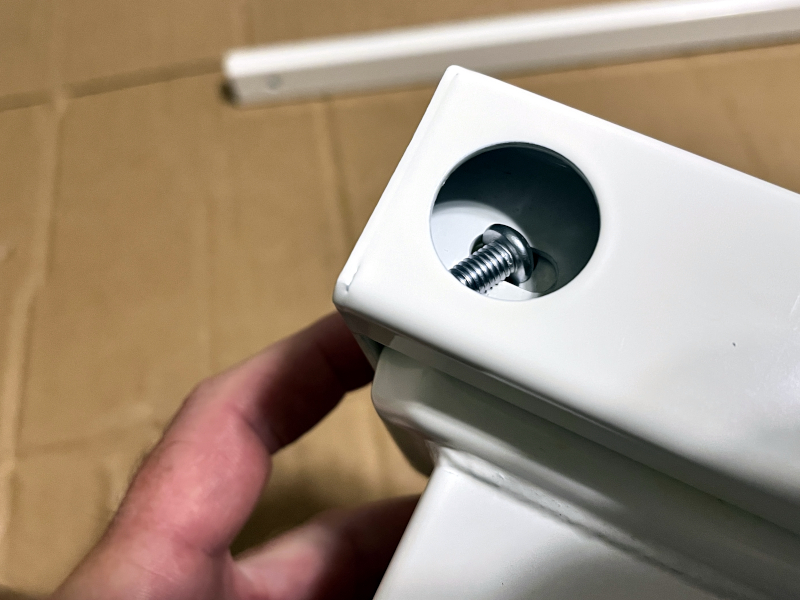 One of the first steps in the process is to attach the legs to the frame.  This requires screwing in eight screws while they were inside these small holes.  This was the most frustrating part of the assembly process, as there's just no good way to get my fingers inside here to line up the screws.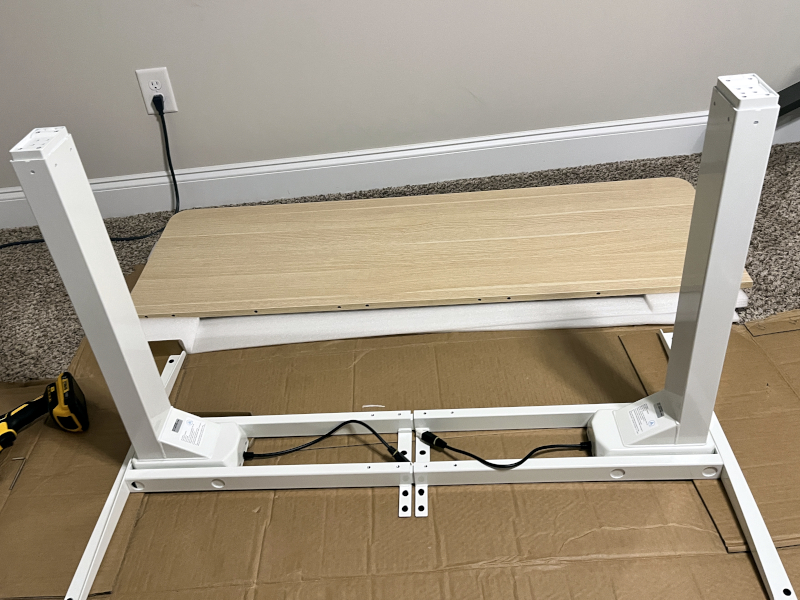 With a bit of patience and perseverance, I managed to get them all attached.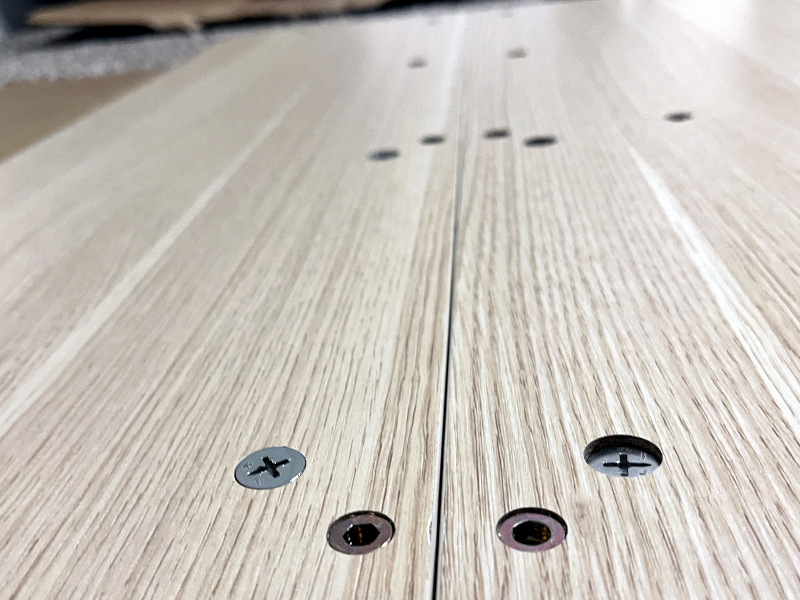 The next step is the attach the two halves of the top together using both wooden dowel pins and steel rods with threaded fasteners.  The result is a desktop that is not particularly strong or stable, especially compared to the particle/fiberboard desktop of the IDASEN or the bamboo desktop of the Kana Pro; there's a lot of give and play between the two halves.  Maidesite's website says that the top comes in two pieces for "easier carrying and assembly," neither of which are true.  It's more work to assemble not less, and I have to be extra careful when moving the desk, as it's more likely to break.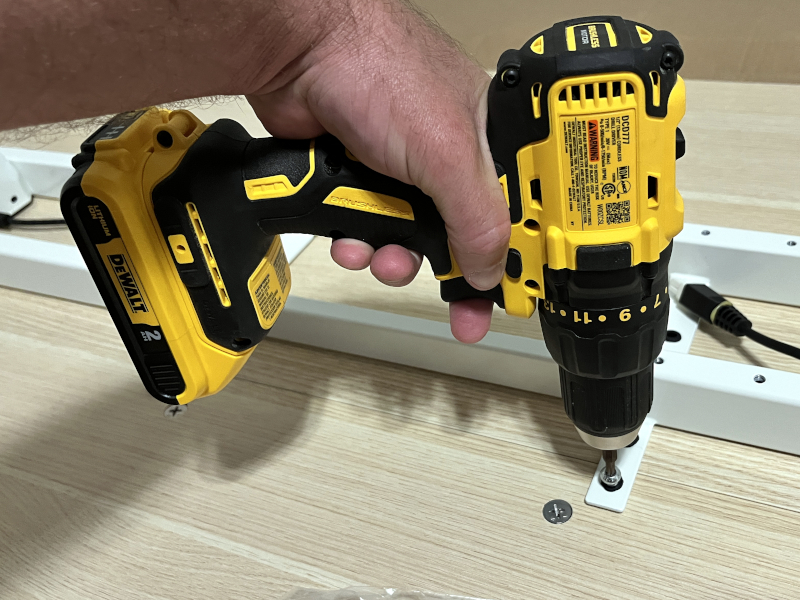 The next step is to attach the frame to the desktop.  While Maidesite has included a hex wrench that can be used to assemble nearly everything—you will need to supply a Phillips screwdriver as well—I cut the time for assembly in half by using a drill with a hex bit.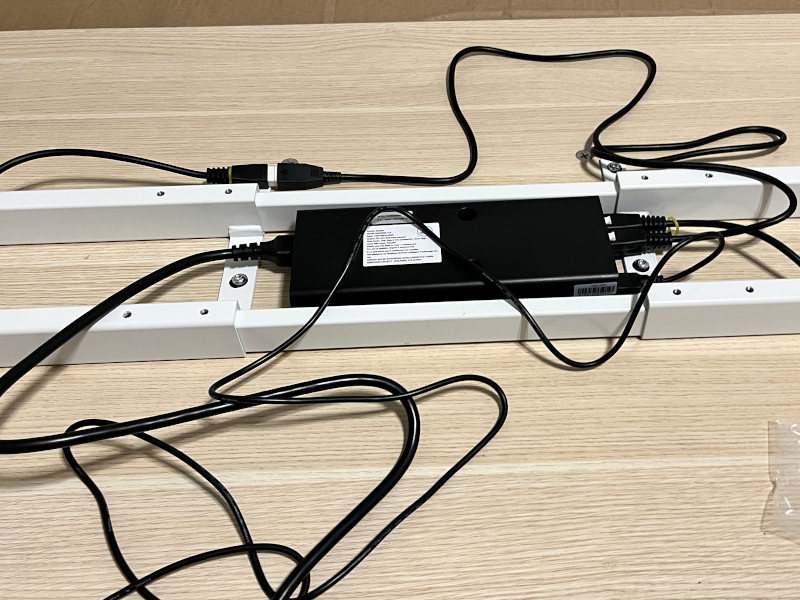 The final step in assembling the Maidesite Pro Series 55 Standing Desk is to attach the controller to the motors and the handset.  It looks like it's going to be a disaster under the desk with wires running everywhere.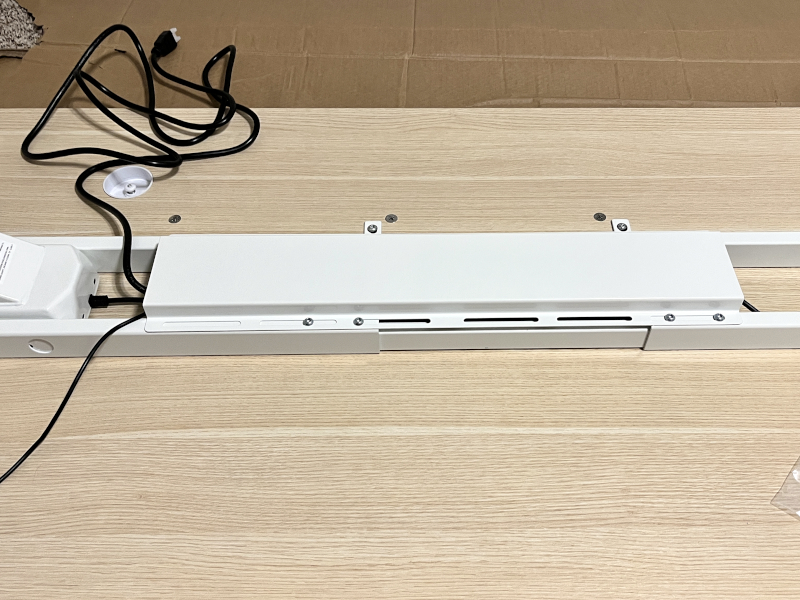 Thankfully, Maidesite has a final metal piece that holds everything in place, keeping the mess to a bare minimum.  This worked quite well.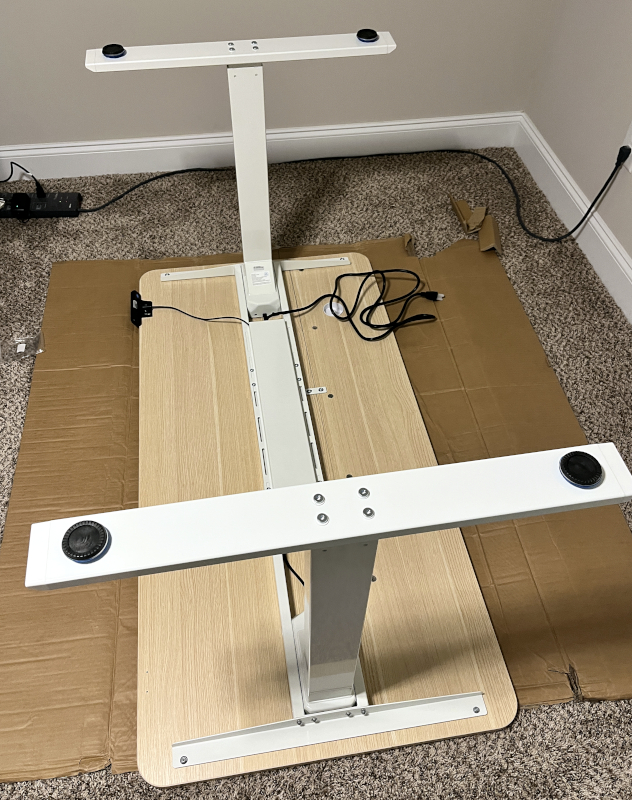 Here's the end result of the assembly process.  As this desk is heavy, I got my wife to help me flip it over onto its legs.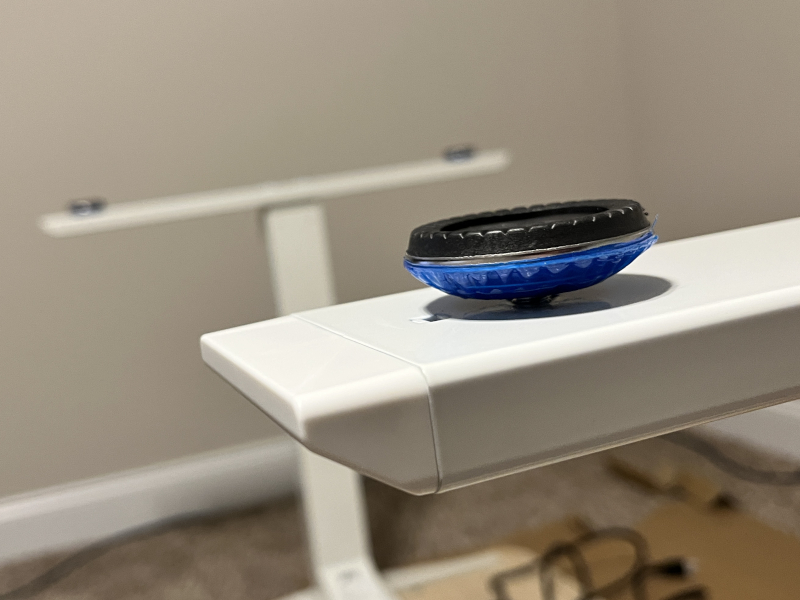 The feet on the bottom of the legs are threaded and can be raised or lowered to help balance the desk.
Performance
After assembling the Maidesite Pro Series 55 Standing Desk, the first thing that I tested was the strength of the desktop.  As you would expect, when I pressed down on the top, there was a noticeable bending downward where the two halves join together.  It's simply not as strong as the other standing desks that I have.  I don't like this two-piece desktop, and it's easily my least desirable feature of this desk.  I hope that Maidesite abandons this design in favor of one-piece desktops in the future.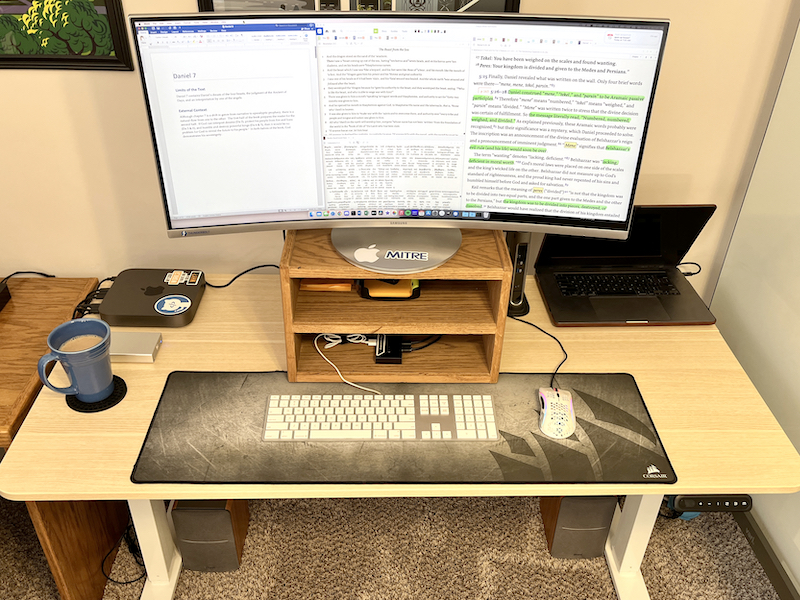 After this testing, I swapped out my old desk for this one, putting everything on it that I normally use.  This desk has both my work computer, a MacBookPro, and my personal computer, a Mac mini.  They share a monitor, keyboard, and mouse, and there's plenty of room for everything.  The Maidesite Pro Series 55 Standing Desk works just fine as a computer desk.  It is both wide and deep and has a lot of surface area.  So long as I don't put anything heavy on it, and so long as I don't do anything where the two-part desktop would get in the way (e.g., if I were using the desk for large drawings), then it will work just fine.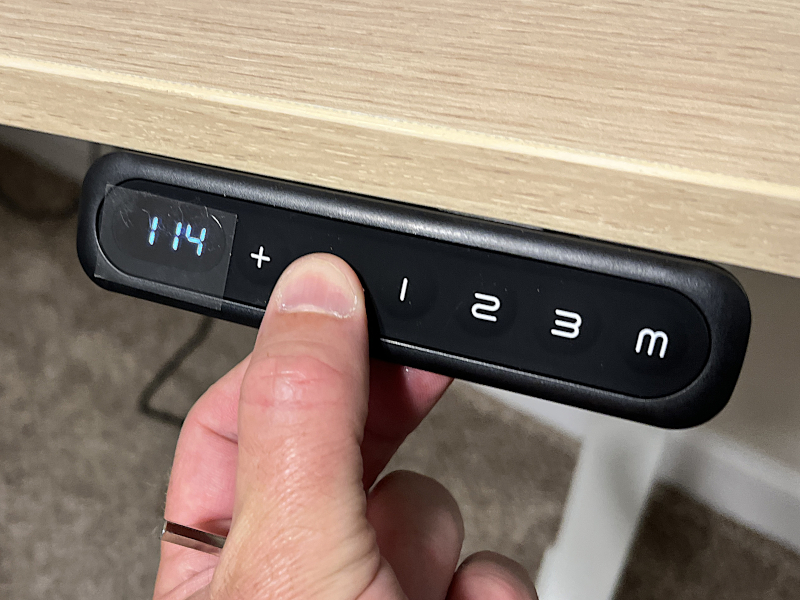 The desk is raised and lowered using a simple handset, which is attached to the underside of the desk, either on the left or right side.  Its controls are easy to use.  The "+" button raises it, and the "-" button lowers it.  When I found the ideal setting for sitting, I pressed the "M" and then "1" button, which saves this height.  I repeated this again with a standing height using the "2" button.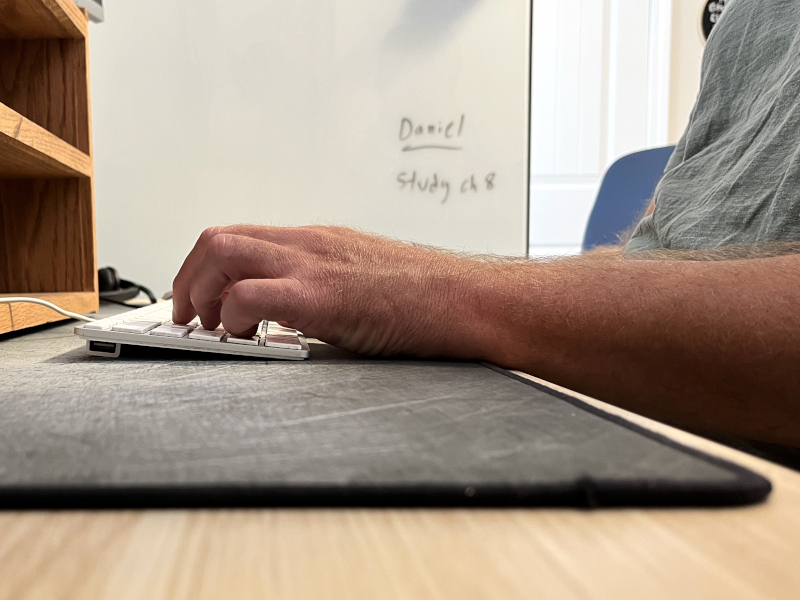 For me, the lowest height of the Maidesite Pro Series 55 Standing Desk is not low enough.  When I read articles about the ideal, ergonomic posture when sitting, I find that my arms need to be horizontal to the floor.  The Pro Series 55 is too tall to achieve that.  When I compare it to the Kana Pro and to the IDASEN, I found that it's about two inches taller at its lowest setting.  When I reviewed the Kana Pro, I found that 25.6 inches is my ideal height; the lowest height of the Pro Series 55 is 27.5 inches.  This means that this desk is not appropriate for working at for long periods of time.  As I'm a programmer who spends all day at my desk, this is a deal-breaker for me, but depending upon the height of your chair, this might not be a problem for you.  Just measure how high you prefer to have your desk when sitting.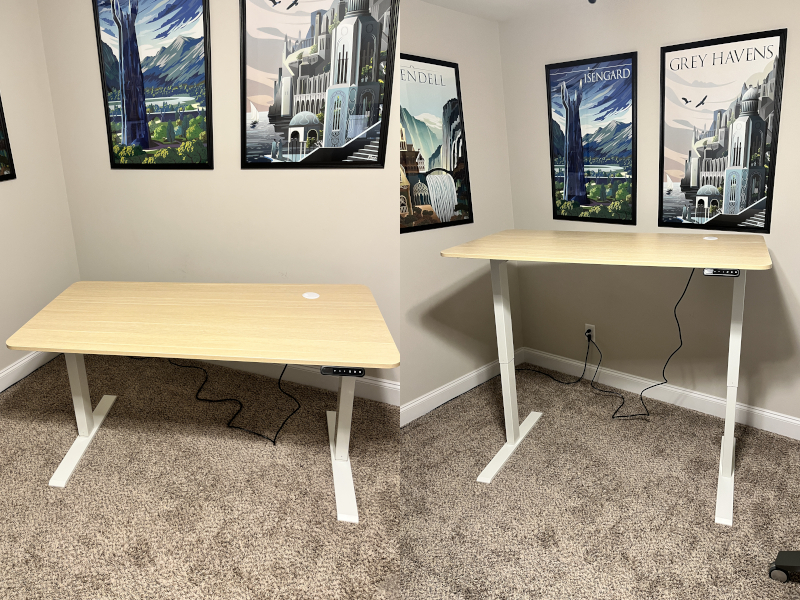 The Maidesite Pro Series 55 Standing Desk has dual motors, one in each leg, and they are plenty powerful for the task.  I found that it took then 11.6 seconds to move from standing height (41.3 inches) to my sitting height (27.5 inches), and the exact same time to move up.  That's impressive and plenty responsive for me.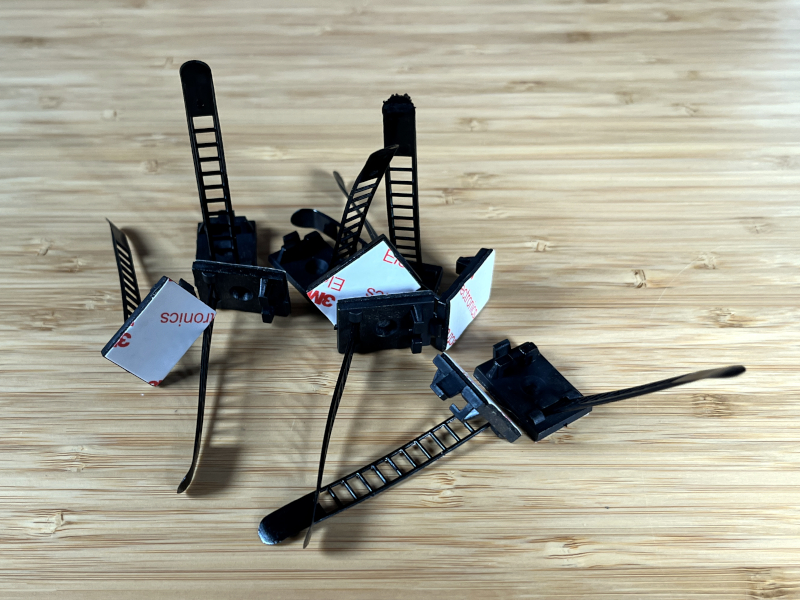 On the right side of the desk, there's a hole in the top for cables.  It's a good idea, but I found that I have so many cables, it's just easier to run them all off the back of the desk.  Speaking of cables, although Maidesite designed a built-in mechanism for managing its own cables, it does not provide any mechanism for managing all of my cables.  Instead, they tossed in a handful of self-adhesive cable ties, a cheap and underwhelming solution to the problem.  Maidesite could learn from IKEA, which used a wonderful solution with netting for managing cables under their IDASEN desks.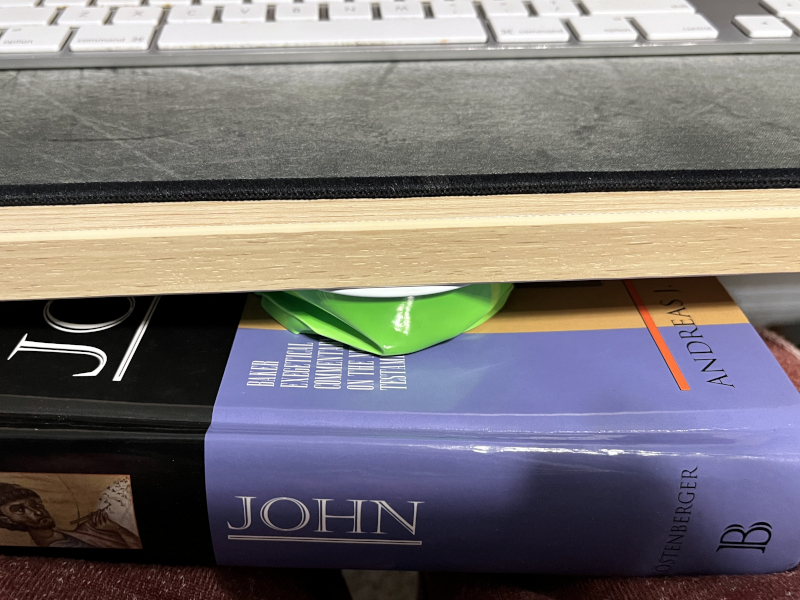 The Maidesite Pro Series 55 Standing Desk has a "super anti-collision system" that claims to have a sensor that can detect a collision, should something be in the way of the desk while it's lowering, causing it to automatically reverse its direction.  Actually, this desk doesn't have any sensors that can detect a collision and prevent it.  What it does have, however, is an ability to sense resistance to the motors, which can trigger them to stop moving and back off a bit, before they accidentally squish something that's in the way.  The website has a cute graphic of the desk hitting what appears to be a styrofoam coffee cup and bouncing back, so I tested this by putting Solo plastic cup on a book balanced on my knees.  The desk completely crushed the cup.  I tried again with a solid plastic cup, one that it couldn't crush, and found that it still didn't stop.  It's safe to say that out-of-the-box Maidesite's desk is not configured to prevent collisions.  I followed the instructions in the manual and set it the lowest sensitivity; even then, it took a significant amount of resistance before the motor reversed.  The safest thing for me to do is to make sure that I don't have anything under my desk when lowering it.
Many budget 55-inch powered standing desks seem to cost around $350, so the Pro Series 55 is on the upper end of that price point.  It's certainly less expensive than Flexispot's Kana Pro, which has a solid desktop made of bamboo.
What I like
Excellent packaging and instructions
Plenty of space on the desktop
Smooth and fast motors
Easy-to-use handset
What I'd change
Use a single piece of MDF for the desktop instead of two
Lower the lowest height by two inches
Provide a real cable management system for my cables
Final thoughts
Maidesite's Pro Series 55 is a powered sit-stand desk.  Its steel frame provides sturdy support, and its large 55-inch wide desktop provides plenty of space for computer equipment.  It's powered by a pair of capable motors and has a handset that makes it easy to adjust the desk to the desired height.  While this desk gets the job done, it's hard for me to recommend it.  The desktop is split into two pieces, which are not as sturdy as the single-piece desks that I own, its lowest height is a full two inches too high to be ergonomic for me, and it doesn't provide a good system for managing my cables.  While this desk is in line with the price of other budget adjustable desks, it's on the higher end, not the lower, thus it doesn't really save any money.  This desk will work, but I have to think that better choices are out there.
Price:  $399.99
Where to buy: Maidesite US store, UK store, and Amazon
Source: The sample for this review was provided by Maidesite.