We use affiliate links. If you buy something through the links on this page, we may earn a commission at no cost to you. Learn more.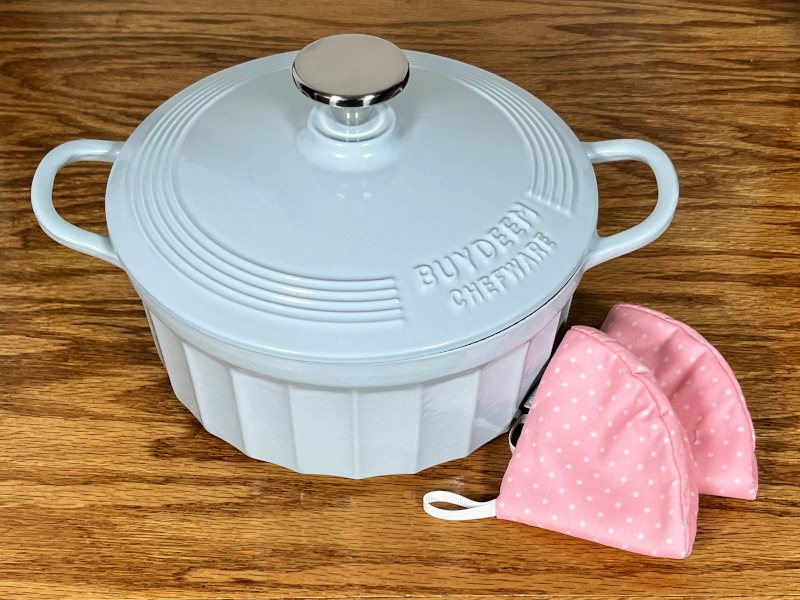 REVIEW – Like most young couples, my wife and I started our marriage with a cheap set of pots and pans. They got the job done, but they didn't last forever. As we began to look for better quality cookware, and we eventually discovered cast iron. Over the years we've purchased a handful of cast iron pieces, and we love them. Recently, we were able to add a new piece to our collection, a 3-quart Dutch oven from Buydeem.
What is it?
The Buydeem 3-Quart Enameled Cast Iron Dutch Oven is a 3-quart enameled cast iron Dutch oven (model CP521). It's one in a long line of retro-looking kitchen appliances with soft pastel colors available from Buydeem, a Chinese company with 20 years of experience in the appliance industry. Their products are for "those who seek style, health, and joy in the kitchen."
What's in the box?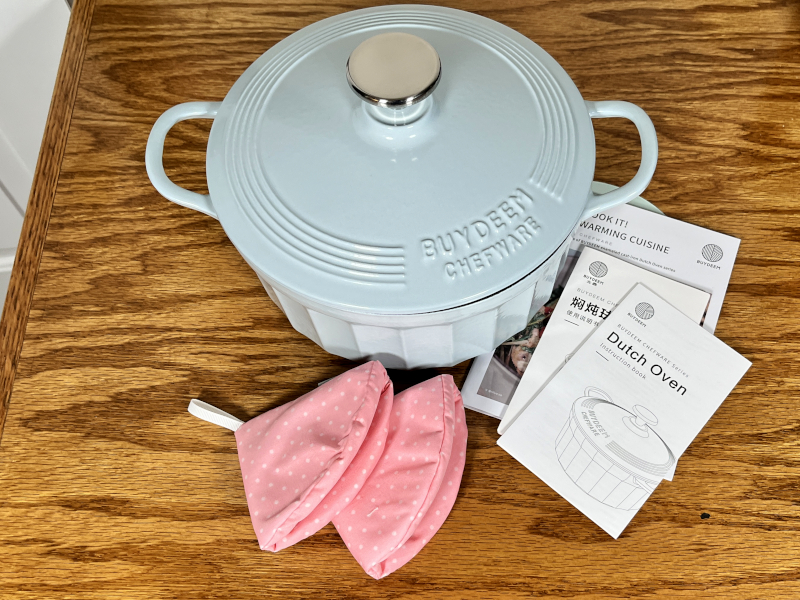 Buydeem 3-Quart Enameled Cast Iron Dutch Oven with lid
2 mini oven gloves
Instruction book
Cookbook with 10 recipes
Hardware specs
Volume: 3 quarts
Dutch oven material: Enameled cast iron
Top knob material: 18-8 Grade Stainless Steel
Color choices: Soft pastels (green, purple, or blue)
Design and features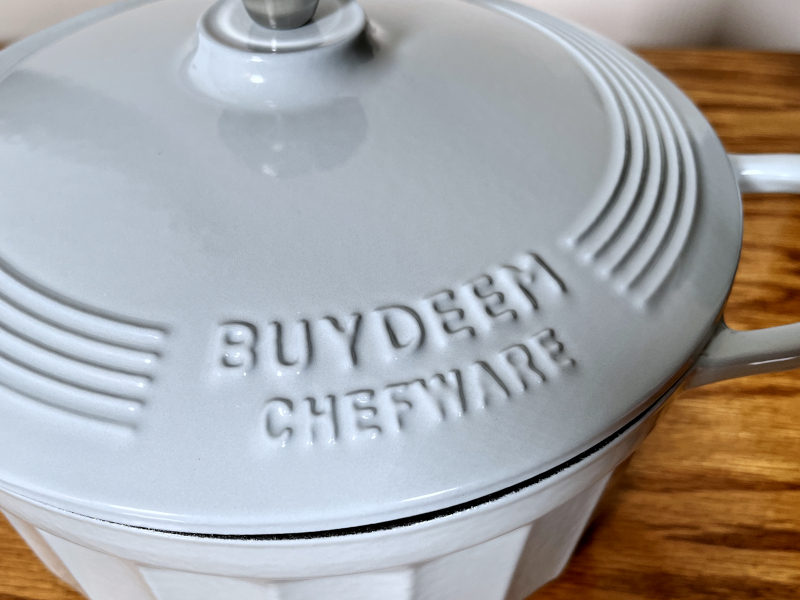 The 3-quart is a medium-sized Dutch oven. It has a "cupcake" design, a reference to the vertical ribs on its sides, and all of its lines are clean and simple. The outside color is uniform from top to bottom, and the enamel is a light cream color. The black cast iron is only visible on the ring where the lid meets the oven. There are two sturdy handles on the sides and a stainless-steel knob on the top of the lid. Like all cast iron pieces, it's heavy for its size, especially when compared to aluminum, copper, or other materials. Overall, it's an aesthetically pleasing design. It will probably look best in a kitchen that is intentionally going for a retro look, and Buydeem has a host of appliances and cookware with retro looks and colors that will complement it perfectly.
Installation and setup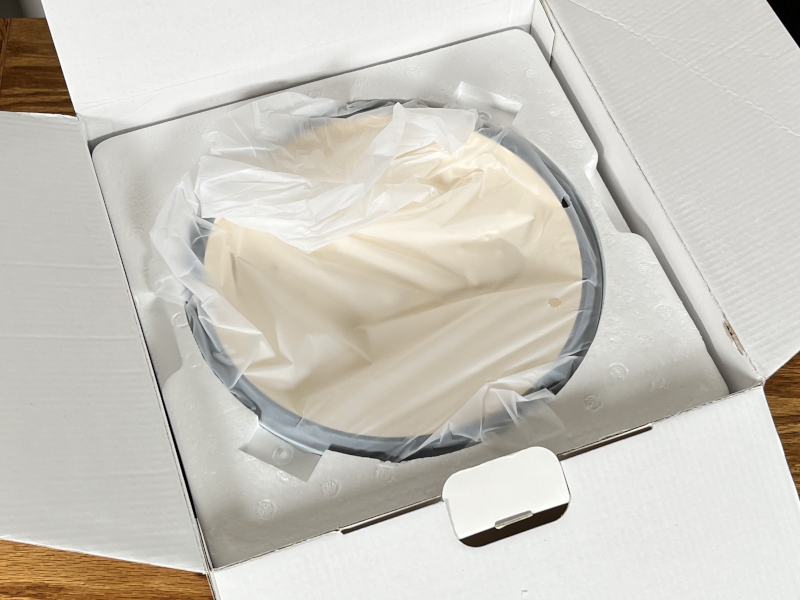 The Buydeem 3-Quart Enameled Cast Iron Dutch Oven arrived in a box within another box and with custom styrofoam inserts; in other words, it was very well protected. I removed the oven and lid from their packaging and hand washed them. They were ready to cook!
H3 Performance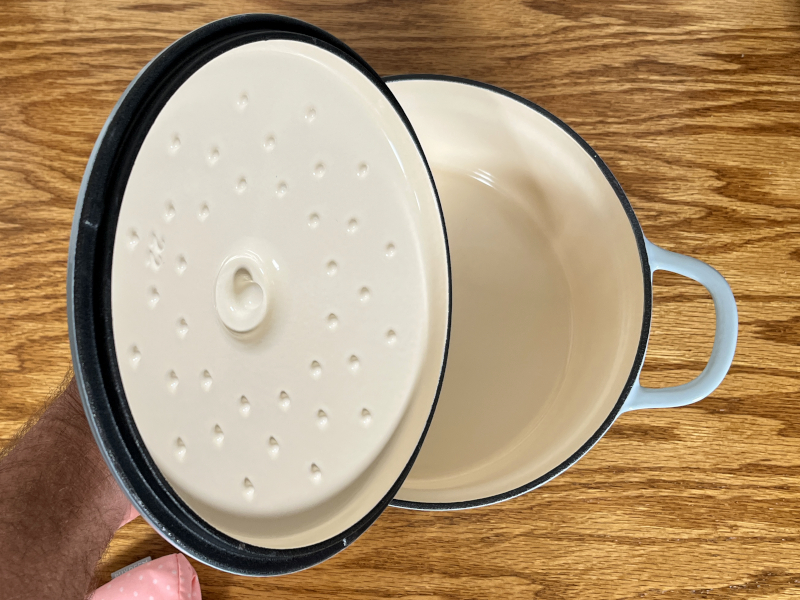 Dutch ovens are perfect for soups, stews, chilis, or any dish that requires a lot of liquid; they can also be used for frying, roasting, and baking. Dutch ovens typically have high sides, a thick base and walls to retain the heat, and a tight lid to keep in moisture. They are most commonly made of cast iron.
Cast iron is a very versatile material for cookware; it can be used for searing, grilling, sautéing, frying, and even baking. It's known for holding heat very well—it has a very high volumetric heat capacity—and is thus especially good for high heat applications, like searing meat, and for keeping dishes warm. Cast iron can go straight from the stove top into the oven; it can also be used on a firepit or even over an open fire when camping.
Cast iron is very tough, nearly indestructible, and unlike cheap pots and pans, cast iron ones will last a lifetime. They are easy to clean, but they do need some special care; a protective layer must be created through a process known as seasoning. When we wash our cast iron pan and griddle, we always towel dry it and apply a thin layer of oil. The biggest drawback to cast iron, of course, is that it is heavy.
If you want the benefits of cast iron, along with a non-stick surface, but don't want to spend the extra time taking care of it, then you're looking for enamel-coated cast iron. The protective coating makes it easier to maintain, because it doesn't need to be seasoned, and it won't rust. The enamel can be scratched or chipped, so care has been taken when using sharp utensils; if dropped, the enamel could crack.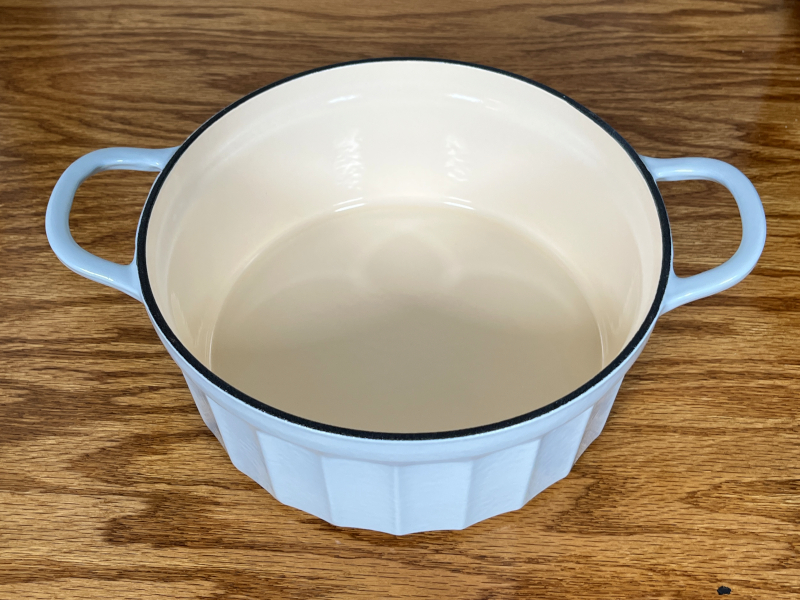 Enamel works best at medium temps, while regular cast iron works equally well at low, medium, or high temps. Enamel-coated cast iron cookware are great for slow cooking stews and casseroles, though they are not as good for searing or stir frying. The enamel heats up a bit slower and distributes the heat a bit more evenly. Additionally, acidic dishes, like tomato-based sauces, can react with the enamel, so they are best done in regular cast iron. Probably the biggest drawback of enamel-coated cast iron is that they more expensive.
When you put all of these factors together, it's easy to see why enamel-coated cast iron Dutch ovens are so popular. They can prepare a variety of foods, they hold heat well, they are easy to clean, and they last forever. They also come in a variety of sizes. This Dutch oven from Buydeem has a 3-quart capacity, which is a perfect size for my wife and I. Larger families will probably want to buy a 5- or 6-quart one first.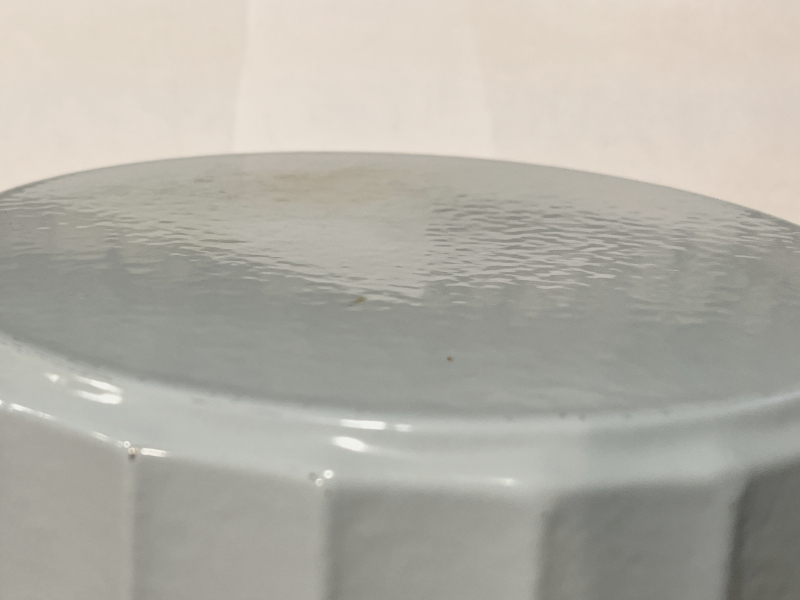 As I was examining the Dutch oven, one of the first things that I noticed was that the bottom of the oven is not flat but rather concave; that is, when sitting on my glasstop stove, the outside edge of the oven will lay flat on it, but the center is raised up and doesn't touch the stove. For a gas stove, this is probably not an issue, but for a glass one like mine, this is a problem. Heat transfer occurs most efficiently where the Dutch oven touches the stove. I looked at all four of the other cast iron pieces that we have, including the 6-quart Dutch oven from Lodge, and they all have perfectly flat bottoms. I think this is a poor design choice from Buydeem; for those like me who have a flattop stove, it's a reason to pass on the Buydeem and buy a different brand.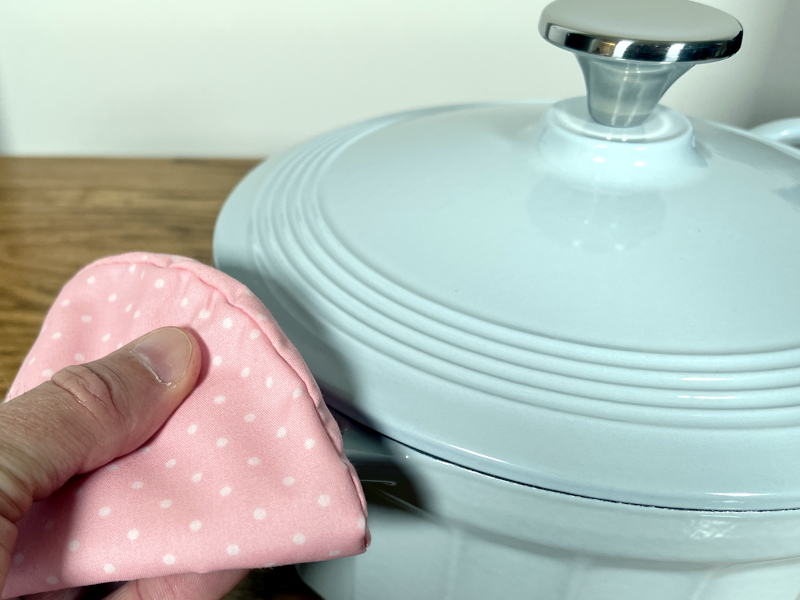 Buydeem's Dutch oven came with a pair of mini oven gloves, which are perfect for lifting the lid or for picking up the entire oven. It's a nice touch, and I'm glad they included them.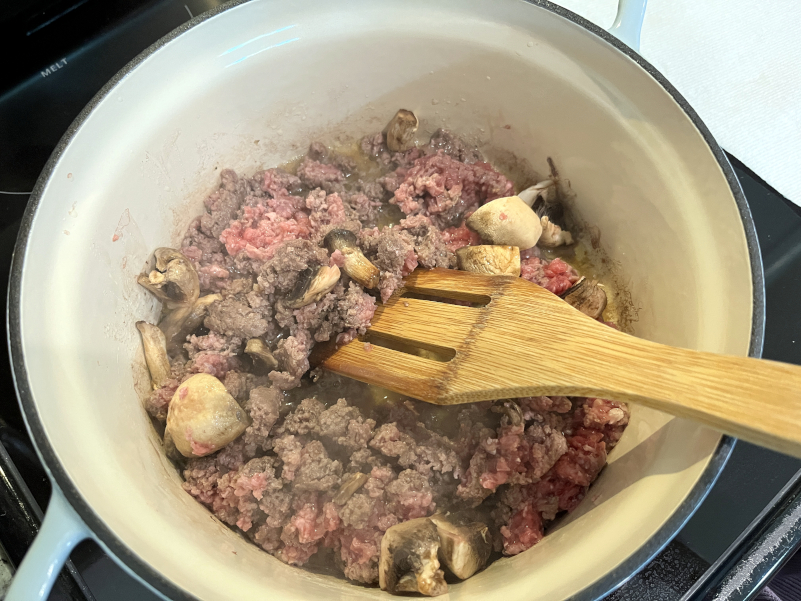 My wife and I tested Buydeem's Dutch oven by preparing four different dishes. The first dish is a very typical dish for a Dutch oven: I made a pot of chili for friends who were coming over for dinner one night. After letting the Dutch oven heat up, I browned the hamburger while sautéing the mushrooms. This worked perfectly, just as I would expect.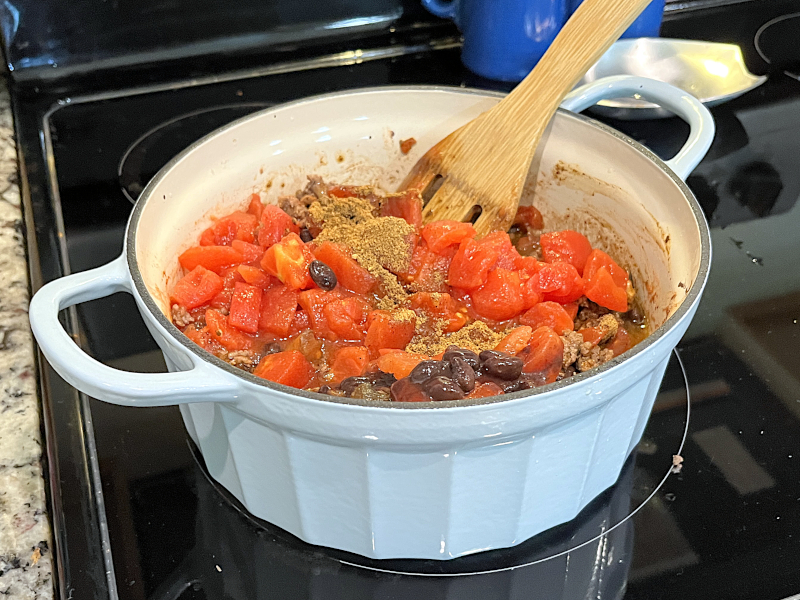 I then drained the excess liquid, added the other ingredients, and mixed it all together. After bringing it to a near boil, I turned the heat down to let it simmer. I struggled a bit here, as the cast iron needs more heat to simmer than the aluminum pot that I normally use. In the end, I figured it out, and the result was a delicious bowl of chili for dinner.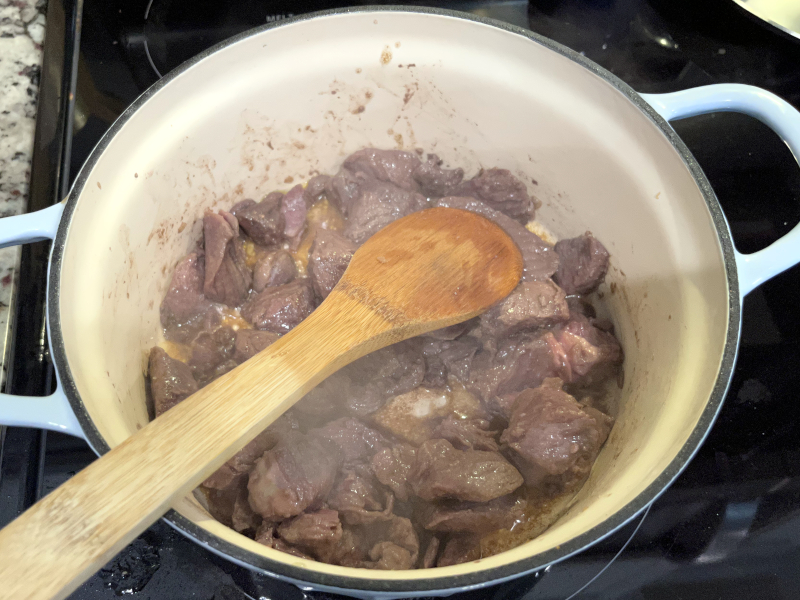 The second dish is typical for cast iron: My wife made sweet and spicy BBQ steak tips, following this recipe from ButcherBox. She marinated the steak tips and then seared them in the pre-heated Dutch oven. Typically searing is better in non-enamel cast iron, but she found that it worked just fine.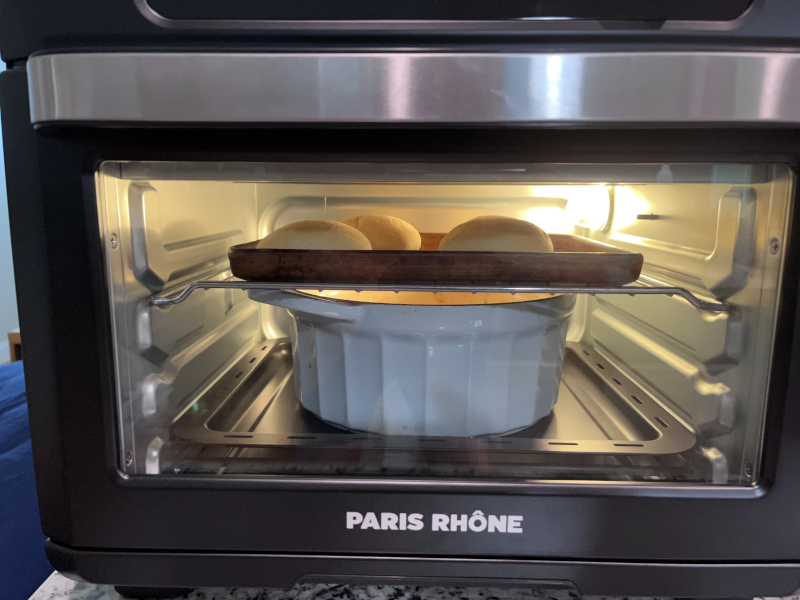 She then added the remaining ingredients and placed the Dutch over in our toaster oven to finish cooking, thus avoiding turning on our regular oven during this hot June weather. This shows the versatility of a cast iron Dutch oven: The same piece of cookware can be used in multiple ways (searing and cooking), which means less to wash. My wife appreciated how easy it was to clean the enamel surface.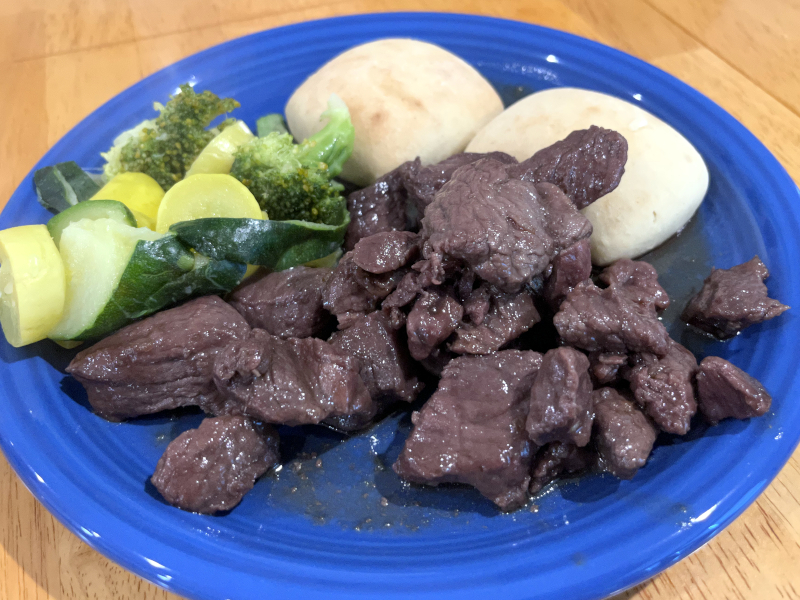 The result was a delicious dinner served with veggies and bread/rolls.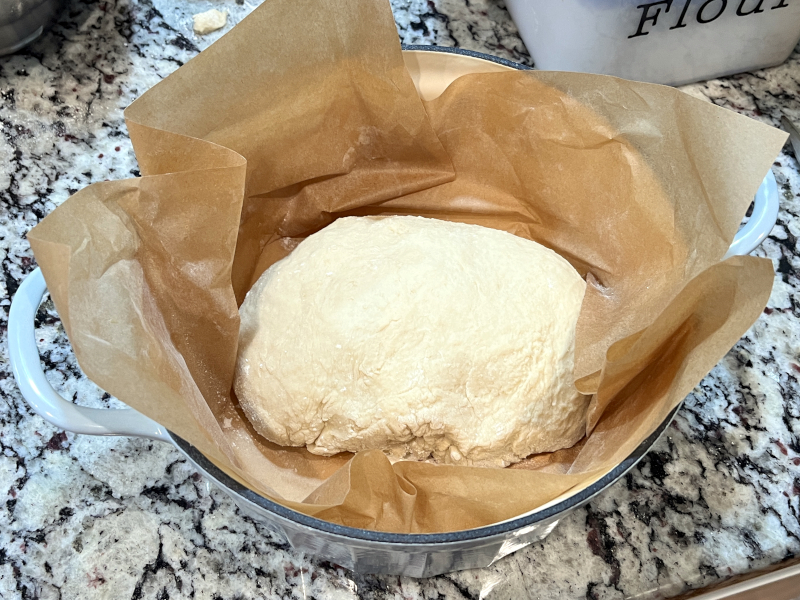 The third dish shows even more of the flexibility of the Buydeem 3-Quart Enameled Cast Iron Dutch Oven: My wife made a loaf of bread using this recipe from Penny Pinchers. She mixed the ingredients in her Kitchen Aid mixer, put the dough in the Dutch oven, and then put it in a warm oven to rise.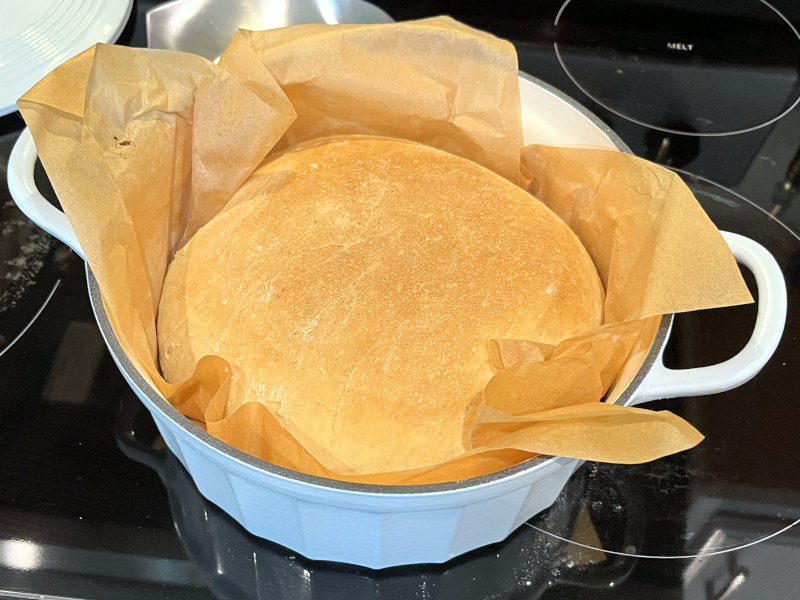 Once it had doubled in size, she baked it in the oven for about 30 minutes.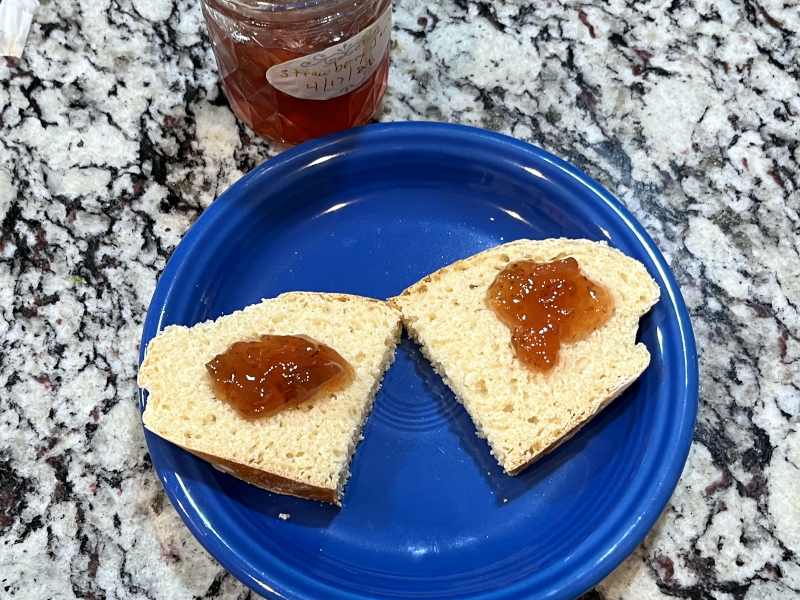 In the end, we had some lovely bread to serve with her homemade strawberry jam. It was the first time she had ever made bread in cast iron; previously we've used a bread machine.
The fourth dish was chuck roast, using this recipe from ButcherBox, a dish that my wife normally makes in her Crock-Pot. She sautéed the onions and celery and then added the remaining ingredients while keeping everything hot on the stove.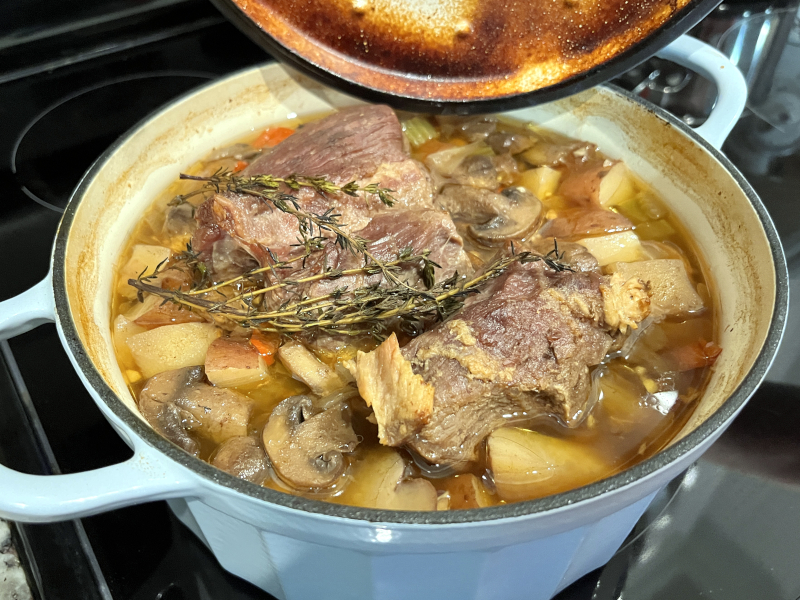 She then put it into our oven and slow-cooked it for 3.5 hours.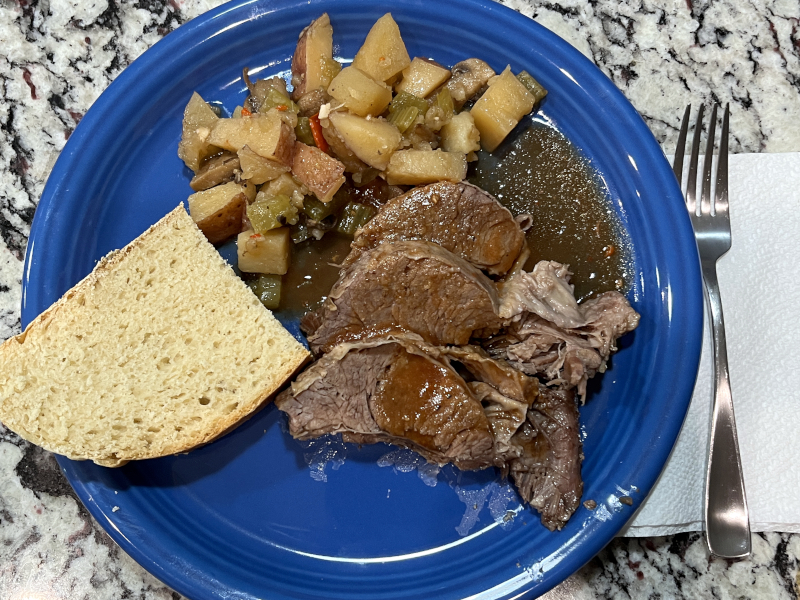 The result was amazingly tender meat and perfectly cooked veggies, which we ate with the bread. Although the lid of the Dutch oven looks like it would be murder to clean, it washed up easy without any need to soak it or use harsh chemicals. Overall, I have to say that Buydeem's Dutch oven did a fabulous job cooking all the dishes we have used it with. Based solely upon its ability to cook, I can recommend this gadget to you.
Unfortunately, we also need to look at its price. If you are considering purchasing this Dutch oven from Buydeem, you will inevitably make a comparison with the two big cast iron makers on the market today, Lodge and Le Creuset. Lodge sells a 3-quart enameled cast iron Dutch oven for $75, and Le Creuset sells a 3.5-quart one for $350; Buydeem's 3-quart sits in the middle of these prices at $140. If you research the differences between Lodge and Le Creuset, trying to find out why there is such a huge price difference, you'll struggle to find a really good reason for it. Some think that the enamel on Lodge chips a bit easier, but for the most part Le Creuset is valued for its looks and is viewed as a status symbol. Most cooks in the average kitchen won't notice any difference between a Lodge or a Le Creuset when making dinner.
Thus, the real question is: Is this Buydeem Dutch oven worth its price tag, which is nearly twice that of a comparable Lodge? I put our Lodge Dutch oven on the kitchen counter next to the Buydeem and compared them side-by-side. Honestly, there's not much difference between them, except for aesthetics. I like the way the Buydeem looks, but is worth paying twice as much? Not for me. The only way I would consider it is if I already had a kitchen full of Buydeem retro-looking appliances, and I wanted my Dutch oven to match.
Extra Features
Buydeem also sells other cast iron products, a 1.9-quart soup pot, a 3.3 -quart casserole braiser, and a 4.2-quart Dutch oven. They all have the same cupcake design and similar soft pastel colors.
What I like
Solid build
Retro design
Great cast iron cooking!
What I'd change
Make the bottom of the Dutch oven flat.
Lower the price to be competitive with Lodge.
Final thoughts
Buydeem's Dutch oven is 3 quarts in size, made of cast iron, and coated with enamel. It has a nice retro design in a very soft blue color. My wife and I have been using it for the past few weeks to prepare a variety of dishes, some that are typical for cast iron Dutch ovens and some that are not. This gadget passed every recipe with flying colors, making so much delicious food for us to eat. I like this Dutch oven a lot, and based solely upon its ability to prepare food, I could easily recommend it. Unfortunately, it's twice the price of a similar product from Lodge, which makes it a lot more expensive than it should be. Based on its price, it's rather difficult to recommend it to you; however, if you have other kitchen appliances and cookware from Buydeem and want a matching look and color scheme, then it would definitely be worth adding it to your collection.
Price: $139.99
Where to buy: Buydeem's online store and Amazon
Source: The sample for this review was provided by Buydeem.