We use affiliate links. If you buy something through the links on this page, we may earn a commission at no cost to you. Learn more.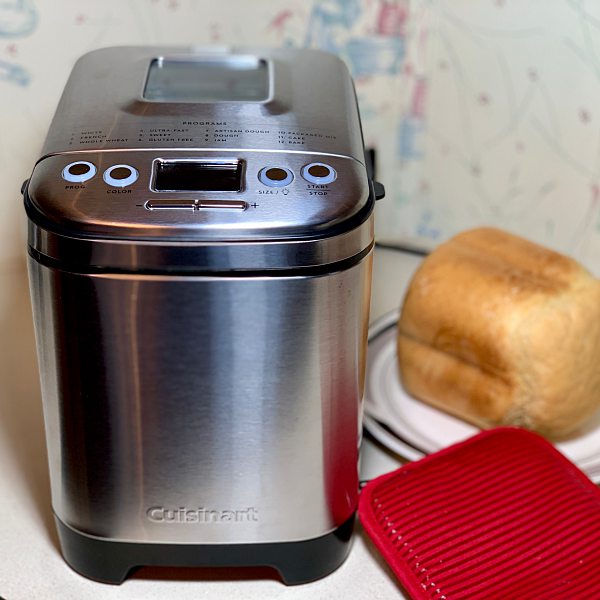 REVIEW – I owned my first and only bread maker about 20-years ago, I loved it, but it got lost somewhere along the way. Since then I've told anyone who would listen how much I missed it and that I needed to buy another one, but of course, I never did. So when I received an offer to review the Cuisinart compact automatic bread maker, I couldn't pass it up. Time to see if the Cuisinart compact bread maker can rekindle my love for making homemade bread.
What is it?
The Cuisinart compact automatic bread maker is a compact automatic vertical bread maker that offers a variety of crust colors and loaf sizes, as well as 12 preprogrammed menu options.
What's in the box?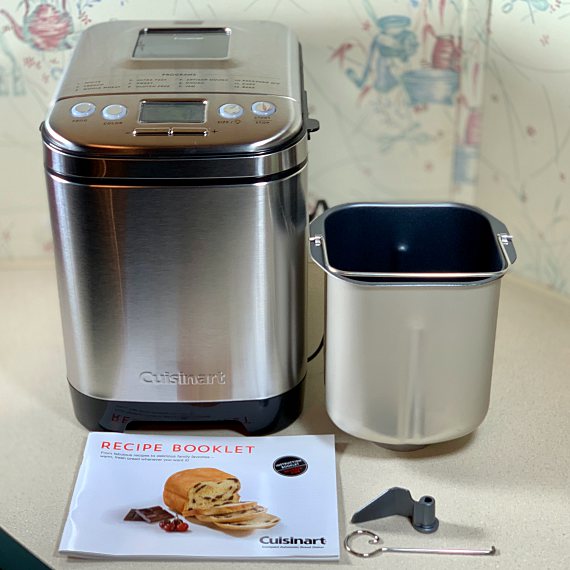 Bread maker

Bread pan

Kneading paddle

Pan hook

Quick reference guide

Instruction booklet/recipe booklet
Design and features
The first thing you notice about the bread maker is how light and compact it is. It only weighs 10.75-lbs and has a very small footprint (10.25″ x 13.25″ x 11.25″). The size is perfect for me as I don't have a whole lot of counter space in my kitchen.
I also liked the look of the bread makers contemporary brushed stainless steel exterior.
On top of the unit, there's a bread door with a viewing window and a control panel with an LCD display.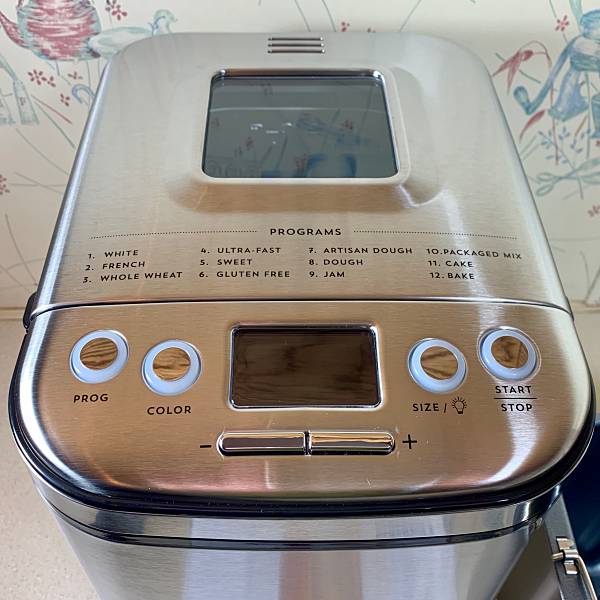 The control panel has buttons for programming, crust color, bread size/light, and stop/start. Plus/minus buttons let you adjust the time for the bake only program and delay start timer. 
The easy to read LCD display shows program, crust color, and loaf size selections. You can also view cycle and delay start timing.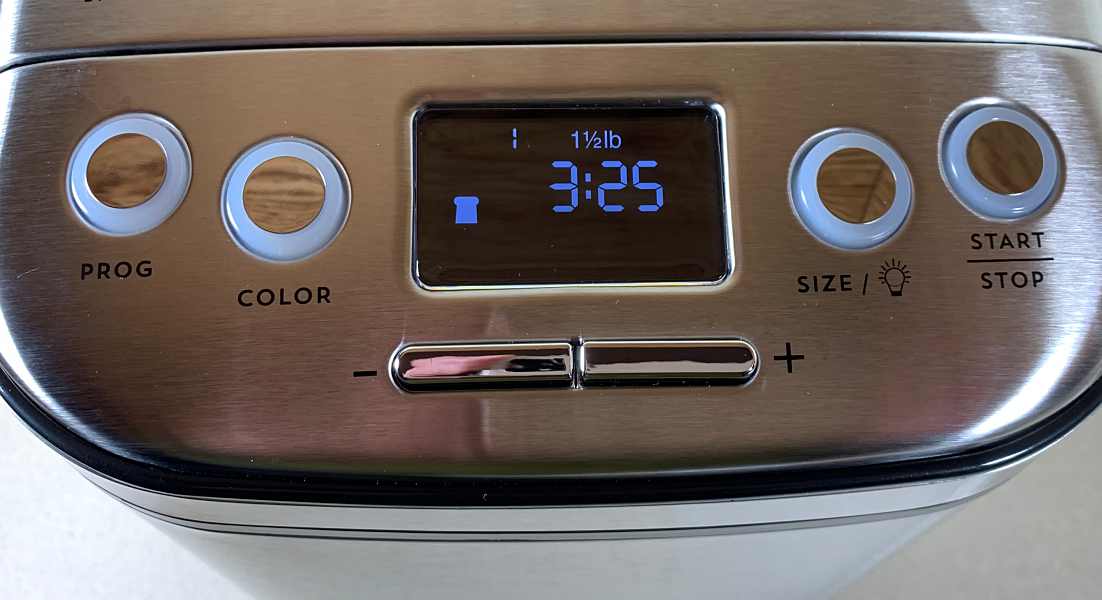 Features
Even though the bread machine is compact in size, it doesn't lack in functionality.
To start with it has 12 different pre-programmed menu options to choose from, all fully automatic.
White

French

Whole Wheat

Ultra-fast

Sweet

Gluten-free

Artisan dough

Dough

Jam

Packaged mix

Cake

Bake only
Other features include your choice of crust color: light, medium, or dark and loaf size: 1-lb., 11/2-lb., or 2-lb. loaf.
A 13-hour delay start timer allows you to program the bread maker up to 13 hours in advance.
The included recipe guide has several foolproof recipes to get you started. Everything from gluten-free and artisan bread options to jam and sauce recipes. I found the recipes to be concise and easy to follow.
Let's make some bread!
Making bread in this machine couldn't be easier. All you have to do is add your ingredients, and the bread maker does the rest.
To start out I wanted to make something easy, that didn't call for a lot of ingredients. I chose to make the French bread recipe from the included booklet.
I added the ingredients to the bread pan and placed it into the unit. I then chose the French program option and my loaf size. I chose to make the 2lb loaf because I wanted to see what this bread machine could really do. Because I was making French bread, I didn't have the option to choose the crust color.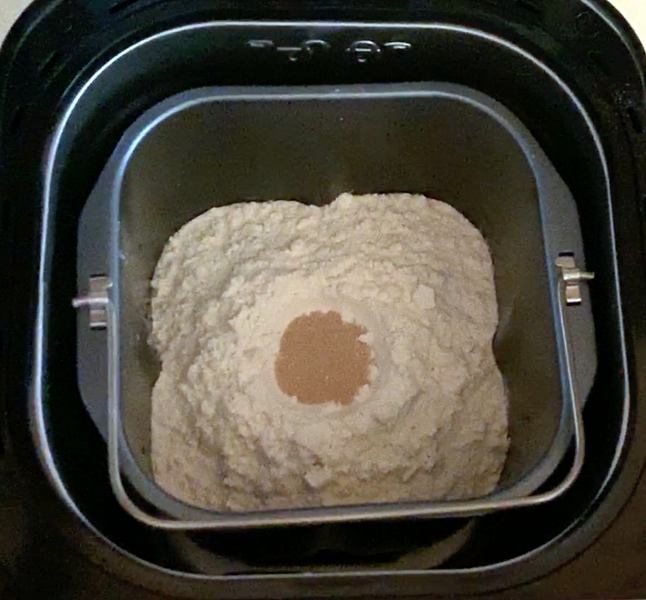 After selecting my preferences, I pushed the start button and let the machine do its thing. The unit automatically takes care of each step of the process until the loaf is done. An indicator on the LCD display shows the current function: Knead, Rise, Bake, or Keep Warm.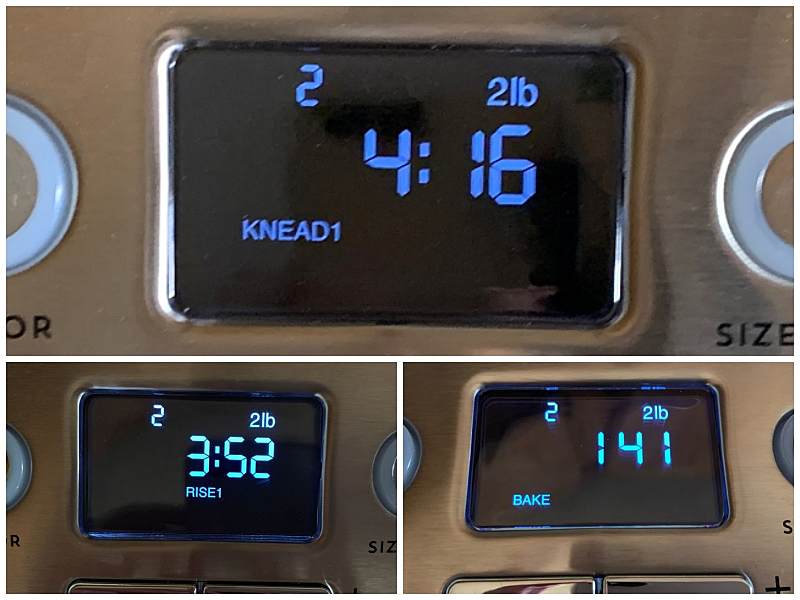 Before the bread begins baking, you have the option to remove the kneading paddle which I did. There's a signal of 10 short beeps to let you know when it can be removed. If you miss the initial beeps, the display will show "paddle" for one minute.
Being as curious and impatient as I am I really liked having the ability to check in on the bread as it went through the process. The viewing window and built-in light made that very easy.

As the bread was baking, I remembered why I loved making homemade bread so much. The AROMA! The entire house was filled with the wonderful smell of fresh baking bread.
After the bread is done baking the unit beeps 10 times, and the LCD display window will read 00:00. There is a keep warm cycle that will keep your bread warm for 60 minutes. At the end of the keep warm cycle, the unit will emit one long beep and then it will shut off.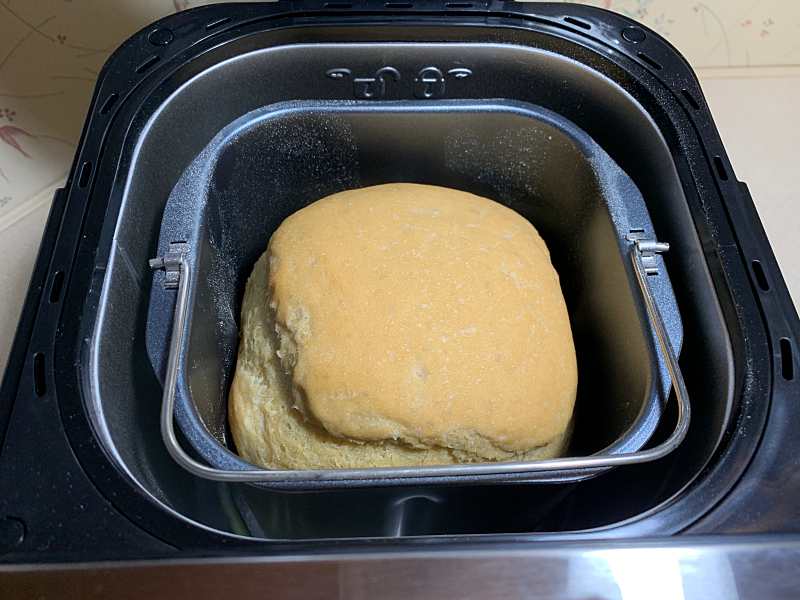 When the bread was finished I took the bread pan out of the machine and gripping the bottom turned it over, my finished loaf slid right out. I then placed it on a wire rack to cool. As you can see from the pic below my French bread loaf turned out fantastic.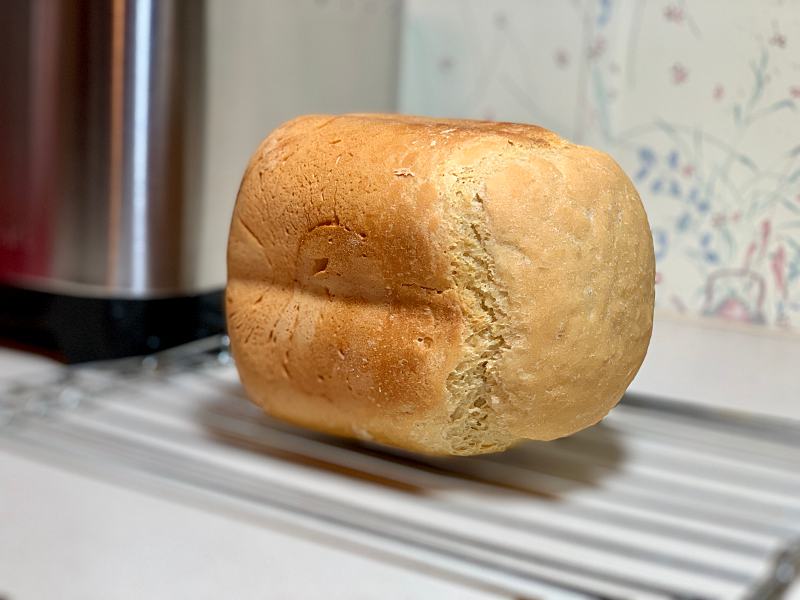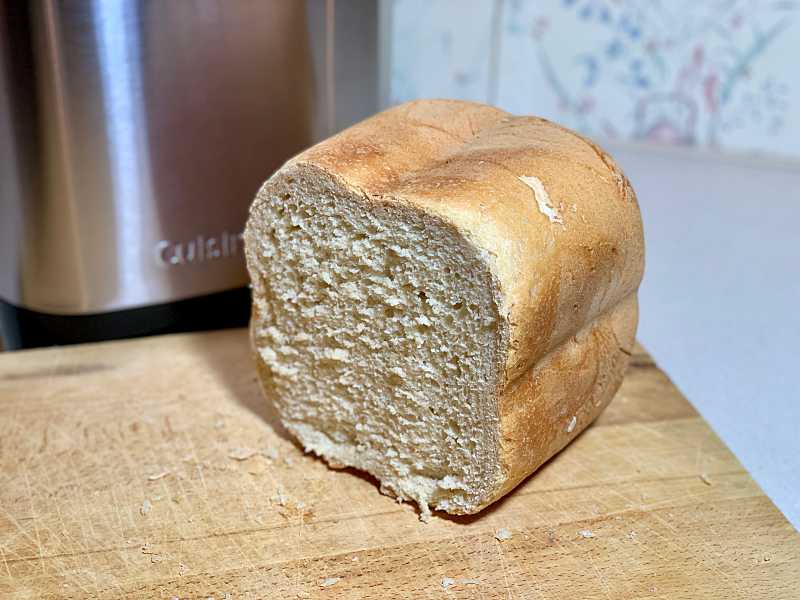 Time to taste my creation(s)
After cooling and slicing my French bread loaf, it was time to give it a taste. It tasted great! The bread was soft on the inside, and the crust had that perfect French bread crunch. Needless to say, I was pleased with my first loaf of bread from the Cuisinart compact bread maker.
Since then I've made two other loaves, jalapeño cheddar, and cinnamon swirl. The jalapeño cheddar recipe called for ingredients to be added during the kneading process. The unit lets you know when it's time to add them with an audible signal of 4 sets of 5 long beeps. Then you just lift the lid and add your additional ingredients.
Like the French bread loaf, both loaves turned out perfect and tasted wonderful.
I found that the 2-pound loaf was too much for just myself, so when I made the cinnamon swirl bread, I opted for the 1-pound loaf which turned out to be a perfect size (see the pic below).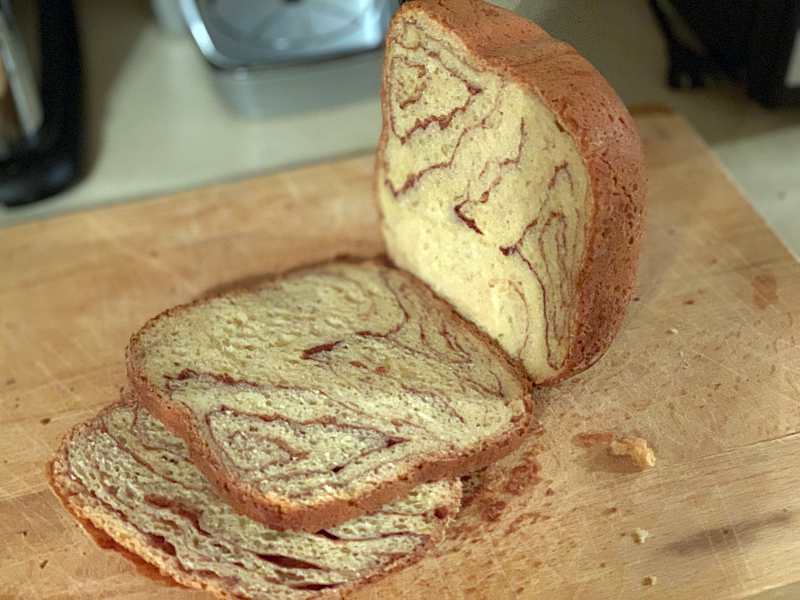 What I like
Compact size

Easy to use

Can make up to a 2lb. Loaf

Easy to clean

The included recipe booklet
What needs to be improved
Final thoughts
The Cuisinart compact automatic bread maker is easy to use, doesn't take up a lot of space, and produces perfectly baked great tasting bread. It does everything larger bread makers do and for a fraction of the price. In my book that makes it a winner. And more importantly, it rekindled my love for making homemade bread.
Price: $99.95
Where to buy: Amazon, Bed Bath & Beyond, and Home Depot.
Source: The sample for this review was provided by Cuisinart.