We use affiliate links. If you buy something through the links on this page, we may earn a commission at no cost to you. Learn more.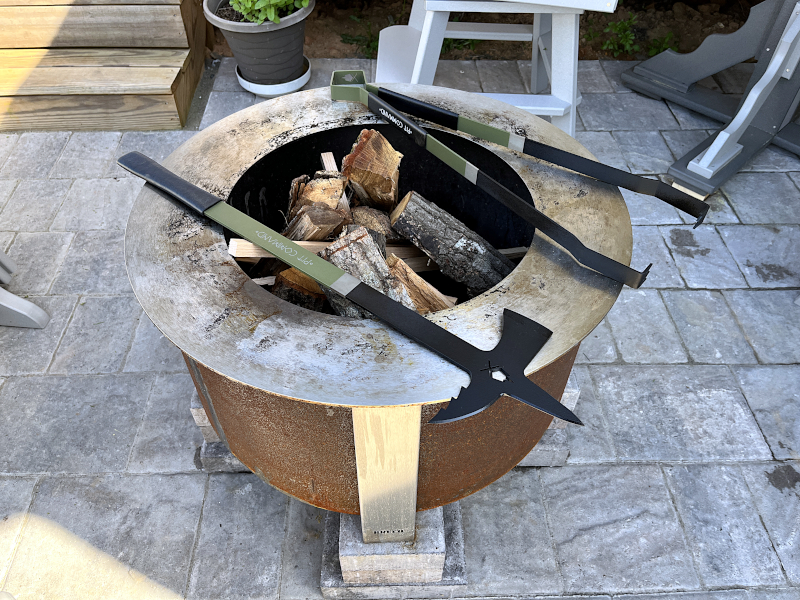 REVIEW – Last year my wife and I did something that we've never done before:  We built a paver patio next to the deck in our backyard.  It's not perfect, but we're really happy with how it turned out.  It's an amazing place for us to unwind after a long day, grill some burgers, and just talk.  We bought some patio furniture and a smokeless fire pit from Breeo.  We love this fire pit, but it can be a bit persnickety at times when it comes to staying smokeless, which is why we need a fire pit tool to keep the burning wood positioned just right.  This is why I'm reviewing two new tools, the Commander and the Talons, both from Pit Command.
What is it?
The Commander is a three-in-one fire pit tool that combines a jabber, a serrated hook, and a chopper into one tool.  The Talons are a monster-sized set of tongs for grabbing and moving small logs while they are still burning.  Both tools are made of carbon steel, have a high heat powder coat, and are held using a custom-molded handle (for the Commander) or grips (for the Talon).  Pit Command is an American company that designs and manufactures tools so you can keep your fire lit, and all their tools are made right here in the USA.
What's in the box?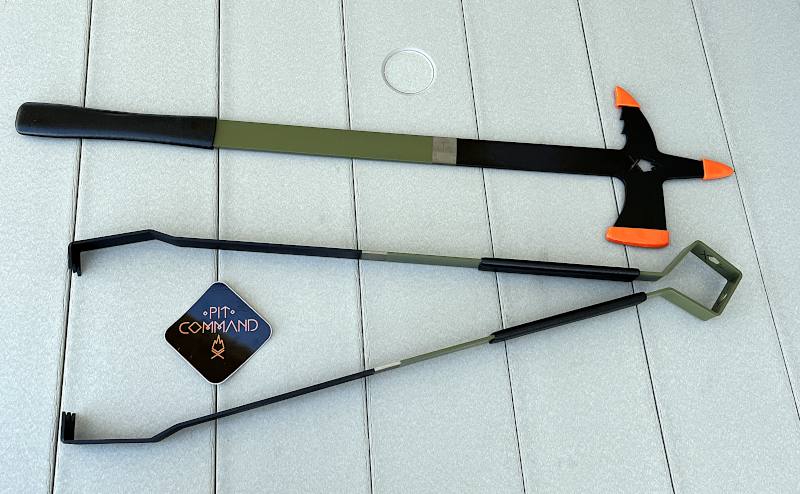 Pit Command was very gracious and sent me two different tools for testing.  Each box contained its respective tool and a sticker.
Hardware specs
The Commander:
Dimensions: 30 x 7.5 inches
Weight: 2 lbs 5 oz
Carbon steel with high heat powder coat
Custom molded handle
Hook, jabber, chopper
Color options: black, orange, or green
The Talons:
Dimensions: 24 x 4 inches
Weight: 1 lb 5oz
Carbon steel with high heat powder coat
Custom molded grips
Talons for grabbing
Color options: black, orange, or green
Design and features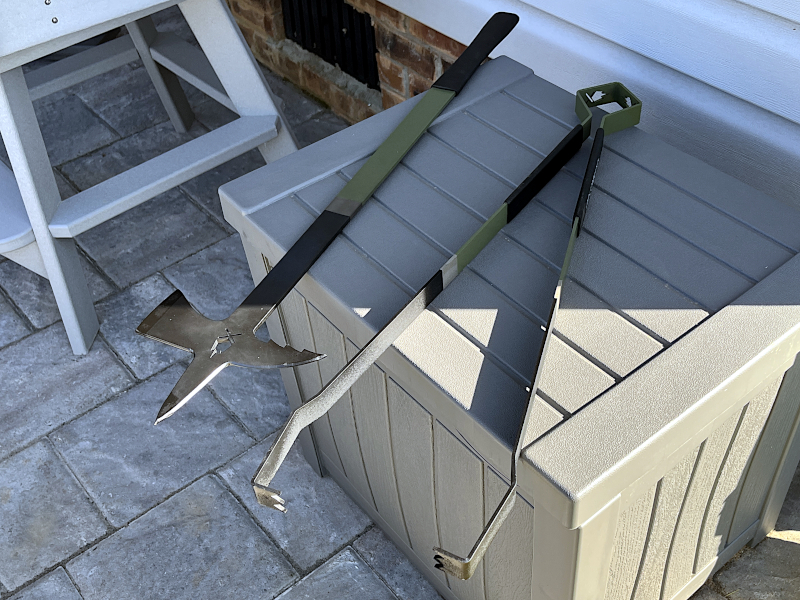 The Commander is a solid yet stylish piece of workmanship.  It's a single piece of carbon steel with the head covered in a black powder coat and the lower half in green (or whatever color you choose).  The Commander feels very sturdy and requires a bit of strength to use, yet its handle is soft and grippy.  No doubt it could be used as a self-defense weapon in an emergency.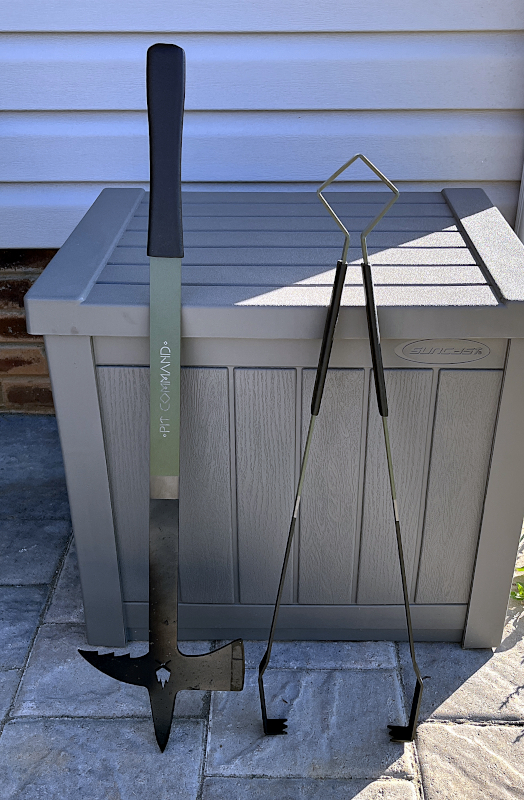 The Talons look a bit like a giant version of kitchen tongs, one with very spikey grabbers on the ends.  Like the Commander, it's a single piece of carbon steel with the tongs covered in the black powder coat and the handle in green.  The Talons are shorter than the Commander and lighter, but they still feel tough and durable.  Both of these tools are so well-made that I will never need to acquire another pit tool, no matter how long I live.
Installation and setup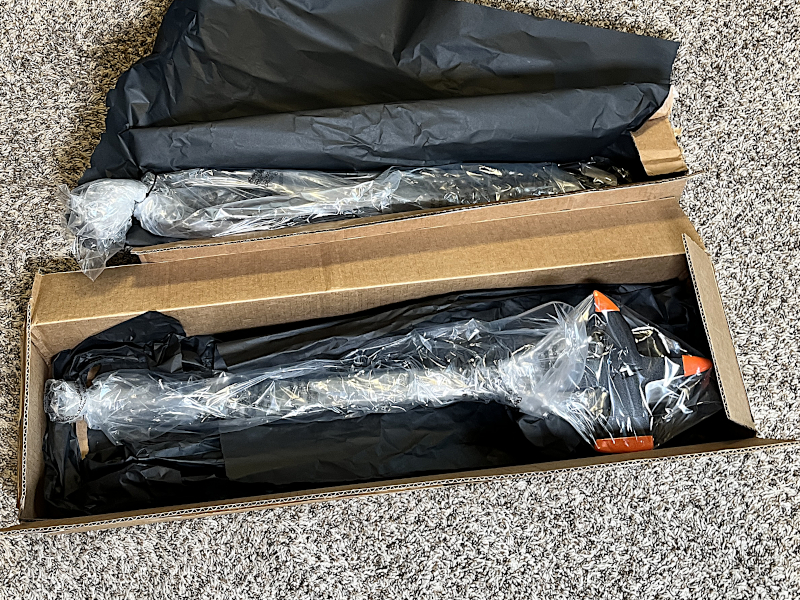 Both tools arrived well-protected in a sturdy box; they were wrapped in dark blue paper and enclosed in a sealed plastic bag.  There's no setup required, other than to remove them from their packaging.
Performance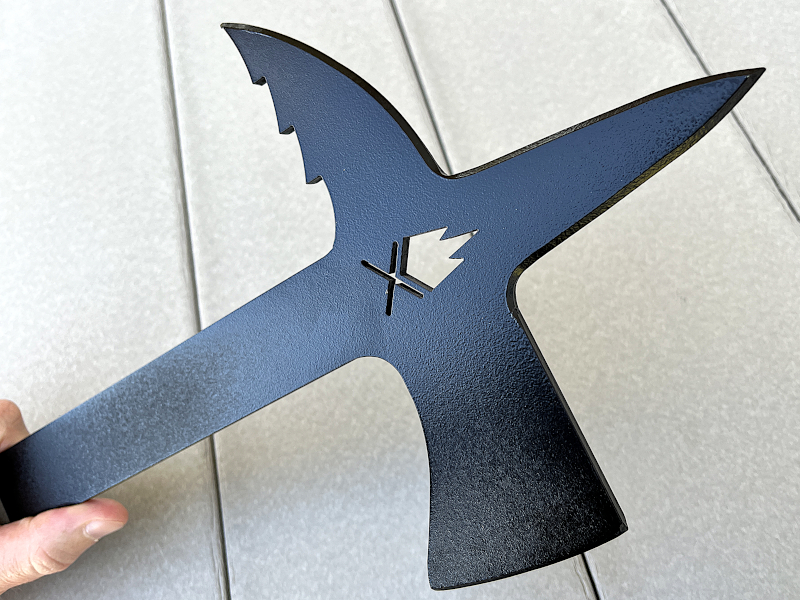 The head of the Commander has three tools.  The tip is a poker for pushing logs into place.  One side is a jagged hook for pulling logs into place.  The other side looks like an axe and would probably work for trimming small branches; if you actually need to split your firewood, however, you'll want to get a real axe for that.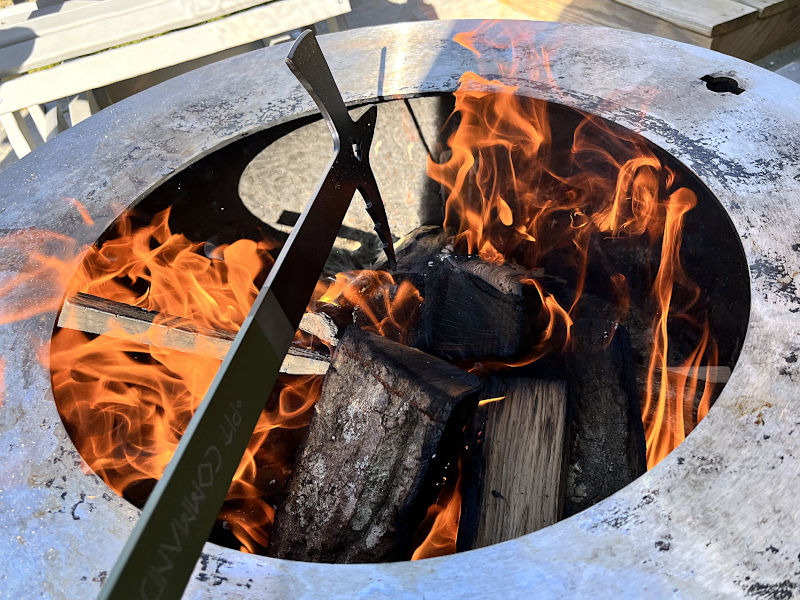 I found that the hook worked great for pulling logs around in my Breeo, and it's the part of the Commander that I used the most.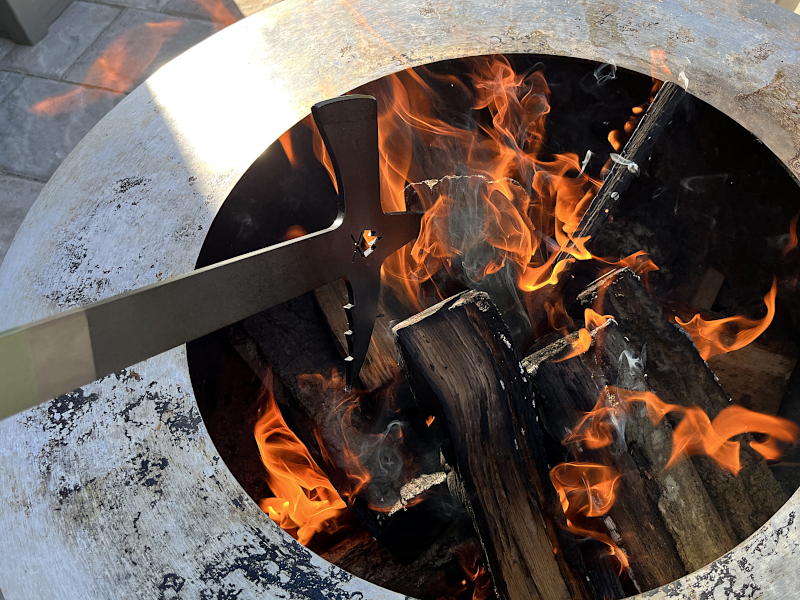 The poker worked equally well for pushing logs where I needed them to go.  Keep in mind that the Breeo that I have is a fairly small fire pit, so the logs I'm using are rather short (around 18 inches) and already split.  The Commander could certainly handle much bigger logs.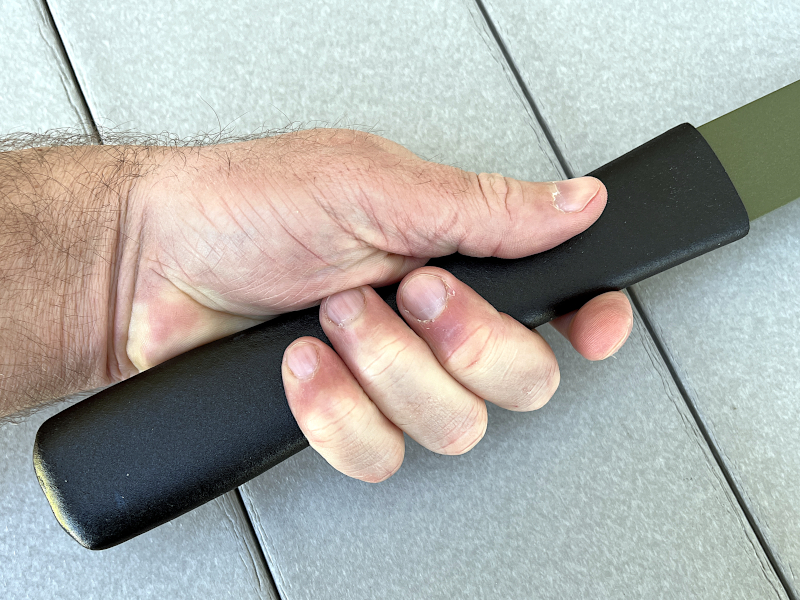 Pit Command describes the handle as a "custom-molded handle," which it certainly is, but doesn't reveal what it's made of.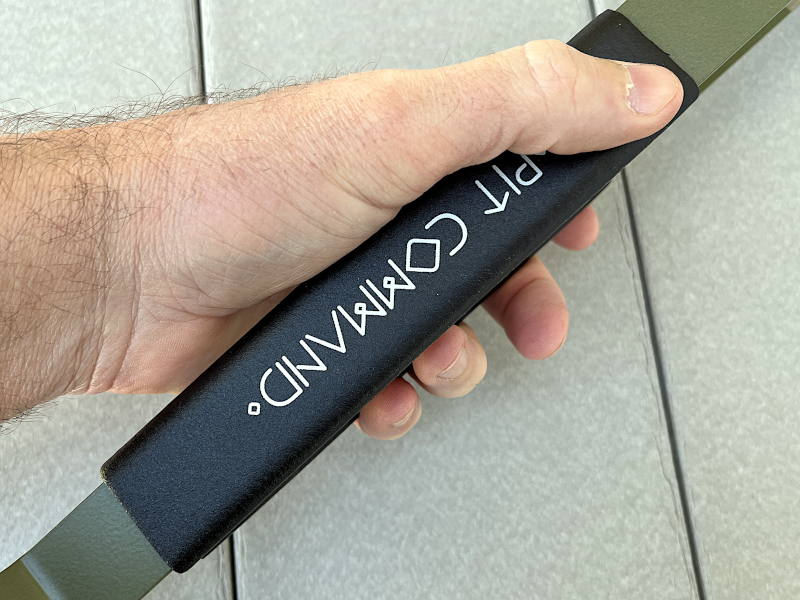 Whatever it is, I had no problem holding onto either tool, and neither ever felt like they were about to slip out of my hand.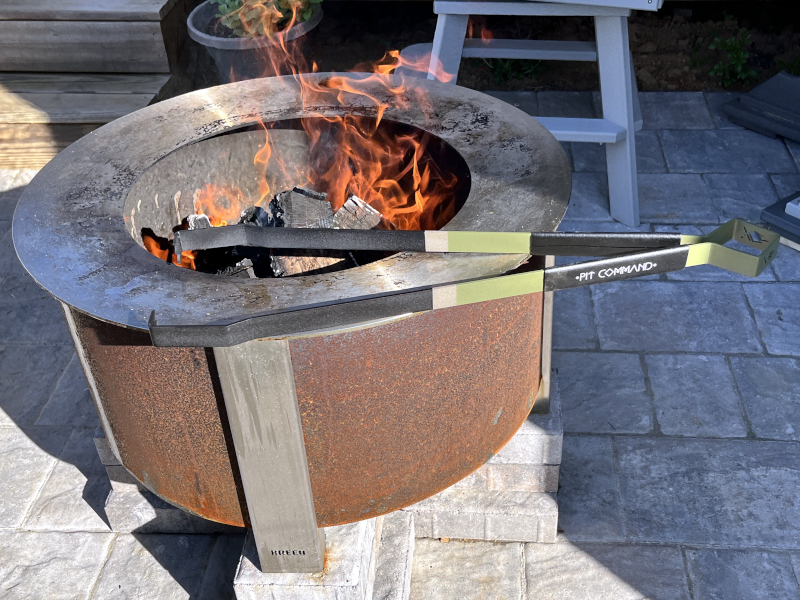 As a test, I set both tools, one at a time, on the rim of my Breeo, which gets very hot.  I waited several few minutes, and then picked them up.  Though they were ever-so-slightly warm, neither were anything close to hot enough to burn me.  The material of these handles is heat resistant; the coating is also heat resistant and prevents corrosion as well.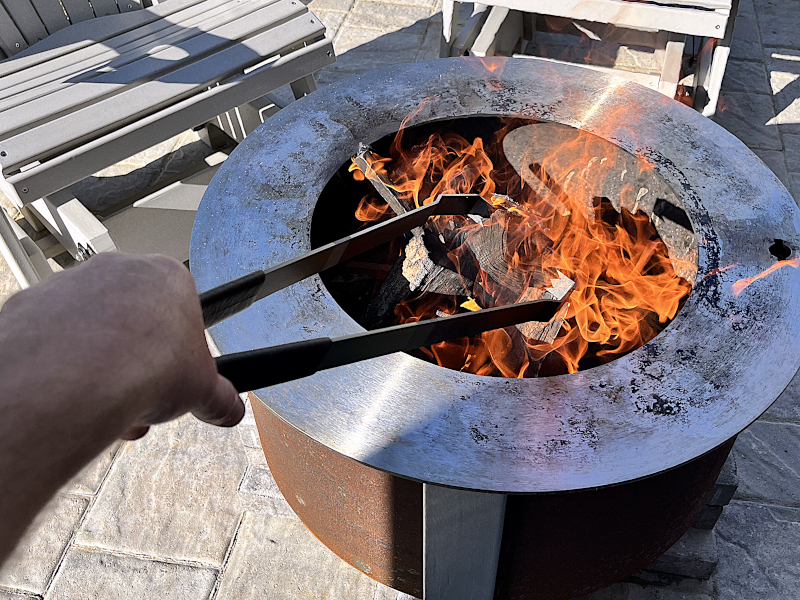 The Talons are designed to grab the logs and put them exactly where I need them.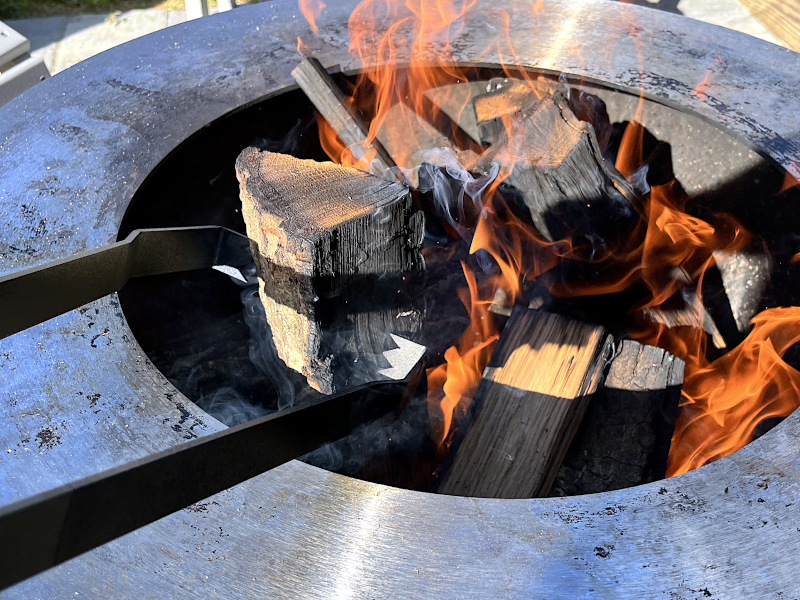 I had no problem picking up the logs in my Breeo and repositioning them.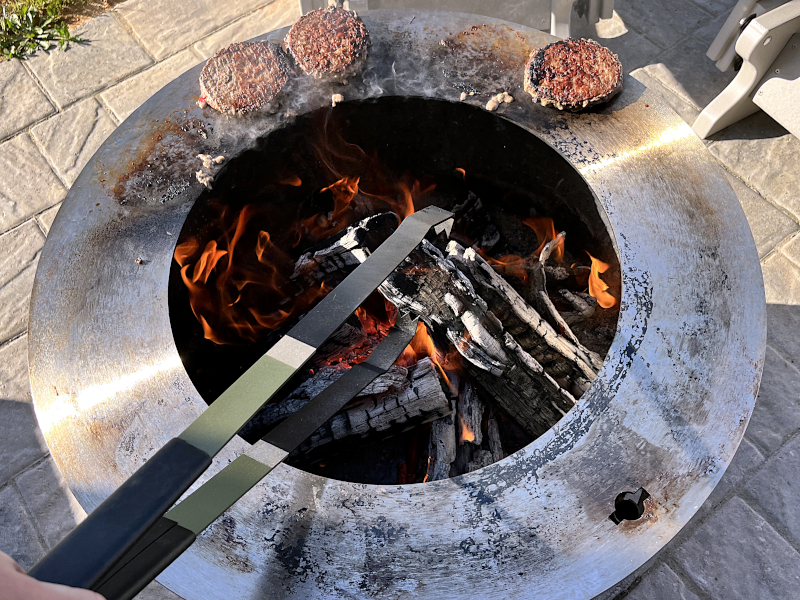 Pit Command designed the Talons to work with smaller fire pits, and they are well-suited for this task.  By their nature as a pair of tongs, there is a limit to the size and weight of logs that they could handle.  In my Breeo, however, they worked perfectly.
One thing to note is that these tools are quite pricey ($179 and $169 respectively), higher than any other fire pit tools that I could find online with a quick search.  The bad news is that this is a lot of money to spend on a fire pit tool; the good news is that they are hefty and capable tools that will last a lifetime.
Extra Features
If you like the design of the Commander, but you have a smaller fire pit, take a look at the Ranger.
What I like
Solid, sturdy, durable construction
Simple, practical, stylish design
Heat resistant handle/grips
What I'd change
Final thoughts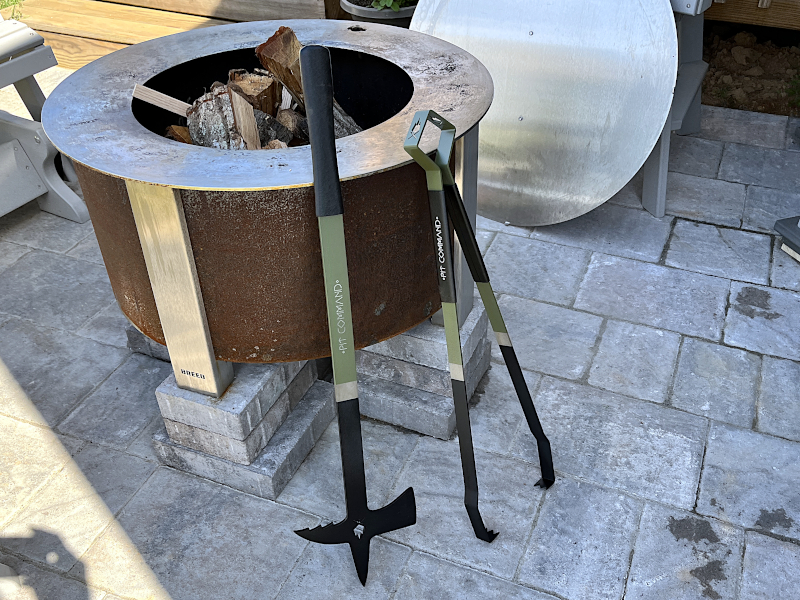 If you're looking to purchase a tool for your fire pit and are willing to splurge to pick up something really nice, then I heartily recommend both the Commander and the Talons.  Which one should you buy?  For a fire pit the size of my Breeo, you won't go wrong with either tool, as both are more than capable for the job.  I think the Commander is more of a power tool, capable of pushing or pulling any log anywhere; the Talons is more of a finesse tool, capable of picking up a smaller log and putting it exactly where it needs to go.  For me personally, I give a slight edge to the Commander, simply because it's six inches longer; my Breeo can get pretty hot, and that extra distance keeps my fingers from getting singed.  I think you'll be happy no matter which one you get.
Update 6/10/22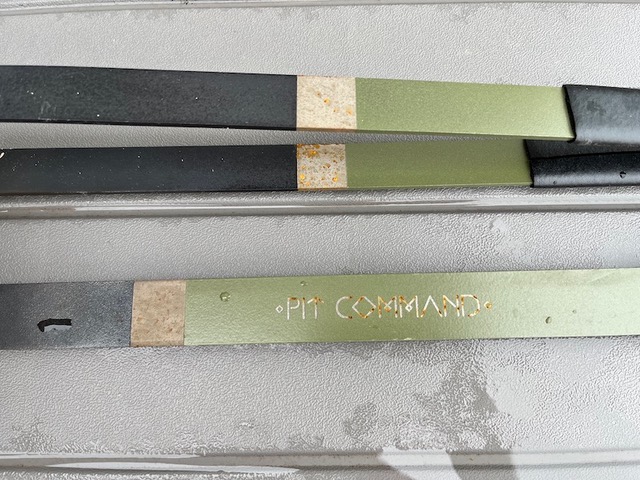 When we went out to grill some steak on our Breeo, I found that rust has already begun forming on both the Commander and the Talons. Everywhere that does not have the powder coat is starting to rust. I've had these tools for about six weeks, and I leave them outside with the fire pit. It's disappointing that premium tools that are super expensive are not better protected. True, these tools will continue to work just fine, but I wish that Pit Command had coated the entire tool.
Price:  $179 (Commander), $169 (Talons)
Where to buy:  Pit Command's online store – Commander – Talons
Source: The sample for this review was provided by Pit Command.