We use affiliate links. If you buy something through the links on this page, we may earn a commission at no cost to you. Learn more.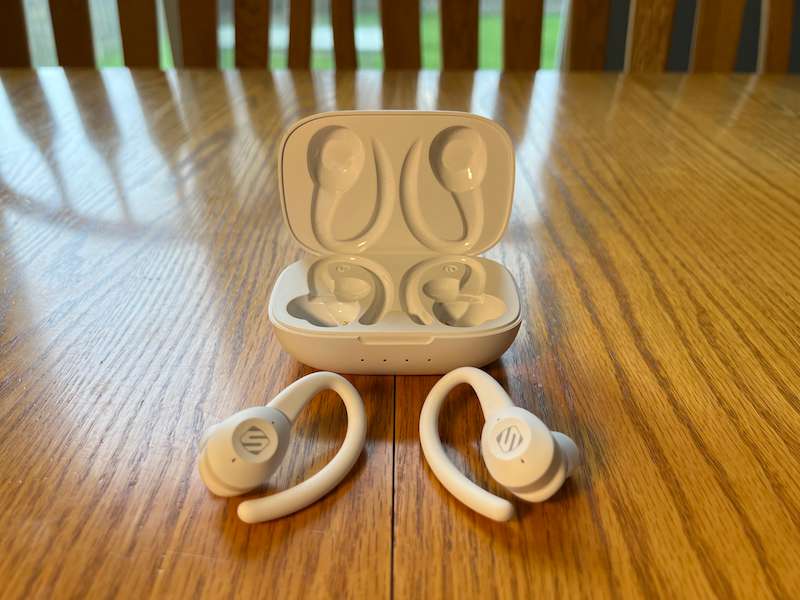 REVIEW – Headphones are some of the most personal devices we use, especially when they're earbuds or in-ear style. What fits and sounds good to you may not be right for someone else. How do you know which ones to buy? Hopefully the reviews here at The Gadgeteer help. Scosche sent me a pair of their new ThudBuds to review. I hope this will be thorough enough to help you know if they will work for you or not.
What is it?
Scosche ThudBuds TWS earbuds are a set of true wireless Bluetooth earbuds with a charging case and detachable ear hooks. They feature an IPX7 water resistance rating, meaning they can be submerged in water up to 1 meter for up to 30 minutes. 
What's in the box?
ThudBuds True Wireless Earbuds
Detachable Sportclips
Charging/Storage Case
8 inch (20cm) USB-A to USB-C charging cable
3 Sizes of Eartips (medium size comes pre-installed)
Instruction Manual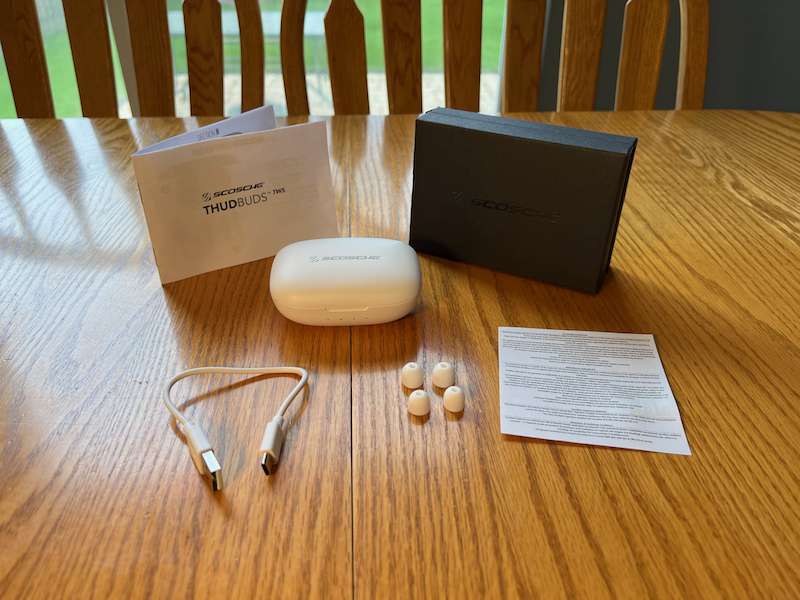 Hardware specs
Music/Talk: Up to 6 Hours
Charge Time (Case): ≈ 2.5 Hours
Charge Time (Earbuds): ≈ 2 Hours
Battery (Case): 740mAh
Battery (Earbuds): 60mAh (each)
IP Rating: IPX7 (Water/Sweat-proof)
Range: Up to 33 ft. (10 m)
Charge Input: 5V, 0.5A
Bluetooth: v5.0, HFP, HSP, A2DP, AVRCP
Case Dimensions: 3.5 x 2.25 x 1.44 in. (89 x 57.15 x 36.5 mm)
Design and features
The case is a relatively large, rounded rectangular shape, with a lid that flips up to reveal the Scosche ThudBuds TWS Bluetooth earbuds charging inside. On the front of the case are 4 LEDs that indicate the amount of charge left in the case while charging or each time you open the lid. On the back of the case is a USB-C charging connector. On the bottom are the model number and charging information, some regulatory information, and a QR code with a link to download the manual when you scan it on your smartphone. My review unit came in white but they're also available in black.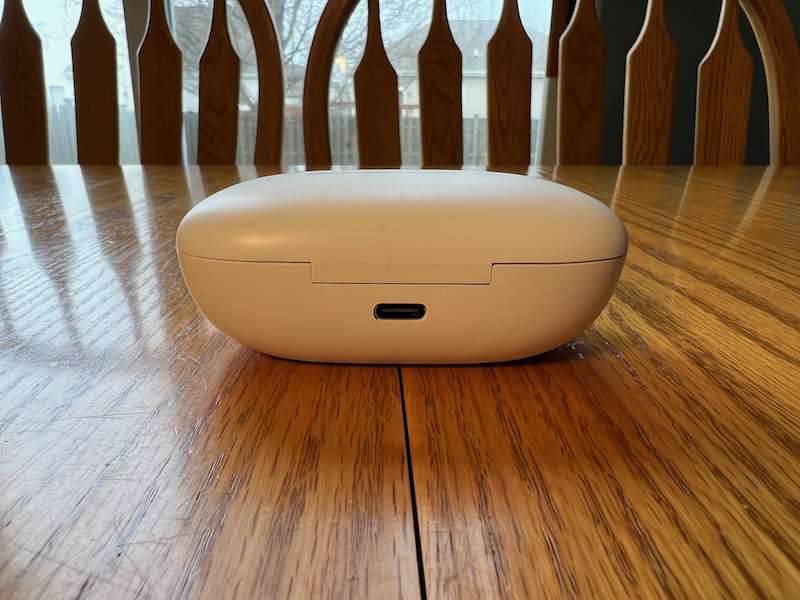 The Scosche ThudBuds TWS Bluetooth earbuds are also a bit on the large side compared to some other true wireless earbuds. They're oval with a circular section in the middle with the Scosche logo in the middle, which is where the touch-sensitive control button is, as well as a microphone and status LED on each earbud. On the back side of the earbuds is the stem that goes into the ear canal. There are three sizes of rubber eartips that come in the package. On the top of each earbud are two magnetic contacts where the ear hooks connect to help keep them in your ears during strenuous activity.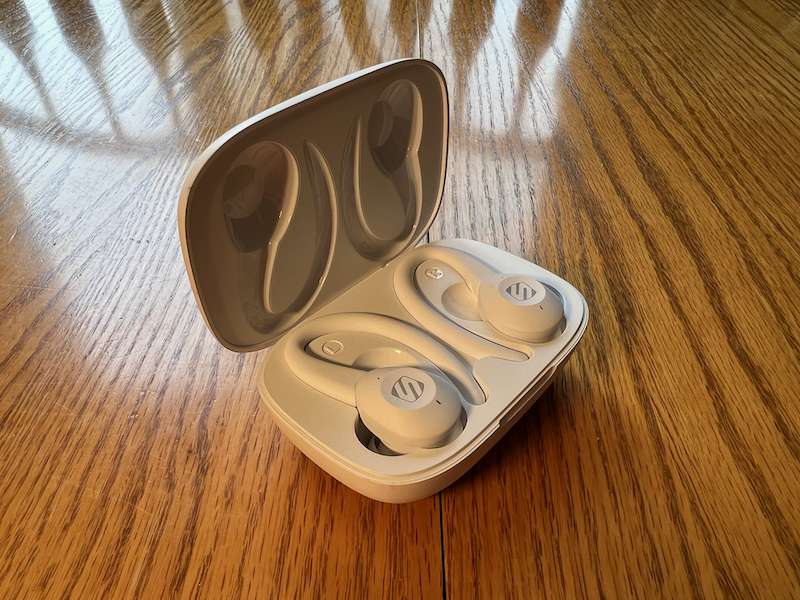 Installation and setup
As with most other true wireless earbuds I've used, opening the lid of the charging case for the first time turns on the earbuds and sets them into pairing mode. I found Scosche BTTWS2 in my phone's Bluetooth menu and selected it. A few seconds later they were paired to my phone. Pairing them to another device, my iPad Pro, was just as easy. I disconnected them from my phone, which set them back into pairing mode, found them in my iPad's Bluetooth menu, and they paired within a few seconds. 
The Scosche ThudBuds TWS Bluetooth earbuds can be used with or without the ear hooks. To use the ear hooks, make sure they're fully attached to the earbuds, hook them over the front of your ear, and press the earbud into your ear canal until it feels comfortable for you. The ear hooks to keep the earbuds at a specific angle. If it doesn't feel like that angle works for properly sealing the earbud into your ear canal, you have a little more freedom of movement if you wear them without the ear hooks. The ear hooks can be easily removed with a slight pull so it doesn't take much force to remove them.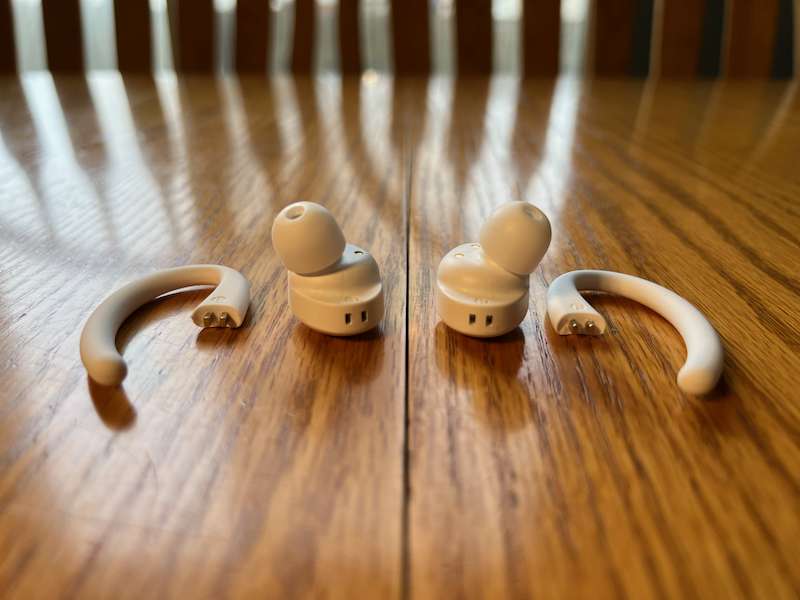 There are eight main functions available with the touch controls, all achieved by either a series of taps or pressing and holding for a certain amount of time. The functions are: 1. Play/Pause, 2. Next Track, 3. Previous Track, 4. EQ (Deep Bass/Balance), 5. Answer/End/Cancel Call, 6. Reject Call, 7. Call Waiting, 8. Voice Assistant (Siri, Google, Bixby). These functions are the same on both earbuds.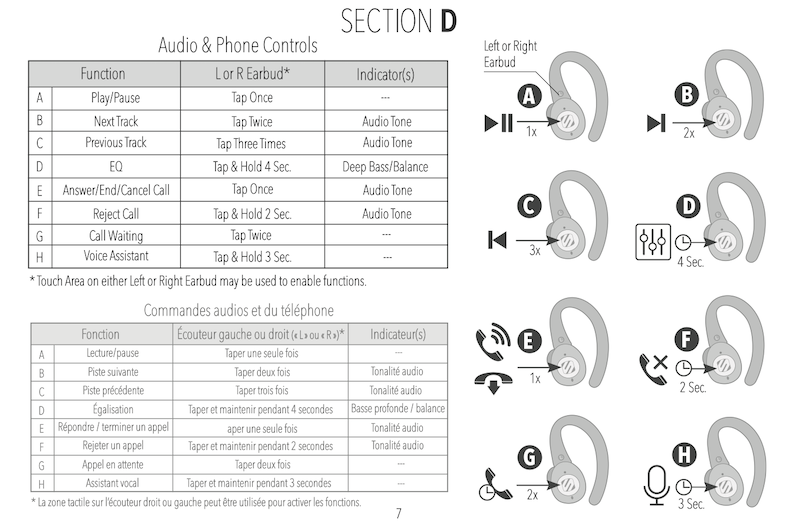 Charging time felt very snappy. Of course, your mileage may vary depending on the charger and cable you use, but with the charger and cable from my old Samsung Galaxy S20 phone, the charging time went very quickly.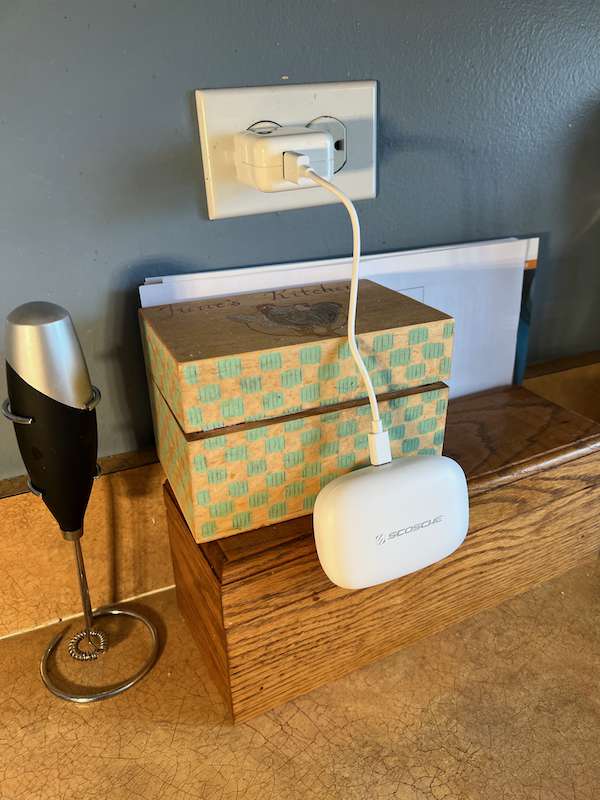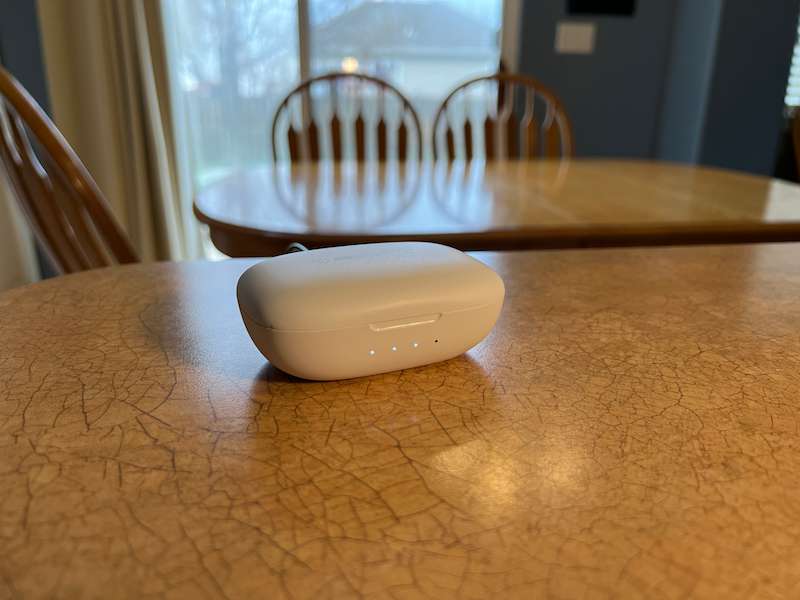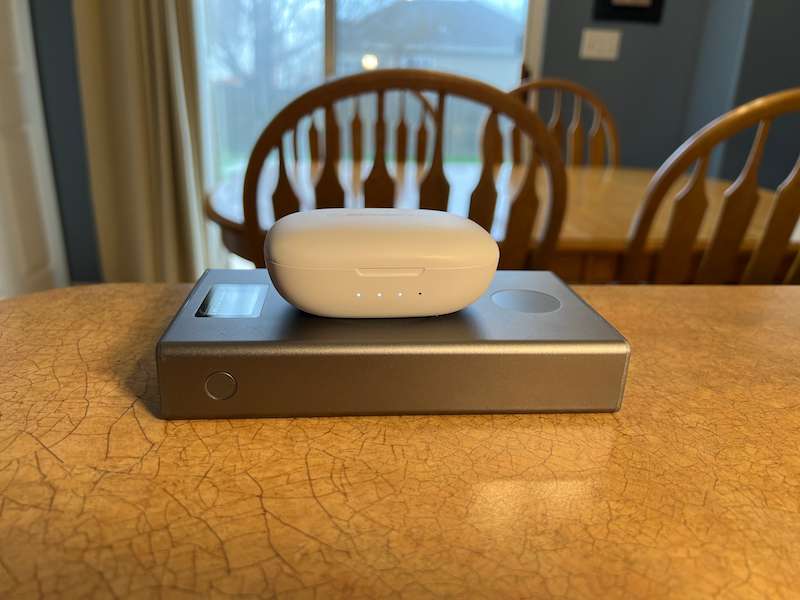 In Use
Overall the Scosche ThudBuds TWS Bluetooth earbuds fit well in my ears. I tried them with the ear hooks first and with my left ear that was fine – I was able to get a good seal in my ear with the hook on and I could barely tell the hook was there. With the right earbud it didn't seem to fit right with the ear hook. At first I decided to try the larger eartip, but that didn't fit right, either. Then I decided to take the hook off and found that if I rotated the earbud in my ear I could get it to seal properly and stay put. It feels a little different than the fit in the left ear, but I've noticed that with other earbuds so I don't fault these – I think it's just the shape of my ear that doesn't work as well with some earbuds. I'm happy to say that these earbuds don't feel like they're going anywhere, whether I use the hooks or not. Other than slightly losing seal when I move my jaw or chew, it doesn't feel like these are going to fall out.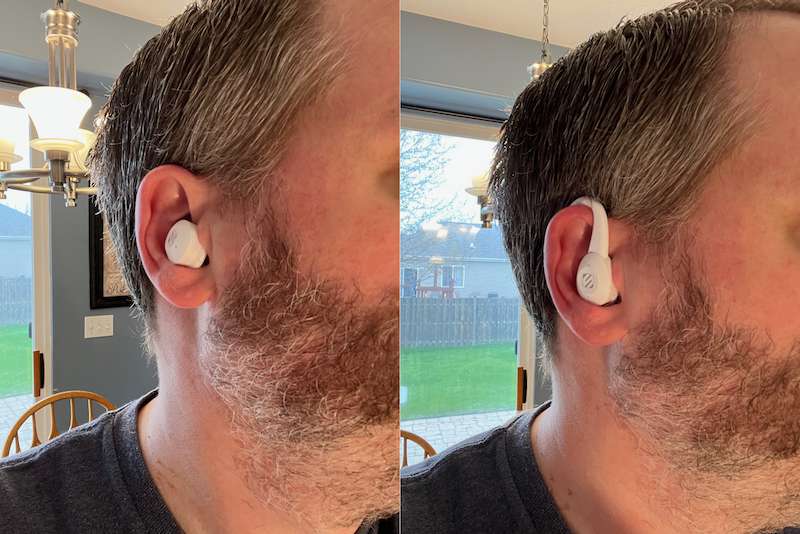 Bluetooth stability was as good as can be expected. I do have a "dropout zone" by my mailbox where a lot of the Bluetooth earbuds or headphones I've used consistently lose signal. Unfortunately, these did drop out there but other than that I didn't have any connection issues. Calls were clear from both ends. None of the people I talked to reported any audio issues while I was talking and I could hear them clearly as well. 
Audio quality for music and spoken word are very good, considering the low price of these earbuds. Bass is full but not over-pronounced, and there's more available with the Deep Bass EQ feature, and highs were crisp and clear with no distortion other than what you expect with Bluetooth and compressed music. Midrange was a little bit softer than I'd prefer but overall I enjoyed listening to everything I heard while testing these. Other than the slight discomfort from the way the earbud fits in my right ear, I could listen to music or podcasts with these for hours a day without a problem.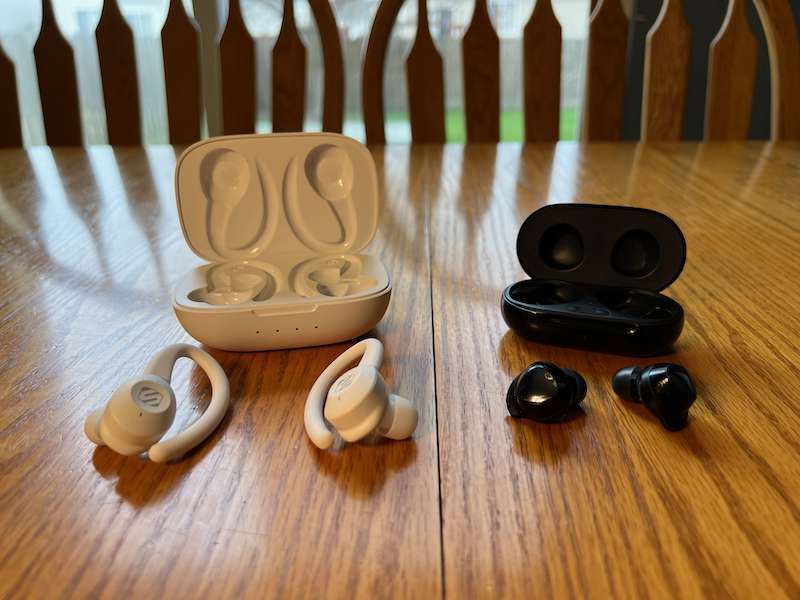 As I've mentioned in previous Bluetooth earbud reviews here and here I get frustrated when there are different controls on each earbud. I do a lot of podcast listening and I prefer to listen to spoken audio with only one earbud in so I can be more aware of what's going on around me. If I can only do certain functions on one earbud vs. the other it means I have to do more with my phone when I'm only using one earbud, in which case I don't really even need the controls on the earbuds themselves. I'm happy to report that the controls on each earbud are the same, and there are more controls than I think I've seen on any other similar earbuds. With eight different functions available, there's a lot you can do without needing to reach for your phone, except, unfortunately, there is no volume control. Most other earbuds of this size don't have that feature either, however, so it's not a negative when compared to what I'm accustomed to, I just wish there was a practical way to do that on earbuds like this.
It did take me a little bit of time to figure out how to use the various tap and hold features of the Scosche ThudBuds TWS Bluetooth earbuds. I would tap and hold until I heard a beep but that usually ended up triggering the assistant feature, not the EQ feature I was trying for. I finally realized I was releasing my finger too soon; I had to keep holding after the initial beep until the last beep occurred, then release my finger. Since there are multiple tap and hold features it's important to get the timing just right for the feature you want to enable or disable.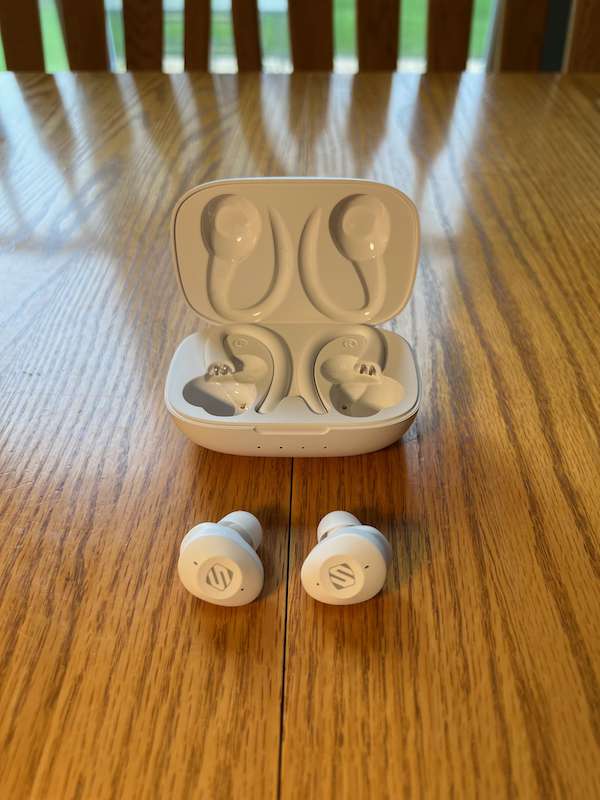 Under normal use the Scosche ThudBuds TWS Bluetooth earbuds turn on and connect to the last used device right away as soon as the lid is opened, making it easy to put them in your ears and start listening right away. There may be times, though, that you're away from the case but you don't want to leave them in standby, draining their batteries while they're not being used. There is a manual power on/off feature, enabled by tapping and holding the touch area for 5 seconds; to turn them back on, tap and hold for 2 seconds. While they're turned off you can also enter manual pairing mode by tapping and holding for 7 seconds while they're out of the case. If you want to reset the earbuds, losing all previous pairings, place them in the case and tap and hold for 7 seconds.
While you can use these with multiple devices, they can only be connected to one device at a time; no keeping a phone connected in case a call comes in while you're watching a movie on your iPad. I wish more Bluetooth headphones of any price range or style included this feature but it's just not available on most of the ones I've used. Also, when you have the earbuds connected to one device, you have to manually disconnect it from that device to connect it to another. To be clear, you do not have to un-pair them, just make sure they've not connected to the first device anymore if you want to use them with a second device. My Samsung Galaxy Buds+ automatically switch over to a new device when I select them in the Bluetooth settings. I will say most of the other earbuds I've tested don't do this, either, but it would be nice if more of them would.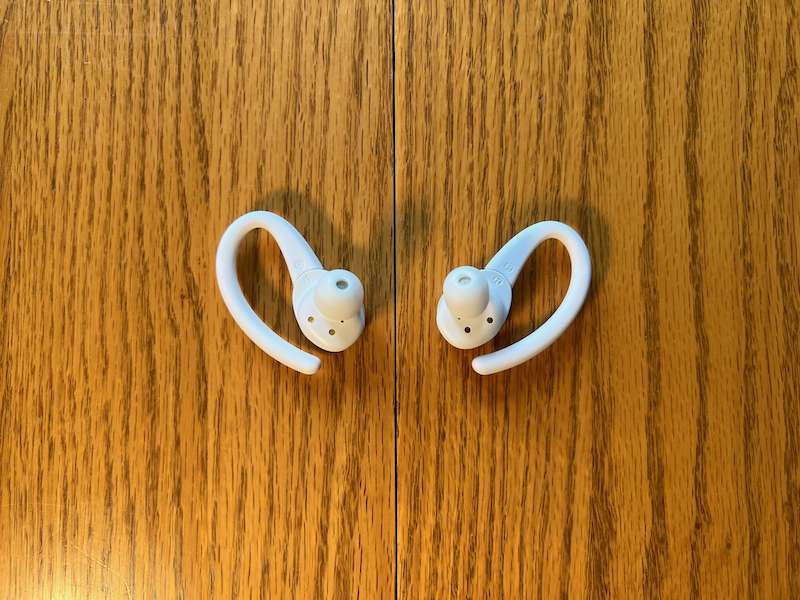 I did end up doing something with these earbuds that I've never done with a review or personal set before – I took a shower with them. Because they're rated IPX7, I figured they were the right pair of earbuds to try this with. I can happily say that they survived and worked throughout the whole 15 minute shower without a problem except that the water kept activating the touch-sensitive buttons and pausing my music. I've often wanted to keep listening to a good podcast when it's time to take a shower and this makes it easy for me. I've tried a few waterproof Bluetooth speakers before but they've been so bass-heavy that there's not a lot of mid- and high-frequency signal just when listening in general, and the sound of the shower makes it almost impossible to understand what's being said with certain podcasts that it's just not been worth it to me. I won't be listening to this way every day but I'm glad to now have the ability when I need it.
There are two major features missing that many similar earbuds offer – ANC and ambient mode. I understand that these are on the lower end of the price spectrum for TWS earbuds, but I hope Scosche makes those features available on a new model in the future. 
Considering the size of the Scosche ThudBuds TWS Bluetooth earbuds I would have expected longer battery life. They're rated to only 6 hours of battery per charge, compared to 11 with my Galaxy Buds+, which are smaller. The case more than makes up for it, though, giving up to 30 more hours of charge so unless you need them in your ears literally all day, returning them to the case for a quick top off shouldn't be much of a problem.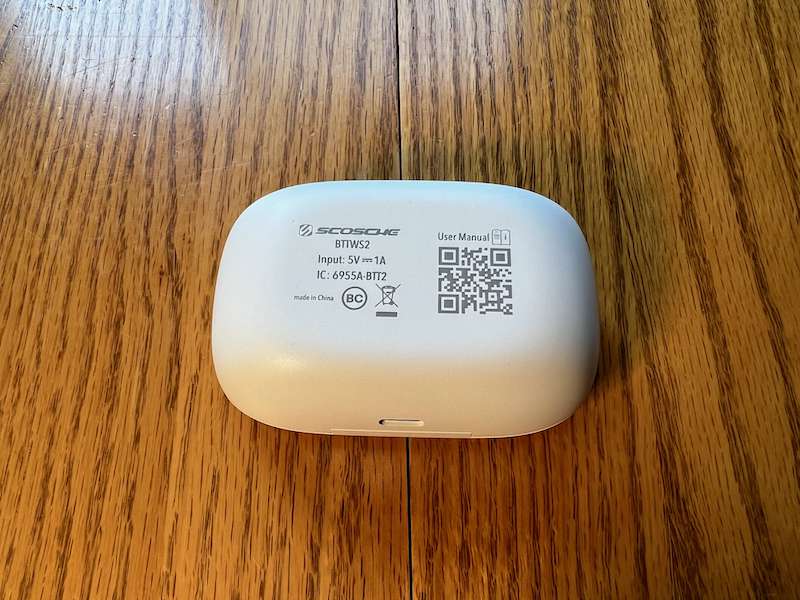 I couldn't find a downloadable manual anywhere on their site. I also didn't have any luck searching Google, although maybe I could have tried longer, but I shouldn't have to. Thankfully the QR code on the bottom of the case links to a manual. I just think they should make it easier for potential customers to find this kind of documentation to help with purchasing decisions. I know it's one of the things I look for when considering a product like this. Here's a link for anyone who would like to see it before purchasing.
For me, due to the size of the carrying case and the Scosche ThudBuds TWS Bluetooth earbuds themselves, they won't be my everyday carry set, but I can see keeping them in a backpack or gym bag, having them ready for a hike, a workout session, a walk, or whatever comes my way. 
What I like
Good sound quality
Long battery life when combined with case
Matching controls on both earbuds
Works well with or without ear hooks
IPX7 water resistance
Qi charging case
What I'd change
Slightly longer stem to go further into ear canal might help with the fit in my right ear
Make manuals available on product site for pre-purchase help
The included USB-A to USB-C cable is ridiculously short
Final thoughts
While the Scosche ThudBuds TWS Bluetooth earbuds are too bulky to keep in my pocket every day (have you seen what I carry around?), this is a great pair of earbuds, especially when you consider the cost. If you're always on the go and have a backpack, gym bag, or purse to keep the case in, you should definitely give the Scosche ThudBuds TWS earbuds a try.
Price: $59.99
Where to buy: scosche.com or Amazon
Source: The sample for this review was provided by Scosche. For more information visit their site.