We use affiliate links. If you buy something through the links on this page, we may earn a commission at no cost to you. Learn more.
REVIEW – I listen to a lot of podcasts. I have a single Bluetooth earbud in one of my ears most of the day. I buy true wireless earbuds so I can keep one in my ear and one charging. This is where a set of Bluetooth earbuds like the SoundPEATS T2 Hybrid Active Noise Cancelling Wireless Earbuds comes in handy.
What is it?
SOUNDPEATS T2 are a pair of truly wireless in-ear earbuds, useful for listening to music, spoken word, movies, or other content on your phone, tablet, or other Bluetooth capable device. True wireless simply means that in addition to not being tethered by a cable to your phone, the earbuds are also not tethered to each other. The best types of these devices have the ability to work together as a stereo pair or independently, which is how I tend to do most of my spoken word listening. When I want to listen to music I put in both earbuds. For me, it's the best combination for both types of listening.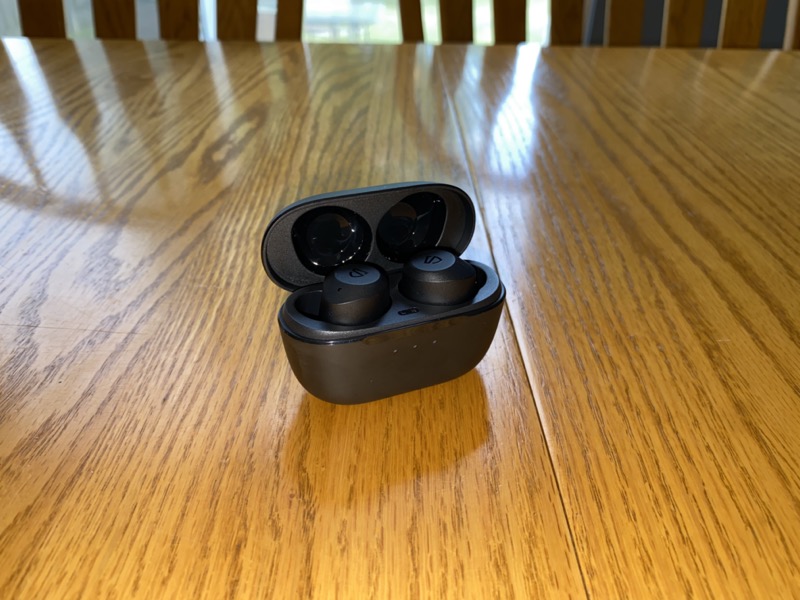 In addition, the SOUNDPEATS T2 feature Active Noise Cancelling (ANC) as well as Transparency Mode, allowing audio to pass through for helping you hear the sounds around you while you have both earbuds in (a great safety feature while walking or riding a bike for instance). They support Bluetooth 5.1 and have up to 30 hours of listening time through the use of the battery in the charging case. 
What's in the box?
1x SOUNDPEATS T2 Wireless Earbuds
1x Charging Cable
1x Charging Case
6x Interchangeable Ear Tips
1x User Manual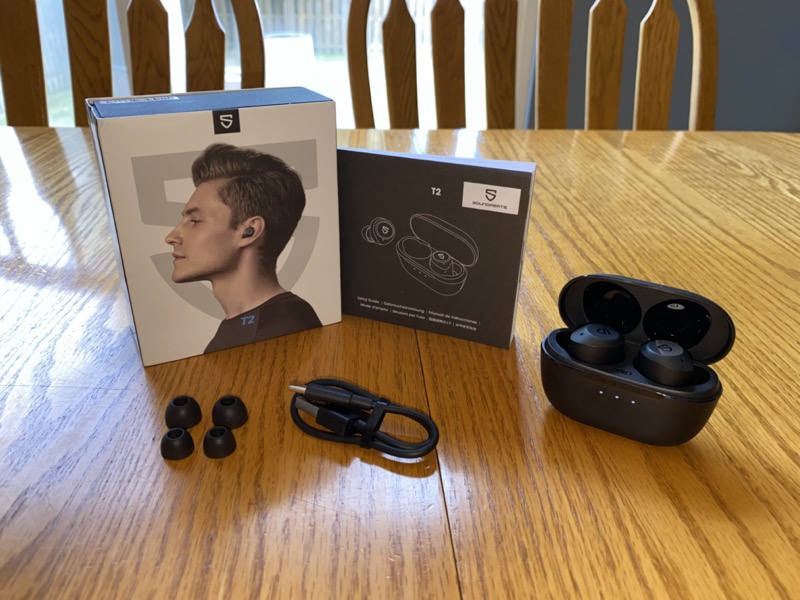 Hardware specs
Bluetooth Chip: Airoha AB1562A
Waterproof Level: IPX5
Bluetooth: 5.1
Audio Codec: SBC, AAC, MP3
Working Range: 33 feet (10m)
Technology: BT5.0, HSP, HFP, A2DP, AVRCP
Battery Capacity: 370mAH (Case)
Battery Capacity: 55*2mAH (Earbuds)
Charging Time: 2 hours
Standby Time: 150 hours
Play Time: ANC ON 7.5 hours, ANC OFF 10 hours
Design and features
The SOUNDPEATS T2 Hybrid Active Noise Cancelling Wireless Earbuds consist of a black charging case and two small, black earbuds, which fit in the ear without a stalk that sticks out of the ear like AirPods or similar Bluetooth earbuds. My regular day-to-day earbuds for the last couple years have been the Samsung Galaxy Buds (and more recently the Galaxy Buds+). The SOUNDPEATS T2 are noticeably larger but they actually seem to fit in my ear a little bit better. Maybe due to their larger size they just seem to fill up my ear cavity a little better so they feel tighter; either way, they're very comfortable to wear, even all day long.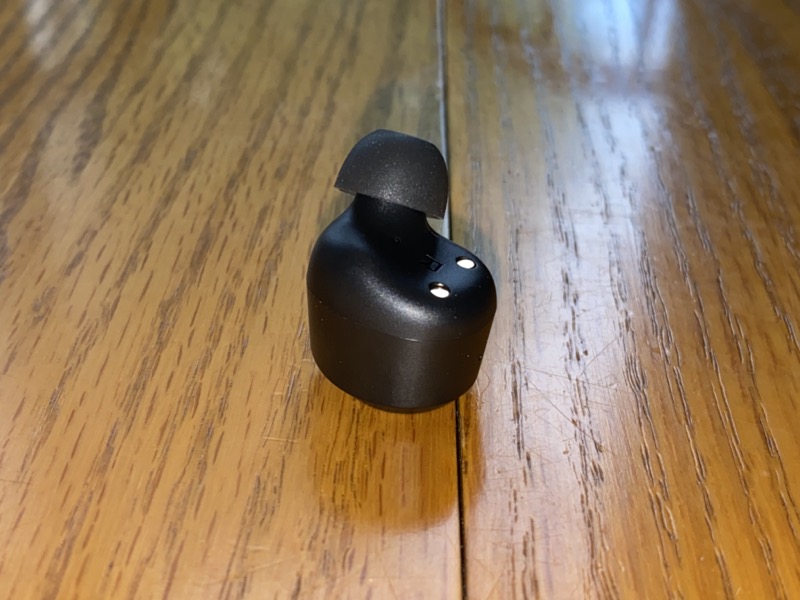 As I mentioned at the top, I listen to podcasts throughout the day. I can easily listen for 4-6 hours a day while working, doing household chores, or even just relaxing. Because of this, I use just one earbud so I can keep my other ear free if someone needs to get my attention or just so I can be more aware of what's going on around me. True wireless earbuds have been a great addition to my life so I can always keep one charging, ready to go if the other one's battery gets low, and also so I can give my ears a rest throughout the day.
I was excited to test the ANC feature because I haven't used any earbuds with this feature before. I haven't been on a plane in a while so I wasn't able to test them in that environment, but I was able to test it while mowing the lawn and it worked. The ANC was able to block out most of the lower frequencies of the mower, leaving it as kind of a whisper in the background, which meant I didn't have to turn up the volume as much as I usually do. I'm hoping this will help protect my ears in the long run.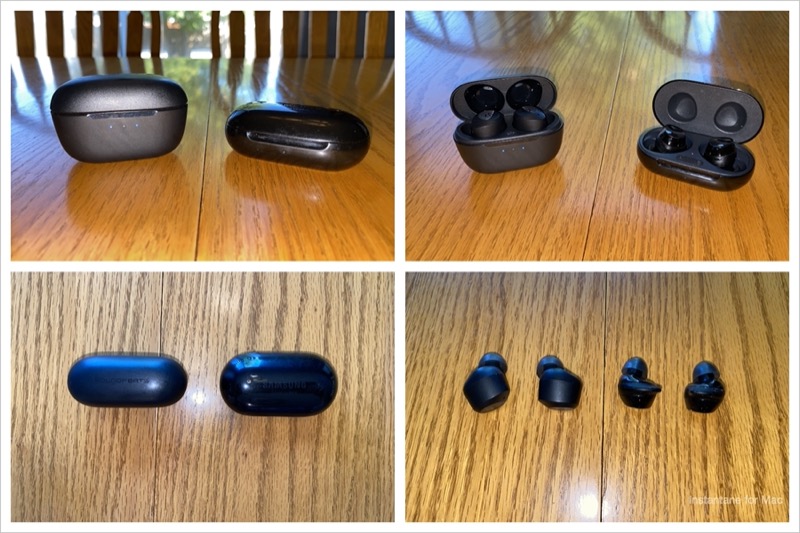 Like similar earbuds, the controls on the SOUNDPEATS T2 Hybrid Active Noise Cancelling Wireless Earbuds are touch sensitive. There are no switches or physical buttons, only touch controls. I'm fine with this – I've gotten used to this concept with the Galaxy Buds over the last few years and adapted to it. But this is where I have the only real problem with these earbuds – the controls on each earbud are different. I've searched high and low over the years for a set of earbuds that have the same controls on each earpiece, which is one reason I settled on the Galaxy Buds. Even though I'm primarily an iPhone user, meaning AirPods would be the natural choice, since their controls are different per ear I don't choose to use them. Since I usually listen with only one earbud in at a time, having the controls the same between each one is so convenient. If, like the T2, the controls are different per ear, I can't control some features depending on which earbud I have in. In addition, there is no skip back control on either earbud so if I want to hear a section of a podcast again (or jump to the beginning of a song) I have to pull out my phone and do it there. First-world problem, I know, but when you have to do it many times a day, or in an environment where it's not convenient or safe to pull out your phone (such as while driving), it's definitely a nuisance.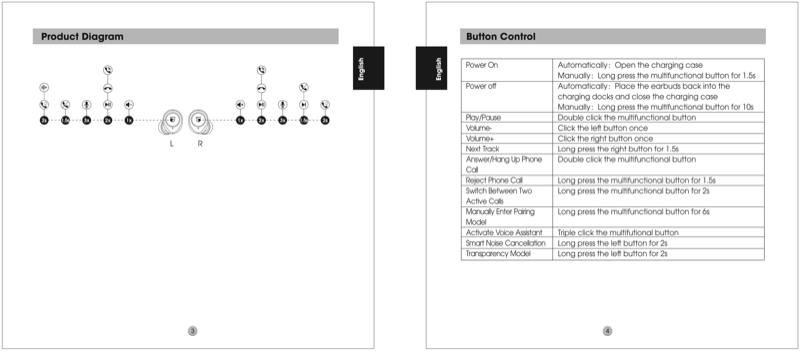 Another issue I had with the touch controls is that they didn't always seem to respond the first time. To play or pause you have to double tap either earbud (thankfully that control, which is probably my most used control, is the same on both earbuds), but several times it didn't respond right away. It's entirely possible I just haven't gotten used to exactly where I need to tap (the multi-function button is a flat spot on these vs. a more rounded area on the Galaxy Buds that I've spent several years getting used to). It's also possible that the phone itself wasn't responding, which is a problem I have had with other earbuds.
All that being said, I really do like the SOUNDPEATS T2 Hybrid Active Noise Cancelling Wireless Earbuds. The sound quality is great, pretty comparable to the Galaxy Buds. Spoken word sounds full without boominess from unnaturally enhanced bass and music sounds full and clear. I did notice a bit of distortion in the bass notes on some tracks (I listen to a lot of jazz with strong bass lead parts and bass solos) but it's not anything I wouldn't expect from other Bluetooth headphones. These are definitely not audiophile headphones, but realistically nothing that is Bluetooth based really is. Overall music is enjoyable and spoken word is as good as I'm used to with other earbuds.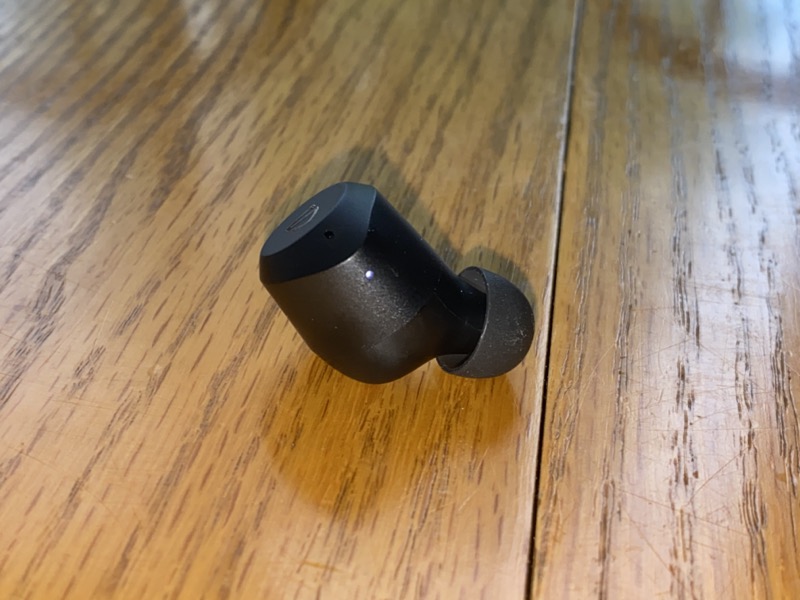 Battery life has been great. I wanted to see just how long these would last with my normal several hours per day listening schedule. After the first charge, I used them starting on a Saturday afternoon all the way to the middle of the next Thursday without recharging the case. This was with 4 – 6 hour average per day listening, with extra time where they were in my ears on standby when I needed to concentrate but didn't want to have to put the earbuds away. I usually charge my earbuds every night so it's not very often that I would need to go almost a week between full charges but it's nice to know I could for a camping trip, for a prolonged power outage, or some other time when I just don't need to think about needing to charge them.
Call quality was good on both sides. I had no issues hearing the person on the other side of a phone call, and nobody mentioned any issues understanding me on any of the calls I made. Stability while listening to music and podcasts was also solid. I've heard maybe 2 or 3 dropouts the whole time I've been using them, which is pretty good for any Bluetooth device.
Installation and setup
Setting up the SOUNDPEATS T2 Hybrid Active Noise Cancelling Wireless Earbuds is as easy as any other Bluetooth headphones. As usual, it's suggested to fully charge them before first use. Once that is finished, opening the lid while the earbuds are in the charging case automatically sets them into pairing mode (only the first time, not every subsequent time you open the lid). Find them in your phone or other device's Bluetooth menu and tap on SOUNDPEATS T2 to pair. When you want to use them after that, just open the lid of the charging case and they connect to your phone automatically. Pairing them to another device is easy as well – hold the multi-function button on either earbud for 6 seconds and they enter pairing mode again. This does not unpair them from the original device. To switch between devices in the future, you have to manually disconnect (but not unpair) them from one device to get them to connect to the other, which is what I've come to expect when switching the same earbuds between devices.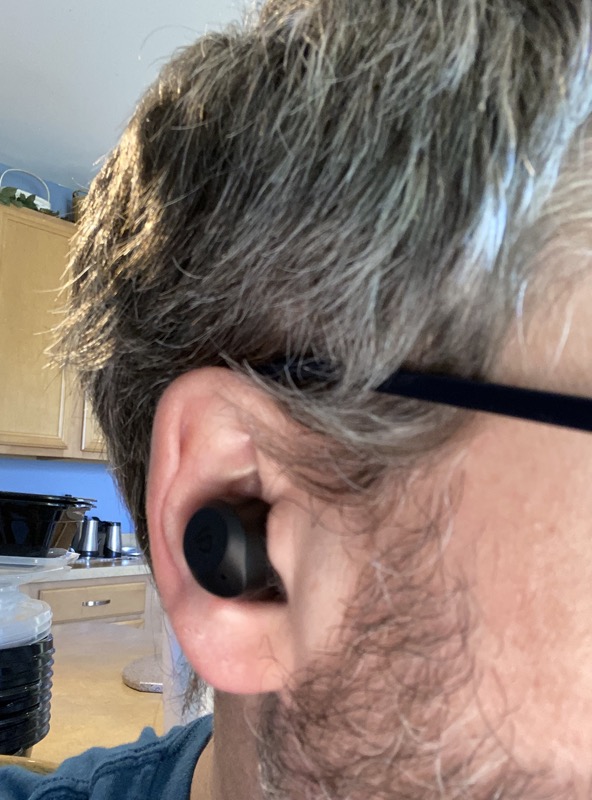 There is a pleasing voice that indicates status such as "connected" and "low battery". This is much easier than having to remember what a series of beeps mean.
One thing to be aware of is that the USB-A to USB-C cable that comes with the T2 is really short. See the photo below for an example. Because I have other similar cables this isn't really a problem, but it's good to know before you buy in case you'll need to purchase another cable.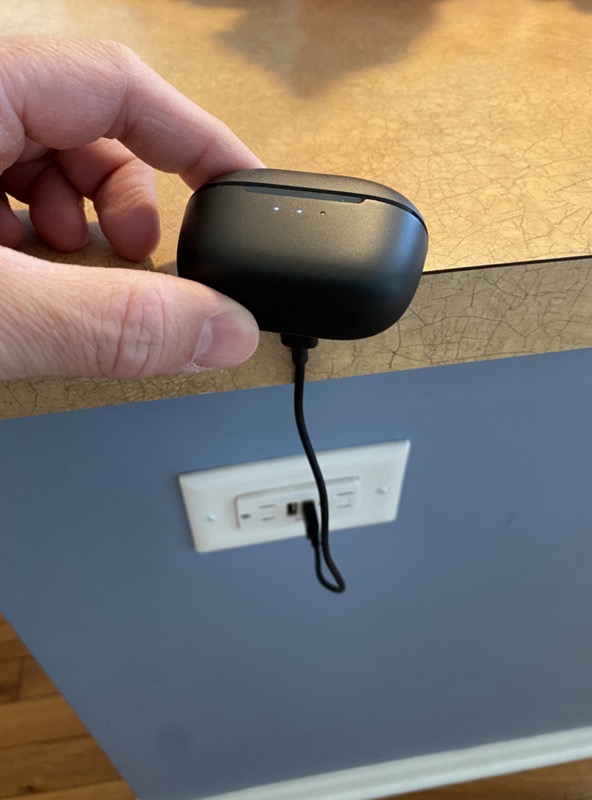 The charging case is taller and a little bit narrower than the Galaxy Buds case, but with 8 more total hours of listening time that is to be expected. The case is still easily pocketable, even with all the other things I tend to keep in my pockets.
What I like
I like the compact earbuds vs. others with a stalk that sticks out of the ear. I also like the all-day (really several days) battery life. Knowing I can use these all day or several days in a row if needed is very reassuring. Comfort, build quality, and good sound quality add up to make these an easy purchase decision.
What I'd change
I'd prefer the controls to be similar between both earbuds. There are a lot of controls between the two but keeping track of what each one does is a little tricky. It would also be nice to have wireless charging, although I'm sure that would add to the cost.
Final thoughts
Overall the SOUNDPEATS T2 Hybrid Active Noise Cancelling Wireless Earbuds are a great pair of Bluetooth earbuds. The sound quality, the fit, the capabilities, combine to make this easily my second set for long trips or times when I need a backup on hand. In general, these are pretty comparable to the Galaxy Buds+, and I would say a good choice for the price.
Price: $49.99 at Amazon; $60 at Soundpeats.com
Where to buy: amazon.com or soundpeats.com
Source: The sample for this review was provided by SOUNDPEATS. For more info. visit soundpeatsaudio.com.