We use affiliate links. If you buy something through the links on this page, we may earn a commission at no cost to you. Learn more.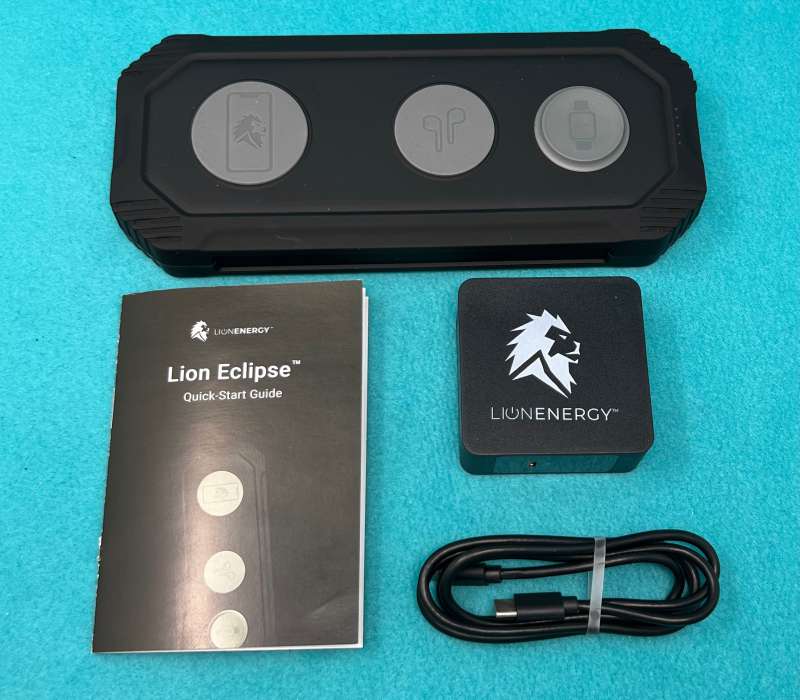 REVIEW – Battery makers continue to innovate, and we users keep expecting more from them. Now that many folks are carrying a second battery-charged item in addition to their smartphone, there's the need to provide simultaneous charging. If you're carrying the modern geek trifecta, you'll actually need to charge three items: your smartphone, your wireless earbuds, and your smartwatch. Lion Energy has released its Eclipse charger to meet this challenge, and I've been testing it. Let's look at how it performs.
What is it?
The Lion Energy Eclipse is a three-position wireless charger with 2 USB-A and one USB-C port for wired charging, and a 99 Watt battery.
What's in the box?
Lion Energy Eclipse wireless charger
60W PD USB-C wall charger
1 meter USB-C<=>USB-C cable
Quickstart guide
Hardware specs
Weight (pounds) 1.6
Dimensions – Inches (L x W x H) 8.5 x 3.5 x1.3
Outputs 3X Qi Wireless Charger – 10W / 5W / 2W
2X USB-A Ports – 5V @ 2.4A Each
1X USB-C Port – PD 60W / 85W
Input via USB-C
Charge Time (Wall) 1.5+ hours
Battery Lithium NCA
Life Cycles 1,000+
Rated Capacity 27,000mAh / 99.9W
Design and features
The first thing you'll notice about the Lion Energy Eclipse wireless charger is that Lion Energy has turned everything up to 11. It's the largest battery permitted to fly in the US. (TSA prohibits anything more than 100 Watts.) The size and weight of the Eclipse are consistent with other chargers of this type, but the internals are on quite another level. The design is also different: the whole unit is a black rubberized material – think: body armor. There are three grey spots with molded icons to represent which device they are zoned (electronically) for – phone, earbuds, and watch. These provide 10W, 5W, and 2W, respectively. Sadly, the phone pad is not MagSafe®.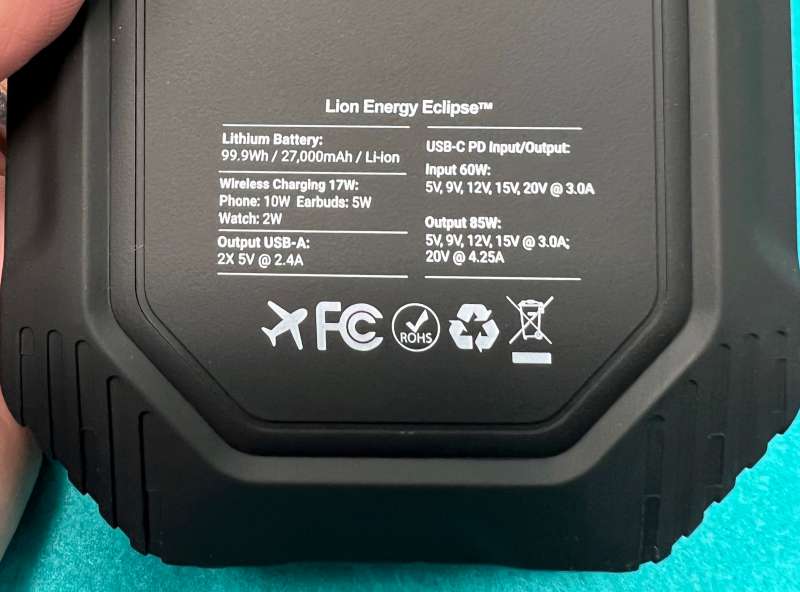 Behind a weatherproof flap, there are one USB-C and two USB-A outputs, as well as the button to activate the wireless pads. The USB-C port doubles as input from the included 40W PD charger. Most devices of this type are packaged with a 20 watt charger, and only max out at the same. I've only reviewed one other unit that gives more than 20W output at more than 2.2 or 3A. The Eclipse puts out 20W at 4.25A! (Remember, this is only for the wired connection, and the USB-C port only, but it's still able to power the other outputs at the same time. This is no mean feat of engineering!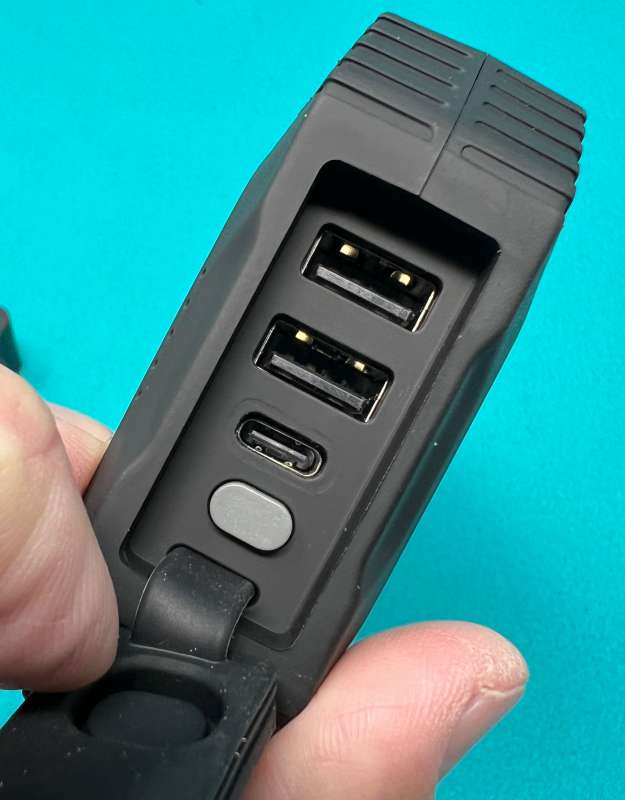 Setup
Same as with any new battery pack: Plug it in and let it charge. The white LEDs are the "gas gauge" to show how much power you've got stored.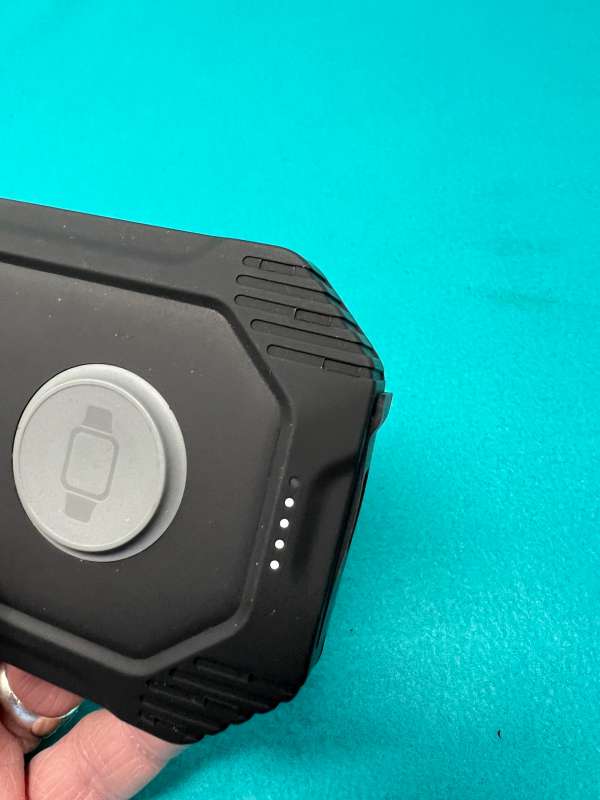 Performance
When you have more power flowing, things charge faster. That's the general rule of thumb with regard to battery technology. Unless you have a device that is throttling the power because you're using a charger that is rated too high for it, then you're going to get the max input the device can take from a battery pack that can put out more power faster. Such is the Lion Eclipse. I didn't do any lab tests, but when using this to power my iPad Pro 12.9″ plugged in inside my bag, it was able to fully recharge it from 30% into the 90% area in just an hour or so while I was walking around. When I was using the iPad for internet access and video playback, the Eclipse could charge it almost as fast as the standard Apple wall charger that came with it does, which is not what happens with other battery packs. Most of the time, I can barely keep the battery level when charging and streaming video.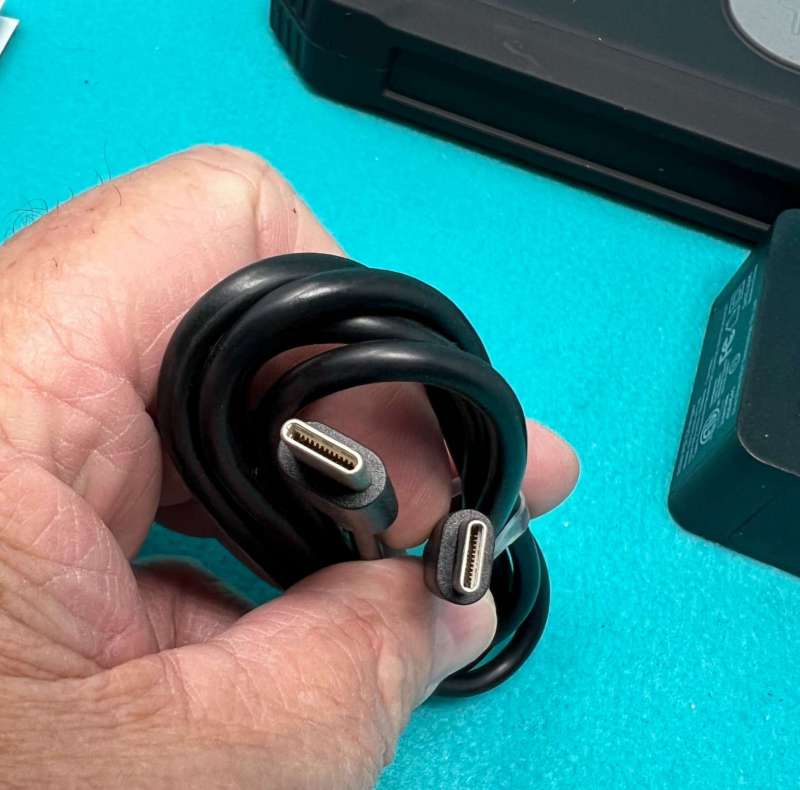 Regarding the convenience of having wireless charging for everything you wear as well as wired charging for the sling bag contents – wow! I can't wait to travel with this thing so that I don't have to have a bag full of wires! It's difficult to document in pictures, but I could have my iPhone 13 Pro Max, my iPods Pro, and my Apple Watch all three charging at the same time. (See photo below) With the Lion PD block in the (usual) single motel outlet and a single wire for the iPad, I'll be topped up fully each morning without having to do the cable dance. C'mon, travel, what else ya got for me?!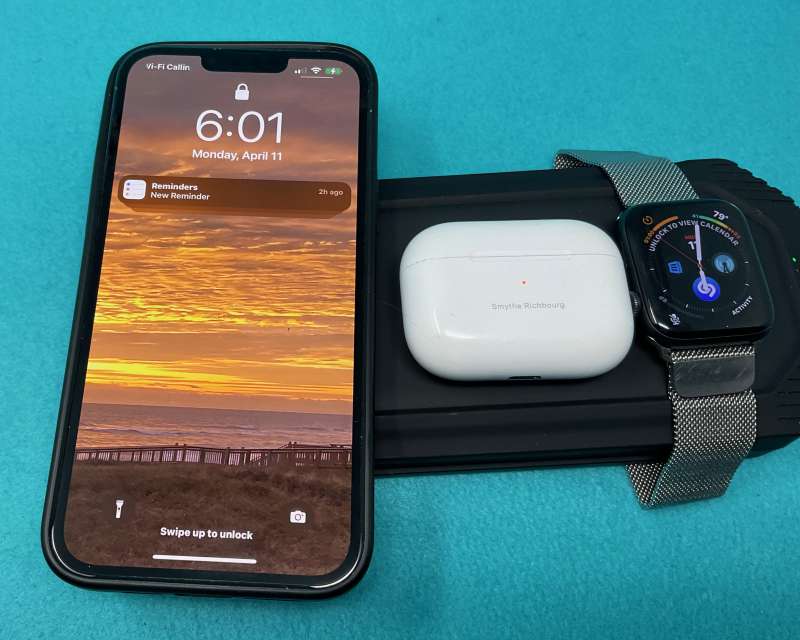 Activating the wireless pads requires holding down the grey button inside the waterproof cover for a few seconds until the green LED glows (see photo above), but this can be done without having to open the cover. Just hold down the power-on symbol on the outer cover until the green LED lights.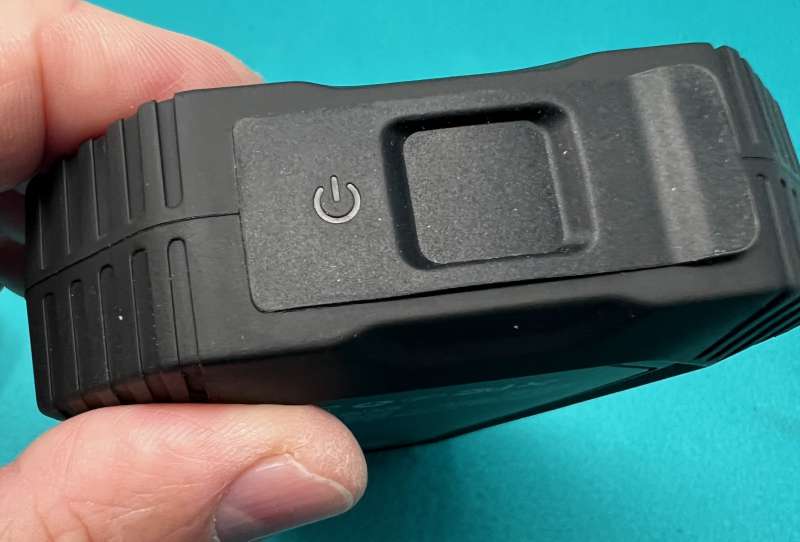 What I like
You can start wireless charging without having to open up the weatherproof cover
Higher wattage wall charger included
Armored case protects unit from bumps
What I'd change
MagSafe® on the Phone charging pad would be nice.
Final thoughts
Power is heavy. Current battery chemistry means any battery that charges quickly and holds a good charge is gonna weigh a good bit. Aside from that, having your own charger is a great way to keep your electronics running. The Lion Energy Eclipse wireless charger is pricey by general battery standards. (I mean, they sell phone chargers for $2 in that bucket beside the register at the c-store, right?) If you're wanting something that can help you power your stuff without toting around all manner of cables, you're going to need something like this.
Price: $229.00
Where to buy: Company Webstore and Walmart
Source: The sample of this product was provided by Lion Energy.