We use affiliate links. If you buy something through the links on this page, we may earn a commission at no cost to you. Learn more.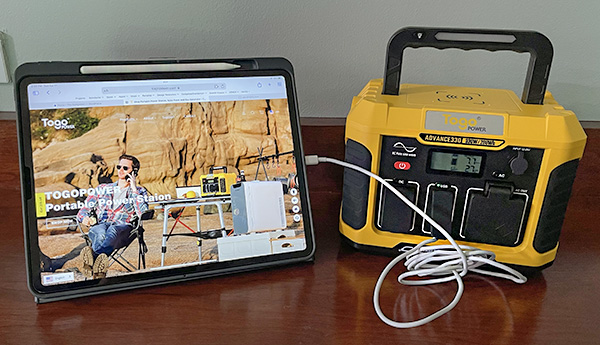 REVIEW – What a difference a few years can make. It seems like only yesterday that you couldn't find battery power stations because … they didn't exist. Then Jackery and others came along and made them a popular household item. Portable power stations are just so handy to have around. Plus, they fit any budget, from the small easy-to-carry to the monstrous (and heavy) powerhouse batteries.
Now, it seems everybody and their cousins are making these things—and that's good for everyone—competition. The way to stand out in this increasingly crowded market is to offer more features at a lower price. If you're willing to take a chance on a brand you might not know, there are some interesting power stations to choose from. One of these is the Togo Advance330 Portable Power station. It has some cool features that set it apart from higher-priced competition.

What is it?
The Togo Advance330 is a small, portable battery-powered station that is useful for camping, travel, backyard, room-to-room charging, or power during a blackout. It has 288 watt-hours of power. The math is simple: If a product requires 10 watts, it will run for 28 hours on a full charge (depending on many factors). Another easy math thing is the price. Power stations (do not call them generators!) cost about $1 per watt-hour. So a 1000-watt hour battery will cost … $1,000. Easy!
Specs
Capacity: 288-watt hours
Weight: 9 lbs.
Dimensions: 9 in x 6.6 in x 7 in (LxWxH)
DC Input: 12-28V
AC output: 120V
"Cigarette lighter" port: 12V
DC ports: 12V x2
USB A ports: QC3 x3
USB-C port: 60W
Wireless charger
LED light
Flashlight

Design and features
The Togo Advance330 Portable Power station looks like a power station. Togo has not gone out of its way to make it pretty, but it does look functional—because it is. It features all the usual stuff you see on a power station of this size plus a couple of cool features.
Note that in order for any of the Advance330's outlets to work, both the particular outlet and the red master on/off button must be on. 

All the ports are on the front of the Advance330 and are covered for improved water resistance. The AC outlet is covered by a hard plastic flap that springs shut when not in use. It can be a bit of a pain because it keeps wanting to close while you're trying to plug something in one-handed. The USB and DC ports have soft rubber flaps that also want to close, but they don't get in the way as much.
The single 120V outlet supports a grounded plug—something many other power stations do not support. The three USB A ports are QC3—fast, but not as fast as the Togo's USB-C port. That is 60W—plenty fast for charging. It would have been more convenient to have two USB A and 2 USB-C ports as USB-C is becoming more popular.

There's the usual 12V "Cigarette Lighter" port (I'm dating myself) which can power a car fridge or other appliance that can utilize this plug. The Advance330 has one input port which can be charged from a wall outlet, car Lighter port, or a solar panel—weather permitting. All the necessary cables are included. There are also 2 DC output ports. The manual for the 330 does not match the product, which shows no DC output ports, so I'm not sure what they are for.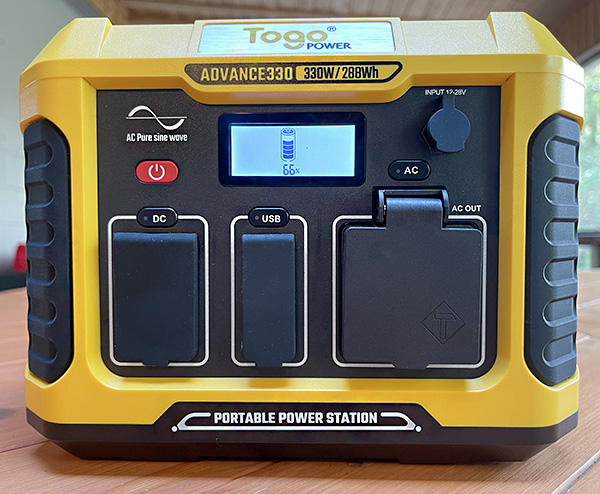 There is a monochrome LED panel on the front that gives plenty of the necessary information:
Battery level – how much battery life is left before it needs recharging
Remaining usage time – how much time (in hours/mins) is left on the battery
Output power – how much wattage the charging item is drawing from the Togo
Remaining charging time – Time left to fully charge to 100%
Input power – Wattage of power source charging the Advance330
Low voltage warning – when the item being charged is drawing too much power
Temperature warning – when the Advance330 becomes too hot
Low battery alarm – the Advance330 is approaching 0% power
Although not large, the LED panel is bright and easy to read from a distance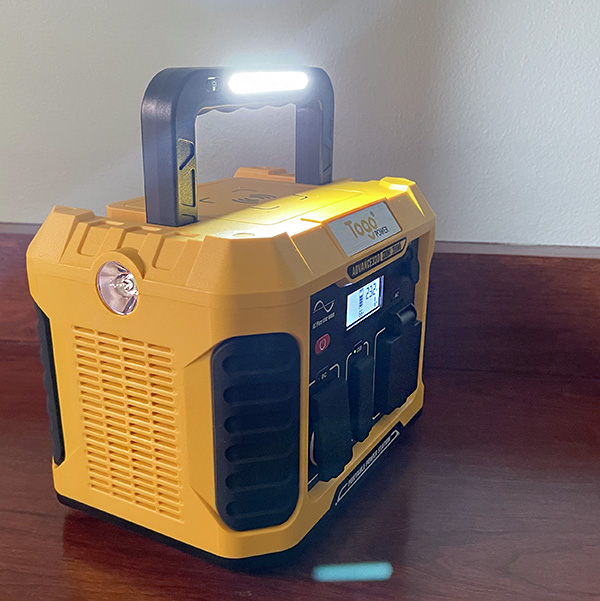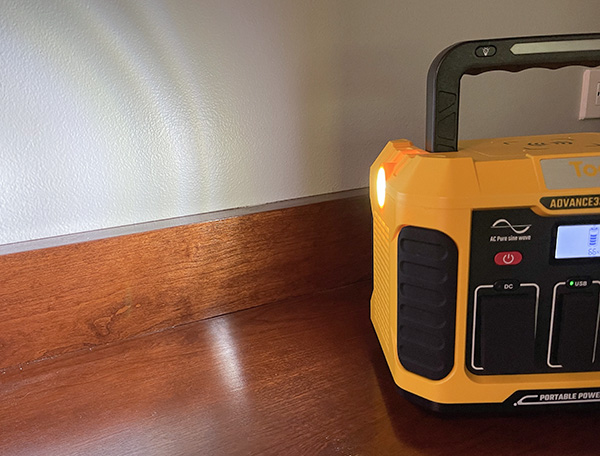 The interesting thing about the Advance330 is the LED light incorporated into the handle. I have never seen this before. I thought the handle light would be weak, but it's surprisingly strong. It can be useful in a work area where extra light is needed. There's also a flashlight on the side of the Togo. It's … a flashlight.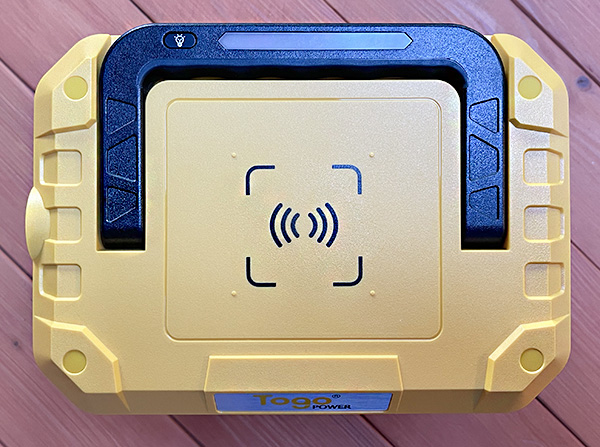 Then there is the wireless charger that sits on the Togo's flat top. It will (wirelessly) charge any device with the standard protocol (just about any smartphone today). To be honest, I don't use it—but then, I don't do any wireless charging for my iPhone. Maybe I'm paranoid, but I've never liked that wireless charging can make my iPhone too warm.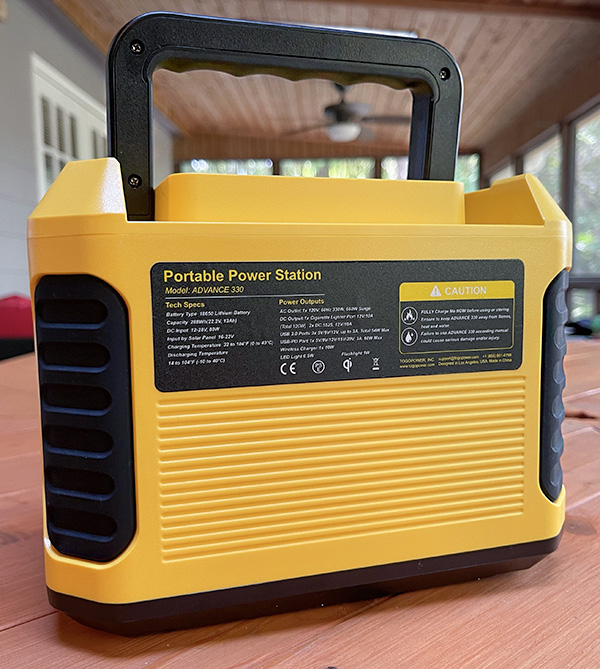 Whether you want to power or charge something, the Advance330 will sit there waiting to be brought into service—providing a simple and easy way to charge just about anything.

What I like
Good size and weight for everyday use
Protective outlet covers
Cool LED light built into the handle

What I'd change
Outlet covers can interfere with one-handed connecting

Final Thoughts
The Togo Advance330 is kind of a jack-of-all-trades power station. It's not the best at each thing it does, but it does everything well. It's easy to use and easy to carry around while providing enough power to get you through any short blackout or weekend camping trip. Sometimes, that's all you need.
Oh, it also comes with a small paper-folding version. Cute!
Price: $209.99 US
Where to buy: Amazon
Source: The sample of this product was provided by Togo.