We use affiliate links. If you buy something through the links on this page, we may earn a commission at no cost to you. Learn more.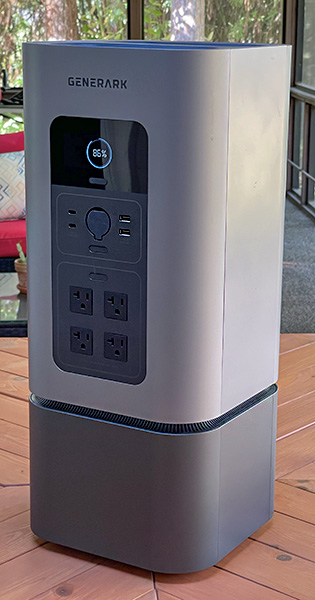 REVIEW – In late 2020, I reviewed the Generark HomePower One, a beast of a portable solar generator at 1000 watt-hours strong. I also chided Generark, because the HomePower One is a clone of the Japanese version of the Jackery Explorer 1000. That's not a slight, because, with its fold-down handle, the Japanese Jackery is more useful than the USA version. The Generark HomePower One is perfect for short power outages.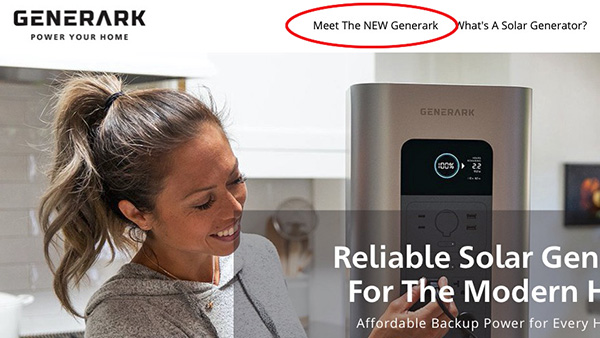 Now, if you visit the Generark website, there's a tab that says, "Meet the NEW Generark". Boy, they ain't kidding. This is new, alright. Generark has introduced the HomePower One's successor—the HomePower 2. Trust me, no one is going to confuse this glorious monster with a Jackery.

What is it?
Where the rugged HomePower One is made for indoor and outdoor use, Generark HomePower 2 (they switched from spelling to numerals) is strictly a home version of a backup battery power station. It looks unlike any other battery generator. Its tower-like shape stands at 25.5 inches high and only 10 x 10 inches in width. 
The "Plus" version of the HomePower 2 is power rated at a massive 2200 watts (with 4400 watts peak power)—more than double the output of the HomePower One. Note that the HomePower 2 is also available in a slightly less-powerful (and less expensive) 1800 watt "Starter" version (not reviewed). Both have built-in protection modules in a battery management system (BMS).
The HomePower 2 comes with a 5-year limited warranty.
Specs
Capacity: 2060 Wh
Cycle life: >500 cycles
Inputs: AC and 2 DC (solar) ports
Output: 4 (20 amp) AC outlets, 2 (100w) USB-C and 2 USB A ports, 12V car (cigarette lighter) output
Overcharge protection
Dimensions (w/wheel cart): 10.16 x 10.16 x 25.47 in.
Weight: 47.4 lbs.

In the box
HomePower 2
Wheel cart
AC charging cable
12V Carport charging cable
Accessory case
Dust cover

Design and features
The Generark HomePower 2 is perfect for those times when the power goes out for whatever reason. And with more of us staying closer to home because of the pandemic, it pays to have a backup system available at a moment's notice.
When you unbox the Generark HomePower 2 backup battery power station (that's a mouthful), you're struck by how shockingly beautiful this thing is. You might ask, "This is a battery generator?"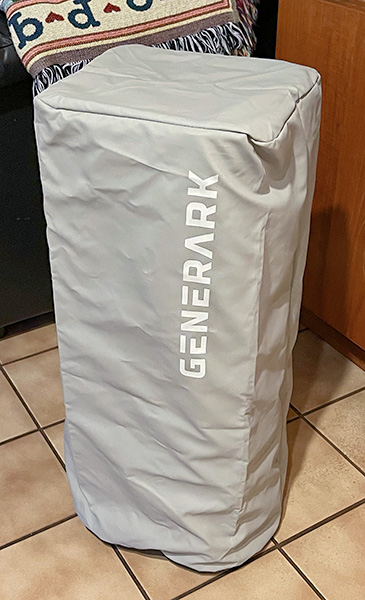 The HomePower 2 is large, so storing it may be an issue in smaller abodes. However, it looks so nice that you could leave it in plain view and not be embarrassed—or you can hide it with an included dust cover.
All large-capacity battery power generators are heavy because batteries are inherently heavy. There's no way around it. Generark cleverly placed all the batteries in the base of the HomePower 2. This makes the tall, vertical generator hard to tip over and easy to maneuver when on its wheels. Did I mention that it sits on wheels?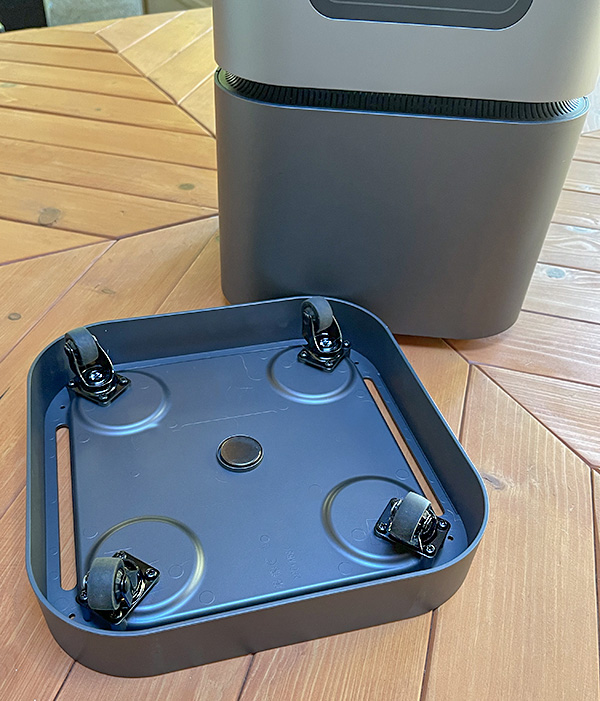 The HomePower 2 has a handle for carrying (all power generators have handles), but Generark thoughtfully included a small wheel cart that magnetically connects to the base of the unit. So you don't have to carry it—just roll it around. It's genius! 
The HomePower 2's design is simple and clean. The whole unit is wrapped in medium gray (top section) and darker gray (bottom). It's an understated, yet modern look. Vents are situated below the handle that lets air flow in from the bottom and out the top. The fan is extremely quiet. I usually can't even hear it or tell if it's even running.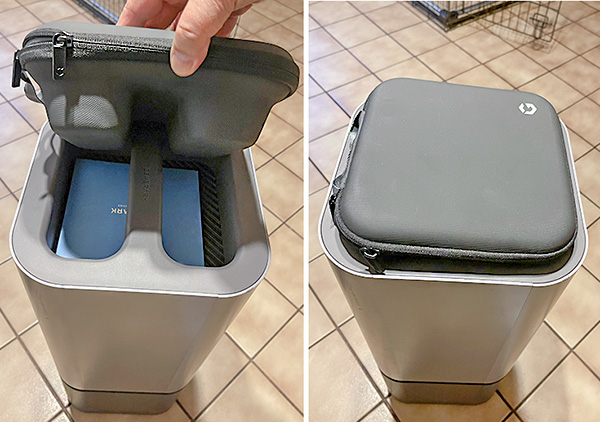 Even the little things are not ignored. Take the case that houses the charging cords. The bottom has a large, center indent that lets the case fit perfectly into the top around the handle while the HomePower 2 is stored. The manual also fits under the handle. It would be wise to remove the case while using the HomePower 2 since the fan exhaust would be blocked. 
Note that I did see a slight bowing in a seam of the plastic case that wraps around the base where the batteries are housed. I pounded it with my hand which helped it bow less, but it's still there. It's almost like a clip is misaligned or broken. I'm not sure if this is a prototype issue or something to watch out for.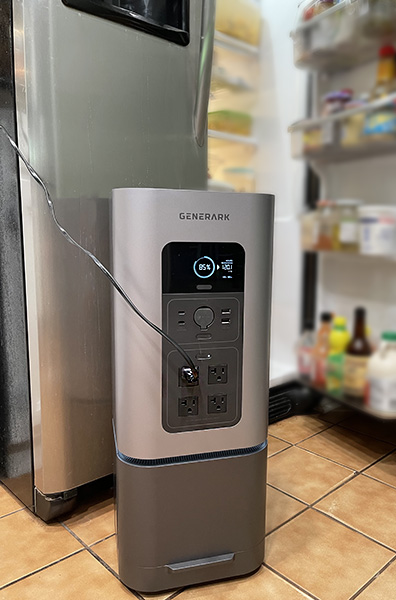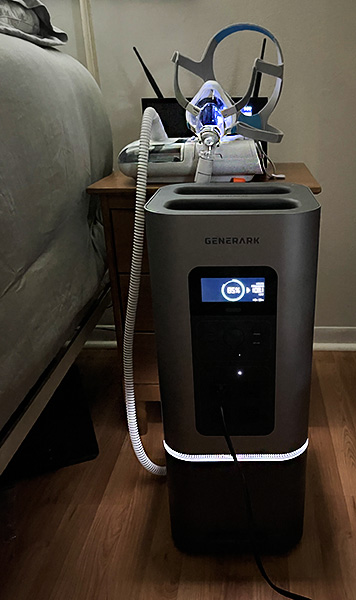 Because of its massive battery, the HomePower 2 can charge multiple devices and appliances simultaneously. It can run appliances that demand more power than many other battery generators can deliver. It's also a dependable power source for medical devices that directly impact people's health. As I said, the HomePower 2 may be a monster, but it's a good monster.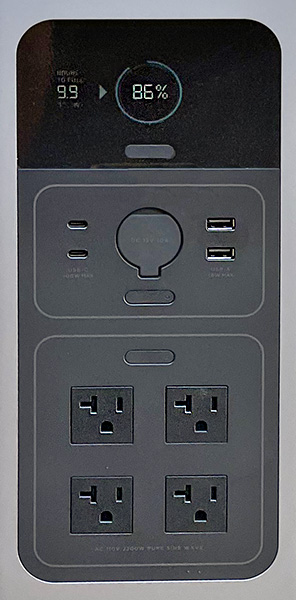 All the necessary outputs are on a single front panel. The panel houses four AC outlets. They are spaced about the same distance apart as a typical well-made power strip—far enough apart that power brick-shaped plugs should have room to sit side-by-side. 
Above the AC outlets are two USB A and two USB-C ports. USB-C is becoming more and more important as devices switch to this more powerful and useful standard. Generark made the USB-C ports 100W, which will quickly charge any smart device. That's way faster than most portable chargers. It chargers my iPad Pro faster than a wall outlet! The classic USB A ports are certified Qualcomm Quick Charge 3.0—not as fast as USB-C, but it's as fast as USB A can get.
In between these USB ports is a single 12V car charger—commonly referred to as a cigarette charger (I'm dating myself). This is great for charging 12V appliances used for camping or car accessories. You can charge the HomePower 2 from a car's 12V outlet, but it requires a car charging cable (included with my unit)—although that will take forever because 12V is not a fast way to charge.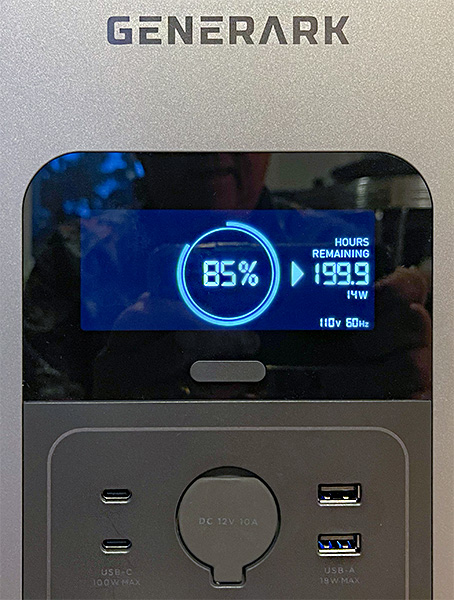 Above the outlets is an LCD information screen that displays a bunch of information. It lets you know how much battery life remains, watts usage as well as how many hours are left—an estimate based on watts being used and other stats and warnings that may come up. The larger numbers are easy to read, but there is smaller text that can be difficult to see from a distance—especially in bright light.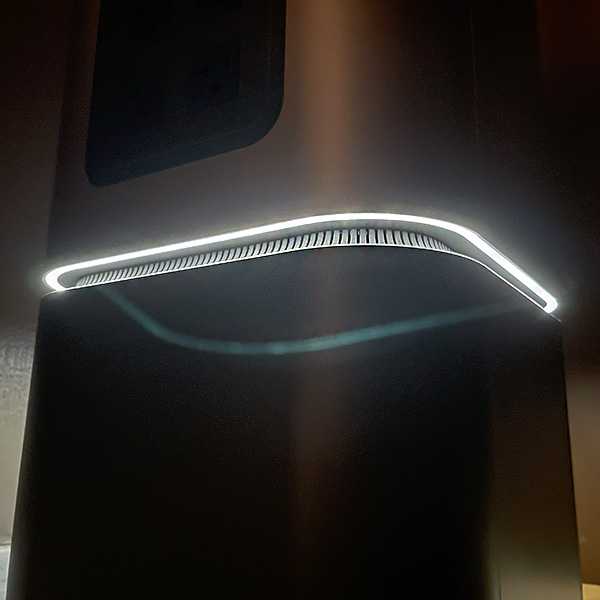 Dividing the two gray sections is a perimeter light that changes color depending on the battery life: Blue/white color means 100-20% life, yellow – 20-10%, and red – below 10%. The light can be difficult to see in a well-lighted room.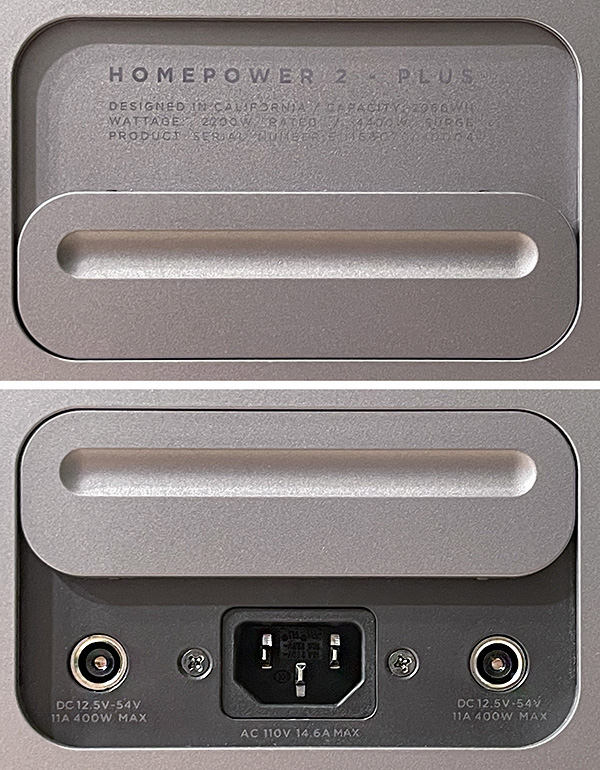 The back panel of the HomePower 2 has a slide-up cover that protects the input ports. The power port sits in-between two solar MPPT (Maximum Power Point Tracking) ports. The MPPT ports connect to the solar panels. They are not compatible with many other solar panel connections, so if you have other brands of panels, you may not be able to use them.
If you purchase the HomePower 2 with (up to) 4 solar panels, you can charge the HomePower 2 to 100% in 3-4 hours. Not as fast as a wall outlet, but still impressive.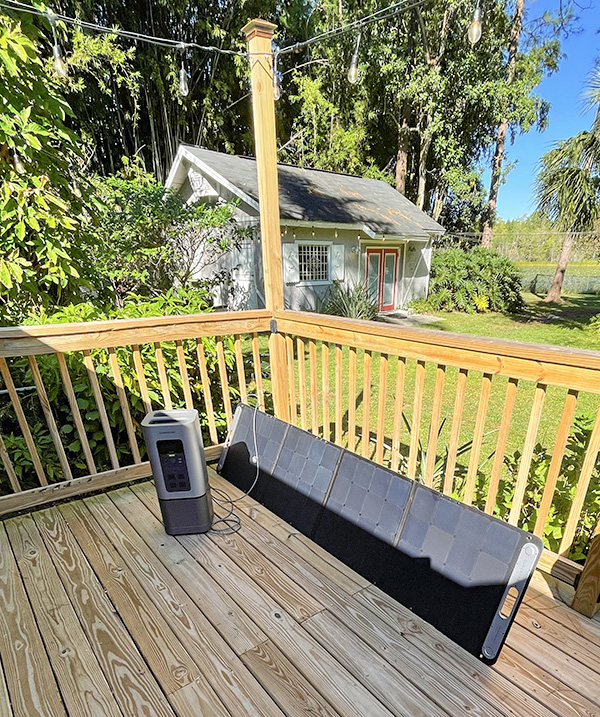 But, here's the thing about solar: Unless you live in the southwest desert (where the sun always shines), solar panels may not be for you. I live in Central Florida. It's one of those places where they say, "If you don't like the weather, wait five minutes." We have bright sun, but we also have clouds that come and go all day most days. Then rain can come seemingly out of nowhere.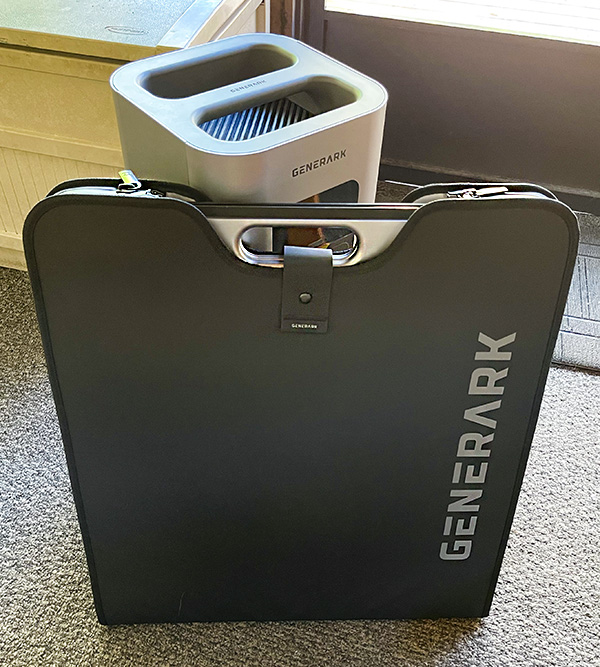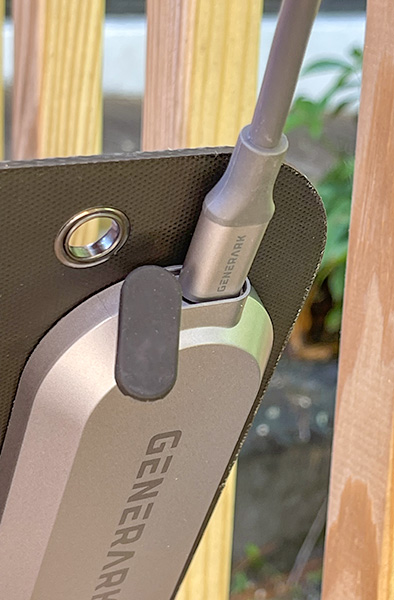 I appreciate Generark sending me a (massive 200 watt) solar panel to test with the HomePower 2. However, I will seldom use it. It's just too much of a hassle to set up in Florida—unless the power is out for weeks from a hurricane and I'm desperate. Even then, I likely would not see much benefit because … Florida. But if you live in an area like Arizona, solar panels are a no-brainer and the Generark makes one heckuva solar panel. Plus, you can connect up to four panels for 800 watts of power. Depending on the use, you could be solar charging the HomePower 2 faster than using it, giving you a net gain at the end of the day. The downside is that Solar panels are initially an expensive option.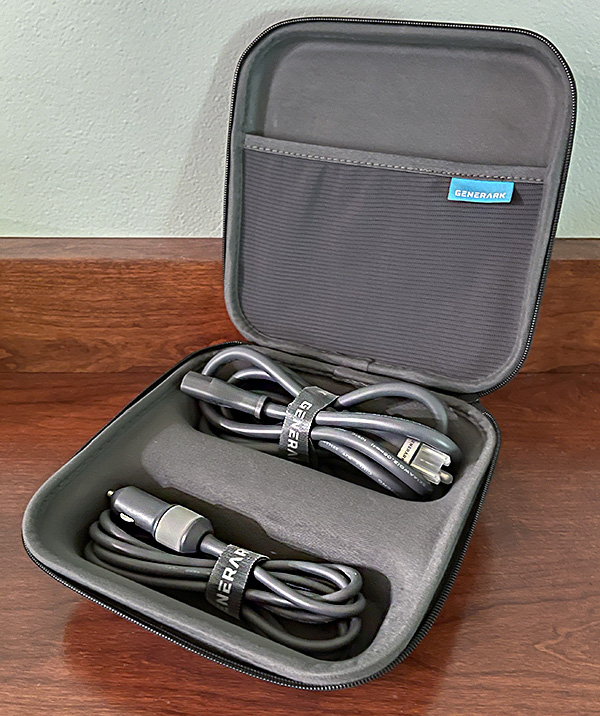 Charging the HomePower 2 from a wall outlet is another story. This thing fully charges from 0% to 100% in only 2.5 hours—with no power brick! That's impressive, especially for a unit this size. Note that the 1800 watt Starter version fully charges 30 minutes faster—2 hours. Oh yeah, a fully-charged HomePower 2 can hold its charge for a year, so you don't have to worry about a dead generator during an emergency.
What I like
5-year warranty
Beautiful design
Wheels!
Easy to set up and use
Massive solar charging ability
Dustcover
No power brick to get hot
What I'd change

Final Thoughts
I'm no electrical engineer or even someone who owns any tool that can measure volts and amps. But I do own a home in an area that has frequent power outages due to sudden storms, hurricanes, and tornadoes. And it's ungodly expensive (often on sale). But if you live in an area as I described, you need a backup power source to keep your smart devices charged and even run some appliances. The HomePower 2 is a near-perfect in-home solution for outages that can last a few days. It is safe to use indoors, can be rolled around room to room, and will power multiple items at the same time while looking great doing it. How many battery backup generators can do all that? This Generark HomePower 2 can.
Price: HomePower 2 Backup Battery Power Station $2,099 (Plus); $1,599 (Starter);
HomePower 2 Backup Battery Power Station with (two) 200 watt Solar panels: $2,999.00
Where to buy: Generark and you can also find some of their products on Amazon
Source: The sample of this product was provided by Generark.