We use affiliate links. If you buy something through the links on this page, we may earn a commission at no cost to you. Learn more.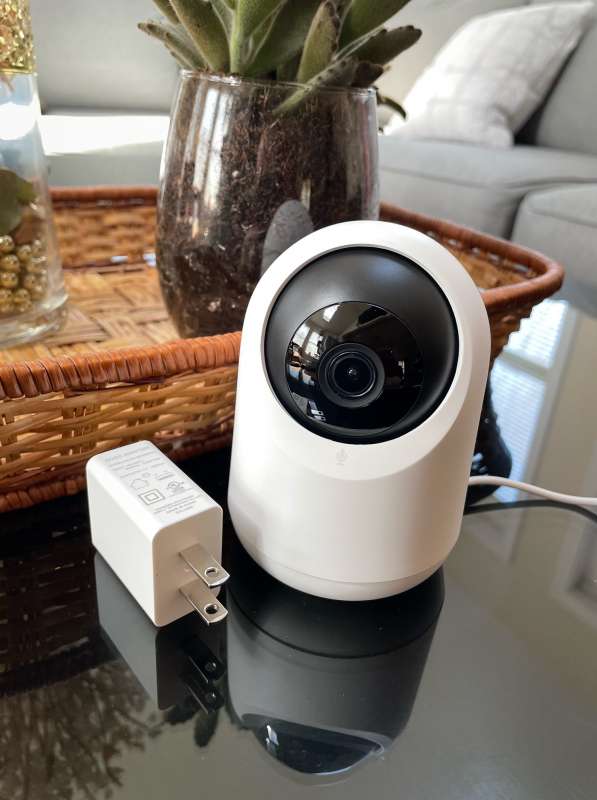 REVIEW – We've all had that uneasy feeling that we've left the water running, forgotten to close the garage door? Do you have kleptophobia, fear of theft of that important package from your doorstep? Want to calm your nerves? SwitchBot's Pan/Tilt Camera to the rescue!
What is it?
The SwitchBot Pan/Tilt Cam is a indoor, app accessible, 1080P resolution video camera with an integrated motorized mount allowing remote or automatic repositioning.
Hardware Specs
1080P video, Model W1801200
Power: 5V, 2A
1080P Resolution
264 video compression
88° angle lens
Operating Temperature -15͋ to 45°C (5° to 113°F)
Relative humidity: ≤95%
Motion alerts through the SwitchBot App/push notifications
Motion capability 360° horizontally, 115° vertically
Records video to internal SD card (not included), up to 128GB, FAT32 format
Two-way audio
Eight infrared LEDs for night illumination
Supports 2.4gHz 802.11b/g/n Wi-Fi
HTTPS encrypted video stream
What's in the Box?
Pan/Tilt Cam
Base
Mounting screws
USB adaptor
Reset Pin
2m (6'7") Micro USB cable
User manual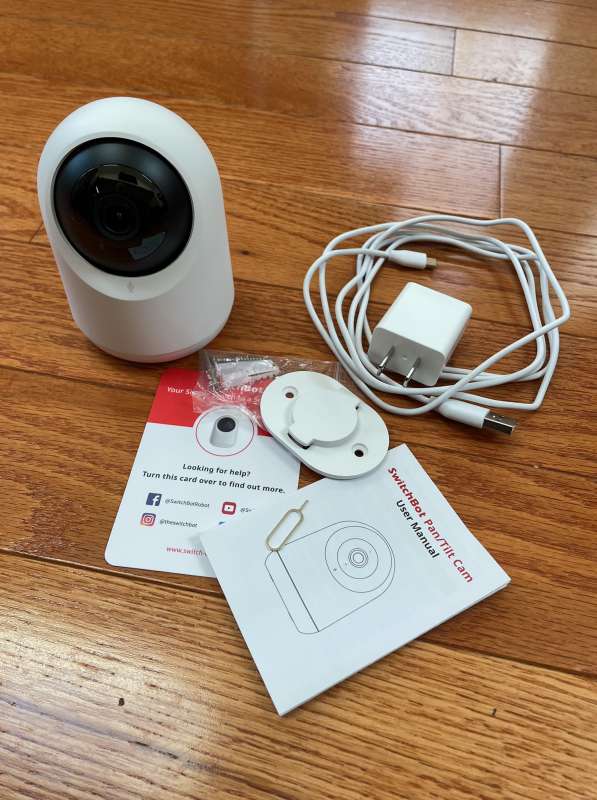 Design and Features
Home webcams have been around for several years and are becoming commonplace, particularly with the increase in online shopping and "porch piracy." My home has been equipped with multiple Ring cameras, inside and out and I use them daily. I highly value being able to know when a package has been delivered, check up on my pets, monitor my 3D printer, or relieve the tension when I need to ask myself if I've forgotten to close the garage door.
SwitchBot's Pan/Tint camera arrived in their familiar red and white box The packaging is good. Nothing Broken.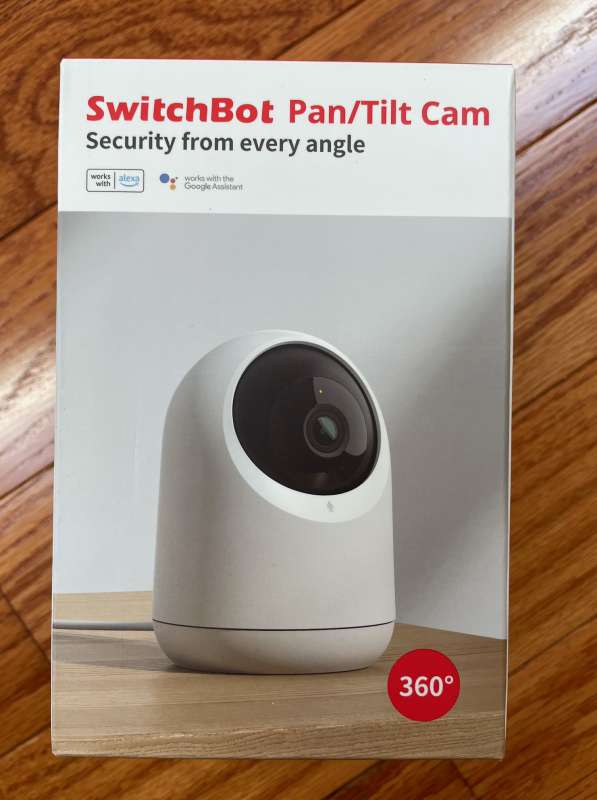 The manual is typical of other SwitchBot products – informative and useful, but tiny print.
A robust 2000mA USB power supply is included.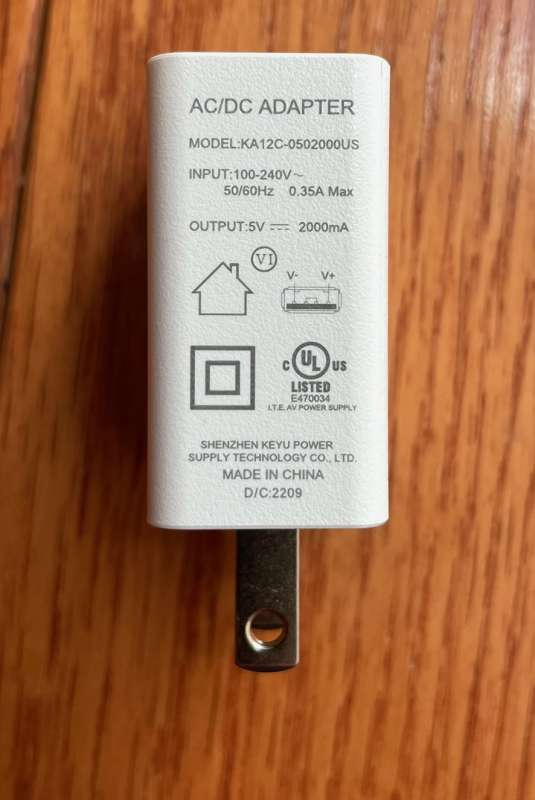 The 2-meter cord plugs into a micro-USB socket on the camera.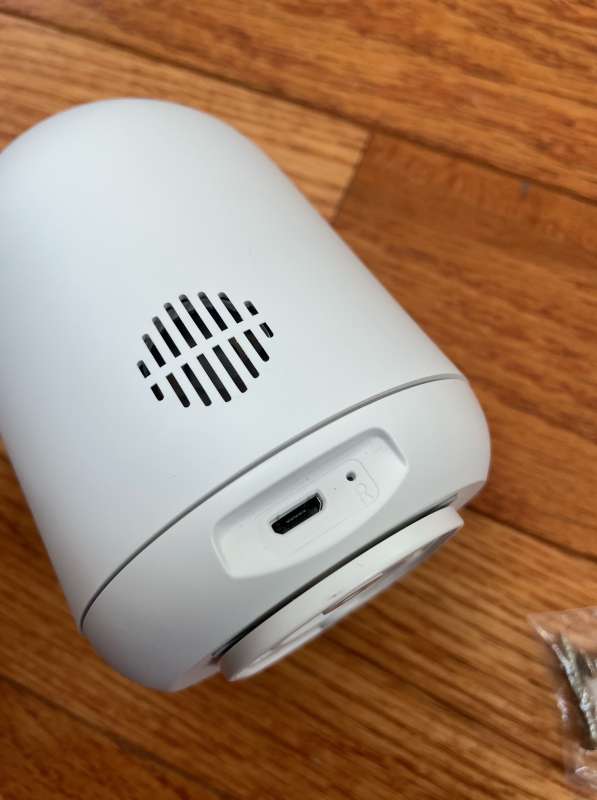 A mounting plate and screws are included.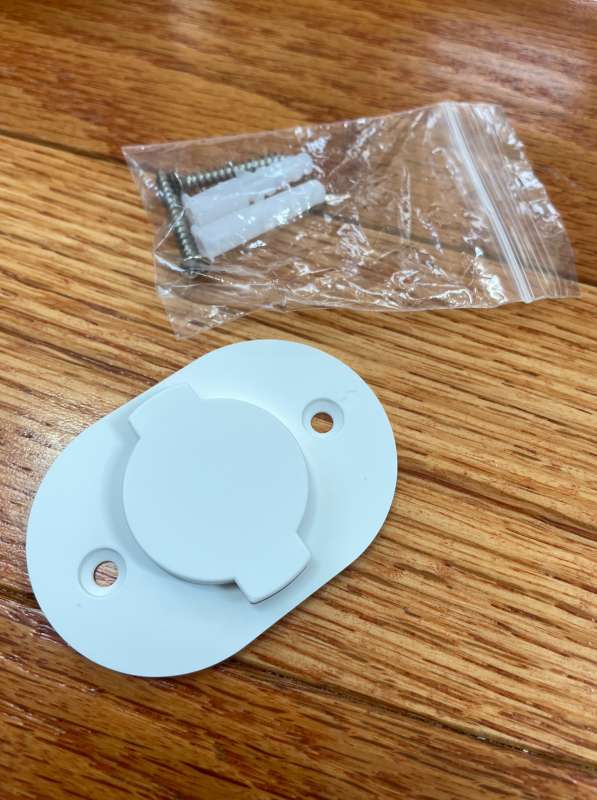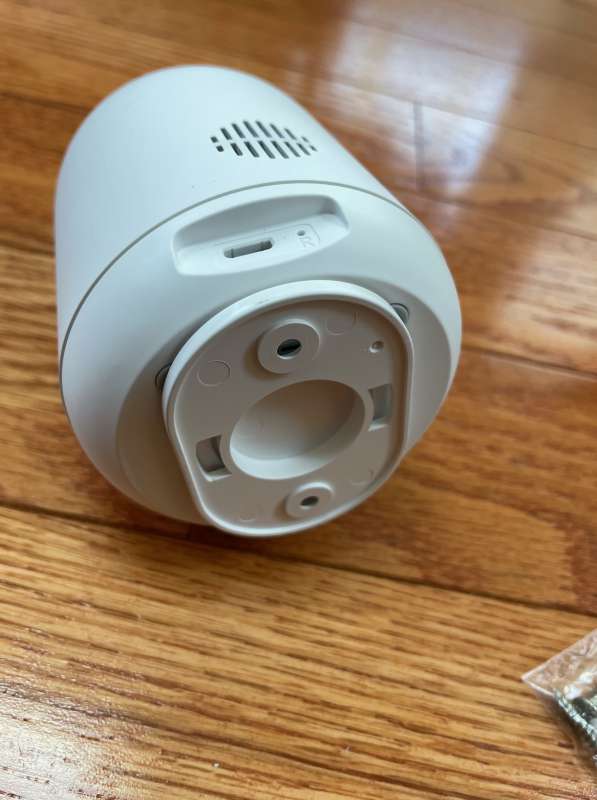 A red LED indicates the camera is ready to add.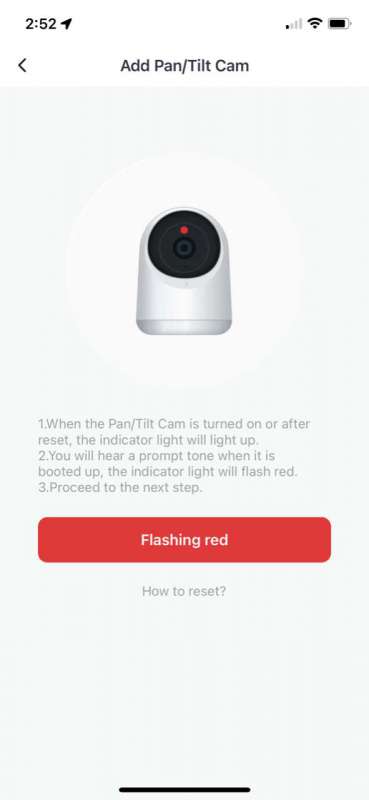 If you want to keep video and still images on board, the camera sports an SD card slot that supports up to 128Gb. For my needs, I installed a 64GB SD card.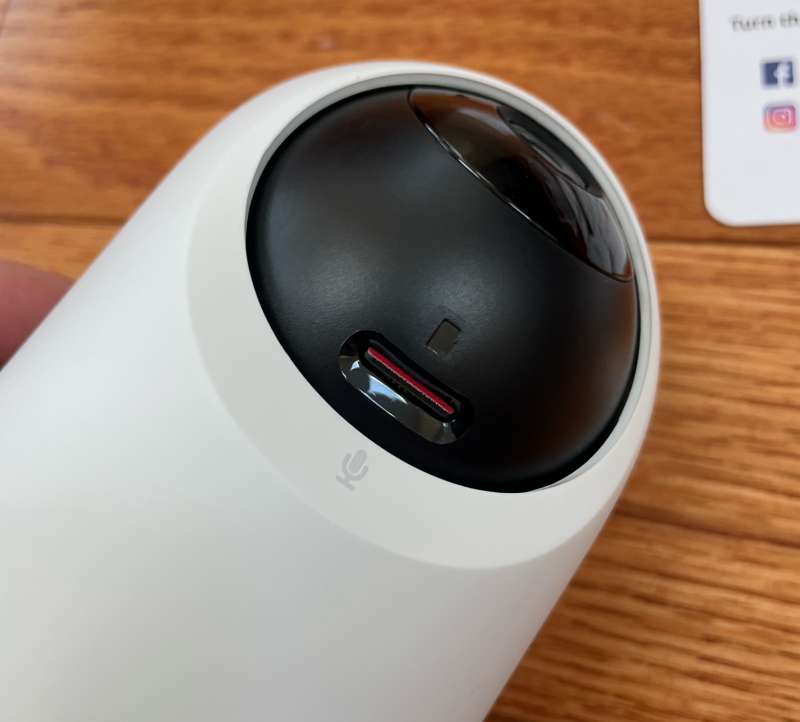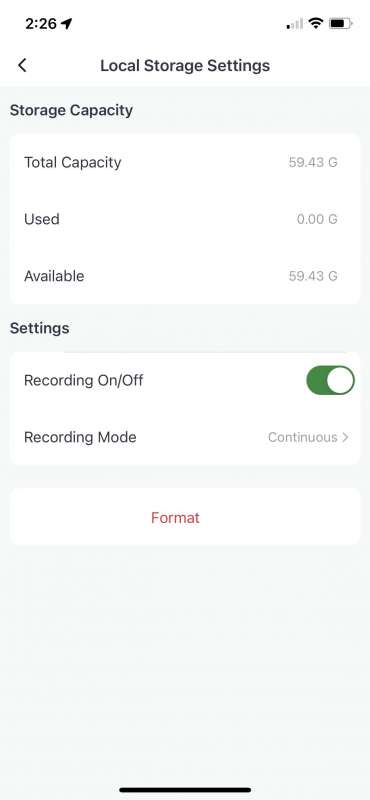 Formatting the SD card can be done within the app.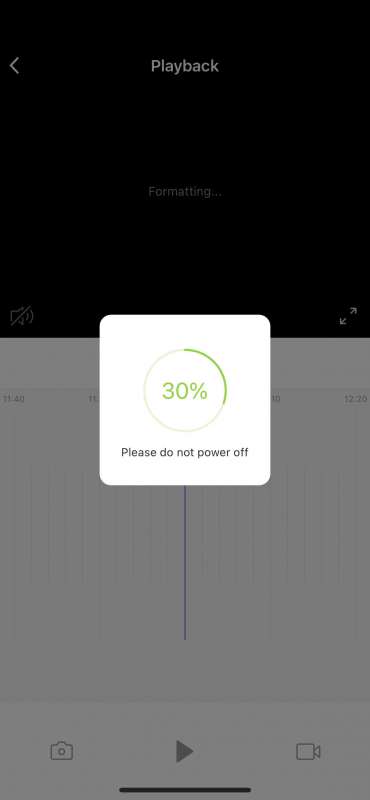 The camera communicates via the SwitchBot app. Adding the camera is simple. Clicking the "+" opens device icons.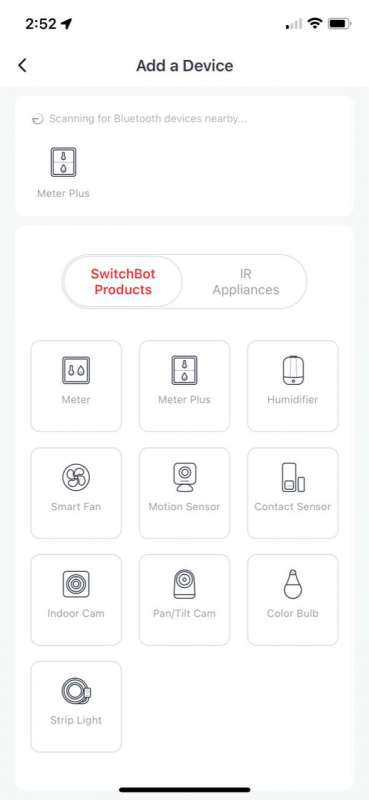 After selecting "Pan/Tilt Cam,"  enter the SSID and password for the Wi-Fi network. The app then provides a QR code that is held in front of the camera to initialize and connect. Once the camera reads the code, it makes a beep to indicate it's good to go.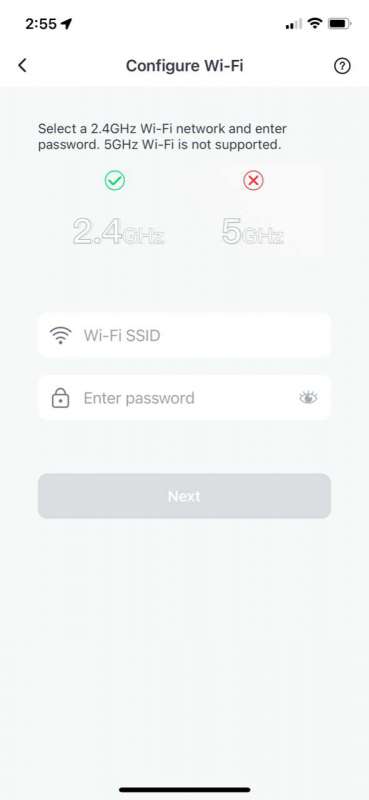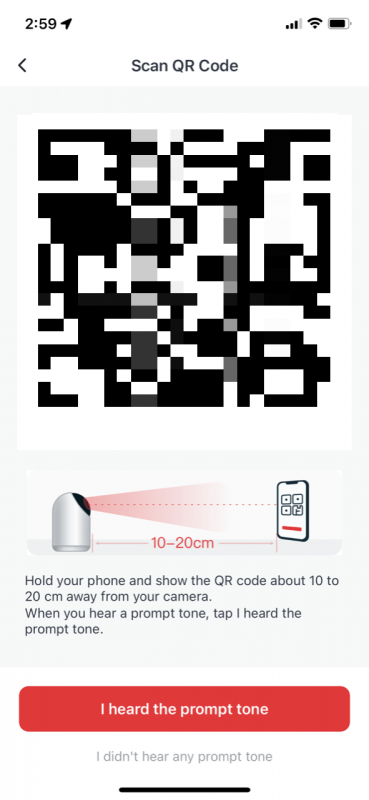 The camera appears in the SwitchBot "Devices" menu. Once connected, tapping the camera starts streaming data immediately.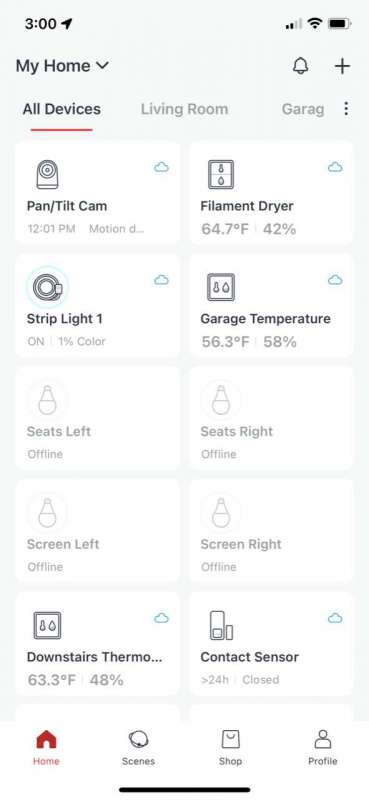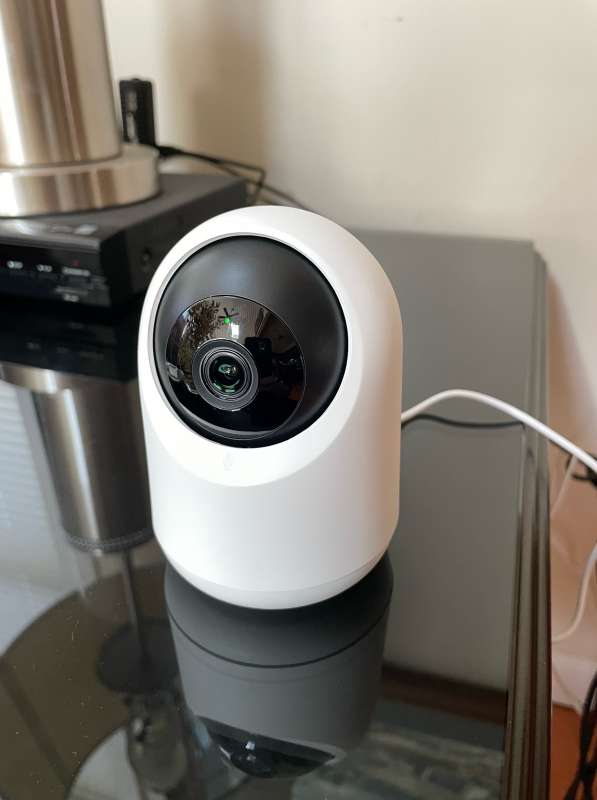 Pointing of the camera can be done by swiping on the image. At the top of the camera's page, there are buttons for toggling the video definition, turning the audio on and off, and full-screen display.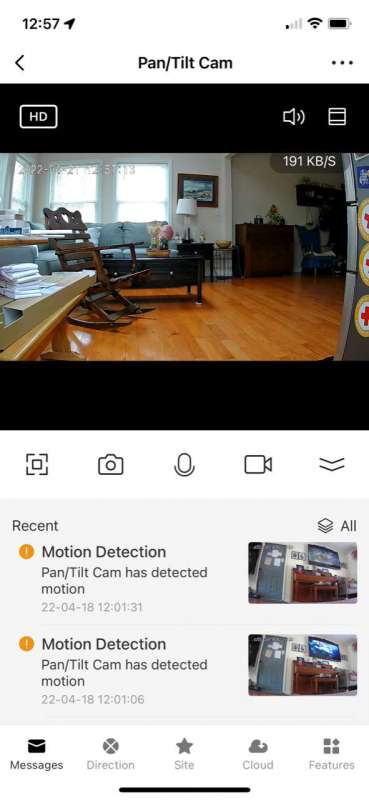 From left to right on the bottom of the screen, buttons toggle landscape mode, snap a still image, enable two-way audio, start a video recording, and access the settings menu.
I liked the directional controls.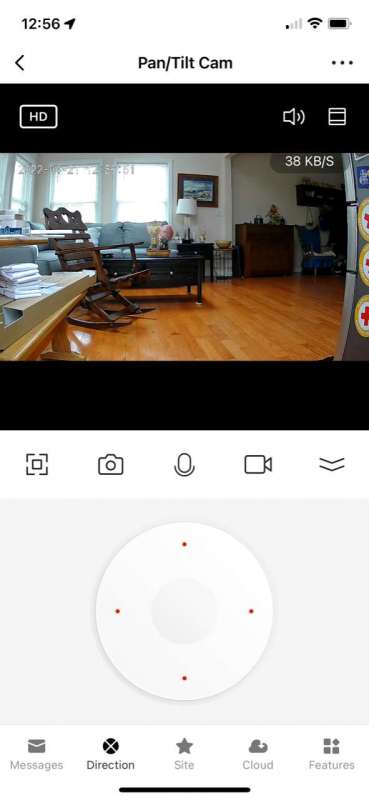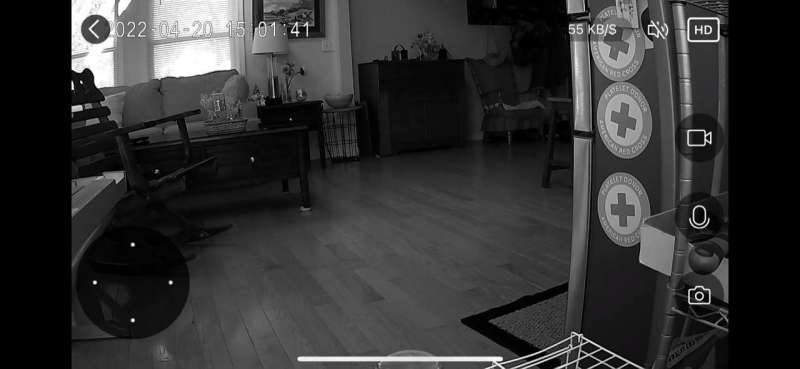 Two-way audio allows communication through the camera's internal speaker. It's push-to-talk so the camera only transmits audio from the smartphone's microphone when pressed. Audio from the camera is always on (unless silenced using the "speaker" button).
The camera menu contains a playback calendar for recorded video and still images, a gallery for manually taken content, a "Privacy Mode" toggle, "Night Mode" selector, "Motion Tracking selector, and "Motion Detection" selector. "Motion Detection"  enables push notifications to your smartphone.
If enabled, "Playback" and "Gallery" are the places where video and stills are accessed.
Privacy mode turns the camera off and tilts the camera lens into the housing so there is no chance of capturing an image.
Night mode can be turned on or off, or automatically switch and enables infrared LEDs around the lens. When active, the camera only captures monochrome images. I had no problems illuminating objects about 30-feet from the camera in very dark conditions. The LEDs appear to the naked eye as red dots, but most of the light they produce is beyond the range of the human eye, so it is effectively invisible.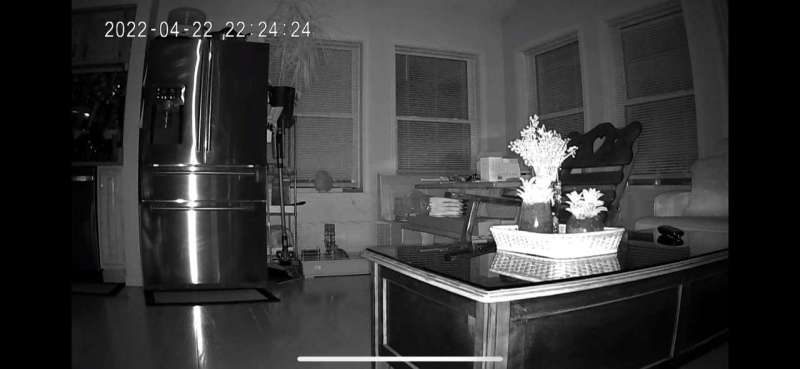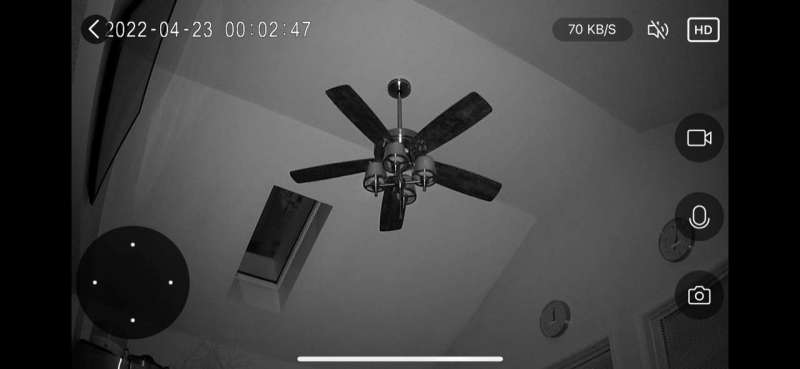 The "Motion Tracking" button turns the camera's automatic aiming system on and off. When it's off, the camera position will remain static unless moved manually. Turned on, the camera detects motion and points the camera accordingly. In my tests,  motion tracking was effective from about three to 15-feet. Closer than that, the camera has trouble keeping up with fast-moving objects. Further, the camera doesn't detect anything. Overall, I was pleased with the performance. When moving, the camera makes some very faint whirring sounds, but certainly not at levels that would disturb most people while sleeping. Even in the same room, sounds were barely audible, but you will hear them much more pronounced in recorded videos or when moving the camera during live viewing.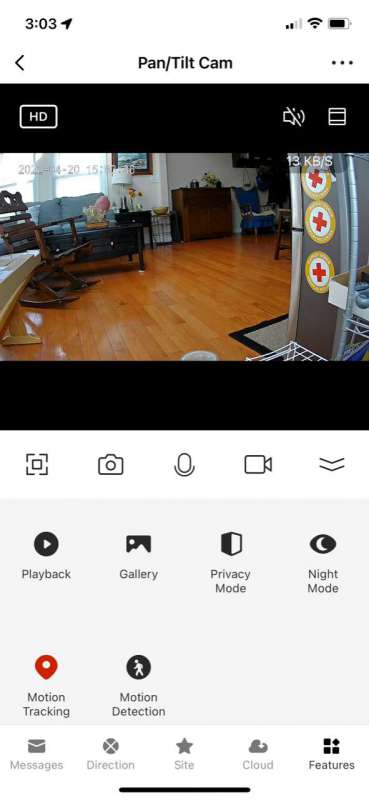 There is an extensive list of settings.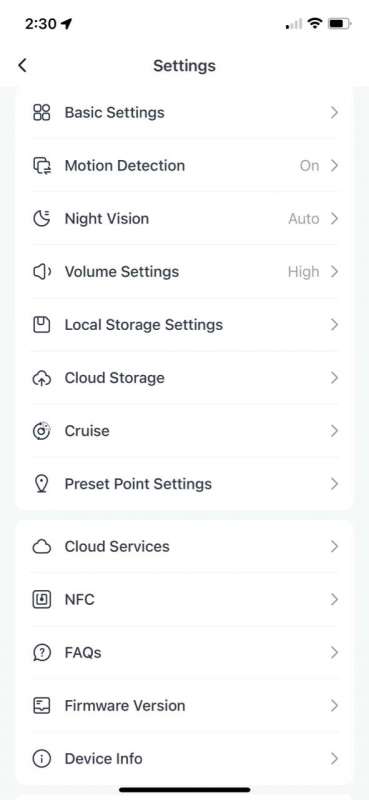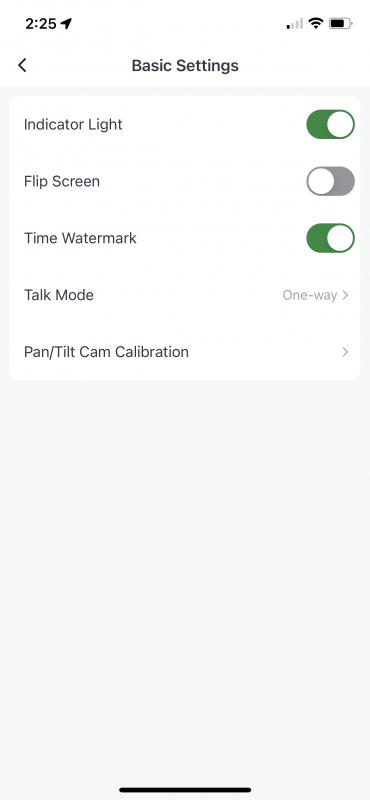 "Cruise" automatically moves the camera while recording and can be programmed to sweep at specific times if desired.
Another very cool feature is the ability to point the camera in a specific direction based on a triggered input. For example, if a contact switch attached to a door is activated, the camera can automatically point at the door and start recording. In my case, I have a sneaky cat that likes to use my house bunny's litterbox instead of her automatic litterbox. I plan to add a motion sensor to determine the times she's being naughty and trigger the camera to catch her in the act. It's my hope I'll be able to figure out her schedule and encourage her to use the appropriate facilities eventually.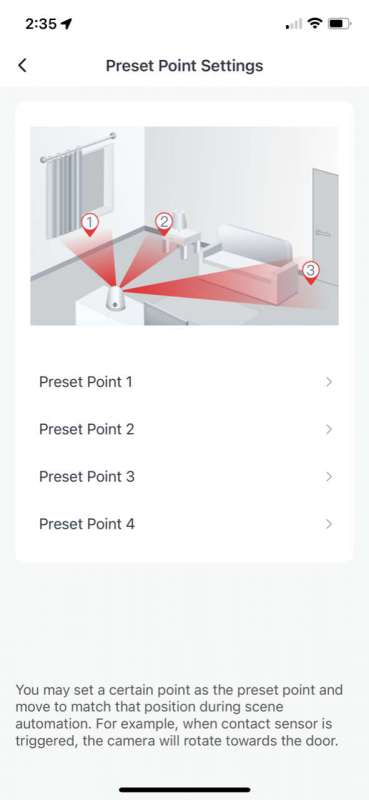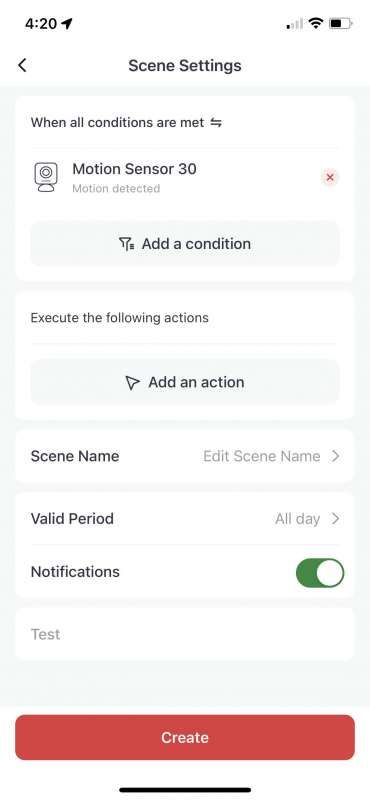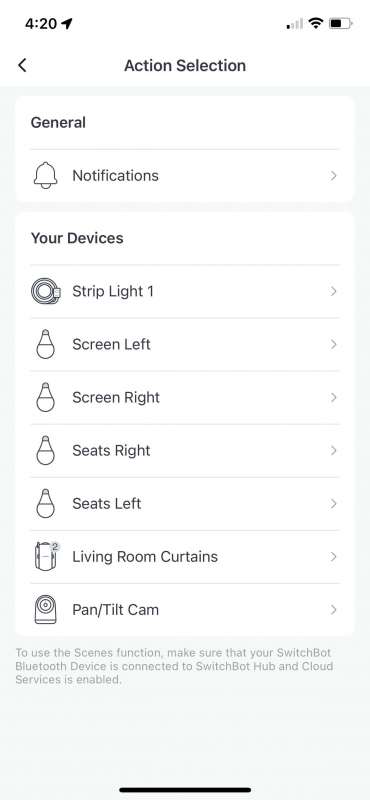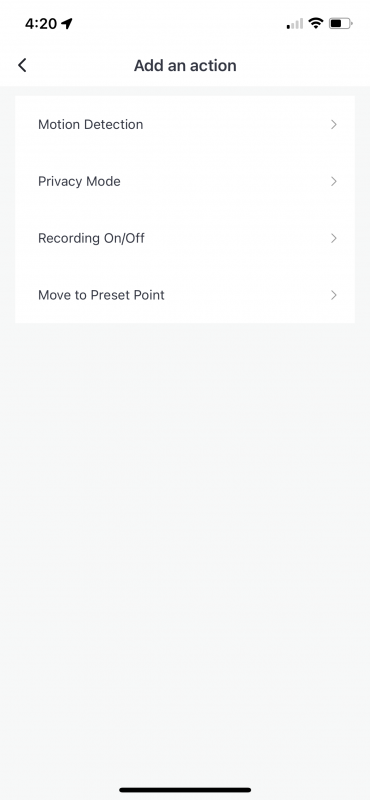 Because I'm interested in home integration, I perused IFTTT but didn't find options for the Pan/Tilt Cam to trigger or respond to other products. Amazon has a little more if you have an Echo Show with a screen, responding to "Alexa, show me the Pan/Tilt Cam."  I have high hopes as the product evolves, new functionality will be added. That being said, at this point, I'm content with the options incorporated into the SwitchBot app.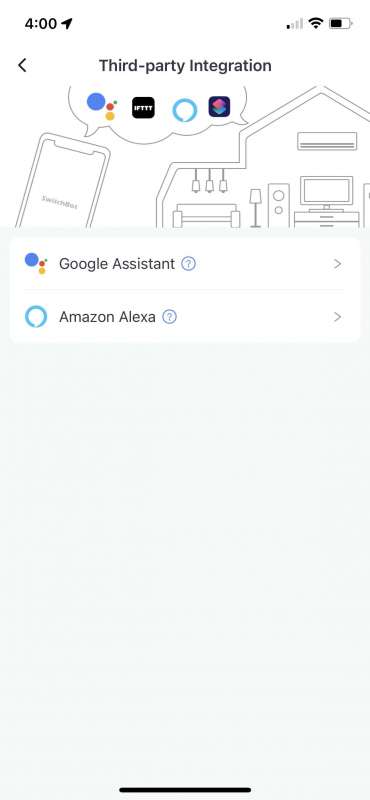 If you want off-site storage, SwitchBot offers a cloud-based solution for $7.90 a month or $79.00 per year. The biggest advantage over local storage is that if the camera is damaged or stolen, the footage is still available remotely.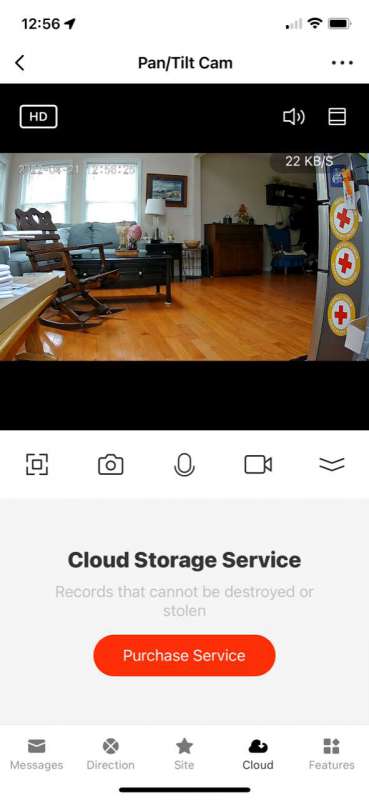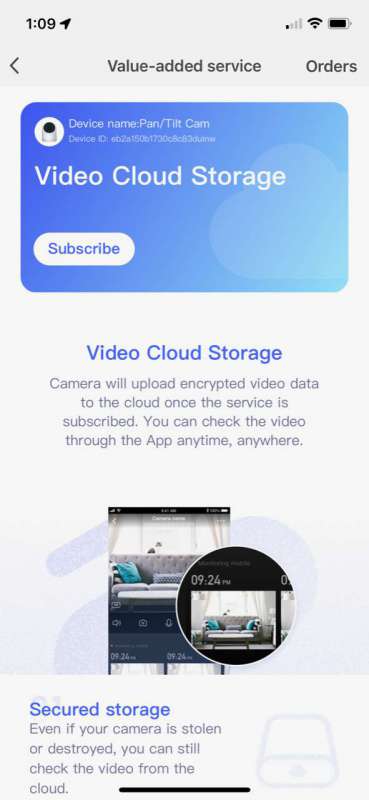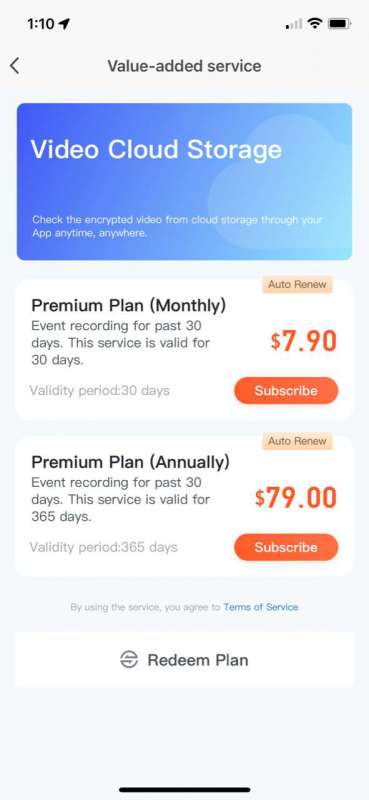 What I Like
Inexpensive
Great camera mobility
Excellent night vision
Quiet operation
Full 1080P video
Lots of features
Plenty of integration options
What I Would Change
Eventually, I would like to see more integration options (Alexa, Google, IFTTT).
Final Thoughts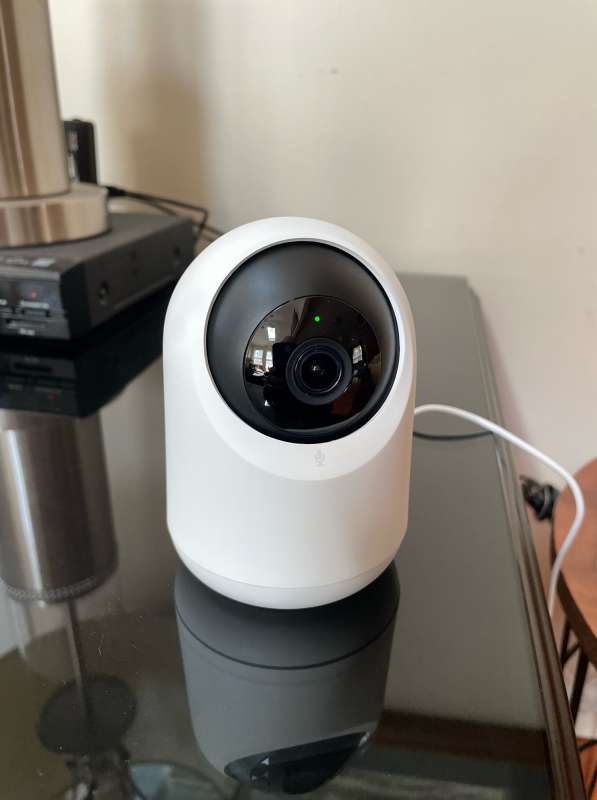 I continue to be impressed with SwitchBot products and their Pan/Tilt Camera is no exception. It's packed full of features, is easy to set up and use, and integrates well with other SwitchBot products. I love knowing my cat is behaving, my doors are secure, and my packages are protected. Thank you, SwitchBot!
Price: $39.99
Where to buy:   Amazon
Source: The sample for this review was supplied by SwitchBot.