We use affiliate links. If you buy something through the links on this page, we may earn a commission at no cost to you. Learn more.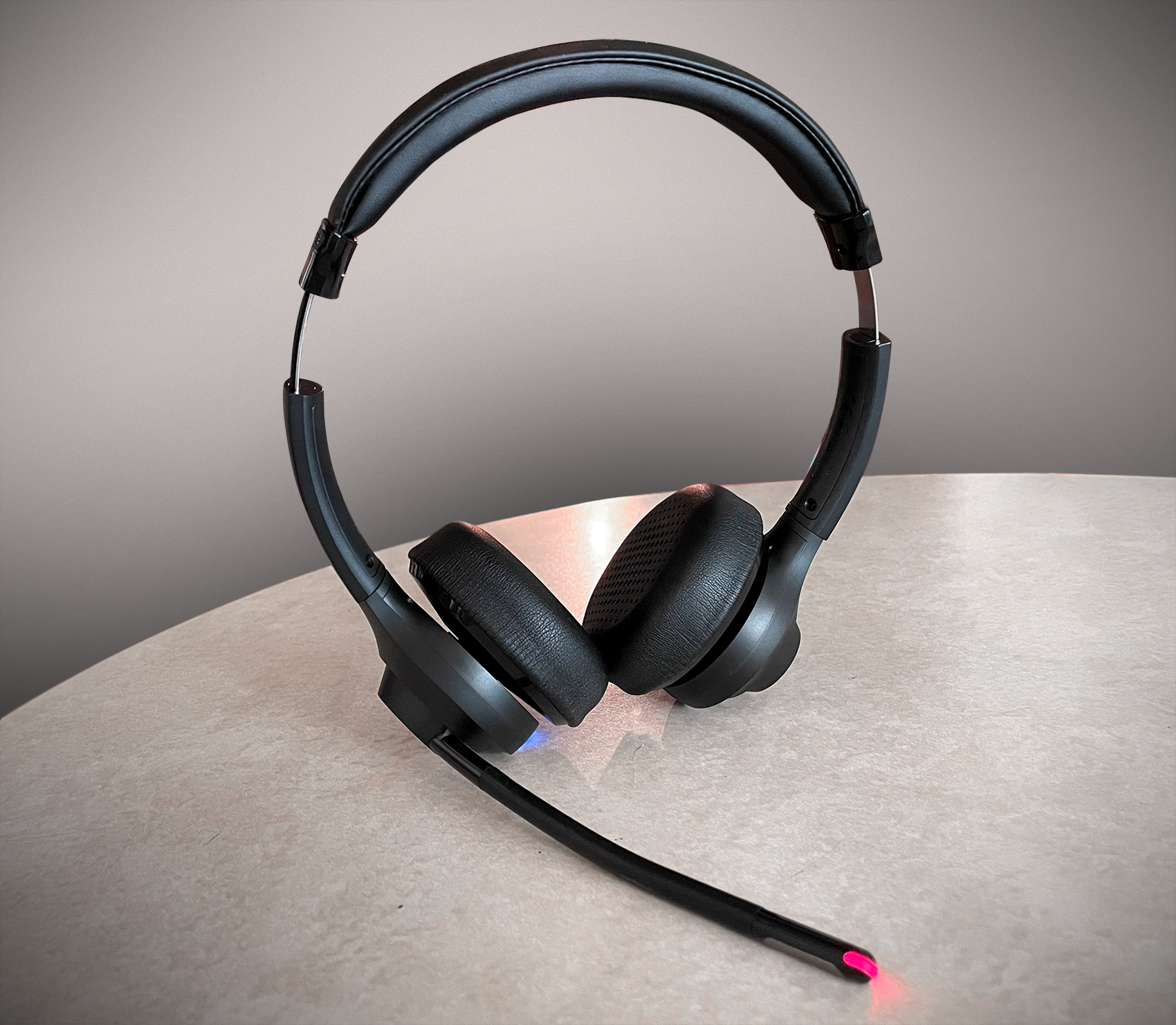 REVIEW – In this age of daily video chats and working from home, it feels especially important to invest in a dedicated headset to make all those meetings bearable. Today we're taking a look at JLab's Go Work Wireless On-Ear Headphones.
What is it?
The Go Work Wireless Headphones from JLab are a wireless Bluetooth headset featuring 45+ hour battery life, flip-down boom microphone, volume and EQ control and a quick mute button with an LED indicator.
What's in the box?
GO Work Wireless On-Ear Headset
Type-C Charging Cable
Type-C to 3.5mm AUX Cable for Wired Use
Two Year Warranty

Hardware specs
Dual connectivity with Bluetooth and wired options
Dual microphones
45-hour work week on one charge
All-day comfort with Cloud Foam earcups
USB-C charging port
Rotate the boom microphone for listening only
Two EQ settings: Work or Music mode
Quickly toggle the mute function via the controls on the headset

Design and features
The Go Work headset is fairly simple as far as looks go. They feature a standard over-the-ear design with a rotating boom microphone that can be folded up out of the way when not in use. The padded ear cups rest directly on the ears and have a soft, faux leather feel that are overall quite comfortable. They also feature a Cloud Foam filling in the ear cups and the band that rest on top of your head.
I'm not the biggest fan of standard headphones like this, opting for in-ear buds when I can get away with using them, but as far as headphones go, the Go Works are pretty dang comfortable.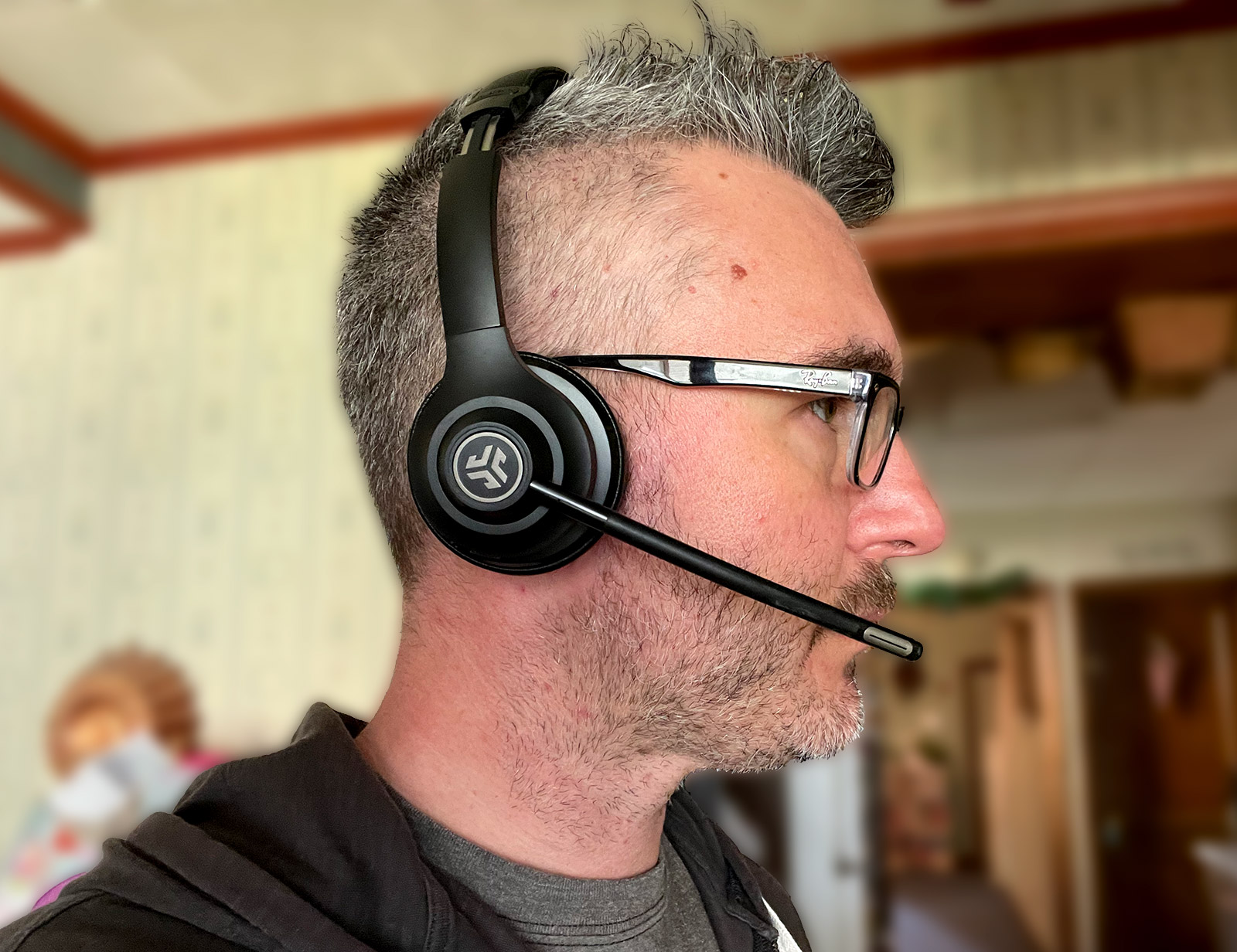 I never noticed my ears getting too hot while wearing them for extended periods of time. Typically I would wear them while on meetings, which only tend to last for an hour or so, and in that time the Go Works were easy to forget about.
The one thing that reminded me of their presence was seeing my own little video feed down in the corner, which is a great segue to one of my favorite features of this headset, the LED mute indicator. With one simple press of the emblem on the right earphone, the mic is muted and the red LED on the tip of the boom illuminates, visually alerting you to that fact. (No more "you're on mute" comments!)
It's important to keep in mind that this is a hardware function, so even if you're not on mute on the headset's microphone, you still could be in your chat software. I managed to disable all of the "mute on join" toggles and started trusting in the mute function on my headset, instead, and it's been great. That little red light floating down under my mouth can be seen on camera and in the periphery of my vision. I just really like that feature.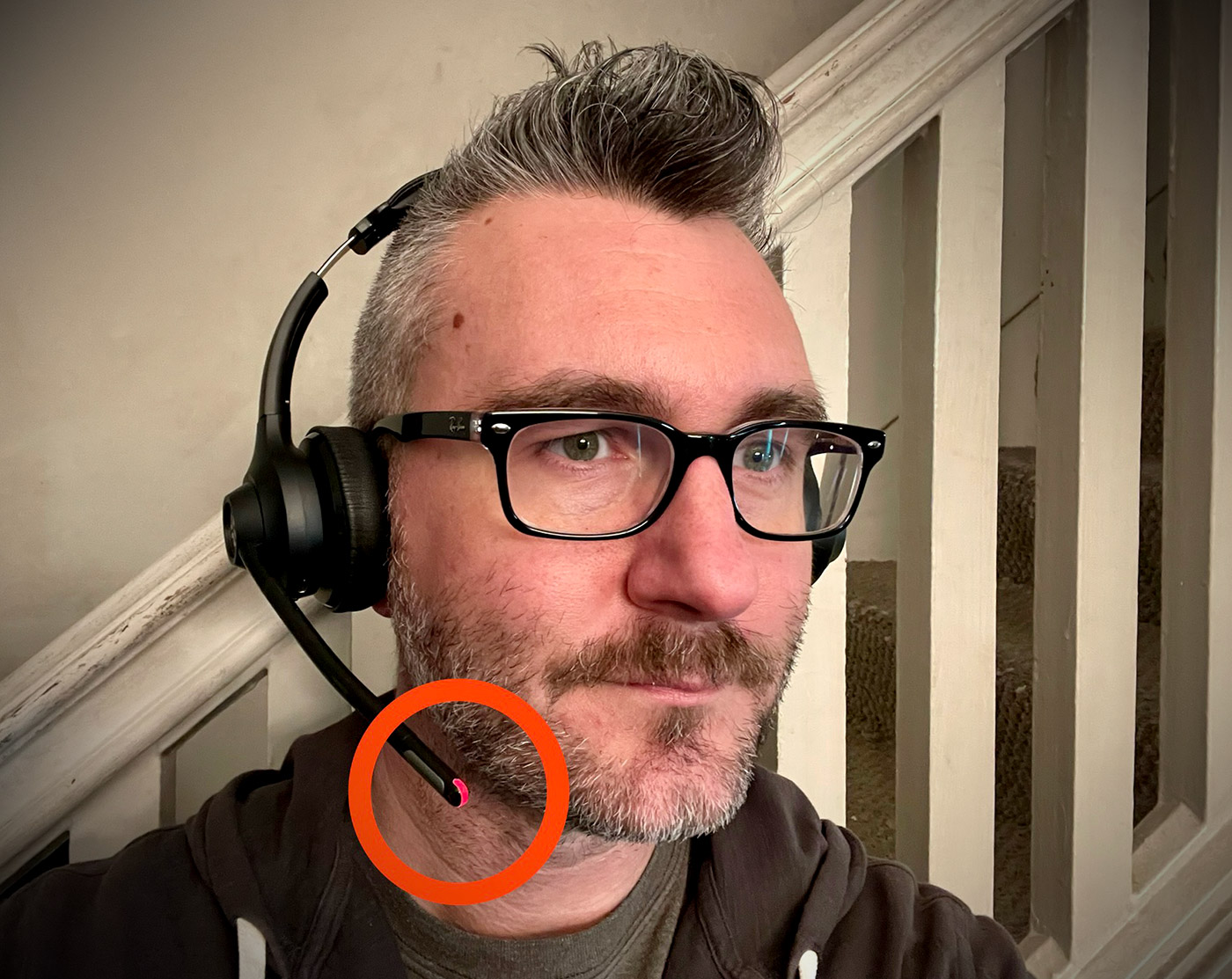 Another unique aspect of the mic is you can triple-press the call/answer/pause button to turn on the "hear your voice" feature, which pumps in audio from your mic into the headset. I've used gaming headsets with this same function and it's great. Hearing your own voice in the headset has a more natural feeling like you're not wearing a headset at all rather than sounding muted like you're talking underwater.
The sound quality is, overall, just okay. JLab includes a dual EQ toggle that you can toggle between voice and music settings, but the difference between the two is minimal. It's also worth noting that since these are over-the-ear headphones, there is the possibility of sound leak if you have the volume turned up loud enough. It could be disturbing to anyone seated close-by. The lack of noise cancellation and ear cups that surround and seal the ear also allows for outside noise to leak in as well. I imagine this isn't an issue for most people.
I tested the wired connection vs the wireless and the only difference I noticed was it was simply easier and quicker to connect via the wire vs. Bluetooth, but sound quality and functionality were identical.
The mic itself delivered decent voice quality and mostly picked up my voice with very little background noise. It's worth noting I work alone in a quiet space most of the day, so I didn't get a chance to see just how much noise the mic squelched… but that sort of thing is adjustable in most chat software settings, anyway.
The best use case for the Go Work headset is as a dedicated voice chat device. It does work just fine for general headphone use such as watching videos or listening to music, but where they really shine is in all those online meetings, even the ones that should have just been an email.
What I like
Voice mixed in to the headset audio
Dedicated mute button with visual indicator
Very comfortable
Good price
What I'd change
Middling sound quality
Sound can be heard by others if the volume is turned up high
Final thoughts
The Go Work Wireless Headset is a solid little workhorse of a communication device with the added practicality of a long battery life, visual mute indicator, and inline voice to speaker functionality. They're inexpensive, comfortable, and "just work," so long as you're not looking for superior audio quality. Grab a pair of noise-canceling earbuds for the music, and the Go Works for the meetings.
Price: $40.99
Where to buy: Amazon
Source: The sample of this product was provided by JLab.