We use affiliate links. If you buy something through the links on this page, we may earn a commission at no cost to you. Learn more.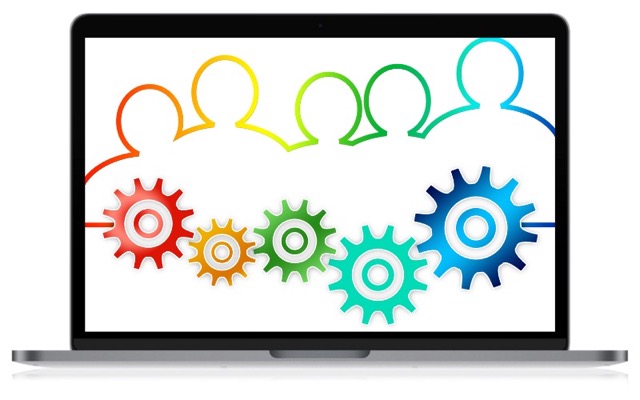 ARTICLE – My main "battlestation".  I have worked from home for about 9 years now, but I'm constantly updating things.  I use this station for both work and play, and it's set up accordingly.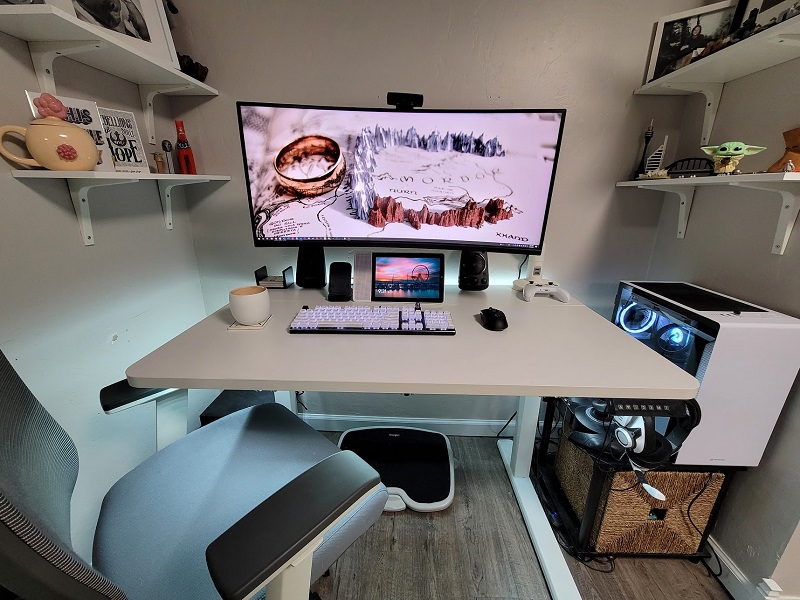 Here's a list of the stuff:
Monitor: Monoprice Dark Matter 34″ ultrawide.  This monitor is great for both productivity (it is similar to having 2 screens side by side) and for games.  The fast refresh rate, excellent color, and sweet-spot resolution is perfect for me.
Computer: Custom AMD 5800x / Nvidia RTX 3080 build in a Thermaltake S100 case. PC gaming video cards have been overpriced and impossible to find for going on 2 years now (just like latest-gen consoles), but I was persistent and lucky enough to grab an MSI 3080, and it's been getting me through the pandemic.
Keyboard: Glorious Modular Mechanical Keyboard with HyperX Pudding keycaps. I love a good mechanical keyboard, and the GMMK has been flawless for me. It's built like a tank, and the easy keycap swap matches the white theme I have in my little work/game corner.
Mouse: Logitech G903 : This mouse is fantastic for both gaming and work. It can easily change DPI/sensitivity with quick button presses, the scroll wheel can be switched from free-spinning to clicking instantly, and it tracks like butter. Battery life is basically forever too, I regularly go for weeks forgetting to recharge it.
Headphones: EPOS | SENNHEISER GSP 601 wired gaming headset : I've reviewed and used several other headphones and headsets since the EPOS GSP 601, but I keep going back to it for the excellent microphone and stunning audio. The white accents don't hurt either.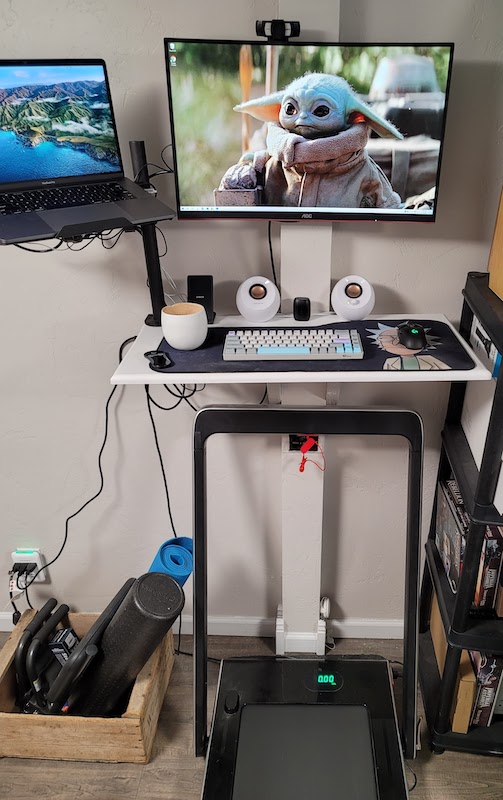 I also have a treadmill desk station set up.  This one is primarily for work (I try to work while walking as much as I can).  I added a wall mount and built a permanent desk surface, then added a laptop tray as well. I'm currently using the Kensington SD2500T hybrid nano docking station to connect everything to my work Macbook with a single Thunderbolt cable which makes it super easy to come and go with the work laptop.  The keyboard is the Epomaker AKKO 3068 Silent Bluetooth 5.0 keyboard which I love. The keyboard can easily switch connections to different devices, so I can even use my phone or a different laptop with the docking station and Bluetooth keyboard. I'm using the same mouse as my main station, because it's the best.  The treadmill is an Ancheer 2 in 1 folding treadmill that's held up for over 1000 miles of walking so far. It's not too fancy, but it gets the job done and has surprised me with its longevity.
See the rest of the Gadgeteer team's 2022 gear posting articles.