We use affiliate links. If you buy something through the links on this page, we may earn a commission at no cost to you. Learn more.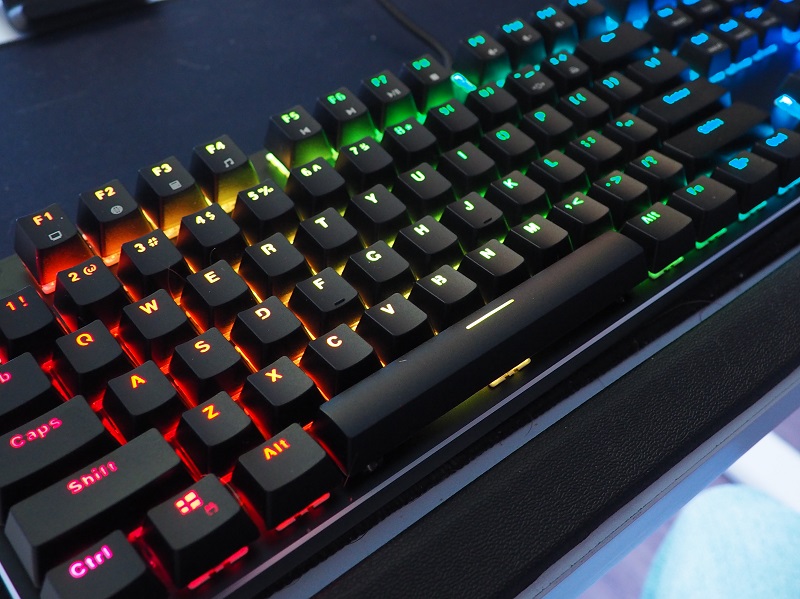 REVIEW –  The Glorious Modular Mechanical Keyboard might be the 10th (or so) keyboard I've purchased or reviewed, but by the end of the review period it's already become my favorite.  From no-fuss backlight settings to plug and play usability to full customization options, I think this line of keyboards could be perfect for just about anyone.
What is it?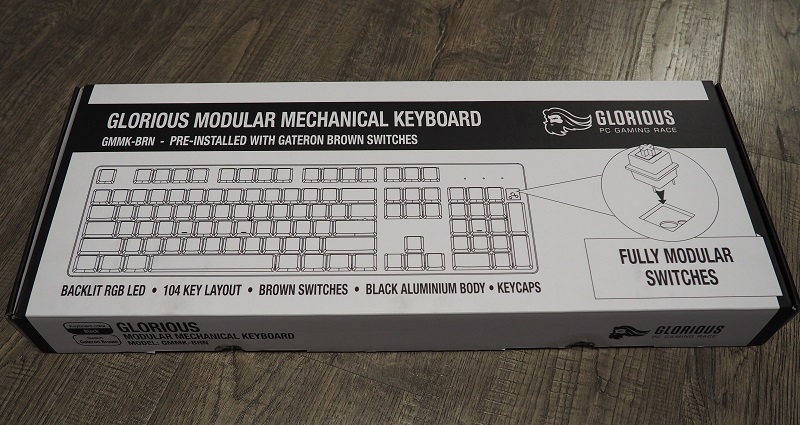 The Glorious Modular Mechanical Keyboard is a mechanical keyboard designed for people new to fully-customizable mechanical keyboards (but I think it would be great for aficionados as well).  It's built with a solid aluminum body, and the unit they sent me for review was a full size keyboard (but they also offer a ten-key-less version and the very popular compact version size).  You can get a pre-built version with Gateron Brown switches or you can fully order a fully custom set with keycaps and switches of your choosing.
What's in the box?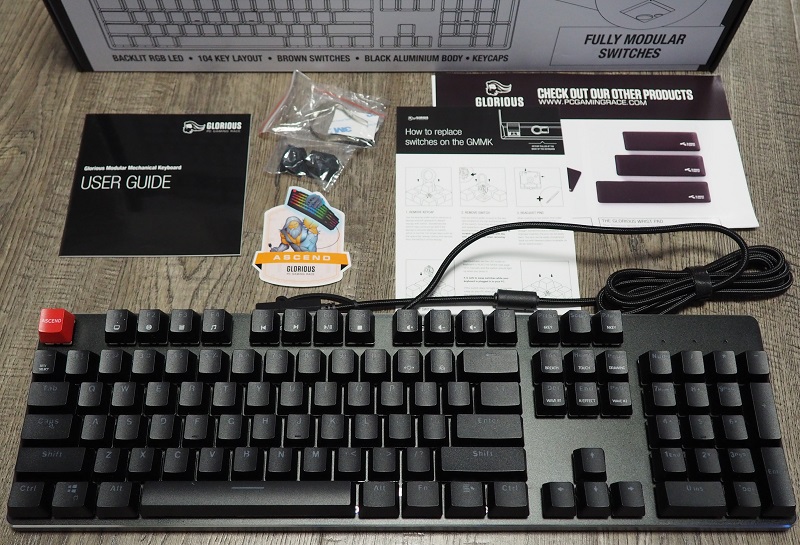 In the pre-built full-size version that Glorious PC Gaming Race sent is the keyboard itself (fully assembled and ready to use), a user guide, stickers, a switch replacement guide, a keycap puller, and a switch replacement tool.  They also include replacement rubber feet in case the pre-installed ones come off, which I thought was a nice touch.  Finally, there's a couple of extra keycaps for keys like the Escape and Windows keys.  I found it interesting that they chose to default a bright red "Ascend" escape key, but a standard Windows 10 key instead of the alternate faux-god company logo.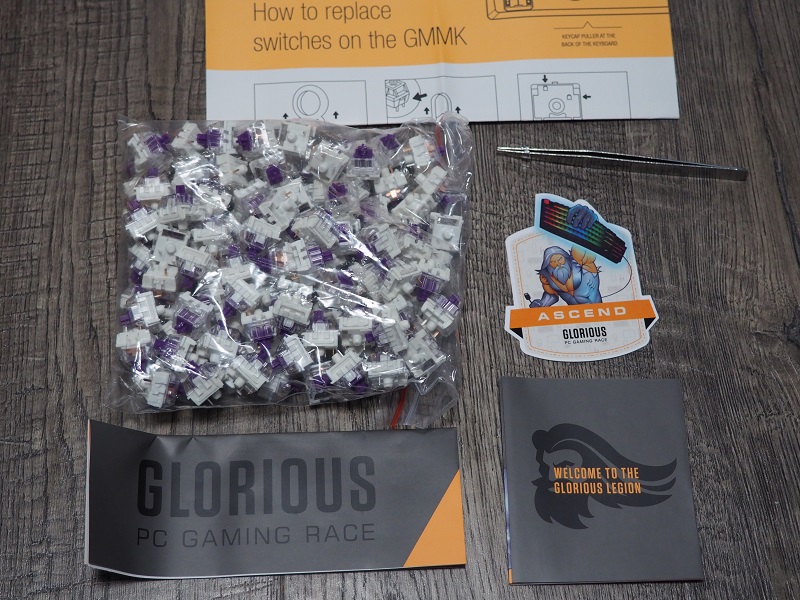 Glorious PC Gaming Race also sent a set of Kailh Purple switches so I could test out the switch replacement process, a switch type I was not familiar with previously.  This is not normally included, but it's nice to be able to order different switch sets to try out different types.   I've owned keyboards with Cherry Reds/Blues, as well as various types of Brown mechanical switches.  You can even get a sample box of different switches to try out so you don't have to order multiple complete sets of switches if you're not sure which you'll like.  Glorious PC Gaming Race's website has some nice guides on the differences between switches as well, if you're not sure what you'll like.
Hardware specs
Fully replaceable mechanical switches
100% anti-ghosting
Full N-Key Rollover
Polling rate: 1000 Hz
Backlight: per-key 16.8 million colors RGB
Cord length: 6 feet
Dimensions: 440 x 129 x 35.9 mm (17.3 x 5.1 x 1.4 inches)
Weight: 940 grams (2.1 lbs)
Design and features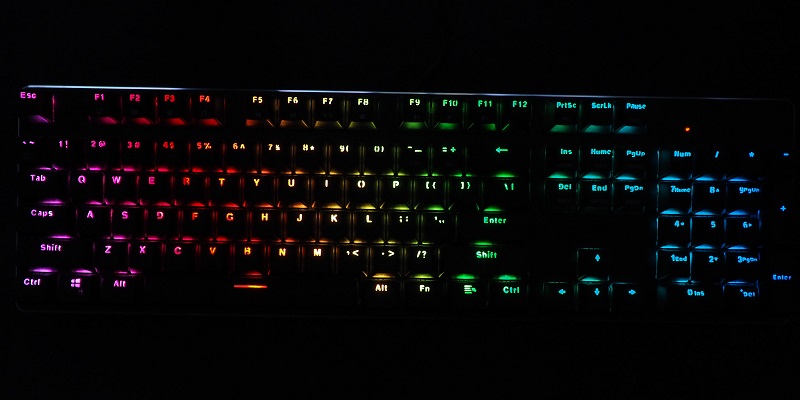 The design is basic/minimalist, which I appreciate.  I was previously using a Logitech Orion 910 Spectrum Mechanical keyboard, my biggest annoyance with that one was the extra desk space it took up due to extra function keys and extra plastic extending from the keyboard deck (it was a very nice keyboard though, if you've got lots of desk space).  The Glorious Modular Mechanical Keyboard is pretty much as small as possible while keeping the standard US-ANSI keyboard layout.  The weight of the aluminum base keeps it very stable and steady during gaming as well.  I've had lightweight plastic keyboards in the past that liked to scoot around while typing or gaming, this one stays put.
The backlighting is adjustable and can be very bright if desired.  With the included keycaps, there's a nice under-key glow, and the keys themselves are very easy to read in the dark when backlit.  My only grip on the backlighting is that the alternate functions on the F- keys are not backlit, which can make volume control or media playback controls hard to find in the dark.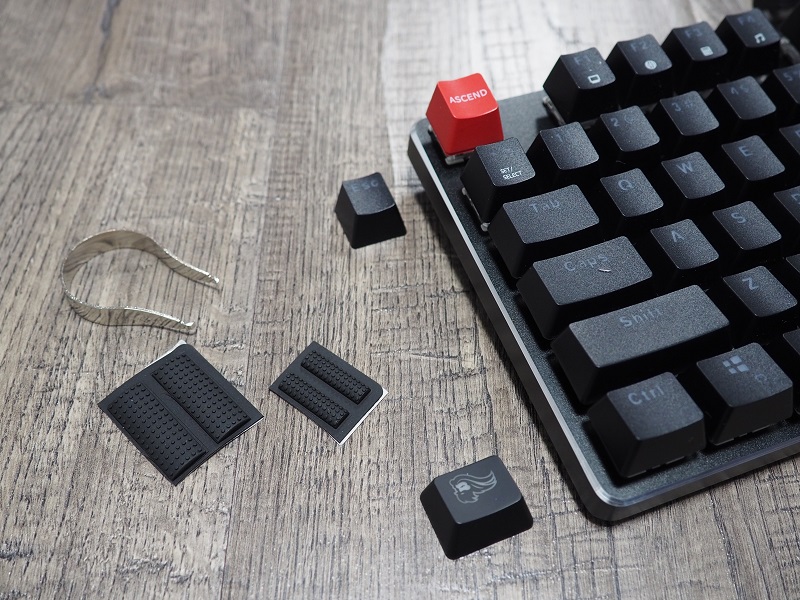 The flash red "ASCEND" escape key can easily be replaced with a standard "ESC" key.  The finish and design are very nice, I noticed no manufacturing defects or burrs or any issues with the keycaps that were included.  If I turned the backlights off entirely and the room lights were bright and at an angle, the keycap printing could be hard to see, but this was only in very specific situations, and is easily solved by just using the backlighting.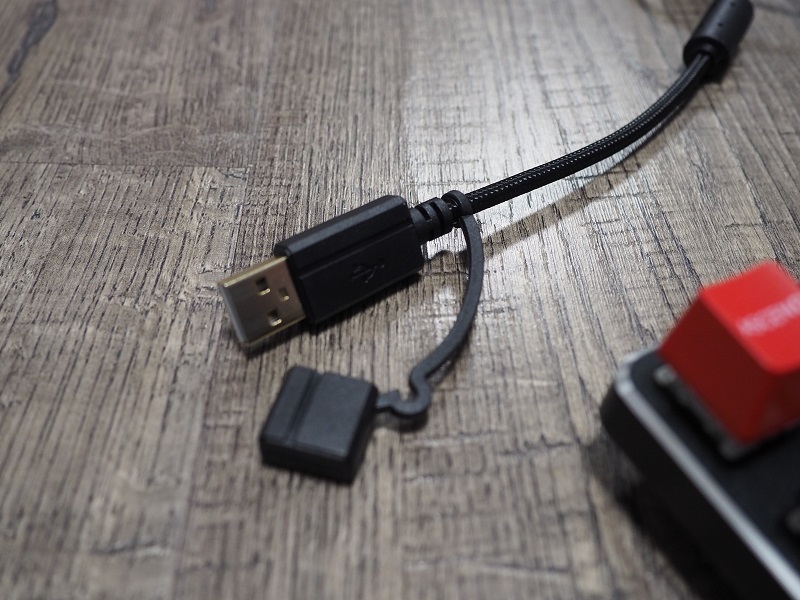 The USB cable is not removable, but seems to be a high quality braided type and even has a dust cap for transport.  It's a standard USB 3.0 type A plug, backward compatible to USB 2.0 if that's all you have.
Installation and setup
The Glorious Modular Mechanical Keyboard is plug and play, meaning that you can simply plug it into any Windows, Apple, or Linux computer and it will simply work.  There are the common flip out "feet" under the keyboard that tilt it a bit.  These seemed high quality and had a good spring to them, I prefer mine flat though so I didn't use them much.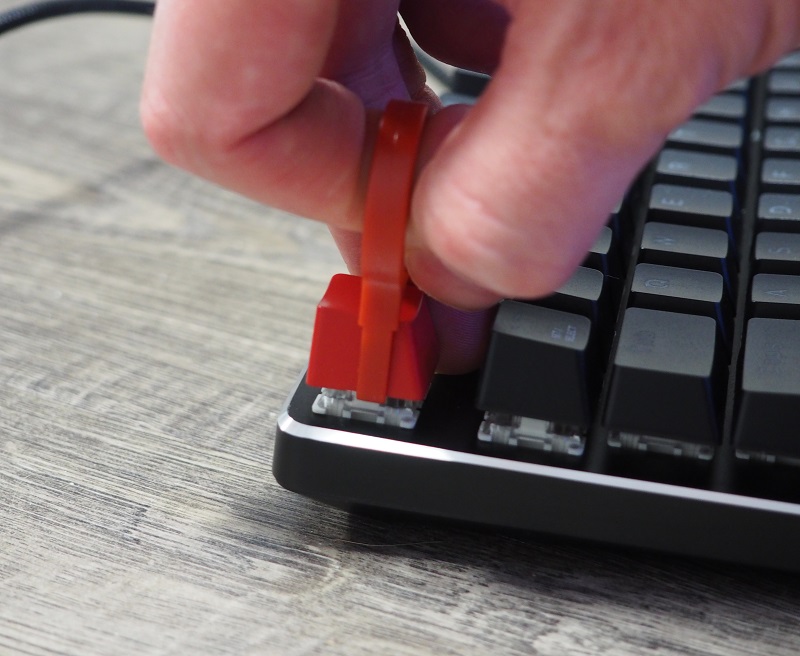 The first thing I tried doing was a keycap and switch replacement.  I've seen videos of switch replacement on some keyboards that seem very complicated.  In this case, it was quite easy.  The keycap pulled off with medium-light force, while the switch was a little more difficult at first.  You have to press in 2 plastic tabs with the included tool and then pull.  I felt like I might break the tabs on the first few but then I because familiarized with the technique and force needed, and the rest were easy.  I did not break any, they look robust once removed, it just felt like it might break on the first few.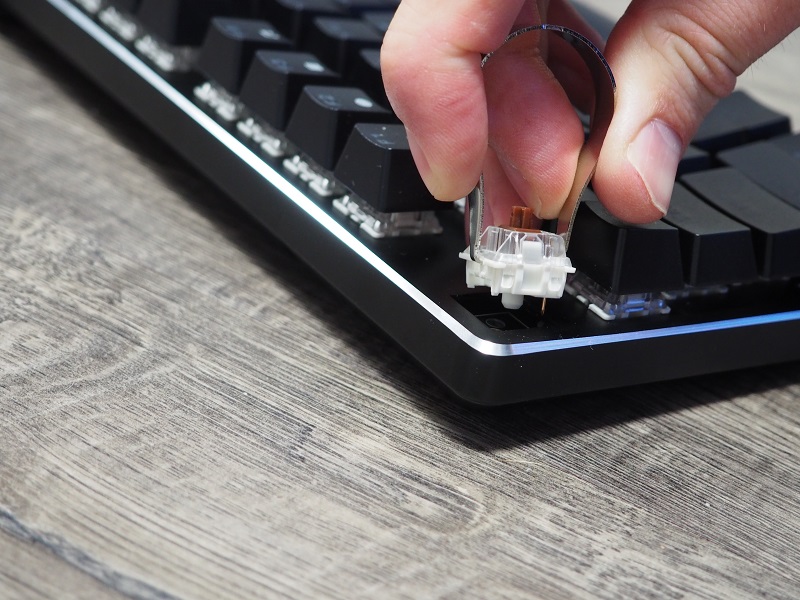 I tested the included Brown switches before changing all the rest of the keys, and they're as good as any Brown mechanical keyboard I've tried.  This style of switch was my previous favorite mechanical keyboard switch, they feel fast for both gaming and typing, and aren't super loud.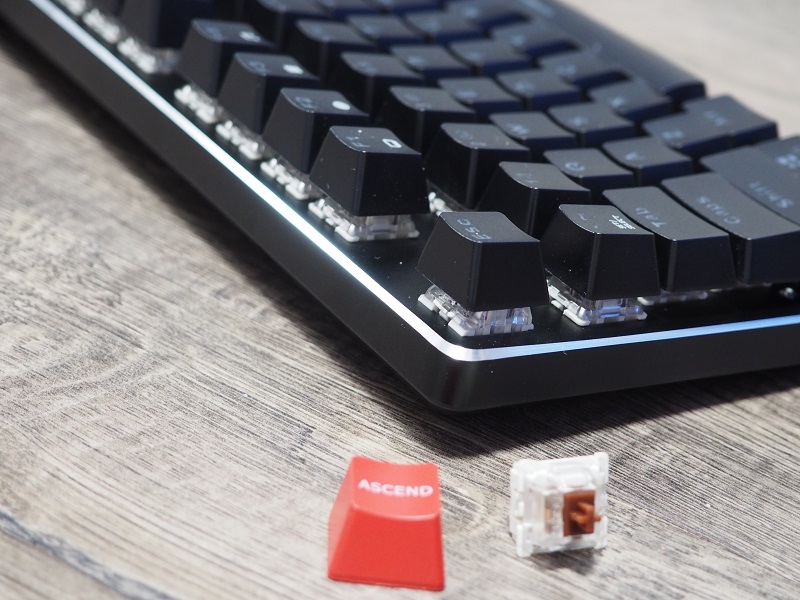 Later, I switched all the keys to the Kailh Purples, and I like them even more than the Gateron Browns!  They felt a bit faster, and seemed a bit quieter.  I can see why many people are becoming obsessed with customizable mechanical keyboards, it was satisfying to change out things and have a different feel and performance.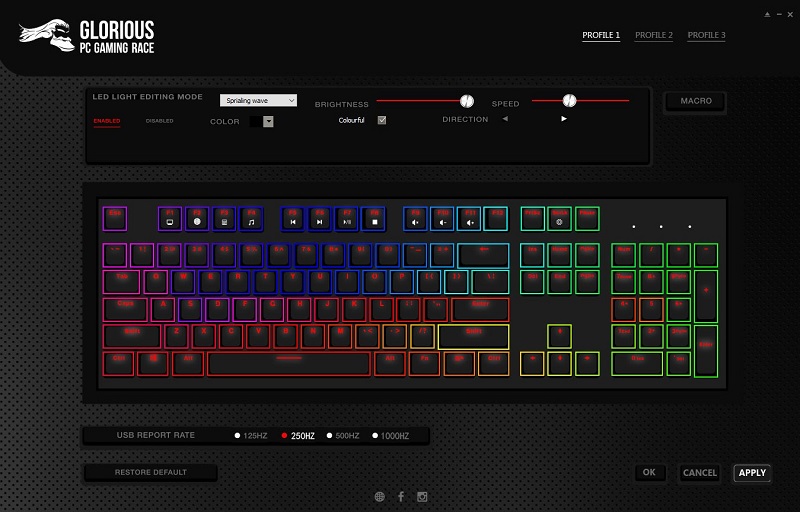 The additional software download is completely optional but does allow for some good presets and fully custom per-key settings.  You can also update the firmware and change various settings like the polling rate and Macros.  There are 3 profiles, which can be handy for different games or office-vs-gaming scenarios.
The video above shows one of the presets that reacts to typing.  There are a couple like this, and quite a few other patterns as well.  If you turn the sound up, you can hear the noise of the default Gateron Brown switches as well.
Performance
The keys all feel very smooth, this entire review was written with the Glorious Modular Mechanical Keyboard, which is destined to become my new daily driver.    I got an adjusted typing speed of 81, which is right in the middle of my usual 70-85 normal, and it feels great for typing.  The keys have a good curvature to them, without having sharp edges (sometimes flat laptop-style keyboards can slow me down, I like having a bit of a curve to help feel the edges of keys).
The keyboard was great for gaming as well, I was able to play fast-paced shooter games as well as complex military-simulation games (where multiple pressed keys are common to perform advanced functions) without any issues with key ghosting
What I like
Very nice build – premium feel
Easy switch and keycap replacement
The included tools and extras are great
Default brown switches are good for most users.
Standard, TKL (ten-key-less), and Compact (60%) size options
No proprietary keys or strange designs/key placements
What I'd change
Can't see function keys in the dark
Wish you could do custom lighted keys plus responsive effects (it's one or the other)
A couple of dedicated macro keys, or ability to map a Function+Key to a Macro
Final thoughts
It's always a good sign to me when a reviewer adopts the item reviewed as their new preferred item.  This is the case for me with the Glorious Modular Mechanical Keyboard.  It's as good or better in nearly every way to the previous preferred keyboard that I was using and is now in heavy use for reviewing, other work, and gaming.
Price: $109.95
Where to buy: Glorious PC Gaming Race and Amazon
Source: The sample for this review was provided by Glorious PC Gaming Race