The Gadgeteer is supported by readers like you! If you buy something through links on our site, we may earn an affiliate commission. Thank you! Learn more.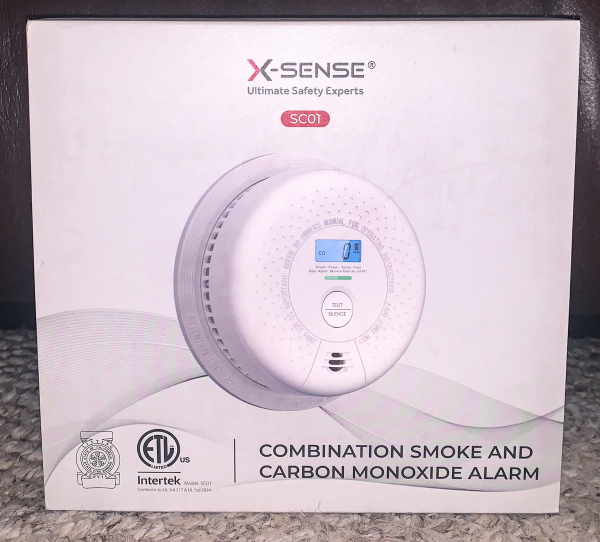 REVIEW – Over the past few years, there seems to have been a surge in carbon monoxide related illnesses and deaths. There have also been many fires where the outcome was deadly because there was no smoke detector installed. This X- Sense SC01 10 Year Battery Smoke and Carbon Monoxide Detector with Display and Alarm should take care of both issues.
What is it?
The X- Sense SC01 10 Year Battery-powered Smoke and Carbon Monoxide Detector with Display features a dual Sensor and an alarm.
What's in the box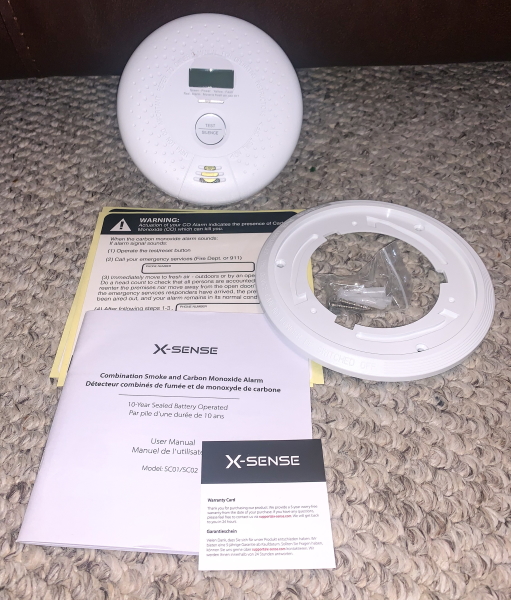 1 x Alarm Unit
1 x Mounting Bracket
3 x Screws
3 x Anchor Plugs
1 x User Manual
Design and features
Features
2-in-1 Accurate, Reliable & Highly Sensitive Alarm: Equipped with both a photoelectric smoke sensor and an electrochemical CO sensor that work independently of each other. It Detects both fast and slow-burning fires, and instantly notifies you when dangerous smoke or CO concentration is detected while minimizing false alarms; provides the ultimate protection from 2 deadly threats, all contained in 1 unit
10-Year Battery & 10-Year Sensor: This smoke and carbon monoxide alarm provides 10 years of continuous power with a built-in lithium battery, saving on energy while remaining eco-friendly; saves you from constantly having to change batteries; an end-of-life signal will let you know when it's time to replace the unit for safety
Practical LCD Display: Clearly indicates real-time carbon monoxide (CO) concentration in the surrounding air, as well as the remaining battery life and working status of the alarm; if a CO concentration of 30-999 ppm exists for a certain time period, the screen will be backlit blue, and the LED indicator will flash red 4 times every 5.8 seconds
Simple to Use: Test/Silence button enables you to test the alarm weekly, and to easily silence the alarm when false alarms occur; malfunction and low battery warnings allow you to easily know the working status of the alarm; in case of an emergency, an alarm tone of over 85 dB will sound throughout your entire home, instantly alerting the entire household, even those in sleep
Quick & Easy Installation with Guaranteed Quality: Requires no rewiring; easy to mount on any wall or ceiling with the included mounting bracket, screws and anchor plugs; certified to meet the UL 217 & UL 2034 safety standards for your peace of mind and absolute confidence in our product
Real-time display of accurate CO concentration levels on the LCD.
Approved by the ETL and BSI.
Extra loud buzzer with over 85 dB volume for guaranteed alarming.
FIGARO® CO sensor for high sensitivity, accuracy, and reliability.
High-performance STMicroelectronics microcontroller.
Specifications
Operating Life: 10 years
Power Source: 3 V CR123A lithium battery (non-replaceable)
Sensor Type: Smoke: photoelectric; CO: electrochemical
Safety Standards: UL 217, UL 2034, ULC S531, CSA 6.19-01, EN 14604:2005, EN 50291
Certification: Kitemark and ETL listed
Standby Current: < 6 µA (avg.)
Alarm Current: < 60 mA (avg.)
Best Operating Ambient Temperature: 40-100 °F (4.4-37.8 °C)
Best Operating Relative Humidity: ≤ 85% RH (non-condensing)
Alarm Loudness: ≥ 85 dB at 10 ft (3 m)
Silence Duration: Smoke: ≤ 9 minutes; CO: ≤ 6 minutes
Display: LCD
Indicator Light: LED (red/yellow/green)
Color: White
Material: ABS/PC
Installation Method: Screw fixings and mounting bracket supplied
Usage: Indoor use only
Product Weight: 0.66 lbs (300 g)
Product Dimensions: 5.7 x 5.7 x 2.0 inches (146 x 146 x 51 mm)
On the front of the device there is an LCD information screen, a status indicator LED, a Test/Silence button, and a speaker. On the back, there is an on/off/disable switch, the device information, and the ridges to secure it to its base.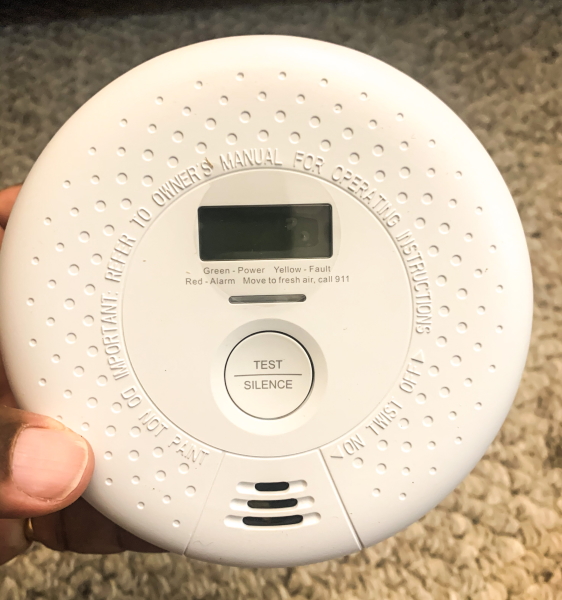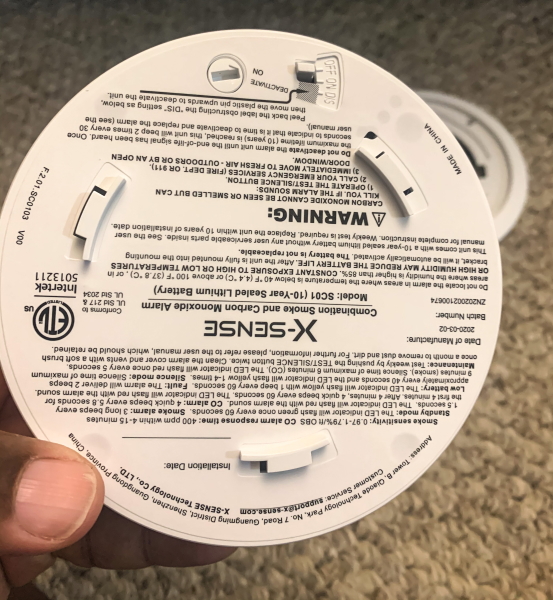 Performance
The device installs easily and the display is bright. The alarm is quite loud and would wake most people up. I like the on/of/deactivate switch and the 10-year battery. The deactivate switch is an end-of-life switch once the battery dies after 10 years. At the end of the 10 years, the entire unit must be replaced as opposed to replacing the battery. I actually like this design because, with the advances in technology, I would believe that after to years there will be something better and more efficient.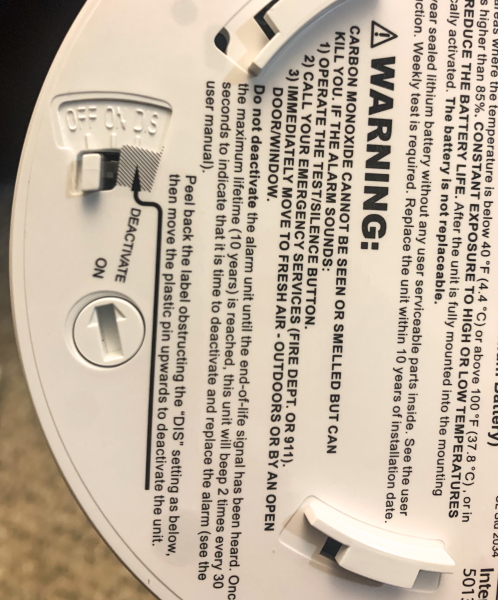 Since the base has no clear marking to show the top when installing it, I attached the base to the device and then used a marker to indicate the top. I then installed the base to the wall using the mark for positioning.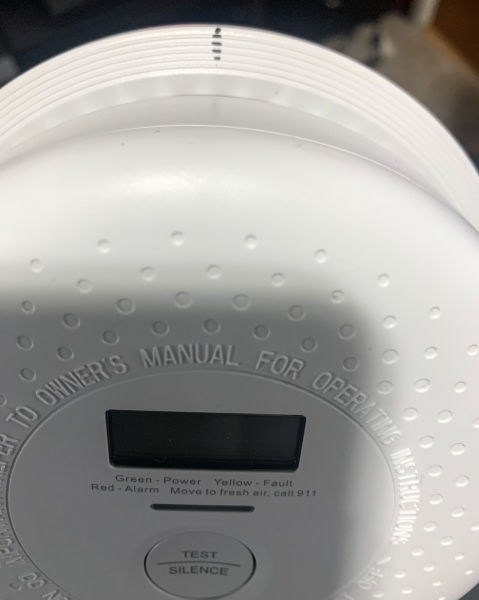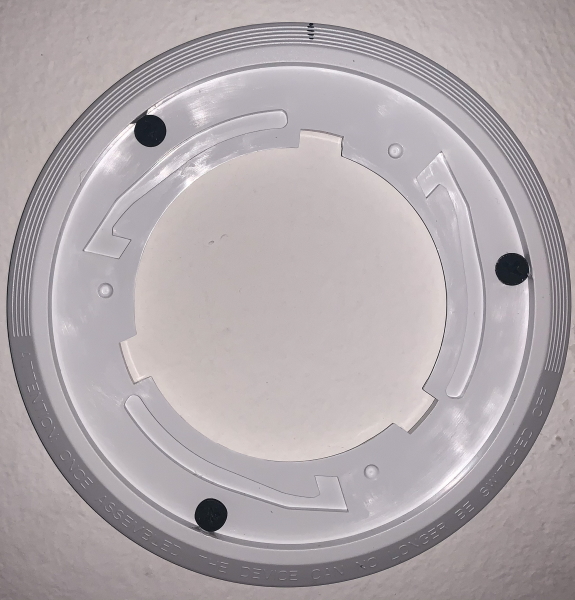 I then attached the detector to the base.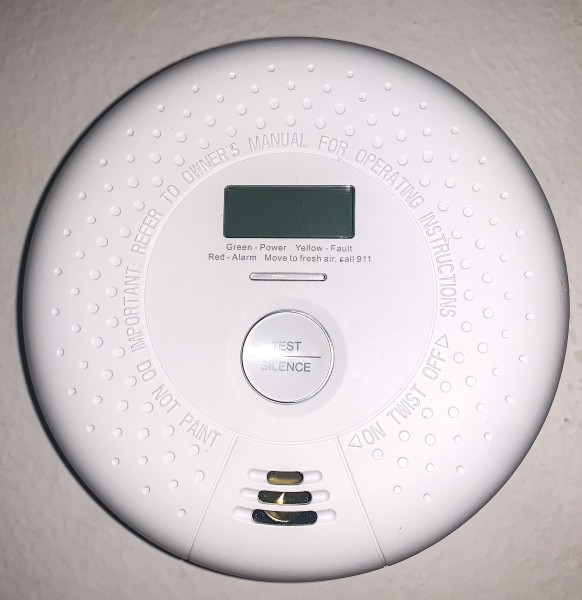 The following video shows me going through the test and silence functions:
The following are the status indicators and modes for this device: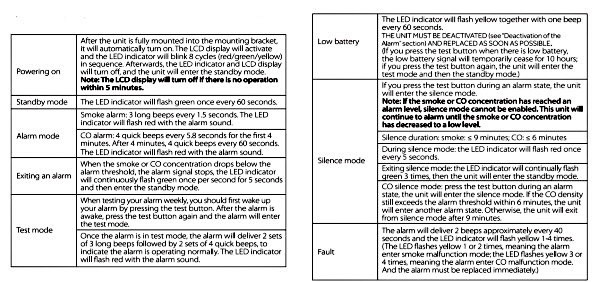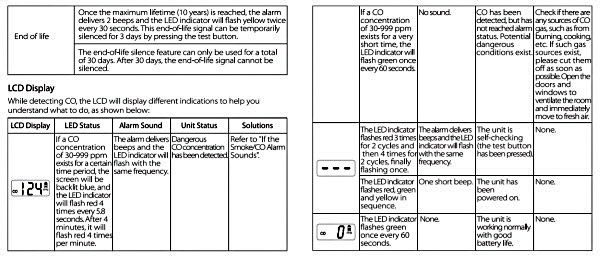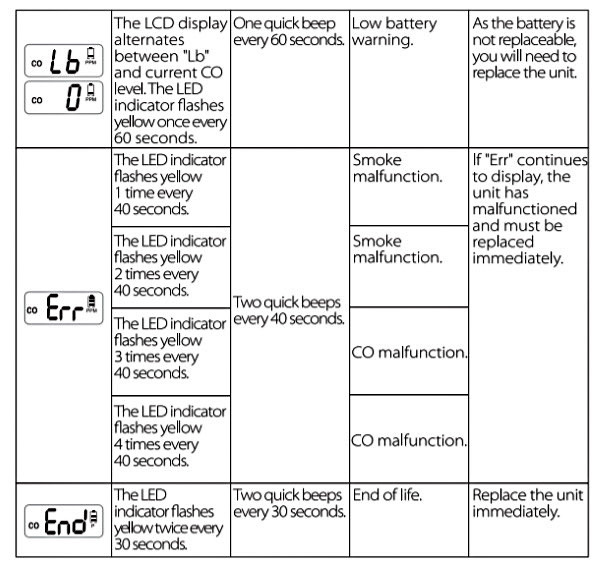 Here is some additional information on the device:
X- Sense SC01 – https://www.x-sense.com/products/combination-smoke-detector-and-carbon-monoxide-detector-sc01-1
How to turn off the fire alarm – https://www.x-sense.com/blogs/tips/how-to-disable-a-smoke-alarm
What I like
The build quality
The functionality
The 10-year battery
The volume of the alarm
The ease of installation
What I'd change
My pet peeve would be a clear marking to indicate the top of the base for installation.
Final thoughts
This device is great because it offers a combination Smoke and Carbon Monoxide Detector in one compact format with a battery that lasts a long time. It has a nice display that does not leave you guessing regarding any alarms or issues. It installs easily and the alarm is loud. This device is greatly needed in every home and business and is relatively inexpensive for the features that it provides. Well done!!
Price: $39.99 (1-pack), $179.99 (5-pack)
Where to buy: X- Sense website, Amazon
Source: The sample for this review was provided by X- Sense
Support The Gadgeteer
:
The Gadgeteer is supported by readers like you! If you buy something through the links on our site, we may earn a small affiliate commission. Thank you! Learn more.